28 Adorably Charming DIY Teacher Gifts
Whether it's an end-of-the year thank you, birthday present or for Teacher Appreciation Day, creating something with your own two hands to show your gratitude to your favorite teacher. From treats to desk trinkets, there are so many wonderful gifts to decide on when finding the perfect one. And maybe we can help make that choice a bit easier with this list of 28 adorably charming DIY teacher gifts!
1. Magnetic Clothespins
Clothespins come in really handy for teachers. On chalkboards, white boards, to hang garland and papers … the possibilities are endless. And over at Popsicle you see how easy it is to hand-paint them, add magnets and gift them to your favorite teachers!
2. Apple Coasters
Purl Soho shows us how to keep your teacher's desk free of glass rings but doing so in a super adorable way! Find out how to create these apple coasters and try your hand at them!
3. Succulent Pots
Check out the Hello Bee and learn how to create these super chic succulent pots that will add a breath of fresh air to the classroom, personalized with a bit of paint!
4. Eos Apple
The Suburban Mom gives us such a great idea for a quirky, thoughtful and clever teach gift! Grab one of those EOS chapsticks and get to work making this little "apple treat."
5. Nail Polish
Eighteen25 shows us another clever idea that one of your teachers would love to have. Pamper her a little by gifting her with some "toe-tally" awesome nail polishes!
6. Chill Pills
Fill a jar with hot tamales, m and m's or any other candy you may think your teacher would love to have some extra of. Then label it as "chill pills," for a silly, thoughtful gift that he or she will love after a long, hard day. Thanks for the idea Cook. Craft. Love.!
7. Pencil Vase
Check out this vase from Cincy Shopper. It's full of teacher appreciation and charm, you just have to find out how to make it after the jump. And don't forget to fill it with flowers!
8. Ruler Wreath
Crafts Unleashed gives us a great idea for a wreath that we could all easily create for our teacher! Made with rulers and a bit of personalization, we're sure she would love to spruce up her classroom door with it!
9. Chalkboard Mason Jar
We are in love with this easy ideas from A Pumpkin & A Princess. Grab some mason jars and dip them in chalkboard paint for some classroom-style charm!
10. Air Freshner
Surviving A Teacher's Salary gives us an incredibly unique idea that involves creating a homemade air freshner! And that means that your classroom will be a bit more refreshed than before!
11. Caramel Apple In A Jar
Why not give your teacher something sweet she can enjoy back at home? The Gunny Sack shows us how to include all the ingredients for a perfect caramel apple in a jar!
12. Sharpies
Get her something useful, like regular ole classroom supplies. Some new sharpies,  seen at The Suburban Mom, dressed in a clever way could be example what she/he needs!
13. Tote Bag
Tatertots and Jello show us how to create something extra-special for a teacher that needs some extra tote material. Dragging books and supplies here and there, one of these bags can come in handy!
14. Personalized Calculator
Any math teacher would be thrilled to receive this adorable, personalized calculator. Check out the details over at Positively Splendid and put your own together!
15. Pencil Flowers
Create some charming pencil flowers, ending in a bouquet, like this set from Whipperberry. Presenting these to your teacher would not only make her feel special but take her breath away that you spent so much time on her!
16. Chalkboard Notebook
Here's another great chalkboard DIY but this time it's in notebook form! Kojodesigns has all the details on how to make one of these unique pieces for your own teacher.
17. Tumbler
Although you aren't making the tumbler from scratch the process of putting this useful gift together can get pretty creative. Add some lemonade or tea mix inside and make sure you use the clever "quenching" tag from Lisa Storms.
18. Push Pins
Liz On Call grabs some push-pins, which are essential to any teacher and classroom and wraps them up in a way that any teacher will get the hint of their student's appreciation for "pushing" them to learn.
19. Lip Balm
Using EOS chapstick again, Simple As That transforms it into a clever and usable gift. Telling your teacher that she's "the balm" is a fun play on words and memorable too!
20. Ruler Ribbon
Love the Day has so many great ideas with printables to go with them – making it easy to wrap and tag them. Check out this great idea when gifting rulers or something as adorable as ruler ribbon!
21. Hand Soap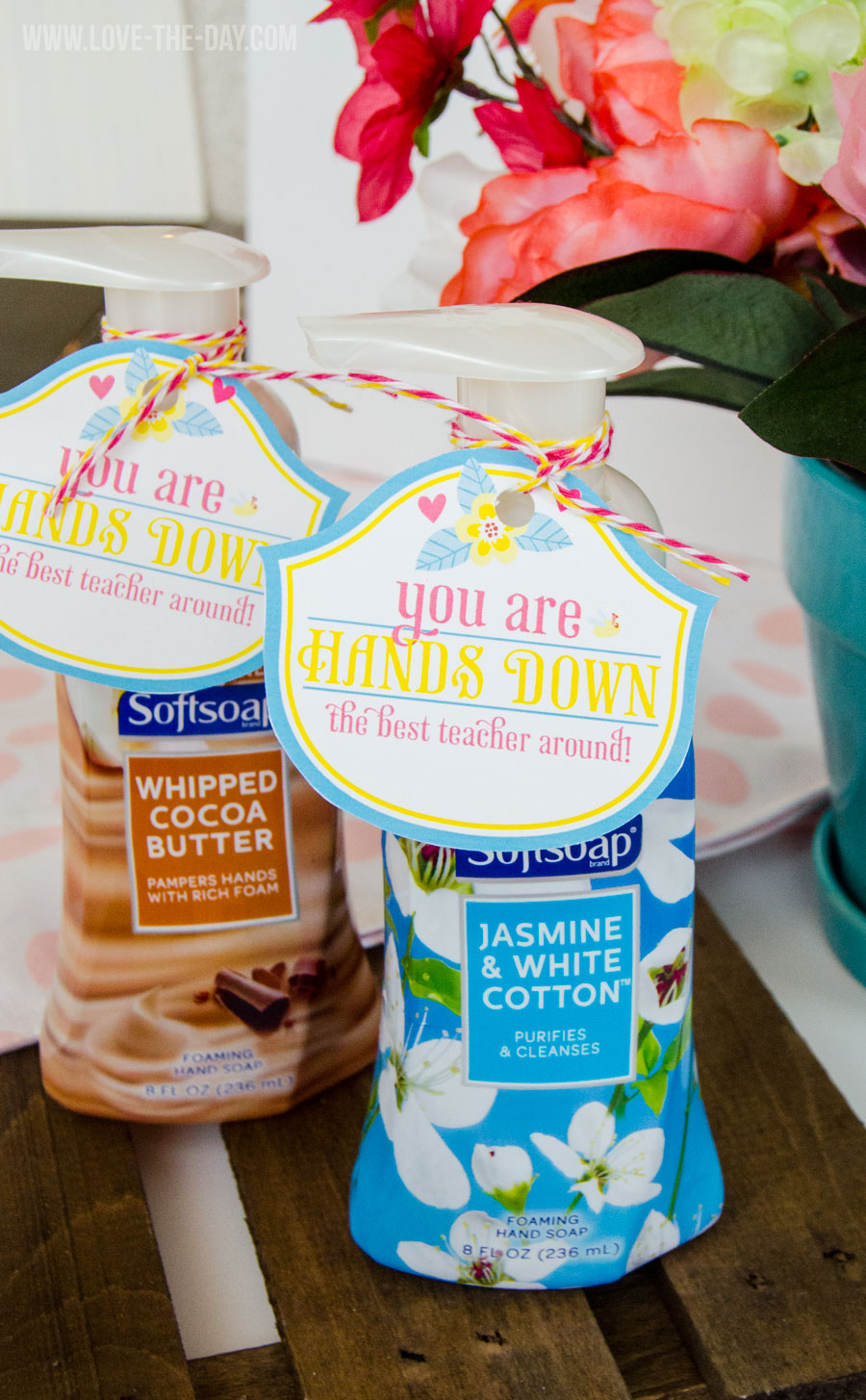 Every classroom needs hand soap or sanitizer, so dress yours up a bit when you bring an extra bottle into class. Love the Day has the printable to make it giftable too!
22.Keychain
A keychain is a great gift for your teacher to enjoy – whether it's for her home, her car or her classroom. Check this our at A Girl and A Gluegun!
23. Rubber Band Ball
Tried and True shows us how to create our very own rubber band band! And what teacher doesn't need one of these floating around his or her room?
24. Candles
A clever tagline and a usable gift – although at home – this "Scentsational" idea is brought to us by It's A Fabulous Life. Learn how do DIY your own candles or just snag a few at the store.
25. Highlighters
Love the Day provides us with some wonderful free printables to help us with clever teacher gifts. And this highlighter set is just too adorable not to feature too!
26. Extra Gum
Your teachers will appreciate this gift outside the classroom – but it doesn't make it any less sweeter! Give this gift to your "Extra-ordinary" teacher thanks to Sweet Metel Moments.
27. Pineapple Jar
How adorable is this pineapple jar from Yesterday on Tuesday? Fill it up with classroom supplies or your teacher's favorite candy!
28. Chalkboard Monogram
Similar to the chalkboard mason jar, grab your teacher's initials and create a monogram that he/she can design and utilize a bit. Find out the details at Maison de Pax.