65 Best Gift Teacher Appreciation Ideas to Say Thanks
Teachers encourage growth, so the best gift teacher appreciation ideas are often related to this part of their character. Sure, you can buy something off the shelf and pass it along as a decent present. But personalized gifts let teachers know that you put some thought into what they would like instead of guessing or trying to get it over with.
Whether it's an end-of-the-year thank-you gift or birthday present, it's always a fantastic choice to create something with your own hands and show your gratitude to your favorite teacher.
In this article, we have prepared a list of meaningful teacher gifts. So feel free to explore it and find your inspiration.
Charming Gift Teacher Appreciation Ideas to Try This Year
Without further ado, check out the best teacher gifts you can try this year:
1. A Flowerpot with a Sincere Message – Best Gift Ideas for DIY Teacher Appreciation Week
Gifting flowerpots is not unusual, but you can make yours extra special by attaching a sincere message, such as Thank you for a wonderful year or Thank you for allowing me to grow.
It's one of the best gift ideas for DIY teacher appreciation week because it's heartfelt and made with your own hands. Plus, your teacher can showcase it on their desk.
For this project, you need a plant pot (terracotta or something else), a small plant that goes in the pot, primer, chalkboard paint, black and white paint pens, a flexible measuring tape, and yellow acrylic paint.
Visit Once a Duckling to get the complete instructions for making this charming thank-you flowerpot.
2. Pencil Sign – Unique Teacher Gift Ideas
Unique teacher gift ideas are often personalized, including this wooden pencil sign with your teacher's name. It's absolutely adorable, and your favorite teacher can keep it on a shelf or hang it on their door.
To start working on this project, you need a cutting machine like Cricut Maker or Cricut Explore Air 2, together with permanent vinyl, tools, and a mat – all from Cricut.
You must also have wood, chalk or acrylic paint, transfer tape, orbital sander or sandpaper, cardstock for making flowers, and a miter saw or jigsaw.
Head over to Leap of Faith Crafting to get the step-by-step instructions for making this great gift for teachers.
3. A-Maze-ing Card – Best End-of-Year Teacher Gift Ideas
The best end-of-year teacher gift ideas often include creative solutions. For example, this maze card puts a clever twist on the word amazing when you have it spell out Have an a-maze-ing summer.
It's guaranteed to at least squeeze out a couple of chuckles from your teacher. And they might have fun completing the maze during lunch break, so make sure to make it a bit challenging.
This is another school project idea that requires a cutting machine – the Cricut Explore Air 2. You also need a Cricut Light Grip Cutting Mat, a Cricut 0.4 Tip Black Pen, cardstock, and crayons.
Visit Kara Creates to get the Cricut project and the rest of the instructions. It even has a maze prepared for download, although you can make your own using an online maze generator.
4. Eraser Ornament – Best DIY Teacher Christmas Gift Ideas
Teachers spend a lot of time writing, so gifting them cute eraser ornaments is one of the best DIY teacher Christmas gift ideas.
You might think to yourself why an eraser. However, it makes perfect sense when writing a message on the ornament that says The influence of a good teacher can never be erased.
To begin working on this project, you need eraser tops, a clear ornament, a Cricut cutting machine, permanent vinyl, transfer tape, a Standard Grip Mat, and Cricut tools.
If you're interested in this teacher gift idea for Christmas, head over to Craft E-Corner and get the complete instructions.
5. Gift Card Bouquet – Best Gifts for Teachers
A gift card bouquet is one of the best gifts for teachers when it comes to do-it-yourself projects since it's so simple, convenient, and innovative.
Instead of gifting a classical flowerpot, you can make paper flowers, fill them with gift cards, and place them in a pot.
For this crafting project, you need a flower pot, gift cards, a flower template or SVG cut file, wooden skewers, cardstock, floral foam, a hot glue gun with glue sticks, adhesive, and candy or other fillers. It's also a good idea to add buttons, a ribbon, and a chalkboard tag.
Visit Cutesy Crafts to discover more information about this charming teacher gift idea. You can also download a flower template for free.
6. Classroom Photo Album – Best Birthday Gift for Teachers from Students

A classroom photo album is one of the best birthday gifts for teachers from students. It's a sentimental way for teachers to remember all students they have taught over the years.
You can make this album yourself or purchase one online. One of the best things about this gift is that it can be personalized with photos and messages from the students.
If you're looking for a DIY project, all you need is a photo album, photos of the students, cardstock, scissors, and a glue stick. You can also use washi tape or ribbon to embellish the album.
Feel free to visit Skip to My Lou for more tips and tricks on building a photo album keepsake from the ground up. But if you don't want t make your album yourself, you can buy one from Amazon.
7. Word Cloud Print – Teacher Retirement Gift Ideas
When a teacher retires, it often means they have completed a long and rewarding career in education. It's a great opportunity to celebrate their many accomplishments and the positive impact they've had on their students' lives.
There are many teacher retirement gift ideas, but a word cloud print is a unique and memorable way to commemorate their career.
You can make this print yourself or have it made for you. All you need is a photo of the teacher, some cardstock, scissors, and a glue stick. If you want to make it more special, you can add some ribbon or washi tape.
When it comes to the words, consult with the rest of your classmates to see what best describes your favorite teacher. We were inspired by an Etsy Pinterest post for this amazing idea. We think it's an awesome student teacher goodbye gift.
8. Wooden Photo Frame – Teacher Valentine Gift Ideas
Valentine's Day is not all about celebrating love in a romantic relationship. It's also a beautiful opportunity to appreciate someone in a non-romantic way, like a co-worker or a teacher.
When it comes to teacher Valentine gifts, we think you can get away with a DIY wooden photo frame. The teacher can use it to showcase a treasured memory, like a photo of you and your classmates.
Add the following supplies to your shopping list: a cardboard picture frame, moss, dry plants, wood slices, a thin paintbrush, a glue gun, a pencil, and acrylic paints in various colors (rose, green, white).
We have prepared an intuitive tutorial for making a Valentine's Day wooden photo frame, so be sure to check it out.
9. Scrabble Nameplate – Personalized Teacher Gifts
Personalized teacher gifts are the best way to show your gratitude for someone's dedication to teaching. And if you're looking for a memorable gift idea, you can't go wrong with a Scrabble nameplate. It's fun, thoughtful, and a nice piece of decor that teachers can display in the classroom.
For this project, you need Scrabble tiles, a hot glue gun, a Scrabble letter holder, and a sharpened pencil. It would help to have an extra set of Scrabble that you don't use anymore or which has missing pieces.
Head over to Modern Mom Life to find out more about this fun idea.
10. Manager of Tiny Humans – Teacher Mugs and Cups
If you're looking for a simple and funny gift for your favorite teacher, we think you should consider a custom mug. It's humorous, memorable, and will always remind them of their students.
We adore the Manager of Tiny Humans message, so feel free to use it yourself when it comes to teacher mugs and cups. Just make sure to pair it with the name of your teacher and the class they're teaching.
We discovered this wonderful idea on Pinterest, courtesy of Elsa Shirt. All you have to do is decide on a message and have the mug ordered from a local printing shop.
11. Dry-Erase Markers with a Card – Thank-You Teacher Gifts
If you're looking for a truly unique teacher gift, check out this DIY project: dry-erase markers with a card attached. It's an easy, beautiful, and affordable thank-you teacher gift that you can make with your own hands.
For each gift, you need a set of dry-erase markers, cards, a cutting machine, and a thoughtful message. If you need inspiration for thank-you card ideas for teachers, try The influence of a good teacher can never be erased. Thank you for leaving your mark in my life.
Visit Keeping It Simple Crafts for more inspiration.
12. Handprint Cards – Daycare Teacher Gifts
Daycare teachers typically receive the same gift each year, like a candle or an ornament. And while they're lovely gifts to give, we suggest that you think outside the box and give something handmade.
Handprint cards are a wonderful idea for a personalized daycare teacher gift. They will always remind the teacher that each child from their class has a special place in their heart.
For this project, you can handwrite a message or use a cutting machine to print something thoughtful on cards. Then, all you have to do is have your child dip their hands in acrylic paint and then stamp it on the card. It doesn't get any simpler than that.
Check out this Pinterest post for more inspiration.
13. Colorful Pencil Vase – Preschool Teacher Gift Ideas
One of the best and simplest teacher appreciation gifts that you can give is a pencil vase. It's easy to make and can be personalized with the teacher's name and the year.
All you need for this preschool teacher gift idea is a clear vase, enough colored pencils to cover the entire vase, a ribbon, a hot glue gun, double-sided tape, or glue dots.
Head over to Thrifty Jinxy for more information on how to make this beautiful gift.
14. Rustic Memo Board – New Teacher Gifts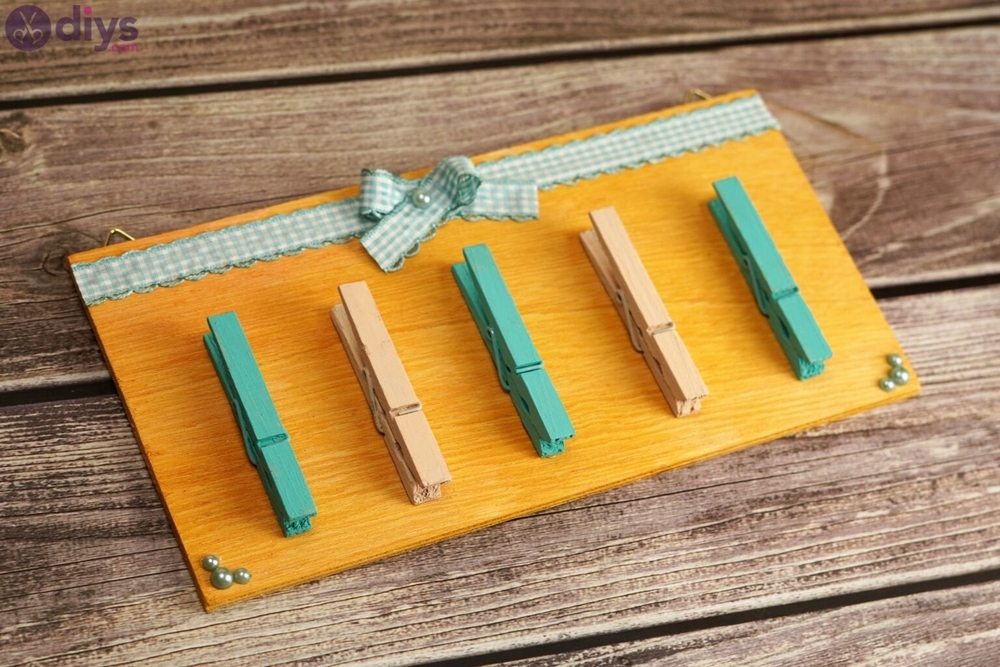 New teachers need a lot of help with organizing their desks and planning for the school year. So, we think that they'll really appreciate a personalized memo board as a gift. It's fun, colorful, and practical.
To start working on this new teacher gift, you need a wood board, brown spot glaze, decor beads, a paintbrush, a hot glue gun, acrylic paint (green, cream), a silk ribbon, clothespins, and hanging hoops.
Check out our tutorial for making a rustic wooden memo board to learn more. We have prepared simple step-by-step instructions with screenshots, together with a video guide.
15. Mustache Shirt – Male Teacher Gift Ideas
Teachers work hard to nurture their students and help them grow into young adults. So, it's only fitting that you give a gift that reminds them of how much you appreciate them.
We adore this male teacher gift idea of giving customized a T-shirt with a mustache and a funny message like Please raise your hand if you mustache a question.
You can have it ordered from your favorite T-shirt printing shop. Or you can just buy it from Etsy.
16. Ice Tea with Tag – Cheap but Good Gifts for Teachers
If you're looking for a cheap but good gift for teachers, you can go with a custom ice tea that has a tag attached. It's fun, colorful, easy to make, and the perfect sendoff for summer vacation.
For this project, you need a jar or a tumbler, twine or ribbon, shredded or tissue paper, a printable gift tag, a pair of scissors, tea, and a single-hole puncher.
You can explore many choices when it comes to customized messages. For example, we think that Thanks for being such a sweet tea-cher is lovely.
If you love this printable tag as much as we do, download it from Mama Cheaps. Feel free to explore the rest of the article for complete instructions.
17. Flower Pencil Bouquet – Back-to-School Teacher Gifts
Teachers spend a lot of time in the classroom grading papers and preparing for their next lessons. Perhaps, what they need most is a quick break with some art materials to create something beautiful.
We think that this flower pencil bouquet is just the right thing for them. It's an adorable back-to-school teacher gift that will keep them inspired and creative. Plus, it's easy to make.
To work on this project, you need a flower pot, a block of foam that fits the pot, #2 yellow pencils, Easter grass or green shredded paper, a ribbon, and scrap paper in various colors.
It's also necessary to cut paper flowers, and the easiest way to do that is by resorting to a cutting machine. However, if you don't have one, you can either cut the flowers by hand or use a flower punch.
Head over to My Mommy World for the complete instructions.
18. DIY Music Sheet Coasters – Music Teacher Gifts
Music teachers spend their time nurturing the souls of their students by introducing them to beautiful music.
If you want to give them something special for teacher appreciation week, consider making music sheet coasters from the ground up. It's easy, fun, and will definitely get the appreciation they deserve.
For this music teacher gift, you need a set of coasters, mod podge, music sheets, a paintbrush, scissors, a cutting machine like Silhouette Cameo or Silhouette Portrait, and black vinyl.
Go to Raggedy Bits to learn more about this awesome project and get the complete instructions. We promise that you will love the results.
19. Homemade Chocolate Chip Cookies – Last-Minute DIY Teacher Gifts
If you run out of time trying to find the perfect gift for your favorite teacher, you can't go wrong with a batch of delicious homemade chocolate chip cookies. It's the ideal last-minute DIY teacher gift.
Ingredients:
1/2 cup of butter, softened
1/2 cup of sugar
1 teaspoon of vanilla extract
1/4 cup of brown sugar, packed
1 egg
1 and 1/4 cups of all-purpose flour
1/2 teaspoon of baking powder
1/4 teaspoon of baking soda
A pinch of salt
1 and 1/2 cups of semisweet chocolate chips
Instructions:
Preheat your oven to 350 degrees F (175 degrees C). Grease cookie sheets or line them with parchment paper.
In a medium bowl, cream together the butter, sugar, and brown sugar for 1-2 minutes.
Beat in the egg and vanilla until well blended. Then stir the flour, baking powder, baking soda, and salt into the batter.
Mix the batter in the chocolate chips, form dough balls about 2 tablespoons each using your hands, and place them on a cookie sheet about 2 inches apart (you should get about 12 cookies).
Bake at 350 degrees F (175 degrees C) for 8 to 10 minutes or until golden brown around edges but still soft in the center.
Let the cookies cool for 3 minutes so that they don't fall apart when removing them from the pan and transferring them to a wire rack.
Allow the cookies to cool completely before storing them in an airtight container.
Don't forget to attach a tag before giving your homemade chocolate chip cookies to your teacher.
20. Periodic Table of Dance Elements – Dance Teacher Gifts
A periodic table of dance elements is a great gift for any teacher who has a curriculum where they teach students the art and science of ballet, tap, jazz, or any other dance form.
This is a beautiful poster that will inspire any teacher, professional, or amateur dancer. It's also perfect for studios, academies, schools, and community centers. we think it's a fantastic dance teacher gift.
You can buy it from Amazon.
21. eGift Certificate for Teacher Stuff – Teacher Graduation Gifts
Teachers deserve gifts that they can actually use at school. And there's no better way to approach this than by getting them an eGift Certificate to Really Good Stuff.
It's a wonderful teacher graduation gift because they will be able to purchase anything they need for the classroom: books, binder holders, storage boxes, and so on.
What's more, you can attach a customizable message to the gift card to show your teacher how much they mean to you.
This gift idea is also convenient since the gift card will be quickly delivered via email after purchase. As such, it works as a last-minute solution since you don't have to wait for too long.
22. Egg Magnets – Teacher Gift for Easter
These adorable egg magnets are pretty easy to make, and they're a great teacher gift for Easter. We love how simple and cute they look. Plus, they're quite practical since teachers can use the magnets to pin important notes they need to remember.
To start working on this project, you need eggs, magnets, food coloring, a bowl, a hot glue gun with plenty of glue, and water. It's a pretty easy Easter craft, although you're free to explore others when it comes to teacher gifts.
Visit our website to find out everything there is to know about making Easter egg magnet vases.
23. Chess Set – Math Teacher Gifts
We thought long and hard about what a math teacher would appreciate as a gift. There are so many unoriginal and cliché ideas out there, but we think you can't go wrong with a timeless gift: a chess set.
A chess set is an ideal math teacher gift. In fact, it works for anyone who loves strategy games.
This one is especially valuable since it's made with inlaid walnut and equipped with handcrafted chess pieces, which have felted bottoms to protect the board from scratches.
You can buy this chess set from Amazon.
24. Terracotta Apple – Cool and Funny Teacher Gifts
Many people believe apples are a symbol of knowledge, so they make great gifts for teachers. Of course, it is important to know what kind of apples your teacher likes best.
Or, you can be cheeky and design an apple from terracotta instead of giving actual fruit. The best part about it is that you can fill the container with various goodies, such as thank-you notes, chocolates, pens, and pencils.
To work on this cool and funny teacher gift, you need a terracotta pot and saucer, wood spool or brown clay, red and brown acrylic paint, adhesive, a fake leaf, a clear acrylic gloss spray, and a paintbrush.
Head over to Inspiration Made Simple for the complete instructions.
25. Strawberry Teacher Gift Basket Ideas
A gift basket idea is fantastic for teachers. Of course, it can be hard to choose the right gift basket. You can simplify this decision by picking a theme to revolve your basket goodies around.
With that in mind, we decided to focus on strawberries for this teacher gift basket idea. We adore this one for its simplicity and sweetness.
To put together a strawberry basket, you need fruits, scented candles, perfume or body spray, scented pens or markers, scented erasers, whopper candies, and a water enhancer – everything strawberry, evidently.
Visit Our Family of Seven to find out more. You can also download a printable gift tag for free.
26. Appreciation Bookmarks – Small Gifts for Teachers
Appreciation bookmarks are small gifts for teachers that don't take much time or effort to make. But they're sure to put a smile on your teacher's face, depending on what they say.
For example, we love the Thank you for helping me write a chapter in my story message. You can download the free printable from Positively Splendid, which has bright colors. It also works as a cute bookmark for your bookworm friends.
27. Four Point Moon Puzzle – Science Teacher Gifts
A puzzle is a fantastic gift idea for science teachers, especially if you can find something sciencey like this Four Point Moon Puzzle from My Modern Met.
It's a difficult, circular puzzle made from 1,000 pieces, all of which are recycled materials. Once completed, the puzzle will have a 26.6-inch diameter.
What sets it apart from other moon puzzles is that this one has the most accurate representation of the moon.
28. Bath Bombs – Thanksgiving Gifts for Teachers
Bath bombs are one of the best Thanksgiving gifts for teachers. They are relaxing, fun to make, and easy on the wallet. Besides, it doesn't take a wizard to make bath booms for scratch.
For example, you can make orange-scented bath bombs using baking soda, cornstarch, citric acid, Epsom salt, water, coconut oil, orange essential oil, orange zest, food coloring, and a bath bomb mold.
Check out our tutorial to learn everything you need to know.
29. Letter Transfer Tote Bag – Art Teacher Gifts
A tote bag with a personalized message is an excellent art teacher gift that will last for years. It allows them to carry all their paintbrushes and art tools without having to worry about ruining their bag.
To make a letter transfer tote bag, you need a plain tote bag, fabric paint, iron-on transfer letters, an iron, a sponge brush, and a scrap piece of cardboard or paper.
Check out our in-depth tutorial with images to find out more.
30. Zen Garden – Principal Gift Ideas
A zen garden is a great gift for anyone who needs to de-stress and relax after a long day of work. It's a miniature landscape used for relaxation and meditation, composed of a few basic elements: rocks, sand, and a plant or tree.
The rocks and sand are used to represent the mountains and seas, while the plant or tree represents life in the garden. The goal of the zen garden is to focus on the simple things in life and to find peace and relaxation.
This particular zen garden has cherry blossom trees, a Shinto Yorii gate, zen rocks, a ceramic pagoda, a bridge, a lotus flower, and moss. You can buy it from Amazon as a principal gift idea.
31. Heartfelt Letter – Mentor Teacher Gifts
A heartfelt letter is a great way to show your mentor teacher how much you appreciate them.
It's a personal way to say thank you for all they've done for you, and it lets them know how their guidance has helped you in your career.
Plus, it's a great mentor teacher gift to keep the relationship strong so that they can continue to help you grow.
Head over to Indeed for valuable tips on how to write a thank-you letter to a teacher.
32. Julius Caesar Pen Holder – History Teacher Gifts
A pen holder in the shape of Julius Caesar's bust is one of the best history teacher gifts. We love how it accurately portrays the betrayal of Brutus, and we think that your history teacher will also appreciate it.
You can buy it from Amazon. It's made of heavyweight painted resin and includes several holes for seven pencils on the backside. This is not only a practical gift but also an awesome piece of decor for history class.
33. Novel Teas with Literary Quotes – Gifts for English Teachers
A gift set of literary teas is a fantastic gift for English teachers. It's both cute and practical because they can read famous quotes while properly caffeinating themselves to tackle another day of work.
We found this awesome gift on Amazon, which contains 25 teabags with all kinds of quotes from popular literary works, so be sure to check it out.
34. DIY Pineapple Candles – Welcome Back Teacher Gifts
Pineapples symbolize hospitality, and they are often used as a welcome gift for guests. They are also a symbol of friendship and leadership. So, if your class is having a new or returning teacher, you can greet them with DIY pineapple candles.
They're easy to make and use all-natural ingredients so you don't have to worry about any harmful chemicals. Plus, they look super cute.
For this welcome-back teacher gift, you need soy wax flakes, candle wicks, a candle wax pitcher, glass jars, pineapple flagrance oil, candle wax colorant, green felt, a paintbrush, green and black paint, and a hot glue gun.
Visit Happiness Is Homemade to get the complete instructions on making DIY pineapple candles.
35. Pencil-Shaped Pencil Holder – Inexpensive and Cute Teacher Gift Ideas
Check out this inexpensive and cute teacher gift idea: a pencil holder shaped like a wooden pencil. It's fun, practical, and a great way to reward teachers at the end of the school year.
Plus, you can personalize it by engraving the teacher's name on it. You just need a pine board, clamps, a miter saw, wood glue, a sander, drill bit and drill, a ruler, spray polyurethane, and acrylic paint.
Visit Jaimie Costiglio for step-by-step instructions on how to make a pencil-shaped pencil holder.
36. Candle Wraps – Teacher Appreciation Gifts
If you want to use candles as teacher appreciation gifts, you can do something special when it comes to the candle wrap, like writing a personalized message.
For example, you can print the following candle wrap messages from Leah with Love at no cost:
Thank you for being a scent-sational teacher.
The world is brighter because of you.
Thank you for helping me shine.
No one holds a candle to you.
37. Button Apple Art – Gift Teacher Appreciation
Teachers appreciate gifts made by the students themselves, rather than store-bought gifts. Try making button apple art if you want to put a pin on the classical apple idea. It's ideal for classroom decor.
To put together this adorable project, you need cardstock, a pencil, tacky glue, buttons in various colors (red, green, brown), and beads in matching colors.
Check out the full instructions at Sugar Bee Crafts to learn more.
38. Grapes over Apples Wine Bag – End-of-Year Teacher Gifts
What do you get a teacher who has everything? Well, wine is always a good option since teachers are adults who need to unwind after a hard day's work.
You don't have to give them an actual bottle of wine, but a reusable wine bag makes for an excellent end-of-year teacher gift.
For instance, we love this reusable wine bag we discovered on Etsy, which has a cute and accurate message: Because we know teachers really prefer grapes over apples.
39. Flashcards – Appreciation Gifts for Teachers
If you're looking for a simple and affordable appreciation gift idea for teachers, you can create personalized flashcards and fill them with notes of gratitude.
The best part is that they can be customized to fit any type of teacher appreciation theme.
For instance, if you have a science teacher who would enjoy flashcards with the periodic table, feel free to download a free template from Urban Bliss Life, where all flashcards spell out TEACHER.
40. Magnetic Clothespins
Clothespins come in really handy for teachers. On chalkboards, whiteboards, to hang garland and papers – the possibilities are endless. And over at Sandy Toe and Popsicles, you can see how easy it is to hand-paint them, add magnets, and gift them to your favorite teachers.
41. Apple Coasters
Purl Soho shows how to keep your teacher's desk free of glass rings in a super adorable way. Find out how to create these apple coasters and try your hand at them.
42. Succulent Pots
Check out Hello Bee and learn how to create these super chic succulent pots that will add a breath of fresh air to the classroom, personalized with a bit of paint.
43. Eos Apple
The Suburban Mom gives us such a great idea for a quirky, thoughtful, and clever teach gift. Grab one of those EOS chapsticks and get to work making this little apple treat.
44. Nail Polish
Eighteen25 shows another clever idea for female teachers. Pamper them a little by gifting them with some toe-tally awesome nail polishes.
45. Chill Pills
Fill a jar with hot tamales, M&Ms, or any other candy you think your teacher would love. Then label the jar as chill pills for a silly, thoughtful gift that he or she will love after a long, hard day. Thanks for the idea, Cook Craft Love.
46. Ruler Wreath
Consumer Crafts gives us a great idea for a wreath that we could all easily create for our teacher. Made with rulers and a bit of personalization, we're sure she would love to spruce up her classroom door with it.
47. Chalkboard Mason Jar
We are in love with this easy idea from A Pumpkin and A Princess. Grab some mason jars and dip them in chalkboard paint for some classroom-style charm.
48. Air Freshener
Surviving A Teacher's Salary has a unique idea that involves creating a homemade air freshener. And that means that your classroom will be a bit more refreshed than before.
49. Caramel Apple In A Jar
Why not give your teacher something sweet they can enjoy at home? The Gunny Sack shows us how to include all the ingredients for a perfect caramel apple in a jar.
50. Sharpies
Get your teacher something useful, like regular ole classroom supplies. Some new sharpies, seen at The Suburban Mom, dressed in a clever way could be examples of what they need.
51. Tote Bag
Tatertots and Jello show how to create something extra-special for a teacher that needs extra tote material. One of these bags can come in handy for dragging books and supplies here and there.
52. Personalized Calculator
Any math teacher would be thrilled to receive this adorable, personalized calculator. Check out the details over atPositively Splendid and put your own together.
53. Chalkboard Notebook
Here's another great chalkboard DIY, but this time it's in notebook form. Kojo Designs has all the details on how to make one of these unique pieces for your teacher.
54. Tumbler
Although you aren't making the tumbler from scratch, the process of putting this useful gift together can get pretty creative. Add some lemonade or tea mix inside and make sure you use the clever quenching tag from Lisa Storms.
55. Push-Pins
Liz On Call grabs some push-pins, which are essential to any teacher and classroom. Then it wraps them up in a way that any teacher will get the hint of their student's appreciation for pushing them to learn.
56. Lip Balm
Using EOS chapstick, Simple As That creates a clever and usable gift. Telling your teacher that she's the balm is a fun play on words and memorable, too.
57. Ruler Ribbon
Love the Day has so many great ideas with printables, making it easy to wrap and tag them. Check out this great idea to gift rulers or something as adorable as ruler ribbon.
58. Hand Soap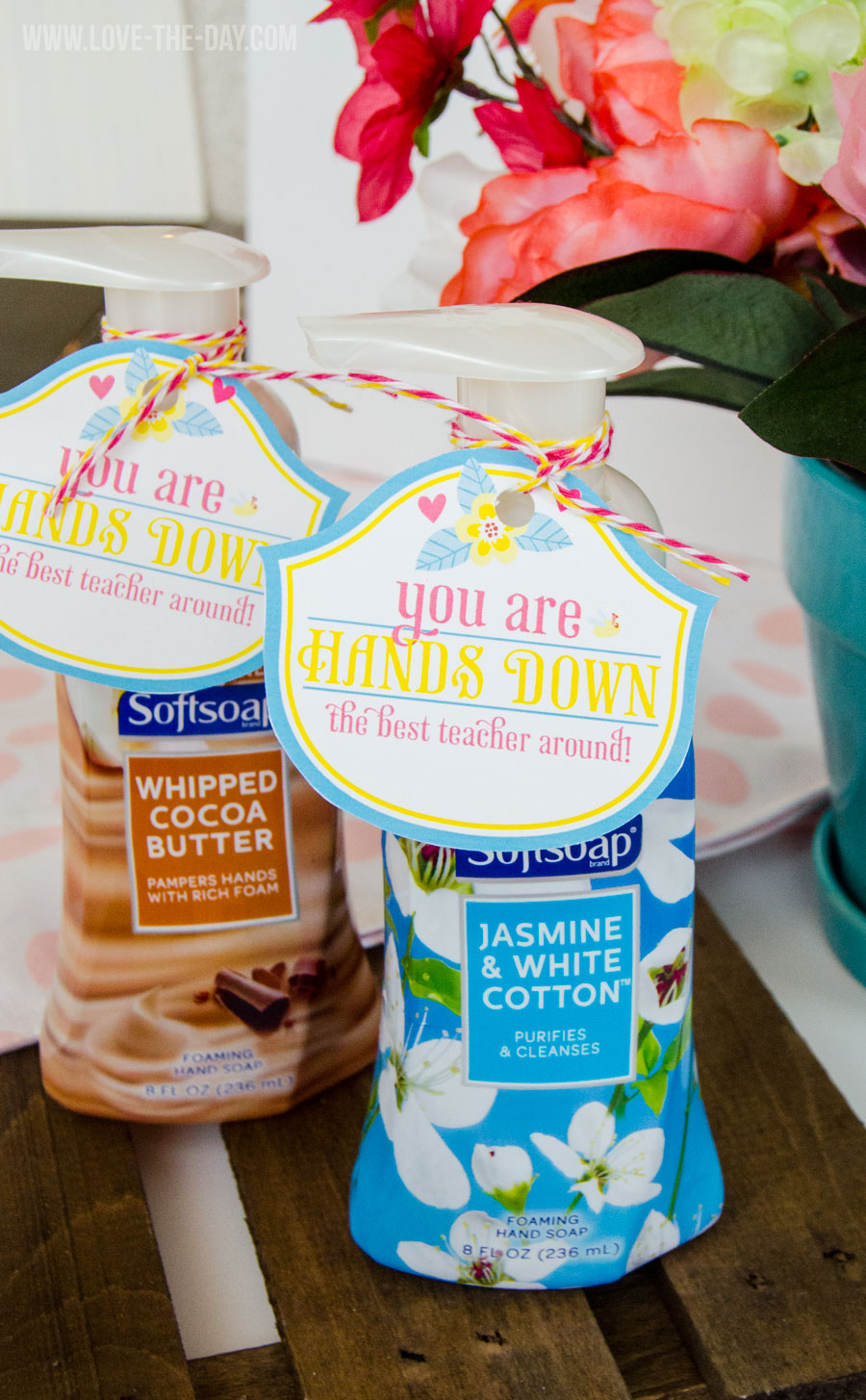 Every classroom needs hand soap or sanitizer, so dress yours up a bit when you bring an extra bottle into class. Love the Day has the printable to make it giftable.
59. Keychain
A keychain is a great gift for your teacher to enjoy – whether it's for their home, car, or classroom. Check this out at A Girl and A Gluegun.
60. Rubber Band Ball
Tried and True shows us how to create a rubber band ball. And what teacher doesn't need one of these floating around his or her room?
61. Candles
A clever tagline and a usable gift – although at home – this scentsational idea is brought by It's A Fabulous Life. Learn how to do your own candles or just snag a few from the store.
62. Highlighters
Love the Day provides us with some wonderful free printables to design clever teacher gifts. And this highlighter set is just too adorable not to feature.
63. Extra Gum
Your teacher will appreciate this gift outside the classroom – but it doesn't make it any sweeter. Give this gift to your extra-ordinary teacher, thanks to Sweet Metel Moments.
64. Pineapple Jar
How adorable is this pineapple jar from Yesterday on Tuesday? Fill it up with classroom supplies or your teacher's favorite candy.
65. Chalkboard Monogram
Similar to the chalkboard mason jar, grab your teacher's initials and create a monogram they can design and utilize. Find out the details at Maison de Pax.
Final Thoughts on Gift Teacher Appreciation Ideas
Teachers make a big difference to students. So if you want to thank them for their great work, you can't go wrong with these gift ideas. With so many creative gifts to choose from, you are bound to find the best one for your favorite teacher.
We hope that this article has given you some valuable insight into the best teacher gifts. What are your favorite gifts for teachers? Let us know in the comment section below.