75 DIY Paper Christmas Ornaments To Make this Christmas!
One of the best holiday traditions is decorating the Christmas tree. People do this every year because it's fun and a chance for the entire family to get involved in hanging beautiful decorations around the house. And paper Christmas ornaments are one way to go about it.
Paper Christmas ornaments are a creative way to dress up your tree, and the best part is choosing the colors and patterns. These days you can find all sorts of paper ornament kits at craft stores, but it's also easy to make them yourself with the paper you already have around the house!
Here we'll look at how easy it is to handle DIY projects involving paper. You just have to choose the project that's right for you. If your kids want to help you with this activity, all the better.
If you're curious about what you'll find below, know that you can jump directly to whatever you fancy most:
Christmas Ornament Ideas
When it comes to Christmas ornaments, it's obviously going to be a preference-based business – not everyone likes the same things, and that's ok. So what can you decorate your tree with? Well there are plenty of options, here are our favorites:
Personalized Christmas baubles
Pretty home-made ornaments made of paper
Dough-made ornaments
Shiny baubles from the store
Candy canes
Strings of Christmas candy
Really, the list can go on forever, and we're absolutely sure you can think of a few yourself.
DIY Christmas Ornaments
If your crafting mood extends into the holidays, let's find some really cool things you can make by yourself or even with the kids.
Christmas Paper Crafts
Let's see what cute projects we can take on for the holidays! We just love all these Christmas paper crafts we found, so let's get on it.
1. Stars – DIY Ornaments
DIY ornaments can make a great addition to any Christmas tree, and we all know that simple and elegant is always in style. Therefore, if you want to make some paper stars to hang on the tree, you will be making a great choice.
They look awesome and are inexpensive to make, especially if you have kids who want to be part of the process. It's a great way to learn how colors look together and how much fun crafting can be! Plus, you don't even need any special equipment!
When it comes to materials, you need a hot glue gun, silver paper, a pair of scissors, a pencil, and a ruler. You start by drawing lines on a sheet of paper to cut strips and criss-cross them. Then, you attach the strips using glue, weave them, and repeat this process until you can join the strips at the ends and merge the loops.
For more information on making paper star ornaments for the Christmas tree, check out our in-depth tutorial! There's also a video guide available.
2. Beaded Angels – Christmas Ornament Crafts for Kids
Paper angels with beads are beautiful Christmas ornament crafts for kids. They can be used to make a small mobile where the angels will fly around a central peg. Alternatively, the beaded angels can be hung from a string of their own to create a stunning decoration for the Christmas tree.
The instructions required for this kid crafting task are elementary! Get started by gathering your materials: paper and decorative pearls. If you want your angels to be classically white, then make sure the paper and pearls are both white.
But that's not mandatory since you can use any colors you prefer as well as mix and match different colors. For example, it would be interesting if the paper had two sides with different colors.
As far as supplies go, you need a cutting mat, glue, and a pair of scissors. As such, you shouldn't leave your kids unsupervised while they're making the beaded angels.
Watch the YouTube video tutorial posted by Colors Paper to see how easy it is to make beaded angels!
3. Angel Silhouettes – Paper Christmas Ornaments
Angel silhouettes are very cute Christmas tree ornaments that have an elegant look. You can hang them on your home's door, front porch, back garden gate, or even the basement entrance.
The tutorial is incredibly useful for those who want to teach their kids how to make paper Christmas ornaments. What you need is a paper cutter or a pair of scissors, a glue stick, white construction paper or cardstock cut into strips, as well as yarn, twine, or string.
Visit Buggy and Buddy to get the complete instructions, including dimensions for each strip of paper!
You just have to glue the ends of the strips in the correct shape before assembling the angel and putting a string through the head so that you can hang the ornaments anywhere in your home.
4. DIY Christmas Ornaments Paper Pendants
Design and Formshows us how to make these gorgeous paper pendants. These too can be dipped in a bit of glitter.
5. Paper Christmas Ornaments – Paper Modern Trees
If you want to make some paper trees with a more modern twist then these are the ones for you. Black, white, or other neutral colors would work quite nicely. (via)
6. Paper Pieced Balls – Easy DIY Christmas Decoration
Remodelaholicmade some paper balls that look a bit "pieced" together. It's just another fun take on a classic Christmas ornament.
7. Handmade Christmas Ornament – Paper Neutral Balls
Nalle's Housemade some neutral-colored balls for those with a more monochromatic or contemporary holiday style. Grab the details and inspiration after the jump.
8. Paper Multi-Color Balls – Paper Christmas Ornaments
Hello Yellow Blogmade some multi-color balls that are fun and festive too. Take the leap and check out the tutorial.
9. Paper Christmas Crafts – Angels
The Craft Trainmade some paper angels that were hard not to fall in love with. They're another classic way to decorate for Christmas but also easy to whip up too.
10. Paper Ballerinas – Easy DIY Christmas decorations
Remodelaholicfeatured these charming paper ballerinas and we instantly fell in love. You've got to add a bit of ballet, feminine detail to the family tree!
11. Paper Christmas Ornaments – Dictionary Flowers
Over at From Dahlias to Doxies, you'll learn how to make some more paper flowers. It's the materials used, pages from a dictionary, that make it so special.
12. Paper 6-Point Stars – Easy DIY Christmas Decorations
Even these paper, 6-point stars could make for great Christmas tree ornaments. Kate's Creative Spacehas the tutorial and know-how you need.
13. Whimsical Christmas Decorations – Paper Trees
Parentsalso featured this whimsical Christmas tree. It's just another way to get the kids involved and add a bit more of a magical element to the season.
14. Paper Minecraft Cubes – Easy DIY Christmas Decorations
Anyone or any of your kiddos fans of Minecraft? Ifso, you'll want to check out this fun paper ornament DIY now! (via)
15. Paper Polyhedra – Christmas Paper Craft
Field Guide 35 made these chic paper polyhedral ornaments that we're loving. This coincides with the geo trend making its way across all fashion and interior design pages.
16. Paper Baubles – Christmas Ornament Idea
We have some more paper baubles that you can whip up tonight too. Add handmade fun to the tree with these cuties. (via)
Handmade Christmas Ornaments
We love making things, so let's see some really cool ideas for handmade ornaments we can put up this year.
17. Honeycombs – Christmas Ornament Crafts

Honeycombs are an original Christmas ornament crafting idea that your whole family will fall in love with. They are simple to make, look cute, and can be used for various purposes – stringing them up as a garland or decorating your Christmas tree.
To make paper honeycombs, you need some black cardstock, two colors of paper (one for each layer), scissors, white double-sided adhesive tape, and a pencil, pen, or marker for tracing lines on the paper that will serve as your templates.
You don't have to use any special template here – find something with an interesting shape that would fit around your roll of paper!
The first step is cutting out the shapes from the two different colors of paper, so they match up perfectly when folded together. Then, create a template out of the cardstock by tracing lines from your original paper pattern.
Use double-sided adhesive tape to stick both layers together and insert a toilet paper roll into the center. You can also cut two small triangles that will keep the roll in place. Lastly, you need to decorate your honeycombs.
To learn more about making paper honeycombs, visit My Craftchens and check out the in-depth tutorial!
18. Paper Origami Balls – Easy DIY Christmas Decorations
Giochi di Cartadid a bit of origami magic with their paper ornaments. Check out how to make these balls after the jump.
19. Christmas Paper Crafts – German Stars
Here's another kind of star that can go on the tree too. Visit With a Grateful Prayer and a Thankful Heartfor all the fun details.
20. Paper Geo Trendies – Easy Christmas Decorations
And here we have some more geo designs that we fell in love with too. They're super trendy and you can learn all about these ones over at U Create.
21. Paper Striped Baubles – Easy DIY Christmas Decorations
How About Orangecreated these funky striped baubles that you can make at home too. Baubles are always welcomed on the Christmas tree!
22. Paper Drops – Easy DIY Christmas Decorations
These dropped designs are charming too, don't you think? Visit Think.Make.Shareto gather up all the fun details.
23. Paper Punch Flower Ball – Whimsical Christmas Decorations
Do you have any paper punches inside your craft room? If so, you can create something similar to this! (via)
24. Paper Geode Christmas Ornament
Lia Griffithhas another gorgeous, paper ornament DIY that we're loving. And dip them in some glitter while you're at it!
25. Paper Wreaths Christmas Ornaments
Some mini paper wreaths are just another fun little addition for your tree. Do them in colors or more classic of shades. (via)
26. Paper Glitter Cutouts – DIY Ornaments
Martha Stewartshows us how to make some paper cutouts for the tree as well. From classic to charming, there really are so many ways to get inspired with these kinds of projects.
27. Paper Spiral Trees – DIY Ornaments
These paper spiral trees are fun too, don't you think? We found them features at Parentsand love how they'll add a bit of whimsy to your Christmas tree this year.
28. Paper Scrap Balls – DIY Paper Ornaments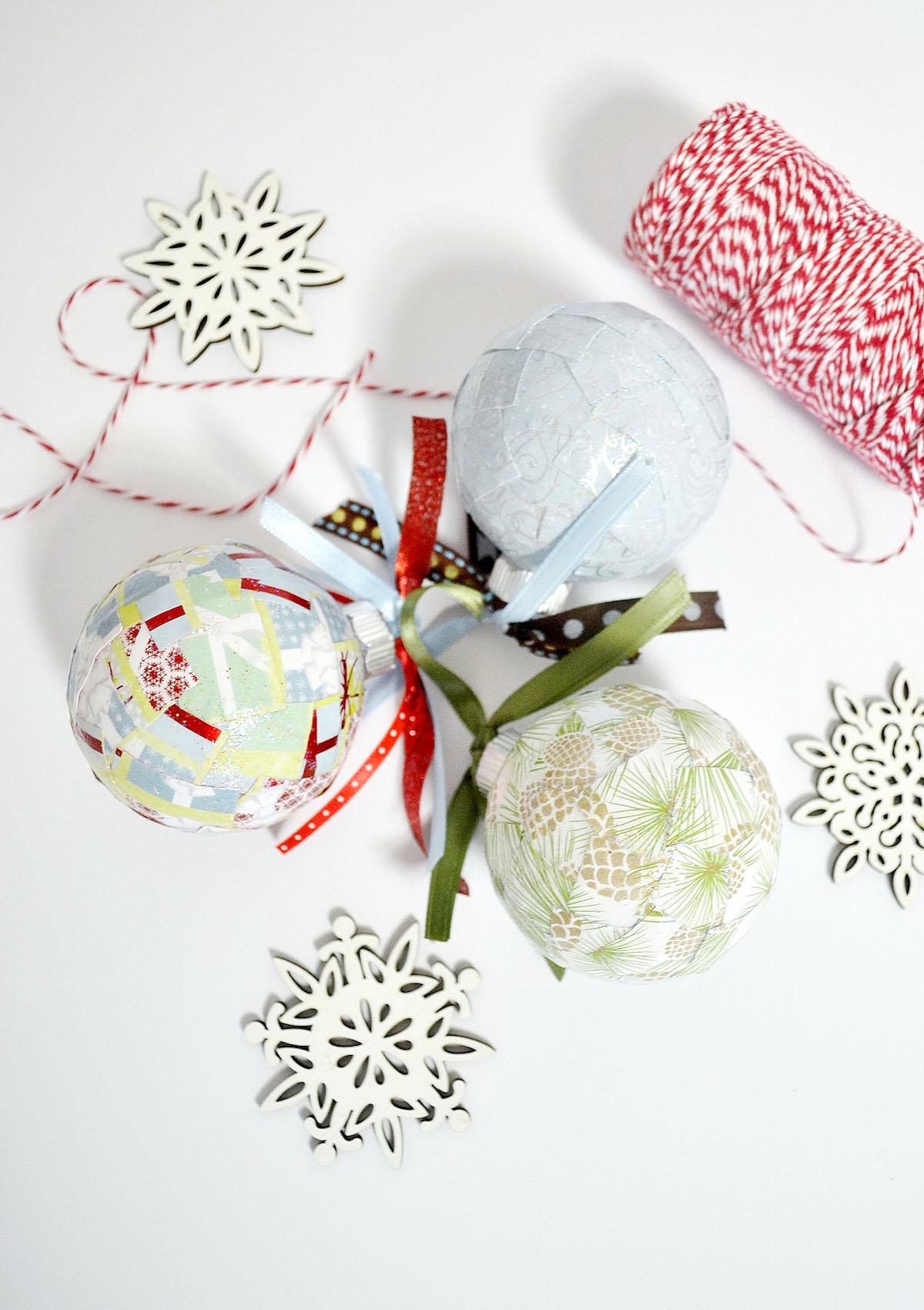 Here's another great way to put all of your scrap paper to good use. Visit Mod Podge Rocksand follow the easy steps.
29. Paper Sculptures – DIY Tree Ornaments
All Things Paperalso made these little sculptures. Embellish them to match your own style and has fun spreading them throughout the tree.
30. Paper Geo Designs – DIY Christmas Ornaments
If you're inspired by contemporary styles then you'll want to learn how to make some of these geo designs. They decorate the tree quite nicely and give it a fashion-forward feel. (via)
31. Paper Festive Christmas Ornaments
The Crafty Sistersmakes easy, festive ball ornaments that your tree will love. Visit the blog and grab all the simple details.
32. Paper Bows Christmas Ornaments
Top your tree off like a present all on its own with help from Lia Griffith. We are in love with all these dainty bows.
33. Paper Scalloped Balls – DIY Tree Ornaments
Lia Griffithhas some festive scalloped balls that you can make for your tree too. Just grab some fun paper and get started tonight!
34. Paper Stacked Starburst – DIY Christmas Ornaments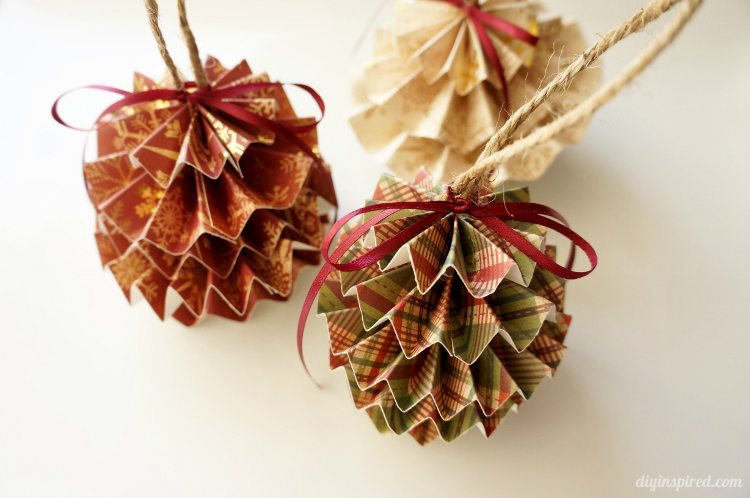 DIY Inspiredstacked some starburst designs for something extra festive. You could even use different colored and patterned paper throughout the project.
Christmas Paper Crafts
Let's see what other things we can make with paper that will fit your home for Christmas? We have lots and lots of ideas you will love. Some are a bit more difficult to do and some that even your kids will be able to make on their own.
DIY Christmas Decorations
Let's see what you can make this year and what new things you can create with your family.
35. 3D Simple Christmas Tree Decorations
Little paper trees are the cutest Christmas tree ornaments to make! But don't let their size fool you as they're incredibly simple to build and look very elegant. As a bonus, your kids can even customize them by painting, adding ribbons or other decorations, and so on!
To build one, you'll need cardstock of various colors: white, pink, and green work best. Then just follow the instructions provided in this simple YouTube video tutorial, which was uploaded by Aklima DIY & Crafts. Your children will love making these simple paper Christmas ornaments!
36. Angels – Construction Paper Christmas Crafts
Angels are among the cutest paper Christmas ornaments to make using construction paper! They're incredibly easy to craft, so your kids can have fun while being creative.
The project requires paper in various colors (light pink, white, red), red and black markers, a pair of scissors, a gold pipe cleaner, a glue stick, and white and gold yarn.
You start by cutting the angel's head out of pink paper, after which you can make the bow and wings. It's then necessary to shape the body and start gluing everything. Add the wings, decorate the angel with string, make the head from the gold pipe cleaner, and draw the facial expressions with markers. And that's it!
To learn more about making a paper angel as a Christmas crafting idea for kids, don't hesitate to read our complete tutorial! We have also prepared a video guide with easy-to-follow instructions.
37. Snowman Head – DIY Paper Christmas Decorations
A snowman head is a simple yet pretty DIY paper Christmas decoration that children will love to make! The project only requires a small number of materials, most importantly construction or pastel-colored paper, glue, scissors, and markers.
It all starts with cutting out the snowman's head from white paper using scissors. Then you need to cut out two circles from pink paper for his cheeks, two yellow ones for his eyes and mouth, and several red triangles for his nose.
In the following step, you have to glue everything in place on top of the snowy face. And finally, it's time to draw some facial expressions using markers.
And there you have it! A cute little snowman head looking adorable on any windowsill during the festive season is ready to be admired!
For more inspiration on making a paper plate snowman head, better follow our instructions, which are complete with a video guide!
38. Roses – Christmas Paper Crafts
Paper roses are one of the most popular types of Christmas paper crafts. You can make them in many different shapes and colors, depending on your preferences.
There are simple ones, there are complex ones, and there is even one with an origami technique! And you can also combine all kinds to create something spectacular for your living room or bedroom walls.
To begin making paper roses, you'll need a template that will display how to fold individual petals. Then, follow each step carefully until you've learned all the techniques needed for this project.
Once you know how it's done, start making a few paper roses and place them in a vase or simply hang them on the wall using a tiny piece of white ribbon. You can also add one to your Christmas tree, but keep in mind that they are delicate, so don't overdo it with decorations!
We have prepared an easy-to-follow tutorial about making paper roses, so have a look! When it comes to supplies, you need paper in the preferred color, a pencil, a glue stick, a ruler, and a pair of scissors.
39. Layered Paper Christmas Tree
Christmas trees are a classic part of the holiday season, and we can't imagine it without one! The beautiful glittering lights and all the fun ornaments make these trees look simply magical.
If you want to spruce up your wintery decorations by creating a small-sized paper Christmas tree that can't replace a real one in any way, try making a layered version. It's easy, inexpensive, and can be done in less than an hour!
For supplies, you need papers in various colors (one for each layer), black cardstock or glossy photo paper for the trunk, white double-sided adhesive tape for decorating branches, scissors, glue stick & brush.
The first step is cutting out a circle that will serve as the base of the Christmas tree. It should be about half the size of your circle template, so if you are using a 5-inch one, your base should be approximately 2.5 inches in diameter.
Next, cut several smaller circles that will serve as ornaments for this festive decoration. Take the 3-inch paper circle and trim off its center for thickness purposes. Then, spread glue on its backside and stick it to the larger circle at different places to create an ornament cluster. Continue doing this until all of your circles are glued to the base of the tree.
Now is time for decorating! Create strands out of small strips by cutting them diagonally with scissors, but keep the width narrow – they should only cover half of the ornament circle. Attach them to each other and make a garland out of it by sticking them to the tree's base.
In the following steps, cut two 2-inch pieces off your trunk template and glue them lengthwise to create one long piece. Use double-sided adhesive tape for fastening purposes. Don't forget about adding some sparkle to this masterpiece by attaching some Christmas tree tinsel on the sides of the trunk.
This is one of those simple paper Christmas crafts that can be enjoyed by kids as well, so have fun! If you want to keep your ornaments safe and beautiful for a long time, find a transparent vase or an ornament box to hold them in.
If you prefer a simpler version that involves sticking curved paper petals to a cone shape, head over to the SimpleJoys blog and read the tutorial!
40. Snowmen – Christmas Ornament Ideas
Snowmen are a popular choice for holiday decorations because they look pretty cute and are easy to make. Plus, these festive Christmas ornament ideas can be used in many ways – you can hang them on the Christmas tree or door, incorporate them into your wreath creations, or even string them up as an overhead decoration.
To make a snowman from toilet paper roll, you need a white paper roll, two black paper rolls, some googly eyes, and a black marker or sharpie. Take one of the white rolls and place it on top of the second white roll that you've cut in half. Tuck the end of one end into the other to make sure they're connected.
Now take your two black paper rolls and attach them to the top of your snowman with glue where you want them (like arms). You can also color these in with a black marker or sharpie if you want. Finally, put some googly eyes on your snowman, and there you have it! You can also add a pom-pom nose or mouth if you want to.
For more inspiration, read our intuitive guide on making paper snowman ornaments!
41. Christmas Tree Garland – DIY Christmas Ornaments for Kids
The Christmas tree looks wonderful already. And it will look even better if you go for this garland! Indeed, your whole house can be decorated with these cute DIY Christmas ornaments for kids. But it doesn't mean that the process of making them is complicated or time-consuming.
As far as supplies are concerned, you need cardstock in your preferred colors, a paper cutter, glue dots, chipboard stars, twine or string, and a hot glue gun with glue.
The creative process is rather straightforward. Start by cutting several strips of cardstock to create the garland. Then, cut large stars out of chipboard, and don't be afraid to get creative with your shapes and sizes. Now you can glue the stars onto the strips of cardstock.
Once you're done with all pieces of paper, assemble them by gluing the ends of two pieces. You can use clamps to hold the garland together until the glue dries up completely. Then, attach a piece of twine at the top. And your DIY Christmas ornaments for kids are ready to be hung on the Christmas tree!
For more inspiration, head over to Average But Inspired and check out the user-friendly tutorial!
42. Santa Candy Holder – Paper Christmas Decorations
A Santa candy holder is an adorable paper Christmas decoration idea, especially for young ones. Besides, it gives them a chance to hide the candy received from their grandparents.
Even if you're not into crafts that much, you can teach your kids how to make a Santa candy holder with ease! For this project, you need paper in various colors, googly eyes, a pencil, a popsicle stick, a pair of scissors, a jar, and a glue stick.
After collecting all materials, you can prepare Santa's nose from a small piece of dark pink paper. Then you can make the face light pink, prepare the belt buckle in yellow, make the belt black, and shape Santa's body using the jar and red paper. What's left is making the hat and white elements, then assembling all elements.
As you can see, the instructions are pretty straightforward. You can find out more about making a Santa candy holder by checking out our intuitive tutorial. There's also a video guide put at your disposal.
43. Toilet Paper Roll Angel – Paper Ornaments for Kids
A toilet paper roll angel is one of the best paper ornament ideas for kids during the Christmas holidays. It's so simple that even younger children could try making such a cute angel!
Of course, you'll need several supplies to complete this project. But don't worry as they're easy to find: toilet paper roll, white and peach paper, yellow yarn, pipe cleaners, a white ribbon, scissors, a glue stick, and pink, blue, and red markers.
Once you have everything, you can start by measuring the angel's dimensions and cutting the paper accordingly. After preparing the body, you can make the hair using yarn and then attach it to the toilet paper roll using glue.
Finally, you add a ribbon, glue the wings out of a heart-shaped piece of paper, make a halo from a pipe cleaner, and draw the facial expressions using the markers.
With these simple instructions, you can teach your kids how to make the cutest paper ornaments in time for Christmas. To find out more about crafting a toilet paper roll angel, check out our tutorial! You can also watch a video guide.
44. Paper Plate Snowglobe for Kids – Christmas Paper Crafts
Here's another take on making paper-based snowglobes for kids. This time, however, you can use paper plates for this Christmas paper crafting idea.
For this project, you need some sturdy white plates with smooth edges, clear glue, glittery confetti (in as many colors as possible), self-adhesive googly eyes, and a round sticker for the base of each ornament.
Start by gluing the plates together and then use a hole punch to create three circles out of cardstock. After that comes the most difficult part: decorating the paper plates!
Apply glue around one side of the circle and place glittery confetti over the glue, then place a googly eye on top. Then you have to apply more glue and place another circle of cardstock over the first one and finally place a round sticker at the bottom. And that's it!
Paper plate snowglobes are a unique take on Christmas tree ornaments, and now you can make your very own thanks to this easy YouTube video tutorial from Bright Kid Fun.
45. Santa Gift Tags – Christmas Paper Crafts
Don't throw away those soda can tabs because you can use them to make amazing Christmas paper crafts like these Santa gift tags!
What you need for this project are red and black cardstock, glitter, a pair of scissors, twine or string, and about two dozen little pieces of silver tinsel. Start by cutting out a rectangle and a circle from red cardstock.
Punch a hole at the top of each shape, then create strips of black paper, put each one through a soda can tab, and attach them to Santa's body. You can also cut small pieces of silver tinsel and place two of them vertically to create buttons. Finally, attach a piece of twine or string using a simple knot so that you can hang the gift tags.
This is a great way to recycle soda can tabs and turn them into something useful instead of throwing them away. And what's more: your kids will enjoy making these Santa gift tags as much as giving them as gifts on Christmas morning.
46. Paper Geo Jewels – DIY Christmas Decorations
We Are Scoutmade some geo designs as well. Resembling jewels, adding some sparkly glitter to this one could be fun too.
47. Paper Flowers Christmas Decorations
You could round out your tree with some paper flowers as well. Just hop on over to How About Orangeand learn how!
48. Paper Sphere Ball – DIY Christmas Ornaments
This paper sphere ball could be a fun addition as well. Visit Remodelaholicand grab the kiddos for some extra hands.
49. Paper Folded Stars Whimsical Christmas Decorations
The Crafty Sisters made these small, folded stars out of paper as well. This is a great project for any leftover scrapbook paper and put it to good use.
50. Penguins Christmas Paper Craft
How About Orangemade some adorable paper penguins too! Just add a hook and cover the tree with their youthful charm.
51. Paper Book Stars – DIY Ornaments
We're loving these paper stars from The Cheese Thief. Stars are always a great way to decorate for the season, especially on the tree.
52. Paper Houses – Handmade Christmas Decorations
All Things Paperwhipped up these adorable little houses! Create some of your own and personalize to your liking before you place them onto the tree.
53. Paper Christmas Decorations – Mini Gifts
Oh Happy Daymade some mini presents that will surely brighten up your tree. Check out the details after the jump!
Easy DIY Christmas Decorations
These next projects are super easy to make, even if you have kids as helpers.
54. White Paper Christmas Tree
A simple yet elegant Christmas tree made from white paper is a great idea for children who want to help out with the decorations this year!
When it comes to supplies, you need paper cones, scissors, fabric, twine, yarn, and glue. The process is straightforward since you have to glue the fabrics to the paper cones until they are completely covered.
Feel free to experiment with multiple fabrics to get different types of paper-based Christmas trees. They don't necessarily have to be white since you can use any color or combination of colors that go well with your overall holiday theme.
To find out more about making paper Christmas trees, check out the simple tutorial we discovered on HomeTalk!
55. Folded Origami Paper Christmas Tree
If you're looking for a truly elegant paper Christmas tree that will add an extra touch of sophistication to your holiday decorations, we recommend making one with some origami skills! In fact, you should make a bunch of origami paper Christmas trees since you can use them as any type of decorations, including ornaments.
Although the project is more complex than most others on this list, it's worth the effort and time since you'll end up with some truly amazing and original Christmas decorations. So if you've always wanted to try some origami-folding techniques, check out the YouTube video tutorial posted by Crouton Crafts!
For each tree, you have to work in layers by folding small pieces of paper. Then, you stack up the layers on a thin and sturdy metallic string, which will be used to hold everything together. Besides, the paper Christmas trees will be able to sit upright this way, without having to hang them somewhere.
56. Cardboard Fireplace – Christmas Paper Crafts
If you're looking for fun and easy paper Christmas craft ideas for kids, then we have just the right project for you! It's a DIY cardboard fireplace that children will love to help with from start to finish.
For this project, five cardboard boxes in different shapes and sizes, white wrapping paper, glue or scotch tape, a pair of scissors, and dark red paper. As you can tell, it requires basic crafting skills and common household materials that everyone has around the house or can easily buy at hardware stores.
Get started by wrapping all boxes in white paper. Then, make sure to assemble them just like in the picture above and attach them using glue or scotch. What follows is a trial of patience and detailing since you have to cut rectangular pieces of dark red paper in the shape of bricks.
Then, you must carefully apply the rectangles to the white paper while leaving enough space between them so that the white remains visible. It's definitely an ordeal, but your kids will absolutely love how the cardboard fireplace will turn out, especially if they play Minecraft!
For more inspiration, visit Goods Home Design!
57. Wreath with a Candle – Easy DIY Christmas Decorations
A paper plate wreath is an easy DIY Christmas decoration idea for kids. It's also cheap and can be placed anywhere indoors. Besides, you can spruce it up by adding a paper candle. The project only takes 20 minutes of your time.
It all starts with cutting out a large circle from the paper plate using a pair of scissors. Then you need to cut and shape the candles with flames, make the hollies, and glue on everything to get this cute winter decoration ready.
The colorful paper plate wreath with a candle has easy instructions that your children can easily follow! Just check out our full tutorial, complete with a video guide!
58. Toilet Paper Christmas Tree for Kids
When it comes to Christmas-themed toilet paper crafts, you can get as creative and elaborate as your kid's imagination allows you. We found a truly innovative idea that we think you will agree with: a medium-sized paper Christmas tree for kids.
It's made by stacking multiple rolls of toilet paper painted green. It even has colorful ornaments made from pom-poms, complete with a yellow star as the tree topper!
For this straightforward project, you need plenty of toilet paper rolls, green spray paint, pom-poms in various colors, a glue gun with glue sticks, and a 3D paper star. Start by spray-painting the rolls green but make sure to lay some newspapers beforehand to protect the surface.
While waiting for the paint to dry off, you can make the 3D paper star. It will definitely help if your golden paper is glittery. Then, glue the toilet paper rolls together to create the tree, starting with the base and ending with a single roll on top.
Afterward, you can attach the pom-poms as ornaments and the star as the topper. And that's it! To easily move the tree around the house, you should place it on a piece of cardboard or something similarly light.
For more inspiration, check out this Pinterest post uploaded by Noemí Ruiz!
59. Reindeer Advent Calendar – Christmas Paper Crafts
If you're looking for a simple yet enjoyable Christmas paper crafting project that also helps your kids learn how to count, then we have just the thing! The reindeer advent calendar is an easy-to-make DIY calendar that your children will love.
You can make it in different shapes and sizes, depending on how much paper you want to use and what materials are available in your workshop. We recommend brown or red paper because it will help give this project a nice rustic feel and will look better when combined with dried moss and twigs.
The paper reindeers' heads can be attached to any piece of cardboard covered with brown fabric or felt. But if there's none around the house, you could easily attach them to wood instead. You can paint or color your reindeer's bodies in any color of your choice.
For complete information on making a reindeer advent calendar, head over to Mod Podge Rocks and check out the simple guide!
60. Puffy Paint Snowglobe Paper Ornaments for Kids
Snowglobes are a classic favorite among kids and adults alike. But now, thanks to this amazing paper crafting idea from Simple Everyday Mom, you can make amazingly beautiful snowglobes as paper ornaments for your kids to enjoy as much as the ones you made as a child.
As far as materials go, you need colored cardstock (light blue, green, brown, multicolored), Elmer's glue, a paintbrush, shaving cream, and a pair of scissors. You also need a snowglobe template, which you can quickly download from Simple Everyday Mom's website.
You have to make the puffy paint by mixing shaving cream with Elmer's glue, use a small hole punch to prepare the ornaments from cardstock, assemble the pieces to make the snowglobe, apply the puffy paint with the paintbrush, and make snow flurries by dabbing the puffy paint all over the snowglobe.
Be sure to let everything dry completely before hanging the new Christmas tree ornaments. Also, keep in mind that these instructions are available for a single snowglobe, so you have to repeat these steps for further items.
61. Santa Claus Origami Christmas Ornaments for Kids
A bunch of small Santa Clauses is the ideal origami Christmas ornament for kids! You can use them as gift tags and also hang them on the tree. The good news is that they're so easy to make!
What you need are small squares of origami paper that's white on one side and red on another. Then, follow the simple instructions we discovered on this Pinterest post, courtesy of RonyesTech!
Once you fold the paper the right way, you just have to make a small crease in a tiny styrofoam ball to use it as Santa's hat, as well as draw the facial expressions using markers. There's nothing simpler than that!
62. Colorful 3D Papercut DIY Ornament Ideas
Christmas is a time for color and creativity. If you want to make a bright paper ornament this year, then check out this unique DIY ornament idea: retro paper decorations.
It's a fun DIY project that you can make with your children. However, if you want to obtain the best possible results, you need a cutting machine. You also need a pattern, text weight paper, FAV shimmer, embroidery floss or thread, tacky glue, a flat paintbrush, and a pair of scissors.
You can download the pattern from Lia Griffith and use it with your cutting machine to quickly put together the colorful 3D papercut ornaments. But you can also manually cut the paper with scissors, according to the pattern's specifications.
Then, you fold the pieces of paper half lengthwise, attach two halves with glue, match up the edges as close as possible, and then glue two pieces to make half of an ornament. These steps should be repeated for as many ornaments as you want. But, as you can see, there's nothing complicated about it.
63. Christmas Bulb Advent Calendar – Ornament Ideas
Advent calendars are a modern Christmas trend, which is often misunderstood by people who grew up thinking of the traditional advent calendar filled with chocolate. But you can use these items as unique ornament ideas for a DIY Christmas countdown calendar!
For this project, you need templates for the Christmas bulbs and numbered flags, which you can quickly download from The House that Lars Built. You also need scissors, glue, a craft knife, paper in the colors of your choice, a ruler, twine, and a hole punch.
Begin by printing two templates, scoring the indicated lines, and attaching the sides with glue. Do this for every bulb involved in this project. Then, cut a piece of twine and use it to connect all bulbs at the top side.
Check out the remaining instructions on The House that Lars Built tosee how easy it is to put together a Christmas bulb advent calendar!
64. Paper Tube Characters – Easy DIY Christmas Decorations
Hello Wonderfultook some paper tubes and turned them into fun, wintery characters. The kids will love getting involved with this one.
65. Paper Ying-Yang – Christmas Decorations
Instructablesmade some paper ying yangs that resemble peppermint candies!
66. Paper Diamonds – DIY Christmas Ornaments
How About Orangemakes some diamonds that can delight your tree as well. From glitter paper to neon tones, have some fun with this one.
67. Paper Reindeer – DIY Paper Garland
Run quickly over to The Proper Blog and learn how to make some reindeer garland for the tree. Of course, you can make just a few of Santa's friends and make them into classic ornaments as well.
68. Paper Nutcrackers – Easy DIY Christmas Decoration
Nutcrackers are a quintessential part of the holidays. So why not have Art by Angelihelp you make one for the tree?
69. Paper Cupcake Liner Garland – Paper Christmas Decoration
100 Layer Cakemade some garland that could decorate your tree in a unique way as well. It may not be classic paper but these cupcake liners can add fun texture!
70. Paper Wheels – Paper Christmas Ornaments
And finally, follow along at Ruffledfor the know-how behind these paper wheels. They sure are fun, don't you think?
71. Paper Ball Garland – Christmas Decorations
We love this garland from How About Orangeas well. You can even take the balls as singular decorative pieces and turn them into classic ornaments.
72. Paper Santas – DIY Christmas Decorations
What's a tree without a Santa or two hidden throughout. Make some paper Santas and maybe even add a bit of glitter to his suit. (via)
73. Paper Poinsettias – Easy DIY Christmas Decoration
You'll need to visit Lia Griffithto snag the tutorial for these paper poinsettias. It doesn't get any more Christmasy than these winter florals.
74. Paper Quilled Snowflakes – DIY Decorations
Run on over to Reece Dixonand follow along as you learn how to make these beautiful paper quilled snowflakes. You'll want to make more than one of these for the tree.
75. DIY Paper Christmas Garland
Don't you love this Christmas garland? You can easily make it yourself and hang it around the house. It can even go up in the tree if you'd like.
Final Thoughts on Paper Christmas Ornaments
Make one of these paper Christmas crafts for your kids this holiday, and you'll know that they're getting their hands on something unique. You'll be surprised to see the delight in the eyes of your children as they unwrap beautifully decorated gifts under the Christmas tree!
The best part about making your own Christmas ornaments is that you can decide what to create. But, most importantly, they will be treasured for years to come, even after the holidays are over. You can display these handmade ornaments on your Christmas tree year after year, so they become a nice reminder of those special moments.
What are your favorite ideas when it comes to paper Christmas ornaments? Feel free to share your thoughts with us in the comment section below!