19 Popsicle Stick Crafts To Complete On A Rainy Day
Grab the popsicle sticks – we've got a plethora of popsicle stick projects you can complete if you have this one, simple material at hand. If you're bored, why not try flexing some of your creative muscles? Check out these 19 popsicle stick crafts to complete on a rainy day!
1. Bee Puppet
How adorable is this bee puppet? Grab your markers, grab the kiddos, and although it won't take too much time whipping this cutie up. The imaginative play that comes afterward will last all afternoon!
2. Spider Webs
With your more slender sticks, you could create this spider web decoration for Halloween. In fact, whip up a few of these and cluster them together to make a larger decoration that pays homage to the season. And each of your spiders could be a different color.
3. Hedgehog Puppet
Send the kids outside to start this project. Have them gather some necessities and make one of these hedgehog puppets made from leaves! With a popsicle stick attached, it becomes a puppet and hours of fun play for the little ones.
4. Skiing Snowman
How adorable would this be on the mantle or the tree once the holidays come to call? A pinecone skiing snowmanmay be exactly what your kiddos will walk to make on their snow day off. And then they can decorate the family tree with their own creation. Just grab the glue gun!
5. Santa Candy Holder
You'll need to get started with a popsicle stick here too. And then build your Santa candy holderaround it. Adorable for the countertop or even a teacher's desk – make sure to fill it up with your favorite seasonal treats.
6. Picture Frame
You could always start with a classic project like with this popsicle stick picture frame. There are so many different ways to decorate it and the kids will easily be able to make one for themselves (although this is a great way for them to DIY their very own gift for Mom and Dad).
7. Puppets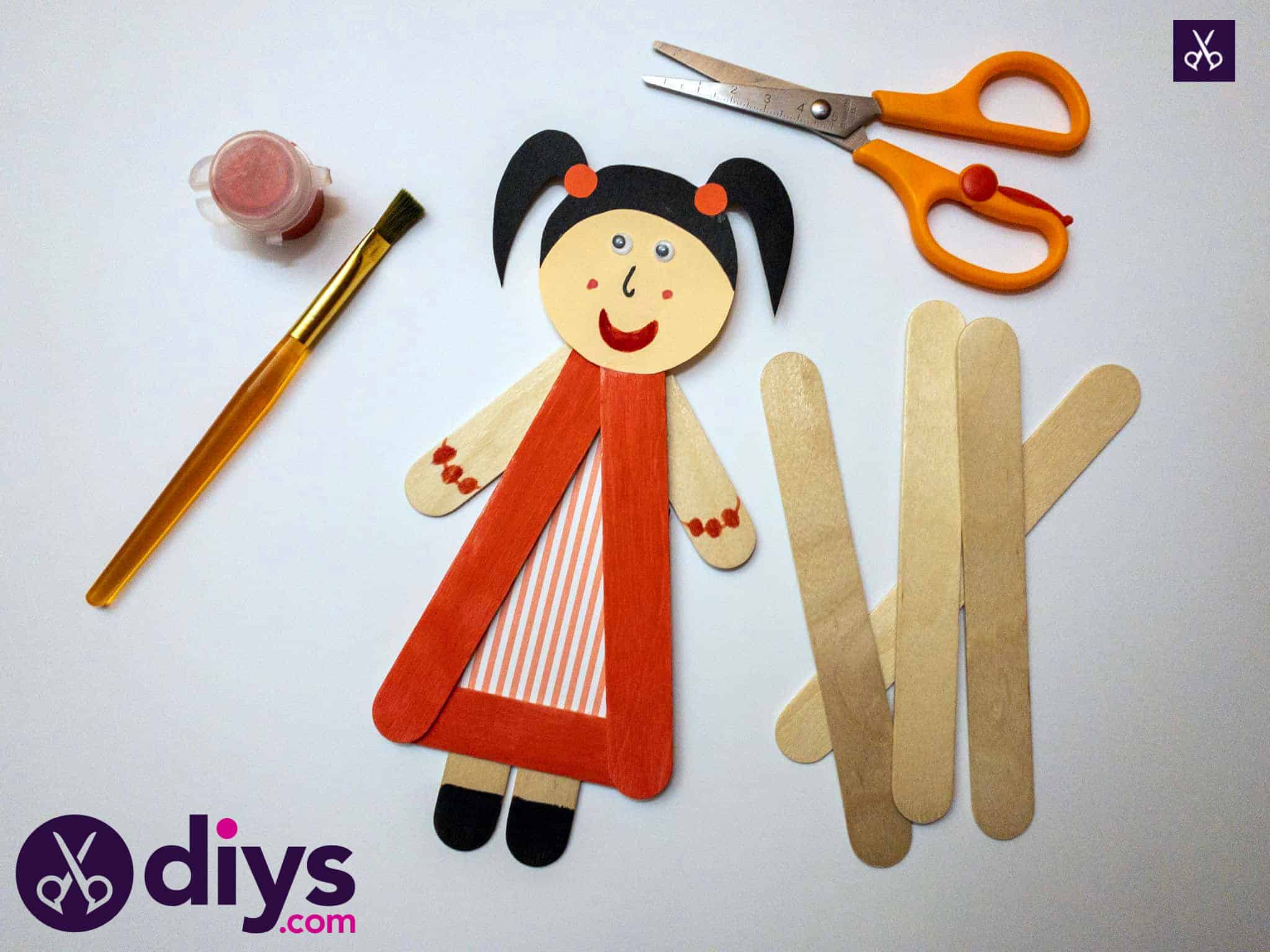 Popsicle stick puppetsare so much fun as well. Take part in creating this little girl and then get creative by branching off and creating your very own characters. If everyone in the family makes one, you'll have a whole roster to create scenes with!
8. Halloween Monster
Check out this adorable popsicle stick monster for Halloween! From blue to green to yellow to pink, a bunch of these can be whipped up in minutes, easily by the kiddos, and then sprinkled around the house for a touch of monster-inspired charm throughout the October season. You'll need the glue gun for this one too.
9. Bracelet
For something a bit more leveled up in terms of DIYs comes the popsicle stick bracelet. You can color these with Sharpie markers or use washi tape to your advantage. These designs are also a great way to reinvent the "friendship" bracelet.
10. Flower Bookmark
What about making a flower bookmark made from popsicle sticks? It's easy, it's functional, and it's just another great way to get our hands dirty and make something that our friends or family members would love to get from us. It's a wonderful and easy "just because" gift.
11. Jewelry Box
Use them for trinkets or necklaces that you don't want to get lost. A popsicle stick jewelry boxis something that you can actually make within an afternoon. Choose your colors and choose your accents before you start stacking and gluing!
12. Covered Container
An old can can turn into something new. A popsicle stick-covered containeris just one way to gift small trinkets or edibles. It's also a great way to organize desks, vanities, or the tops of dressers.
13. House Ornament
These rustic designs are some of our favorites. And they're so trendy right now in terms of Christmas decor. Check out this house ornament made from popsicle sticksand see about making some of your own for your tree this year.
14. Napkin Holder
We feel like the kiddos would want in on this action. Step up your picnic or BBQ tablescape with one of these napkin holders. Task the little ones with painting and decorating the finished product.
15. Angel Ornament
These popsicle stick angel ornamentswould be delightful on the tree this year, don't you think? Decorate them slightly differently and color them in different shades of metallic or pastel. We love the silver star additions too.
16. Sledge
There really are so many different odds and ends you can create with a handful of these tongue depressers – who knew!? Even a popsicle stick sledgecan come to life in just a few short steps. Turn this into an ornament or something to add festivity to the holiday terrarium.
17. Ice Cream Popsicles
You could make some ice cream popsicleswith those leftover sticks too. Jump now and grab the recipes for these delicious bites. And use them for birthday parties, showers, brunches, and more!
18. Banana Split Sicles
What about whipping up some banana split sicles? This is the perfect addition to the neighborhood BBQ and the best way to truly utilize a pack of those popsicle sticks you have left lying around. You could sprinkle with chocolate chips or coconut instead of nuts!
19. Drink Tags
And finally, what about some popsicle stick drink tags? They'll help the tags stand up nice and straight without any dips or creases. How adorable are these for a pool party this spring?