15 DIY Popsicle Stick Projects & Crafts The Kids Will Love
We found you some of the most fun DIYs for the little ones of the house to dive into. These 15 popsicle projects will have the kiddos entertained all weekend long! We've scoured the Internet and found a handful of rainy day fun to be had, scroll through and take a peek at our favorites.
1. Glittering Earrings
A Bold Abode took popsicle sticks and turned them into some trendy earrings. With a bit of glitter, you can recreate them quite easily. You can even add some color and let the kids get extra creative.
2. Popsicle Sticks Window Treatment
Gather the kiddos and have them create a brand new window treatment using their popsicle sticks. Pick out colors and turn your breakfast nook into a springtime art project. Jump on over to T Party for more info.
3. Dream Catchers Craft
Honestly WTF used popsicle sticks to make some incredible dreamcatchers. We love how creative and personalized that you can get with these. Follow along and see how to make some for yourself!
4. VDay Popsicle Stick Hearts
These hearts are fun to make no matter what time of the year it is, but especially around Valentine's Day. Make and Do Crew took those popsicle sticks and turned them into sweet hearts for loved ones. Add color and fun messages!
5. Popsicle Snowflakes Craft
A Girl and a Glue Gun went with a winter themed and make snowflakes out of the popular art supply. Add some glitter or some white. And the kiddos can get really creative with their unique design.
6. Popsicle Folding Fan
We're really loving this fun project. Found over at Pink Stripey Socks, you can actually turn those sticks into a usable item! A foldable fan – with a pop or print that the kids love, will turn into a fun afternoon at the house.
7. Dolls
Cool Mom Picks showed off these popsicle stick dolls and we immediately fell in love. We can easily imagine some little ones gathered around the table drawing their very own little ladies to play with. Washi tape can really help with their outfits!
8. Popsicle Puzzles
Yes, you can make some puzzles too. They'll fit right into a zip-lock bag as well and be easy to travel with and keeps the kids occupied. Check out the details after the jump over at PaperTurtle.
9. Sled Ornament Craft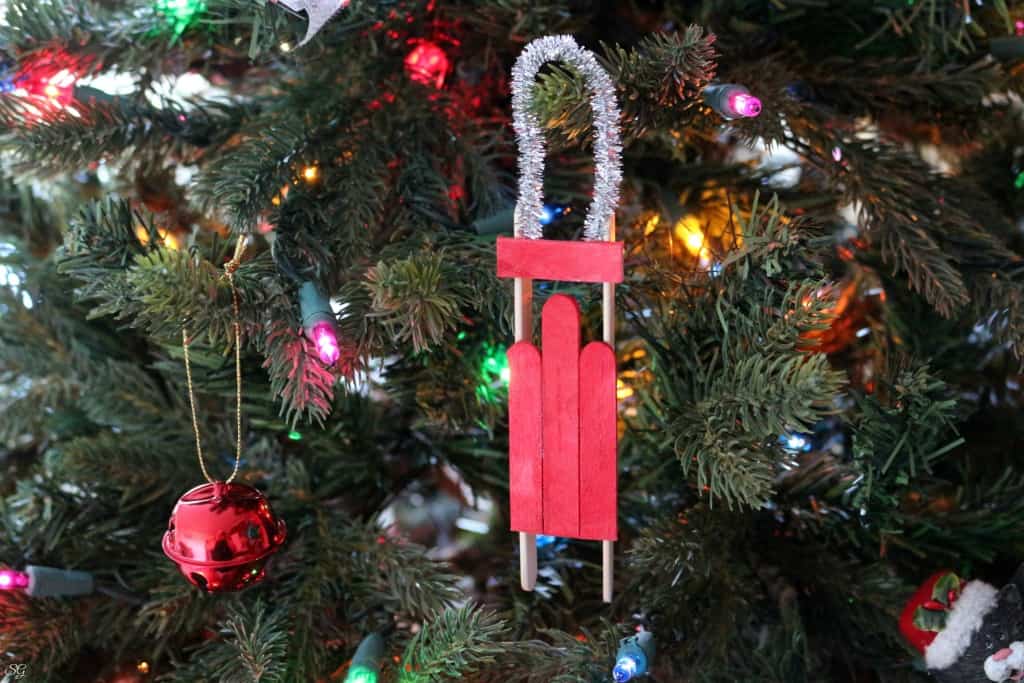 If it's around the holidays, you can always used those popsicle sticks to create a new ornament for the tree. Just follow along with Scrappy Geek to learn how! A new, red sled for your Christmas tree wouldn't be a terrible addition, especially if the kiddos made them.
10. Popsicle Wall Art
Aunt Peaches showed off this unique piece of wall art and we're loving it too. It's funky, it's easy to make, and the kiddos will love the get on board and help you out with it! Just decide on the color scheme and dive into it by the weekend.
11. Popsicle Bracelets
You can even make some fun bracelets. Personalize them and use this idea as a DIY gift! The Graphics Fairy has all of the details behind how to get it done.
12. Watercolor Runner
HWTM was incredibly creative with this project. Those popsicle sticks turned into a festive and fun table runner for the dining room – and easily used at any kind of event. From birthdays to baby showers, this one would work great!
13. Popsicle House
YouTube gives us some great projects as well. Maybe the kids will want to put their sticks to good use and make a tiny house out of them. Thankfully, there are tons of videos that will help them out.
14. Birdfeeder Craft Sticks
Craftionary went a classic route with their project. Turn those popsicle sticks into a bird feeder! The kids can even paint it or draw on it to give it a personalized touch before attaching it to a tree outside.
15. Popsicle Toy Furniture
And just like that tiny house, the kids can make some furniture for their dollhouse out of popsicle sticks too! Just follow along with this YouTube video and learn how. They'll have lots of fun painting the pieces!