20 Of Our Best DIY Crafts For Kids!
Are you looking for something to entertain the kiddos this weekend? Well, we've rounded up 20 of our best DIY crafts for kids. Nothing takes too much time, the materials are easy to manage, and they're safe for little ones to enjoy without worry from Mom and Dad. Let's have a scroll shall we?
1. 3D Paper Dog Puppet
What kid wouldn't want to make one of these 3D paper dog puppet? Not only will they get to make it and personalize it to their liking, but they'll get to play with them afterwards. Make sure they make more than one so they can participate in some imaginative play for a while after the project is finished.
2. Birthday Card
One of the best ways to get your kiddos' busy using their creativity and check off one of your to-do lists? Have them create some DIY birthday cards, of course! We've got some easy ideas up our sleeves too spark their own ideas.
3. Candles
You can make a paper candle on a star too and add it to the tablescape for the holidays. Every part of this project, from the creasing of the paper, to the glueing, a little one can handle.
4. Tree Art
Paper plate tree art can be a fun for everyone! And what's so great is that, in the end, everyone's will look completely different. Give the kids the tools and the materials and watch the art unfold.
5. Pinecone Swan
Tiny pinecones have the ability to turn into pinecone swans! How sweet are these? Grab some feathers, construction paper, and pipe cleaners to finish off this project.
6. Egg Carton Bee
Save your egg cartons because you can entertain the kiddos with some of those too. Divide them up and turn them into egg carton bees! All you need are some googly eyes, paper, and markers to make them come alive!
7. Patriotic Blower
This patriotic party piece can be whipped up with a toilet paper roll in just a few minutes. Hang it up so it blows in the wind on the patio. In fact, make sure you save a few rolls so you can make several for your 4th of July shindig.
8. Cotton Ball Squirrel
A cotton ball squirrel is a thing that can be made too, and we're in love. Pipe cleaners some paint (or marker) will be needed to finish it up. By the end of this list, your kiddos will have so many new friends to play with!
9. Popsicle Stick Angel
You could always start with a classic project like with this popsicle stick picture frame. There are so many different ways to decorate it and the kids will easily be able to make one for themselves (although this is a great way for them to DIY their very own gift for Mom and Dad).
7. Puppets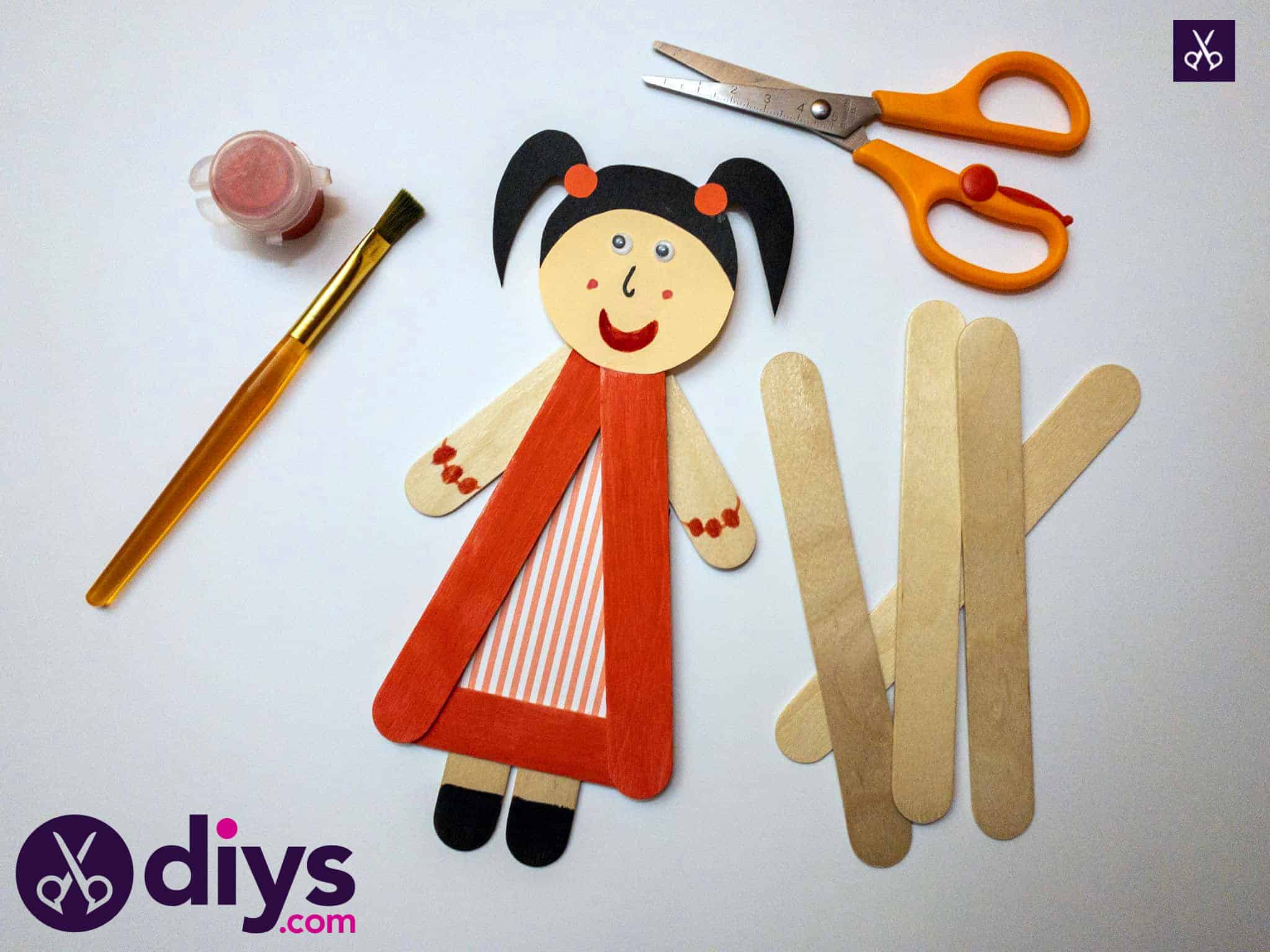 Popsicle stick puppets are so much fun as well. Take part in creating this little girl and then get creative by branching off and creating your very own characters. If everyone in the family makes one, you'll have a whole roster to create scenes with!
8. Halloween Monster
Check out this adorable popsicle stick monster for Halloween! From blue to green to yellow to pink, a bunch of these can be whipped up in minutes, easily by the kiddos, and then sprinkled around the house for a touch of monster-inspired charm throughout the October season. You'll need the glue gun for this one too.
9. Bracelet
For something a bit more leveled up in terms of DIYs comes the popsicle stick bracelet. You can color these with Sharpie markers or use washi tape to your advantage. These designs are also a great way to reinvent the "friendship" bracelet.
10. Flower Bookmark
What about making a flower bookmark made from popsicle sticks? It's easy, it's functional, and it's just another great way to get our hands dirty and make something that our friends or family members would love to get from us. It's a wonderful and easy "just because" gift.
11. Jewelry Box
10. Grinch Decor
When the holidays come to call think of making this piece a part of the festive collection. Your Grinch Christmas decor isn't complete without a few of these cuties on the tree. The kiddos will love to help out with this project!
11. Scarecrow
Scarecrows fall under the umbrella of harvest decor for the fall and we're loving it. A couple of these cuties would pair well with the pumpkins we see up at the top. They're also easy to personalize – so let everyone in the family "dress" their scarecrow to their hearts' desire.
12. Rustic Stars
Rustic holiday decor is definitely in style so why not make some pieces for yourself? This cute rustic decor piece is the perfect way to top off your Christmas tree this year. You could even dip them in glitter for a glam makeover too!
13. Santa Candy Holder
You could always start with a classic project like with this popsicle stick picture frame. There are so many different ways to decorate it and the kids will easily be able to make one for themselves (although this is a great way for them to DIY their very own gift for Mom and Dad).
14. Popsicle Sledge
There really are so many different odds and ends you can create with a handful of these tongue depressers – who knew!? Even a popsicle stick sledge can come to life in just a few short steps. Turn this into an ornament or something to add festivity to the holiday terrarium.
15. Pinecone Christmas Tree
We love these beautiful pinecone Christmas trees. Add a bit of glitter to really up the finished product. These look precious on a mantle, as ornaments, or in addition to a winter wonderland window seat scene.
16. Paper Plate Wreath
Check out this paper plate wreath! Have the kiddos whip up their own and then use them to decorate different doors around the house. They could even make one for their own bedroom and add some festivity to their own space.
17. Pinecone Snowman
Isn't this pinecone snowman adorable too? We love the addition of the scarf. Follow the directions and help your little ones put him together piece by piece with a glue gun.
18. Tin Santa Candy Holder
All you need is an old tin to start off this project. Then fill it with candies or other trinkets for family and friends. Hit the link and follow along to make your very own tin Santa candy holder.
19. Paper Plate Snowman Head
A paper plate snowman head is also really easy to make and you have most of the materials already lying around the house. The best part? The kids will stay entertained for awhile with this type of project. And no one's has to look the same!
20. Pinecone Skiing Snowman
A pinecone skiing snowman is a fun project to complete as well. You may have to help with some of the smaller bits of this tutorial – but that's okay. And we love this as an ornament once its completed!