25 Spooky and Stylish Pieces of Halloween DIY Outdoor Decor!
Part of the Halloween fun is decorating for all of the trick-or-treaters around the neighborhood as they come by for a handful of sugary, sweet candies. So, when all of the little ghosts and goblins come to the front door, the patio and front yard will need to be decked out in "spooky" style! Let's learn how to DIY some of our own decor for a bigger and better, festive curbside appeal.
1. Trash Bag Spiders
Project White Space shows us how to make this spider out of trash bags. You can even utilize this tutorial and create smaller versions to hang on the trees!
2. Rows of Tombstones
Over at Martha Stewart, you'll be shown how to create rows of tombstones to cover the front yard. Turn the lawn into a graveyard and spook the trick-or-treaters!
3. Giant Raven
Fill your front lawn with ravens with these easy DIY from HGTV! Just imagine of what guests will be thinking when they seen the yard covered in the ominous birds.
4. Ghostly Draping
Cover your front porch with a ghostly draping from HGTV. Cheesecloth can be your best friend when decorating the house for Halloween with a spooky side!
5. Tin Can Luminaries
Jolly Mom shows us how to make these Halloween-themed tin can luminaries that will act as the perfect way to light the way for all of the trick-or-treaters bound to stop by.
6. Chicken Wire Ghosts
We found these chicken wire ghosts on Wacky Archives and they provide a great tutorial  on how to create them. How amazing would these look spotlit in the yard?
7. Creepy Skull Wreath
Made In A Day created this "creepy" skull wreath and divulged how to recreate it at our own homes. We love using this as a front door piece and welcoming guests inside for Halloween!
8. Mummy Door
Catch the eye of everyone on the sidewalk by transforming your front door into a mummy! This family-friendly project from Honey and Fitz will be the talk of the neigborhood!
9. Witches' Lot
Create a small witches' "parking lot" right outside the front door. Learn how to recreate the sign at BHG and have fun getting creative with the layout.
10. Lawn Eyeballs
Grab some soccer balls or the like and paint them to resemble giant eyeballs! They'll pop in the yard or on the porch! This idea is from McGuire's Hardware.
11. Vintage Frame Wreath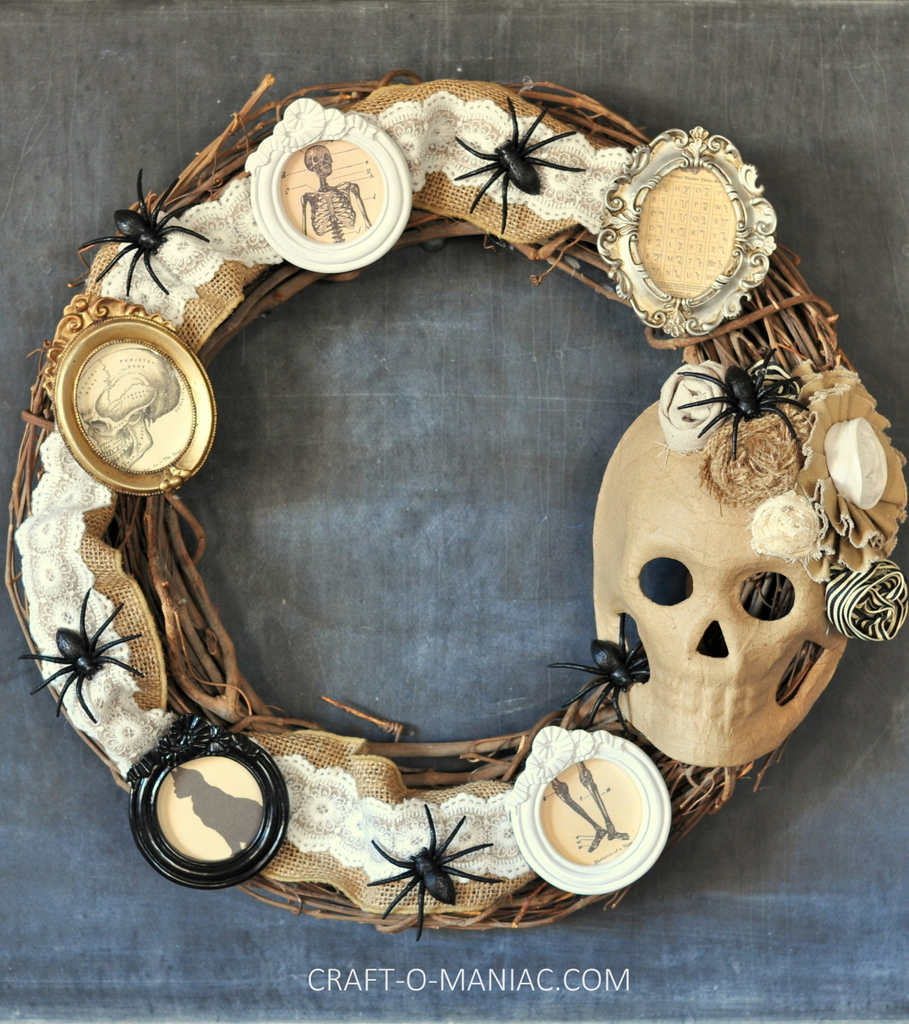 Here's another way to adorn the front door and invite your guests in with a spooky surprise. At Craft-O-Maniac you can learn how to make something similar!
12. Hanging Mummy
Crafts Unleashed made quite the dramatic bit of porch decor for your Halloween guests to enjoy. Watch out though little trick-or-treaters may get a bit scared of this one!
13. Wicked Witch Landing
Did your house fall on a wicked witch before Halloween hit? Over at Mom Smack that happened! Turn this witty DIY into reality at home!
14. Frankenstein Door
Turn the front door into Frankenstein with super ease! East Coast Creative gives us insight on how she turned hers into something special right in time for Halloween.
15. Ghost Garland
Add pizzazz to the outside banisters or fence with this ghost garland from Design Dining Diapers. And yes, they even light up!
16. Monster Archway
Really transform the outdoor area with a monster archway on your home! The entire neighborhood will be envious of the creation. Get the details from Nifty Thrifty & Thriving.
17. Pumpkin Collage
Create a pumpkin collage outside but with orange tissue paper. Check out the details over at Country Living.
18. Haunted Hotel Sign
Turn your home into a "haunted hotel" and start by created a sign outside! Hop over to DIY Network and get the down low on how to create one.
19. Bat Mat
DIY Network also gave us a great idea to finish off the front door's look. Create a mat with a bit of Halloween spirit, filled with bats!
20. Zombie Planters
You'll really surprise your guests with these DIY zombie planters. This Old House gives you the instruction needed to recreate them.
21. Headless Horseman Greeter
This is a showstopper and all the kids and families in the neighborhood will get an absolute kick out of this creations. Check it out at HGTV.
22. Pumpkin Witch
Turn your pumpkins into little witches that can adorn the front porch. A bit of green and a hat goes along way with this project.
23. Candy Corn Pinata
Hang this outside and then have the kiddos go at it. Sam Henderson made this sweet treat and gave step-by-step instruction how to make it.
24. Eyeball Wreath
How about creating an eyeball wreath like this one from the DIY Network as a way to invite your guests inside? It's such a fun project!
25. Black Cat Pumpkins
HGTV gives us yet another great idea. Grab some pumpkins and create some black cats out of them. The kids will love this project and you'll all be able to do it together. d?