50 Spooky and Stylish Pieces of Halloween DIY Outdoor Decor!
Halloween would not be the same without spooky costumes, decorations, and candy. It's the best night of the year when you can express your creativity and have fun with your family, friends, and neighbors.
Outdoor Halloween decor is essential for homeowners since you can fill your front yard and porch with various scary objects to greet all visitors, including trick-or-treaters. If you are exploring the Internet for cool outside Halloween decor, you have come to the right place.
We researched a lot of decoration ideas for the outdoors on Halloween, and we think that we found the 50 best items you simply can not miss this year. Feel free to explore all of them so that you can find the best decor elements that work with your style.
50 Best Outdoor Halloween Decor for 2021
Without further ado, here are the most awesome outdoor decoration elements for Halloween that you should definitely try out this year.
1. Paper Lantern DIY Outdoor Halloween Decorations
A simple way to decorate the outside of your house for Halloween is by designing multiple paper lanterns that you can then fill up with real lanterns. It's not only good-looking but also shines the way to your front door for your trick-or-treaters.
To design this simple project, you will need a white pencil, black paper, curved nail scissors, white vellum, and a glue stick. Then, you can follow out six simple instructions to complete the project in no time. You can also view a YouTube tutorial that better explains what you have to do.
Just keep in mind that the tutorial is for only one paper lantern. If you have enough time on your hands for a more elaborate project, we recommend creating multiple pieces and installing them on each side of your pathway, like a landing strip. It looks awesome when putting them on top of solar-powered light bulbs that you can stick in the ground.
2. Vine Wreath Outside Halloween Decorations
Your front door must be decorated with something for Halloween to greet your guests and trick-or-treaters. If you prefer a more simple and sophisticated design, we recommend giving the vine wreath a shot. In this example, it adopts a black and white theme, but you can obviously choose any colors you like.
For this project, you will need to take a trip to the local crafting store and buy a pre-made vine wreath, a faux blackbird (or any other element you wish), black ribbon, black and white feathers, faux flowers, and grass, as well as black spray paint in a glossy finish.
It's also necessary to have wire cutters, a hot glue gun with extra glue, and a plastic cover to protect the surface from paint. If you want to add a dramatic touch, you can get red paint and a paintbrush in order to create a splatter of what looks like blood by flicking the red paint using your index finger.
You can check out our easy tutorial to finish the vine wreath in four steps. As soon as it's ready, you can place it on your front door and wait for your first visitors.
3. Patterned Pumpkin Outside Halloween Decoration Ideas
You can take a regular pumpkin and make it stand out by creating a black and white pattern with just a pop of color. Do this for multiple pumpkins of varying sizes, and your lawn will surely stand out in the neighborhood.
Only five steps are required to make the black and white patterned pumpkin with just a splash of color. As far as supplies are concerned, you will have to gather a white pumpkin, acrylic paint, adhesive letters, a black Sharpie marker, a blue painter's tape, and a foam craft brush.
You can also draw messages on the pumpkins, such as Happy Halloween. It works great as an outdoor decoration for Halloween, which your visitors will surely appreciate.
4. Splatter Pumpkin Halloween Lawn Decor
A great way to decorate your lawn for Halloween is by painting pumpkins and designing splatter, which makes them look like big rocks just sitting in front of your house. It's clever and easy to accomplish since you will only need a small or medium pumpkin, white spray paint, black acrylic paint, and a brush.
In the example above, the pumpkin was fully painted with white and splattered with black specks. It's necessary to apply several layers of paint to obtain a solid color. However, you can go with any color scheme you prefer, as long as it fits your other Halloween decorations.
For example, you could use red paint instead of black to make the pumpkin look bloody. To get the best results, we suggest making a bunch of splatter pumpkins of varying dimensions, which you can arrange in a bundle or spread across your lawn.
5. Embroidery Hoop DIY Halloween Decorations for Outside
A cheap solution for Halloween outside decorations is to make an embroidery hoop with bats, spiders, skulls, ghosts, or any other spooky elements. It works particularly well with other decorative elements made out of wood if you prefer the farmhouse look.
To put together this project, you will need an embroidery hoop, thread, scissors, black glittery foam, and a needle. It can't get any cheaper than that. You can easily draw the shapes and cut them out of the foam. Or, if you want to achieve better results, you can print out the shapes and then use them as templates to cut the foam nicely.
Apart from that, a bit of patience is necessary to sew the embroidery using a needle and thread. After this step, you just need to attach the shapes and then place the embroidery hoop on your porch. You can also use it as a wreath to greet your trick-or-treaters.
6. Mini Pumpkin DIY Halloween Yard Decorations
The mini pumpkins are usually designed for table decorations on Halloween but you can easily turn them into outdoor decorative elements by painting a bunch of small pumpkins and placing them on your porch to greet guests.
It's a convenient last-minute solution since you just need a Sharpie marker. Plus, it's a super-fun activity for your kids since they can freely express their creativity.
In the image above, the Sharpie marker was used to draw dotted shapes on the pumpkin. But that shouldn't stop you since you can draw anything and write any messages you can think of, whether you want to write Happy Halloween, Boo!, or get more creative than that.
You can experiment with this fun project by using orange and white pumpkins as well as Sharpie markers of various colors. However, you can take it to the next level by painting the pumpkins with any color. Just make sure to apply several layers of paint to obtain a beautiful color.
7. Tissue Paper Leaf Pumpkin Outdoor With Decorations
Pumpkins don't always have to be orange, although we can certainly appreciate the appeal. Instead of taking a traditional approach, you can step out of your comfort zone to decorate pumpkins with leaf-shaped tissue paper, just as in the example above.
Of course, it doesn't necessarily have to be leaves since you can make any elements out of paper maché. For this project, you will need a pumpkin, Elmer's glue, a plastic cup, a foam brush, a pair of scissors, and any leftover tissue paper you have lying around in your house.
The trickiest part is cutting the tissue paper into the desired shapes. After that, it's a walk in the park since you just have to apply glue. Make sure to follow our simple tutorial that demonstrates how to quickly design a tissue paper leaf pumpkin in four steps.
8. Glamorous Beaded Pumpkin Halloween Yard Decoration Ideas
You can go with the elegant route for Halloween and create a glamorous beaded pumpkin that will surely spice up your yard for Halloween and make your visitors stop and stare. The beads cover the entire pumpkin so you can't even tell that there's a vegetable hiding inside.
Plus, it looks expensive although it's incredibly cheap. And your children can chip in and give you a helping hand. We have to warn you, though, that it can become a tedious task to stick all those beads on, depending on how large the pumpkin is and how small the beads are.
And your efforts increase if you plan on designing multiple pumpkins this way. But we think that a single, large pumpkin takes the stage and would only be overshadowed by others like it.
When it comes to supplies, you must gather an artificial pumpkin, two packages of black faceted beads, one package of small black seed beads, silver craft paint, a paintbrush, two packages of dressmaker pins, and a thimble.
Get started by painting the pumpkin in one color, but make sure to apply several layers so that it pops out. Also, the paint should be the opposite color of the beads. For example, if you have black beads, go with white paint.
This way, visitors will be able to spot the subtle white when taking a closer look at the pumpkin. Once the project is done, find a nice spot for the glamorous beaded pumpkin near your front door.
9. Whimsical Halloween Wreath DIY Halloween Decorations Outdoor Scary
If you are looking for ideas on how to make a scary-looking but also fun wreath for your front door, consider designing this whimsical Halloween wreath. It's incredibly easy to create and, thanks to the skulls, it will scare trick-or-treaters.
To complete this project, you will need styrofoam, a round wreath, some strips of fabric, push pins, scissors, skulls, and bats. However, you can replace the skull and bats with anything else that your visitors might find scary, such as witches, zombies, ghosts, or even spooky messages.
Our simple tutorial demonstrates how to easily create a whimsical Halloween wreath in nine easy steps. You can also ask your kids for help. Once it's done, you just have to attach it to the outside of your front door. You get double scary points if you can make the skull eyes glow in the dark.
10. Fabric Pumpkins Front Yard Halloween Decorations
If you are feeling crafty, you can easily design pumpkins made out of fabric, which you can place anywhere in your front yard to greet guests. You could also mix the fabric version with real pumpkins.
To complete this project, you will need some yards of fabric, an empty paper towel roll, a needle and thread, a hot glue gun with glue, raffia, and batting. The steps are pretty simple, which you can check out in our simple tutorial.
To get the best results, you can create several pumpkins out of fabric with different colors and patterns. Once they are done, you can create bundles of pumpkins and place them in several locations across your front yard.
11. Paper Maché Pumpkin
You can easily create a paper maché pumpkin if you do not want to use actual vegetables for Halloween outdoor decorations. It's a fun activity if you are feeling crafty, and you can ask your kids to join.
You will need several items before getting started: a balloon, flour, jute twine, scotch tape, scissors, a foam brush, acrylic paints, an old newspaper, a bowl, and a fork. Make sure to follow our easy tutorial to complete this project in only six steps.
And, if you are feeling up to it and if you have enough time on your hands, you can create a bundle of several paper maché pumpkins of various dimensions that you can place on your porch as a cute welcoming sign for your guests and trick-or-treaters. Feel free to choose from different colors if orange does not bode well with your chosen Halloween theme.
12. Repurposed Fireplace Mantel
This awesome project is not just designed for a fireplace mantel since you can use it to decorate the frame of your front door and make it pop out when trick-or-treaters come knocking and asking for candy.
Here's what you need to get this show on the road: three small decorative pumpkins, a black feather boa, five gold mercury glass votives, two gold candlesticks, three or four artificial gold roses, spooky elements like a black hand and a raven, black yarn, and gold washi tape.
Of course, you don't actually have to stick to the recipe since you can use any elements to create a stunning fireplace mantel that you can repurpose as a decoration for your door frame. Just make sure to not add too many elements since it can look cluttered. Plus, if it's too heavy, it might fall off.
You can check out our easy tutorial to learn how to handle this project in three simple steps.
13. Day of the Dead Wreath
The Day of the Dead wreath is a cool design for your front door and it's pretty easy to make. On top of that, it brings something new to the table when comparing it to the classical Halloween elements.
If you choose the Dia De Los Muertos theme for a party, you definitely need this wreath to spice up your door when welcoming guests.
As far as supplies go, you need a clean (unpainted) resin skull, a round or rectangle picture frame (without the glass), some black lace fabric, and artificial flowers in black, white, gold, or any other colors you like. It's also necessary to have a hot glue gun with extra glue, a pair of scissors, Sharpie markers, and pliable wire.
To begin, you can draw on the skull with the Sharpie markers by sticking to the Day of the Dead patterns or by putting your imagination to work. Afterward, you glue the black lace fabric to the picture frame and then add the skull and everything else.
Once the project is done, you can hang the wreath on the front door and add a welcoming sign if you want, such as Happy Halloween.
14. Pumpkin Flower Arrangements
Flower arrangements are not only destined for inside decorations since you can easily turn them into outdoor decor. When it comes to Halloween, you just need to use a pumpkin instead of a vase.
It's not the most creative decoration idea for Halloween, but it works well for people who don't want to overdo it or who are not keen on big decorations.
All you have to do is get a bouquet of flowers and place it inside a carved pumpkin. The flowers don't have to be real since you can also opt for the artificial version.
However, if you prefer using real flowers, make sure to hide a glass of water in the pumpkin. And, if you want to make it more beautiful, you can decorate the flowers with usual elements such as ribbons.
15. Skeleton NewlyWeds
Newlywed couples can best express themselves on Halloween by going with the dead wedding theme. Besides, it's an eerie way of showing people that your love is timeless, and it works great with the spookiest night of the year.
We can imagine that you and your significant couple are dressing up as a dead bride and groom, complete with skeleton makeup. But you can take it a step further by adding skeleton newlyweds on your porch to greet your visitors and trick-or-treaters.
In this example, there's a cute dead couple of a bride wearing a veil and a groom with a bow tie and black hat. On the downside, it's not a do-it-yourself project, so you will need to buy the ready design from your local store or the Internet. We can assure you that there are numerous models you can choose from online.
16. Halloween Skulls
You can create a stunning outdoor Halloween decoration using skulls, which are scary in any context. Then, you can place the skulls on your porch or anywhere on your lawn.
What you have to do is head over to the store or buy two or three skulls online, create a spiderweb using a bit of fabric, and you can top it off by attaching some spiders. The design works even better if you manage to find some menacing skeleton hands that seem to stick out of the ground.
To take it a step further, you could paint the skulls in any colors you would like, create bloody eyes, and throw additional Halloween elements into the mix, like snakes. As soon as the project is ready, you can put it somewhere outside that your visitors can't miss. And you can spy on them through the peephole to see them get scared out of their minds.
17. Cauldron with Zombie Boogers Popcorn
Zombies are an awesome theme for any Halloween party, which you can combine with a witch's cauldron and delicious snacks, thanks to this neat outdoor project that any zombie lover will surely appreciate.
What you have to do is get a cauldron – the bigger, the better. Then, you can fill it either with candy or with what seem to be zombie boogers. The trick is to make popcorn look like zombie boogers. We know, it sounds disgusting, but it's an excellent take on Halloween.
To make popcorn look green, you have to add green food coloring when preparing popcorn kernels to pop. It's a bigger recipe than that, but it requires regular ingredients that any home has (except for food coloring). Make sure to run a Google search on how to make green popcorn and you will quickly discover the recipe.
18. Halloween Flower Bouquet
We approached an idea about flower arrangements earlier, but this one is slightly different and appropriately scarier for Halloween. And it goes well on your porch or even on our yard, provided that you can find a bucket that's big enough to contain multiple flowers.
That's right, you can use a bucket instead of a vase or a pumpkin, as in the previous idea. You paint the bucket in black or another color, as long as you apply several layers of paint to make the color stand out.
Next, you take a bouquet of flowers and place it inside the bucket. If they are real flowers, make sure to fill the bucket with water beforehand. To top it off, you can use a bit of white fabric to create spiderwebs, add spiders, snakes, skeleton hands, or any other scary Halloween decorations you can think of.
Just make sure to not go overboard by adding too many elements since the bouquet would look cluttered. Also, they should all have the same color.
19. Halloween Pumpkins with Face Masks
We are 100% certain that a lot of people are trying this idea for Halloween since it's appropriate for the times we are currently living in. Besides, it's incredibly simple to accomplish since you just have to carve out pumpkins and put face masks on them.
You get bonus points if you can place the pumpkins two feet from each other since, you know, social distancing. The Halloween pumpkins with face masks idea is not only culturally accurate but easy to do. And, you will be reminding all trick-or-treaters that they should wear face masks, even if they don't necessarily go with their costumes.
20. Spooky Signs
Spooky signs are always a hit on Halloween night, especially when they can be creative as the image above: Trespassers will be eaten. It certainly goes well with the zombie theme. Without the accompanying Halloween decorations, it would look like there's a crazy neighbor living down your street.
For this project, you need some pieces of wood, nails, a hammer, and paint. It's just like assembling an item from IKEA. You can write any creative text messages, whether you want to go with the classic Happy Halloween or something more daring like the message shown in the picture above.
21. A Lot of Spiderweb
Do you know that feeling when you are walking down the street and suddenly run into a spiderweb? Your guests and trick-or-treaters can relive it by running into spiderwebs in front of your door.
The image above shows a great way to design cobwebs using cotton balls, spider webbing, or cotton batting. You will need a lot of fabric to get the best effects, though. Then, you can stick it to the corners and on various objects on your porch.
To simplify your job, you could buy a cobweb shooter which creates the design you like almost instantly. Once your job is done, sit back and relax while your visitors are trying to reach your front door without getting caught in the web.
22. Reviving Skeleton
The reviving skeleton is an awesome outdoor decoration for Halloween, which you can place in your front yard. The image above shows a skeleton that rises from the dead in a graveyard.
We have already covered how to make rows of tombstones, so you should check out that recipe. As for the remaining elements, you can buy a skull and skeleton hands from a local shop or from the web, put a small spider on top of the skull, add some spiderwebs, and create a small black fence to make it look like an actual graveyard.
When night falls, we can only imagine that your guests and trick-or-treaters will get scared out of their minds when running into this bad boy.
23. Smiling Pumpkin with Braces
The smiling pumpkin with braces is a cute concept for the classic pumpkin, and one which you can easily accomplish by carving a pumpkin and drawing braces on its teeth. The concept demonstrated in the image above is destined for a dentist's office.
However, we are sure that you could easily apply it to your house, especially if there are many teens living in your neighborhood who are wearing braces (or if your own kids wear braces). It's cute, thoughtful, and not scary at all).
24. Spooky Eggplants
We know that the eggplant is not a traditional Halloween element, but you can make it look spooky by taking up this project. Well, kids would call it spooky while adults would say it's cute.
You take an eggplant and wrap it in a cotton wound bandage to create mummy rags. Then, using a hot glue gun, you attach eyes made out of plastic. It's quick, easy, and requires minimal supplies, making it an ideal last-minute solution for outdoor Halloween decorations.
One spooky eggplant isn't enough, so we suggest creating a bunch of them and then putting them on a small table on your porch, right next to the candy.
25. Black Magic Altar
The gothic theme is hugely popular during Halloween. So, if you plan to dress up as a witch, complete with a pointy hat, fake teeth, and broom, then you can't miss out on this black magic altar.
Nothing screams black magic like a black magic altar, complete with decorated grimoire books, fake candles, and various objects that belong to witches. It's a fun project that you can do with your kids since you just need to get some old books, paint the covers, and attach various objects.
Make sure that one of the books has the pentagram symbol, which isn't shown in the picture above. You can also throw in some fake candles, potion bottles, skulls, snakes, and spiders.
Find a suitable spot for the altar on your porch or in your yard. If you really want it to stand out, you can draw a pentagram on the floor, place a fake candle on each corner, and put the altar on the side. Trick-or-treaters would be forced to stay inside the pentagram while waiting for candy, which would definitely be scary.
25 More Halloween DIY Outdoor Decor Ideas
Now that we've checked out these wonderful Halloween outdoor decor ideas, we thought we'd share another 25 with you. After all, you never know what will spark your inspiration!
26. Trash Bag Spiders Outdoor Halloween Decor
Project White Space shows us how to make this spider out of trash bags. You can even utilize this tutorial and create smaller versions to hang on the trees!
27. Rows of Tombstones Outdoor Halloween Decor
Over atMartha Stewart, you'll be shown how to create rows of tombstones to cover the front yard. Turn the lawn into a graveyard and spook the trick-or-treaters!
28. Giant Raven Halloween Decor
Fill your front lawn with ravens with these easy DIY from HGTV! Just imagineof what guests will be thinking when they seen the yard covered in the ominous birds.
29. Ghostly Draping Outdoor Halloween Decor
Cover your front porch with a ghostly draping from HGTV. Cheesecloth can be your best friend when decorating the house for Halloween with a spooky side!
30. Tin Can Luminaries Outdoor Decor
Jolly Mom shows us how to make these Halloween-themed tin can luminaries that will act as the perfect way to light the way for all of the trick-or-treaters bound to stop by.
31. Chicken Wire Ghosts Outdoor Halloween Decor
We found these chicken wire ghosts on Wacky Archives and they provide a great tutorial on how to create them. How amazing would these look spotlit in the yard?
32. Creepy Skull Wreath Outdoor Halloween Decor
Made In A Daycreated this "creepy" skull wreath and divulged how to recreate it at our own homes. We love using this as a front door piece and welcoming guests inside for Halloween!
33. Mummy Door Halloween Decor
Catch the eye of everyone on the sidewalk by transforming your front door into a mummy! This family-friendly project from Honey and Fitz will be the talk of the neigborhood!
34. Witches' Lot Halloween Decor
Create a small witches' "parking lot" right outside the front door. Learn how to recreate the sign at BHG and have fun getting creative with the layout.
35. Lawn Eyeballs Outdoors Halloween Decor
Grab some soccer balls or the like and paint them to resemble giant eyeballs! They'll pop in the yard or on the porch! This idea is from McGuire's Hardware.
36. Vintage Frame Wreath Outdoor Decor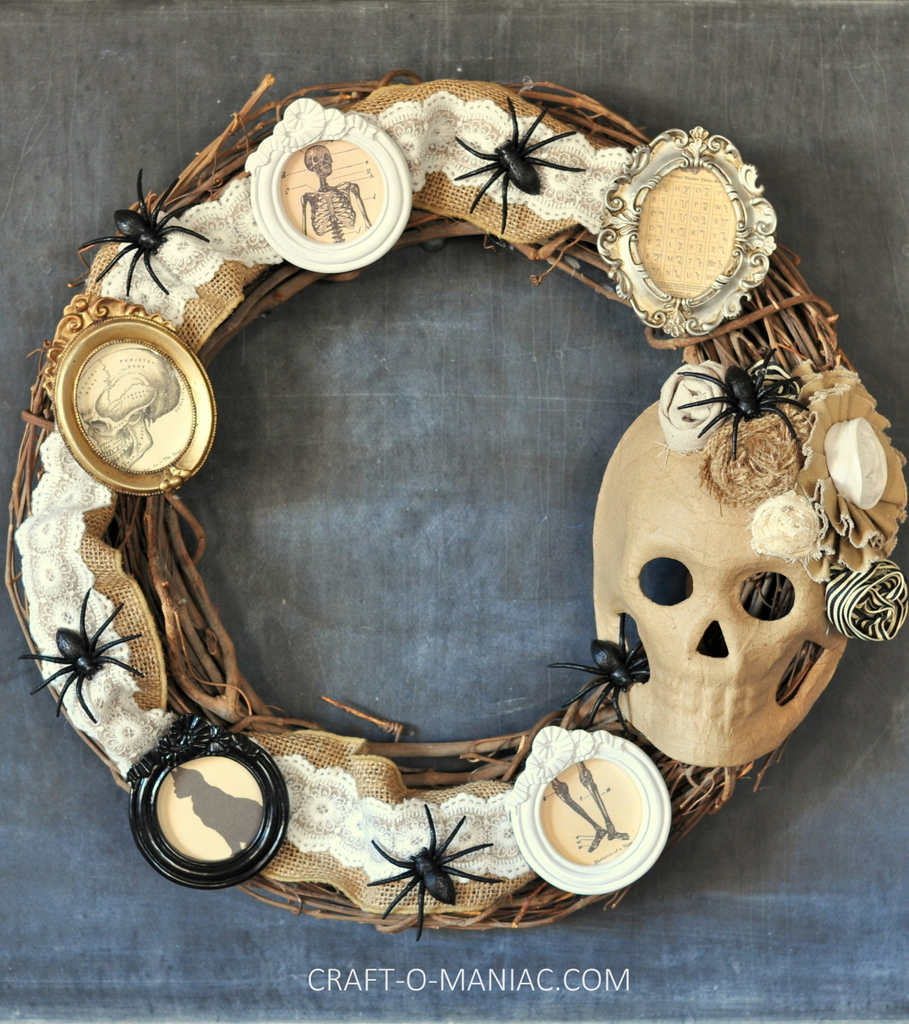 Here's another way to adorn the front door and invite your guests in with a spooky surprise. At Craft-O-Maniac you can learn how to make something similar!
37. Hanging Mummy Halloween Decor
Crafts Unleashed made quite the dramatic bit of porch decor for your Halloween guests to enjoy. Watch out though little trick-or-treaters may get a bit scared of this one!
38. Wicked Witch Landing Halloween Decor
Did your house fall on a wicked witch before Halloween hit? Over at Mom Smack that happened! Turn this witty DIY into reality at home!
39. Frankenstein Door Halloween Decor
Turn the front door into Frankenstein with super ease! East Coast Creative gives us insight on how she turned hers into something special right in time for Halloween.
40. Ghost GarlandHalloween Decor
Add pizzazz to the outside banisters or fence with this ghost garland from Design Dining Diapers. And yes, they even light up!
41. Monster ArchwayHalloween Decor
Really transform the outdoor area with a monster archway on your home! The entire neighborhood will be envious of the creation. Get the details from Nifty Thrifty & Thriving.
42. Pumpkin Collage Halloween Decor
Create a pumpkin collage outside but with orange tissue paper. Check out the details over at Country Living.
43. Haunted Hotel Sign Halloween Decor
Turn your home into a "haunted hotel" and start by created a sign outside! Hop over to DIY Network and get the down low on how to create one.
44. Bat Mat Halloween Decor
DIY Network also gave us a great idea to finish off the front door's look. Create a mat with a bit of Halloween spirit, filled with bats!
45. Zombie Planters Outdoor Halloween Decor
You'll really surprise your guests with these DIY zombie planters. This Old House gives you the instruction needed to recreate them.
46. Headless Horseman Greeter Halloween Decor
This is a showstopper and all the kids and families in the neighborhood will get an absolute kick out of this creations. Check it out at HGTV.
47. Pumpkin Witch Halloween Decor
Turn your pumpkins into little witches that can adorn the front porch. A bit of green and a hat goes along way with this project.
48. Candy Corn Pinata Halloween Decor
Hang this outside and then have the kiddos go at it. Sam Henderson made this sweet treat and gave step-by-step instruction how to make it.
49. Eyeball Wreath Outdoor Halloween Decor
How about creating an eyeball wreath like this one from the DIY Network as a way to invite your guests inside? It's such a fun project!
50. Black Cat Pumpkins Halloween Decor
HGTV gives us yet another great idea. Grab some pumpkins and create some black cats out of them. The kids will love this project and you'll all be able to do it together?
Final Thoughts on Outdoor Halloween Decor
You are only limited by your own imagination when it comes to outdoor decorations for Halloween. Any ordinary item can become extraordinary with a few do-it-yourself skills. To get the best results, you should choose a theme and stick to it when it comes to color choices.
No matter which pieces of outdoor Halloween decor you end up making, be sure to return to this page soon and leave us a comment in a section below where you post a photo of the results. Also, feel free to share more ideas with us.