These 15 Christmas Porch Decor Ideas Will Level Up Your Curb Appeal
It truly is the season for all things holly and jolly. Spread that vibe throughout the house in more ways than one. Pay attention to the dining room, but don't forget the porch. That's the first spot your guests will lay their eyes on anyway! These 15 Christmas porch decor ideas will level up your curb appeal and bring a smile to all passersby.
1. Ornament Obelisk
Check out this red beauty we found over at Home BNC! You can create an ornament obelisk in little to no time with the right instruction. Hop on over now and grab the tutorial to whip up your own!
2. Rustic Snowman
We also found a more rustic approach to the Christmas-styled porch. If you like farmhouse interior design, then you'll love this subtle nod to the Christmas spirit. How adorable is that snowman? Visit Home BNC again for even more inspo.
3. Crackling Fire
This space from House Beautiful has us absolutely swooning. The lantern's light reminds us of a warm, crackling fire and the chair with the cozy blanket creates an even more welcoming spirit.
4. Chalkboards
Chalkboards are always a fabulous addition – truly for any season. You can create a wintery, Christmastime scene on it and then use the accent to welcome your guests inside. We found a lot of great ideas at Home Stories A to Z.
5. Snow-Covered Presents
You could even create a scene filled with "snow" and presents straight from the North Pole. We found this fun setup while visiting Gardenoholic and fell in love with its whimsy.
6. With Skis
Home Stories A to Z had this fun, traditional styling on display as well. We snatched it up for a feature because we just love the addition of the skis making it a family-friendly welcome.
7. Rainboots
Your rainbows could hold bouts of greenery as well. This entire setup is one to tug at the Christmastime heartstrings and we love the natural palette that it's working with. Check out more like this at Country Living Magazine.
8. Whimsical Elves
We found a lot of great inspiration at WooHome as well. And that inspiration included this whimsical and quirky elf-inspired setup. We love the colors and magical feel of this porch!
9. Fill up a Wagon
Grab a wagon and fill it up with festive goods. This is a great way to utilize what you've already got and create a fun scene at the front door. We found this one while visiting House Beautiful.
10. JOY
Welcome signs are great additions as well. We've actually seen this natural wreath and JOY sign floating around the Internet before and became big fans. It's a great DIY to pursue. Check it out at Country Living.
11. Antiquity with Trees
If you happen to have a fully-covered porch, you can create a Christmas scene that's even more in depth. Just look at this space from Sweet Pea. It's vintage styling and a full tree to enjoy!
12. Wooden Ladders
Those wooden ladders you use year round can be turned into something fun for the porch. Stack your favorite decor pieces and place it next to the door. Pinterest always pulls through for us!
13. Believe Banner
Here's another type of welcome "sign" that you can take ideas from. We love the magic behind this setup and how a banner can be the simplest and most effective part of your decorating. Thanks for the image One Kindesign!
14. Vintage Sled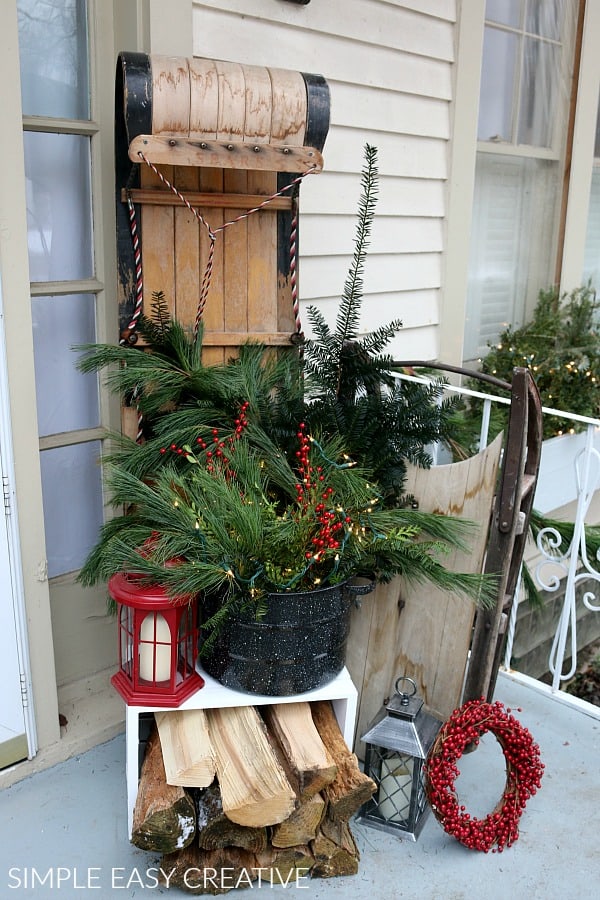 Check out Hoosier Homemade for a fun bout of inspiration. Pile up your porch with fun, cozy finds – including a vintage sled if you have one. It'll really pack a fun and personalized punch to the scene.
15. Traditional Red & Green
Check out this gorgeous porch we found while perusing Pinterest. It has classic red and green colors and is filled with "extra" glam ornaments and greenery. We just love how welcoming and festive it is!