25 DIY Halloween Costumes For Little Girls
Halloween costumes can become quite the fun adventures. Girls and boys everywhere want to dress as their favorite characters while moms and dads have to figure out how to make it happen. Instead of searching high and low or spending an arm and a leg, create a fabulous costume at home! Check out these 25 DIY Halloween costumes for little girls and see if your tiny princess likes one of these for herself!
1. Mermaid
Not So Idle Hands teaches us how to create a mermaid costume for our little lady without having to sew one stitch over on her blog!
2. Lion Hoodie
Check out this adorable lion hoodie from A Beautiful Mess! We love how colorful you can make this and how it can be used days after the holiday!
3. Black Cat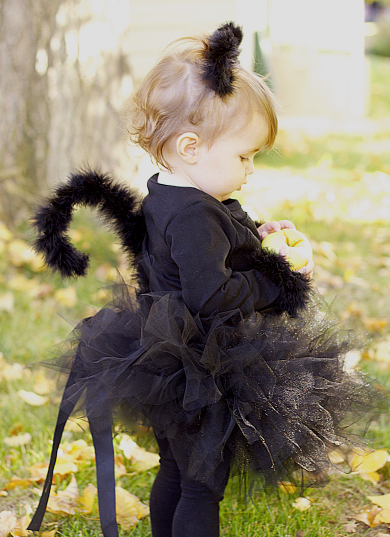 Do It Yourself Divas has an adorable black cat costume that any age could be seen dawning. We love the tutu and ears, don't you?
4. Lollipop
This lollipop costume from Oh Happy Day is just too adorable. Have your kiddo help out with its creation with an afternoon together!
5. Alice in Wonderland
Over at Misha LuLu you'll find this gorgeous Alice in Wonderland DIY costume featured. Learn how to make it for your little one to be the showstopper of the night!
6. Cinderella
Make It Love It made a Cinderella dress for her little girl and we're in love with her finished project. It looks just like the iconic character!
7. Jellyfish
Almost the Real Thing created a unisex costume that any little one would love! Sparkling with lights (which is why we added it to our girl's list) this is an easy project that can be used year after year for different children!
8. Pineapple
Here's another no-sew costume that we instantly fell in love with. Your little girl may just want to be a stylish pineapple like this one from Delia Creates.
9. Sushi
Another costume fashioned after an edible favorite, how does a sushi costume sound? Check it out at Style Me Pretty!
10. Mary Poppins
Maybe you're little gal wants to be the lovable nanny, Mary Poppins. Make it yourself like Hey Ambular did as you hop over and see how!
11. Cloud
Oh Happy Day does it again with this adorable and charming cloud costume! Check out how to make this puffy creation after the jump!
12. Princess Merida
Sew Can Do teaches us how to create this magnificent Merida costume from the Disney movie Brave – a personal favorite in our home!
13. Frida Kahlo
Lovelyish gives us one of the best costume ideas on the list. How does turning your baby girl into Frida Kahlo sound?
14. Super Girl
Every little girl is a super girl so let her shine as just that. Check out Brit + Co and learn how to create her very own superhero costume.
15. Donut
Yet again, here's a charming, deliciously-inspired costume for your little girl to adorn herself with. Make her a donut with help from Studio DIY.
16. Pilot
A pilot or even Amelia Earhart, this costume is so stinkin' cute! Check it out over at Really Awesome Costumes and start working on that plane!
17. Little Red Riding Hood
Make It Love It also made a little red riding hood costume that we're swooning over. Forget store bought – create something original at home!
18. Rag Doll
Who hasn't been a rag doll at least one time in their youth. And this idea from A Beautiful Mess proves how adorable homemade versions can be.
19. Rainbow
SMP has some great ideas including this adorable Rainbow costume! It'll be so easy to throw together when pushed for time too!
20. Pastry Chef & Cake
This is a great idea for sisters or best friends. A pastry chef and her wedding cake, it's just the perfect little duo of fun! Thanks SMP!
21. Flower Basket
One of the more unique ideas, this flower basket costume from Make It Love It is sure to turn heads and churn out compliments.
22. Butterfly
What little girl wouldn't want to be a beautiful, fluttering butterfly for Halloween? With the help of Martha Stewart, you can make it a reality for her!
23. Burkin Bag
Why not dress your little diva up as a famous Burkin bag! How original and creative is this DIY from Craft and Couture.
24. I Love Lucy
Coolest Handmade Costumes showed off this charming, adorable costume fashioned after TV icon Lucille Ball and we're in love!
25. Snail
This may not be considered the most adorable costume idea at first thought but after seeing this piece made from Oh Happy Day, we're in love!