50 Halloween Crafts – Scary DIY Projects To Try This Spooky Season
Halloween is a holiday of many traditions. And Halloween crafts are a fun way to incorporate the spooky and mysterious elements of the day into your celebration or decor.
There are numerous crafts that you can make for Halloween. Many people like to make costumes and decorate their homes with scary things, but there is also the option to make some stuff to give away as gifts or use as party favors.
If you are researching the best ideas when it comes to Halloween crafts, we created a list to help you get inspired, especially if you plan on getting your kids involved.
50 Best Halloween Crafts to Try Out in 2021
Here are some awesome Halloween crafting ideas worth trying this year:
1. DIY Paper Lantern – Halloween Crafts
If you have some crafting experience, then you will probably enjoy making Halloween crafts out of paper lanterns. It's a simple project for the entire family, so make sure to gather everyone so they can chip in.
The very first thing that you have to do for creating a Halloween paper lantern art is gathering all the materials that you will need. This includes a white pencil, white vellum, regular and curved nail scissors, black paper, and a hot glue gun.
Make sure to follow all steps in our tutorial to shape the lantern, trace the contour, cut the paper, add the vellum paper, and glue the sides. Keep in mind that the guide works for only one paper lantern, so you will need more materials and more time to create additional pieces.
2. Monster – Halloween Crafts for Kids
An easy Halloween craft idea for kids is a monster-shaped hanging decoration. It's a simple DIY project in which your children will enjoy participating, so make sure to gather everyone in the family.
Before getting started, make sure to collect all the necessary materials: a small green ribbon, four pieces of marbled orange tissue paper, a hot glue gun with glue sticks, a pair of scissors, and black and white construction paper.
You start by designing and cutting the monster's facial expressions out of black construction paper. Next, you have to fold the four pieces of orange tissue paper into accordions before gluing them together to form a circle – this will be the monster's face.
Follow the remaining steps in our tutorial to see how quickly you can put together this cool Halloween crafting idea for kids!
3. Pumpkin and Cat Decor – Halloween Craft Ideas for Kids
Parents whose children are creatively inclined probably have their houses bursting at the seams with craft supplies. But it can be hard to find original ideas for crafting projects to do out of regular home items when there are so many wonderful options out there.
And any object can be the centerpiece of your next big Halloween project. For instance, you can use old paper plates found in the back of your pantry to turn them into orange pumpkins and black cats.
It may sound strange, but we can assure you that the result looks amazing. It's a great Halloween craft idea for kids! And we carefully explained each step in our simple tutorial on how to make a pumpkin and cat Halloween decor, so be sure to check it out!
4. Candy Holder – Halloween Crafts For Preschoolers
If you're looking for Halloween crafts for preschoolers and toddlers, then you need to find projects that are safe enough. You don't want your kids getting hurt out of these long-awaited activities. So why not try a Halloween corn holder that's shaped like a witch's boot? It's a big hit among children because it allows them to carry their treats around in a fun way.
Start by measuring your child's favorite candies to fit inside the boot. Then follow the easy steps as showcased in our tutorial. Don't worry if you don't already have the right colors since you can use any color of paper as long as it provides an adorable look. Easy as pie!
5. Black and White Vine Wreath – DIY Halloween Crafts
If you are researching Halloween crafts that are easy to make but which also look stylish, try out this DIY black-and-white vine wreath! You can hang it on your front door to welcome your visitors and trick-or-treaters.
Start by gathering all materials needed to create this awesome craft idea: a vine wreath, wire cutters, an artificial blackbird or any other Halloween decoration element, a black and white ribbon, feathers, flowers and grass, black and glossy spray paint, as well as a hot glue gun with extra glue.
It's a quick project if you follow the steps shown in our tutorial, so don't even worry about not having previous crafting experience since it's super simple!
6. Lollipop Ghost – Halloween Arts And Crafts
Halloween is the perfect time of year for making special crafts with your kids. Since every family has a preferred theme, we thought that ghosts are something that can't miss from this list.
If you have been looking around for ideas when it comes to Halloween arts and crafts – from easy to complex – then we have found a project that will get everyone excited.
This cool lollipop ghost is not only a tasty treat but also a scary decoration that you can hang on walls, doors, and windows so you can see it from outside while trick-or-treaters are going about their rounds.
We have prepared an entire tutorial that teaches you everything you must do to create a single lollipop ghost for Halloween, so be sure to check it out. It should go without saying that you should create multiple pieces this way for a truly delicious and spooktacular ensemble of edible ghosts!
7. Paper Cone Witch – Easy Halloween Crafts
If you're searching for easy Halloween crafts that your kids can enjoy, we have found a simple yet wonderful idea that won't take up much of your time. The paper cone witch is perfect for decorating a child's room, and you can follow our recipe to quickly make several of these items.
To do this project, all you need are three things: black, cream and purple construction paper, black pipe cleaners, black, green and red felt tip pens, scissors, orange yarn, and a hot glue gun with glue sticks. For the full list of instructions, be sure to check out our Halloween craft tutorial. Don't worry if you don't have the right colors for the felt tip pens and construction paper since anything will do.
8. Whimsical Wreath – Halloween Craft Ideas
Here's a wonderful Halloween craft idea that works as a home decoration for the scariest night of the year. We have prepared a simple tutorial on how to make a spectacular wreath that will look amazing on your front door.
This whimsical Halloween wreath is a great project for this time of year, and it doesn't require many supplies. In fact, you only need some strips of fabric, a pair of scissors, a circle wreath made out of styrofoam, push pins and any decorative objects that work with Halloween, such as black feathers, skulls, spiders, or bats.
To get started with this project, check out our step-by-step tutorial. It will show you how to make a fantastic Halloween wreath in a fun and easy way.
9. Paper Mache Pumpkin – Halloween Paper Crafts
In the market for some easy Halloween paper crafts? We have a simple tutorial that will show you how to make a paper mache pumpkin, and it's perfect as an art project during the spookiest season of the year.
When it comes to materials, you will need the following: jute twine, a foam brush, flour, crepe paper, scotch tape, acrylic paints, a balloon, a bowl, scissors, and a fork. If you don't have crepe paper, don't worry about it since you can use old newspapers you can find in your home.
To read all about this craft idea and access our step-by-step instructions on how to do it right now with minimal materials and effort involved, be sure to check out our latest Halloween craft tutorial.
10. Halloween Crafts With Toilet Paper Roll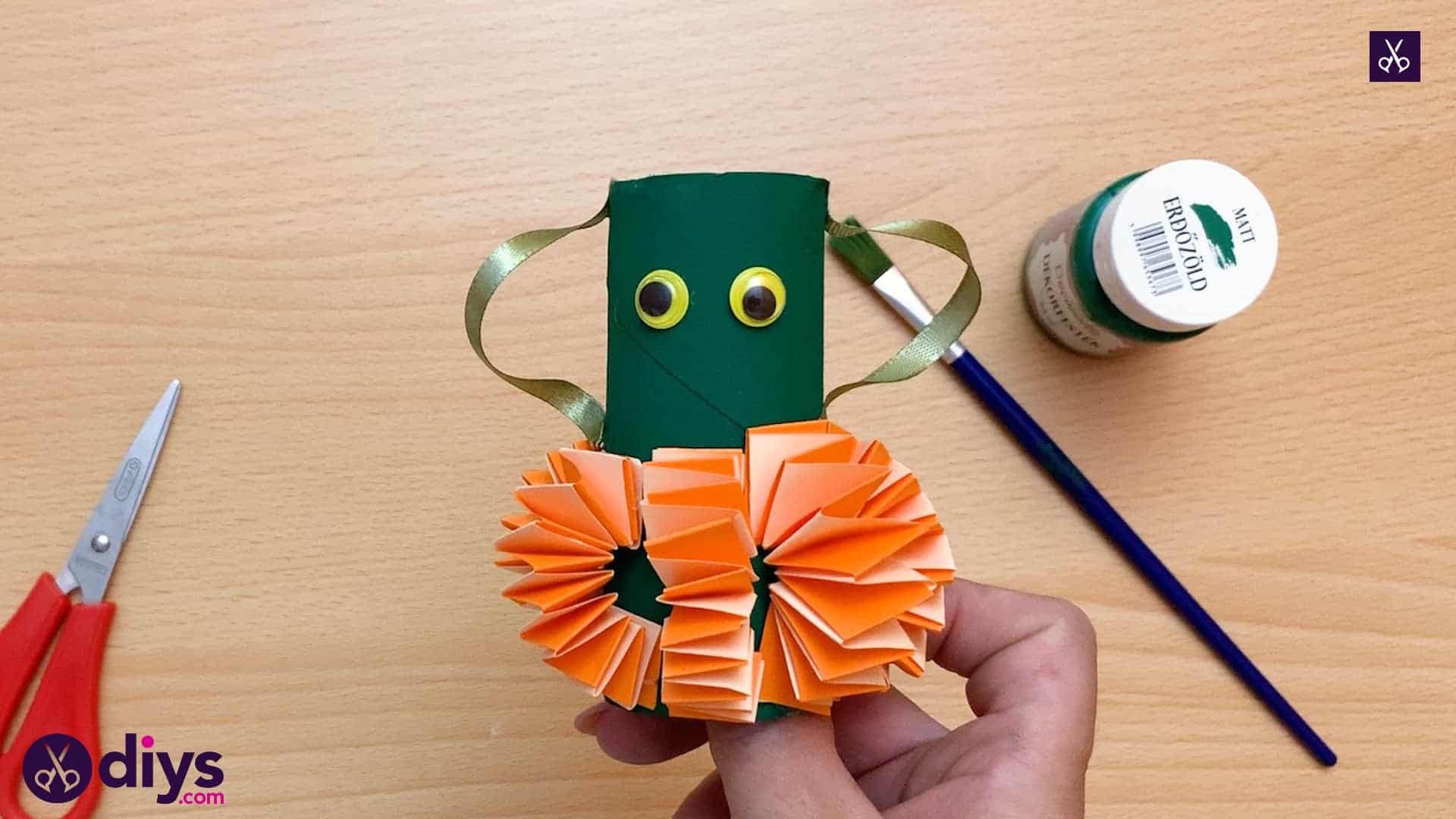 Fall is a great time for crafting activities because the weather is just right and it's not yet cold enough to stop you from spending hours outside. And what can be more wonderful than making Halloween crafts with your kids?
If you're looking for an idea when it comes to Halloween crafts with toilet paper toll that everyone will love – including mom and dad – then why not try this toilet paper roll pumpkin craft. It's easy, fun, cute-looking, and a perfect Halloween craft idea for kids of all ages. You can also use this as a fall decoration. All you have to do is follow these step-by-step instructions so you can learn how to make one yourself or with your little ones.
11. Scarecrow – Toilet Paper Roll Halloween Crafts
It's not that hard to find a Halloween craft that involves toilet paper rolls. But few are creative. If you're seeking an activity that your kids can easily help you with, we have found a great idea that doesn't cost much and will keep the little ones busy: an adorable scarecrow made out of a toilet roll.
We do understand that sometimes it's challenging to find time during autumn or winter to spend on fun craft ideas because of other things going on at home. However, this toilet roll scarecrow is an activity everyone can participate in because all you need are a few simple materials and some patience.
Check out our complete instructions and easy tips to discover all the steps you need to take.
12. Pumpkin with Leaves – Halloween Construction Paper Crafts
If you're looking for easy ideas that involve Halloween construction paper crafts, here's a beautiful way to decorate pumpkins without using too many materials or spending hours on the project. We have prepared a step-by-step tutorial that shows how to make tissue paper leaves that are perfectly suitable for pumpkin carving.
All you need are several green pieces of paper – they can be construction, wrapping, or tissue – as well as some scissors and glue if you want your leaf decorations to last longer. If you follow all our instructions, it won't take long until your home is decorated with lovely tissue paper pumpkins everywhere.
13. Popsicle Stick Monster – Halloween Crafts For Toddlers
Kids are all about the spookiest season of the year. If you're looking for ideas when it comes to Halloween crafts to keep your kids entertained for hours, here's an awesome crafting project that focuses on monsters.
Besides, it's a good opportunity to get your children involved in arts and crafts before it's too late. One way to do this is with these pom-pom stick monster critters that you can make from scrap yarn and popsicle sticks found around the house.
They come out goofy-looking but still really cute – perfect if you want an easy idea when it comes to Halloween crafts for toddlers without having to spend tons of money and without needing any intricate skills. Check out our complete tutorial to find out everything you need to know about this awesome project.
14. Lollipop Spiders – Halloween Popsicle Stick Crafts
Lollipop spiders are creepy crawlers that will be a huge hit among kids on Halloween night. They're easy to make when it comes to Halloween popsicle stick crafts, and they will keep your children busy for a while, at least until you can take care of other matters around the house. All you need is a few supplies and some time to create them.
First, gather your materials: black and grey pipe cleaners, red or white googly eyes, black crepe paper, a hot glue gun and sticks, grey yarn, scissors, and a tiny black-and-grey pom-pom.
The best thing about this project? There's no right or wrong way of doing it. So even if you don't have all the materials on hand, our tutorial will show you how to improvise and still come up with a cute result that everyone will love.
15. Creepy Key Holder – Scary Halloween Crafts
Need to organize your keys better? We have the perfect solution for you. This Halloween crafts idea will help you make a great key holder that's perfect as home decor and also handy when it comes to finding the right key quickly.
What makes it a perfect fit for Halloween is that it's a scary Halloween craft – what makes the key holder so creepy is that it uses arms from dolls. So you should probably stay away from it if you have young kids at home that will probably get spooked.
All you need are some creepy doll arms, a wood pallet board, wood glue, silver paint, five doll hands and wooden spindles, E-6000 adhesive, and a rust texture finish. We promise this Halloween crafts project is not as hard as it sounds! You can find all our detailed instructions in our tutorial here, so don't hesitate to give it a try today!
16. Day of the Dead Wreath – DIY Halloween Crafts
Red, white, and black is a classic color combination that guarantees an elegant final product that you can proudly show off. If you're looking for a unique Halloween wreath this year, why not try going with the Day of the Dead theme?
You only need some basic supplies for this DIY Halloween craft, like scissors, a resin skull, pliable wire, black lace, a hot glue gun with glue sticks, Sharpie markers, a picture frame without the glass, and different colored artificial flowers.
Once you have everything ready, all you have to do is follow our detailed tutorial and you'll find out that creating a Halloween wreath might be just as easy as leaving it up to the professionals. You can even use this awesome Day of the Dead wreath on other occasions – we're sure it will look just as awesome at Thanksgiving!
17. DIY Embroidery Hoop – Halloween Crafts for Kids
Halloween crafts for kids don't have to be subtle – they can be big and colorful, just like this embroidery hoop that you can easily create. You will need a bigger embroidery hoop for this project, so if you don't have it lying around the house already, feel free to get one from your local craft store.
You'll also need a few other supplies: a needle, scissors, an embroidery hoop, thread, and black glittery foam. The best part? This project is easy even for kids, so both adults and children should find something here to make their day!
In our tutorial, we show you exactly how to do it step by step, along with all the tools and materials you'll need. The result is a beautiful Halloween decor item, perfect for the living room or bedroom that you can even give away as a present to your friends.
18. Mini Felt Pumpkin Tote – Halloween Crafts For Preschoolers
This Halloween crafts project is perfect for preschoolers. It's not just cute and easy to do but also practical since it can be used to carry around candy or school supplies.
What makes it unique is the addition of a cute felt pumpkin, which is the ideal Halloween mascot for this bag. You need orange, brown and black felt pieces to make it, but we are explaining every step of the way in our detailed tutorial.
In addition to the felt, make sure you also have the following materials: scissors, a metallic silver fabric paint pen, black embroidery floss, and an embroidery needle.
If you can follow instructions and invest some time in this project, your final result will speak for itself! It's such an adorable Halloween craft idea for kids and adults alike, so give it a try today!
19. Black Feather Chandelier – Halloween Arts and Crafts
When it comes to Halloween arts and crafts, you won't believe how easy it is to make a spooky chandelier. In fact, this project will only take you about 30 minutes from start to finish – and that includes the time you'll need to create the black feathers!
Here's what you will need: a chandelier base and a string to hang it, a feather, black spray paint, and black washi tape. You can buy everything in your local craft store or even at the dollar store. Check out all instructions in our detailed guide!
We're sure that if you give this project a try today, we won't be seeing such unique Halloween decor items in stores anymore since it's just so easy to create one yourself. Plus, it can be done with almost any kind of chandelier base – so if you don't like this one, maybe the old one your grandparents had will inspire you.
20. Jack-O-Lantern and Cauldron Candle Holders – DIY Halloween Crafts
If you love Halloween and want to decorate your home for it, this easy yet amazing light-based project is the best way to do so. We have everything you need to know about creating candle holders out of a Jack-O-Lantern and cauldron if you want to get creative.
First of all, here's what you need for this DIY Halloween craft idea: rubbing alcohol, paper towels or a rag, a few small pieces of cardboard, water, sand, Elmer's glue, a paintbrush or stirring stick, a small squirt bottle or bottle with a small opening at the top, electric tea lights, parchment paper, and round glass candle holders from the dollar store.
Follow our detailed guide that teaches you everything you need to know about creating stunning and innovative candle holders for Halloween!. Your guests will surely appreciate the creativity you put behind them!
21. Black Candle Holders – Halloween Crafts
Here is another approach to putting your Halloween craft skills to the test: black candle holders. However, unlike the previous idea, this one is more elegant and can be used all year round – not just on Halloween.
When it comes to this Halloween crafts project, the result is one of a kind. It's unique and inexpensive, even if you make 50 of them! So, if you want to give your home an original touch for the upcoming holiday, this might be the perfect recipe for you.
As far as materials are concerned, you need the following: candles, three brass hardware fittings, super glue, black paint, sandpaper (optional), and three wooden furniture legs in different sizes and shapes.
We recommend checking our detailed tutorial before starting on this DIY project so you know exactly what steps to follow. And don't forget about safety – wear protective gear when handling any chemicals!
22. Spiderweb – Easy Halloween Crafts for Kids
If you're looking for some easy Halloween crafts for kids, this might be the project that will boost your creativity. We have put together a step-by-step tutorial on how to make a spiderweb out of yarn that's super easy to make and fun since it can be done by both younger children and teens.
So here's what you need for this cool Halloween craft idea: yarn, scissors, and painter's tape or washi tape. You can find everything at your local craft store! We went with black yarn in our guide, but you can choose any color that suits your Halloween theme. You could also mix several colors of yarn to design a more intricate and colorful spiderweb.
All steps in our guide are clear and simple to follow, so give this awesome DIY project a try today! Then, be sure to share your creation with us!
23. Spiderweb Wall Clock – Halloween Crafts
This spiderweb wall clock would be a perfect addition to any Halloween theme if you are researching various ways in which you can decorate your home for the scariest night of the year.
It will liven up your Halloween. Plus, it's easy to make since it can be done in less than an hour! To put together this spooky decoration for the holiday, you need a spiderweb wall clock kit from Amazon or eBay, glitter spiders, and white spray paint.
Our step-by-step guide takes into account all details related to this project so that anyone who wants to try their hand at creating a fun timepiece for Halloween has what they need.
24. Last-Minute Halloween Coasters – Halloween Arts And Crafts
If you ask around, some people would probably tell you that Halloween is all about getting creative with your decoration and coming up with the best ideas on how to decorate your home. Here is one of them if you kept putting holiday decorations on hold: last-minute Halloween coasters.
When it comes to Halloween arts and crafts, this idea involves using a foam brush, Halloween scrapbooking paper, paint that matches the color of the scrapbooking paper, a foam brush, wooden coasters, and a pair of scissors, among other supplies.
We put together a simple tutorial with all the instructions you need to complete this project, so be sure to check it out!
25. Birdcage Chandelier – Halloween Craft Ideas
This chandelier is a great Halloween craft idea if you're looking for ways to spruce up your home this holiday. It's also inexpensive and can be made in less than one hour!
We recommend using a birdcage that was previously used as the chandelier base, so keep yours around just in case you need it. If you don't have an old birdcage lying around, you should be able to find plenty of cheap options on online shopping sites like Amazon.
Just make sure to double-check measurements before purchasing. You also need a wooden the same size as the cage, black paint, green botanical twigs,battery-operated tea lights, and sandpaper (optional). Follow our instructions in the tutorial for more information on how to create this awesome birdcage chandelier for Halloween!
26. Mummy Lanterns – Easy Halloween Crafts
If you're going to decorate your home for Halloween, why not make a mummy lantern to help set the tone? These adorable lights will invite everyone to your home and will make them think of Halloween!
Plus, this easy Halloween craft idea is both fun and inexpensive, so it's the perfect project for children and teens. You can also opt to make these mummy lanterns if you want a great decoration idea for your home.
All you need for this project is a plaster cloth, scissors, cooking spray, small LED tea lights, small balloons, and a pin. Our step-by-step tutorial shows you everything in detail.
27. Pumpkin Air Plant Holders – DIY Halloween Crafts
One way to add a unique touch to your home during the spooky holiday is to create terrariums and plant them in pumpkins. To make them look like a real Jack-O-Lantern, you can use orange paint to color the pumpkin shell before adding the terrarium.
If you are looking for easy DIY Halloween crafts, the pumpkin air plant holders will create a better atmosphere in your home for the holiday. The best part about it is that you don't need to use real or artificial pumpkins when you can build them from the ground up.
To get this show on the road, you need the following items: orange paint, Sculpey, plaster mix, water, silicone mold, a bowl, and a spoon. Check out this simple tutorial with all the information you need to complete the project easily.
28. Bat Toys – Halloween Crafts For Kids
Halloween crafts for kids can be tricky, but not with this project. It's a perfect choice if you're looking for Halloween toys that are safe and fun at the same time. Best of all, you will have a blast making them with your entire family.
All you need to complete this project is toilet paper rolls, twine, black construction paper, googly eyes, a pair of scissors, a cutter, and a hot glue gun with glue sticks.
Wrap a toilet paper roll in twine, design and cut the bat wings out of the black construction paper, and then glue the wings and the googly eyes to the roll with twine. It can't get any simpler than that!
29. Paper Facemasks – Halloween Crafts
We are living in unprecedented times when the COVID-19 pandemic has emphasized healthcare. But that doesn't mean we can't add a nice twist to the one element that currently connects everyone – medical facemasks.
If you're looking for a cool Halloween craft idea that reflects our culture nowadays, you can easily design paper facemasks that you can wear on top of your medical facemasks when trick-or-treating on Halloween. Besides, it's a fun activity for the kids and a good opportunity to get them involved.
You just need construction paper in various colors, a pair of scissors, a cutter, and plenty of imagination when it comes to designing paper facemasks. You can use the photo above as inspiration.
30. Pumpkin Cocktail – Halloween Craft Ideas
Here is an awesome Halloween craft idea that adults and kids alike will love. If you want to make your Halloween party stand out, you can serve virgin cocktails in Jack-O-Lanterns. It's easy to make and perfect for all ages.
To make this unique drink, you will need a pumpkin, a spoon, applesauce, baking soda, vinegar, orange juice, cinnamon sugar or syrup (optional), and a knife.
First, remove the seeds from the pumpkin with a spoon and scoop out the flesh. Then mix 2 parts of applesauce with 1 part of baking soda and pour it into the pumpkin.
Add some vinegar to the mixture as well as some orange juice to give it the zingy taste that makes it so appetizing. To decorate your cocktail, just add either cinnamon sugar or syrup. You can serve it in a glass jar with a straw. Enjoy!
31. Origami Bat Decor – Halloween Crafts
Even if you're not a fan of Halloween and its scary decorations, we can all agree that anything handmade is beautiful and unique. So, if you prefer Halloween decorations that will look good all year round, we suggest checking out this origami bat decor that works with any child's room.
You can make 3D bats out of different colors. First, get the paper needed for these amazing bats – black construction paper or white cardstock will work best. Next, get a marker or pencil so you can draw lines on the paper to make it easier to fold the design.
After drawing the lines on each side of one piece of paper, cut along them so that both halves are symmetrical in size and shape. Once done, use a hot glue gun to fix the two parts together into a 3D design. Then, all you have to do is attach a string and hang it somewhere – the Halloween tree or the wall, for example.
We love this photo because it showcases bats at nighttime, thanks to a large black paper that covers the wall, on top of which you can notice a yellow paper circle that mimics a moon. And it looks like the bats are flying during the night.
32. Pumpkin Mason Jar Candle Holders – Halloween Craft Ideas For Kids
This is an amazing DIY project that requires only a few supplies. Get your kids involved in this fun craft idea for Halloween if you want to make it even more special.
All you need are some mason jars, construction paper, scissors, tape, small candles (you can get these at the dollar store), spray paints, and some vaseline. Begin by spray-painting the mason jar in the color you like. While waiting for the paint to dry off, you can draw the facial expressions of a pumpkin and cut them out of construction paper. Then, you can attach them to the mason jar using tape.
Next, insert the candle into the jar using vaseline. It will hold up well over time and won't melt due to the low temperature of the candle.
Now, all you have to do is put the jar on top of the lid so that half of it sticks out from under it – just like with regular mason jars. And voila! You now got yourself one spooky decoration for Halloween!
33. Stripped Paper Pumpkins – Halloween Paper Crafts
Here's one more way to make beautiful Halloween paper crafts: stripped paper pumpkins. It's not difficult, but it does require some time and patience to get the result you want.
All you need are strips of paper that vary in width, a pencil or marker to draw on the plaid pattern, scissors, glue, cotton balls (optional), and contact paper.
First, use your preferred color scheme when drawing lines on the pieces of paper with the help of a pencil or marker. Then cut out each strip and lay them out on a flat surface such as a table. Now you can place some newspaper over all that and start gluing down the strips of paper one by one so that they overlap with their wider side facing up while creating stripes.
Once done, you can apply some contact paper on top of the stripes to make them look like they are strips of pumpkin skin. You can also use cotton balls for this. Just get a bottle of white glue and pour some on the top of each pumpkin so that it sticks to the paper. Then, use your fingers to place the cotton balls on top of the glue. You can now apply some contact paper over it.
34. Hand-Shaped Greeting Cards – Halloween Construction Paper Crafts
If you're planning a Halloween party for kids, you can't forget about the greeting cards! In addition to welcoming the guests, your kid's friends will be able to take them home as keepsakes.
This Halloween construction paper craft requires only some construction paper, a marker, scissors, and glue. It does not take up much time and effort on your part and is perfect for those who want to make cute things with their little ones during the spooky holiday.
First, cut out two identical hands from the orange paper. These are going to be ghosts' hand-shaped greeting cards that will say Happy Halloween! on them. You can draw the letters on regular white paper beforehand or do it directly onto each hand using a marker.
Then you can use hot glue to put the two parts together so your decoration looks like a real 3D card with a long string attached to it at the top – just like a balloon!
35. Knitted Pumpkins – Halloween Crafts
This is one more craft that your children will definitely love: knitted pumpkins. It's not a difficult Halloween craft and doesn't require many supplies. All you need are some yarn balls in orange and green, two knitting needles (9 or 10), and a pair of scissors.
To make the knitted pumpkins, you first have to cut out seven leaves from the green wool using regular scissors. Then, tie them together tightly with the help of a needle at the stem end like they do when making paper flower pots. Next, you can place these leaves on top of each other so that they form a circle and then start knitting all seven of them together into one bigger circle. Make sure your stitches are small.
Now you're ready to flip it inside out so that you can use the end of your knitting needle or a pencil to stuff it with bits of yarn from the inside. Then, put it back into its original shape and place a little ball of orange yarn on top.
Finally, tie all the ends onto the base of one of your knitted leaves using two different colors – this is going to be a stem – and make sure there's no gap between them. Next, you have to attach the second leaf while making sure they overlap each other by about 1-2 inches. Adjust everything until your creation looks like a pumpkin.
15 More Halloween Crafts to Try Out
36. Haunted Mirror Halloween Craft
What better way to add some Halloween spirit to the house than to create a haunted mirror that guests can be surprised by? Check out the details over at Country Living. Leave the surprise in the hallway, foyer, or even in the guest bathroom! This Halloween craft will get visitors talking.
37. Glitter Trick-or-Treat Bags DIY Halloween Crafts
HGTVshows off a craft that moms will really enjoy making for their little ones. Instead of store buying their bags this year, make something that they'll want to reuse. These glittered totes will carry lots and lots of treats too!
38. Torched Plants Halloween Craft Idea
Nothing will get your home in the mood for Halloween quite like some dead, rotting plants in the corner. But instead of having actually dead plants, let's just have Good Housekeeping help us create some black, "torched" ones instead. Whether its out on the front door or right inside the foyer, they'll definitely start creating a "spooky" vibe.
39. Pumpkin Magnets DIY Halloween Craft
Whip up some pumpkin magnets that the kids can play with. The Benson Street has all the details. They'll be cute on the fridge or on the kids' easel.
40. Vampire & Ghost Wine Bottles – Easy Halloween Craft
Grab some old wine bottles and put them to good use. Woman's Day gave us one of those most simple and easy ideas on the list. Turn them into ghosts and vampires to sprinkle around the house!
41. Eyeball Balloons – Halloween Craft Idea
How about some eyeball balloons to lighten the mood? Hop on over to Studio DIY to learn how! This is such an easy way to decorate for your Halloween party!
42. Boo Banner Halloween Paper Craft
A Beautiful Mess has a charming "Boo" banner that you can have fun whipping up this afternoon. It'll be such a charming and subtle addition to your Halloween decor. Dress the foyer, living room or staircase with it.
43. Halloween Arts & Crafts – Pom Pom Spiders
Clever Patchwent with a classic art supplies and started out with some pom poms! This is a great project to get the kiddos involved with and excited for the holiday by. They can then decorate their own dressers and windowsills with the cuties.
44. Vampire Bookmarks – Easy Halloween Crafts
Easy Peasy and Fun has free printouts of these vampire bookmarks. Color them with your own imagination in mind and use them to read some Halloween classic like Dracula or Frankenstein this season. Print them off for the kids too!
45. Spooky Book Covers Halloween Crafts
Turn your fav reads into decorations for the season! Over at The Idea Room you'll be able to find some free printable and inspiration on book cover ideas. Your home office just turned into a witch's lair.
46. No-Sew Halloween Bracelets – Halloween Crafts for Kids
Merriment Design has a craft that the kids will definitely find some enjoyment out of. Use this idea as a way to fill up their Halloween treat bags or have the little ones do it alongside of your. Then they can flaunt their new holiday accessories all down the block.
47. Haunted House – Halloween Craft Idea
Haunted houses are a must-make when it comes time for Halloween decor. Do them as edible pieces – like that of gingerbread houses- or like what you see here from BugabooCity. Glitter, paint and creativity is all you need to get started.
48. Ghost Piñatas – Halloween Craft Ideas
Pinatas at the party could be fun too. And they're filled with candy so they're perfect for Halloween! Hop on over to Make and Tell and grab all the details now.
49. I Put A Spell On You Pillow Halloween Craft
The Crafted Sparrow make a pillow that we fell in love with too. If you're itching to create something for the house, but don't know what, this is the project to try. Turn your home into one that's been spellbound with Halloween theme decor!
50. Black Cat Garland Halloween Craft
Country Livinggives us a fun addition to the mantle and a fun craft for the kids to get involved with too. Take the jump and check out the details. Just don't forget to add the twinkle lights for that extra pop!
Final Thoughts on Halloween Crafts
So, these are our top 50 Halloween crafts that you can make with your kids to prepare for the spookiest night of the year. The only thing left to do is choose the one that looks the coolest to you and go rock it!
No matter what choice you end up making, be sure to return to this page and share a photo with us by taking advantage of the comment section below. Feel free to also share more ideas on awesome Halloween crafts that you love! Happy haunting!