40 Best Easter Egg Coloring Ideas to Add Spring Cheer
Easter is almost upon us, and we can't wait to dye some eggs and hunt for them in the backyard. If you're not sure what to do with your dyed and undyed eggs, we prepared a list of our favorite Easter egg coloring ideas.
One of the best parts of Easter with the family is getting everyone together in the kitchen to dye some eggs. This year though, why not put a unique spin on the task?
There are many funky, stylish, and creative ways to paint those shells. Scroll through these Easter egg coloring ideas for you and the kids until you find something that resonates.
Charming Easter Egg Coloring Ideas for the Entire Family
Here are the best Easter egg coloring ideas to try this year:
1. Funny Faces – Color Easter Eggs Ideas
The idea behind this Easter egg painting design is to have fun by putting funny faces on the eggs with the help of your kids.
You can use stickers, markers, or draw with crayons. Besides, it's an excellent opportunity to use up all of your old Easter eggs and prepare them for an exciting treasure hunt.
Instructions:
Start by drawing a simple face on your egg with a marker.
Add details like eyes, a nose, and a mouth.
Use different colors to make the face stand out.
Let the ink dry before you start hunting for Easter eggs.
2. Natural Dye Eggs Food Coloring Ideas
If you want to go the natural route for dyeing your eggs, you can use vegetables and spices for this Easter egg painting idea. The process is elementary since you have to boil water, add the natural ingredients, put in the eggs, and let them soak.
Suggestions:
Use red cabbage leaves to dye a dozen of eggs in dark purple.
For lighter purple, use grape juice instead of vinegar to boil the red cabbage leaves.
You can use coffee to dye your eggs brown or add cocoa powder to food coloring.
If you want yellow eggs, simmer the onion skins for 20 minutes.
For orange, add turmeric to the onion skins while they're cooking.
To make the eggs green, spinach is the way to go.
Also, if you're feeling adventurous and wish to create a creative environment for your child to express himself, feel free to combine multiple vegetables and spices to see what colors you will obtain. You can turn it into an educational activity by writing down notes for your experiments.
3. Muted Blue – Dyeing Easter Eggs
Blue is always in trend, so you can drop the classical red and create muted blue Easter eggs instead. A word of advice: don't use food coloring, as it won't give you a natural look. Instead, use vinegar for dyeing in this Easter egg craft idea.
Instructions:
Start by boiling a pot of water and adding white vinegar. You should have about 50 ml in total.
Put the eggs into the water and let them cook for 15 minutes.
Take the boiled eggs out of the pot and place them in an ice bath to stop the cooking process.
Let the eggs dry before using any other non-natural dyes or decals.
Now you can decorate your Easter eggs however you want.
4. Gold and Silver – Painted Easter Eggs Ideas
If you're tired of coloring eggs in bold colors, you can make Easter egg decorations with gold or silver foil. It's innovative and elegant at the same time.
Instructions:
Start by wrapping the eggs in foil.
Bake the eggs for 15 minutes at 300 degrees Fahrenheit (150 degrees Celsius).
After taking them out of the oven, decorate your eggs however you like before wrapping them up again in foil.
Bake the eggs for another 20 minutes at the same temperature.
Take these good-looking but somewhat fragile decorated Easter eggs out and let them cool down completely before handling them.
5. Traditional Motif – Ideas for Dyeing Easter Eggs
If you're tired of using unconventional dyes and decorations, why not go old school? You can make traditional motifs on your handpainted Easter eggs with the help of wax paper.
Instructions:
Clip out a sheet big enough to cover an egg.
Use the sheet as a stencil, putting it above the egg and marking the pattern with pencil marks.
Cut along your pencil marks to get perfect prints on your eggs.
Use an oil-based paint marker to fill in the design.
Remove the wax paper before Easter.
6. Muted Colors and Speckles – Easter Egg Color Ideas
This Easter, try going for a less-is-more approach – it works wonders with color palettes and decorations. And you can start by making speckled Easter eggs.
Instructions:
Use a toothpick to put on food coloring spots while the eggs are in the pan cooking; use multiple colors to create a nice-looking speckled pattern.
Now start decorating your eggs with varied muted colors that go well together; you can combine blue, grey, brown, yellow, pink – whatever you think looks good on an egg.
Feel free to add decals or other patterns on top of these beautiful speckled eggs if you're feeling creative enough.
7. Grass Leaves – Food Color Dye Easter Eggs
If you want a more natural look, try making grass leaves on your Easter eggs. It's the perfect design if you're hosting an outdoor party and plan on having a bonfire.
Instructions:
Mix glue with green food coloring.
Use a brush or a cotton swab to apply this mixture to your eggs. Dip it into the dye as needed until you get the desired color intensity.
Leave the eggs to dry overnight.
Decorate the eggs however you like; you can leave them as they are or add tiny leaves for an extra appealing look.
8. Plums – Painting Easter Eggs Ideas
A terrific idea is to paint your eggs to make them look like plums. Then you can fill a basket and watch the look on everyone's faces when they realize those aren't actually fruits.
Instructions:
Prepare a small pot with 2 cups of blueberries and 2 cups of water.
Set the stove to medium-high heat and bring the pot to a boil.
Set the heat to low, put a lid on the pot, and let it simmer for about 10 minutes.
Strain the water using a fine-mesh strainer to eliminate the blueberry skins.
Add 1 tsp. white vinegar and allow the water to cool.
While waiting, boil the eggs in a separate pot with clean water and give them time to cool.
Add the eggs into the dye and let them sit for 10 minutes. It's best to constantly check the color to see if you like how it turns out; more time left in the time results in a darker color.
Transfer the eggs to a paper plate to dry for a couple of minutes, then rinse them under cold running water.
9. Face Masks – Ideas for Coloring Easter Eggs
It's impossible not to have fun with face masks on Easter eggs. Everyone will love these unique decorations, especially when given the current times.
Instructions:
Prepare 1 cup of cornstarch and 1 tbsp of glue.
Add food coloring until you get the desired color intensity.
Make sure to stir until it gets consistent throughout.
Let your mixture dry for 24 hours before decorating it with an oil-based paint marker.
Remember that cornstarch will absorb any moisture in its surroundings, so keep your eggs in an airtight container. If they start getting tacky or sticky again, simply brush them off with talcum or baby powder.
10. Flowers – Easter Egg Painting Ideas
If you're looking to add some color and elegance to your Easter eggs this year, try painting them with flowers.
Instructions:
Prepare 2 tbsp. white glue, water, the food coloring of your choice, and food coloring dye of a contrasting color.
Mix all ingredients to get a smooth consistency.
Transfer the mixture into a zip-lock bag and cut off just one corner tip. This way, you can easily squeeze it out and make designs on your eggs as you see fit.
Feel free to use tweezers for more precise results if necessary.
Let the eggs dry completely before adding any decoration you like (chalk, glitter, etc.). Then allow the eggs to dry again.
11. Cute Bunny – Ideas for Easter Egg Coloring
How can you make your Easter eggs even more adorable? By adding a bunny, of course. This is one of the cutest ideas on this list, and it's definitely fit for children.
Instructions:
Draw the bunny on an egg (the bigger, the better).
Trace with toothpicks or skewers where all lines intersect.
Cut through by removing pieces on all sides of the intersections. Do not remove any elements from inside the triangles. You have two separate parts now, so carefully slip them off using your fingers or tweezers.
Place both parts together and glue them at their intersection points; you should not be able to see them after putting them together correctly.
12. Multiple Colors and Shapes – Food Coloring to Dye Easter Eggs
If you want to get creative this year, multiple colors and shapes might be perfect for your Easter eggs.
Instructions:
Take two or more eggs from the same batch and prepare food coloring in different colors.
Dip the eggs in separate dyes and place them on wax paper to avoid getting them dirty.
Try using toothpicks to dip small areas only; bigger toothpicks are better for larger surfaces like the entire eggshell.
Wait until the eggs dry completely and gently peel off the shells; you may need to use an oven mitten.
If you want to change the color at any point, repeat the second and fourth steps.
For multiple shapes, take a filtered egg and cut the top half off using an X-shaped cut.
Put the top sideways so that it looks like an animal head. You can use other parts of the eggshell to make arms or legs for your new decoration.
13. Colorful Patterns – Food Coloring Egg Dye
If you're looking for a simple way to beautify your Easter eggs, go with colorful patterns. You can use this Easter egg coloring idea for children, although it can also be fun for adults.
Instructions:
Dip an egg in food coloring for about 10 seconds.
Drain the dye and transfer the egg to a bowl of water.
Repeat with another color, but make sure you pull out your first egg right before it becomes too saturated; this way, all colors will combine well.
Repeat until you have enough colors on your eggs.
Once the eggs dry entirely, decorate them however you want. If necessary, trim off any little pieces left from the patterning process using small scissors, such as craft scissors.
14. Painted with Onion Husks – Easter Crafts with Eggs
If you want to play with your food this Easter, then painted eggs made out of onion husks might be the perfect choice for you.
Instructions:
Cut off the top 1/3rd of an onion (make sure there are no sprouts) and scoop out all pulp; also remove any garlic slices.
Prepare paper towels on a plate or baking sheet, and put them in front of you horizontally.
Take an egg and wrap the entire shell in a thin layer of white tissue paper. If possible, try to remove all air bubbles inside the wrapper.
Carefully put the wrapped egg into a husk and place it on a paper towel.
Repeat with as many eggs as you'd like, but leave some paper towels between each egg so they don't stick together while drying.
Now take an egg and wrap it in two layers of onion husks; this makes the outer shell sturdier. Put the egg next to another one.
If you need to reuse onion husks for another egg, remove any leftover pulp from the inside and soak it in water for about 20 minutes.
While waiting for all eggs to dry, boil water and pour it over the eggs; you may want to put a metal rack in the bottom of your pot to optimize drainage.
Be careful not to burn yourself; the eggs should be boiling after about 7 minutes.
Gently remove each egg using tongs or an oven mitt and let them dry completely.
If you want, you can use oil-based paint (which will stick better) or acrylic paint (water-based). You can even draw little eyes on your new creation.
15. Simple Patterns – Egg Crafts for Easter
You don't need to be an artist to make simple patterns on your Easter eggs; all you'll need are some everyday household items.
Ideas:
Dip a tiny piece of a sponge in any color paint.
Carefully dab the colored sponge on top of an eggshell, ensuring you don't go over or under any lines. It's essential to have a steady hand.
Repeat with as many colors as necessary; make sure the layers are evenly thin, and there aren't any gaps between them. You may want to put newspaper underneath for easier cleanup.
Let all paint dry completely, which shouldn't take more than an hour.
16. Scratched Egg Crafts for Easter
If you have a steady hand and want to have more fun with your Easter eggs, you can try scratching them with sharp objects to get interesting effects.
Instructions:
Place newspaper underneath your workspace.
Dip an egg into any color of paint that you prefer.
Take a thumbtack or needle and start scratching lines on the wet paint.
You may want to use various types of needles to create different patterns; make sure no two lines intersect at any point. For example, use round-headed pins to get perfect zigzags if you'd like smooth curves and straight pins.
Let all scratches dry entirely.
Now, choose another color and begin again. This time, use different colors to draw lines that either stretch or don't meet with the first layer of scratches. You can also paint different patterns and shapes over it.
Let everything dry completely, and enjoy your Easter eggs.
17. Foil Wrapped Chocolate Eggs
If you haven't bought your holiday candy yet, this craft might interest you. Sure, there's no actual chocolate inside the aluminum foil, but your guests don't know that yet.
Instructions:
Take a sheet of aluminum foil and place it on a newspaper.
Tear off as many pieces as necessary, depending on how many eggs you want to cover. Make sure they're large enough to wrap around the entire egg.
Paint each egg with acrylic paints using bright colors. You'll need to use several coats so that the color is nice and even.
Let the eggs dry entirely between every coat.
Smooth out any wrinkles or air bubbles in a wrinkled foil sheet and place an egg in the middle of it. Wrap it snugly but without creasing too much.
Make sure to cover the entire egg with aluminum foil.
Tie a pretty ribbon around the middle if you want; now you're ready to give it to a loved one.
18. Sleepy Faces with Floral Wreaths – Ideas for Painting Easter Eggs
These adorable Easter eggs with sleepy faces and floral wreaths will surely put a smile on everyone's faces.
Instructions:
Sketch out the face of your choice with a pencil. It doesn't have to be perfect since you're going for a cozy, relaxed look.
Outline the face with a Sharpie marker.
You can leave it like that or paint over the Sharpie lines with any color of your choosing; complementary colors work best.
Let everything dry completely.
Cut pipe cleaners into small pieces. It's helpful to have different sizes for making various types of flowers.
Twist the pipe cleaners to create petals. You can make any type of flower you like, but we suggest using at least three colors.
Use a hot glue gun to attach them to the floral wire. Make sure the petals are pointing in the same direction so that the wreath looks pretty.
Lastly, wrap the floral wire around the egg and secure it with hot glue.
19. Forest-Themed with Natural Leafs – Easter Egg Coloring Ideas
This easy Easter egg coloring idea involves natural materials that you can find in your backyard. We'll admit that the leaves are tricky to cut with a simple pair of scissors, but if you have an X-Acto knife at hand, you won't have any problems.
Instructions:
Draw leaf shapes on paper or parchment paper. You can trace real leaves if you like; just make sure they're roughly the same size.
Outline the leaf shapes with a pencil and paint them using watercolors. Don't worry about painting over every section of the leaf; it's okay if some parts remain white or yellowish-green.
Cut around your drawings and let them dry completely.
Use a glue gun to attach the leaves to the eggs.
Add a ribbon or wrap the eggs in twine, and you're ready to go.
Make several eggs to put together a wonderful, festive place setting for your Easter brunch.
20. Floral Motif – Easter Egg Coloring Ideas
Paint Easter eggs with floral motifs to adorn your holiday table. You just have to ensure that each egg has a bit of yellow in the center.
Instructions:
Draw a few flower shapes using a pencil, like circles, triangles, or different types of ovals. You can draw as many petals as necessary.
Outline the drawings with a black marker. Make sure there's always something yellow in the middle of each design (we added some black lines too).
Use acrylic paints and bright hues to color over everything that isn't yellow.
Let the paint dry completely between coats to obtain a vibrant effect.
Once everything is dry, use a glue gun to attach the eggs in a floral pattern.
21. Gold Stripes and Dots – Egg Tempera Painting
Painting gold stripes and dots on Easter eggs is more complicated than other projects. But we'll show you what to do every step of the way.
Instructions:
Start by painting the egg with white paint and letting the paint dry completely.
Cut two pieces of gold wrapping paper roughly the same size, and place them sticky-side up on a flat surface.
Pour yellow tempera paint in a shallow bowl or plate large enough to dip your fingers in easily.
Dip your fingers in the paint and use your wet fingertips to pick up additional paint from the container so that you have many thin lines of different colors on each hand.
Gently press both hands onto the paper – one right after another – to make a line of bright color over each section where your fingers touched the paper. Don't worry if it smudges a bit since you can fix it later.
Dip your fingers in the paint again and gently press your wet fingertips onto the egg so that they are evenly coated with paint.
Use your wet fingertips to get extra paint from the container and proceed with the previous steps until you cover every part of the egg in paint.
Let everything dry completely before peeling off the paper; you may want to give it 24 hours or more just to be on the safe side.
Mix red and yellow tempera paint (or food coloring) to make orange watercolors, and use glue to attach your eggs.
22. Marbled Colored Eggs with Shaving Cream
This Easter, try something a little different with your eggs. By adding shaving cream to the dye, you can create some really neat marbled patterns.
The results are always unique, so it's a great way to add a bit of flair to your holiday celebrations. Plus, it's easy and fun for the whole family to do together. Visit BHG to learn more.
23. Dinosaur Eggs – Easter Egg Crafts for Preschoolers
Here's a fun way to make Easter decorations more interesting: dinosaur eggs. It's a simple process that involves a lot of tissue paper, cardstock, a thumbtack, a pair of scissors, mod podge, and toothpicks. Plus, it's an excellent Easter egg craft for preschoolers.
You have to cut strips of tissue paper in at least two colors (green and blue work best) and attach them to the hard-boiled eggs using mod podge to create several layers.
If you want to use the dinosaur eggs are placeholders, feel free to write guest names on cardstock and attach it to the eggs with toothpicks.
24. Colorful Spring Patterns – Ideas to Paint Easter Eggs
This year, a fun way to celebrate Easter is by painting your eggs with cheerful spring patterns.
You just need a brush, sponge, cotton swab, and a steady hand. Another fun idea is to try swirling the paint around in a cup before applying it to the eggshell – just be sure to let the eggs dry entirely before hiding or displaying them as decorations.
Try adding googly eyes or sequins to your painted eggs for an extra touch of whimsy. You can also use glue to attach different materials like feathers or pompoms. Get creative and have fun with it.
25. Magnet Vases – Dye Easter Eggs Food Coloring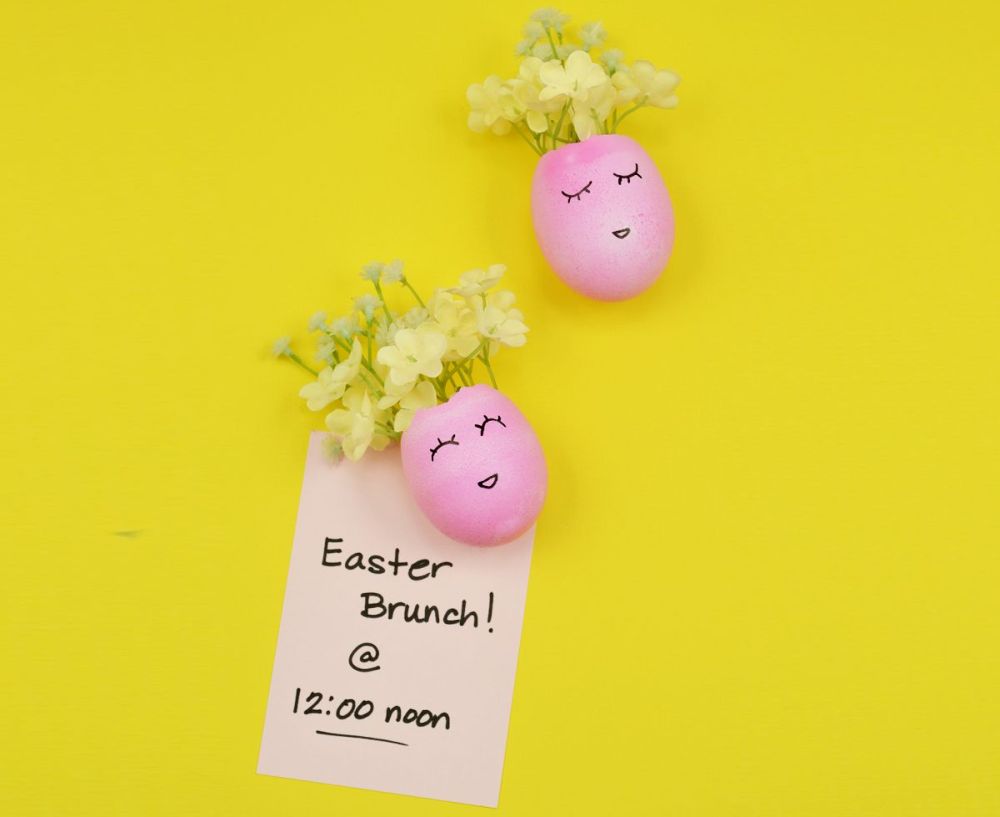 Easter egg magnet vases are a neat Easter craft project that you can make out of fresh or plastic eggs and some basic supplies. They're effortless to make, and they add a touch of festive charm to your home decoration.
In addition to the eggs, make sure you also have water, food coloring, a bowl, a hot glue gun, and magnets when working on this idea with plastic Easter egg crafts.
The entire process is elementary, which you can see for yourself by checking out our complete guide for making Easter egg magnet vases.
26. Sharpie Tie Dye Easter Eggs
Grab a sharpie and tie-dye your eggs. Dress up your classic hard-boiled eggs this year with some help from Brit + Co. These will look absolutely stunning in your kiddos' Easter baskets this year.
27. Crescent Moons – Easter Egg Coloring Ideas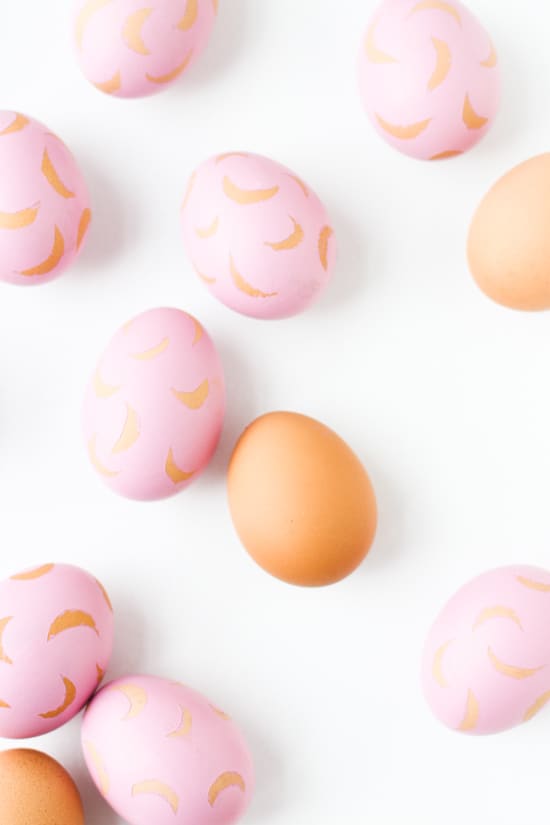 Stamp out some of your eggs with crescent moons. They're stunning, stylish, and super modern for your contemporary home. If you want a splash of spring, check this out at Paper and Stitch.
28. Bouffants – Easter Egg Coloring Idea
Studio DIY turned their eggs into little ladies with bouffant hairdos. How cute are these? Grab some paint or markers and personalize some of your own.
29. Easter Egg Art Ideas with Stickers
Hello Wonderful used stickers to decorate their eggs – you can use any kind, including the ones you personally design or color. Why not do this with the kids? They can decorate their own and leave them for the Easter bunny to disperse.
30. Flower Crowns – Easter Egg Ideas
Create tiny flower crowns for your eggs to dawn. These are great for faux eggs used to decorate the house or edible eggs to design the tablescape this year. Visit Brit + Cofor all the details.
31. Pantone Shades – Easter Egg Ideas for Adults
Take a note from Pantone and use their inspiration to decorate your eggs. At A Kailo Chic Life, you'll learn how to dip and dye your eggs in fashion-forward style this year. Make a different color for every member of the family.
32. Chalk Easter Eggs
All you need is chalkboard paint and chalk to get started with this Easter egg coloring idea. What's great is that you redo the designs by removing the old chalk and replacing it with something new – the kids will love it. Check out the idea at It's Overflowing.
33. Marbled – Easter Egg Coloring with Nail Polish
These eggs marbled with nail polish look almost prehistoric, wonderful for decorating the table or sprucing up the Easter baskets. Grab the tutorial at Carolyn's Homework.
34. Washi Eggs
If you don't want a messy project that involves dyes or nail polish, grab your washi tape – it'll do the trick. Lovely Indeed gives you a bunch of ideas for styling and designing Easter eggs with charming washi tape patterns.
35. Beaded Easter Eggs
Visit Two Sisters Crafting if you prefer something as fancy as beaded Easter eggs – they're so fun, especially for the young ones. Besides, you don't need real eggs for this DIY when you can grab some faux pieces and spruce them up in your favorite bead colors.
36. Easter Egg Chick Crafts
Tell Love and Party turned their eggs into little chicks. This can also be done with the family to craft personalized chicks for everyone. You can use paints, sharpies, and other materials for this cool design.
37. Alphabet – Easter Egg Paint Ideas
Lovely Indeed went with the alphabet idea, so you can create effortlessly create eggs with the initials of your friends and family members. Just do it in a crisp, clean way that fits your modern style.
38. Family Photos – Ideas for Easter Egg Painting
Decoupage your family photos on Easter eggs. It's a charming idea that will make everyone giggle, don't you think? Check it out at A Subtle Revelry.
39. Typography – Easter Coloring Eggs Ideas
Hashtags, fun words, and phrases – personalize your eggs with the typography you love. And Lovely Indeed can guide you through the process. Stencils or freehanded – that's up to you.
40. Golden Speckles – Colored Easter Egg Ideas
And finally, these speckled robin's eggs are quite beautiful. Do these to your edible eggs or just the ones you want to show off in the foyer. Check out the tutorial at Craftberry Bush.
Easter Egg Coloring Ideas (FAQ)
Discover additional information about Easter egg crafting activities.
How to dye easter eggs with food coloring?
Boil water and let it cool for about 5 minutes, add 1/2 cup of vinegar to each bowl, then add food coloring and stir. Using a spoon, lower each egg into the mixture until fully submerged. Next, let the eggs sit in the dye for about 5 minutes, then remove and place them on paper towels to dry.
How do you make egg crafts?
You can make egg crafts by creating decoupage eggs or painting hard-boiled eggs with acrylic paint. It's also possible to create interesting effects by dyeing the shells in different colors, adding glitter to your design, or using markers.
How do you paint real Easter eggs?
Paint real Easter eggs by first dyeing them in a pot with food coloring. After that, you can use acrylic paint to decorate the shells.
What is an Easter egg tree?
An Easter egg tree is a decoration made from painted or dyed eggs strung onto a branch. It's not only a great Easter craft idea but can also be used as a festive decoration for your home during the festive season.
How do you make Easter eggs for kids?
To make Easter eggs for kids, use plastic eggs and pipe cleaners to create your own designs. You can also dye the shells and give your kids all crafting supplies to create their own Easter egg designs.
How do you make a paper Easter egg?
To make a paper Easter egg, you can use an old map, sheet music, or any other decorative sheet of paper. Start by folding the paper in half. Then, fold the paper in an accordion style to draw out different patterns and designs.
How do you make lace Easter eggs?
To make lace Easter eggs, start by boiling and dyeing the shells. Next, print a rose template to use as your guide. Cut around the template using scalloped scissors to create the patterns. Once you're done, draw on details with markers.
Final Thoughts
It's time to get creative for Easter. And what better way is there than to make your own egg decorating ideas? With these cool crafts, you can make your eggs look like they belong in a museum. So go ahead and start experimenting with different materials, designs, and colors.
You'll be surprised at how easy it is to create beautiful decorations that will impress everyone. And remember: whether you're looking for Easter egg dyeing ideas or want to find some fun craft projects for kids, this list is perfect for everyone.
What are your favorite Easter egg coloring ideas? Share your thoughts in the comment section below.