15 Easter Egg Crafts For You & The Kids
One of the best parts of Easter with the family is getting everyone together in the kitchen to dye some eggs! This year though, why not put a unique spin on the task? There are so many funky, stylish, and creative ways to dress those shells! Scroll through these 15 Easter off crafts for you and the kids to accomplish this time around.
1. Sharpie Tie-Dye
Grab a sharpie and tie dye your eggs! Dress up your classic hard boiled eggs this year with some help from Brit + Co. These will look absolutely stunning in your kiddos' Easter baskets this year!
2. Crescent Moons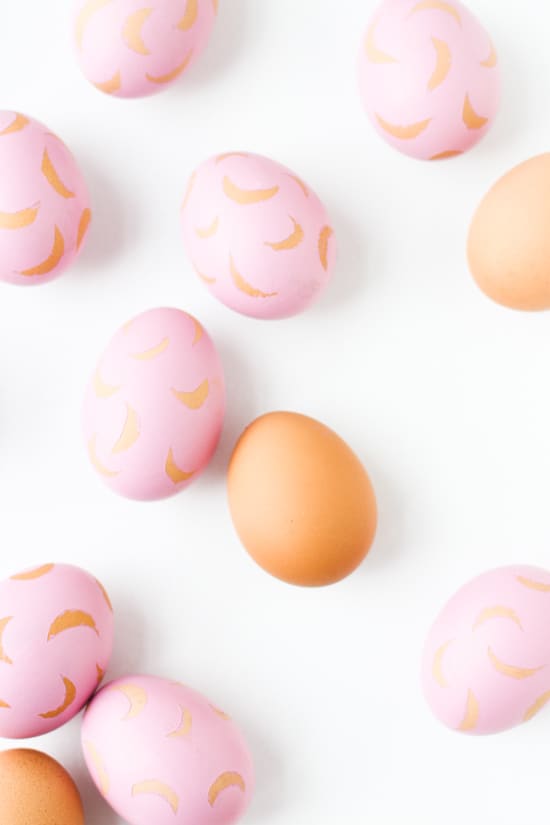 Stamp out some of your eggs with some crescent moons. They're stunning, they're stylish, and they're super modern for your contemporary home. If you want a splash of spring, check this out at Paper and Stitch.
3. Bouffants
Studio DIY turned their eggs into little ladies with bouffant hairdos. How cute are these? Grab some paint or markers and personalize some of your own.
4. Sticker Art
Hello Wonderful used stickers (you can literally use any kind, including ones that you design or color yourself) to decorate their eggs. Why not do this with the kids? They can decorate their own and leave them for the Easter bunny to disperse.
5. Flower Crowns
Create tiny flower crowns for your eggs to dawn. These are great for faux eggs you're using to decorate the house or our edible ones to decorate the tablescape with this year. Visit Brit + Co for all the details.
6. Pantone Shades
Take a note from Pantone and use their inspiration to decorate your eggs. At A Kailo Chic Life you'll learn how to dip and dye your eggs in fashion-forward style this year. Make a different color for every member of the family.
7. Chalkboard
All you need is some chalkboard paint and chalk to get yourself started here. What's great is you can do and redo the designs – the kids will love it. Check out the idea at It's Overflowing.
8. Marbled
These marbled eggs look almost prehistoric! These are wonderful for decorating the table or for sprucing up the Easter baskets as well. Grab the tutorial at home work.
9. Washi Tape
If you want a project that isn't as messy, grab your washi tape. It'll do the trick! Lovely Indeed will give you a bunch of ideas in terms of styling and design.
10. Beaded
For those that want something a bit fancier, visit Two Sisters. These beaded beauties are so fun! You don't need real eggs for this DIY. Instead, grab some faux ones that you can spruce up to your liking.
11. Baby Chicks
Tell Love and Party turned their eggs into little chicks! This too can be done with the family and everyone can have a personalized chick for themselves. Paint, sharpie, whatever materials you like best can be used.
12. Alphabet
Lovely Indeed went with the alphabet. Create an eggs with everyone's initial. And do it in a crisp, clean way that fits your modern style.
13. Family Photos
Decoupauge your family photos on those Easter eggs. This is so charming and will give everyone quite the giggle, don't you think? Check it out at A Subtle Revelry.
14. Typography
Hashtags, fun words and phrases, personalize your eggs with typography you love! And Lovely Indeed can guide you through the process. Stencils or freehanded – that's up to you!
15. Golden Speckles
And finally, these speckled robin's eggs are quite beautiful. Do these to your edible eggs or just the ones you want to show off in the foyer. Tutorial at Craftberry Bush.