DIY Orange Scented Bath Bombs
Bath bombs have become super popular lately, thanks in part to stores like Lush that have brought them to the mass market. If you haven't experienced one before, you're going to want to give it a try! You drop one in the bathtub, and it fizzes and bubbles and smells delicious. And today I'm going to share a simple recipe to make your own. So let's get started.
Here's what you'll need for your bath bombs:
1 cup of baking soda
1/2 cup of cornstarch
1/2 cup of citric acid
1/2 cup of epsom salt
3 teaspoons of water
3 teaspoons of coconut oil (melted)
8-10 drops of orange essential oil
1 tablespoon of orange zest
Food coloring (optional)
Bath bomb mold or other mold
Begin by mixing all of the dry ingredients together in the bowl. This includes the baking soda, cornstarch, citric acid and epsom salt.
Stir it up well with a spoon, making sure that all the ingredients are incorporated.
In a separate small glass bowl, melt the coconut oil in the microwave. It took about 30 seconds to melt mine. Be sure to use an oven mitt to remove it from the microwave in case the bowl is hot. Next, add the essential oil.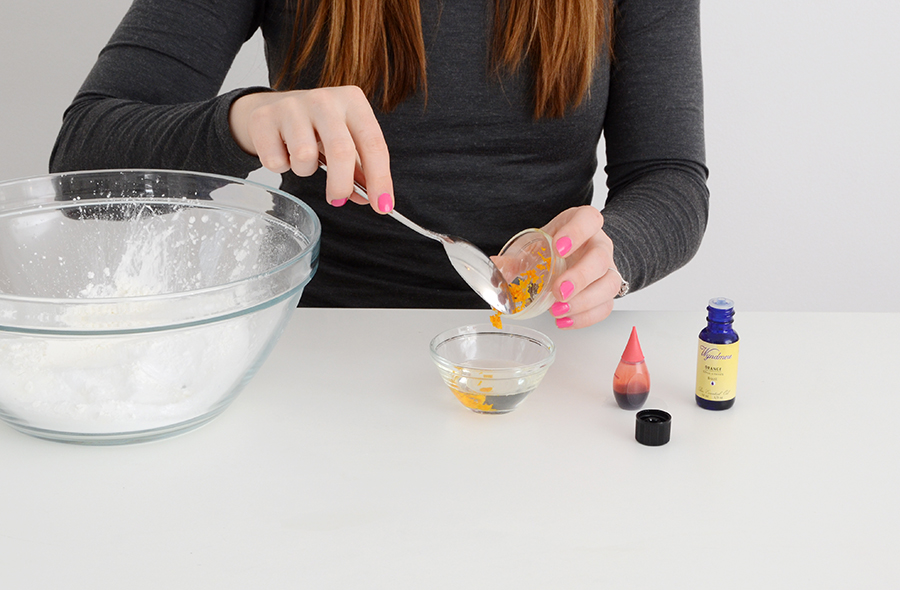 Next, zest an orange and add 1 tablespoon of it to the coconut oil mixture. Now is the time to add a drop or two of food coloring if you like, and don't forget the water. Stir the ingredients well.