How to Make Personalized Christmas Ornaments
Have you ever felt so much excitement for Christmas that you find yourself browsing through holiday craft ideas really early? Well, that's what we've been doing lately too, but we don't feel badly about it because you really do need to start weeks in advance if you're going to give yourself enough time to make your own holiday decor! That's especially true if you plan to make your loved ones their gifts this year as well. We had the idea of making custom and personalized Christmas ornaments for our favourite people this year, which is why we're already scouring the Internet to see what other people have made before along these same lines.
Are you feeling just as enamoured as we are, if not more, with the idea of making your very own personalized Christmas ornaments? Check out these 15 fantastic ideas, designs, and tutorials that we've come across so far in our search for inspiration and guidance!
1. Personalized Christmas list ornaments
Are you the kind of nostalgic and crafty parent who adores doing DIY projects that help you document your kids' lives? Then we'd be willing to bed that you'll adore the simple way Honeybear Lane outlines making a homemade Christmas list ornament filled out with the things your little ones asked Santa for this season, complete with their name and the year so you can look back on it and laugh later.
2. Cross stitch ornaments easily personalized with initials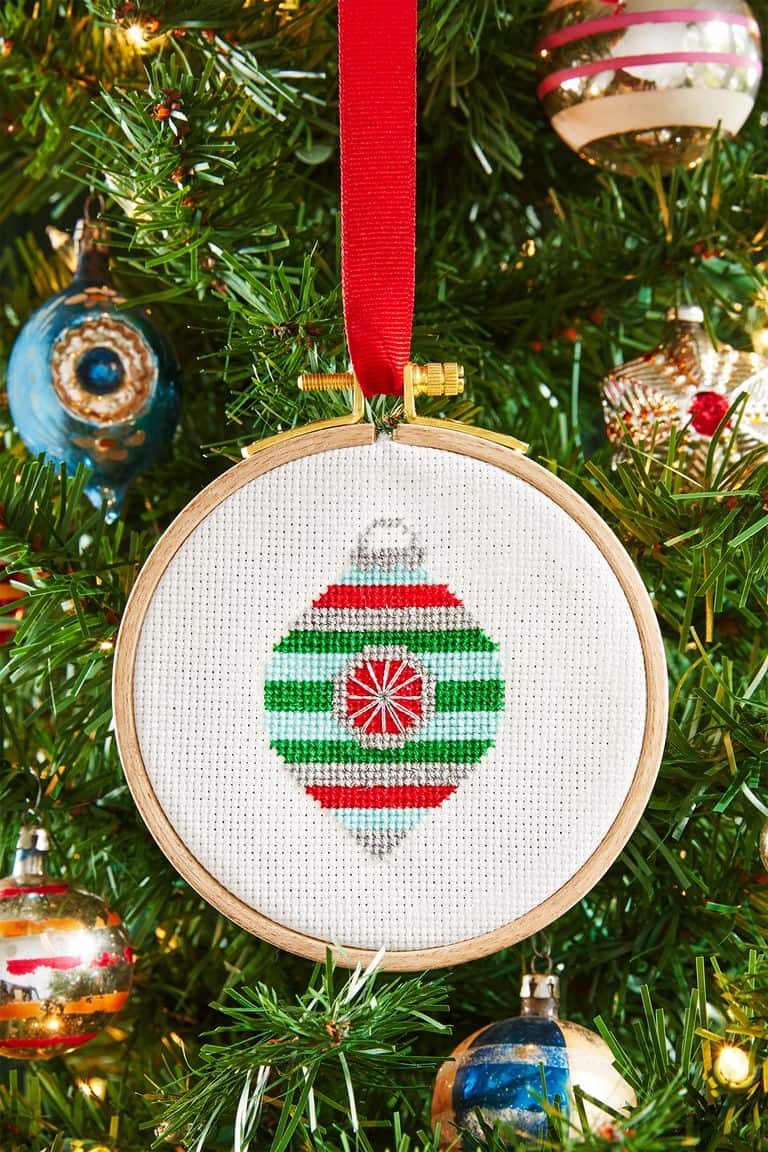 Are you the kind of craft lover who has always been interested in needlework based projects, like embroidery and cross stitching? Then we'd be willing to bed that you'll love the way Country Living outlines the steps for creating these lovely little Christmas themed cross stitched tree ornaments! We followed their tutorial but then customized the design ourselves by adding our family members' names along the bottom, underneath the main design, in very simple stitched lettering.
3. Gold lettering text ornaments
If you're gong to put in the time and effort it takes to make DIY Christmas ornaments, would you actually rather create something with a little more glamour to it, since your personal and decor style is slightly fancy? In that case, we'd absolutely suggest taking a look at how Ting and Things made these lovely pearl bead filled glass ornaments with gold ribbons and some simple custom gold lettering! We love the idea of following the basic techniques in this tutorial but then adjusting the letters you use to create the names of your friends and family rather than the short holiday greetings you see here.
4. Stitch faux chalk ornaments
Did we actually really catch your attention when we started talking about the idea of needlework based ornaments and your mind is feeling almost made up, but you're always been more of a free-form embroidery person than actual cross stitching? In that case, we think you might get along better with the way Sugar Bee Crafts shows you how to embroider black cloth to look like a chalk message! Once again, we'd replace the quotes you see here with family names for something a bit more personalized.