How to Make Personalized Christmas Ornaments
Have you ever felt so much excitement for Christmas that you find yourself browsing through holiday craft ideas really early? Well, that's what we've been doing lately too, but we don't feel badly about it because you really do need to start weeks in advance if you're going to give yourself enough time to make your own holiday decor! That's especially true if you plan to make your loved ones their gifts this year as well. We had the idea of making custom and personalized Christmas ornaments for our favourite people this year, which is why we're already scouring the Internet to see what other people have made before along these same lines.
Are you feeling just as enamoured as we are, if not more, with the idea of making your very own personalized Christmas ornaments? Check out these 15 fantastic ideas, designs, and tutorials that we've come across so far in our search for inspiration and guidance!
1. Personalized Christmas list ornaments
Are you the kind of nostalgic and crafty parent who adores doing DIY projects that help you document your kids' lives? Then we'd be willing to bed that you'll adore the simple way Honeybear Lane outlines making a homemade Christmas list ornament filled out with the things your little ones asked Santa for this season, complete with their name and the year so you can look back on it and laugh later.
2. Cross stitch ornaments easily personalized with initials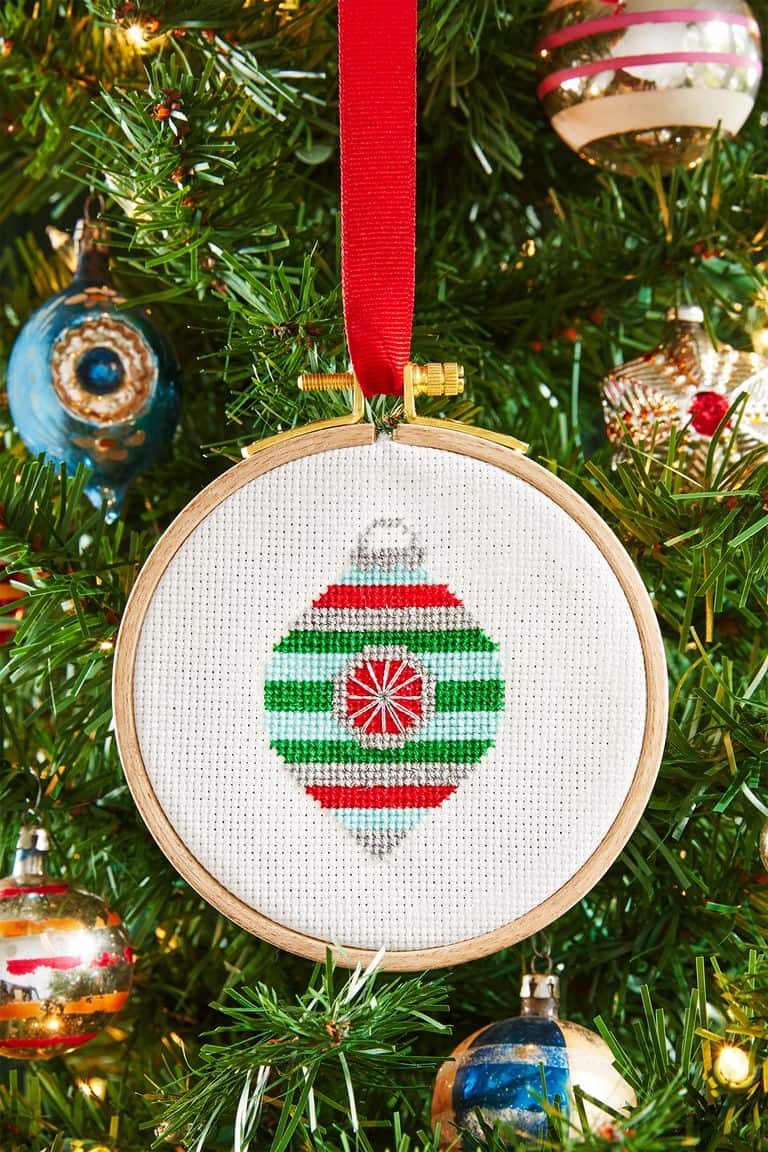 Are you the kind of craft lover who has always been interested in needlework based projects, like embroidery and cross stitching? Then we'd be willing to bed that you'll love the way Country Living outlines the steps for creating these lovely little Christmas themed cross stitched tree ornaments! We followed their tutorial but then customized the design ourselves by adding our family members' names along the bottom, underneath the main design, in very simple stitched lettering.
3. Gold lettering text ornaments
If you're gong to put in the time and effort it takes to make DIY Christmas ornaments, would you actually rather create something with a little more glamour to it, since your personal and decor style is slightly fancy? In that case, we'd absolutely suggest taking a look at how Ting and Things made these lovely pearl bead filled glass ornaments with gold ribbons and some simple custom gold lettering! We love the idea of following the basic techniques in this tutorial but then adjusting the letters you use to create the names of your friends and family rather than the short holiday greetings you see here.
4. Stitch faux chalk ornaments
Did we actually really catch your attention when we started talking about the idea of needlework based ornaments and your mind is feeling almost made up, but you're always been more of a free-form embroidery person than actual cross stitching? In that case, we think you might get along better with the way Sugar Bee Crafts shows you how to embroider black cloth to look like a chalk message! Once again, we'd replace the quotes you see here with family names for something a bit more personalized.
5. Cute letter stamped and metallic blocked clay ornaments
Did we catch your eye with this whole concept of making something involving a bit of gold and glamour but you're also still the kind of person who usually prefers making things that are a little more minimalist in their style? Then we have a feeling that this next idea from Project Nursery might be the idea for you! They show you how to mould flat clay circle ornaments, stamp the letters of a name down, and paint some metallic detail once the ornament's base shape has dried.
6. Personalized photo memory ornaments
Did we actually really pique your interest when we started talking about the idea of making ornaments that work with your sense of sentimentality but you're just not sure that a written list is quite enough for you? Then maybe you'd prefer to work with actaul photo memories instead! You can't get much more personalized than these adorable 10-minute ornaments outlined step by simple step on Simple as That.
7. Scrabble tile lettered ornaments
Just in case you're still not over the idea of making creative ornaments with a bit of lettering to them but you're looking to replace the season's greetings with your family's names, here's an idea for the board game lovers out there! We simply adore the way Crafts By Amanda used spare Scrabble tiles glued together to spell out what they wanted before added a ribbon and a bit of faux snow.
8. Personalized glass glitter ornaments
Are you actually feeling torn somewhere between the idea of making personalized glass ornaments with names emblazoned across the glass and the idea of making something that has a little more glitz and glam to it? Well, who ever said that you have to choose? Instead, check out how Happiness is Homemade made these fantastic glitter filled ornaments that have some simple vinyl lettering to create a name and monogram across the balls' surfaces.
9. Personalized Santa letter ornaments
Have you actually always been more of a hand painting kind of person and you happen to know that your kids really enjoy that process as well? Then, especially if you're looking for something a little simpler and quicker to do than some of the ideas you've seen so far, we'd absolutely suggest taking a look at how Close to Home grabbed some wooden letters from their local dollar store, painted them to look like Santa's suit, and made a little felt hat to add to each one! Do the initials of your whole family.
10. Hand stencilled wooden ornaments
Perhaps you can really appreciate both the idea of hand painting wooden ornaments and the idea of doing a bit of stencilled lettering, but you've been holding out on making a decision from our list because you were hoping to come across a tutorial that merges the two? In that case, we think you'll be quite pleased to learn that your patience has finally paid off! Take a better look at this tutorial from Abby Lawson to see how these little calligraphic style family named ornaments were made.
11. I Spy ornaments
If you're going to give a Christmas ornament as a gift to some kids in your family, would you rather make it something that will actually captivate their attention for a moment? In that case, we think you'll get a real kick out of the way U Create Crafts made these awesomely wintery "I Spy…" themed ornaments that are like a game! Fill the shatter-proof balls with glitter and then whatever holiday (or non-holiday) themed beads and trinkets you think the kids will like. Attach a label with a cute list of things they might find inside and watch them turn the ball over and shake the glitter around in an attempt to find all the things in the sparkly "snow"! We actually made these in real life but we chose to work with things in each child's favourite colour when we were figuring out what to put inside.
12. Personalized photo snow globe ornaments
Are you actually quite in love with this whole idea of putting a lovely family photo into your personalized ornament project but you're just not sure that the previous idea you saw is quite the direction you want to go in? Well, if you're looking for something with a bit more novelty, like the "I Spy…" style balls we showed you above, then we have a strong feeling you'll prefer to see how Tidy Mom used photos to make these adorable personalized snow globes in just a few simple steps.
13. Beautiful personalized keepsake ornaments
Are you feeling quite intent on making your family members an ornament that's pretty enough for them to keep and hang on their own trees when they've grown up and moved out, but you'd also prefer to have at least some small element be personalized as well, to make it even more special? Then we think you'll really appreciate the way Hometalk outlines the steps for making these lovely glitter and bead filled ornaments that also have each person's name and birth year included inside! Alternatively, you could also put in the year that you gave them the piece, especially if that Christmas was a special one, like the one they moved out or got married.
14. Wooden photo transfer ornaments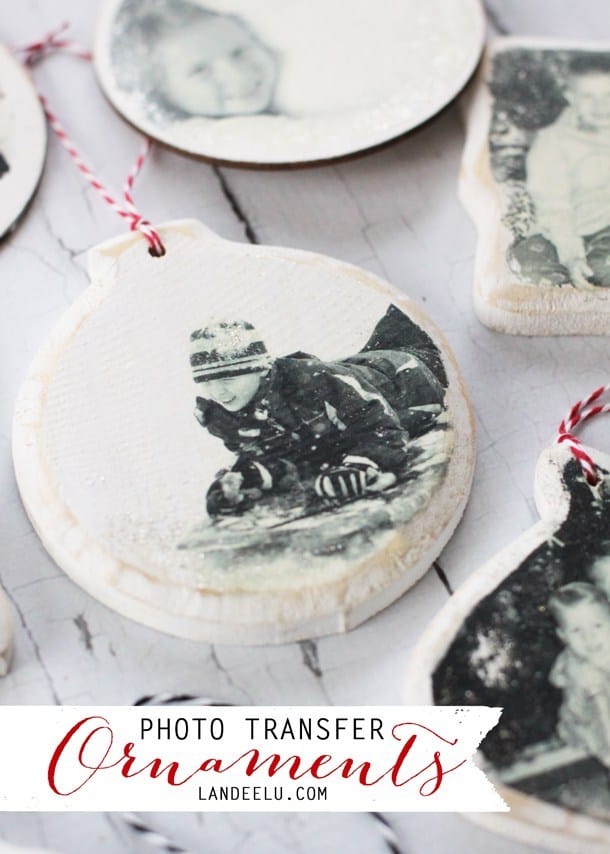 Just in case you're still thinking about how much you love the concept of making customized ornaments with photos but you're just not sure that any of the things you've seen so far quite grab and hold your attention, here's a tutorial from Landeelu that will teach you step by step how to make photo transfer ornaments instead! We adore the slightly weathered rustic or vintage looking aesthetic the finished pieces have.
15. Custom paw print ornament
Of course, the humands living in your home aren't necessarily the only members of your family who deserve a little extra attention and appreciation during the Christmas season! We're also huge fans of the way One Little Project outlines the steps for making adorable pet paw print ornaments from clay, as well as how to paint and glitter them once the dough has dried.
Have you made other lovely DIY personalized Christmas ornaments before that you still put on your tree today but that you don't see here on our list? Tell us all about it or link us to photos of your finished work in the comments section!