25 Personalized Christmas Ornaments for Your Christmas Tree
Christmas is just around the corner, and while you could start preparing for it since November 1st (right after Halloween), buying flashy ornaments from the department store just isn't all that fun, and that's why many choose to make their own personalized Christmas ornaments.
With a personalized ornament, the fun of watching it hang from the tree is multiplied by a factor of 100. The reactions on your children's faces alone are worth it.
Below you'll find a list of some of the most popular homemade Christmas ornaments that you can make in 2021, as well as step-by-step instructions on how to make them with the least amount of effort and resources.
Why Personalized Ornaments Are Better
There's a reason why most Christmas ornaments are made in China and not in your country; it is simply because Christmas ornaments were originally meant to be personal.
No matter how much you spend on Christmas ornaments, they'll never come alive as personalized Christmas ornaments do.
Don't get us wrong, we're not saying that Christmas shopping at the mall with your family is bad per se; in fact, if done right it is highly recommended.
However, what we are trying to say here is that there's more to Christmas than just buying things at the mall and telling everyone you saw Santa Claus while doing so (no matter how true that may have been).
Christmas isn't about ornaments, lights, trees, and shopping; Christmas is about spending time with the people you care about. That is what Christmas should be all about.
Best Christmas Ornaments to Make in 2021
Ornaments are subject to change year after year, and while certain ornaments have become holiday classics (like the Christmas tree globes, garlands, or tree lights), others are making their way and gaining lots of popularity.
Because of this, we went ahead and searched for some of the most popular DIY ornament ideas of 2021 that people have been trying or at least considering, and we compiled the top 10 most popular ones in the following section.
That being said, here are some of the best personalized Christmas ornaments that you can make in 2021:
1. Christmas Tree Ornaments – Ornaments that Sing
Christmas carols have a way of warming up your heart during Christmas more than any cup of marshmallow hot cocoa ever could, and there are ways you can make the sound of Christmas be constantly present in your house: with Christmas tree ornaments that sing!
All you need to do to create such personalized Christmas ornaments is buy small (1 inch) bells and attach them to a ribbon with crochet cotton using a sewing needle and thread – don't worry if you can't crochet – all you need is patience and something like an awl (if buying ready-made personalized ornaments isn't good enough for you).
When you attach the bells to the ribbon, make sure you leave enough slack in between them for two hooks. You can use Christmas light pegs or Christmas tree clips instead of hooks if you want.
People who make their own Christmas ornaments often take this idea one step further by decorating the bells with glitter, cut-out paper Christmas figures (be creative!), other Christmas decorations, or anything else that might take your fancy.
The personalized ornaments that sing are easy to create, though it does take a good chunk of time. Once the bells are attached to the ribbon you can hang personalized Christmas ornaments wherever you'd like – next to your fireplace, for instance! They make amazing personalized gifts as well.
2. Christmas Tree Ornaments – Advent Calendar
People start counting down until Christmas Eve somewhere around late October, and there's even a Christmas ornament that helps make the wait a whole lot easier: the advent calendar!
Well, there are several ways you can make your very own personalized Christmas tree ornaments featuring an advent calendar, and you can do something similar to what's shown in the image above.
You'll need the following materials:
25 small brown paper bags (you could also try small velvet satchels)
An assortment of goodies to fill the bags/satchels with
String or twine
A knife
To start making this advent calendar on a string, you'll have to start by folding each paper bag in half, and then punch two holes on either side of the top flap.
You'll then need to thread each bag onto a piece of twine or string about four inches long; at this point, you should also decide how far apart you want them to be spaced (making sure there is enough room for your personalized Christmas tree ornaments' closing mechanisms), and tie knots between the bags.
Place the other end of the twine/string somewhere high up on your Christmas tree, so that even when personalized ornaments are closed they won't touch the ground.
Before hanging the personalized Christmas ornaments on your tree, fill each bag with a different surprise – chocolate, tea bags, candy canes, mini-muffins, you name it. When you want to open a bag and grab its contents, just pull it down from the string effortlessly!
3. Baby's First Christmas Ornament Personalized – Edible Ornaments
If this year your family was blessed by a baby (or two), then this Christmas will be their first, so if you really want to make your baby's first Christmas ornament personalized in a way that's worth putting in the photo album, go for something sweet and delicious.
This personalized Christmas ornament is made out of sugar (lots and lots of sugar) and candy canes (some say regular hard red-and-white-striped peppermint candy is fine too), which means that they're very sweet indeed.
Some people choose to buy personalized ornaments like these online, but making them at home with your children is priceless. All you need is:
Sugar
Water
Candy canes (red and white ones)
Food coloring (optional)
The personalized Christmas ornaments out of food start with a large pot, which you boil until the sugar melts into brown caramel. Then you take off the heat and dump in your candy canes, stirring until all of them are covered by the boiling goo.
Now all that's left to do is to pour personalized Christmas ornaments made out of candy canes onto waxed paper, allow them to dry for a couple of days, and voila!
You've created personalized Christmas ornaments that taste delicious too!
Another way to make personalized Christmas ornaments out of food is by using cookie cutters like hearts, stars, etc., and creating personalized Christmas ornaments out of sugar cookies instead.
Once personalized Christmas ornaments are made they can be hung right next to your other ornaments, but not on the highest branch so that children don't reach them too easily.
Another idea is to wrap personalized Christmas ornaments in colorful paper before giving them as personalized gifts!
4. DIY Christmas Ornaments – Pictures Of Your Family Members
We talked earlier about the importance of having your close ones on Christmas day (and every other day of the year for that matter).
Well, if you're the designated host for 2021's Christmas party, the best way to showcase how much you love everyone is with DIY Christmas ornaments that feature your entire family.
Christmas tree ornaments with pictures of family members are easy to make and they're a great way to show how much you love someone!
To make these photographic ornaments, you'll need :
A Christmas tree
Pictures of your family members
Glue or tape that's strong enough to hold the photos but safe for Christmas trees (you could also use twine or just regular string)
All you have to do is print out the photos, put them onto Christmas ornaments, and wait for them to dry.
The entire process only takes a few hours and then all that's left is decorating your Christmas tree with personalized Christmas ornaments that no one has ever seen before.
Personalized Christmas ornaments with pictures are much more memorable than ones with just words because they remind us of things we can relate to.
5. Custom Christmas Ornaments – Frames For Your Family Moments
It could be said, with some justification, that Christmas is a time for families – but it's also a time for custom Christmas ornaments, where every single member of the family gets their own personalized Christmas ornament to hang up by themselves.
Well, if you loved our previous entry, or if you already have custom Christmas ornaments made using family photos, another great idea to try out is to make DIY photo frames for your favorite family moments.
These kinds of personalized Christmas ornaments are one-of-a-kind, and they make great gifts for your loved ones too.
You can even make a DIY picture frame from things you already have at home: you just need cardboard and glue, a lot of imagination, and, of course, photos that you love!
To make these kinds of custom Christmas ornaments, all you need is some cardboard, glue, permanent marker pens, cutters, glitter, photos… and a lot of creativity!
If you want to celebrate a wedding, then don't hesitate to use photos from the actual day in your DIY creation.
You could even try using old photos from when the couple was young so that their grandchildren have something original to hang on their Christmas trees too!
Making old family photos into personalized Christmas ornaments is one of the best ways to display memories at home during the holidays.
6. Name Ornaments
If you can't manage to find any good photos of someone, and you want to be a bit more simplistic and classy, you could try making a DIY name ornament instead, because there's no better way to let someone know that a gift is for them than by telling them "It literally has your name on it".
Well, there are many ways you can make Christmas ornaments with names on them, the easiest method being to just buy Christmas globes, bells, bowties, etc, and write the name with a fancy marker.
However, if you want to go a little bit towards the vintage side of things, you could try something similar to the image above, where the creator basically knitted the names on long strips of fabric and then wrapped the strips around Christmas globes.
Of course, this means you'll need to know the exact measurements of the globes or at least be able to work it out.
If you're really crafty, then you could crochet your own Christmas ornaments for this person too! We've even seen crocheted snowflakes with names stitched onto them using pretty pastel thread.
The important thing is that these kinds of personalized Christmas ornaments are handmade because they have so much more character than ones made by machines under factory conditions.
7. Personalized Ornaments for You
You'll probably love this particular entry because as far as guidelines go, there are no guidelines, since these ornaments are made by yourself, for yourself.
Basically, when it comes to creating your own Christmas ornaments, it's all about taking your real-life passions and finding a way to turn them into Christmas ornaments.
For example, if you're a gamer, you could try making small printouts of popular video game characters, and then sticking them onto globes.
On the other hand, if you really love painting, or have a very niche passing for Faberge eggs (but can't afford one), you could try your hand at painting all of your Christmas globes, just like in the picture above.
These kinds of personalized Christmas ornaments let you turn your hobbies into beautiful displays around the house during the holidays… and we love that idea!
The one thing to look out for is how well-preserved this globe will be after all those coats of paint: whenever it comes time to decorate your home at Christmas, this handmade ornament may not look quite as pretty anymore.
After all, painting globes isn't easy; but if you're up for a challenge (and don't mind the paint chipping off), then you'll surely get some great memories out of it too!
The best thing about these ornaments is that you're the only one that truly knows how everything is supposed to look like in the end, and therefore you have complete creative freedom when it comes to the globes that you pick out, the colors you use, and the shapes that you design.
8. Custom Christmas Ornaments – Natural Ornaments
Since it's the spirit of giving, we mustn't forget that we don't have to be nice just to each other, but also to Mother Nature as well, and one of the best ways to do this is to reduce your personal consumption of store-bought products and use natural elements.
Well, this can also extend to making custom Christmas ornaments, just like with the ones made out of pinecones, as displayed in the picture above.
These ornaments are arguably the easiest to make in our entire list, because not only do they take up very little time to make, but the materials needed are found either in nature (for free), or they are things that you already have around the house.
Speaking of materials, to make these ornaments you'll need the following:
Pinecones (the smaller they are the better)
Ribbons of several different colors
Acorns, chestnuts, or walnuts
String or twine
Some glue
To start making the ornament, get a pinecone and start threading it with your string. Make sure you get the same amount of string on each side so that the ornament is even on both sides.
Once you have threaded all of your pinecones, gently tie them up in pairs and then in groups of three (or however many ornaments you want to make) in order to secure them together.
Finally, add some glue to the bottom part of each pinecone and stick an acorn, nut, or chestnut on top, with the flat surface facing downwards.
Done! These can be hung from anywhere (especially if they're made out of natural fibers like twigs) for a very rustic feel.
9. Personalized Dog Christmas Ornaments
While throughout this entire article we may have made it seem like we are only thinking about the human members of your family, we haven't forgotten about the adopted furry little friends that keep our hearts warm at all times: our pets.
For example, if you really love your dog, you could showcase it by creating personalized dog Christmas ornaments, and there are plenty of ways for you to do this.
For example, you could simply tie a doggy treat and hang it in the Christmas tree, although you risk having to make a few dozen of them since the dog will be knocking the tree over to eat it.
So, if you want to make a non-edible treat that will still show how much you love him, you could try either printing a picture of it and putting it on a Christmas globe, or by making a word or a cardboard cutout in the shape of a bone, with their name written on it (similar to how they did it in glass in the example above).
This will make for a very personalized-looking ornament, and it is guaranteed to be gone in no time when the dog realizes how tasty it smells!
10. Nightmare Before Christmas Ornaments
The Nightmare Before Christmas has garnered a cult following ever since it was released in 1993, and its popularity seems to be on the rise.
Well, since the movie is a classic that somehow manages to blend both Halloween and Christmas, it's no wonder that many people have been thinking of incorporating elements of the movie in their Christmas ornaments.
For example, the easiest thing you could do is paint a couple of Christmas globes with the faces of some of the characters, especially Jack Skellington who's head is basically a round ball with black facial features.
Other things you could try are to use his face as a stencil and print it on paper, cut the shape out and hang it from a string in your Christmas tree or from anywhere else you want.
Another one is to paint a classic glass globe with the colors of Halloween (black, orange, and purple) and draw some white dots on top. You could even add some text like 'happy hauntings', or maybe make all of your globes black and simply write Jack's name on top.
If you want a more complex look, you could try to make a simple Nightmare Before Christmas-themed ornament yourself.
Another thing you could try is to paint dog bones black and simply draw Jack's face on top of them with white acrylic paint or marker. You could also do some hand painting by painting white dots on some basic round ornaments and painting some eyelashes on them.
Finally, you could design some silhouettes of Santa Claus as Oogie Boogie from the movie, glue googly eyes on him, and then print it out for a more official look.
More Personalized Christmas Ornaments
As mentioned at the beginning of this article, the first 10 entries are the hottest and most sought-after ideas of personalized Christmas ornaments in 2021, but since these ornaments are meant to be used year after year, there's no need to always make new ones just because the old ones are deemed out of style.
As such, if none of the 10 ornaments ideas listed above are to your liking, take a look at the following 15 designs, since these were very popular last year, and the year before that as well.
11. Christmas Ornament – Personalized Wish List
Are you the kind of nostalgicand crafty parent who adores doing DIY projects that help you document your kids' lives?
Then we'd be willing to bed that you'lladore the simple wayHoneybear Lane outlines making a homemade Christmas list ornament filled out with the things your little ones asked Santa for this season, complete with their name and the year so you can look back on it and laugh later.
12. Personalized Ornaments – Cross Stitch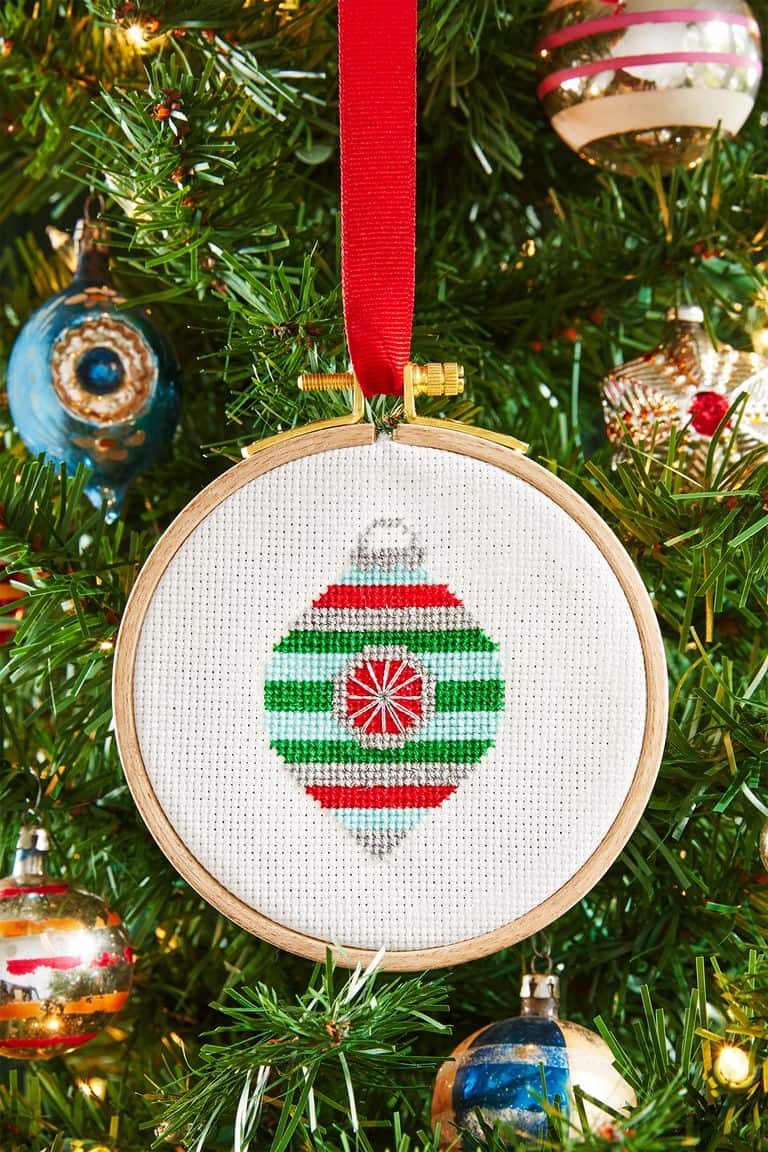 Are you the kind of craft lover who has always been interested in needlework-based projects, like embroidery and cross-stitching? Then we'd be willing to bed that you'll love the way Country Living outlines the steps for creating these lovely little Christmas-themed cross-stitched tree ornaments!
We followed their tutorial but then customized the design ourselves by adding our family members' names along the bottom, underneath the main design, in very simple stitched lettering.
13. Gold Lettering Text Christmas Ornaments
If you're gong to put in the time and effort it takes to make DIY Christmas ornaments, would you actually rather create something with a little more glamour to it, since your personaland decor style is slightly fancy?
In that case, we'dabsolutely suggest taking a look at howTing and Things made these lovely pearl bead filled glass ornaments with gold ribbons and some simple custom gold lettering!
We love the idea of following the basic techniques in this tutorial but then adjusting the letters you use to create the names of your friends and family rather than the short holiday greetings you see here.
14. Stitch Faux Chalk Christmas Ornaments
Did we actuallyreally catch your attention when we started talking about the idea of needlework-based ornaments and your mind is feeling almost made up, but you're always been more of a free-form embroidery person than actual cross stitching?
In that case, we think you might get along better with the way Sugar Bee Crafts shows you how to embroider black cloth to look like a chalk message!
Once again, we'd replace the quotes you see here with family names for something a bit more personalized.
15. Letter Stamped and Metallic Blocked Clay Christmas Ornaments
Did we catch your eye with this whole concept of making something involving a bit of gold and glamour but you're also still the kind of person who usually prefers making things that are a little more minimalist in their style?
Then we have a feeling that this next idea fromProject Nursery might be the idea for you! They show you how to mould flat clay circle ornaments, stamp the letters of a name down, and paint some metallic detail once the ornament's base shape has dried.
16. Personalized Photo Memory Christmas Ornaments
Did we actually really pique your interest when we started talking about the idea of making ornaments that work with your sense of sentimentality but you're just not sure that a written list is quite enough for you?
Then maybe you'd prefer to work with actaul photo memories instead! You can't get much more personalized than these adorable 10-minute ornaments outlined step by simple step onSimple as That.
17. Scrabble Tile Lettered Christmas Ornaments
Just in case you're still not over the idea of making creative ornaments with a bit of lettering to them but you're looking to replace the season's greetings with your family's names, here's an idea for the board game lovers out there!
We simplyadore the wayCrafts By Amanda used spare Scrabble tiles glued together to spell out what they wanted before added a ribbon and a bit of faux snow.
18. Personalized Glass Glitter Christmas Ornaments
Are you actually feeling torn somewhere between the idea of making personalized glass ornaments with names emblazoned across the glass and the idea of making something that has a little more glitz and glam to it?
Well, who ever said that you have to choose? Instead, check out howHappiness is Homemade made these fantastic glitter-filled ornaments that have some simple vinyl lettering to create a name and monogram across the balls' surfaces.
19. Personalized Santa Letter Christmas Ornaments
Have you actually always been more of a hand painting kind of person and you happen to know that your kids really enjoy that process as well? Then, especially if you're looking for something a little simpler and quicker to do than some of the ideas you've seen so far.
We'd absolutely suggest taking a look at howClose to Home grabbed some wooden letters from their local dollar store, painted them to look like Santa's suit, and made a little felt hat to add to each one! Do the initials of your whole family.
20. Hand Stencilled Wooden Christmas Ornaments
Perhaps you can really appreciate both the idea of hand painting wooden ornamentsand the idea of doing a bit of stencilled lettering, but you've been holding out on making a decision from our list because you were hoping to come across a tutorial that merges the two?
In that case, we think you'll be quite pleased to learn that your patience has finally paid off! Take a better look at this tutorial from Abby Lawson to see how these little calligraphic style family-named ornaments were made.
21. I Spy Christmas Ornaments
If you're going to give a Christmas ornament as a gift to some kids in your family, would you rather make it something that will actually captivate their attention for a moment? In that case, we think you'll get areal kick out of the wayU Create Crafts made these awesomely wintery "I Spy…" themed ornaments that are like a game!
Fill the shatter-proof balls with glitter and then whatever holiday (or non-holiday) themed beads and trinkets you think the kids will like. Attach a label with a cute list of things they might find inside and watch them turn the ball over and shake the glitter around in an attempt to find all the things in the sparkly "snow"!
We actually made these in real life but we chose to work with things in each child's favorite color when we were figuring out what to put inside.
22. Personalized Christmas Ornament – Photo Snow Globe
Are you actually quite in love with this whole idea of putting a lovely family photo into your personalized ornament project but you're just not sure that the previous idea you saw is quite the direction you want to go in?
Well, if you're looking for something with a bit more novelty, like the "I Spy…" style balls we showed you above, then we have a strong feeling you'll prefer to see howTidy Mom used photos to make these adorable personalized snow globes in just a few simple steps.
23. Beautiful Personalized Keepsake Christmas Ornaments
Are you feeling quite intent on making your family members an ornament that's pretty enough for them to keep and hang on their own trees when they've grown up and moved out, but you'd also prefer to have at leastsome small element be personalized as well, to make it even more special?
Then we think you'll really appreciate the wayHometalk outlines the steps for making this lovely glitter and bead-filled ornaments that also have each person's name and birth year included inside!
Alternatively, you could also put in the year that you gave them the piece, especially if that Christmas was a special one, like the one they moved out or got married.
24. Wooden Photo Transfer Christmas Tree Ornaments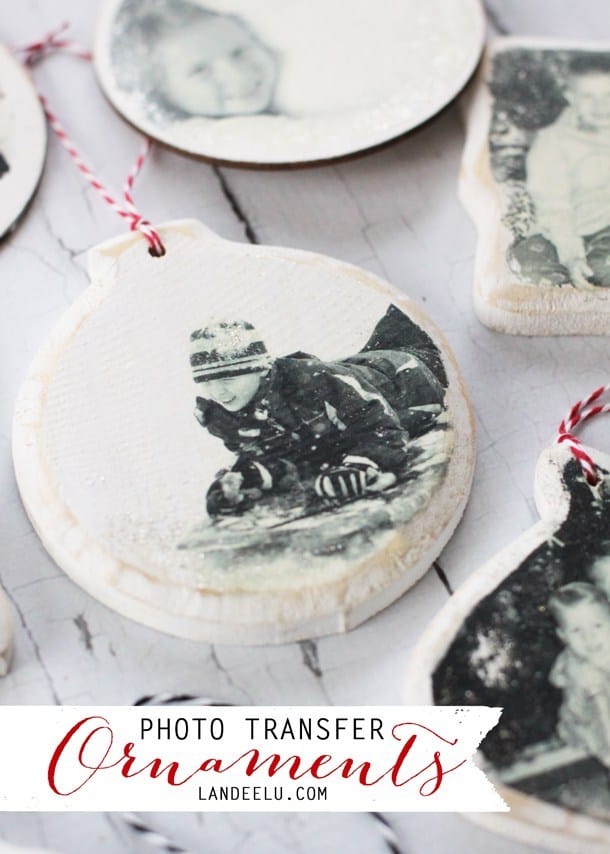 Just in case you'restill thinking about how much you love the concept of making customized ornaments with photos but you're just not sure that any of the things you've seen so farquite grab and hold your attention, here's a tutorial fromLandeelu that will teach you step by step how to make photo transfer ornaments instead!
We adore the slightly weathered rustic or vintage looking aesthetic the finished pieces have.
25. Custom Paw Print Christmas Ornament
Of course, the humans living in your home aren't necessarily the only members of your family who deserve a little extra attention and appreciation during the Christmas season!
We're also huge fans of the way One Little Project outlines the steps for making adorable pet paw print ornaments from clay, as well as how to paint and glitter them once the dough has dried.
Best Personalized Ornaments: Conclusion
We've come to the end of our article, and we hope you had a blast reading it, and more importantly, making some ornaments of your own.
All in all, we hope we have succeeded in showing you how you can use your own creativity and skills to bring Christmas cheer to yourself and everyone around. If not, don't worry: the holiday season is still long enough for you to learn a new skill or two!
Now, if you want your handmade Christmas ornaments to stand out, even more, our experts advise you to go for a personalized approach in order to make the most of the season.
Why not try printing a picture of one of your family members and making it into an ornament together? Or why not add their name on top of something simple like a painted skull, inspired by The Nightmare Before Christmas movie?
If you do decide to make any of the above-given suggestions for your Christmas tree, please let us know! We would love to see them!