35 DIY Christmas Ornaments: From Easy To Intricate!
Add some homemade spirits to your family's Christmas tree this year by decorating it with ornaments you've created with your own two hands. Gather the family around the table, haul out all of the arts and crafts supplies you can find and start making some holiday magic. Check out our list of 35 DIY Christmas ornaments to begin the season with!
1. CD Recycle
You'll need some old CD's (preferably blank ones) to create these beautiful ornaments from Creme de la Craft. Grab some plain, glass ornaments and give them a go!
2. Hot Air Balloon
The Cheese Thief has a detailed tutorial on how to make your very own hot air balloon right at home and then use it to create a bright spot on the family tree with. We love this idea and love its creativity!
3. Glitter Pine Cones
Create these gorgeous sparkle snow-covered pine cones to adorn your tree or even your chandelier for the holidays season. Get the details and directions at Miss Mustard Seed!
4. Button Balls
All Things Andrea used some vintage buttons and put them to good use making these charming button balls for the tree. You can even take them and make small wreaths out of the crafty pieces, check out how after the jump!
5. Knitted Mittens
These tiny mittens would be such a cute addition to any of your home's Christmas trees – because let's face it, we all have more than one by now right? Learn how to knit these cuties over at Just Crafty Enough.
6. Cinnamon Bundles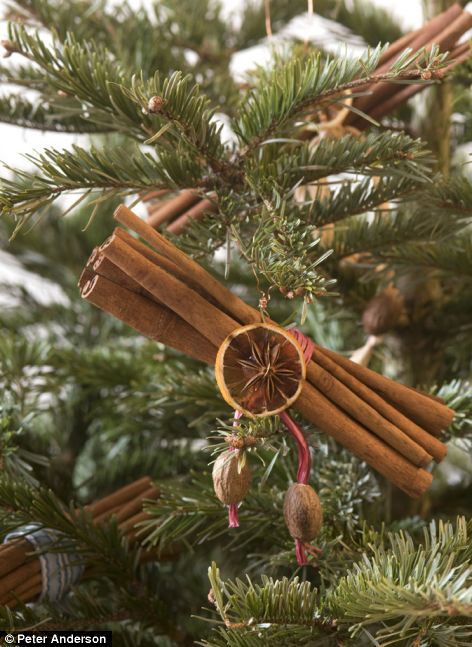 Add some aromatherapy to the tree and your home by putting together some cinnamon bundle ornaments. Hop on over to the Daily Mail for the details.
7. Toilet Paper Reindeer
Gather the kids around and allow them to dive right into this family-friendly Christmas craft. Use some old toilet paper rolls and start designs your very own reindeer like these from Happy Hooligans.
8. Bell Jar
Are these vintage bell jar ornaments not gorgeous? My So Called Crafty Life made these beauties and then gave us all the tools and information on how to make them ourselves!
9. Applesauce Hearts
Make these sweet-smelling ornaments with the help of Katie Elliot. It's perfect to do with the family and you'll love the cinnamon fragrance.
10. Wrapped
Over at Offbeat & Inspired you'll find the know-how for making these easy wrapped Christmas ornaments. Use newspaper or even fabric to get yourself started.
11. Origami Diamonds
How About Orange featured these absolutely adorable origami diamonds and we think they'd be a wonderful addition to a fun and festive Christmas tree. And the entire family can make some!
12. Baroque Pearl
M&J shows us how to recreate these stunning ornaments for our Victorian-inspired Christmas. Follow the tutorial and add your own creative twist on the design.
13. Ombre
We love all things ombre, and that includes on our Christmas ornaments. Learn how to make some of these classic balls with a modern style at Popsugar.
14. Washi Tape
Odessa May Society took everyone's favorite, new craft supply and put it to good use. With some simple glass ornaments and some washi tape you can create a design all your own.
15. Glitter
Of course you can always do what Hello Natural did and dip your ornaments in some glitter for an extra pop and sparkle at Christmastime!
16. Necklaces
Use some of your old necklaces, deconstruct them and create Christmas ornaments out of them. With inspiration from DIY Network you'll have some gorgeous new additions to the tree.
17. Dried Citrus
Reminiscent of stained glass you can use these all natural bits to bring a new breath of lightness and life into your Christmas decor this year. Thanks to A Beautiful Mess for the idea!
18. Glitter Design
Check out this gorgeous, glittering ornaments made by Brittany Makes. Walk through the process and learn how to make your own art decor-inspired pieces.
19. Fabric
Shanty 2 Chic gives us a super easy idea to add some shabby chic charm to our Christmas trees. Take old glass balls and some fabric scraps and get to work!
20. Cork Reindeer
Utilize your stash of wine corks and get creative with them. There's a variety of ornaments you can make out of them all shown at The Homeless Finch. This reindeer just happens to be our favorite.
21. Maps
Blue i Style gives us a great tutorial on how to create our very own travel-inspired ornaments. Grab some old maps, or print them out and get started!
22. Scrabble
Crafts by Amanda took some old Scrabble pieces and put them to good use. These could also make great neighbor or friend gifts as well!
23. Yarn-Covered
Yarn is always a great crafting material, especially to wrap up some ornaments like you see here from Live Laugh Rowe. Stars, baubles and the like can be wrapped with ease!
24. Brass Tack
These brass tack bauble are pretty perfect for those envisioning a elegant, white and sparkling Christmas. Learn how to make them at Fellow Fellow.
25. Sharpies
Grab the family, gram some Sharpies and start designing the ornaments of the season! Pretty Prudent gives us the directions and one of the best projects for the family to get involved in this weekend.
26. Gold-Dipped
Sometimes the best projects are the simplest. Suburble made these chic and sophisticated ornaments that I'll be making for my own tree this season!
27. Golden Snitch
Who is a fan of Harry Potter? If you fall under that category, then you'll need to create this golden snitch ornaments like they did over at Tiny Apartment Crafts!
28. Pinatas
Here's another personal favorite project on the list. From Studio DIY, these pinatas ornaments are funky, festive and totally fashion-forward, helping your tree become the envy of the neighborhood.
29. Sundaes
Run! Miss Nelson's Got The Camera made these adorable, and stunning, sundae ornaments that seem like such fun to DIY at home. Sprinkles, and a pom-pom topper – the kids would love to get involved with this one.
30. Mini Pom-Pom Wreath
Personally, I love this mini pom-pom wreath from BHG. You can mix the colors to match your home's Christmas decor or go classic like with this red and white one!
31. Owls
BHG always has great ideas and this little felt owl would be such a cute addition to your tree this year. Check out the details and put your sewing skill to the test.
32. Paint Chip
We love this textured design and you can learn how to make it – quite easily – over at Refresh Restyle. Mix up the colors and prints if you'd like a more personalize finished product – don't be scared!
33. Paper-Stuffed
Take some of your favorite paper – colored, printed, textured or here even sheet music – and stuff some ornaments with it! BHG gives you all the details and inspiration!
34. Snowmen
It All Started With Paint teaches us how to make these charming, melted snowmen ornaments for our tree. Create new faces on each piece and personalize them with names!
35. Computer Pieces
Recyart shows us how to use old pieces of a computer and turn them into beautiful pieces of Christmas tree decor. This is such a great way to reuse and recycle, don't you think?