DIY Tassel Christmas Gift Tags
With the holidays quickly approaching, it's time to beef up your gift wrapping supplies… which includes gift tags! Skip the generic route this year, and create colorful tags with fun tassels attached. Keep reading to find out how to make your own tassel Christmas gift tags out of things you probably already have lying around the house.
Here's what you'll need for your Christmas gift tags:
Three pieces of tissue paper in different colors, cut to 3×6 inches
Gold Washi tape
Gold ribbon, 1/4 inches wide
Scissors
Hole punch
Craft Bond glue (or basic Elmer's school glue will work too)
Happy holidays free printable (right click and print the file below)
Step by Step guide to craft gift tags for holiday:

Step 1: cutting slits
Begin by cutting slits through your tissue paper, spacing them out so that there is about 1/4 inch between each slit. Cut almost all the way up to the top, leaving about a half inch of space uncut. Do the same for the other two pieces of tissue paper.
Step 2: cutting ribbon
Cut a piece of gold ribbon so that it is about 10 inches long and fold it in half. Line up the three pieces of tissue paper and place the folded side of the ribbon in the corner and adhere it with a dab of glue.
Step 3: rolling
Begin rolling the layers up as shown above. Add a few dabs of glue as you go along so everything stays secure.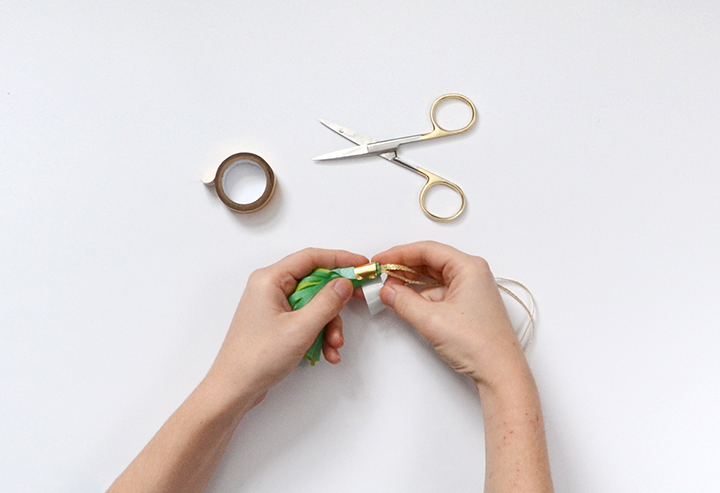 Step 4: washi tape
Cut a 2 inch long piece of gold Washi tape and wrap it around the top of the tassel.
Step 5: use the hole punch
While the tassel is drying, cut out atag and use a hole punch to put a hole in the end.
Step 6: hang the ribbon
Slide one piece of the ribbon through the hole, and voila! Your tassel holiday tag is complete.
Of course you can customize these by choosing any color tissue paper, and you could get really creative and choose a different type of Washi tape too.
Your friends will love to receive a package adorned with one of these beauties… they might like it just as much as the gift that's inside!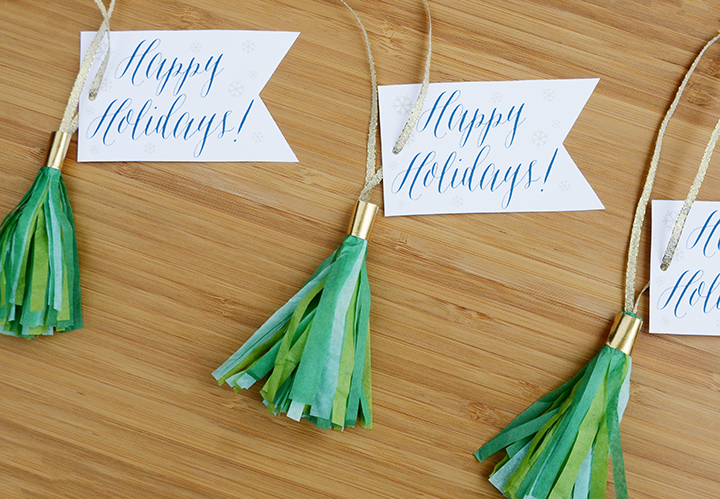 Hope you enjoy this project… happy holidays everyone!