15 DIY Soap Recipes To Keep On Hand
We love natural recipes for our meals and we love them in the beauty department as well. We're starting with just soap today and sticking to this everyday necessity – exploring alternative regimens and ways (outside of Target shopping). Check out these 15 DIY soap recipes to keep on "hand" and use throughout the year.
1. Lavender Lemon
A Pumpkin + A Princess starts us off with this classic soap combination. Lavender and lemon goes together like peanut butter and jelly. It's an easy recipe to follow as well, so it's a great starting project for novices.
2. Peaches & Cream

Peaches and cream soap would be fantastic for a spring or summertime gift – or even a treat for yourself. Chck out all the details behind its creation by visiting our friends at Happiness is Homemade.
3. Grapefruit Mint Poppyseed
A Beautiful Mess makes a grapefruit, mint, and poppyseed soap that's definitely on the offbeat side in terms of flavors. But they go together so smoothly and with a lot of ease. Hop on over now to snag the details.
4. Chocolate Milk
Who doesn't love a nice glass of chocolate milk? Well, take that same creamy, delicious comfort and turn it into a soap bar for your skin. Check it out at Bloom, Bake and Create.
5. Star Studded Unicorn
Kailo Chic Life has one that the kids will freak out about. Actually, this recipe would be the best option to use as a fun DIY gift – for any one of your family and friends. It's trendy and smile-inducing – it doesn't get much better than that!
6. Activated Charcoal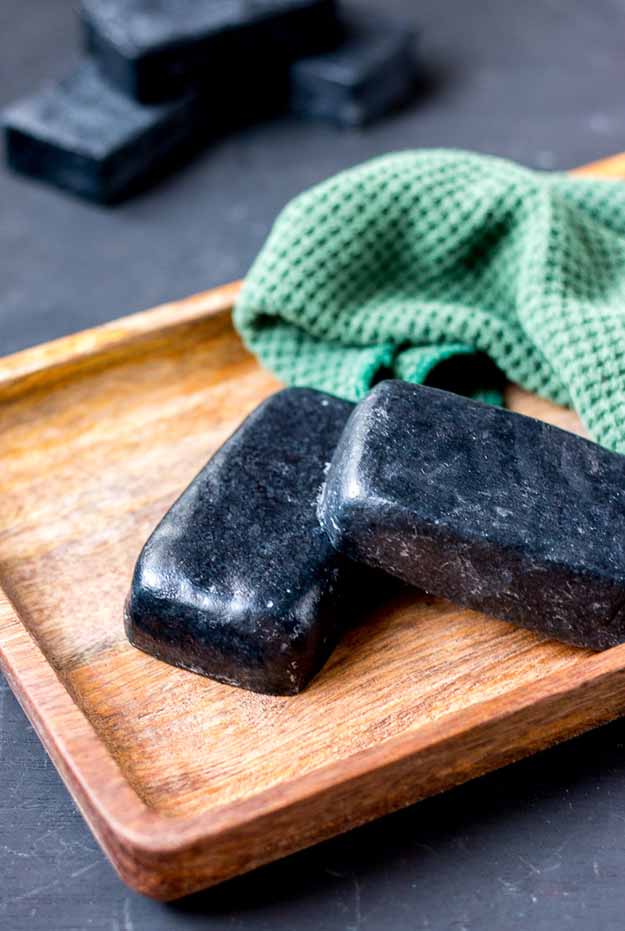 Charcoal is a wonderful addition to any beauty routine. It smooths out problem areas including discoloration and acne-prone skin. The Things We'll Make will walk you through the entire process with ease and simple instruction.
7. Eggnog
Once the wintertime rolls around, think about heading on over to Soap Queen. You'll find this recipe for a eggnog bar and you can indulge yourself with a slice or whip some up for your family and friends. It's a fabulous stocking stuffer, don't you think?
8. Watermelon
Happiness is Homemade has another summertime favorite on their hands. This time we're steering away from the peaches and toward another popular fruit of the season. Take a dive into this recipe for watermelon soap – it smells like it and looks like it too!
9. Mocha
Who loves a warm cup of mocha in the morning? If that's you, then you may want to check out Soap Recipes 101 tutorial for this slice! We're certain this will wake you up in the morning in a jolly way as well.
10. Pumpkin Spice
And then there's the fall-inspired soaps. You'll need to hop on over to Happiness is Homemade for this one as well. They're big on seasonal recipes and we find this pumpkin spice bar our favorite on the list!
11. Peppermint
Peppermint is a special one as well. Of course, we like it best throughout the wintertime, but this one is a great pick for both men and women – and as a DIY gift option. Snag the deets by visiting at Some of This and That.
12. Rose Petals
Lauren Conrad has a fabulous recipe (or two or three) up her sleeve. This bar has real rose petals sewn right in. Not only is it a natural route to take but it's extra aromatic and luxurious in its finished product.
13. Dragon Fruit
If you hop on over to A Beautiful Mess again, you'll find another unique recipe on your hands. This dragonfruit bar is no only beautiful to look at – but it smells great too! We'e tried this one out ourselves and it's an absolute winner in the DIY department.
14. Citrus Punch Swirl
Humblebee & Me went with a swirled design – and flavor pairing – that we love. Some citrus punch with highlight your shower experience. Hop on over now to grab the tutorial and pocket it for later.
15. Honey Walnut Milk
And finally, visit Offbeat + Inspired to grab the instruction behind this honey walnut milk concoction. This one works well as a gift option – and a unisex option – too. And it's perfect for dryer skin!