50 Homemade Christmas Cookies You'll Want to Bake All the Time
When it comes to Christmas, cookies are some of the most popular gifts to give. But they can also make great additions to the Christmas dinner table or to bring along with you when you are heading out visiting friends and family on the big day.
However, it's not just about gifting and stuffing your face with these incredible sweet discs that bring joy to our lives; it's Christmas time, so it's the perfect season to share your cooking and baking talents with your friends, family, and loved ones.
Nowadays, most people prefer getting all of their groceries from the local supermarkets, and that, unfortunately, includes cookies. However, some of us still reminisce about the times when our houses were overflowing with the smell of cinnamon, orange rind, and caramelized sugar on Christmas.
So, if you're one of the more nostalgic ones and would like to share this feeling with your loved ones by making homemade cookies for Christmas, we have a generous collection of ideas and recipes in this guide.
If you're curious about what you're going to find, let's take a quick peek here:
Homemade Christmas Cookies: The Do's and Don'ts
When it comes to making some homemade Christmas cookies, there are some rules to follow. Of course, the rules are bendable, but they're there nonetheless:
If you're not a very experienced baker, and you're pressed for time, go for an easy Christmas cookie recipe.
Don't overdecorate – you won't be able to feel the taste of the cookies if you drop too many sprinkles on them.
Have fun! The most important thing about making Christmas cookies is having fun. And eating them all.
Homemade Christmas Cookies
Homemade Christmas cookies are not just a great way to end a satisfying meal or nibble while you're waiting for the main course to arrive; they're little bundles of joy that can be enjoyed and shared come Christmas season.
Below, we're going to walk you through a few of our favorite raw cookie recipes and leave you with the necessary information that will enable you to make them in your own kitchen.
Please note that some preparations can take longer than others; however, nothing is stopping you from making bigger batches so that you'll have enough cookies for everyone in your family over the course of this holiday season, right?
Christmas Sugar Cookies
If you want to try your hand at some festive cookies, here are some suggestions for types of homemade Christmas cookies that will work well whatever the occasion, whether it's a bake sale, party, or just something fun for family members to enjoy on Christmas Day.
1. Iced Gingerbread Cookies – Christmas Cookies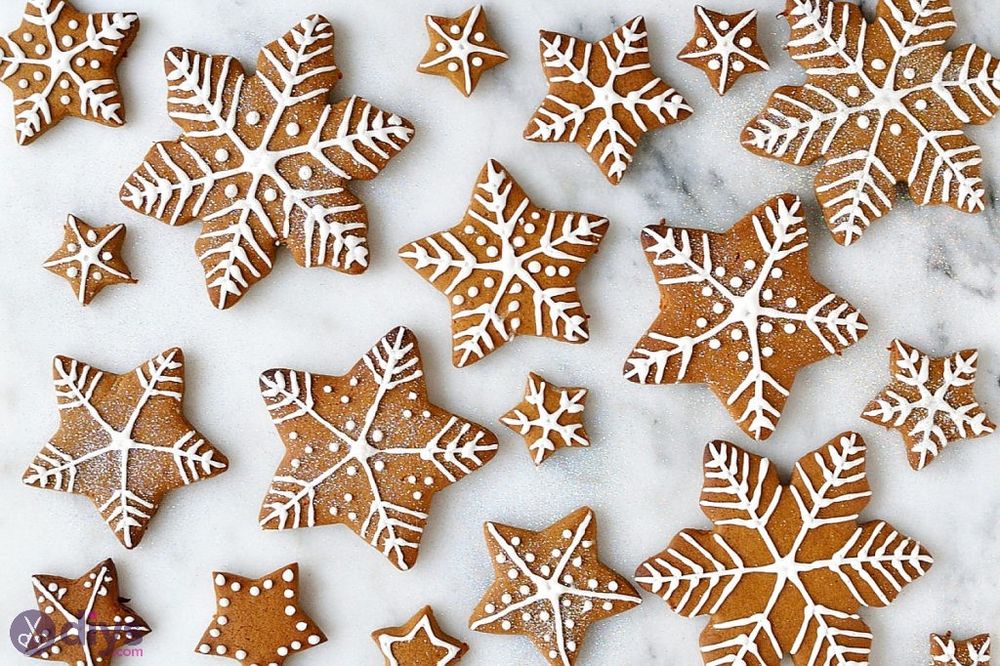 These iced gingerbread cookies are guaranteed to be the most delectable edible Christmas ornaments in your home come Christmas day, and even adorning any tree in your house if you're up for the challenge.
Gingerbread has always been associated with the holiday season for its heady flavor of cinnamon and cloves—some people even enjoy gingerbread at their weddings!
If you're feeling adventurous, why not make some iced gingerbread cookies this year? They'll surely delight little ones, big kids, and adults alike. And if they don't like it, well, they can just go without them because these things are too good to share anyway.
It goes without saying that you'll need some experience in the kitchen, especially when it comes to operating the oven to make this recipe. However, if you follow the instructions in our tutorial closely, chances are you're gonna do just fine.
On the other hand, it wouldn't hurt to experiment with some other recipes that are just a smidge easier to make than these ones before getting started. Messing up things in an oven is never fun, especially during the holiday season.
2. Buttery Spritz Cookies – Christmas Cookie Recipes
If you're looking for a classic Christmas cookie recipe that's almost foolproof, then this is the one for you! These buttery spritz cookies are so easy to make and so delicious.
They have a crisp texture with just enough sweetness from the sugar sprinkles, making them perfect alongside a nice cup of hot cocoa or latte – or even your favorite tea if you prefer. In fact, these cookies would be lovely served at any time of day during the festive season!
All in all, they're great for kids' parties and get-togethers because there's no need to bake beforehand. You can just set up your ingredients and utensils on a table along with some plates and napkins and let everyone go to town.
If you're having difficulty getting your cookies to spread like in Taste of Home's tutorial, then you may need to try using a different kind of rolling pin. Also, if this is your first time making them, we strongly recommend sticking closely to the original recipe before trying out customizations.
However, if you're feeling adventurous and up for a challenge, then feel free to play around with your recipe or try out some of our other favorite Christmas cookie ideas.
3. Ugly Sweater Cookies – Christmas Sugar Cookies
Making these ugly sweater cookies is so much fun! You can have a blast with your kids or friends decorating them, and they'll have just as much fun eating the delicious results.
They look so impressive but are actually very easy to make – especially if you use store-bought frosting instead of making your own from scratch. The only thing that takes any time at all is dunking each cookie into colored sugar before setting it on a baking sheet.
But, really, you can use any type of colored sugar that takes your fancy.
You can check out the tutorial on Taste of Home if you want to find out more about how to decorate these delicious treats.
Furthermore, this is a lovely Christmas cookie recipe that's great for kids because it doesn't necessarily use knives or other sharp implements. It's also a lot of fun and doesn't require any special baking skills – which means you can get the whole family involved!
All in all, this is a fun recipe that will add a touch of festive cheer to your holiday table. Make sure to give it a try and don't forget to take some photos to show off on social media!
4. Angel Sugar Cookies – Best Christmas Cookies
If you love classic Christmas cookies but are looking for something with a little more of a twist, then this is the recipe for you.
As opposed as you may think, based on what the name suggests, these are not sugar cookies decorated to look like angels. Instead, think of them as the cookies that only angels get to eat.
They're fluffy and sugary and absolutely delicious! Furthermore, they're easy to make because you can use store-bought frosting (and pre-made sprinkles if you prefer).
However, if you'd prefer to make your own frosting from scratch, we won't judge! But again, it is a Christmas cookie recipe that includes store-bought ingredients so definitely one of our favorite Christmas cookie recipes.
They look so adorably festive and they're guaranteed to be a hit with everyone who tries them – whether they're visiting family and friends or just trying to please Santa's little helpers on the big night itself.
We hope you'll enjoy these cookies as much as we do! Check out Food Network's comprehensive tutorial on how to make and bake these fluffy angel cookies without breaking a sweat!
5. Holly Berry Cookies – Easy Christmas Cookies
Perfect for anyone who likes fruity desserts, these holly berry cookies are absolutely delicious!
They're also pretty easy to make – no complicated baking is required. Instead, you can whip them up in just under an hour. However, they do need some time to cool so try not to get too impatient while they're cooling on the trays. This will save your Christmas cookies from being ruined!
These are pretty tasty little treats that are absolutely perfect for Christmas cookie gift boxes or even as part of your holiday gift-giving this year. They're fun and festive without being too over the top like some other Christmas cookies (such as gingerbread!) can be at this time of year. Plus, they're really pretty when decorated with frosting and sprinkles.
And, honestly, who doesn't love decorating cookies? If you're the type of person who loves to spend hours in the kitchen baking intricate Christmas cookies that look like they belong in a magazine then you'll definitely want to give these Christmas cookies a try. Check out All Recipes for full details on how to make this easy holiday recipe with family and friends at your side.
6. Grinch Cookies – Christmas Sugar Cookie Recipe
Whether you're a Dr. Seuss fan or not, these Grinch cookies are pretty much guaranteed to be a huge hit with anyone who's been unlucky enough to have been dealt a bad hand this holiday season.
They're really easy to make and they taste absolutely delicious – plus, their size means that there won't be too many of them lying around for other people to sneakily steal from your cookie plate while you're not looking! So why not give them a try?
You can find the full recipe on Made To Be A Momma's blog if you want some more details on how to make this Christmas treat without breaking a sweat. However, it's really simple so we don't think any extra guidance will be necessary.
Basically, these Christmas cookies are just sugar cookies that have been decorated to look like the beloved Grinch from Dr. Seuss' How The Grinch Stole Christmas!
If you're not familiar with the story then check out some online videos for a quick reminder on this classic festive tale – it's perfect for sharing with your own kids before they start decorating their first-ever batch of homemade Christmas cookies!
7. Sugar Cookie Truffles – Christmas Cookies
Truffles are chocolaty delights that really do have their own distinct sweet flavor. They are usually wrapped in some kind of small paper or foil wrapper but for this recipe, you'll be skipping the packaging part altogether because these truffles are cookies!
They may not look like it but trust us, they taste exactly like sugar cookies – only they've been rolled up into small balls and dipped in chocolate before being decorated with festive sprinkles.
Now that sounds pretty darn yummy to us! And don't worry if you don't have the time or energy to make lots of different kinds of Christmas recipes; just whip up a big batch of these delicious cookie-truffles instead because they're versatile enough to suit any holiday cookie platter.
Who said you can't serve cookies as a dessert?
This recipe is so simple to make that even those of us who aren't too confident in the kitchen could pull this one off. At the same time, we're quite positive that whoever gets to taste these Christmas cookies will be blown away by them and come back for seconds (and thirds) every single time they visit your house during this holiday season.
You can find the whole recipe on I Heart Naptime's website – just make sure to check out this site for more ideas if you want something a bit different from your usual sugar cookies.
8. Norwegian Spice Cookies – Best Christmas Cookie Recipes
This is another Christmas cookie recipe that doesn't necessarily resemble most traditional Christmas cookies but it's just as tasty!
If you want to find out more about the Norwegian spice cookies then be sure to check out Roaming Rosie's blog post because it's definitely packed with a lot of helpful information.
What's interesting about these Christmas treats is that they have a flavor reminiscent of gingerbread which means they're perfect for people who love that taste but aren't really into festive flavors like cinnamon or peppermint.
However, one thing that you should note before making these delicious sweet treats is that they require quite a few different ingredients – many of which are spices rather than normal baking items!
As long as you're up for spending some time in the kitchen then the full recipe in Rosie's article will teach you everything you need to know about making these mouthwatering Norwegian cookies.
That said, one of the best things about this Christmas cookie idea is that it's very easy to make multiple batches in one go – not to mention they make great presents for people who love food!
So if you've got some spare time over the holidays then you might want to check out how to create them yourself.
9. Scandinavian Rosette Cookies – Homemade Christmas Cookies
These Scandinavian rosette cookies look absolutely stunning and they're perfect for anyone who wants to give festive cookies as gifts.
As you can see from the image, these tasty treats are made by dipping a rosette iron into batter, then dipping the iron into hot oil and frying the whole thing to perfection.
However, one thing that you should remember about making them is that just like with any other homemade Christmas cookie recipe, the ingredients will vary depending on what colors and flavors you decide to use.
Because of this, we recommend reading through the entire recipe first before starting so you know exactly what's involved and whether it's quick enough to be done in time for your holiday celebrations!
If you want to find out more about how to make these easy-to-make Rosette Cookies then be sure to check out the article at The Spruce Eats.
Aside from comprehensive instructions and helpful photos you'll also find a lot of tips & tricks that could help you perfect your rosette cookies baking skills. Merry Christmas, everyone!
10. Christmas Tree Cookies – Best Christmas Cookie Recipes
If you've got an artistic flair then these Christmas tree cookies could be the perfect festive treat to create this holiday season!
One thing that's great about them is that the recipe only requires four ingredients so if you're looking for something quick and easy then it might just be right up your alley.
That said, one thing that you should note about the recipe before trying it yourself is that it doesn't call for any specific type of cutters.
This means that you're free to design your own festive tree cookies by using a combination of different cookie cutters as long as they all fit on a baking tray!
Actually, this is a really great recipe for any beginners out there who are looking to get into baking or have been thinking about making some homemade Christmas cookies but haven't quite had the confidence.
You might even be able to convince some friends and family members into helping too – especially if they have kids! Just remember to share your delicious treats with everyone once you're done.
Once you've got all the materials together, following the short tutorial in this blog post should teach you everything you need to know about whipping up a batch of these beautiful treats.
As long as you enjoy decorating cookies then we'd definitely recommend reading through Cake Creations For You's guide because it'll show you how to make some stunning sweets with minimal effort!
11. Fancy Ornaments – Homemade Christmas Cookies
One really fun thing that you can do to make your cookies stand out is to use a marbled swirl effect. This will give them an adorable, festive look that would definitely impress people at the office or school parties!
Once you've finished making this Homemade Christmas Cookie recipe then all of your hard work should pay off by giving you some perfect edible decorations for the next holiday party.
To ensure that they're safe for consumption we'd recommend following Sweetopia's tutorial on how to marble royal icing because it uses ingredients and products that we trust.
If you follow their steps carefully and enjoy experimenting with different techniques and patterns then we think these Fancy Ornaments will turn out great!
If you love baking as much as we do, then you should definitely add this recipe to your collection because the end result is an adorable, homemade Christmas cookie that's not only cute but delicious too!
12. Stained Glass Christmas Cookies
Have we really caught your attention at the mention of sugar cookies but you can't help wishing you could make a version that's a little more unique than some of the average recipes you see around this time of year? Maybe you'd rather try your hand at a slightly more unconventional cookie decor technique than just icing and sprinkling. We'ddefinitely suggest taking a look at howCooking LSLmade these "stained glass" effect cookie stars.
13. Eggnog Sugar Christmas Cookies with Easy Vanilla Icing
Are you actually scrolling through our list andstill finding yourself thinking about how much you love sugar cookies, but you haven't decided on a kind yet because you can't help thinking that you'd love to put a unique holiday flavor twist on things if you can? Then we have a feeling you'll be rather intrigued indeed by these fantastic eggnog sugar cookies from Half Baked Harvestthat are topped with a simple, mild vanilla icing that's very simple to make!
14. Everything Sweet Christmas Sugar Cookies
Maybe sweetness is actuallyexactlywhat you're going for because you have a huge sweet tooth and a love for novelty, eclectic things? In that case, we think youjust might be the perfect person to try your hand at making these bright, candy-laden holiday cookies outlined step by step on Sugar and Cloth! Our kids go wild for these because they're basically a treat on top of another treat.
15. Double Ginger Christmas Cookies
Just in case your favorite cookies have always been gingerbread men but you're less concerned about their shape and more concerned with getting as much of that finger flavor you love so much as possible, here's a fantastic recipe from Culinary Hillthat gives you double the taste! Sure, decorating gingerbread people is fun, but sometimes you just want to eat a cookie right out of the oven as is, while they're still warm and gooey.
Easy Christmas Cookie Recipes
How about some recipes that are super easy and quick to make? We love having this option, so let's see what we can find here.
16. Gingerbread Swirl Fudge – Best Christmas Cookies
If you're looking to impress the guests at your Christmas party then this gingerbread swirl fudge is just what you need!
It tastes absolutely delicious and would also make a lovely gift for anyone who loves traditional chocolate fudge or has a sweet tooth.
You don't need any fancy equipment to make this recipe so if you have an old saucepan, wooden spoon, and heatproof bowl then you can easily whip it up in no time.
It only takes around 25 minutes too which means that it won't be long until everyone starts munching on these yummy treats.
We'd definitely recommend making some extra batches of this delicious fudge because it will go down a treat if you give them as gifts to friends, teachers, or neighbors.
They'll also remember you for it and appreciate the thought that went into creating this tasty treat.
In summary, these homemade Christmas cookies are really easy to make and they're sure to impress even your biggest food critics!
Sally's Baking Addiction provides you with a great recipe so don't miss out on it or you'll be kicking yourself next Christmas.
17. Gingerbread Boy Granola – Homemade Christmas Cookies
This gingerbread boy granola is a fun twist on the original recipe and would be perfect to eat alongside your homemade Christmas cookies.
It's also super-simple so if you want to make it as an after-school snack or even as a treat for the kids before bedtime then there's no reason why you shouldn't give it a go.
The best part is that if you do this then they'll feel like they've been really creative or at least helped bake something yummy which will make them happy. If they're happy, then we're all happy!
We'd definitely recommend getting started on this granola as soon as possible because it will take around three hours for the dough to set in the oven and another two for it to dry out. This is ideal if you're planning on making this as a gift for teachers or neighbors but not so great if you want to eat it yourself!
In summary, this makes a perfect gift for anyone who loves gingerbread men or would appreciate the creativity that went into creating this recipe.
Check out Half Baked Harvest's website and give it a try now before Christmas arrives and watch their reaction when they see what you've made!
18. Chocolate Chunk Gingerbread Cookies – Christmas Cookie Recipes
If you're looking for a recipe that's just as fun to decorate as it is to eat then look no further than this one because it would be an ideal project if you have children or grandchildren at home during the holiday season.
In addition to being super tasty, they'll also help keep little hands busy so everyone will enjoy spending time together in the kitchen. If things get a little bit messy along the way then simply wipe down surfaces and sweep up crumbs – no harm done!
They also taste absolutely fantastic so they'll be a real hit with everyone who tries them. In fact, if you're looking for some more ideas on how to spice up traditional gingerbread cookies then why not try out the recipe on The Food Charlatan?
In addition to being super delicious and tasty, they also look fantastic which is something we'd recommend considering if you have lots of family and friends over at Christmas.
People will love seeing your efforts and really appreciate a homemade treat – especially when it tastes as good as these ones! You can never have too many homebaked recipes in your repertoire because there'll always be someone willing to eat whatever you make!
In summary, this is a fantastic recipe that takes gingerbread cookies to a whole new level. They're easy enough for even young children to make and they taste delicious too!
19. Christmas Pecan Balls (Snowballs) – Easy Christmas Cookies
Jenny Can Cook's recipe for Christmas Pecan Balls is a great way to add a little extra effort into your festive treats without much extra work.
These cookies are very easy to make, and the ingredients list isn't too long either. The good news is that if you're looking to impress your friends with an impressive homemade gift then this recipe will definitely be a hit!
One of the best things about this particular recipe is that it's easy to scale up if you've got a lot of people to make cookies for.
So, feel free to double or triple the ingredients to ensure that there are enough sweet treats for everyone!
The end result is delicious and perfect for this time of year because they're not only tasty but long-lasting too. One way that you can personalize them even further would be to add different kinds of festive sprinkles on top before baking them in the oven.
If you do decide to try out Jenny Can Cook's recipe for Christmas Pecan Balls then we would recommend reading through their helpful blog post because it contains some handy information about the ingredients list and cooking techniques.
It also includes a video tutorial so even if you've never made any of these types of chocolatey treats before then following along with their guide should make it much easier for you to see each step of the way.
20. Chocolate-Mint Thumbprints – Christmas Sugar Cookies
If you've been looking for a tasty new recipe to try before the holidays hit, then be sure to check out this mouthwatering Chocolate Mint Thumbprints cookie idea from Betty Crocker!
One thing that we love about it is the fact that there are so many different varieties of homemade Christmas cookie recipes that you can try.
This specific treat uses a dark chocolate mint filling that's easy to blend and tastes delicious on its own. However, it would also work perfectly with another flavor if you wanted to experiment a little bit.
For example, some people even use vanilla extract instead of peppermint and they claim that this gives the cookies a really pleasant taste.
As long as you use your imagination, we're sure you'll be able to come up with some of your own mini Christmas cookie recipes before this holiday season ends!
Of course, if you're more interested in following somebody else's ideas then Betty Crocker's website is one of the best places to start looking for inspiration.
All of their recipes are balanced and tested so even if you've never made cookies at home before there's no need to worry about ruining the recipe or wasting precious ingredients.
Their step-by-step guide on how to make these decadent Chocolate Mint Thumbprints should make sure that everything goes smoothly and you'll be enjoying your holiday treats in no time.
21. Cinnamon Snack Bites – Homemade Christmas Cookie
These cinnamon snack bites have a very festive flavor that makes them a great choice for all sorts of occasions. In fact, you can serve these little gems at any time throughout the year and they'll add instant cheer to your table.
This recipe is quite simply the perfect blend of ground almonds, pitted dried dates, rolled oats, cinnamon, and sugar to produce a fluffy-textured cookie that tastes just like Christmas in a bite-sized piece!
All in all, this is an easy recipe that's suitable even for people with less baking experience. The only thing you'll need to be mindful of is how much flour you're adding; too much will make your dough tough and not ideal for dunking into coffee or tea.
So, if you're looking for a quick and easy homemade Christmas cookie to try this year that will instantly wow your taste buds and satisfy your sweet tooth, we highly recommend these cinnamon snack bites.
Make sure to check out our tutorial that comes with detailed instructions, as well as helpful photos that will guide you through the entire cooking & baking process.
For people who prefer other flavors than cinnamon, we suggest taking a look at some of our other favorite holiday cookie recipes.
22. German Spice Cookies (Pfeffernusse) – Christmas Cookie Decorating
Christmas would be incomplete without delicious Christmas cookies to help us feel festive! And, when it comes down to it, nothing screams 'festive' like the wonderful aromas of gingerbread and cinnamon – even if everyone is absolutely sick of them by January.
However, if you're looking for something with a slightly different flavor profile (and don't mind using store-bought frosting), then we highly recommend giving these German spice cookies a try this holiday season.
They're really easy to make and look so impressive – even if you don't think you've done a great job decorating them! And, most importantly, they taste delicious.
Think of them as Christmas sugar cookies for adults (or children who like spicy snacks). They're very similar to gingerbread men but with the addition of some really unusual spices – such as allspice and cloves.
As we already mentioned, these German spice cookies aren't just amazing on their own. Instead, why not try decorating them and serving them around the holidays? You can make your own frosting from scratch using those lovely scented spices or use store-bought frosting instead.
Either way, it's a festive recipe that will make your cookies look absolutely gorgeous. Check out the complete recipe on Martha Stewart's blog for details on how to make these delicious Christmas cookies without significant effort.
23. Christmas Present Pretzel Treats – Christmas Cookies
Using a pretzel as the base for this Christmas cookie recipe is something we've never seen before but it really works!
In fact, those who didn't know any better might even think that you used two cookies as the basis rather than just one big pretzel.
The chocolate and peppermint combination in these treats is nearly perfect with just enough of each flavor to taste without being too overpowering. Not only does it work well because of the slightly salty nature of using a pretzel but it also complements other flavors really well!
A note to anyone who isn't a fan of cocoa: you can actually substitute this ingredient for white chocolate or candy melts if you want to avoid getting cocoa everywhere (especially if making these for younger kids).
This Christmas cookie idea is actually quite simple and easy to make so we'd really recommend it for any beginner chefs who want a challenge or anyone who wants to try something new.
The only real downside is the time it takes to make this recipe – you need to allow for at least three hours before these are ready so plan ahead!
Just follow the tutorial on Kristen Duke's website that also includes detailed instructions and helpful photos to guide you through the process and you should complete these tasty treats in no time!
24. Butter Cookies – Easy Christmas Cookies
If you're in need of a recipe that uses very basic ingredients then this Christmas cookie idea will be just right for you.
First things first, this is not your standard sugar cookie or gingerbread house sort of butter cookie – it's actually quite similar to what you might find in a bakery!
That's because the texture is slightly more crumbly than soft but it has an incredible buttery flavor which makes up for any deficiencies in how it looks.
One reason why we really recommend these cookies is the simplicity of them – you can literally make these with three ingredients and some food coloring if you want them to look pretty.
Well, these easy Christmas butter cookies are exactly that! The combination of ingredients gives each bite of these cookies a tasty sweetness that should appeal to the palette of just about anyone.
Even better, in terms of Christmas cookie gift ideas, these cookies are incredibly easy to make and don't require any baking either.
You can also get really creative with this recipe – you can add little bits of dried fruit or nuts inside the cookie dough if you want to make it even tastier or sprinkle some cinnamon on top for extra flavor.
All around, this is a simple holiday treat that is perfect for anyone who wants something different but equally delicious! Check out the full recipe on Cooking Classy if you want to find out more!
25. Ciambelle Cookies – Christmas Cookie Recipes
This is yet another Christmas cookie recipe that doesn't actually resemble a traditional cookie but it is just as mouthwatering!
In terms of presentation, ciambelle cookies are simply rolled up into a tube shape and decorated with sprinkles. But in terms of taste, they're so much more than simple sugar cookies!
They have the perfect texture – light and fluffy and incredibly soft while still offering a slight crunch on the outside (from all of those sprinkles).
The actual flavors available in ciambelle recipes vary from chocolate to vanilla or even strawberry; some people also add some melted white chocolate for additional richness while others substitute cream cheese.
The choice really depends on what you like most about these cute Christmas cookies but we'd really recommend adding some kind of jam or icing to the inside before rolling up if you want a filling recipe.
That's because, as well as tasting great, these ciambelle cookies are also very easy to make – especially when you follow the fantastic tutorial from Marisa's Italian Kitchen.
The bottom line is that, if you're looking for some really cute Christmas cookie gift ideas, these ciambelle cookies are perfect!
26. Reindeer, Santa Claus Hat, or Christmas Tree Brownies – Christmas Cookie Ideas
When it comes to Christmas cookie ideas, these Christmas brownies are awesome and they're perfect for kids!
One thing that we really like about them is that they're basically a chocolate brownie with festive decorations – what could be better?
Of course, if you've never heard of decoration-style brownies before then we'd recommend reading the full tutorial on the Kids' Kitchen site as they offer some really helpful hints and tips so your tasty treats turn out as awesome as possible.
These homemade Christmas cookies look great even before you add those festive decorations so, naturally, making them will be no problem whatsoever! They take almost no time at all but taste absolutely delicious.
And unlike many other types of Christmas cookies that tend to have some kind of nuts in them, these Santa Claus hat brownies are nut-free so you can safely share them with just about anyone!
Perhaps one of the best things about these Christmas brownies is the fact that you can make them in three different versions: as reindeer, Santa Claus hats, or Christmas trees, as long as you cut them in triangle shapes.
However, note that each version has its own list of ingredients, so make sure to stock up on everything you need to do them instead of just gathering ingredients for common brownies.
All in all, if you're looking for something really special then we'd recommend reading through the full tutorial on how to make these festive cookies because there's a video showing exactly what to do along with some fun music that will help turn this fun recipe into a really great experience.
27. Ginger Cookie Sandwiches with Caramel Buttercream – Delicious Christmas Cookies
Are you still feeling so enthusiastic about making ginger-flavored holiday cookies that you can practically smell them as you scroll but you're still wondering whether there might be an alternative way to take them to the next level? In that case, we'dabsolutely suggest taking a look at howThe Gold Lining Girlmade these gingerbread cookie sandwiches filled with caramel buttercream frosting in the middle!
28. Peppermint Patty Stuffed Chocolate Christmas Cookie Recipe
Did we really catch your attention when we started talking about cookies, chocolate, and mint flavors in one place but you're less concerned about the involvement of fudge brownie textures than you are with the refreshing taste of peppermint? Then we have a feeling you might get along a little better with this absolutely decadent peppermint patty stuffed chocolate cookie recipe featured on Live Well, Bake Often!
29. Chocolate Chip Hazelnut Snowball Christmas Cookies
Any food that actually looks like a holiday element isalways an awesome idea in our books! That's why we were so excited when we came across this fantastic snowball cookie idea featured onFlavour the Moments! Besides looking fantastic, these cookies taste like chocolate chips and hazelnut for a perfect blend of classic and holiday.
Best Christmas Cookies
Here, we've gathered up the best Christmas cookie recipes we could find. They're delicious, they're decadent, and we want another batch!
30. Gingerbread Molasses Cookies – Christmas Cookie Recipes
If you're looking for an impressive homemade Christmas cookie recipe that will really impress the guests at your Christmas morning brunch then these gingerbread molasses cookies from The Domestic Rebel are just what you need!
It's great because they take almost no time to make and would be ideal for anyone who wants something quick, simple, and yummy on Christmas morning.
All you need is some time to allow the batter to set in the fridge overnight and a few minutes to bake them in the morning.
They're pretty simple to make and you don't need any fancy equipment so if you've got an oven then you can get cooking right away!
So try some of these simple gingerbread molasses cookies this Christmas and see what your guests think about them. They're sure to be a hit among everyone who munches on them!
To wrap it up, we'd definitely recommend trying out The Domestic Rebel's delicious gingerbread molasses cookies because they'll be perfect for anyone who loves soft and chewy cookies.
Check it out now and get ready for Christmas with these tasty treats! Or even better, share the love by gifting someone some of these homemade Christmas cookies this season too.
31. Gingerbread Brownies With Eggnog Frosting – Best Christmas Cookie
Carlsbad Cravings comes with an awesome recipe for gingerbread brownies with eggnog frosting that will definitely leave you asking for seconds.
The good news is that if you make them in advance then they'll keep for a whole week! So make sure to get started on these delicious treats as soon as possible.
It's important to remember that this recipe does take some time since the brownie part has to cool for at least an hour and the frosting will take another 45 minutes to set.
However, it's well worth putting in that extra effort because it tastes absolutely incredible and no doubt your guests will love munching on these homemade Christmas cookies!
In summary, this is a lovely twist on a classic treat and would be perfect for anyone who loves gingerbread brownies or eggnog-flavored treats.
What's great about this recipe is how easy it is to make so if you want something fast but still want to show off your culinary skills then give it a try.
32. Gilded Reindeer & Santa Ginger Cookies – Christmas Cookie Ideas
We've got another delicious recipe to share with you in the form of these gilded reindeer and Santa ginger cookies.
As their name suggests, they're decorated in very festive styles that will look great on your Christmas tree or when placed inside a cookie jar for safekeeping.
The best thing about this particular recipe is that it's suitable for any kind of celebration so if you fancy making them again then why not try dressing them up differently?
We love the idea of playing around with different festive colors and sprinkles because it makes them look even more special.
It would be even more fun to make them alongside some friends or family too because baking is always more enjoyable when there are plenty of people involved!
On top of all this, don't forget that gingerbread cookies are super tasty so everyone should enjoy eating these as well as decorating them.
One thing we would recommend is that you read through the entire recipe on Sweetapolita before you begin because there are some helpful hints and tips that will help improve the overall quality of your cookies.
It doesn't matter how they turn out, though, because they're sure to look amazing!
So, don't delay – give these cookies a go today! We think you'll be pleasantly surprised by how tasty are if you've never made them before.
33. Hot Chocolate Cookie Cups – Homemade Christmas Cookies
Hot chocolate is one of the best ways to keep warm in the winter months so what's better than a cookie shaped like a hot chocolate cup to warm your soul during this cold season?
These hot chocolate cookie cups are easy to make so there's no reason why you shouldn't get started on them right away.
If you don't have time for these this Christmas then feel free to use the recipe at any other point during the year because they're delicious during spring, summer, and autumn, too!
If you've never had hot chocolate before, though, then this is an excellent opportunity to try it out. This way you'll get a chance to see what all the fuss is about and also be able to share the experience with your family and friends.
These cups would be great around Christmas or winter-themed events of course but we think that they would be just as good served up at tea parties during summer vacations too.
We'd definitely recommend giving them a try if you're a fan of chocolate-flavored baked goods, especially if you're a huge fan of hot chocolate and can't see yourself without it come wintertime.
In summary, this recipe for homemade Christmas cookies is easy to follow so even if you've never made these types of things before then they will be quick and simple enough to try out.
We'd recommend reading through the entire recipe on The Gunny Sack's website before you begin to familiarize yourself with each step. This way you'll be able to easily follow along and bake your very own hot chocolate cookie cups in no time at all!
34. Nordic Sweater Cookies – Christmas Cookie Recipes
We love finding new recipes that are quick to make, tasty, and traditional. That's why we think the Scandinavian Sweater Cookie recipe makes the perfect homemade Christmas cookies.
It's true that the name may sound strange but it doesn't take long before you understand why these cookies have been around for so many years. You'll be enjoying them every year too because they're delicious!
These sweets are dusted with powdered sugar which not only tastes great but looks super cute too. Although they resemble sweater patterns, don't let that fool you into thinking that they're too easy to make!
The ingredient list is surprisingly long but everything you need can be found in any store that stocks traditional baking ingredients. If you're looking for something fun yet impressive to make this time of year then we'd definitely recommend giving these a try!
The good news is that Snickerdoodledoo has provided us with a pattern tutorial on her blog which shows you how to achieve this type of decorating style. There are plenty of photos included so even if you've never made these cookies before then it should be pretty easy to follow along with the guide!
Be sure to read all the way through the recipe because there are some hints about how to achieve the best results with your cookies. Now, what are you waiting for? Let's get started baking…
35. Kahlua Chocolate Truffles – Homemade Christmas Cookies
Kahlua is a popular brand of coffee liqueur that has quite a distinctive taste.
This recipe uses the flavor of Kahlua to permeate the white chocolate in this Christmas cookie recipe. We think it's fantastic!
The use of Kahlua means that these chocolates are actually very strongly flavored which gives them an extra-special kick compared with some other recipes out there. You can even taste the Kahlua in each bite rather than simply relying on its strong scent!
These are a little bit time-consuming to make as they have to be refrigerated for three days before being eaten but it's well worth the wait!
One thing we'll mention is that if you'd like these truffles to look a little more interesting, then try rolling them in crushed nuts or chopped chocolate. You can even sprinkle on some crushed peppermint leaves for decoration too.
If you want to get even more creative, you can also make them look really pretty by creating little striped patterns (the stripes are created using candy melts).
All in all, these tiny Kahlua chocolate truffles make for perfect small gifts or stocking stuffers; you can wrap them up individually or throw several into one big box as they're all roughly the same size.
36. Peppermint Oreo Truffles – Christmas Cookie Recipes
It's a little bit surprising to us how many Christmas cookie recipes use Oreos! There is no doubting their popularity and there is a good reason for that: they taste amazing.
If you're anything like us, then you will love these peppermint oreo truffles from Two Twenty One – they're the perfect mix of creamy, minty goodness which is something we just can't seem to get enough of.
This recipe calls for some melted white chocolate chips; it isn't the most complex but if you're not used to melting chocolate it might take some practice before getting this technique right.
We also think that using peppermint extract rather than fresh leaves (which are much harder to come by in many areas) helps make this recipe taste even more like the real thing.
All in all, this is a great mix of ingredients that are perfect for Christmas or to give away as gifts! Probably one of the best easy homemade Christmas ideas you'll find on this list.
The only real downside to these cookies is the fact that they don't last very long once you've made them so making a whole batch of these truffles might not be the best idea!
37. Chocolate-Covered Cherry Brownie Bombs – Homemade Christmas Cookies
What do you get when you take brownies, melted chocolate, and cherries and then mix them all together? This homemade Christmas cookie recipe from Simple Joy!
These little treats have a lot going for them: they look really festive so they'd go down pretty well at Thanksgiving too if you wanted to make a few extra batches of these cookies.
They're also quite rich so two or three of these should be more than enough as a 'sweet' after lunch or dinner.
They have a nice maraschino cherry taste that works very well with the chocolate without overpowering it – we think this is because the cherries are soaked in some kind of vanilla-based sugar water first. The end result is delicious!
This Christmas cookie recipe is quite similar to those that we've already seen above but there are a few differences. For one thing, it uses Oreos which many people tend to love more than normal chocolate cookies!
As a result of using these kinds of cookies instead, you also get a slightly different taste from the mixture of white chocolate chip and Oreo center rather than milk or dark chocolate.
Plus, you don't even really need to know any specific baking skills whatsoever since making individual cakes from scratch isn't usually an easy task anyway – thank goodness! All in all, this is a really tasty recipe you should try out!
38. Holiday Nutella Bites – Best Christmas Cookies
Another great kind of Christmas cookie recipes are those that don't necessarily scream 'Christmas' to everyone looking at them but they still taste absolutely amazing.
These little treats, for example, would go down brilliantly on a breakfast or brunch table if you served them with a cup of coffee or hot chocolate.
We think the best thing about these cookies is that even though they look like tiny balls of dough they actually have a really creamy texture and a delicious chocolaty taste – it's safe to say we're sold!
The recipe also calls for walnuts which might not be your favorite nut but their taste does help cut through the sweetness from the Nutella pretty nicely without making everything too overpowering.
This recipe is perfect if you don't have the right kind of cookie-cutter or other specific tools in your kitchen; you simply have to form a spherical object made of Nutella, Oreos, sprinkles, and some chocolate chips in your hand.
You should be able to do this with ease provided that you follow the instructions on Kleinworth & Co.'s website carefully and your dough is quite soft. If it's too stiff, just add some milk!
39. Christmas Funfetti Truffles – Best Christmas Cookie Recipes
Another great kind of delicious homemade Christmas cookie recipe is this one for Christmas Funfetti Truffles.
Why, you ask? Well, what's not to like about truffles coated with sprinkles and which also taste like they've been dipped in cake batter?
We've already talked about how Oreo truffles are great for chocoholics, but these Christmas cookie recipes are just as good – they're just a bit more festive than their chocolate counterparts.
You may think that something this sweet isn't the best addition to your holiday platters, but you're wrong! However, if you do decide to put some of these on your dessert buffet then we'd recommend pairing them with another kind of equally festive treat so the overall effect isn't overly sweet.
After all, this recipe calls for sprinkles which means it's perfect for kids! So even if you don't want an entire tray of these cookies yourself, get the little ones in and let them help out with creating this festive recipe!
Though we've tried our best to explain the texture and taste of these cookies with words alone, we would recommend that you go ahead and try them out at home – though don't forget to enter your email address on Lauren's Latest's website so that you won't miss any updates from her blog!
40. No-Bake Oreo Truffles – Christmas Cookie Recipes
Here's another holiday recipe perfect for chocoholics out there – or rather, for those who love the taste of Oreos.
Don't these delicious truffles look amazing? They're really no more difficult to make than sugar cookie truffles but they do take a bit longer because you've got to wait for the chocolate coating to set before you can actually bite into them.
However, it is totally worth waiting that little extra time because once they're done these cookies are simply scrumptious! And if you want to get even fancier with your Oreo Christmas recipes, then go ahead and dunk them in some melted white chocolate too.
These might not seem like something you'd want to eat at first, especially if you're looking for traditional holiday goodies; but trust us when we say they taste absolutely delicious and more than make up for their weird appearance.
Another great thing about these cookies is that they're really easy to whip up and you don't even need to turn on the oven!
We think this idea is great! What makes us love The Cozy Cook even more is that you can find lots of other tasty recipes on this site as well – and if you've got a soft spot for something sweet, we'd definitely recommend checking out the entire blog.
41. Eggnog Blossom Cookies – Homemade Christmas Cookies
This is another Christmas cookie recipe that's perfect if you have kids who are old enough to get involved with the baking process.
If you're not sure whether your little ones are ready, then just go ahead and give it a try – chances are you'll all enjoy yourselves so much during the making of these cookies that by the time they come out of the oven you'll have forgotten all about any arguments or disagreements. These eggnog blossoms really are fun!
They combine all the best flavors of Christmas: eggnog, vanilla, and a hint of nutmeg. It's almost as if these cookies have been made for this time of year.
The only major downside to them is that they do need to be stored in an airtight container otherwise their outer surface will start getting sticky – which does take away from their appeal somewhat.
However, other than that one tiny issue we think you should definitely give these Christmas cookies a try. Back For Seconds has got everything covered from ingredients to full instructions on how to make your own batch of eggnog blossoms without breaking a sweat!
But don't take our word for it; check out Back For Seconds' website for more details on this easy holiday recipe if you wanna find out what exactly goes into an eggnog blossom (hint: there are absolutely no eggs in there!) and how to decorate it so that you end up with a yummy cookie, instead.
While these aren't exactly traditional yuletide treats, they're still pretty darn close – plus, they're super-tasty! Just be sure not to eat too many of them, okay?
42. Christmas Tree Oreo Pops – Best Christmas Cookie Recipes
Oreo Christmas tree pops are pretty much guaranteed to be a hit with kids and adults alike – everyone loves Oreos!
They're really easy to make during the hectic holiday season when you can barely spare five minutes in between all of your other last-minute planning. So if you want something that does take effort but that won't break the bank then you'll definitely want to give these treats a try this year.
The recipe is quite simple, considering that all you have to do is find some Oreos, lollipop (sucker) sticks, white candy melts, and some sprinkles, and figure out a way to combine everything so that you end up with an Oreo-on-a-stick kinda treat.
Well, it's not exactly THAT simple, but it's also not too difficult, either; the point is that we're absolutely positive you're gonna do just great if you plan on making these Christmas tree Oreo pops for your loved ones.
Just check the complete recipe on It's Always Autumn's website if you want to find out more about these tasty treats. You'll find a list of ingredients, extensive instructions, and a lot of photos that will help you through the whole process.
43. Chocolate Brownie Christmas Cookies
Are you actually the kind of person who has trouble choosing between baked goods because you really love so many different kinds but you feel like you should only make one baked treat at a time?
Well, why not pick a recipe that lets you combine the great taste of two things you like in one place? We adore the wayCooking LSLmade these delicious chocolate brownie Christmas cookies that are also a little bit minty thanks to bits of crumbled candy cane!
44. Pistachio Kiss Pudding Christmas Cookies Recipe
Maybe this is mostly a thing where we come from, but pistachios have always been a classic holiday flavor no matter what kind of baked treat you're making! That and the inclusion of one of our favorite chocolates is what made us so excited to give these unique (and naturally Christmas colors) pistachio kiss pudding cookies from Yesterfooda try!
45. Cranberry Bliss Homemade Christmas Cookies
Like pistachio, cranberry flavors are another classic holiday element that we've always loved using to make the things we cook and bake around Christmas time taste a little extra great! These delicious cranberry bliss sugar cookies outlined step by step on Gimme Some Ovenare the perfect example of what we mean. They have the texture of a soft sugar cookie but all the good taste of those tangy little berries you know and love.
46. Red Velvet Shortbread Christmas Cookies Recipe
Just in case you're still enamored with the idea of putting creative twists on otherwise classic holiday baking, here's an idea that lets you up your Christmas shortbread game! Check out how Yellow Bliss Roadtook the Christmas break as an opportunity to try these red velvet shortbread cookies with a sugar crystal edge rather than just making the regular kind (even though regular shortbread is still melt-in-your-mouth good).
47. Red Velvet Cream Cheese Thumbprint Christmas Cookies
Maybe we got your mouth watering when we started talking about red velvet flavours but you're not so sure that you feel like making shortbread this week? Well, if you're a big cheesecake fan, maybe you'd prefer something like these red velvet cheesecake thumbprint cookies featured step by step onSomething Swankyinstead!
48. Chocolate and Vanilla Swirl Christmas Cookie Recipe
Are you quite interested in the idea of flavoured sugar cookies but you think adding flavour in the form of icing, sprinkles, and the like might make them a little too sweet for your tastes? Then maybe you'd get along a little better with a recipe like this chocolate and vanilla swirl holiday cookie outlined step by step onSpoonful of Flavour!
49. Nutella Stuffed Gingersnap Christmas Cookies
What if you'd rather have your gingerbread cookie flavoursand put a slight twist on the taste just to make it extra special for the holidays? Well, in that case, we think something like this Nutella filled gingersnap recipe outlined onBroma Bakery, which lets you blend ginger, chocolate, and hazelnut all together in one place, might beright up your alley!
50. Chocolate Cherry Melt-Away Thumbprint Christmas Cookies
In our house, putting a box of chocolate-covered cherries under the tree is another holiday treat tradition that we never miss out on. We're not sure how it started but we're certainly not upset about it! We're sure you can imagine, then, just how excited we were to discover this delicious chocolate cherry thumbprint cookie outlined step by step onThe Kitchen McCabe.
Conclusion
All in all, if you're stressed out that Christmas is coming and you want to impress your guests with homemade Christmas cookies, then you came to the right place!
So make sure to browse through our collection of delicious holiday treats and choose a few that you like the most.
Although it's important to remember that if you really want to impress your friends and family then we would recommend having at least two or three recipes prepared in case their favorite homemade Christmas cookies run out.
Make sure to always check the list of ingredients twice before you go out shopping, and refrain from using techniques or kitchen tools that you're not comfortable or experienced with. Stay safe and Merry Christmas, everyone!