50 Christmas Appetizers: Delicious Christmas Snacks to Make This Season
It's not too long till Christmas and you can almost smell the turkey cooking. There are all the usual staples that follow Christmas dinner with trimmings, roast potatoes, and your choice of veg.
But sometimes you need something to give it a little festive flair! Here are some great ideas for an array of delicious appetizers which will make fantastic additions to any Christmas Day spread.
Finding the perfect appetizer to get your holiday guests excited for dinner can be a challenge. From dips and spreads to miniature bites of veggies and meats, these eight recipes go above and beyond the standard cheese plate or crudité platter. So get creative this year with a spread that will wow everybody!
Christmas Appetizers
Looking for easy Christmas appetizers? Whether you're planning a holiday party or just having family over for dinner, these quick, easy & tasty recipes are sure to please everyone's palates this holiday season!
Christmas is a time of celebrating, friends & family, so having delicious appetizers at hand is pretty much compulsory! But don't worry – we have you covered with this selection of amazing Christmas appetizer ideas to rock any party!
There are so many different types of recipes here you'll find something new to please everyone's tastes and ensure nobody goes home hungry this holiday season.
So if you're in dire need of some great last-minute appetizer ideas for your holiday party, here's a list of our top picks that are super quick and easy but sure to please! After all, who says Christmas appetizers have to be complicated?
1. Homemade Cinnamon Rolls – Christmas Snacks
These homemade cinnamon rolls are incredibly easy to make and they'll definitely be the talk of the evening at this year's Christmas dinner if you plan on adding them next to the main courses as appetizers.
We all know that sweets should be served last, else you ruin your appetite, or so the myth goes, but for those of you with a sweet tooth, there's nothing wrong in nibbling on a homemade cinnamon roll if your stomach is making funny noises.
Not only do these little bites of heaven taste good, but they're also good for you too! These snacks are low in carbs and high in protein, making them perfect if you plan on having a big festive meal later.
If you want to make these little delights, let us show you how! Visit the tutorial above to learn how you can quickly whip up homemade cinnamon rolls and serve them as Christmas appetizers to your guests. We guarantee that they will be a blast!
2. Vegan Appetizer Plate With Three Dips – Christmas Snacks
A vegan Christmas appetizer plate with three dips is a must for those of you who are hosting the event and don't want to leave anybody out.
Everyone loves dipping their veggies into something, so why not serve up these little goodies as appetizers for your guests? We suggest you go with a selection of three dips to suit all tastes and diets. That way, your guests will be entertained for longer, and you won't spend too muchextratime in the kitchen.
Not only will this save you time in the kitchen when you're getting ready for the big day, but they also make for stunning displays on any table and can be whipped up in no time at all!
There's a little something for everyone in this Christmas appetizer plate, which will ensure that your guests don't go home hungry. To find out more, visit the tutorial above to learn how you can make vegan appetizers and impress everybody with a stunning holiday-ready dish!
3. Eggnog With Rum And Ginger – Holiday Appetizers
An appetizer perfect for any Christmas party, this eggnog with rum and ginger is tasty AND boozy.
We decided to put together this minimal effort recipe so you can enjoy delicious eggnog without having to go through all the hard work of baking cookies or cakes. We'll drink to that!
Mixing together familiar ingredients such as eggs, cream, sugar, and vanilla will give you a classic but delicious drink base.
Of course, you could always adapt the recipe by adding your own mixers from some other festive options out there. Rum and ginger are just the tip of the iceberg…
So if you're pressed for time this Christmas season but still want a killer holiday cocktail then let us show you how it's done in the tutorial above!
4. Cranberries And Baked Brie – Christmas Finger Foods
A recipe for Christmas finger foods that look beautiful and taste great, this cranberry and baked brie with a star-shaped pastry is a festive appetizer perfect to serve on Christmas day.
Of course, you can bake them up earlier in the day and let your guests wait before snacking away with these low-fuss treats. In fact, most of us would probably prefer serving them as an appetizer rather than waiting until mealtime to dig into the main courses!
The star shape is easy enough for even novice bakers to pull off but looks fantastic no matter what. You don't need to be a culinary genius to impress your friends and family with this easy snack for Christmas dinners.
5. Foie Gras Cranberry Chutney & Jelly – Christmas Eve Appetizers
If you want to go with a foie gras cranberry chutney and jelly recipe, these elegant appetizers for Christmas Eve will definitely turn out to be a little different but delicious.
Who says that appetizers need to be savory? Not us! Cranberries and pomegranates give this fruity dish the right amount of sweetness and tartness that it makes for an excellent late-night snack before you go to bed on Christmas eve.
Of course, if you're hosting a big day of celebrations yourself then there's no reason not to make these ahead of time. You can simply pop them in the fridge or freezer until your guests arrive and serve them as part-frozen snacks (yum!)
So why not try out this tasty holiday appetizer for yourself? Sure, it might be a bit more difficult to source the ingredients for these delicious appetizers, but trust us that the result will be absolutely worth it.
6. Salmon Snack On Potato Pancake – Christmas Snack Ideas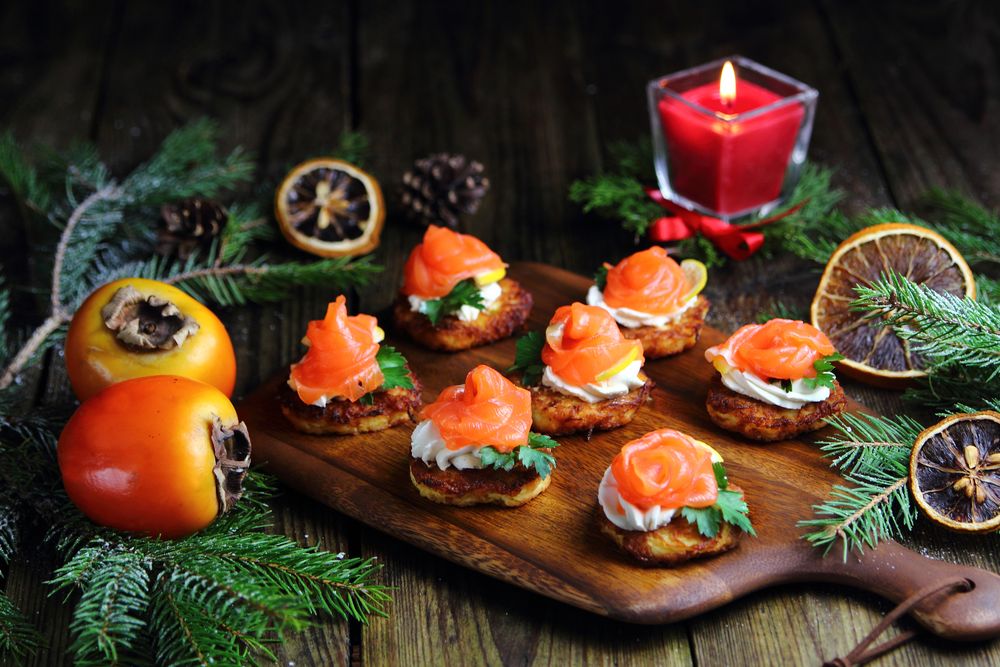 A simple salmon snack on a potato pancake, these easy Christmas recipes are perfect for any party.
We know that you might be stressed about what to serve your guests on Christmas day but don't worry because we have the perfect snack idea for you. This Christmas appetizer is so easy to make that you can have them ready in less than 30 minutes!
The secret here is really to use mashed potatoes as a base. It's what makes this dish stick together and keep its shape, making it not only fun to eat but also delicious too!
And of course, don't forget the salmon part. You can either grill or pan-fry these tasty fish morsels before placing them over your potato pancakes for a truly mouthwatering holiday snack idea.
So if you're hosting dinner at home on Christmas day then give these delightful little snacks a try yourself. We promise that they'll be nothing short of a hit with all your family and friends.
7. Christmas Tree Pate Canape – Easy Christmas Appetizers
A Christmas tree-shaped canape for Christmas appetizers, this easy recipe is perfect for any party.
Canapes are some of the easiest snacks to make during the holidays, especially if you're hosting a big dinner at home on Christmas day. This one-biter is particularly elegant because not only does it taste good but it also looks great too!
Of course, if you want to follow our lead then feel free to use green pesto as your 'tree'.
Don't stint on using smoked salmon either – these two ingredients really give this dish that extra bit of flavor that makes all the difference between an average snack and a memorable holiday treat.
And don't forget about presentation! You don't have to be a trained chef or pastry chef to make your Christmas appetizers look fantastic.
You can use any kind of cookie-cutter or biscuit cutter on the edge of the puff pastry first before cutting out the center Christmas tree shape.
8. Smoked Salmon & Cream Cheese Canapes – Christmas Party Food Ideas
This idea for a Christmas appetizer is definitely off the charts! Smoked salmon and cream cheese canapes are a simple yet elegant appetizer for Christmas, making it great for any party.
If you're hosting a dinner or a buffet at home on Christmas day then this quick and easy appetizer idea is just what you need. After all, not everyone has hours to spend in the kitchen cooking up a storm!
The reason why these appetizers work so well is that a lot of the ingredients are pre-cooked – things like smoked salmon and cream cheese can be bought from your local supermarket as finished products ready to use.
In fact, if you put out bowls of cream cheese and salmon for your guests to mix themselves then they'll have their own delicious little Christmas appetizers done in less than 3 minutes!
All that's left for you to do is to toast the bread and dish up some crackers, maybe with a garnish or two.
9. Christmas Cheese Platter – Best Christmas Appetizers
A cheese platter for Christmas appetizers is perfect for any party at home on Christmas day! Your guests will love this simple holiday food idea.
Cheese is always an easy Christmas recipe but it's even easier in finger form! These little morsels are so cute that they might just be mistaken for sweets when set out in bowls on your buffet table.
And what's more, this is one Christmas appetizer that you can enjoy even if you're vegan or just watching your waistline.
Why not use some gorgeous red grapes to decorate? Or maybe add in some sweet cranberries and walnuts for some nice color contrast.
All this snack requires is bread (fresh or toasted) and plenty of crackers too – don't forget the jar of pickles! You could use the example photo above as a reference and decorate the cheese and grapes on your platter in the shape of a Christmas tree!
10. Cucumber Bell Pepper Canapes – Christmas Appetizer Ideas
This idea of Christmas appetizers is perfect for any party on Christmas day – or even for New Year's Eve!
Christmas appetizer recipes like this one are always nice to bring to a potluck. This way, you can enjoy all the other people's delicious food but also have something tasty on your plate too.
And good news – this dish is vegan-friendly so you don't need to worry about telling your guests (or offending anyone!).
All it takes is cucumber, red bell peppers, and some seasoning to make this festive recipe work. You could use some dill as a garnish, but feel free to get creative on your own and use whatever strikes your fancy.
The simplest thing would be just mixing everything together in a nice shape and setting it out in pretty bowls on the dinner table.
11. Cranberry Cream Cheese Pinwheels – Christmas Party Appetizers
These cranberry cream cheese pinwheels are an especially cute idea for Christmas appetizers – they look so festive!
If you have a family to please on Christmas day then no one will say "no" to these adorable snacks. These little bites of heaven are super easy too, only taking about 20 minutes from start to finish!
They work great as buffet food, but could also be served at a party or potluck. Just put the ingredients out into individual bowls and let everyone make their own before eating them.
You can buy pre-made croissants in most supermarkets either baked or frozen (just make sure you thaw them first). If not, feel free to use your favorite recipe instead, making sure it's sliced into thin rounds.
12. Christmas Tree Appetizers With Feta, Rosemary & Pomegranate – Christmas Appetizers Recipes
The ingredients in these Christmas appetizers are probably ones you have lying around already!
These little snacks are the perfect idea for anyone trying to avoid too much of a fattening Christmas dinner.
Christmas appetizer recipes like this are always nice to bring along to a potluck where you can enjoy everyone's different food without needing to eat an entire meal full of fat and calories.
And good news – this recipe is vegan-friendly so there will be no hurt feelings when you tell your guests (or yourself) that you're only having veggies for dinner!
All it takes is some pita bread, feta cheese, rosemary, pomegranate seeds, salt & pepper. Slice up the pitas into Christmas tree shapes and lightly toast them in the oven for a few minutes to warm up.
Then arrange all of your ingredients onto one platter, drizzle on some olive oil & balsamic vinegar – and you're good to go!
13. Turkey Meatballs & Sweet Chili Sauce – Christmas-Themed Appetizers
Christmas appetizer recipes like this one are a great way to start your meal off right!
These little snacks are the perfect idea for anyone trying to avoid eating an entire Christmas dinner. And they're so easy to make too!
All you need is some ground turkey, an egg, breadcrumbs, rice flour, and salt & pepper. Mix everything all together in a bowl until it forms one uniform ball of meat – no clean hands required (yay!).
Then heat up your pan on medium-high heat with enough oil to cover the bottom. Fry them up until browned on both sides but not cooked through (this might take 10 minutes or so). Then transfer them into waiting bowls.
While that's happening mix together your sweet chili sauce and add it in when you're ready. Make sure to add just enough for a nice glaze, not heaping tablespoons full!
Or, better yet, leave the sauce in little bowls around the table so your guests can dip the meatballs in it at their leisure!
14. Goat Cheese Balls With Pistachio, Pomegranate & Flax Seeds – Make-Ahead Christmas Appetizers
These goat cheese balls require a little bit of time and effort before you can enjoy them for Christmas appetizers, but the results are well worth it!
They work great as buffet food, but could also be served at a party or potluck. Just put the ingredients out into individual bowls and let everyone make their own before eating them.
These little snacks are the perfect idea for anyone trying to watch their figure but still enjoy a fancy Christmas dinner.
All it takes is some goat cheese, pistachios (if you can't find these in your area any other sort of nut will do), pomegranate seeds, flaxseeds, salt & pepper, and honey.
Mix everything together into a uniform ball then roll into little balls that fit in the palm of your hand (about 4-inch diameter).
Then arrange all of your ingredients onto one platter and drizzle on some olive oil & balsamic vinegar – and you're good to go!
You can also use salty sticks to make the cheeseballs easier to grab without making a mess. Just drive a salty stick straight through the middle of the cheeseball and make sure that there's enough stick for your guests to grab on.
15. Cocktail Shrimp Shot Glass – Easy Christmas Appetizers Finger Foods
Make your Christmas appetizers more elegant by serving them in shot glasses!
These mini appetizers are so cute and so effective, you'll find yourself making them year-round.
Just pack up your shrimp cocktail ingredients into a mason jar or similarly-sized glass container with a lid, then marinate overnight. It's that easy – no cooking required!
Once your shrimp are nice and tender you can transfer everything into the shot glasses, plop on a single cilantro leaf for garnish, bite in, and you're good to go!
That's it – four easy Christmas appetizers that are perfect no matter what your guests are celebrating this holiday season. So get out there and eat up!
Then lay the shrimp cocktails out on one platter with some toothpicks stuck in each one for self-serving purposes. For presentation purposes use some colored pepper slices to make it look more Christmasy.
16. Tartlets With Salad – Christmas Appetizer Plates
Christmas is the perfect time of year to serve up some delicious and healthy Christmas appetizers for your friends and family!
These little tartlets not only look great on the plate as a mini-meal, but they also taste great as well.
All you need is some pastry dough (pre-made is fine), some cucumber and parmesan cheese, and whatever flavor of dressing you prefer.
Now just bake up all of the tarts according to the package directions, take them out once they're golden brown, let them cool slightly before adding in your salad ingredients, then finish off by drizzling on your chosen dressing and putting the tarts into to-go containers as Christmas appetizers or as a quick and easy lunch.
Make it simple by cutting your ingredients into thin slices or fancy shapes and arranging them onto your tartlet crusts to make each one unique. Garnish with sprigs of thyme and chives for added effect.
17. Smoked Salmon, Cream Cheese & Avocado Canapes – Christmas Appetizers
Cream cheese, avocado, and smoked salmon are a perfect combination made even better with some lime juice, salt, pepper, red onion slices, alfalfa sprouts or chives (chopped), and your choice of sliced bread.
This Christmas appetizer idea is not only easy to make, but it's also a healthy choice for those who want to avoid deep-fried foods and other unhealthy options during the holidays.
You can use storebought bread as a base, or you can make your own whole wheat or gluten-free version at home if you prefer that.
Make it simple by slicing everything up into uniform shapes and sizes to fit onto the bread slices. Then use tartlets instead of full pieces of bread so you can serve them in individual portions.
Once everything is roughly cut up just spread everything onto your pieces of sliced bread and arrange it onto platters for serving – and voila! You're all set with a quick and easy Christmas appetizer idea perfect for any occasion. Garnish with some sprigs of thyme & rosemary before serving!
18. Pigs In A Blanket – Christmas Snacks
Pigs in a blanket are easy to make, taste great, and are also perfect for any occasion.
To make your own tasty pigs in a blanket simply take some cocktail sausages (or hot dogs depending on preference), wrap them up in strips of bacon (pork or vegetarian options available), settle them onto a baking tray, then bake in an oven until the bacon is crispy.
The base can be either storebought mini choux pastry shells so they're quick to prepare, or you can make homemade versions at home if you prefer that. Just par-boil the shells before adding in the sausage meat stuffing.
Then brush over some egg wash & sprinkle on some salt/pepper/seasonings to taste before popping the tray into the oven to bake.
Have a go at making your own pastry pieces for this Christmas appetizer idea by cutting out circles, squares, or whatever shapes you prefer from the store-bought pre-made dough.
19. Crostini Skewers With Salami, Brie & Cranberry Sauce – Holiday Appetizers
Crostini skewers are a great appetizer that not only tastes good but also looks fantastic too.
All you need to do is simply spread some cranberry sauce onto your crostini pieces, add in a bit of brie cheese & salami, then finish things off with a sprig of rosemary or thyme for added effect.
And there you have it! A quick and easy Christmas appetizer with a tasty Italian twist that will most definitely impress your guests.
To make these delicious holiday appetizers even more festive feel free to add in any other types of dried fruit such as raisins, dried apricots, or figs.
If you feel like going with a more rustic approach for this Christmas appetizer idea, then go for wooden platters instead of plates. Just make sure you have enough for everyone!
20. Star-Shaped Pates With Smoked Salmon – Christmas Finger Foods
Gourmet pates are a fantastic way of showing off your cooking skills and they're also an extremely delicious Christmas appetizer option that everybody will enjoy.
To make these star-shaped appetizers simply use any pastry or pie dough recipe (store-bought is fine) and cut it up into small circles.
Then add in some spoonfuls of smoked salmon & mushroom mousse (or alternatively you can use creamed spinach, chicken liver pate, or whatever other filling you prefer).
Just place all your ingredients onto half the pastry circles before adding on the other top half to form little parcels.
Use a bit of beaten egg white as an optional glue before baking them in the oven until golden brown. These taste great served alongside bowls of horseradish sauce for dipping.
21. Herring Fillets On Star-Shaped Cheese – Christmas Eve Appetizers
Herring fillets are a traditional fish for Christmas Eve but they make a great appetizer too.
To make this festive feast all you need to do is simply brush each fish fillet in some lemon juice & sprinkle on some salt, pepper, and dill (or whatever other herbs you prefer).
Then set them onto preheated baking trays before placing them into an oven for approximately 20 minutes at 190 degrees Celsius (depending on your oven).
While the herring fillets are being cooked in the oven, grab some cheese and cut it into little star shapes. These pieces of cheese will serve as beds for your herring fillets.
Suggestion: before you place the herring fillets on the cheese pieces, you might want to let them cool for a bit. Otherwise, your star-shaped cheese will start to look a lot more different.
And there's your tasty fish dish! Just serve up alongside bowls of mashed potatoes or potato salad (and don't forget the side of bread for dipping).
22. Stuffed Eggs With Salmon Caviar – Christmas Snack Ideas
Salmon caviar is the perfect topping for any Christmas appetizer idea.
For this appetizer recipe, all you need to do is hard-boil some eggs, allow them to cool & peel, then cut them in half lengthways.
After that take your knife and carefully scoop out the insides of the egg white before spooning it into a bowl along with some salmon roe (also known as salmon caviar).
Use whatever amount of ingredients you prefer according to how much stuffing you have. Just remember that if you're using less salmon caviar then it's best not to use too much egg yolk since that will affect both its flavor and consistency.
You can use toothpicks or skewers to make the eggs easier to grab, but don't drive them through the eggs just yet. Instead, merely set them next to the dish so that your guests can choose how they enjoy this snack.
And there's your tasty treat! You can either serve these on their own (or if you want to get more creative, serve it with toast points for some extra crunch).
23. Puff Pastry Appetizers With Baked Brie & Cranberries – Easy Christmas Appetizers
Puff pastry appetizers are perfect for any Christmas dinner party.
For this dish, simply place a wheel of Brie on top of a puff pastry sheet before decorating it with some cranberries and chopped nuts.
Then add in a splash of cream or milk to give everything that extra richness and flavor. You can also add more salt & pepper if you want to really pep up the taste too. And if you're feeling adventurous, why not try adding some garlic, basil, or thyme?
When you're happy with how your puff pastry brie appetizers look, just pop them into an oven preheated at 200 degrees Celsius for 10-15 minutes (or until the cheese is oozing out).
At the end of the cooking time, your puff pastry appetizers will be perfect to serve up alongside some jam or chutney.
These are best served when they've just come out of the oven. Alternatively, you can enjoy them after they've cooled if you're in a hurry.
But don't bother taking too much time to look for these appetizers since these tasty treats will disappear faster than you think!
24. Prawn Salad Minibrioche – Christmas Party Food Ideas
One of the yummiest and easiest Christmas appetizers to make is prawn salad in mini brioche.
For this appetizer idea, all you need to do is cook some prawns (also known as shrimp) and chop them into little pieces. Then add in some mayonnaise, chopped onion, salt & pepper for taste, and a dash of lemon juice if desired.
Next grab your mini brioche rolls, cut them open and fill them with the prawn salad mixture before sprinkling it with celery leaves for decoration. And there you have your tasty recipe ready to serve up!
You can eat these tasty treats either by themselves or alongside other dishes like soup or chili con carne (just remember to make enough mini brioches for everyone at your table).
This is one of the easiest Christmas appetizers to make, with just 5 minutes of prep time needed, especially if you use store-bought "blank" mini brioches.
25. Antipasto Platter – Best Christmas Appetizers
The Christmas antipasto platter is another easy Christmas appetizer to make, allowing you to enjoy some very tasty deli meats.
For this dish, simply pick out three or four types of meat (or more if you like) and cut them up into small strips. Then add in some cheese (e.g., Gouda), olives, and sundried tomatoes all placed on a wooden serving board before adding a dash of olive oil for flavor.
You can add in other goodies such as pickles if desired too! This is one of the simplest yet tastiest ways to serve up deli meats during any party since it's so quick and easy to prepare while also being something that everyone enjoys eating.
Of course, you can always switch things up by using different kinds of deli meats instead if you want to try something different.
And don't forget to serve this dish with some crackers or even croutons too! Last, but not least, if you want your guests to get into the spirit of Christmas, you should arrange the contents of the platter into a Christmas tree shape.
26. Stuffed Pancakes With Green Onions – Christmas Appetizer Ideas
If you're looking for a super easy yet tasty Christmas appetizer, then this is the one to try.
All you need are some pancakes, stuffing mix, cream of chicken soup, and chives or green onions.
Simply cut open the pancake into half before adding any desired stuffing mix on each of them. Then add in some grated cheese (e.g., cheddar) along with some chives on top before placing another pancake on top of it all.
Once done cooking these stuffed pancakes in an oven preheated at 200 degrees Celsius for 10 minutes or until golden brown, your first batch of delicious treats is ready to serve up!
You can create more batches by repeating the same process as long as you have enough pancakes and stuffing mix.
If you want to get really creative, instead of cutting open the pancakes into half, you could make regular pancakes, add the stuffing at the middle of it, then bring it all together and tie it up with a green onion leaf.
27. Sausage Pastry Pigs – Christmas Party Appetizers
These little pig pastries are a festive and easy Christmas appetizer to make whenever you're looking for something tasty yet quick.
To prepare this dish, simply grab two or more sausages of your choice, cut them in half or quarters if desired, add them onto some pastry dough, and bake them until they turn golden brown. And there you have it!
For a healthier twist on this dish that's also suitable for vegetarians, try using pesto instead of pork sausages into the mix. Just remember to cut down on the amount of salt used while preparing this recipe too.
If you do choose to make this dish vegan-friendly, just make sure you won't shape the snacks as pigs, such as in the example photo above. You'd be way better without heated arguments during Christmas dinner.
28. Pear & Brie Crostini With Honey, Pecan & Rosemary – Christmas Appetizer Recipes
Another delicious but simple Christmas appetizer to make in a jiffy, this Crostini is one of the tastiest ways to serve up Brie cheese.
All you need are some slices of pear, Brie cheese, honey, pecan nuts, and rosemary sprigs.
First, mix the honey and pecan nuts in a bowl before toasting them for about 10 minutes or until brown in color.
Spread some Brie cheese onto each slice of pear before drizzling on some honey over it all. Then sprinkle on some pecan nuts before adding a rosemary sprig on top.
Finally, add a few chopped pecan nuts and a rosemary sprig for garnishing before serving them up on a wooden board or plate alongside any other desired food items such as crackers or breadsticks.
If you do prepare these ingredients beforehand, make sure they're brought back to room temperature before spreading them onto the crostini slices so that everything will melt evenly after it's baked in an oven for about 10 minutes.
Since not only is this dish good enough to eat by itself but it can also pair well with any other dish being served during Christmas dinner, it's definitely a great dish to go for.
29. Christmas Tree Cheese Pizza – Christmas-Themed Appetizers
If you're looking for different types of Christmas appetizers to prepare at home, why not try making this Cheese Pizza Tree?
To get started, simply grab whole wheat or white cheese pizza dough and roll it into a circular shape. Next, cut off the outer edges and place these strips onto a baking sheet in order to create the tree's branches.
Then spread out some marinara sauce on top of the entire pizza base before adding some mozzarella cheese and grated Parmesan over it all.
Using a cookie cutter (or you can use various other objects such as small bowls or even an apple corer if needed), cut out different size circles from all sorts of cheeses such as cheddar, Swiss, Colby, or Monterey Jack.
Using a toothpick, thread each ring onto the tree trunk before laying them all out evenly over the entire surface of the pizza base.
And there you have it! A festive Pizza Tree that's perfect for Christmas dinner parties. It looks pretty cool too.
30. Granola-Stuffed Baked Apples – Make-Ahead Christmas Appetizers
Another tasty but healthy Christmas appetizer to make for your guests that will certainly become a hit with children and adults alike is granola-stuffed baked apples.
To get started, simply cut the top off of some apples before hollowing out their insides using an apple corer or spoon.
Then fill up each cavity with some granola (without it spilling over the sides) before placing them onto a baking tray. And there you have it! A delicious dish for everyone to enjoy during the festive season!
Since these baked apples can be made in advance and stored in an airtight container at room temperature until served, this makes them ideal for Christmas party hosts too.
Just remember to remove them from the refrigerator about half an hour before serving so they can work back to room temperature before guests arrive.
31. Crostini Appetizers With Brie, Feta, Cranberry Sauce & Rosemary – Easy Christmas Appetizers
Another delicious but simple Christmas appetizer to prepare for your guests this holiday season is Crostini appetizers with Brie, feta & cranberry sauce.
Using whole-grain baguette slices, spread some Brie cheese onto each slice before adding a dollop of cranberry sauce and some crumbled feta on top.
Then garnish with a few sprigs of rosemary before serving these tasty Christmas appetizers alongside any other desired food items such as crackers or breadsticks. This easy-to-prepare dish is especially great for kids and can be made well in advance as well.
Besides being able to serve these up as an exclusive appetizer at a dinner party or buffet, they're also great served alongside other dishes being served during the big day itself. So this makes them ideal for any family gathering too.
32. Reindeer Mini Burgers – Christmas Appetizer Plates
Another great appetizer to prepare for your dinner party or buffet this festive season is Reindeer Mini Burgers.
To get started, simply mix together some lean beef mince (ground beef) with Worcestershire sauce and salt before dividing the mixture into four sections.
With one section at a time, place it onto wax paper before placing another sheet of wax paper on top; roll out the meat until it's about 1/4-inch thick. Repeat this process until all four sections are rolled out evenly.
You can now cut these meat sheets into small squares or circles using a cookie cutter (or you can use a small bowl if needed). Then heat up some oil in a frying over high heat before cooking each piece of meat for about two minutes on each side.
Once they have been removed from the heat, you can now use a toothpick to make some arms and legs for your reindeer mini burgers (or simply cut out some pre-made small pieces and place them on top).
Lastly, you can add a bit more decoration onto these Christmas appetizers using some canned cranberry sauce before sprinkling some green onions (scallions) over the top as well. And there you have it! A fun dish that's easy to prepare and makes an excellent addition to any festive dinner party.
33. Cheese & Grapes Wreath On A Plate – Christmas Appetizers
Last but not least is a dish that looks too good to eat! This cheese & grapes wreath on a plate makes a great appetizer for any Christmas dinner party or buffet.
Start this festive meal by placing a layer of plastic wrap onto the surface being used before adding some round slices of cheese from the center outwards.
Then add in some grapes within the circle created before folding up this circular wreath and securing it with another piece of plastic wrap.
Once it's done, you can remove the excess air from around this Christmas appetizer using a straw before finally serving it on a plate surrounded by crackers and other desired food items.
Naturally, you'd want to remove the plastic wrap before your guests start feasting on it. Otherwise, they might believe it's just a decorative object casually placed on your Christmas dinner table.
You can use any type of soft cheese if you wish when making this reindeer appetizer. Alternatively, you can also use cheesecake instead to make this dish even more festive.
34. Christmas Wreath Salad With Beetroot, Apples, Oranges & Honey Mustard – Christmas Snacks
Another festive Christmas dish that's not to be missed is this Santa Claus salad, also known as the Christmas wreath salad.
This dish makes for an excellent appetizer at any dinner party or buffet being organized this holiday season. And all you have to do is follow these simple steps outlined below:
To start, first, make some tiny croutons (or use some day-old bread) and shape them into a circle using your hands before baking them until they're crispy. Then set these croutons aside until they are needed later on.
You can now make your favorite honey mustard dressing (using honey instead of sugar if desired) using extra virgin olive oil (or other types like barley malt used in place of oil), Dijon mustard, fresh lemon juice, and so on.
Lastly, you can now arrange your desired ingredients into a Christmas wreath shape using the beets (or beetroots), oranges, apples, radishes, or other raw vegetables that are available in season.
Once you're done decorating the surface of this dish with your favorite ingredients, simply drizzle some honey mustard dressing all over it before finishing off this appetizer by sprinkling some crispy croutons over the top.
35. Stuffed Tomato Santa Claus – Holiday Appetizers
Just as you can create a Christmas wreath salad, so too can you make this other festive and fun dish that's decorated in the form of Santa Claus.
To start this dish off, firstly you should use some firm tomatoes before carefully carving out their centers to create a cavity big enough for stuffing.
Once you're done scooping out all those insides from each tomato, don't discard them just yet since these are going to be used shortly.
For the batter surrounding this stuffed tomato appetizer, batter mix along with some water is needed before whisking it into shape using any desired tool (like a fork). A frying pan or skillet will also come in handy during this step.
Then cut up the concentrates created from those insides scooped out from the tomatoes before frying them in a separate frying pan (or skillet) using some oil or butter.
When those tomato centers and those fried concentrates are now well cooked, simply combine them together before adding some salt and pepper as desired.
You can then stuff this mixture into your hollowed-out tomatoes before finally placing these stuffed tomato appetizers on an oven tray to complete their cooking process for around 10 minutes at 350° F (176° C).
As for garnishing this dish, you can use fresh parsley leaves along with some paprika if desired. Once it's done, simply stick a toothpick through each of these Santa Claus-inspired appetizers before serving them up to your guests for a fun and festive treat.
More Christmas Appetizer Ideas
We have prepared even more Christmas appetizer ideas so you can get even more inspired for the next Christmas menu.
36. Christmas Appetizers – Cranberry & Brie Bites
Nicky's Kitchen Sanctuarystarts us off with a delicious cranberry and brie pastry bite that will satisfy all of the taste buds at the party. You may even have some of the kiddos tasting these ones! Filled with Christmas flavors and the perfect way to start dinnertime, hop on over now and snag the recipe.
37. Toasted Ravioli – Holiday Appetizers
These toasted raviolis from Garnish & Glazeare sure to be the hit of the party. Sprinkle them with some grated parmesan and make sure there's enough marina to dip the tasty bites in. If you're looking for something comforting and cozy to start your meal off right, this is it!
38. Christmas Tree Pull-Apart Bread – Christmas Party Appetizer
All your guests or family have to do is grab a piece and go. This pull-apart masterpiece is from Eclectic Recipes. And that Christmas tree shape adds just the right amount of festivity to the meal without skimping out on flavor.
39. Slow-Cooker Cranberry BBQ Meatballs – Christmas Appetizers
Grab the slow cooker and get started! Don't be scurrying around the kitchen trying to finish up the night's appetizers. Instead, follow along with the recipe at Tastes Better From Scratch and have the early bites ready to go right from the pot.
40. Baked Ham & Cheese Roll-Ups – Christmas Party Food Idea
High Heels and Grills gives us another fan-favorite appetizer idea. They're simple to make and they'll always satisfy. That poppyseed topping is what takes these to the next level so don't forget to add it!
41. Loaded Hasselback Potato Bites – Easy Christmas Appetizers Finger Foods
These hasselback potatoes are not only pretty to look at but oh so delicious to bite into! Grab the details at The Comfort Kitchen and have fun topping each of them off with the loaded toppings. Sour cream, bacon, chives …. they're scrumptious!
42. Pigs in a Blanket Christmas Snacks
Country Livingshows us how to make out very own pigs in a blanket too! Instead of buying them frozen, learn how to build these classic appetizers from scratch. And then serve up with a side of spicy mustard to give the right kind of kick!
43. Eggplant Parm Bites – Christmas Themed Appetizers
For our Italian food lovers out there, we bring to you something extra special from Delish. take eggplant parmesan and turn them into bite-sized treats. With marinara on the side, it's a fun twist on a classic entree!
44. Caprese Salad Wreath – Christmas Eve Appetizers
Super each to whip up and festive too, check out this caprese wreath from Cafe Delites. Sometimes food is truly all in its representation, and this is certainly a beautiful dish to add to a holiday spread. While you finish up dinner, your loved ones can be munching of these fresh bites.
45. Apple Pie Bites – Easy Christmas Appetizers
Not all of your holiday appetizers have to be savory, you can add a bit of sweetness to the table as well. Check out how to make these apple pie bites over at The Blond Cook. These taste like Christmastime and your guests will love every flavor that's hidden inside.
46. Christmas Cheese Tree – Best Christmas Appetizers
Turn your cheese into a Christmas tree. How can you do that? Well, The Girl Who Ate Everythingwill show you how. Not only will this be a showstopper in appearance, but who doesn't love cheese?
47. Pastrami Pretzel Bites – Christmas Finger Foods
Pillsbury knocked our socks off with this recipe. Pretzel rolls filled with delicious pastrami and melted cheese, sliders are always a hit of the party. But, with this idea, you get something a bit innovative and different to try!
48. Cranberry-Apricot Baked Brie with Honey – Make Ahead Christmas Appetizers
Baked brie is another classic holiday dish. And over at Country Livingyou can learn how to make it right at home with all the extra flavors it needs to bring it over the top. Add honey, apricot, and cranberry for a memorable bite.
49. Bacon-Wrapped Cheesy Stuffed Jalapeños – Christmas Appetizer Ideas
Sally's Baking Addiction added some spice to our holiday menu! These bacon-wrapped and cheese-stuffed jalapeños are fresh and delicious. Have these passed around before the party to really ignite everyone's tastebuds.
50. Sloppy Joe Reindeer Sliders – Christmas Appetizer Plates
And finally, over at Kitchen Fun With My Three Sons we get another fun and festive idea. Slider sloppy joes are really fun for everyone at the table. But, when they're dressed like Rudolph, they become even more charming and delicious.
Conclusion
To wrap it up, Christmas is a time for celebrating and spending time with family. And what better way to spend this holiday season by creating a nice, fun, and festive spread filled with all sorts of delicious appetizers?
In this guide, we've brought together a plethora of appetizers that are not only fit for this festive season but also incredibly easy to make. And with just these Christmas appetizers alone, you'll be able to create the perfect spread this holiday season whether you're planning some sort of dinner party or buffet.
So what are you waiting for? Get right into it by preparing your mise en place (i.e., gathering all the ingredients and utensils required) before cooking up some amazing appetizers that will go down a real treat with your loved ones this festive season!