Halloween Themed Lunch Snacks for Kids
If you ask us, the fact that Halloween is only one day out of the year does not have to mean that that's the only day your food and snacks can help you celebrate the spooky spirit of the month! Since Halloween is quite a food-centric holiday, we absolutely adore incorporating spooky characters and themes into meal sand snacks all month long, even when there's no candy involved at all. Our kids' school lunches, for example, are the perfect place to get creative with spooky snacks!
Just in case you've been trying to think of slightly more nutritional ways to make your kids' lunches Halloween themed besides throwing some candy in each day, here's a list of our 15 favourite ideas that we've found so far!
1. Jack O Lantern crustless sandwich
Are you a little bit pressed for time but still totally intent on giving your kids a spooky themed lunch, even if the ideas are simple? Don't worry; they'll be so excited even just to see the shapes you've made that they won't mind a bit whether your ideas are complicated or not! We love Cute Food for Kids's totally doable suggestion of cutting the crusts off a sandwich in the shape of a pumpkin, using carefully cut pieces of seaweed to make the shape of a Jack O Lanter's face, and even making a cherry tomato look like it's got exposed bones by creatively cutting up some cheese!
2. Spiders, ghosts, and finger bento box

Have you always loved the idea of making your kids a bento style boxed lunch where they get many little snack dishes in compartments so that everything's organized and all their food groups are there? Then you've got lots of opportunity to turn each snack into something spooky! The World According to Egg Face suggests cutting pieces of cheese into ghosts, using olives to turn a hard boiled egg into a spider sitting on a web made of lettuce, and using red peppers to add "nails" to pepperoni stick "fingers". Top all of that off by making "mud" pudding from Oreo cookies and nestling a couple gummy worms into the "dirt" for dessert!
3. Pumpkin orange and broomstick pretzels
Would you rather make your kids just a couple standout Halloween themed pieces in their snack plate rather than transforming every single thing, making them particularly excited to eat some of the healthiest parts of their meal? In that case, check out how Yum Box Lunch used a simple sharpie to draw a Jack O Lantern face on the outside of an orange before wrapping broom bristles made of thinly cut cheese around the bottoms of pretzels to make crunchy little broomstick crackers like a tiny witch might fly away on.
4. Pretzel and chocolate spider webs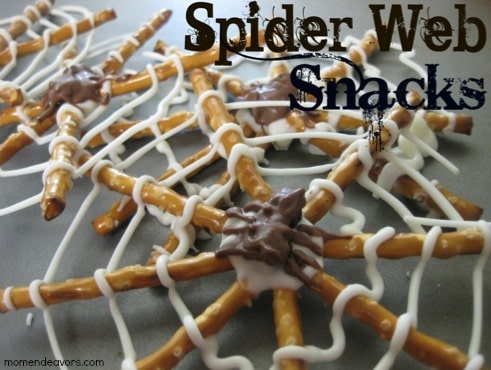 Perhaps you'd like to make your kids a snack that they can actually help making the night before and then pack one in their lunch the next day like an extra special treat? In that case, we definitely think you should take a look at this pretzel, icing, and chocolate spider web idea from Mom Endeavours! They show you how to make the pretzels splay out from the middle like spokes so you can create a webbed spiral all around and across the top. Finish it off with a spider made of carefully shaped melted chocolate in the middle and voila! A sweet and salty novelty snack!
5. Spooky fruit snacks