30 Halloween Snack Ideas: Easy Halloween Lunch Ideas for Your Kids
Those of you who love Christmas or Valentine's Day-themed snacks are probably big fans of celebrating special occasions using foods. This includes learning about and cooking Halloween lunches and snacks that you can enjoy either alone or with friends.
Of course, besides adding pumpkin and pumpkin spice, there's nothing much you can do to your everyday food to make it Halloween-themed other than decorating it in a certain way, and you like getting creative with your food, then you'll definitely love this article.
We compiled a list of 30 different Halloween snacks that you can try out, including some healthy for those of you who are afraid that all that Halloween candy will ruin your teeth, waistline, or both.
Here Are the Most Popular Halloween Snacks of 2021
Snacks are our guilty pleasure, and Halloween is the perfect occasion for you to indulge in some of these sinful delights.
They are usually easy to prepare, very delicious, easy to share (if you're willing to), and they also make for excellent finger food that you can serve trick-or-treaters or your guests if you decide on hosting 2021's Halloween party in your neighborhood.
Well, if you're looking for some creative Halloween snack ideas, check out the following section for some ghoulishly delightful recipes that you can try out to celebrate Halloween.
1. Halloween Snack Ideas – Spider Web Cupcakes
If we were to rank guilty pleasure foods and snacks, cupcakes would most likely be in everyone's top 3, so it should come as no surprise that the first entry on our list is also a recipe for cupcakes, but with a bit of an arachnid twist to them.
You need about 1 hour to make 16 cupcakes, and as far as ingredients go, there's nothing particularly special that you would need that you wouldn't usually use when baking cupcakes.
For example, the cupcakes themselves are made using ripe bananas, buttermilk, eggs, water, vegetable oil, sugar, flour, cocoa powder, bicarbonate of soda, and some salt, while the toppings themselves only need dark and white chocolate to make.
However, suppose you happen to know a good and reliable cupcake recipe already, and you'd like to stick to that instead. In that case, you can go right ahead, since the only thing that makes these cupcakes well-suited for Halloween is the design of the frosting and not the cupcake itself.
On that note, if you don't like chocolate, you can go ahead and replace it with something else entirely, and even change the whole color scheme with the help of food dyes.
If you go ahead and follow the step-by-step recipe for spider web cupcakes, you'll see exactly how all the ingredients need to be prepared, mixed, and baked, as well as learn some extra tips and tricks that can help you make them better.
2. Halloween Snacks for Kids – Marshmallow Monsters
There's something about making food look like living creatures that makes it all the more delicious, and when it comes to Halloween snacks for kids, few things can be as appealing as these marshmallow monsters.
Not only do they look amazing and fun, but they're also incredibly easy to make since they're basically marshmallows covered in candy sprinkles, candy, or chocolate fondue.
All you need is a bag of jumbo marshmallows, candy, chocolate icing, candy sprinkles, whatever decorative candy you have at hand, toothpicks that will be used as handles, and a piping system to lay down the icing.
Once you have all the ingredients, it's entirely up to your imagination how you decide to decorate the marshmallows, but as you can see, there are specific classics that don't seem to die: green zombies, purple vampires, blue Frankenstein monsters, plain white ghosts, etc.
If you want to see exactly how you, too can turn these puffy little treats into mini monsters using nothing but candy and you're creative mind, check out our detailed recipe for monster marshmallows.
Note: Despite being candy, Marshmallows are mostly air, so people will likely eat a lot of them before they get their fill, so make sure you make a LOT of them.
3. Easy Halloween Snacks – Mini Pumpkin Pies
People love pumpkin pies, and people love small snacks that they can pick up with their fingers and eat with a single bite, so it was only natural that something as popular as the pumpkin pie would get a miniature makeover and become a go-to Halloween snack.
Well, mini pumpkin pies are one of those easy Halloween snacks that you can create with very few ingredients since a lot of them can be bought from the store.
Of course, if you like making things yourself and creating everything from scratch, we wrote an entire article detailing how you can make your own mini pumpkin pies, ingredients, and all.
In order to make the mini pie crusts, you'll need some almond and oat flour, and some maple syrup, and melted coconut butter to act as the binding agent.
As for the filling, you can make it using fresh or canned pumpkin, garbanzo beans, maple syrup, cane sugar, cornstarch, vanilla extract, pumpkin pie spices, and salt.
As you can see, we tried avoiding added sugar as much as possible, and we also made it so that the recipe is great for those with gluten intolerance as well, but if you don't mind a few extra (healthy) calories, you can also top up your mini pies with some coconut whipped cream.
These mini pies are delicious, and you can make them throughout the year, just as long as you have pumpkins and pumpkin spices at your disposal.
4. Halloween Themed Snacks – Jack-o-Lantern Pumpkin Pies
We already talked about how creating seasonal foods is more about how you decorate them rather than what ingredients you use, and the perfect example of textbookHalloween-themed snacks is this recipe for Jack-o-Lantern Pumpkin Pies.
Just like our previous entry, these are actually mini pies instead of regular pies, and the recipe is also somewhat similar, the only noticeable difference being the Jack-o-Lantern-themed pie crust that's on the surface that may make you feel a bit guilty about biting into them.
In order to make both the top and the bottom crust, you'll need some flour, salt, powdered sugar, egg yolks, unsalted butter, ice water, and heavy cream.
As for the filling, we'll be adding a few extra spices compared to our previous recipe, including eggs, pumpkin puree, ground ginger, ground cinnamon, ground nutmeg, ground cloves, and even some freshly ground black pepper to give it that extra kick to the flavor.
The recipe is easy to follow, and you can go ahead and make your own designs when it comes to the top crust. In fact, you can even ignore the whole Jack-o-Lantern design and try a different shape, such as a cat, a skull, or even a pumpkin.
Thanks to the top crust, these mini pies are a bit more durable and are better suited to transport, so if you plan on serving your coworkers at the office, you can carry them without fear that they will be turned into mush.
5. Halloween Snack MIX – Baked Pumpkin Donuts
Donuts are another example of something that you can easily add to a Halloween snack mix, especially if you make donuts with a wide variety of fillings and glazings.
However, our recipe for baked pumpkin donuts is a lot healthier than the donuts you'd find at a fast-food joint, especially since the crust itself is made to resemble that of a digestive biscuit more than it does a typical donut.
In order to achieve these results, we used pumpkin puree, maple syrup, pitted dates, coconut milk, almond butter, vanilla extract, oat flour, tapioca starch, pumpkin spice, baking soda, and salt.
As for the glazing, we used melted cocoa butter, coconut sugar, almond butter, and spiced tea powder, thus resulting in a recipe for donuts that is somewhat forgiving on your waistline and an ideal snack for those with gluten intolerance.
Feel free to experiment with other types of glazing if you don't think that the one in our recipe sounds good for you, although we need to remind you that we tried making the donut as healthy and as calorically forgiving as possible (you know, unlike donuts from the store).
You can then serve these with a cup of warm tea or warm chocolate, and be prepared to be praised for the wonderful and sweet treat that you just prepared.
6.Spooky Snacks – Witch Finger Cookies
One snack that has become a staple for what it means to serve sweets when you have guests over is the all-too-common cookie, and we decided to turn these traditional goodies into spooky snacks via our recipe for witch finger cookies.
Among all of our snacks so far, these witch finger cookies are (ironically) the best finger foods since they are relatively dry and they won't get damaged or turned into mush if you carry them into a bag.
Not only that, but as far as design goes, they are probably the most Halloween-themed snacks on our list as well since, as you can see for yourself, they basically look like bloody fingers with long sharp fingernails.
In our recipe, we will not only teach you how to create the fingers themselves but also how to create the red velvet dressing that looks like blood, and for those of you that are looking for something a bit more ghoulish, they can swap out the red gel food coloring with green and call them zombie fingers instead.
However, we need to mention that you need about 2 hours to bake a single batch of cookies (around 40 cookies), but things can go a bit faster if you have someone to help you with the red velvet hot chocolate so that you can have it ready as soon as the fingers are done.
7.Spooky Snacks – Death by Chocolate
Those of you that are hardcore fans of chocolate have joked at least once in your life that you wouldn't mind dying by drowning in chocolate, and if you happen to be looking for some spooky snacks to make for Halloween, your dreams may actually come true.
The people at Sugar Dish Me did an amazing job at creating chocolate brownies that are absolutely to die for…literally, and they are not only just for show either, they also contain enough chocolate to satisfy anyone's sweet tooth.
The great thing about this recipe is that it doesn't require ingredients that are atypical for brownies, since it contains butter, sugar, eggs, flour, dark chocolate powder, salt, and chocolate chunks.
If you also plan on making the frosting, you'll need some heavy cream, some chocolate chips, butts, and some crumbled Oreo cookies.
Once you're done making both the brownies and the frosting, the key to making the entire dish look like it was made for Halloween is to do the decorations right.
As you can see from the photo above, the original recipe called for a haunted cemetery design, and if you happen to find any candy tombstones, skeletons, or skulls, your ghoulish brownies will be done and ready to be served.
8. Spooky Snacks – Halloween Vampire Ice Cream Floats
Since Halloween is on October 31st, very few people may consider adding an ice cream float to the list of spooky snacks that they should prepare for Halloween, but if you're an ice cream lover in all 365 days of the year, then you'll love this recipe for vampire ice cream floats.
Living Locurto did an excellent job with this ice cream idea since just by looking at it you'd just be sitting there wondering what is more delicious: the way it tastes, or the way it looks?
The best part is that the recipe is very easy to follow, and you don't need to work with too many ingredients either, so if you happen to have guests over and you ran out of these vampiric treats, you'll only have to excuse yourself to the kitchen for about 10 minutes to bring out a fresh new batch.
So, if you decide to add this crimson dessert to the menu, you'll need some red soda (preferably strawberry flavored), vanilla ice cream, strawberry ice cream, some plastic vampire fangs (you can rewash them), whipped cream, some red gel, and straws.
One disadvantage of this particular snack is that since it's an ice cream float, you have to keep it refrigerated at all times, and even then you'll still have to consume it quickly since it will lose its consistency and may develop a weird aftertaste if left uncovered.
Healthy Halloween Treats
Even though everyone thinks of Halloween as a holiday during which you'll go ahead and nibble on a lot of sweets, candies, and desserts, this doesn't mean that you can do it in a healthy way, especially if you're the kind that really takes their wellbeing seriously.
Well, we decided to compile a small list of healthy Halloween treats just for you, and we made sure that the recipes are either not very calorically dense, gluten-free, or safe for kids.
9. Healthy Halloween Snacks – Keto Pumpkin Cream Cheese Muffins
There's something about muffins that makes just want to eat an entire plate, and most of the time it has nothing to do with the taste, but rather their borderline cuteness, especially thanks to those mini cups.
Well, muffins can also be some very healthy Halloween snacks if you know what ingredients to add, one perfect example being this recipe for keto pumpkin cream cheese muffins.
They contain softened butter, erythritol sweetener, eggs, pumpkin puree, vanilla extract, almond and coconut flour, baking powder, the all-important pumpkin spice, salt, and some softened cream cheese.
Thanks to the use of almond and coconut flour, your muffins will have zero gluten, and
you only need about 10 minutes of prep time along with 20 minutes of baking time to get everything done, and the ingredients listed in the article will be enough for a batch of 12 muffins.
Not only are these muffins perfect for Halloween and Thanksgiving (because of the pumpkin), but they are perfectly spiced, moist without being too soggy, they're filled with a creamy cheese center, and they can be easily refrigerated.
Besides, you can have one or two regardless of whether it's breakfast if you're having a snack, or if you want them for dessert.
One thing's certain: your guests will love them, so we recommend that you cook several batches to have them on hand, especially on Halloween.
10. Halloween Fruit Ideas – Clementine Pumpkins & Boo-nanas
Fruits are nature's candy, and you can teach your kids to love them if you know how to make them more appealing, especially on Halloween.
Just take a look at these Halloween fruit ideas from My Fussy Eater, as they did an amazing job using nothing more than clementines, bananas, some chocolate chips, and some celery and created clementine pumpkins and something that they like to call boo-nanas.
The great thing about this particular snack is that it's incredibly easy to prepare, as you can create an entire plate of them in less than a minute.
All you need is to peel the clementines and put a stick of celery to mimic a pumpkin's stem and peel some bananas, cut them in half, and then add chocolate chip eyes.
Not only do they require very little prep time, but this snack is also very affordable, and bananas and clementines can be found just about anywhere throughout the year.
All in all, there's practically no way you can make a Halloween fruit snack any healthier than this, so go ahead and make these treats for your kids, and maybe they'll lay off the lollipops for a while.
11. Healthy Halloween Treats for Kids – Green Lunch
Kids have a natural hatred of healthy foods, especially considering how candy is so much tastier, has a lot of sugar, and comes in brightly colored packaging, but there are way through which you can make them go healthy.
For example, one thing that you should try when experimenting with healthy Halloween treats for kids is to either use as many colors as possible, like in a fruit salad, or just one color, like this green lunch that we found at Yummy Toddler Food.
As you can see, everything inside the lunchbox is colored green (except for the spider), and the foods themselves are very healthy and thus suited for a toddler or a child that's growing.
The box above includes banana spinach muffins, snap pea crisps, slices of kiwi, edamame, and slices of cucumbers.
Of course, if you have other green healthy foods at your disposal, you can go ahead and use those instead, and if you want to try an entirely different color theme, go right ahead!
Besides, one big advantage of modern cookies is that there are so many safe food dyes that you can buy and use in your own kitchen, and many of them are also completely safe for children.
So, if you have one or two foods that don't match the color scheme, there's nothing that a little dye won't fix.
12. Halloween Fruit Snacks – Dried Halloween Fruit
One of the most popular fruit snacks in the world is the traditional dried fruits. You see, not only do they retain all the vitamins and minerals, but since they have all of the moisture removed, they are easier to transport, there's no issue with storing them in places where temperatures vary, and they last for a very long time.
Because of this, dried fruit should also be one of the most popular Halloween fruit snacks ever, and as you can see from Allrecipe'spost, they look almost too cute to eat.
The great thing about this fruit snack is that you can use pretty much and dried fruit you want, just as long as you can stick the candy eyes to their surface.
As a reference, the recipe above was made using dried apricots, peaches, but they also included some fresh fruit as well.
You can prepare this snack way ahead of time, even months ahead, especially if you want to take advantage of the seasonal fruits that grow in your area.
Drying fruits throughout the year is also recommended if you want to stay away from the supermarket stuff, allowing you to incorporate local and natural dried fruits, like strawberries, bananas, figs, dates, and more.
Note: Dried fruit is very healthy, but they have a very high concentration of sugar, so make sure that you drink plenty of water when eating them.
Halloween Lunch Ideas
Snacks are fine and all, but we all have to eat some real food from time as well, so the next section of our article will be made up of some very solid Halloween lunch ideas that you can try out for yourself.
As with the Halloween snacks mentioned earlier, you'll notice that most of the following lunch ideas are basically regular food but with a Halloween makeover. If you like decorating your food, you'll definitely love the following section.
13. Halloween Lunch Box – Pumpkin Pizza DIY Lunchables
We love the whole idea of having a Halloween lunch box that is perfectly balanced from a nutritional point of view, but we also admit that we love pizza, and if you're the type of person that shares these two passions, then you'll love this pumpkin pizza DIY lunchable as showcased by Family Fresh Meals.
If you want to make something similar, you'll need some pie crust and cut out the decorations using a Halloween-themed cookie cutter (pumpkins, witch's hats, and other such spooky things will do). Brush it with some egg wash and bake it until it gains the consistency of a biscuit.
Once the crusts cool down, add some shredded mozzarella, some pepperoni slices, and load the side compartments with pizza sauce, as well as a healthy portion of vegetables, especially those that you'd regularly find on a pizza, like corn, olives, or bell peppers.
If you're bringing this lunch box at work and have access to a microwave oven, we recommend that you heat the box just enough for the mozzarella to melt a bit and get all stretchy.
However, first, make sure that the lunchbox is microwave-resistant before you try this, otherwise, the box might start melting and seeping inside the food, in which case you'll have to throw everything out and maybe even clean out the microwave.
14. Halloween Lunch for Kids – Halloween Bento Box
Kids go crazy for visually pleasing foods, and sometimes they may even ignore the fact that it's made with ingredients that they may not like as much.
Because of this, if you're looking for some ideas on how to pull off a good Halloween lunch for kids, you must focus less on what you're preparing, and focus instead on how you prepare it, just like Kids Activities Blog did with their Halloween Bento Box.
However, this doesn't mean that this bento box isn't nutritious, since it contains bread, peanut butter, and jelly, string cheese, baby carrots, chocolate pudding, crushed Oreos (without the filling), bug-shaped gummies, ranch dip, and diced celery.
As for the tools used to make the ingredients look more Halloweeny, you'll need a sharpie, some red food dye, and a pumpkin-shaped cookie cutter.
However, in order for this bento box to work, you'll need to have a lunch box that has at least 3 compartments, and also make sure that one is big enough to hold a sandwich big enough for a kid.
Once you're done with your ingredients, you'll end up with a pumpkin-shaped peanut butter and jelly sandwich, a box of bloody carrot stick fingers, a string cheese ghost, and a graveyard dessert that will surely fill your little one's stomach.
The recipe is simple to follow, and your little one will surely feel the Halloween spirit starting with lunch, instead of having to wait until Halloween night like all the other kids, and he'll love you for it.
15. Halloween Lunch for Kids – Mummy Bento
Kids like playing with their foods, and if that's the case, might as well give them a reason to play with it more, so if you're looking for a spooky Halloween lunch for kids, you should definitely try this Mummy bento made by Liam Mama Obento.
While she only included typical food ingredients that you can find in a child's lunch, like Butter, cheese, and ham sandwiches, peaches, and tomatoes, the key lies in the way she arranged them all.
For example, the hams sandwiches act as the mummy's body, while the cheese strips act as the bandages, and the sea used seaweed to make the black decorative elements, such as the face of the mummy or the tomato Jack-o-Lantern.
As you can see from the picture above, the end result is hilarious, and you'll child will simply enjoy munching down on this silly-looking Egyptian pharaoh.
All in all, the lunch is very well-balanced from a nutritional point of view, and if you love making your kid happy and would like to surprise him on lunch break, go ahead and try the Mummy bento!
16. Halloween Lunch Ideas – Jack O Lantern Crustless Sandwich
Are you a little bit pressed for time but still totally intent on giving your kids a spooky themed lunch, even if the ideas are simple? Don't worry; they'll be so excited even just to see the shapes you've made that they won't mind a bit whether your ideas are complicated or not!
We loveCute Food for Kids'stotally doable suggestion of cutting the crusts off a sandwich in the shape of a pumpkin, using carefully cut pieces of seaweed to make the shape of a Jack O Lanter's face, and even making a cherry tomato look like it's got exposed bones by creatively cutting up some cheese!
17. Halloween Themed Snacks: Spiders, Ghosts, and Finger Bento Box

Have you always loved the idea of making your kids a bento-style boxed lunch where they get many little snack dishes in compartments so that everything's organized and all their food groups are there? Then you've got lots of opportunities to turn each snack into something spooky!
The World According to Egg Face suggests cutting pieces of cheese into ghosts, using olives to turn a hard boiled egg into a spider sitting on a web made of lettuce, and using red peppers to add "nails" to pepperoni stick "fingers". Top all of that off by making "mud" pudding from Oreo cookies and nestling a couple gummy worms into the "dirt" for dessert!
18. Pumpkin orange and broomstick pretzels
Would you rather make your kids just a couple standout Halloween-themed pieces in their snack plate rather than transforming every single thing, making them particularly excited to eat some of the healthiest parts of their meal?
In that case, check out howYum Box Lunch used a simple sharpie to draw a Jack O Lantern face on the outside of an orange before wrapping broom bristles made of thinly cut cheese around the bottoms of pretzels to make crunchy little broomstick crackers like a tiny witch might fly away on.
19. Halloween Snacks: Pretzel and Chocolate Spider Webs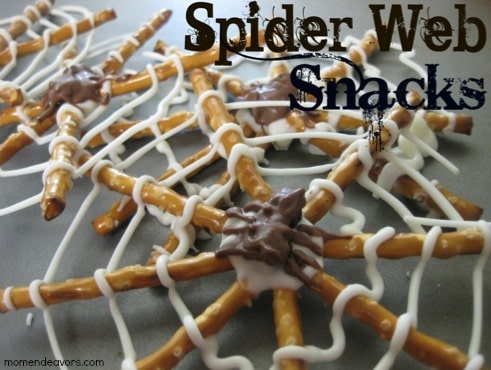 Perhaps you'd like to make your kids a snack that they can actually help making the night before and then pack one in their lunch the next day like an extra special treat? In that case, we definitely think you should take a look at this pretzel, icing, and chocolate spider web idea fromMom Endeavours!
They show you how to make the pretzels splay out from the middle like spokes so you can create a webbed spiral all around and across the top. Finish it off with a spider made of carefully shaped melted chocolate in the middle and voila! A sweet and salty novelty snack!
20. Halloween Fruit Ideas – Spooky Fruit Snacks
When you originally thought about making novelty Halloween foods, were the tools you pictures yourself working with the most actually your kids favorite fruits? In that case, Fab Lunch hasseveral cute designs for you!
They suggest wedging a little slice of green celery into the center top of a peeled orange to make a pumpkin, pressing chocolate chips into bananas to look like spooky ghosts with faces, and using sliced almonds pressed into thinly cut apples to look like scary monster teeth.
We think these are such cute ideas that we're practically tempted to make them for ourselves before the kids even get home from school!
21. Halloween Themed Snack – Haunted House Sandwich
Are you still thinking about how cute and simple the Jack O Lantern sandwich was because you like the idea of the actual main dish in your kids' lunch being Halloween-themed itself, rather than just a snack or two alongside it? Then here's another Halloween sandwich cutting idea for you, just in case you'd like to try all different shapes with your little ones!
Cute Food for Kids shows you how to cut the crusts off the sandwich in the shape of a haunted house and how to cut a few small slices of cheese into the shape of spooky ghosts to sit on top like they're haunting the sandwich.
22. Spooky Snacks – Skull Rice Bento
Perhaps you really like to go all out and make your kids more traditionally bento-style lunches all the time, so you need lots of different mini-dish ideas that can go together all at once? Then here's a full-on Halloween-themed bento lunch meal idea from Ba-Ba Mail! They guide you through the process of molding rice into skull shapes with seaweed features, making sweet potatoes look like a Jack O Lantern, and garnishing mini sausages with red pepper bits to look like creepy fingers with nails.
23. Halloween Snacks for Kids – Pumpkin Deviled Eggs
We're lucky when it comes to easy but nutritious lunch-friendly finger foods because our kids absolutely adore deviled eggs! Foodies Recipe shows you how much of a Halloween lunchtime bonus that can be by transforming their eggs into little pumpkins using paprika and a small slice of chive for each. Besides making the eggs look very cool and on theme, the paprika coloring and chive stem give the egg a bit of extra delicious flavor.
24. Halloween Lunch Ideas – Ghost Sandwiches and Pumpkin Cheese
Are you still quite caught up with the idea of cutely cut sandwiches and cheese because that's the simplest but most versatile you've seen so far, and you know you'll have time to make that happened in the morning before school? Then here's another alternative for you! We love the wayMom Endeavours cut each half of the sandwich into a spooky little ghost and shaped all the cheese wedges like pumpkins. We know the shape doesn't make the food taste any different, but there's just something about novelty Halloween snacks that makes us enjoy them more.
25. Spooky Snacks – Gravestone Sandwiches
Are your kids a little bit older and you know they'd still be into the themed lunch idea as long as what you give them is actually a little more spooky rather than just being another cutesy ghost that they've already had and gotten used to?
In that case, we'd suggest trying out this gravestone-shaped sandwich instead! We love the cheese letter and the seaweed bat to really make the gravestone sandwich look the part. See the whole concept in more detail on Cute Food for Kids.
26. Halloween Snacks – Jack O Lantern Fruit Cups
Perhaps you're in a very large hurry, but you still really want to add at least just a tiny hint of Halloween novelty to your kids' lunches tomorrow?
Then grab a sharpie, dig out their favorite fruit cups, and go ahead with drawing a Jack O Lantern face right there on the lid. Super Coupon Lady shows you how many different emotions and expressions you can make your fruit cup pumpkins have!
27. Halloween Fruit Ideas – Apricot Pumpkins
We've already talked about adorable pumpkin and ghost-shaped cheese slices like this one, but what about the dried fruits your kids love to eat? Well, if dried apricots are your kids' fruit of choice, here's a cute Halloween alteration from Beneficial Bento! They stuck a little sliver of almond into the top of each apricot to make a cute little pumpkin.
28. Halloween Lunch Box – Frankenstein and Olive Sandwich
Have you actually been thinking about the whole cut shaped sandwich idea since we very first showed it to you above, but you like the idea of getting creative with more vegetables and actually creating a classic Halloween character? In that case, we have a feeling you're going to get a total kick out of this awesome Frankenstein sandwich fromKitchen Fun With My 3 Sons.
29. Spooky Snacks – Fanged Monster Sandwich
If you've ever seen vampire donuts before, then you already know how hilarious and fun this idea can be, but we're happy to see that Sweet and Lovely Crafts has figured out a healthier version of that basic concept so we don't have to feel guilty but your kids still get nutritious food and a built-in pair of costume fangs when they're done!
This tutorial shows you how to cut out a section and fit the fangs carefully and snuggly right inside the new "mouth" you've just created.
30. Easy Halloween Snacks – Frankenstein Wrap
Did you really like the Frankenstein sandwich idea but you know that your kids are going through a huge wrap phase right now where every meal they want is suddenly delicious ingredients wrapped in a tortilla?
Then alter the lunch and keep the basic concept that you like by making your kids a simple Frankenstein embellished wrap, just likeMake it Cozee did here. We're particularly fond of his spiky cheese hair!
Bonus: Halloween Lunch Bag
So far, we kept talking about Halloween lunches, snacks, and treats, but don't forget that the container in which you carry them (especially your lunch is equally important.
It needs to be spacious enough to hold in a meal, properly compartmentalized in case you have foods that you don't want getting mixed, it needs to be lightweight, microwave resistant, and easy to wash.
More so, while we're on the topic of Halloween, if you're going to be making a Halloween-themed lunch and carry it with you to work or school, you could take an extra step and have a Halloween lunch bag or lunchbox as well.
You could make one yourself with a regular box or lunch box and with some sharpies or colored paper, or you can even go ahead and buy yourself a dedicated Halloween lunchbox that you can use throughout the fall.
For example, this insulated and lightweight Halloween lunch box is ideal for carrying around your food without letting it get spoiled, all thanks to the inner cloth that's made of a heat-insulating aluminum film with quilted cotton in the middle.
Besides, you can carry everything you need for lunch with you since the bag includes special compartments for storing small bottles and tableware.
View price on

Amazon
Halloween Themed Lunch Snacks – Closing Thoughts
This concludes our list of best Halloween-themed lunches, snacks, and treats and we hope that we both inspired you, as well as given you a bit of an appetite from all of the delicious recipes that were showcased.
As you can see, we've included dishes from a wide variety of categories, starting from snacks and ending with healthy treats and actual lunches that will satisfy an empty stomach.
The dishes that were showcased were chosen based on their nutritional value, as well as how easy they are to make, and they look from a visual standpoint, considering that you'd like to prepare them for Halloween.
Whichever recipe you consider trying, don't forget that you're free to change and tweak the recipes according to your needs and available ingredients and that the key to making a Halloween snack or lunch is to just take some regular-looking food and make it scarier or spookier.
For more great articles showcasing how you can take an otherwise typical Halloween night and make it as spooky as possible, simply go ahead and check out the rest of the articles on our website, since we have plenty of similar ones available for you to read.
Besides, if there's a to[pic that we may have missed out on, let us know what it is and we'll go ahead and do the research and then write an article on that topic as soon as possible.
Happy Halloween!