Halloween Themed Lunch Snacks for Kids
If you ask us, the fact that Halloween is only one day out of the year does not have to mean that that's the only day your food and snacks can help you celebrate the spooky spirit of the month! Since Halloween is quite a food-centric holiday, we absolutely adore incorporating spooky characters and themes into meal sand snacks all month long, even when there's no candy involved at all. Our kids' school lunches, for example, are the perfect place to get creative with spooky snacks!
Just in case you've been trying to think of slightly more nutritional ways to make your kids' lunches Halloween themed besides throwing some candy in each day, here's a list of our 15 favourite ideas that we've found so far!
1. Jack O Lantern crustless sandwich
Are you a little bit pressed for time but still totally intent on giving your kids a spooky themed lunch, even if the ideas are simple? Don't worry; they'll be so excited even just to see the shapes you've made that they won't mind a bit whether your ideas are complicated or not! We love Cute Food for Kids's totally doable suggestion of cutting the crusts off a sandwich in the shape of a pumpkin, using carefully cut pieces of seaweed to make the shape of a Jack O Lanter's face, and even making a cherry tomato look like it's got exposed bones by creatively cutting up some cheese!
2. Spiders, ghosts, and finger bento box

Have you always loved the idea of making your kids a bento style boxed lunch where they get many little snack dishes in compartments so that everything's organized and all their food groups are there? Then you've got lots of opportunity to turn each snack into something spooky! The World According to Egg Face suggests cutting pieces of cheese into ghosts, using olives to turn a hard boiled egg into a spider sitting on a web made of lettuce, and using red peppers to add "nails" to pepperoni stick "fingers". Top all of that off by making "mud" pudding from Oreo cookies and nestling a couple gummy worms into the "dirt" for dessert!
3. Pumpkin orange and broomstick pretzels
Would you rather make your kids just a couple standout Halloween themed pieces in their snack plate rather than transforming every single thing, making them particularly excited to eat some of the healthiest parts of their meal? In that case, check out how Yum Box Lunch used a simple sharpie to draw a Jack O Lantern face on the outside of an orange before wrapping broom bristles made of thinly cut cheese around the bottoms of pretzels to make crunchy little broomstick crackers like a tiny witch might fly away on.
4. Pretzel and chocolate spider webs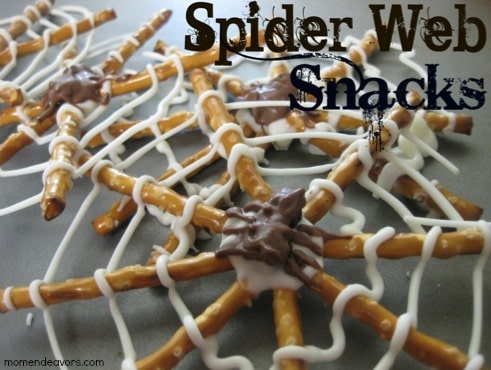 Perhaps you'd like to make your kids a snack that they can actually help making the night before and then pack one in their lunch the next day like an extra special treat? In that case, we definitely think you should take a look at this pretzel, icing, and chocolate spider web idea from Mom Endeavours! They show you how to make the pretzels splay out from the middle like spokes so you can create a webbed spiral all around and across the top. Finish it off with a spider made of carefully shaped melted chocolate in the middle and voila! A sweet and salty novelty snack!
5. Spooky fruit snacks
When you originally thought about making novelty Halloween foods, were the tools you pictures yourself working with the most actually your kids favourite fruits? In that case, Fab Lunch has several cute designs for you! They suggest wedging a little slice of green celery into the centre top of a peeled orange to make a pumpkin, pressing chocolate chips into bananas to look like spooky ghosts with faces, and using sliced almonds pressed into thinly cut apples to look like scary monster teeth. We think these are such cute ideas that we're practically tempted to make them for ourselves before the kids even get home from school!
6. Haunted house sandwich
Are you still thinking about how cute and simple the Jack O Lantern sandwich was because you like the idea of the actual main dish in your kids' lunch being Halloween themed itself, rather than just a snack or two alongside it? Then here's another Halloween sandwich cutting idea for you, just in case you'd like to try all different shapes with your little ones! Cute Food for Kids shows you not only how to cut the crusts off the sandwich in the shape of a haunted house, but also how to cut a few small slices of cheese into the shape of spooky ghosts to sit on top like they're haunting the sandwich.
7. Skull rice bento
Perhaps you really like to go all out and make your kids more traditionally bento style lunches all the time, so you need lots of different mini dish ideas that can go together all at once? Then here's a full on Halloween themed bento lunch meal idea from Ba-Ba Mail! They guide you through the process of moulding rice into skull shapes with seaweed features, making sweet potatoes look like a Jack O Lantern, and garnishing mini sausages with red pepper bits to look like creepy fingers with nails.
8. Pumpkin devilled eggs
We're lucky when it comes to easy but nutritious lunch friendly finger foods because our kids absolutely adore deviled eggs! Foodies Recipe shows you how much of a Halloween lunchtime bonus that can be by transforming their eggs into little pumpkins using paprika and a small slice of chive for each. Besides making the eggs look very cool and on theme, the paprika colouring and chive stem give the egg a bit of extra delicious flavour.
9. Ghost sandwiches and pumpkin cheese
Are you still quite caught up with the idea of cutely cut sandwiches and cheese because that's the simplest but most versatile you've seen so far and you know you'll have time to make that happened in the morning before school? Then here's another alternative for you! We love the way Mom Endeavours cut each half of the sandwich into a spooky little ghost and shaped all the chees wedges like pumpkins. We know the shape doesn't make the food taste any different, but there's just something about novelty Halloween snacks that makes us enjoy them more.
10. Gravestone sandwiches
Are your kids a little bit older and you know they'd still be into the themed lunch idea as long as what you give them is actually a little more spooky rather than just being another cutesy ghost that they've already had and gotten used to? In that case, we'd suggest trying out this gravestone shaped sandwich instead! We love the cheese letter and the seaweed bat to really make the gravestone sandwich look the part. See the whole concept in more detail on Cute Food for Kids.
11. Jack O Lantern fruit cups
Perhaps you're in a very large hurry but you still really want to add at least just a tiny hint of Halloween novelty to your kids' lunches tomorrow? Then grab a sharpie, dig out their favourite fruit cups, and go ahead with drawing a Jack O Lantern face right there on the lid. Super Coupon Lady shows you how many different emotions and expressions you can make your fruit cup pumpkins have!
12. Apricot pumpkins
We've already talked about adorable pumpkin and ghost shaped cheese slices like this one, but what about the dried fruits your kids love to eat? Well, if dried apricots are your kids' fruit of choice, here's a cute Halloween alteration from Beneficial Bento! They stuck a little sliver of almond into the top of each apricot to make a cute little pumpkin.
13. Frankenstein and olive sandwich
Have you actually been thinking about the whole cut shaped sandwich idea since we very first showed it to you above, but you like the idea of getting creative with more vegetables and actually creating classic Halloween character? In that case, we have a feeling you're going to get a total kick out of this awesome Frankenstein sandwich from Kitchen Fun With My 3 Sons.
14. Fanged monster sandwich
If you've ever seen vampire donuts before then you already know how hilarious and fun this idea can be, but we're happy to see that Sweet and Lovely Crafts has figured out a healthier version of that basic concept so we don't have to feel guilty but your kids still get nutritious food and a built-in pair of costume fangs when they're done! This tutorial shows you how to cut out a section and fit the fangs carefully and snuggly right inside the new "mouth" you've just created.
15. Frankenstein wrap
Did you really like the Frankenstein sandwich idea but you know that your kids are going through a huge wrap phase right now where every meal they want is suddenly delicious ingredients wrapped in a tortilla? Then alter the lunch and keep the basic concept that you like by making your kids a simple Frankenstein embellished wrap, just like Make it Cozee did here. We're particularly fond of his spiky cheese hair!
Have you made your kids other delicious Halloween themed lunch snacks that you don't see on our list but that they totally loved? Tell us all about it in the comments or link us to pictures of what you created!