50 Halloween Makeup Ideas For Women to Try
It's almost Halloween, so it's time to find out what you are going to wear when hosting a party or chaperoning your kids when they're out trick-or-treating. If you are looking for Halloween makeup ideas for women, you have come to the right place.
Considering the abundance of options on the Internet, we can certainly understand why it is so challenging to track down the perfect Halloween makeup idea that works for you and your outfit.
Since we wanted to give you a helping hand, we have prepared a list of the 50 best Halloween makeup ideas for women. All you need to do is explore, point to the picture that makes your heart skip a beat, and start working on your Halloween outfit.
50 Best Halloween Makeup Ideas for Women in 2021
Let's proceed and discover the 50 top Halloween makeup ideas for ladies that you can try out this year.
1. Spiderweb Eyes Halloween Makeup
@cherryantacidsx pulled off an awesome Halloween makeup by painting spiderwebs around her eyes. Just check out her Instagram post and try to notice all the details. You have to apply long, fake eyelashes, heavy eyeliner, and black lipstick to match. The results are simply gorgeous.
2. Bloody Face – Halloween Makeup Ideas
This rendition of Halloween makeup ideas is terrifying and mesmerizing at the same time. It features a bloody face and is portrayed by @gabriela_ciprianii on Instagram. The makeup is seemingly easy, but there is a lot of work behind it. It mostly uses red glitter eyeshadow, together with deep red lipstick.
3. Easy Halloween Makeup
Let's face it: not all of us are skilled in makeup, and not can afford to go to a nail salon. So, if you are looking for an easy Halloween makeup idea that you can do at home, on your own, and without any help, check out this cool bats idea displayed by @becbeautyyy on Instagram.
You just have to use regular makeup with a slightly dark look, and then draw some bats under your eyes. The results do not have to be perfect to work. So you can still show off to your family and friends for Halloween even if your makeup game is mediocre.
4. Sally from The Nightmare Before Christmas – Halloween Makeup Looks
The Nightmare Before Christmas remains one of the most beloved horror animated movies. If you want to dress up as a character from this movie, you can use Sally to emulate your Halloween makeup looks.
That means applying blue paint to your entire body, wearing a red wig, and drawing sewn patterns all over your face and body. Check out @fearsome_beauty on Instagram for inspiration. She definitely pulled it off.
5. Pumpkin Head – Scary Halloween Makeup
If you are looking for scary Halloween makeup ideas, we suggest painting a pumpkin's face and emphasizing the facial expressions to make it look as dramatic as possible.
@serenityelisemakeup did a great job on this Instagram post, where she used shades of black, orange, red, and white. It's a lot like art, so your makeup game should be refined to achieve this look. Otherwise, bring this photo with you and do not hesitate to hire a professional makeup artist if you can afford it.
6. Cat Halloween Makeup
You do not have to be a cat lover to look for cat Halloween makeup ideas. And there are so many cool looks that you can integrate into your own makeup. A fine example is this Instagram post published by @makeup_by_favour, where she used a lot of black and white eyeliner to draw the cat hairs, nose, whiskers, and other elements.
7. Halloween Eye Makeup
Here is an awesome Halloween eye makeup idea that was brought to life by @make_malvina_up on Instagram. It only focuses on the eyes and shows a brief, yet complete tutorial of what you need to do.
It is necessary to apply purple eyeshadow and divide it by adding nude eyeshadow in the center. Then, you can draw the fine details, such as the moon, tree branches, pumpkins, a ghost, and birds using eyeliners and pencils. It's adorable.
8. 3D Spider Cute Halloween Makeup
Spiders are evergreen when it comes to Halloween costumes, makeup, and decor. If you are thinking about using spiders, you should check out this cute Halloween makeup idea. It represents a 3D spider that was created by @jencapitoni.beauty and published on Instagram. To accomplish this project, you have to learn how to play with shadows, which could take a while to master. But the results are certainly stunning.
9. Simple Halloween Makeup
If you do not want to go overboard or if you do not trust your makeup skills, you can opt for a simple Halloween makeup idea. The one published by @tashamoores91 on Instagram is a good example. She created a glamorous look and added a spiderweb to one eye. It is a simple, yet effective way to dress up for the spookiest night of the year.
10. Witch Makeup Ideas
Witches have always been fascinating in horror folklore. If you are searching for witch makeup ideas, you should definitely check out this elaborate concept that was brought to life by @affrozzie on Instagram.
It needs some serious makeup skills, so do not hesitate to visit a professional makeup artist if you can not do it on your own. The cherry on top is represented by the bloody pentagram in the middle of the forehead.
11. Pretty Halloween Makeup
Here is a pretty Halloween makeup concept that you can put on with minimal effort. It revolves around smokey eyes with an orange shade and thick mascara. Then, use an orange eyeliner to draw a pumpkin's face on each eyelid. We promise you that the results are stunning. Just take a look at @velezvanity post on Instagram.
12. White Paint Halloween Ideas For Women
When it comes to Halloween ideas for women, you should try playing with some white paint to create stunning half-face makeup. Take a look at @inkedandprimped's portrayal on Instagram to see what we mean.
You draw a thick line in the middle of the face to divide it, and then apply white paint to one half before applying the rest of the black eyeliner. That doesn't mean you should ignore makeup on the other half.
13. Demon Sexy Makeup
There are many sexy makeup ideas that you can play with around Halloween. We think that this demon concept showcased by @euphriaxiv on Instagram nails it. It mostly relies on black, but you have to get a bit creative with your makeup skills. To complete the look, make sure to wear a couple of demon horns.
14. Sexy Halloween Makeup
Here is another sexy Halloween makeup idea worth trying for the spookiest night of the year. It does not focus on a specific theme but rather incorporates several dark and light colors to create stunning makeup. @makeupbyjoooci puts emphasis on her eye in her Instagram post, mixing purple with green, blue, black, and white, together with black lipstick.
15. Easy Deer Makeup
Deer makeup is endearing around Halloween, and there is nothing scary about it. If you are seeking an easy deer makeup idea, check out this Instagram post published by @terishostak. It takes you through a complete tutorial, from applying foundation to making half a lip black.
16. Dead Makeup Look
If you prefer the dead makeup look for Halloween, check out this cool mummy look pulled off by @micky.zlatinova on Instagram. To make it happen, you need white eye lenses, mascara, and a bit of dark eyeliner.
The secret is to do heavy smokey eyes and then draw a sewn pattern on the lips instead of applying lipstick. You also need some bandage tape to wrap yourself in a mummy.
17. Pink Cat Halloween Makeup For Women
There are many ideas that revolve around cat Halloween makeup for women, but we think this is one of the best and most adorable ones. As shown by @mindysimms on Insta, you can opt for a dark and pink palette when applying makeup to mimic a cat, including its nose and whiskers. The design is actually not that complicated, so you do not have to turn to a makeup artist.
18. Sexy Skeleton Makeup
Skeletons are usually scary but not that attractive. If you prefer sexy skeleton makeup to go with your Halloween costume, consider this awesome look we found on Instagram, which belongs to @lex.sfx_.
It has a bit of everything, including the hot and spooky factor. But it is not easy to make yourself look this way, so you might want to pay a professional. Just don't forget to bring this picture along.
19. Vampire Makeup Woman
We have seen a lot of vampires when researching the best Halloween makeup ideas for women, but few were so good as this idea. It features a vampire makeup woman brought to life by @swateeshrma on Instagram. The trick is to use red eye lenses and paint red veins around the eyes to make the vampire look bloodthirsty. We love it.
20. Women's Skeleton Makeup
Check out this amazing women's skeleton makeup idea that we found on Instagram, courtesy of @hipohipoma. It showcases a full-blown black-and-white skeleton mask that is not easy to pull off unless you are packing some serious makeup skills. The makeup is so convincing that it doesn't even need a Halloween costume.
21. Reversed Crosses – Easy Halloween Makeup Ideas For Women
When it comes to easy Halloween makeup ideas for women, you can go with this reversed crosses concept. It is showcased by @amychrismakeup on Insta. To get started, apply heavy smokey eyes and black lipstick.
Then you can draw three reversed crosses that seem to originate from each eye. It is scary but also simple to do, without having to resort to outside help.
22. Sexy Witch Makeup
A lot of witch makeup ideas are great, but they are not necessarily attractive. If you prefer a sexy witch makeup to go with your Halloween outfit, take a look at this cool portrayal of @thedarkesttale on Instagram.
You don't have to use any special makeup tricks but a bit of patience is necessary to get the entire look right. It also helps if you opt for a bright hair color like pink.
23. Leopard Halloween Makeup
Leopards are glorified cats, so we can certainly understand their appeal when it comes to Halloween costume ideas. As far as leopard Halloween makeup is concerned, we love @salonvbavlnce's display on Instagram. The leopard prints partially drawn on the face are particularly compelling.
24. Simple Witch Makeup
Here is a simple witch makeup idea that you can explore and make your own. And you can turn to @marrisa.leigh.photography on Instagram for inspiration. The makeup is pretty normal, but what makes it stand out is the witch's costume, complete with green hair and a witch's trinkets.
25. Halloween Witch Makeup Ideas
We promise that it is the last of Halloween witch makeup ideas on this list. But we couldn't just ignore it. Just take a look at @__empty_alien's portrayal on Instagram to see what we mean. It is an elaborate and glamorous makeup concept that works so well with the purple wig, witch's hat, and black lace dress.
26. Sexy Cat Makeup
When we think of sexy cat makeup ideas, the first character that pops to mind is Batwoman. She did an excellent job at bringing out the sex appeal of a woman with cat-like features. This Instagram idea by @che.mosley works really well for a Batwoman costume if you do not want to wear her infamous face mask. You just need a bit of black, white, and red.
27. Corpse Bride Halloween Makeup
Corpse Bride is a breath-taking musical stop-motion movie, and Emily is truly a character worth breathing life into. Many have tried but we believe few have succeeded as @rubymediamakeup in her Instagram post.
You need some crazy talent to pull off this makeup alone, so it would be probably best to pay a professional makeup artist instead. Don't forget about painting your entire body blue and wearing an ice blue wig. Otherwise, the outfit will not work.
28. Zombified Snow White
Everyone knows the innocence and purity of Snow White. But @maureennaudts is not afraid to take things one step further on Instagram by portraying the fairest of them all in zombified form.
It is an excellent take on the popular fairytale, which makes you wonder what Snow White would have looked like after taking a bite out of the poisonous apple. In this case, she turns into a zombie, and we are all for it. It should go without saying that special effects are necessary for this look.
29. The Other Mother from Coraline
Coraline is an American horror stop-motion with an impressive fan base. It has many memorable characters, and one of them is The Other Mother. If you would like to look like The Other Mother for Halloween, check out this impressive Instagram post published by @juliane_mua_. You need some serial makeup skills to pull this off. Otherwise, you should take this picture with you when visiting a professional makeup artist.
30. Black Eye Halloween Makeup
If you plan to dress up as a bad girl for Halloween, try out this awesome black eye idea. It belongs to @kaaat.makeup on Instagram and even shows an open wound. We think that it would go perfectly with any bad girl image, such as an escaped convict, vigilante, or military brat.
20 More Halloween Makeup Ideas
31. Cleopatra Halloween Makeup Idea
She Knows shares how to create a Cleopatra eye with a Halloween vibe. It's sexy, it's costume-worthy and we're swooning over it!
32. Effie Trinket Easy Halloween Makeup
Who is a fan of The Hunger Games? Well, if that's you, Cable Car Couture has a tutorial just for you! Learn how to evolve into Effie Trinket!
33. Sugar Skull Scary Halloween Makeup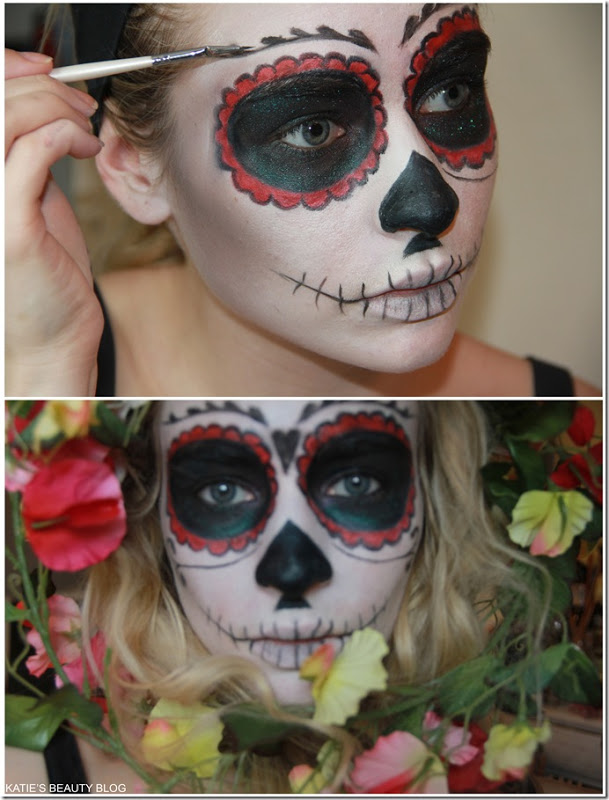 Katie Snooksfeatured her sugar skull makeup and we can't stop staring at how perfectly Halloween and gorgeous it is!
34. Cute Halloween Makeup – Comic Girl
Turn yourself into a girl straight from the comics with the help of this inspiration found at Style Blazer. It seems to be much easier than it looks at first glance!
35. Masquerade Halloween Makeup Idea
Mineralogiebreaks down what we need to create this look right at home. Instead of buying a mask, paint one right onto your face!
36. Green Witch Halloween Makeup
Brit + Coused everyone's favorite Broadway play as inspiration to their Halloween look. This is the kind of witch makeup we're all looking for!
37. Easy Halloween Makeup Idea
You'll need some fishnet stockings to pull this one off but we're in love with this look found atAllure! And being a fish for Halloween could be quite the unique get up!
38. Cheshire Cat Halloween Makeup Look
Check out this intricate Cheshire cat look fromDeviant DIY. Who doesn't love the classic Disney movie, Alice in Wonderland?!
38. Mermaid Halloween Eye Makeup
These "mermaid" jeweled eyes are gorgeous and we found them featured over at Hey Mishka! We love this idea and can't wait to try it out ourselves.
39. Sexy Skeleton Makeup
Lunabellashows us a gorgeous but eerily creepy makeup look for Halloween! A skeleton never looked so good, in our opinion.
40. Easy Halloween Makeup – Ghost

Brit + Co also has this great tutorial for a beautiful ghost-inspired look. Whether it's for a party or just to welcome your trick-or-treaters, we're in love!
41. Spider Web Halloween Eye Makeup
Check out these spider web eyes from NBC LA! Whether a witch or just a "spider-girl" this look is intricate and festive!
42. Pop Art Halloween Makeup Look
Total Beauty featured this stunning "Pop Art" look and we instantly fell in love with the drama and ease of replication!
43. Fairy Halloween Makeup Look
Get inspired by this magical, fairy creation we found on Popsugar! We love the glitter chips and fairy-tale quality of the entire look.
44. Honey-Boo-Boo Halloween Idea for Women
This makeup is easy and you probably have everything you need already. Just put things on a little heavier and more clown-esque – find it at Refinery 29.
45. R2D2 Halloween Eye Makeup
Yes, inspire your makeup after Star Wars and be the coolest girl at the party. We found this inspiration at Buzzfeed too!
46. Scary Halloween Makeup – Skeleton Mouth
PopSugarshowed us this beautifully scary skeleton mouth makeup. Make your eyes pop and focus everything around a creepy mouth!
47. Halloween Makeup Look – Sally
Fashionably Geek gave us this beautiful Sally from A Nightmare Before Christmas look and we love the finished makeup – it looks like the movie!
48. Yellow Bird Halloween Makeup Look
Be a bird! The makeup is easy but you can still have a whole lot of fun getting creative. Thanks to Buzzfeed for this feature!
49. Rag Doll Halloween Makeup Idea
Here's a grown up rag doll look that's so easy to pull off when you're scarce on time and need something to put together really quickly. Thanks again Brit + Co!
50. Morticia Addams Halloween Makeup Idea
Cable Car Couturehad another great makeup idea – that's so easy to replicate at home! And this is an absolute Halloween classic.
Final Thoughts on Halloween Makeup Ideas for Women
You can pick from numerous options when it comes to Halloween makeup ideas for women, whether you prefer a spooky or sexy look. A lot of portrayals need professional skills, so it might be wise to turn to a makeup artist for help.
But you can also find easy makeup ideas that you can pull off in the comfort of your home, without having to use anything other than your regular makeup bag.
No matter which Halloween makeup idea you end up choosing for this Halloween, be sure to return to this page and let us in the comments section below by submitting a photo. Plus, you can share any more awesome ideas with us.