50 Elegant Halloween Decoration Ideas to Try
Ever wonder how to make your house a work of spooky art while keeping it elegant? While you may not be able to answer that question, we'll give you some pointers on what you can do.
As the day draws closer and closer, decorations for Halloween begin popping up as early as August in stores. Floors are covered in cobwebs, pumpkins are carved to spooky faces, and decor is everywhere. However, all of this still does not answer the question of how to make your house a work of art. The simple answer is quite easy: shop around for ideas!
The Internet is overflowing with pictures, designs, tutorials, and much more on how to decorate for Halloween. Whether you go for simplicity or extravagance really depends on your personal preference. If you want to take an easier route, here are some of the most elegant Halloween decor ideas. Happy haunting!
Most Elegant Halloween Decor Ideas to Try in 2021
Not all of us have the time or patience to spend hours making our home look picture perfect for Halloween. And not all of us want our Halloween decorations ready-made just so we can buy them at the local store right before All Hallows Eve. On the bright side, there are plenty of easy decorating ideas available that can help you create a spooky ambiance in no time. So, read on and gain some inspiration!
1. DIY Embroidery Hoop – Halloween Aesthetic
You can take a novel approach to spooky Halloween decor by embroidering your own bat on an old wooden hoop. All you need is some thread and time for this Halloween aesthetic idea. The following article shows how easy it is for anyone with patience, skillful hands and eyes, creative inspiration, or even just basic sewing knowledge.
Get ready for a fun project that's easy to do! The most important things you'll need are some materials: an embroidery hoop, thread and scissors, or another pair of cutting tools (anything will work). Then, draw out your bats on black glitter foam – it's really simple when using templates online if needed but feel free to use whatever design inspires you the most!. After drawing the bats, cut them out.
The embroidery is a time-consuming process. Use a needle and thread to tie a knot, and then create the remaining patterns using back-and-forth motions. In the end, just add the bats.
2. Halloween Decoration Ideas
A great way to make your home look hauntingly beautiful on the scariest night of the year is by using elegant Halloween decoration ideas. Dressing up for little trick-or-treaters can become quite monotonous after a while. Therefore, take the opportunity to show off your creativity and design an elegant Halloween decor that will leave guests in awe of your decor!
Here is an elaborate idea for a DIY Halloween tablescape that speaks volumes when it comes to class and charm. Just check out this YouTube video tutorial made by A Charming Abode to find out how to mix together decor elements the smart way to design the perfect place where your guests can sit and enjoy their meals.
3. Pumpkin Aesthetic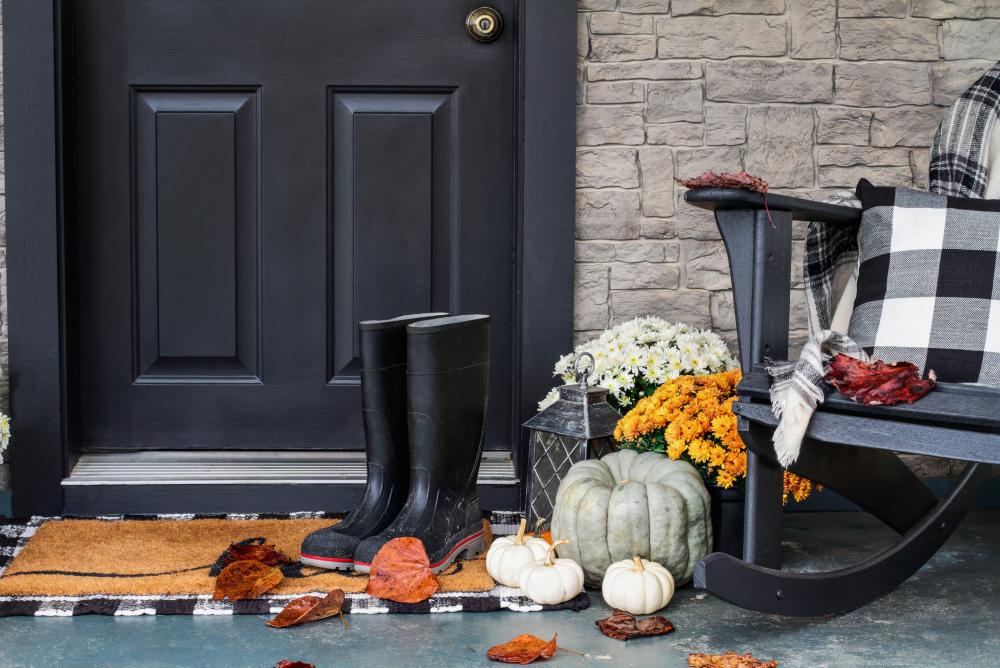 Pumpkins are an autumnal symbol of Halloween. To give your house or yard a new look for the holiday, one innovative decoration technique is to put pumpkins in new places around your property. Use them as centerpieces on tables, place them by the front door with some candy out for any trick-or-treaters that may come by, or place them sparsely through your yard to create an eerie atmosphere. There's no limit to where you can add a bit of pumpkin aesthetic around Halloween!
4. Halloween Window Decor
A must-have for the scariest night of the year is Halloween window decor. A simple way to make it is by using black paper or cardboard and spider webs. You can also use fake spiders, skeletons, and the like. Also, you could paint your window with glow-in-the-dark paint and make ghosts and pumpkins come alive with the help of black lights (just make sure to use them during nighttime)!
Or why not try this: use old CDs or DVDs as a mirror surface and draw some scary faces on them with a permanent marker. Then put them up in your windows! This works best if there's light behind the CD/DVDs (e.g. from inside).
5. Cute Halloween Decorations
For cheap and cute Halloween decorations that look elegant in any setting, take some black wrapping paper that you have at your disposal. Otherwise, you can just use regular paper. Paint it white or any other bright color, then cut it in different shapes like pumpkins, bats, cats, or ghosts. After cutting these shapes up, spread them around your house, put them behind furniture, or even across your ceiling. Of course, you can also use it to wrap Halloween presents.
6. Halloween Porch Decor
Are you looking for some creepy, yet elegant decorating ideas to make your porch look spooky? Decorating the front porch is a great way to introduce fall and Halloween into your home and life. Life gets busy and we hardly have time for our own backyard, much less decorate the front one too. Throwing out a little decoration on your front porch can change up all that – especially since it doesn't require cleaning! If you love outdoor autumn decorations but don't want the hassle of upkeep, check out this cool Halloween porch decor idea.
7. Halloween Room Decor
Since Halloween is a time where the line between the living and the dead is blurred, it's important to make sure that your Halloween room decor reflects this. You want your guests to not be able to clearly see what they're walking into or tripping over before they've gotten used to the room and see everything in its place. That being said, there are some things you can do to help set up an ominous, yet elegant atmosphere for trick-or-treaters guests at your party.
The color scheme for this time of year should be pretty simple: orange and black with splashes of white and silver thrown in here and there, depending on what kind of style you want to go for throughout your home. This color combination provides a haunting feel that is not too overwhelming on the senses. Don't be afraid to experiment with a hanging ghost, bats, lanterns, frames with ghosts, paper witches, and a big broom.
8. Paper Lantern Art – Indoor Halloween Decoration Ideas
If you are looking for a simple way to make your Halloween party more elegant when you're on a budget, try these paper lanterns. Halloween paper lanterns are a unique way to decorate for the holiday. You can hang them outside, or inside in front of windows, mirrors, and so on. All it takes is some basic supplies and an afternoon of crafting to explore these indoor Halloween decoration ideas!
To begin this project, gather the following supplies: a white pencil, curved nail scissors, small scissors, white vellum, black paper, tea lights, and a glue stick. After collecting all these things, you can start working on the project by designing the shape of the lantern.
To do this, use basic Origami techniques to fold the black paper and create creases. Check out our tutorial to see exactly what we are talking about. After this step, you can draw the spooky background using a white pencil, which will be made visible when the lantern will have a light source inside.
Our guide shows the remaining steps you need to take to create paper lantern art. As for the light source, just place the lantern on top of the tea lights so they come on at night.
9. Halloween Ghost Decorations
This Halloween, make your party jump with Halloween ghost decorations that you can quickly create at home using basic supplies. It's a simple, scary, and yet elegant decoration idea for Halloween that your family and friends will surely appreciate.
To create a spooky ghost-like like the one shown in the photo, you just need some cotton and a Sharpie marker. Twist and turn the cotton to create a ghostly shape, and then draw three points that represent the ghost's eyes and mouth. It's as simple as that! If you need support for the cotton, you can make some small balls out of paper and then attach them to the inside. Be sure to make several ghosts this way before hanging them in your living room.
10. Lanterns from Upcycled Plastic Cups – Spooky Halloween Decorations
Halloween is a time for spooky decorations and scary costumes. With this project, you can turn your everyday plastic party cup into an eerie light that will keep your front porch well-lit! You can also use them as luminaries to line the walkway to your door.
To get this party started, you will need plastic cups, spray paints in the colors of your party theme, tea lights, and a Sharpie marker. Start by spray painting each cup and make sure to protect the surface from the paint using some plastic covers.
Then, draw funny or spooky faces on the outside of the cups using the Sharpie marker. Place the tea lights where you want to create a string of lights, whether it's on your porch or in your hallway. Then, place the plastic cups on top. It's a cool and inexpensive effect that looks classy when you turn the lights off. Check out this YouTube video tutorial made by Diy and Crafts to learn more about these spooky Halloween decorations.
11. Fireplace Mantel – Classy Halloween Decorations
One of the most creative things you can do to spruce up your Halloween mantel, door, or table is by adding a fireplace mantel that can be easily repurposed in any way you see fit. This tutorial will show how easy it really was for us and give some tips on where we got our supplies at! It gives you a simple way to explore classy Halloween decorations.
Some supplies are necessary to help you get started on this project. If you want to stick to the tutorial's recipe, get the following: three small artificial pumpkins, five gold mercury glass votives, three or four artificial gold roses, a black feather boa, two gold candlesticks, gold washi tape, Halloween decorations like a black hand and a raven, as well as black yarn.
Since the project is so versatile, feel free to replace the decoration elements with anything you want and which matches your elegant Halloween theme. Next, follow the tutorial steps to make the arrangements for your fireplace mantel. Or, you can use it for a table centerpiece and even a door mantel if you can stick everything together with a hot glue gun.
12. Day of the Dead – Elegant Halloween Decorations
This year, make your Halloween party a Day of the Dead event with this awesome wreath. You can't miss out on this great idea for elegant Halloween decorations, which will surely delight your family. It's easy and affordable so you'll have no problem getting it done with help from all in attendance!
Make a list of the following supplies: a clean resin skull, scissors, black lace fabric, a round or rectangle picture frame (without the glass), Sharpie markers, pliable wire, and artificial flowers in the colors you like.
The skulls that you see on this day are so iconic, they'll give any art or design project a unique touch. Start by drawing the Day of Dead skull using markers – these can be permanent if desired, but we recommend starting out with Sharpie since they're thin and stain resistant!
You may want to get creative when making your own variation. What about going for an abstract style instead? There is no wrong way to celebrate Dia de Los Muertos because every culture has different beliefs around death which means something different in terms of rituals.
Next, use the hot glue gun to stick the black lace, skull, and all other decoration elements to the frame. And that's it! But it's a good idea to double-check that everything is firmly attached to the wreath before hanging it on your front door.
13. Halloween Apartment Decorating Ideas
Your apartment is just a little too far gone to the dark side. You've got skeletons, skulls, and witch hats everywhere. You can't ignore that infernal jack-o-lantern on your doorstep. The only thing you're missing, of course, are some spooky Halloween apartment decorating ideas.
Firstly, we suggest creating a dedicated space for a candy bar if you have people coming over. Then, you can focus on decorating that part of your apartment to make it as festive as possible. For instance, you can add black and orange balloons and a garland, spooky messages, hanging lights in the shape of skulls, as well as paper bats and spiders. Sky's the limit!
14. Glass Halloween Ornaments
Glass ornaments are pure class and Halloween should make no exception. If you are planning an elegant party for your friends and family, make sure to place a skeleton-shaped vase or candleholder on your table, in order to fill it with flowers or a candle. It's spooky but also classy. Of course, this isn't exactly a do-it-yourself project that you can tackle unless you are a glass-maker, so be sure to explore online shops like Amazon to find something you like when it comes to glass Halloween ornaments.
15. Black and White Vine Wreath – Halloween Aesthetic
The black-and-white vine wreath is a must Halloween aesthetic for decorating your front door. It's not too expensive and it's very easy to make into a year-round decoration, especially if you use the same wreath from every year with different themed decorations.
As far as materials are concerned, you have to obtain a pre-made vine wreath, black and white feathers, a faux blackbird, black spray paint with a glossy finish black ribbon, faux flowers, grass, wire cutters, and a hot glue gun. If you don't like the blackbird idea, feel free to replace it with any other Halloween element that inspires you.
Before spray painting the vine black, get some plastic covers and place them on the ground or table to keep it safe from the paint. After waiting for the paint to dry off, start to attach the black ribbon and flowers using the hot glue gun.
You might think this is too simple to be creative. All that's required is a bit of creativity when it comes to arranging these flowers. And if your design doesn't stand out enough for you, dip a paintbrush in a new color and then flick off droplets across the blackbird to add a splatter effect.
16. Elegant Pumpkin Aesthetic
Pumpkins are a great way to add some seasonal decoration to your home for Halloween. They can be used in a number of ways, from carved into jack-o'-lanterns to hollowed out and lit up with a candle inside. You can use them as a bowl for serving candy or other goodies at the door or leave it outside for trick-or-treaters to take a spooky decoration home.
However, if you want to embrace sheer elegance this Halloween, we suggest dedicating some time to create a classy pumpkin aesthetic like the example in the photo. You just need spray paint in silver, gold, copper, or any other glamorous color that goes well with the party theme. Then, spray paint the entire pumpkin, including its stem. To create an even more beautiful look, make sure to spray paint more elements in the same color, like a small vase, in order to make an ensemble for the dining table.
17. Glamorous Copper Pumpkin Aesthetic
If you are looking for an exciting, innovative way to spice up your next Halloween party with a unique and creative pumpkin painting idea that'll surely impress all of those attending, be sure to not miss out on this glamorous copper design. The only thing more impressive than its appearance is the fact that there can never ever be another one like it!
The painted pumpkin is an elegant and playful pumpkin aesthetic that can be used for both Halloween and Thanksgiving. It's perfect if you want to make your front doorstep the scene of all sorts of fun, or as an elegant centerpiece on any dinner table.
Attention all you DIYers out there! You need to know how easy it is to make an autumnal masterpiece with our step-by-step tutorial that will show even beginners like yourself exactly what they need for this project. Here are all the tools and materials you need: copper spray paint, copper beads, a drop cloth, and an artificial foam pumpkin.
You might also be interested in plastic covers to keep your surfaces clean from paints. Evidently, it's not mandatory to go with the copper spray paint since you can choose any other color that matches your Halloween theme, such as metallic gold or silver.
Place the pumpkin on the plastic cover, get your spray paint, and make sure to cover the entire pumpkin in paint, including the stem. Patiently wait for the paint to dry off. You might have to add a second coat to make it look truly stunning. And that's it! As you can see, the instructions are incredibly simple. You will obtain an elegant piece of decor for your Halloween party that looks expensive but which is actually cheap.
25 Extra Elegant Halloween Decor Ideas
We have a bunch of extra elegant Halloween decorations you may want to make for your house.
18. Black Lace Votive Candles Halloween Decoration Idea
These black lace votive candles still evoke the feeling of Halloween without going too far with bright colors. The lace is reminiscentof a spider web, while the warm light looks almost orange against the black. And the best part? They're incredibly easy to make! Head overhere to find out how to make them.
19. Wine Bottle Candelabra Halloween Aesthetic
Instead of tossing all of those empty wine bottles, set them aside and use them as a beautiful centerpiece for your next Halloween party. Simply remove the labels from a bunch of clear wine bottles (the number will vary depending on the size of your table) and cluster them in the center of your table with white tapers in each one. Found at Tattered Style.
20. Sharpie Pumpkins Indoor Halloween Decoration Idea
Grab a Sharpie marker and a couple of white pumpkins from your local farm stand and soon you'll have a beautifully elegant Halloween display. Boxy Colonial shares a great tutorial on how to recreate the look here. And if you can't find white pumpkins, you can always paint them!
21. Gold Halloween Decoration Idea
Why not try metallicsfor Halloween? It's a refreshing take on traditional Halloween decor. Paint a few pumpkins and pinecones gold and place them on a burlap runner on your table. Gold votives will add some beautiful mood lighting. Get all of the details over at A Pumpkin and a Princess.
22. Black and White Halloween Aesthetic
Utilizing a black and white color scheme is another contemporary way to decorate for Halloween. Think crows, spiders and skeleton keys. Adding a few pops of white will accentuate the darker hues. Make your way over to PopSugar to see how Stephanie dressed up her home in black and white for a big Halloween bash.
23. Crocheted Doily Halloween Ghost Decorations
This is a charming take on Halloween decor, with pretty white ghosts hanging from the ceiling amongst faux black birds. You can make the ghosts easily by balling up a tissue and covering it with a vintage crocheted doily and then tying stringaround to secure it. Read more about the look over on Domestic Fashionista.
24. Modern White and Orange Halloween Pumpkin Aesthetic
Here is another great way to give your Halloween decor a modern look – display tons ofwhite candles on your fireplace mantel (or even the center of a white table), and then cut spooky faces out of white pumpkins so they glow orange when you light candles inside of them. See this and lots of other contemporary Halloween ideas over at Dwell.
25. Black Feather Wreaths Halloween Indoor Decoration Idea
A black feather wreath screams Halloween, and it's so easy to recreate in your own home. Just buy a feather boa and wrap it around a wreath form! Accent your black wreath with some purples and whites to give the color palette a thoroughly unique feel.Head over to Anna & Blue to check out the rest of this party decor.
26. Black Birds Spooky Halloween Decorations
There is something about black birds that seems very ominous, making them the perfect non-traditional Halloween decoration. Here, Jennifer has placed two black birds in a small white tree, using it as a unique centerpiece. Head over to Simply Ciani to read more about how to decorate on a budget. The Halloween decor in this room cost a total of $13!
27. White and Orange Halloween Decoration Idea
Here, a different way to display the traditional combination of orange and white – use white pumpkins instead of orange, placingthem ona festive orange runner. Beautiful vines dotted with red and orange berries are wrapped around the pumpkins. Check out Apartment Therapy to see this and many other Halloween decor ideas.
28. Gem Encrusted Skull Halloween Decoration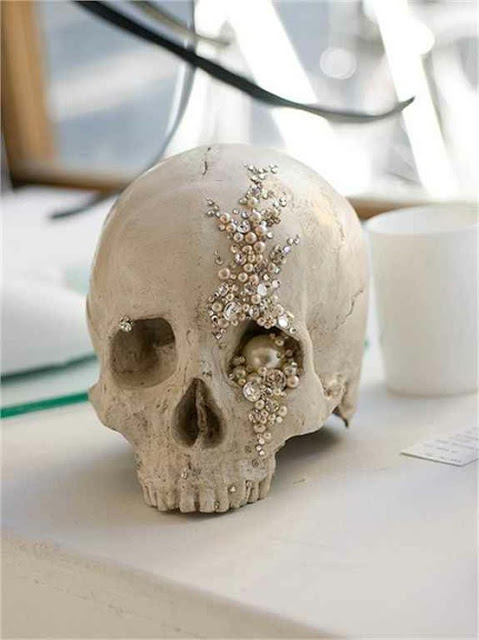 This spooky skull is glammed up with sparkling silver and white gemstones-a beautiful play on traditional scary Halloween decor. This would be an easy DIY… buy a faux skull atyour local craft store, along with a variety of shiny beads, gemstones and sequins. See this and lots of other unique Halloween decor ideas at Living On The Chic.
29. Pink Pumpkins Halloween Room Decor
Pink pumpkins are an unexpected play on the norm, and they will add a bright touch to your entryway or table centerpiece. Try several shades of pink, and throw in a gold or even a plaid one. The gold one can be createdby applying gold leaf, and the plaid can be madeby layering pink lines – just be sure to let each color dry before you apply the next one. Read more at Chatelaine.
30. DIY Crystal Balls Halloween Decoration Idea
These creepy crawly crystal balls are so much easier to make than you might think… all you'll need are some images printed on transparency paper and clear glass Christmas tree ornaments. Make your way over to Flamingo Toes to read a full tutorial and to download the free printable images. Your friends will be flabbergasted that you made these yourself!
31. Gold and Black Halloween Aesthetic
Here's another inspiring color combination for a unique Halloween display… gold, black and white! This is a bit more cheerful, with a hint of that dark Halloween flair. And everything was DIY, so it didn't break the bank. Check out A Thoughtful Place blog to find out how to do a whole slew of different gold, black and white themed DIYs for your mantel.
32. Green and Black Indoor Halloween Decoration Idea
Here is yet another interesting twist on the typical Halloween color scheme. Omitting orange altogether, Sarah went with a pale green and black color palette. That black net gives it a spooky feel, while the light green adds a friendly vibe. See the whole display and find out how to recreate a similar one in your own home here at the Boxwood Clippings blog.
33. Contemporary Wreath Halloween Porch Decor
Because of the skull and the black and white stripes, it is clear that this is a Halloween wreath… but the addition of a neon chartreuse bow gives it a fresh, contemporary look. After all, neon is on trend these days. Check out this and 29 other DIY Halloween wreath ideas at Lil' Luna.You'll want to make them all!
34. Matte Black Pumpkin Halloween Aesthetic
There's something about this matte black pumpkin sitting in a dark room that feels extra creepy, as ifa ghost might float around the corner at any moment. The matte finish gives it a unique look, and notice that the stem is painted too. Check out the tutorial by Sweet Paul here. He recommends using an artificial pumpkin so you can keep it from year to year. Good tip!
35. Mercury Glass Elegant Halloween Decoration
Mercury glass has gotten very popular in home decor lately, so it only makes sense that mercury glass Halloween decorations would be popping up too. The material feels very glamorous on the one hand, but a bit worn and almost vintage on the other. Which is precisely why it looks great with other Halloween decorations. Find out how Heather pulled it off on her blog.
36. Black and White Embroidered Text Halloween Room Decor
The simplicity of this piece is what makes it feel contemporary…. Just grab a piece of black linen fabric and some white embroidery floss and you'll be ready to make one of your own fun "boo" signs. Get the whole tutorial over atMe Oh My! (which she original found in Sweet Paul Magazine). She also wrote the word "eeek" on another one – don't hesitate to get creative with your text!
37. Halloween Porch Decor – Dotted Pumpkins
There is something so elegant about this display. All of the jack-o-lanterns are created using the same general technique – small holes in patterns for the light to shine through – but each one is unique. Some of the pumpkins are different colors, and each one has a different pattern. Recreate this technique with your own pumpkins by makingholes with an electric drill. See this and many other Halloween ideas here.
38. DIY Feather Garland Halloween Decoration Idea
This has abit of afall feel to it, but it certainly could pass for Halloween decor when displayed with white pumpkins as shown above. Then you don't have to switch your decor in November, you can simply use the same decorations for a few months! Check out the easy how-to for this gorgeous gold-dipped feather garland over at the Simple Stylings blog.
39. Nightmare Before Christmas Tree Halloween Decoration
This might be the most unusual idea of them all… a Nightmare Before Christmas tree! Buy a white artificial Christmas tree and fill it with characters from the oh-so-spooky tale. A silver tinsel garland adds a healthy dose of sparkle. Find out more about Greg Horn's tree shown above over at the MTV Geek blog.
40. A Murder of Crows Halloween Room Decor
This murder of crows sets the tone for a spooky Halloween-inspired dinner party. Most craft stores will sell a variety of different artificial crows, so grab a bunch and cluster them together on your mantel or on a bookshelf. The mirror is another unique touch – copy the words of a Halloween themed story or poem on a mirror with a black dry erase marker. Check out this and lots of other ideas here.
41. Day of the Dead Wall Art Halloween Decor
Hang some seasonal wall art -something like these Mexican-style skulls (a Day of the Dead sort of look) would do the trick. Find out how to recreate this look at Cuckoo 4 Design. She used photocopies from a Mexican graphics book, and then had her daughter color each one differently.Also notice the black plastic spider on the roses… the perfect subtle touch!
42. Skull Bookends Halloween Decoration Idea
And last but not least, flank some old books with a pair of skull bookends. You can buy them or make your own using this tutorial.Check out this and many other waysto decorate your home with skulls here. Add a few faux cobwebs with black spiders and your mantel will be ready for Halloween in all of its elegant glory.
8 Best Halloween Decorations to Buy
Do-it-yourselves projects are great at adding a unique touch to your Halloween decorations. But you might feel like something is missing. Something that you can't really create on your own but buy from online shops like Amazon. Here are our favorite picks when it comes to the best Halloween decorations to buy:
These lights are so festive for your Halloween decorating! If you can't afford or don't want to spend that much on lights, then just get some battery-operated ones and add them around your house. Either way, it will be great!
This pack from Amazon is gorgeous because it comes in different colors and there is no need for any outlets since they run on batteries. So if you find some cool places to hide them, it's even better! You can also use them as night lights or turn them into a Halloween decoration for next year by using the blue, green or purple lightbulbs, or any combination out of these. These are simple and incredibly effective Halloween decoration ideas.
View price on

Amazon
This is a must-have for anyone who loves gargoyles. It would be great next to a fireplace mantle, in a corner, or even as an accent piece on top of the side table, or anywhere else you can find space! There's no doubt that this gargoyle statue grabs your attention the moment you set your eyes on it. It's an awesome idea when it comes to spooky Halloween decorations. So why not try and see what kind of reactions it gets from your friends and family!
View price on

Amazon
The haunted house window silhouettes are terrific decorations for anywhere you can hang them up. It would look awesome hanging on the wall with a light shining through it or just by itself without a light so that you can see what you have going on in your house during Halloween night!
But it's specifically designed as a Halloween window decor, so the best place to place it is on your window. It works amazing as an accent piece as well since it makes you think of how Freddy Krueger was always hanging pictures on the walls to show where he had been killing his victims.
View price on

Amazon
If you want a quick but cute, easy decoration that can be done very quickly, then head over to Amazon and buy this black cauldron kettle. You can also go through the pumpkins that are on sale right now at your local stores, in order to fill the cauldron. Some will have stems already attached, which would be perfect for this picture.
Otherwise, just use the tops of the pumpkins to make it look like someone has taken a bite out of it! You can also fill the cauldron with candy and place it as a Halloween porch decor to greet trick-or-treaters. Or, you can bring it inside and fill it with fake jewels to make it look like evil leprechauns are living in your home.
Another idea is to fill it with punch so that your guests will wonder if they are actually drinking a delicious beverage or being fooled by a wicked witch who's trying to poison them. It might seem like a simple decoration idea for Halloween, but possibilities are endless when combining the cauldron with something else.
View price on

Amazon
These skull candle holder lights come with everything you need to start decorating! In fact, you don't have to buy anything else. It doesn't run on electricity, so you don't have to worry about wires when trying to find a good spot for this eerie piece of decor.
Just take these battery-powered candle holders and place them somewhere that will give off a spooky vibe to your guests or trick-or-treaters, such as the front yard, on your porch, or on the table as centerpieces. They will look great anywhere you choose to put them! In addition, this Halloween aesthetic idea works amazingly well with a graveyard theme.
View price on

Amazon
Spiderwebs are a timeless element of decoration for Halloween, thanks to their simplicity. It just works with any party theme you choose for the scariest night of the year. Besides, it makes the perfect addition if you already have Halloween decoration ideas and plans that involve spiders.
You could create your own by buying different-sized styrofoam balls at your local craft store and putting yarn all over them, but those take more time than this does! Just head over to Amazon since you can find cheap spiderwebs that are packed and ready to go. If you already have a cauldron, this is definitely for you since it will go perfectly inside of it and scare everyone who sees it.
View price on

Amazon
These bottles with LED-powered cork lights are a creative way to light up any type of party, including an elegant Halloween gathering with friends and family. Add them to trees, shrubs, and doorways for a spooky look. The set includes twelve bottles with LED cork lights, batteries, and flexible copper wires that are easily designed to any shape you need. Besides, you can use this Halloween aesthetic idea both indoors or outdoors!
A cool part about this idea is that the bottles turn a simple party supply into an eerie decoration that will have visitors wondering what you're hiding in the bushes. Use them all over your yard for a scary glow that is subtle enough not to scare trick-or-treaters away from your front step, but also noticeable enough to make anyone passing by stop and stare.
View price on

Amazon
The black cat tapestry is an excellent idea for cat and witch lovers when it comes to cute Halloween decorations. If you're looking for something equally spooky and adorable to hang up in your room or anywhere else around the house, then check out this cool product we managed to track down on Amazon.
The only downside to it is that it's not battery-operated. So if you want to get one of these bad boys up on your wall as soon as possible, grab a needle and thread and get sewing! It might take a while, but the end result will be worth it in the end when you see how much people love it when they come over for Halloween.
View price on

Amazon
Final Thoughts on Elegant Halloween Decor Ideas
As you can see, creating elegant Halloween decor is not as difficult as some people might think. There are many ways to decorate your home without spending too much money or time on it. Furthermore, you will create unique decorations that nobody else has!
If you decide to be creative this year for Halloween, hopefully, these ideas have inspired you to come up with something unique and spooky for your friends and neighbors. Otherwise, there's always the option of buying classy elements of decoration for Halloween from online shops like Amazon.
Once you make up your mind about which elegant Halloween decor ideas are right for you and your party, be sure to return to this page and share photos with us in the comment section below. And, if you have any other suggestions that we haven't already covered on this page, don't hesitate to grab our attention!