DIY Christmas Window Decorations
In our house, we're the kind of DIY decor enthusiasts who love using any holiday or season change as an opportunity to decorate every inch and surface available. Now that the snow is about to fall, we've been in the mood to get a head start on a bit of homemade Christmas decor but, honestly, some of the only space left for bits and bobbles is in the windows! That's why we've been keeping our eyes peeled for pretty, wintery window decor pieces that we might try our hand at making.
Are you feeling just as enthusiastic as we are, if not more, about the idea of making some DIY Christmas window decor this season? Check out these 15 fantastic ideas, designs, and tutorials that we've come across so far in our search for inspiration and guidance!
1. Tips and tricks for decorating your windows both inside and outside
Are you actually totally enamoured with the basic concept of decorating your windows, but you're torn between doing so on the inside, the outside, or both and you're having trouble choosing which styles of decor might suit your window's structure? Then we'd suggest starting with this awesome resource from Improvenet that's full of all kinds of basic window decor tips and tricks!
2. Ribbon and hanging glass balls window
This pictures actually shows you an interesting way to create a beaded curtain-like display in your doorway, but we know that our front and side doors would never let such a setup survive. That's why we actually adapted this awesome mobile-like idea for our front window instead! You can still follow the basic instructions on Hometalk for stringing up your Christmas balls; just anchor them to your window frame instead of the door jam!
3. Tissue paper stained glass window ornaments
Are you actually feeling pretty intent on getting your kids involved in about as much of the holiday decor crafting you plan to do this year as you can? In that case, we'd absolutely suggest taking a look at how Simply Today Life did some classic tissue paper "stained glass" DIY in order to create these adorable Christmas bobble shaped window hangers in a way that's nice and easy.
4. Hanging pinecone Christmas window
Do you actually really adore the idea of making some kind of mobile-esque hanging decor but you're just not sure that the glass ornaments design you saw above is quite the aesthetic you're looking for? In that case, we'd absolutely suggest taking a look at how The Do-It-Yourself Mom did something similar but using pinecones for a more rustic, wintery woodland feel instead!
5. Glue gun window snowflakes
If you're going to put in the time and effort it takes to actually create some DIY things that really help establish a wintery setting, would you rather do it in a way that can look quite realistic? In that case, we think you'll get a real kick out of this tutorial from We Lived Happily Ever After that shows you how to create hot glue snowflakes right on your window glass in a way that looks very icy indeed! Don't worry; the dried glue will actually peel right off the glass when it's time to take them down.
6. Mini twig and berry holiday wreaths
Whether you choose to display them as a multiple hanger set like you see in this picture or simply make one for a window display that has many DIY trinkets in it, we'd definitely suggest taking a look at how Flax & Twine made these adorable twig and berry holiday wreaths if the idea of making something wintery and nature-centric appeals to you!
7. Ribbon wrapped mini window wreath
Did we actually really pique your interested with our mention of making small window wreaths for a delicate little winter themed welcome but you're more a fan of things like bright colours and trim rather than nature and rustic feels? In that case, we think you might be a little better suited for something like this lovely little ribbon wrapped gift bow wreath that Debbie Doo's shows you how to make and hang up in the window just right!
8. Felt poinettia strips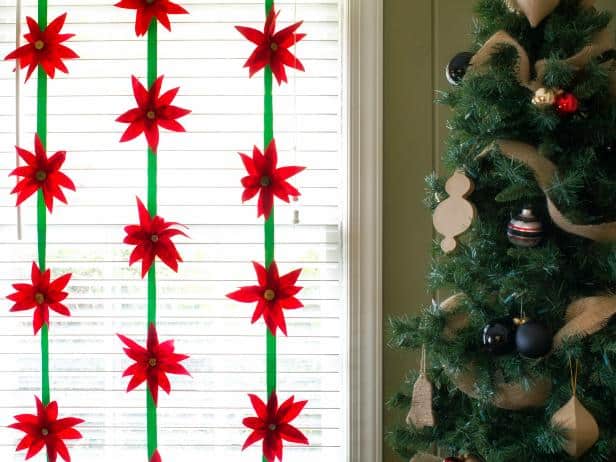 If you're going to make some kind of cool vertical window display, would you rather make a hanger that has some embellishment all the way down, rather than just one little piece dangling at the end? Then perhaps these brightly coloured DIY poinsettia strips outlined in detail on HGTV will be a little more up your alley! We love that they look so explicitly Christmas themed.
9. Lighted Christmas window display
Do you actually have a small framed window that doesn't have any sill or much of a sunken edging so you're having a bit of trouble finding ways to decorate it that really suit? Then perhaps you'd get along a little better with a tactic like this one from June Beautique that shows you how to frame your window in little white lights that look almost like twinkle snow and then decorate around the window and on the glass itself (they give you stick-on suggestions) to get a beautiful effect despite the setup!
10. Mini pom pom winter windows
Have you always just been a really big fan of craft ideas that are supposed to look like snow, perhaps because it doesn't snow where you live? Maybe it does and you just really love the winter season. Either way, we'd absolutely suggest taking a look at how Torie Jayne made their window look like snow is falling right there in the frame using carefully strung fluffy white cotton balls.
11. Hanging ornament Christmas window treatment
Were you actually quite intrigued by the very first hanging Christmas ornament idea we showed you on this list but you just can't help feeling like you'd rather take the look to the next level by getting more creative with what you're using to string the balls up too? Then we feel like you might get a real kick out of the way Pink Polka Dot Creations outlined how they did it with ribbon and stripes of soft tulle! We think the look is extra festive.
12. Chalk pen winter window drawings
Maybe you're the kind of DIY enthusiast who really loves trying your hand at all different kinds of crafts but who actually has the most practice in the world of freehand drawing? In that case, we're pretty sure Pinks Charming has just the tutorial for you! Check out their page to learn more about how they sketched a removable but gorgeous winter scene right onto their window glass using chalk pens. We like that this gives a pretty look on both the inside and outside at once!
13. Book page snowflakes
Are you actually the kind of person who adores repurposing things so much that you'll turn just about any season into an opportunity for upcycling through DIY? Then reach for that stack of damaged books you've been meaning to donate but can't read anymore thanks to missing pages and take a look at how An Extraordinary Day turned book pages into lovely cut-out hanging snowflakes! We come from a whole house of total book worms, so we love the idea of hanging a whole series of these in the window.
14. Old window frame paper Christmas bunting decor piece
Are you actually currently living in a small apartment that, despite having windows (since every home must), doesn't really have one that you can easily reach and decorate the way you want? Then perhaps you'll find a lot of appreciation for the way Shimelle got around that very issue by picking up a vintage wooden picture frame at a garage sale and creating a beautiful Christmas display around that instead! Lean it against the wall or on a side table and create the window decor of your dreams whether there's glass or not.
15. Pinecone window bunting
Just in case you're still not over this whole concept of strung window hangers, garlands, and buntings of all kinds, then here's one more idea for your consideration before we go! Check out how Homedit teaches you to make a beautiful, natural looking window garland made of actual pinecones gathered from the park. We like that they used jute string to keep things on point aesthetically!
Have you made fantastic DIY Christmas window decor pieces before that you were very happy with indeed but that you don't see here on our list? Tell us all about what you created and how you did it or link us to photos of your finished work in the comments section!