20 Christmas Ornaments Made From Nature
Christmas is just around the corner, and the first thing that pops in many people's heads is the Christmas tree that they will be bringing into their home, but in 2021, we would like to suggest that also try some Christmas ornaments made from nature, so that you can finally say that you had a "green" Christmas.
That being said, the purpose of today's article is to showcase 20 different Christmas ornaments made from natural sources, so that you can have plenty of picks to get inspired from.
How to Make Christmas Ornaments from Nature
There are plenty of tutorials out there that teach you how to make Christmas ornaments from A to Z, but most of them involve the use of home supplies and not things that you could find in nature.
When making Christmas ornaments made from what nature has to offer, there are several things that you need to remember:
The best materials are holly leaves, holly twigs, pine cones, hickory nuts, and acorns, although you can add other things if you like how they look, such as pine branches.
You need to pick the items you're going to use very carefully. Look for items that are intact and things that look symmetrical.
If you gather everything yourself then take into account that some of the objects may not be suitable for ornaments because they can't support their own weight or might fall apart too easily.
If the item you want to transform is still attached to a tree branch, make sure it's really stable before cutting it off so you don't accidentally damage the branch.
As far as colors go, things like red berries work great! You can try using colors as well, but if so, make sure to use dyed or food coloring.
Best Natural DIY Christmas Ornaments to Make in 2021
Making natural DIY Christmas ornaments isn't something new, especially when you consider that the very first Christmas ornaments were made from things you could find in forests or on fields.
However, ornaments haven't stayed the same, and trends are constantly changing, but we went ahead and did the research to figure out what everyone is talking about in 2021 so that we can compile a list of the most popular natural Christmas decorations.
In the end, we managed to gather a total of 20 different ideas, all of which look amazing, and are easy to make use of as much as what nature has to offer as possible.
Keep in mind that this article is meant to be a list of ideas that should inspire you and not a ranking, so don't presume that the first entries are any better than the last ones.
1. Homemade Christmas Ornaments – Gilded Acorns
The first entry on our list of natural homemade Christmas ornaments is the gilded acorn, a timeless classic, which is very easy to make, and only requires a few things:
Acorns
Golden paint
Glitter (optional)
Lobster clasps
A length of twine
For starters, you need to paint the acorns with golden paint, which you can then let dry overnight. If you want, you can add glitter to give them that extra shine.
When it comes time for attaching the clasps and twine, make sure to do some experimenting first, so that you can get a better idea of how this works without ruining your masterpiece.
You could also hand sew some ribbon or lace around the edges of some acorns if you like how they look by themselves.
For those of you that think that gold paint is far too flashy, you could also try out silver, copper, bronze, etc. Also, if you don't want to use paint for your gilded acorns, there are plenty of other options out there that will work just as well, like spray paint for example.
2. Homemade Ornaments – Candied Decorations
In many places around the world, sweets are also placed on the Christmas tree, and there are even dedicated kinds of sweets that have wrapping made especially so that they can be hung on the tree's branches.
Well, no matter how sweet and delicious they are, candy is bad for you in large quantities, and let's face it, we stuff our faces with food during Christmas, and the kids can finish a box of Christmas tree chocolates in minutes.
If you want to find a healthier alternative, but also bring a dash of extra color to your Christmas tree, you could try candied fruits as a type of decoration.
In the image above we showcased how a slice of candied or dried orange looks like, and have to see that we believe it looks both amazing and delicious.
Not only is it a healthier snack, but it will also spread a very pleasant smell around the house (the smell of oranges is synonymous with Christmas anyway), and you can even try using this trick to decorate other dishes as well.
Of course, if you aren't too keen on oranges, you could try other fruit as well, like apples, bananas, strawberries, etc, and if you really want to create your homemade ornaments from start to finish, you can practice your kitchen skills by making the candied and dried fruits yourself!
3. Homemade Christmas Decorations – Pine Cones with Glitter
When most people think about pinecones and natural ornaments for the Christmas tree, they tend to focus on their color and size instead of how beautiful they look when they're coated in glitter.
Well, this is a sad fact because we wholeheartedly believe that any pinecone looks amazing when it's covered in sparkly bits of silver or gold.
If you don't know where you can buy this kind of glitter from, there are plenty of different shops that sell these types of products.
Of course, if you don't want to use glitter, but would rather focus on some other type of adornment instead, then you could try tying ribbons around the cone or even wrapping it with some artificial flowers.
4. How to Make Ornaments – Pine Garland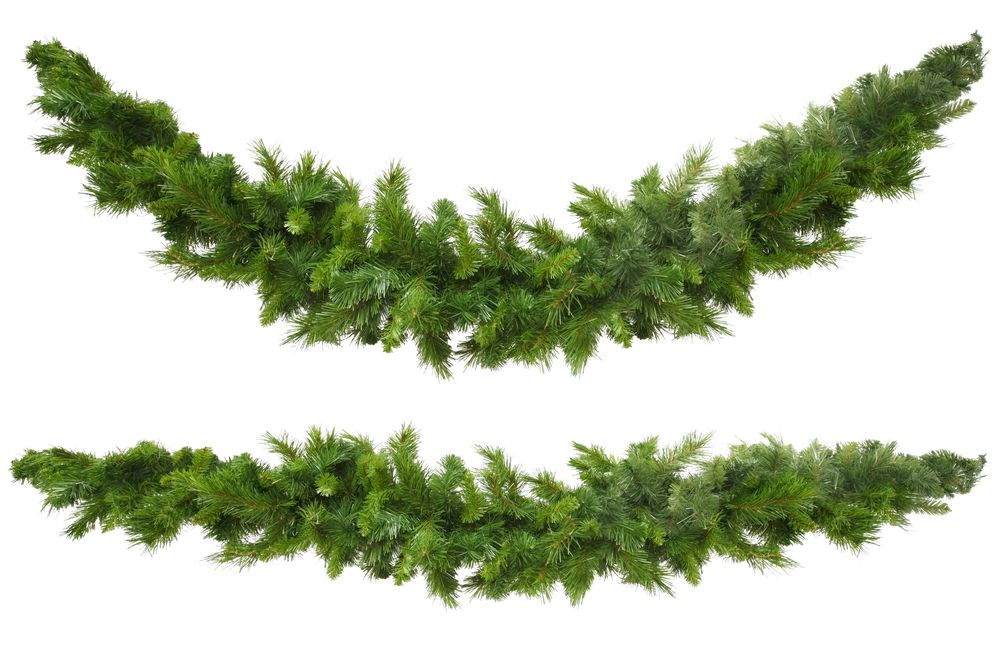 Another example of classic Christmas decorations is the garland, and this entry is the perfect chance for us to teach you how to make ornaments using things from nature, despite the fact that you may be used to seeing garlands made out of plastic or tin foil.
Well, to make a garland made out of pine branches, you'll need the following supplies:
Some nice-looking pine branches
A length of twine
Pinecones
Some glue
Acorns
Start by wrapping the twine around the pine branches (one loop at each intersection), and make sure to leave some room in between for when you add in your pine cones, acorns, etc.
If you want to go with something easier than gluing every single one of these objects into place, consider using a hot glue gun instead.
However, if you're impatient like us and would rather get this done sooner than later, then you can always use regular old-school glue or even nail polish for an extra-strong hold that will keep all of the pieces locked together until Christmas is over.
5. Natural Christmas Decorations – Forest-Themed Table Centerpiece
One of the best bonding moments on Christmas Eve is when everyone is enjoying Christmas dinner, and if you want everything to feel as magical as possible, remember to decorate the table as well.
For example, the best table decoration you could probably create is an all-natural table centerpiece, like the one in the picture above.
You'll need the following supplies:
A scented candle (preferably pine)
A slab of wood
Pine branches
Pinecones
Glue
If you want to make something even more elaborate, you can also use acorns and glitter.
To make the centerpiece, you'll have to glue the branches and pinecones to the slab of wood in a way that they resemble a forest floor.
Once you're done with this, simply place the candle right in the middle of the piece of wood, light the candle, and enjoy your creation!
Note: In case you don't have too much space on the table, try using a smaller slab of wood, and enough branches, acorns, and pinecones to cover it, so that it will be as compact as possible.
More DIY Christmas Ornaments from Natural Sources
The previous 5 entries were the most popular searches for natural DIY Christmas ornaments in 2021, but if you'd like to take a look at what was popular back in 2020 and 2019, check out the next section of our article since it contains 15 more entries!
6. DIY Christmas Ornaments – Rock and Branch Glass Balls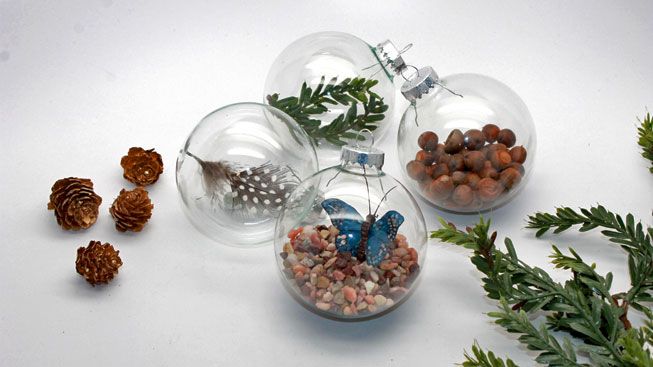 Plain, empty glass sphere ornaments, like the kind you can find at just about any local craft store, are one of the best things you can get your hands on this time of year because the options for customizing them are practically endless!
We can't get over how much we love the wayMNNfilled theirs with tiny rocks and bits of actual fir tree branches.
7. Frosted Twig – DIY Chrismas Ornament
So long as you've got some hot glue, some glitter, and access to some twigs, you've got just about everything you need to make this next idea!
Serendipity Refined guides you step by step through the process of making a starburst-shaped ornament constructed from simple twigs like you'd find in your backyard. Glue them together and add glitter to the tips for frosty sparkle!
8. Acorn Cap and Marble Homemade Christmas Ornament
Like us, have you always loved the idea of combining modernand natural elements in one place? Well, we can scarcely think of an aesthetic we love more, particularly when there's color involved.
That's why we adored this acorn cap and colorful marble ornament idea featured in detail on Rhythms of Play! We love the way the colors of the marbles contrast with the brown acorn caps.
9. Birch Bead Wreath Homemade Christmas Decorations
Working with wooden beads might not be something that lets you go out scavenging in the forest for supplies, but we still like choosing to work with as natural tools and products as we can, even when we go out shopping for them in stores.
That's why we liked the idea of working with sanded birchwood beads so much! See howHome for The Harvestmade these adorable little wooden wreath ornaments in just a few simple steps.
10. Pinecone Penguins – DIY Christmas Ornaments
As if lightly painting the tips of a pine cone white as though they've been dusted with snow wasn't already a cute enough Christmas ornament idea,Hello, Wonderfulshows you how to take the design to the next step in cuteness! We love the way they used felt to add features in order to turn their pine cones into little penguins.
11. Natural Christmas Decoration – Pinecone Owls
Were you very intrigued indeed by the idea of working with pine cones in your natural DIY ornament process but you already have something penguin-shaped so you're looking for an alternative?
In that case, wedefinitely think you'll appreciate the wayBroogly added acorn caps, leads, and a bit of paper in order to turn theirs into a wintery-looking little owl!
12. Rustic String Wrapped DIY Christmas Ornaments
Perhaps you have some rather plain-looking rounded ornaments that you'd really like to jazz up a little because you're underwhelmed with how they currently look but they're not the kind that you can fill?
In that case, we'd suggest taking a look at how Sweet Nature's Beauty used string wrapping techniques to create a rustic holiday-themed exterior for them instead!
13. Embellished Bark – DIY Christmas Ornaments
This particular ornament idea, outlined step by step onRain or Shine Mamma, is actually the kind of diverse thing that you can put your own spin on once you've got the technique down!
They used little pieces of Christmas candy to add color and shape to their bark bases but you could also use paint, glitter, beads, and so on if you prefer.
14. Twig and Urchin Christmas Tree Nest – Homemade Ornaments
This tutorial fromThe Space Betweenis an interesting one because they actually started out just using twigs to make a little bird's nest to place in their Christmas tree so it really looked like a tree you'd find outside and the dried sea urchin pieces were added on a whim!
We love that the finished ornament looks perfect for a seaside-themed home, but we also love the idea of getting creative with what things you have around your house that might look neat in your own little DIY Christmas tree nest.
We made one and our kids immediately nestled Batman action figures into it, so that's who lives in our Christmas tree now.
15. Pinecone Christmas Stars – Natural Christmas Decoration
Perhaps you were actually a huge fan of the idea of using pine cones to create Christmas ornaments but, rather than making a project that's aimed at kids, you'd prefer to do something slightly more handcrafted and delicate?
In that case, we think perhaps you'll get along a little better with something like this fantastic wire-mounted pine cone star concept featured on Recycled Crafts.
16. Pinecone Door Wreath Homemade Christmas Decoration
Just in case you had a bigger ornament in mind than just something little that you'd hang directly on the branches of your Christmas tree, here's a whole door wreath concept that also puts the pine cones that are scattered around your backyard to good use!
Check out howMake & Do Crew made theirs from scratchand embellished it by adding colorful miniature pom-poms.
17. Nature Angels Homemade Christmas Ornaments
Just in case you've actually been scrolling through our list hoping for something angel-themed to come up, your patience has finally paid off!
Here's a lovely little angel ornament design fromDIY Enthusiasts that's made from fir branches, birchwood beads, and actual feathers that were found outside and have been cleaned off and let dry so they're germ-free but also nice and fluffy.
18. Pretty Pistachio DIY Christmas Ornament
We're not really sure what it is about the holiday season thatalways has us munching on pistachios, but it's always been a family tradition and we have no intention of breaking it!
While we're snacking, we think we might actually save the shells so we can try our hand at making this lovely layered pistachio holiday ornament outlined step by step onBHG.
19. DIY Rustic Log Candle Holder – Natural Christmas Decorations
Have you actually been hoping to find a project that's a little more challenging and hands-on, or maybe even one that will let you get your tools out? Well, even if you're a beginner, then we think we might have found just the project for you!
Take a look at howMarty's Musings created these lovely, natural-looking holiday candles holders from scratch in a surprisingly few simple steps.
20. Old Fashioned Fruit and Cookie Holiday Garland – DIY Christmas Ornaments
Do you come from the kind of family who likes to get craftyand likes to get creative in the kitchen? Well, particularly if you also love seasonal aromas, here's a set of instructions fromFireflies & Mud Pies for making an old-fashioned garland from dried oranges, dried apples, and gingerbread men!
The best part is that you can also eat some of these elements as a snack while you craft if you prepare a few extra.
DIY Christmas Ornaments from Nature: Conclusion
Christmas is just around the corner, and while many have already done their Christmas shopping and filled their house with plastic ornaments, you've decided to give Mother Nature a break and make your own natural Christmas ornaments.
On that note, we hope that our article has given you enough inspiration to create some truly unique ornaments that you can proudly display at home, and if this is what you had in mind all along, then we're really happy for you!
However, even though there are hundreds of popular natural Christmas ornament ideas on the Internet every year, remember to keep it classy with your interior design throughout the holidays.
Remember: You don't have to use all of these ideas! Just choose one or two that inspire you the most so that you can transform your house into a winter wonderland everyone will enjoy.