Christmas Ornaments Made From Nature
Making Christmas ornaments with our kids to hang on the tree is one of our very favourite parts of Christmas! Having recently moved to a new place that's closer to the countryside, however, everything we've made lately has had a bit of a natural influence. That's why we've been looking up different, exciting ways to put a sort of unique, nature themed spin on this year's DIY ornament projects! We can't wait for how fitting these will look on our Christmas tree.
Just in case you love the idea of creating your very own homemade Christmas ornaments with the help of nature just as much as we did, if not more, here are 15 of the best ideas, designs, and tutorials we've come across in our search so far!
1. Rock and branch glass balls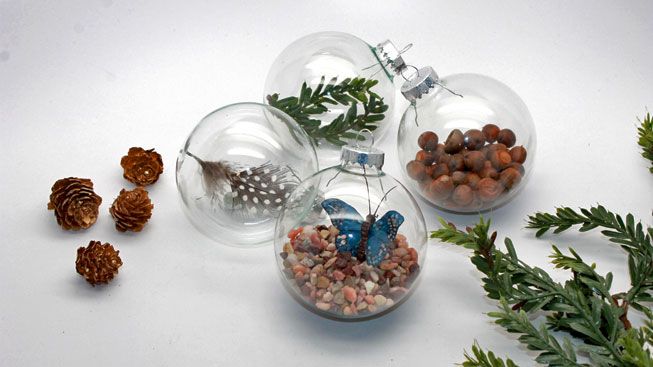 Plain, empty glass sphere ornaments, like the kind you can find at just about any local craft store, are one of the best things you can get your hands on this time of year because the options for customizing them are practically endless! We can't get over how much we love the way MNN filled theirs with tiny rocks and bits of actual fir tree branches.
2. Frosted twig ornament
So long as you've got some hot glue, some glitter, and access to some twigs, you've got just about everything you need to make this next idea! Serendipity Refined guides you step by step through the process of making a star burst shaped ornament constructed from simple twigs like you'd find in your back yard. Glue them together and add glitter to the tips for frosty sparkle!
3. Acorn cap and marble ornament
Like us, have you always loved the idea of combining modern and natural elements in one place? Well, we can scarcely think of an aesthetic we love more, particularly when there's colour involved. That's why we adored this acorn cap and colourful marble ornament idea featured in detail on Rhythms of Play! We love the way the colours of the marbles contrast with the brown acorn caps.
4. Birch bead wreath ornament
Working with wooden beads might not be something that lets you go out scavenging in the forest for supplies, but we still like choosing to work with as natural tools and products as we can, even when we go out shopping for them in stores. That's why we liked the idea of working with sanded birchwood beads so much! See how Home for The Harvest made these adorable little wooden wreath ornaments in just a few simple steps.