15 Wine Cork Crafts To Fill Your Girls' Weekend
Stop tossing those corks after you pop a bottle. Instead, keep them around for a while. You can use them later for a snazzy project or two. Below, you'll find 15 wine cork crafts to fill your girls' weekend with. Grab your pals and get creative around a glass or two of wine.
1. Sparkling Rock Stoppers
Brit + Co turned some wine corks into bottle stoppers. But the toppers on these stoppers, well they're sparkling and right on trend. We're loving these edgy, rock-inspired pieces.
2. Candlestick Photo Holder
One Charming Party used their old wine corks and used them in creating these fantastic candlestick photo holders. Any time we can do something in an offbeat way, even if it's displaying our fav family photos, we're going to take it. And this is a charming way to go about it.
3. State-Shape Cork Art
Every time we see this project come to life, we fall in love. Over at Brit + Co, you can learn how to take those old wine corks and turn them into something this stunning. With a bit of ombre, and "homey" appeal.
4. Serving Tray
I Love To Create used corks to create a unique serving tray. We love the monogram in the middle which makes it a bit more personalized as well. It could be a fabulous DIY gift for your bestie or sis!
5. Keychain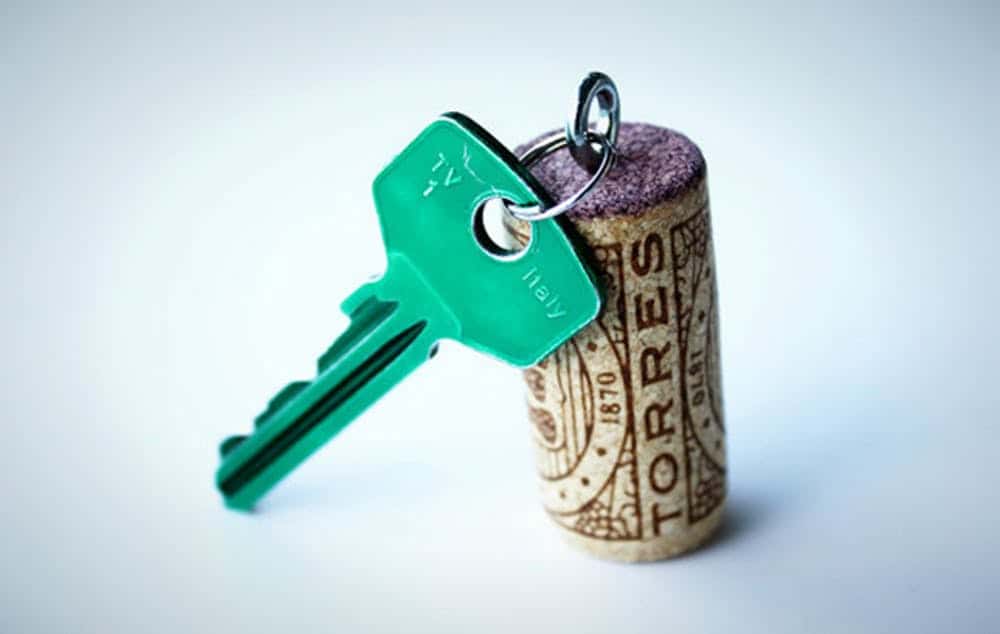 Use it as a keychain. This idea is great for a cork from a bottle that has a really great memory or sentiment attached. Check out the easy tutorial by visiting Morning Creativity.
6. Framed Cork Corkboard
Suze Geeks Out created this framed corkboard by grabbing all of her old corks. And there so many different ways to use this idea. Display earrings or use it to house your to-do lists, invites, and more.
7. Unique Candles
A Subtle Revelry created really rad candles out of the corks. Hop on over now and check out the really easy follow-along.
8. Giraffe Sculpture
We're absolutely swooning over this giraffe sculpture made over at Lil Blue Boo. You could even add a bit of paint for color as well. It's a fun display for the kitchen but when dipped in pastels … could be used in a nursery as well!
9. Herb Markers
Shine Your Light has a unique way to mark your herbs. Just grab a cork and use them to highlight your green thumb. Take the leap and peek at the DIY now.
10. Corkball
Archaichocolate has a unique way to decorate dull spaces. You can collage these together to make a bigger spread or just go bigger from the get-go and create a cork chandelier. Again, you can add some color here as well.
11. Cork Magnet Planter
Are these mini planters not the cutest? And they're not only planters, they're magnets too! Check out the details at It All Started With Paint.
12. Knot Stoppers
A Subtle Revelry has another bottle stopper DIY for us to fall in love with. This time, you won't see the cork, it'll just be its foundation. But these knot accents are super charming, don't you think?
13. 3-Dimensional Wall Art
Here's some more wall art that you'll appreciate. Highlight the dining room or hallway with a similar piece. Grab the details by visiting Project Rowhouse.
14. Trivets
Crafty Nest made trivets out of corks. It's one of the easier, more popular choices for the material. There are so many different ways to make it happen too – so dive right in!
15. Cork Stamps
Brit + Co ends our list with these fun wine cork stamps. You can use those corks to create new, fun, and artistic pieces for friends and family! Just grab some ink.