50 Family Photoshoot Ideas To Try Out This Weekend!
From the holidays to a casual weekend dinner, when the entire family gets together and has some time to spare – why not snap a photo to remember? Whether you want to prepare something in advance or do something creative on the fly, we've got the inspiration. Check out these 50 family photoshoot ideas to try out this weekend!
1. In Focus
Perfect for when you want to feature the littlest and newest part of the family. Check out this idea and see how you can recreate it to fit your own tiny fam.
2. Wildflowers
Find a beautiful field of flowers, grass or the like and have the entire family scatter. We found this gorgeous image at Kimberley Kinder and are drawing so much inspiration from it!
3. A Message
We're swooning for this easy and easy-to-personalize idea too. Write down your message and start snapping. (via Indulgy)
4. Our Hands
Layer the hands of the family and snap a shot of that too. You'll love looking back on this photo from years to come – and you can thank Shutterfly for giving us the idea.
5. Campfire
Set up a beautiful campfire like you see here and have your shoot around the fire. Make some smores, sing some songs and just have a ball making memories and capturing them on film.
6. Framed
Use fun ways to create frames inside the photo. Sara Garcia gave us this beauty and we love how mom and dad are focusing in on the little ladies.
7. Show Love
We love when mom and dad look and feel totally in love. The kiddos will love how they're central to the photo but they'll love looking back and seeing their parents in this moment.
8. Cornstalks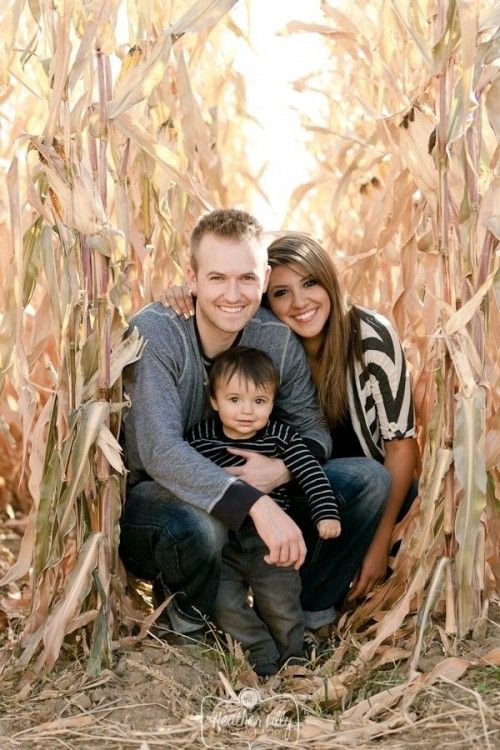 Kristen Duke has another great photoshoot idea and it involves some cornstalks. It's the perfect spot to snap some pictures in come the fall season.
9. In the City
You can always use the nearest city to grab some photos in. Families come alive in a totally different way when surrounding by the grit and texture of an urban environment.
10. Boho Styled
If you love the free spirited energy of bohemian style, then use that inspiration to create a family photoshoot. This shot is a perfect example of how to make that happen.
11. Retro
You could do something a bit retro as well. Infuse some modern energy or rusticism depending on the family's overall vibe, and add some sunglasses and coke bottles for extra fun too! (via iHeartFaces)
12. Road Trip
Vine & Light showcased a beautiful photoshoot that focused around a road trip vibe. And we love it! Just imagine the entire family gathered around the SUV!
13. Baseball
We love a good sports theme as well. And over at Emily Starling, you'll find this beautiful Mommy + Baby baseball shoot. It has so much to inspire!
14. Super Heroes
Kristen Duke gives us another great family idea. And this time it involves super heroes for all!
15. Beach Balls
Of course beach photos are gorgeous, but add some beach ball for some extra fun. Check out the scene over at KD.
16. Color Coordinating
You could always simplify the idea and just go with a color scheme. Make sure everyone is dressed the part for a clean and crisp capture.
17. Picnics
You could do it with a color scheme or with a retro vibe, either way a classic picnic photoshoot is something easy and adorable for the family to conjure up.
18. Graffiti
If you want something bit edgy, take a note out of this playbook. Graffiti can add texture and pop to your background.
19. The Carousel
We are loving the fun and charming carousel idea too, especially when there are little kids involved. We snagged the idea from Laci Davis.
20. Bike Rides
Add some scooters too if you'd like. The entire family can be captured in the moment like you see here at Kristen Duke.
21. Lumberjack
Here's a fun themed photoshoot idea. Over at Maiedae you'll find some inspiration for an adorable "lumberjack" themed day.
22. Hay  Bales
And for another great fall photoshoot idea, check out this family and its use of the hay bale! Check it out at Sassyfras Studios.
23. At Work with Dad
Whether Dad is a policy officer, teacher or firefighter – why not plan a family photoshoot at work with him? It's such a sentimental and special moment to capture.
24. Teepees
Here's another fun theme to grab inspiration from. Have all you little Cherokees inside and dressed for the scene.
25. Kisses
Have the little girls kiss their daddy! Mom can join in too, just make sure you use some bright red lipstick like you see here!
26. Just Feet
Focus on the family's feet for a unique take on the classic family portrait. We love the addition of the tiny baby toes too!
27. Levitations
If you're good with photoshop, you could always do something really outside-the-box like this family did. Trick the eyes and levitate!
28. Koi Pond
Check out this family's candid photo overlooking a magical and charming koi pond! We love the idea of the location and the action as well.
29. In the Rain
When the rain comes, grab the camera! There are so many wonderful shots you'll be able to grab once the drops start to fall!
30. Christmas Lights
You can make this quite beautiful or full of fun, but whatever the way you stage it – Christmas lights for the family Christmas cards are always a great idea.
31. A Decade Apart
Brothers and sisters make this idea the most tear-inducing of the bunch. Reenact a photo from the past … a decade apart!
32. Stacked Up
Stack up the entire family! It really is quite an adorable way to set up the family, especially when there are little ones involved!
33. Teammates
Whatever the team, have everyone dress like they're a key player! We love the symbolism and the fandom involved in this one.
34. Last Name
Highlight the family name in a unique ways. There are tons of different shots to get when you brainstorm!
35. Humor
Add a little humor to your photoshoot. "Limit 5" could be the speed limit, or the amount of kiddos allowed in the family.
36. Admire the Baby
This one is easy and the set up is bound to happen when there's a baby involved. Admiring the baby is a moment you'll definitely want as a keepsake.
37. Disney
Disney family photoshoots … there's an endless amount of ideas you can find. And this one we're really swooning over.
38. The Playroom
Have a little fun in the playroom with the kiddos! This is another great "at-home" idea to capture.
39. Pool Fun
Jumping in the pool or just splashing around, summertime fun is another great memory to capture of the family. Cannonball!!
40. At Home
Don't rule out the house. Family photos inside the family home can be quite magical and sentimental. Just look at this shot from KD!
41. Framed
Just adding a frame to the mix could really make a fun difference. It creates a funky, contemporary vision and it's so easy to do without a pro photographer on site.
42. Baby On the Way
Take a sheet out of Hanna Mac's playbook and get super creative with your new member announcement. A little math can go a long way.
43. The Walking Dead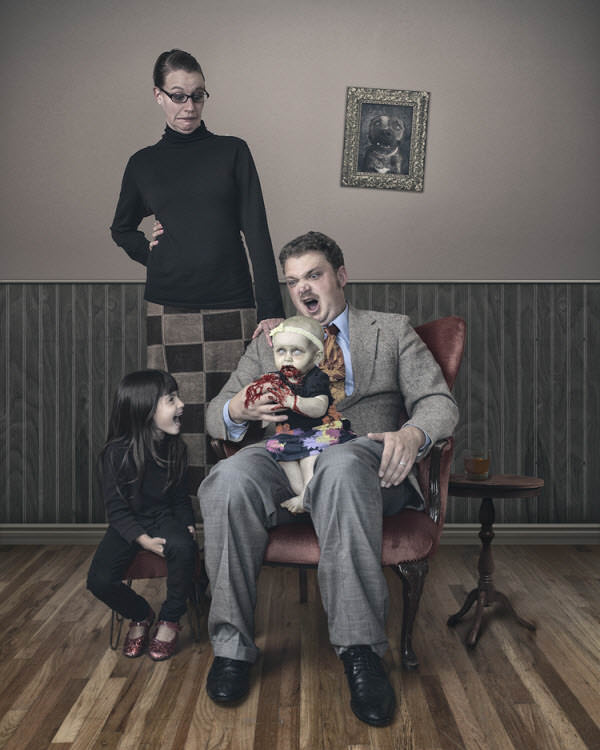 If you're a fan of the show, bring that same theme into your family photoshoot. Use it for your Halloween party invitations or just a silly memory!
44. Reflections
Grab your family's reflection. Whether it's a puddle or a grandiose mirror, it's just another fun way to capture every member.
45. Baking Time
Here's another at home idea that we're loving. Grab everyone and get to baking in the kitchen – and have the photographer snap some photos!
46. Profiles
You can always do a bit of photoshop magic with this idea too. Gather everyone's profile and do something a bit edgy.
47. Ewwww
The kiddos may think it's gross but the rest of the world will think this shot is oh so sweet! Get a bit romantic during your family portraits!
48. At the Fair
When the fair comes to town, grab a camera. This is the perfect time to snap some family photos and make some memories too.
49. Silhouette
Something a bit romantic and memorable, a family silhouette would be quite the beautiful addition to the living room mantle. And you can catch this one at Kristen Duke too.
50. Paint Fight
You'll want to snag this idea from Kristen Duke too. We are absolutely loving the idea of this photoshoot, and love that you can keep the art long after the photos are captures.