30 Halloween Costume Ideas: Last-Minute DIY Halloween Costumes to Make
Once you have a job, it's pretty easy to lose track of time, and forgetting about Halloween night is something that a lot of us are guilty of doing.
Because of that, while we may actually want to celebrate this holiday, we may end up on October 31st without a costume, and if the costume stores are all sold out, your only option is to opt for a DIY costume instead.
That's precisely why we went ahead and put together this comprehensive article where we will be listing some of the best last-minute DIY Halloween costume ideas that you can turn into reality with minimal time and money investments.
Here Are the Best Halloween Costume Ideas That Are Easy to Make
Kids Halloween Costumes
1. Adorable Halloween Costume Idea for Kids – Gnome
If you have both boys and girls and you want them to stand out, the best place to start with some cool Halloween costume ideas is with a unisex costume, such as that of a garden gnome.
You don't need a lot of materials to create this costume since the centerpiece is the pointy hat and the fake beard, and both of these can be made with some cloth and some cotton that you may have lying around.
Another great thing about this particular costume adults can wear them as well, although the fact that kids are shorter by nature makes for a much more realistic costume.
2. MagicianHalloween Costume
Childhood is the most magical part of life, and kids everywhere have always had a soft spot for the supernatural, so dressing up your kid in a wizard or a witch's costume should be among your first ideas.
These costumes are easy to create since capes can be made with some cloth and an elastic, the hat can be made using cardboard (or you can skip it entirely), and you can make a wand using a painted twig or cotton candy stick.
You can even take a step further and personalize the costume to recreate the iconic look of several renowned users of magic, like Harry Potter or Hermione Granger.
3. Pumpkin Halloween Costume
Whenever you see a picture of a pumpkin, your mind instinctively thinks about October, orange leaves, pumpkin-spiced deserts, and Halloween, and because of that, dressing your kid as a cute little pumpkin comes naturally.
The great thing about this suit is that it's unisex, and depending on how you design it, your toddler can wear it multiple years in a row since they won't outgrow it.
You can opt for a simple pumpkin design or add some extra decorative elements to make it look like a Jack-o-Lantern, and maybe even add some LED lights to add a dash of spookiness to the mix.
Halloween Costumes for Girls
4. Easy Cute Last Minute Halloween Costumes – Winnie the Pooh Bear
When people think about Walt Disney cartoons, girls will usually think about the princesses while boys will likely be thinking about the Avengers.
However, let's not forget that Walt Disney characters also include plenty of anthropomorphic animals as well, one of the most popular of them being Winnie-the-Pooh.
If your little girl loves Winnie as much as Winnie loves honey, then you'll make them very happy if you decide on going with a complete DIY Halloween Poor Bear costume.
Just follow the short video tutorial presented to you by LaurDIY, and your costume will be done in no time with few requirements and very little time wasted.
5. Cool Halloween Costumes for Girls – Princess Elsa
Elsa is not only the queen of Arendelle, but she's also the queen of most girls that have ever watched the movie Frozen, so it's no surprise that an Elsa-themed costume is among the most popular choices ever.
If you don't have the money to buy a complete Elsa costume, you can go ahead and follow ReecieDIY!'s step-by-step video tutorial to create your very own.
The materials required are very cheap, you don't need to be a master tailor to pull it off, and you won't lose a lot of time creating the costume either, making this the ideal last-minute homemade Halloween costume.
6. Vanellope von Schweetz Halloween Costume
Back when Wreck-it-ralph hit the theaters in 2012, audiences were met with a different kind of take on the classical Disney princess stereotype, and Vanellope von Schweetz became an instant fan-favorite among little girls.
The best thing about this particular costume is that you can create it using regular day-to-day clothes since the main focus will be on replicating Vanellope von Schweetz's cute, doe-eyed face.
That being said, simply follow this video tutorial from Tiffany Mink, and with a little bit of make-up to the freckles, some blush to make her cute pink nose, and a black wig, you'll turn your little girl into the spitting image of the Sugar Rush icon.
Halloween Costumes for Boys
7. Dinosaur Helmet Halloween Costume
When it comes to boys' costumes, they are pretty straightforward: they need to be flashy, cool, dangerous, or all of the above, and nothing screams (or better-said roars) more than a dinosaur costume featuring an amazing dinosaur helmet.
Just watch KJovese's step-by-step video tutorial, and you can create your very own mini T-rex helmet using nothing more than cardboard, tape, and some glue.
Sure enough, you don't have to follow the tutorial to the letter, as you can make your own adjustments, such as changing the helmet's entire color scheme or adding some horns in order to turn your dinosaur hamlet into a dragon's helmet.
Either way, your boy will love it, and your neighbors might just be scared enough of his costume to give some extra candy as well.
8. Ghost Halloween Costume
Boys love being spooky, and since the entire article is about last-minute DIY costume ideas, you can't get any simpler than with a classic ghost costume.
All you need is a large piece of white cloth and a pair of scissors to cut out the holes for the eyes, and maybe even some holes for the arms.
If you really want to ramp up the spooky factor, you can also throw in some extra glitter, some glow-in-the-dark paint, and pounder, or maybe some green or red paint to mimic slime or blood.
The costume will be a guaranteed hit, and you'll be done making it in less than 5 minutes as well, so go ahead and turn your little boy into the perfect Casper.
9. Knight Halloween Costume
If you notice that your little boy has a chivalrous side to him, one of the best ways to showcase this is to dress him up as a knight in shining armor.
Sure enough, having him wear an actual suit of metal armor is out of the question, but with the right clothes, a tabard, and a cape, you'll be able to mimic the look perfectly.
You can then finish up the costume with a plastic or a foam sword, and maybe even a makeshift shied made out of wood, cardboard, or an old pot lid, and you're done.
If you're particularly good at papercraft, you can even spend an hour or two making a realistic cardboard helmet for that complete crusader look.
Women's Halloween Costumes
10. Poptart Halloween Costumes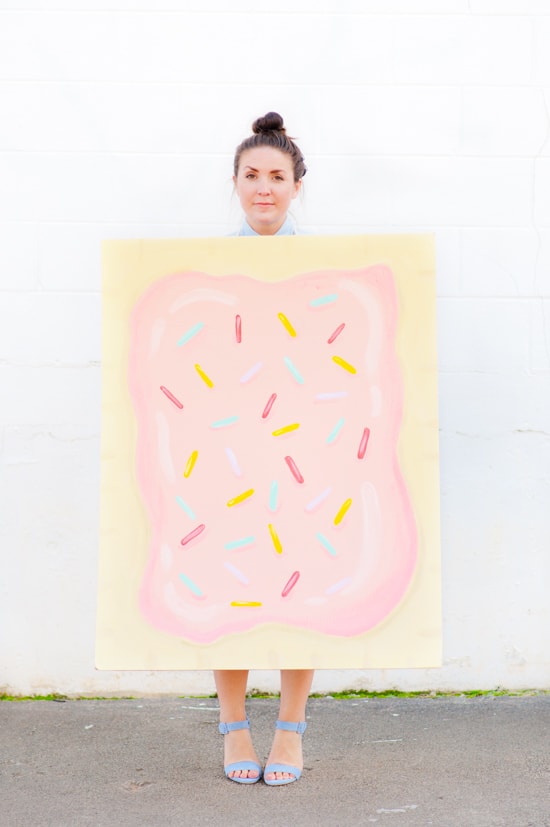 You could always go as your favorite snack. That's what the ladies over at Paper & Stitchdid. Take the leap and check out how to whip up a pop tart costume in just one afternoon.
11. White Rabbit Halloween Costume
We love this sweet and fashion-forward take on the white rabbit from Alice in Wonderland too. Color Me Courtneygives us the school on this chic ensemble. From the ears to the tailored red blazer, you can be in costume and in style all at the same time.
12. Medusa Halloween Costume
The Joy of Fashion had a lot of great inspiration up her sleeve. And this Medusa look may be one of our favs. Run to the store to grab some small, plastic snakes for your hair and check out your summer wardrobe to complete the rest.
13. Mime Halloween Costume
Simpler to the burglar costume, this mime costume from Sarah Foresaw can be whipped up by just a visit to your own closet. Some black, some stripes, and a beret (that you can certainly find at a thrift store) are all you need to get started. Now, just grab some gloves and black lipstick to finish off the rest.
14. Party Animal Halloween Costume
Here's a "punny" costume idea from our favorite inspirers over atStudio DIY. Grab some animal print clothes and then top it off with some ears and a party hat. You'll win the most clever costume, and you'll be the biggest "party animal" at the event!
15. Frida Kahlo Halloween Costume
Colorful clothing and an eyebrow pencil will have you looking like the gorgeous Frida Kahlo in the blink of an eye. Check out the inspiration over at Krystle DeSantos. And you may want to DIY a flower crown to finish off the look!
16. Mason Jar Halloween Costume
Isn't this mason jar adorable? It's always funny going as an inanimate object! And you can learn how to make this in a jiffy with a little bit of help from the DIY Network.
17. Unicorn Halloween Costume
A sexy unicorn is quite easy to prep for as well. All you have to do is create a horn and get creative – and colorful – with the rest of the ensemble. Check out the details of this one over at YouTube.
18. Minnie Mouse Halloween Costume
Minnie Mouse is a classic costume idea as well. And it's easy to prep and DIY for too. We love this rendition of our favorite Disney darling from I Am Stylish-Ish– you can't forget the yellow shoes!
19. Lumberjack Halloween Costume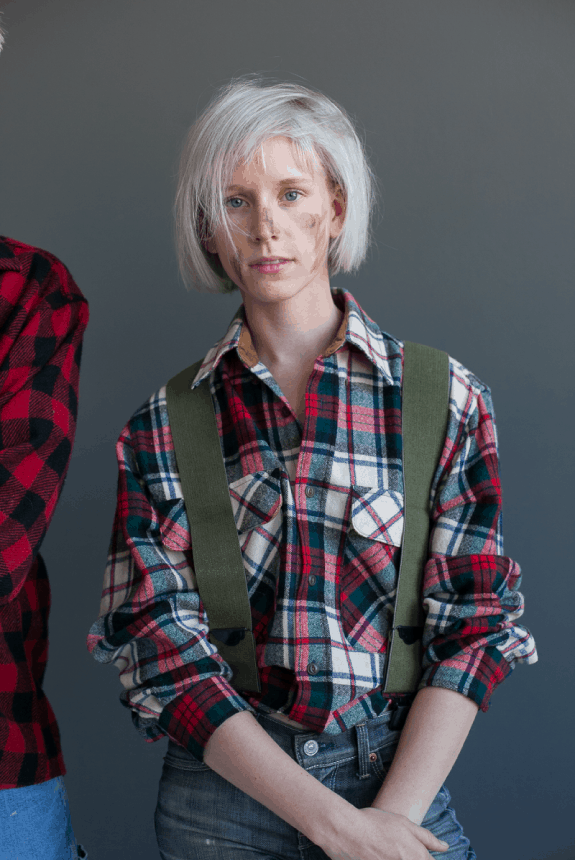 Men and women alike can create their own lumberjack costume in a jiffy! All the details are over at Say Yes! But we love how we can utilize our favorite plaid, our favorite jeans, and just rub some dirt on our faces and get the job done.
20. Taxidermy Deer Head Halloween Costume
The Merrythought has a unique – but still easy and quick – costume idea for us to get excited about. Turn yourself into a taxidermy deer head! The makeup is so fun, and you'll get a giggle out of everyone at the party.
All-Black Halloween Costumes
21. Wednesday Adams
One of the most classic and easiest costumes to pull off, we love this sweet take on Wednesday Adams from LP. A little black dress, easy makeup, and some low, braided pigtails are the foundation of the entire outfit. Make sure you don't use any blush or lipstick – Wednesday was always quite pale!
22. Bat
Flap your wings over to She Knowsand learn how to whip this up before the big party! Take your LBD to the next level – the Halloween level – and turn yourself into a sexy bat for your night out. Grab your favorite pair of black pumps and some red lipstick to finish it off.
23. Black Cat
Super easy to whip up in a day, this black cat idea from PopSugaris such an adorable option! All you need are some black clothes, black makeup and a pair of ears to top it all off! Go the extra mile and add a black mani and pedi to the mix too.
Cool Halloween Costumes for Men
24. Cool Halloween Costumes for Guys – Lucifer (TV Series)
Lucifer from the TV series is probably the only portrayal of the fallen angel that many of us would actually love to meet, and emulating his devilish look has never been easier.
In fact, as you can see from this post on Costumet, those of you that have a knack for dressing up elegantly may already have everything they need.
All you need is a dress shirt, a blazer (preferably dark-colored), matching pants, and some shoes, but if you don't want to be mistaken for James Bond, add a dash of supernatural by fitting a pair of fake angel or devil wings, and walk around playing with a Pentecostal Coin, or any other vintage coin that looks gothic.
25. Burglar Halloween Costume
You can't steal candy during Halloween, but you can steal the spotlight if you're dressed as a burglar.
The costume is easy to make since you only really need is a face mask, a striped blouse which you may already have, a cap, and a large bag that you can carry around (which can also double as a trick-or-treat bag).
One great idea if you're going trick-or-treating with a friend is to have them dress as a police officer since that will make your own costume all the more hilarious.
26. Dracula Halloween Costume
Halloween without Dracula is like Christmas without Santa, and that's why dressing up as the most iconic vampire ever has always been a go-to solution for everyone.
All you need is a suit and shirt (having them in black or red is a plus), dress shoes, and a bit of makeup to give you an undead look and you're pretty much done.
As for the fangs, you can either use fake plastic fangs or draw them on your face using eyeliner.
However, don't forget that a major part of dressing up as Dracula lies in the attitude, so whatever you say, make sure that the sentence ends with at least one blood-related pun.
27. Mummy Halloween Costume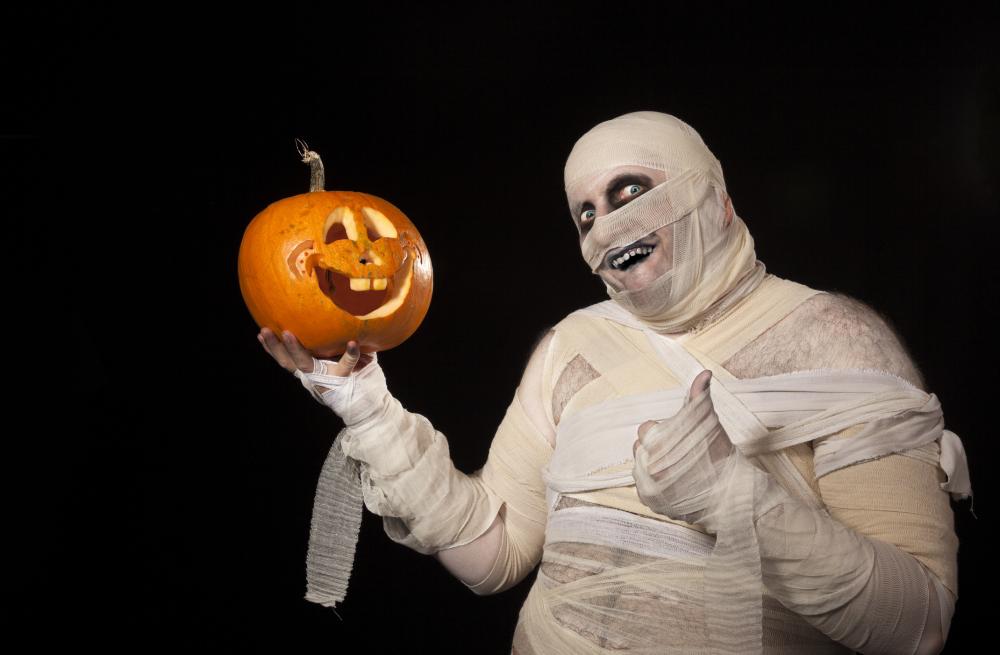 Another classic Halloween icon is the Egyptian mummy, and it's even easier to create than the Dracula costume.
As you can see from the picture, all you need is a bit of makeup to give you that ancient undead vibe and a lot of bandages to wrap you up.
More so, if you really want to go into the whole Pharaoh theme, you can also wear some golden decorations or hold a scepter in one hand.
However, make sure that you secure the bandages properly since it can be easy for your costume to unravel, especially if you move in it a lot.
Couples Halloween Costumes
28. Cool Couple Halloween Costumes – Gomez and Morticia Addams
When it comes to the Addams family, Halloween is basically the same thing as Christmas or Easter, so it's no wonder that some of the best couple ideas include the heads of the family: Gomez and Morticia Addams.
As you can see from this picture from Costume Works, you don't need much to recreate their iconic look, especially if you want the Gomez costume.
Simply put on a suit and a tuxedo, lay back your hair using some strong hair gel, draw a fake mustache (or trim it if you already have one), use some makeup to give your eyes a baggy look and you're pretty much done.
As for Morticia, all you need are the most gothic clothes you have laying around, a long black wig, and a lot of foundation to emulate Morticia's iconic cadaveric look.
One great thing about this particular costume idea is that the Addams family has a lot of members, making this a particularly great idea if you want your entire family to dress up in matching attire.
29. Mario and Princess Peach Halloween Costume
If both of you are gamers that grew up playing the arcade classics, there's no better way to pay homage than by dressing up as one of the video game industry's first couples: Mario and Princess Peach, as showcased on Ana Danigelis' website.
Mario's costume is easy to create since you need a red pullover, some blue overalls, a red cap with a big "M" stitched to it, and a fake mustache.
Princess Peach is also easy to recreate since you basically need to go full Disney princess mode while remembering that everything needs to be pink and that you need to wear the iconic elbow-length white gloves.
Once you've created this costume, you and your special someone can go ahead spread some Halloween fun while reminding the younger generations how gaming started.
30. Men in Black
Another great DIY Halloween costume idea for couples is a Men in Black-themed costume, not only because they are always seen working in pairs but because this particular costume is easy to make.
According to Costume Wall's guide, all you and your partner need to wear is a two-piece suit complete with a tie and elegant dress shoes, wear a pair of sunglasses, and make the biggest, most outlandish futuristic guns and carry them around with you.
If you also happen to have a Pug with you, then take him out trick-or-treating as well, and everyone will surely recognize who you are.
Last-Minute DIY Halloween Costumes: Closing Thoughts
Our list has come to an end, and we hope that we've managed to give you some ideas on what to wear during the spookiest night of the year.
As you may have noticed, we chose entries that are both popular and timeless, as well as costume designs that are easy to create using things that pretty much everyone has around their house.
If you're interested in more Halloween-themed articles that we may not have covered yet, go ahead and suggest some topics in the comments section below, and we'll write an article covering it in no time at all.
Happy Halloween!