50 Fantastic DIY Halloween Costumes: Make Your Own Halloween Costume
Not everyone can afford to buy Halloween costumes every year, so many people are looking for do-it-yourself solutions on a tight budget. If you are one of them, you are in luck since we created a list of 50 top DIY outfits that you must explore for Halloween this year.
Expect funny, adorable, creepy, creative, and overall fantastic Halloween costumes. You can dress up as a character from The Sims or Among Us, Loki, a spooky nun, Snow White, Frankenstein's monster, Poison Ivy, dancing girl emoji, giant baseball, Alice in Wonderland, Coraline, or something else. Some women even wear black wedding dresses.
50 Best DIY Halloween Costumes to Try in 2021
Here are the 50 top DIY Halloween costumes that you must definitely try out this year.
1. The Sims Character – Easy Halloween Costumes
If you have ever played The Sims, then you probably know what we are talking about when saying that you can dress up as a Sims character. It is part of the easy Halloween costumes that work as a last-minute solution for Halloween. The project is quick and fun, great for those with a tight budget.
You just need to create the Plumbob, which is the green crystal that hovers above the head of each selected character. And, instead of making it hover, you attach it to your head.
For this project, you need two A4 sheets of green paper, which must be folded to make them look like a Plumbob using the Origami technique. Then, you attach one end of a wire to the Plumbob and the other end to a headband. And that's it! You don't need any special costume to pull off the Sims look. Check out this fast and easy YouTube tutorial created by Lorraine Stanick to find out everything you need to do.
2. #filter and #nofilter Couples Halloween Costumes
This is one of the most fantastic ideas for couples Halloween costumes that we have seen. But it only works if you and your significant other decide to dress up in matching outfits. All you need are a couple of black shirts with the #filter and #nofilter messages, which remind people of Instagram photos.
The #filter shirt should be worn by the better half with perfect hair and makeup, ideal for Instagram photos. Meanwhile, the #nofilter shirt goes on the other half who looks like they just got out of bed in the morning. As for the rest of the costumes, make sure to wear matching clothes – it doesn't matter what they are. The results are hilarious, as portrayed by @everyday_heidi on Instagram.
3. Among Us – Halloween Costume Ideas
Among Us is a super-popular video game for friends. If you are a fan, you can recreate an Among Us character fast and easily, even if you are on a tight budget. All you have to do is watch this YouTube video tutorial presented by DIYholic, which tells you the exact steps you need to take.
As far as supplies are concerned, you need some cardboard, a small box, red, white and yellow felt, pillow stuffing, a black foam sheet, a mesh plastic canvas, acrylic paint or paint makers in dark blue, light blue, and white, together with tape, a pair of scissors, a hot glue gun, and a red top and bottom with matching shoes.
When it comes to Halloween costume ideas, get a few more friends to join and have them dress up in different colors if you want to truly recreate the crew of Among Us.
4. Lady Loki – Women's Halloween Costumes
Loki, the God of Mischief, isn't just a character for men since there are many counterparts when it comes to women's Halloween costumes. Here is an awesome approach that was taken by makoccino on YouTube, who made a gorgeous Lady Loki costume and makeup.
This Marvel comic cosplay definitely needs dedication, so be prepared to invest in the right outfit if you want to show up for a Halloween party looking like a female version of Loki.
On the other hand, if you want to build the whole thing on your own, makoccino teaches you how to design the whole costume when it comes to the skirt, headpiece, upper body, bottom part, belt and hair accessories, together with the hair and makeup. It's a long but satisfying process.
5. Nun – Scary Halloween Costumes For Girls
Nuns are sometimes at the center of horror movies, so we can understand why a lot of people choose to dress up as a spooky nun for Halloween. When it comes to scary Halloween costumes for girls, though, it could be too terrifying, so we thought about finding the right recipe that balances the spooky and innocent factor.
And we think that we found it, courtesy of @tiracosplay on Instagram. It's bold but not too shocking for the younger audience. You just need to find the right outfit in black, white, and a bit of gold with a big black cross in the middle, complete with long-sleeve gloves with golden crosses, a nun's veil, and dark makeup.
6. Family of Bats – Easy Halloween Costumes
We love this family that takes Halloween seriously and chooses a new and inventive way to dress up every year. Take these bats, for example, as portrayed by @murderapparel on Instagram. You can dress up your kids in little black suits and add bat ears to complete the look of these easy Halloween costumes.
And, if you want to take photos to send a postcard to your extended family on Halloween, be sure to follow the recipe as shown in the photo. Ask your kids to lay still on the floor, put a branch under their feet, and take a photo of them upside down. It is going to make a splash.
7. Animal Heads – Funny Halloween Costumes
You can quickly put together funny Halloween costumes by purchasing animal heads from the Internet. We have seen this concept replayed times and times again, with some degree of success. All you have to do is choose the animal head that you love most. This can be a chicken, dinosaur, horse, pigeon, pig, bear, mouse, or rabbit.
The best part about it is that you do not have to stick to any rules when it comes to the rest of the costume. You can prepare for a party by throwing on a sequin dress or a flashy suit, take a more violent approach by adding a bat and a leather jacket to your costume, or something else. You get bonus points if you can get your significant or best friend to join in.
8. Snow White – Adult Halloween Costumes
Snow White has been done time and time again on Halloween. But it is such an iconic character that we cannot ignore it from this list. Here is a Snow White approach we found on YouTube when it comes to adult Halloween costumes, courtesy of TheSorryGirls.
It features a grown-up version of Snow White with a short yellow tutu dress. The video tutorial shows you how to design every piece of clothing from the ground up, except for the yellow tutu. Evidently, you have to take into account your body's measurements to find out how much fabric you will need. But the instructions are rather straightforward, and we are sure that you are going to love the results.
9. Frankenstein's Monster and His Bride – Scary Halloween Costumes
It is not Frankenstein who we recognize to be the popular character in the horror genre but Frankenstein's monster. You can easily dress up as Frankenstein's monster if you prefer scary Halloween costumes. However, it would be even better if you can get your better half to join in and act as the bride.
Pulling off this look is not that complicated, except for the green body paint for the monster and white body paint for the bride. It is also necessary to add makeup to the forehead to create the torn and sewn effect. Other than that, you can use regular black clothes for the monster and bride, although it would be best if you could get a black leather dress for the bride.
10. Poison Ivy – Sexy Halloween Costumes
Poison Ivy is one of the sexiest villains from the Batman universe. If you are searching for sexy Halloween costumes to try out this year, we suggest checking out this Poison Ivy video tutorial on YouTube, brought to you by Kayleigh Noelle.
It teaches you how to do the makeup and hair, which is no easy feat. We can only imagine that a ton of practice is necessary to get it just right. But, when you do, the results are stunning.
11. Dancing Girl Emoji – Best Friend Halloween Costumes
There are many best friend Halloween costumes worth exploring, but we think that the dancing girl emoji is so adorable. And it only works for two people. It is incredibly easy to achieve this look since you only need all-black matching outfits: shirt, pants, shoes, and bunny ears. If you are taking photographs, make sure to get the pose of the dancing girl emoji right. We loved this idea from @itssemiprecious.
12. Last-Minute Cat Halloween Costumes
Cat Halloween costumes will always be popular since more than half of the world is in love with their furry pets. Here is an awesome last-minute cast costume that you can try out for Halloween, which does not involve anything elaborate. It has been brought to life by AwesomenessTV on Youtube and teaches how to recreate two cat variants: edgy and sassy cat.
When it comes to materials, you just need a beanie, felt, studs, gloves, scissors, sparkly felt, mesh tights, headband, and black boa. As you can see, there are everyday items so the project should not be too much of a hassle for you. And it works with any Halloween party.
13. Giant Baseball – Pregnant Halloween Costumes
Pregnant ladies have more limited options when it comes to Halloween costumes, but that doesn't mean they can't get creative. On the contrary, there are a lot of inventive outfits we have seen when it comes to pregnant Halloween costumes.
Take this representation of a giant baseball, for instance. It's adorable and incredibly easy to pull off, as shown by @nikki.roelofsen on Instagram. You just need a white T-shirt, on which you can draw a baseball pattern using red thread. You can add another shirt on top of the white one to make the giant baseball stand out. It's brilliant!
14. Alice in Wonderland – Halloween Costumes For Girls

Alice in Wonderland is an amazing story for all ages. If you want to dress up as the titular character, check out this cool idea when it comes to Halloween costumes for girls. Although you might be able to design the outfit on your own, it might be simpler to buy it from your local costume shop. Otherwise, you should be able to order it from the Internet without any issues. There's nothing surprising about it. Yet, the look is adorable. Found this one on @paperscissorsfrocks.
15. Boy Cut In Half – Homemade Halloween Costumes
Check out this awesome and creative idea when it comes to homemade Halloween costumes from @organizedandsimplied4u. It's a boy that looks like he is cut in half. The body illusion is easy to achieve out of some cardboard and old clothes, so you do not have to worry about paying a fortune for this outfit. It will surely make heads turn.
16. Coraline – Blue Hair Halloween Costume
Coraline is an awesome stop-motion horror movie for the entire family to enjoy. If you wish to dress up as the titular character for the spookiest night of the year, check out this blue hair Halloween costume idea by @rociojimenezcosplay on Instagram.
It is not that difficult to achieve this look, as long as you have a blue wig with short hair. You also need a yellow raincoat and some basic makeup skills. We think it is a simple Halloween costume that truly makes an impression on anyone who has seen Coraline.
17. Marge Simpson – Blue Hair Costume
Everyone knows The Simpsons since it's the most popular American animated series. If you are seeking a blue hair costume idea, you should try out Marge Simpson, the matron of the family. And, if you are looking for more inspiration, check out this Instagram post by @the_best_of_cosplay.
To achieve this look, you need a blue wig with long hair, light green body paint, a red necklace with large red beads, and a green dress. As for the rest, you can stick to a regular makeup routine.
18. Stitch – Blue Halloween Costumes
If you love the color blue and wish to explore blue Halloween costumes, you can't go wrong with Stitch, the lovable cartoon character from Lilo and Stitch. Besides, it is an excellent last-minute costume solution for Halloween, especially if you are on a tight budget.
To complete this look, you just need to order a Stitch onesie from the Internet. The good news is that you should be able to find it in all sizes for adults, children, and even babies. It works for the entire family, as we've seen on @mrs_kimmie's Insta.
19. Joaquin Phoenix's Joker – Green Hair Costume
There are many variations to the famous Joker character from the Batman universe, but most of them approach the Heath Ledger or Jack Nicholson version. When it comes to a green hair costume, we suggest checking out Joaquin Phoenix's Joker. And we think that we found the perfect cosplay in this YouTube video tutorial, thanks to Jasmine Brown. That's right: it's a lady Joker!
We love everything about it, from the green wet hair and crazy makeup to the colorful outfit that highlights the insanity of Joker. Furthermore, the video tutorial teaches you how to do the Joker hair and makeup. It even lists the products used in the description box.
20. Britney Spears – Black Skirt Halloween Costume
Without a doubt, Britney Spears was the princess of pop in the late 90s and early 00s. If you have a cute black skirt lying around in your wardrobe and can't think of a way to add it to a Halloween costume, look no further than the Britney Spears outfit in her first video called Baby One More Time.
This black skirt Halloween costume by @highlightsofmolly looks amazing. In addition to the black skirt, you need a white shirt, gray cardigan, over-the-knee boots, and pink hair pom-poms. It is a simple outfit but you will be instantly recognized by anyone who was glued to MTV back in the 90s.
21. Penny Lane from Almost Famous – Halloween Costumes Idea
Almost Famous is a cult favorite, set in the early 70s. The most beloved character from the movie is arguably Penny Lane, played by Kate Hudson. If you love this movie, you can dress up as Penny Lane for Halloween. We found a stunning Instagram post by @rosiemcandrew, which accurately portrays this Halloween costumes idea.
For this look, you will need a tunic shirt, short suede skirt, and brown suede boots. You also need to dye your hair blonde and make it curly. The results are simply charming!
22. Scarlet Witch – Halloween Costumes
The Scarlet Witch, also known as Wanda Maximoff, is one of the most powerful superheroes in the Marvel universe. And, thanks to Elizabeth Olsen's portrayal in the Avengers movies, it has quickly become a fan favorite. If you are looking for a cool Halloween costumes idea, you should definitely go with Scarlet Witch.
The easiest way to obtain this costume is by ordering it from the Internet since it already comes with the red outfit and matching headpiece, which is similar to Loki's. It also helps if you have red long hair or choose to dye it red. We love this tutorial from Brittany Marie on YouTube.
23. Batman and Batwoman Couples – Halloween Costumes
Since we are discussing superheroes, we can't ignore the most famous character from the DC universe, namely Batman. If you and your significant other are fans and seeking a couples Halloween costumes idea, you can't go wrong by dressing up as Batman and Batwoman.
Don't worry about designing this outfit from the ground up since the results will probably look bad. Instead, it is easier and faster to order a couple of Batman and Batwoman suits from the Internet. We think that this portrayal of the popular duo by Instagram's @kobietapl_blizej_gwiazd is stunning.
24. Pumpkin Lady – Halloween Costumes
If you want to stick to classical Halloween elements for your costume, you might be interested in this awesome pumpkin lady idea. The concept was brought to life by Rachel Maksy on YouTube. In her own words, the project was meant to be cute but turned out to be terrifying. And we agree!
Rachel teaches you how to create a pumpkin head from fabric, paper mache, plaster, and foam clay. There's a lot of work that you need to put into this Halloween costumes idea, but the tutorial is hilarious and the results are amazing!
25. Pennywise – Halloween Costumes Idea
Pennywise is a character that can't be missed on any Halloween since it is so terrifying. There are a lot of YouTube tutorials that show you how to dress up and do your makeup to look like Pennywise, but we feel a lot of them require some serious skills that, let's face it, most of us don't have.
Instead, we found a simpler but equally spooky Halloween costumes idea for Pennywise on Instagram, courtesy of @jb.blythe. The hair and makeup are accessible since you just need a red wig, white face paint, and red eyeliner.
As for the rest of the outfit, dig through your closet and see what you can improvise. It is best to stick to Pennywise's colors: red, white, and light denim. Don't forget to add red sneakers, pom-poms, and a balloon.
25 More DIY Halloween Costumes
If you're looking for even more inspiration, we have another 25 ready for you, so let's check them all out and see what other options you have.
26. Mozilla Firefox Halloween Costume
This Mozilla Firefox costume is really quite clever, and fairly easy to pull together. All you'll need is some orange faux fur and a blow up globe. And people are sure to be impressed with your ingenuity. Head over to PopSugar to read more about it and to check out tons of other great ideas.
27. Mary Poppins Easy Halloween Costume
If you grew up loving the movie Mary Poppins, then you're sure to adorethis costume. You probably already own many of the pieces – a white shirt, black skirt and boots and a cute hat. But what really makes the costume recognizable is the black umbrella. Found over at Keiko Lynn.
28. Bag of Jelly Beans – Easy Halloween Costume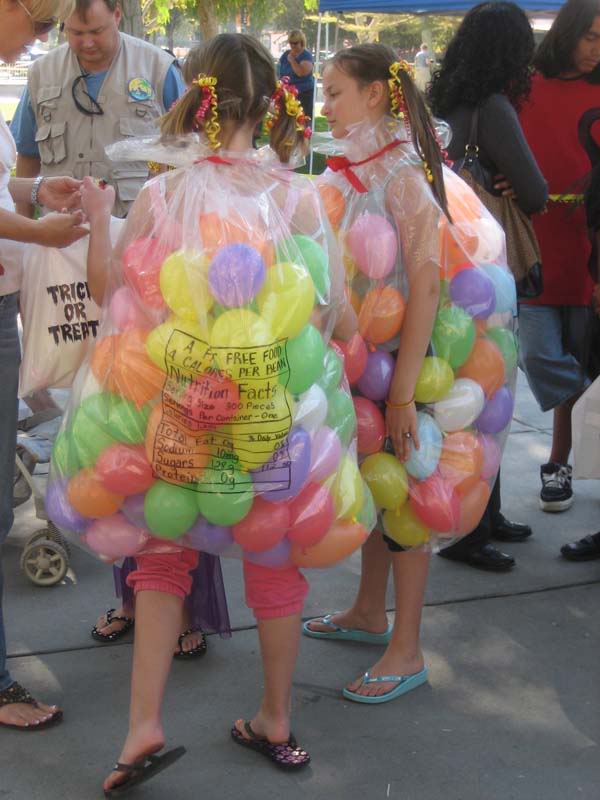 This costume idea is incredibly simple to make, and so cute! All you'll need for your bag of jelly beans is a large, clear trash bag and tons of small, colorful balloons. And curly ribbons in your hair help top off the look. Make your way over to Modern Kiddo to check out this and plenty of other great costume ideas.
29. Pippi Longstocking – Women's Halloween Costumes
Pippi Longstocking is a very recognizable character to most, especially those who grew up in the 80's and perhaps the 90's as well. Wire is the main supply you'll need here, along with either long hair or a wig. Find out how to make your pig tails defy gravity here.
30. Mylie Cyrus – Sexy Halloween Costume
Mylie Cyrus is an easy one to replicate, especially if you have blond hair. And she seems to be on everyone's radar right now, so people are sure to figure out who you are. Just grab a teddy bear and tie your hair in top knots as PopSugar has described here. Just don't forget to stick your tongue out the whole night!
31. Strawberry Halloween Costume Idea
Well, isn't this one cute?! If you already own an old red dress, then this strawberry costume would be perfect for you. And if you're not sure how to make it, you're in luck because this one has a full tutorial. Headway over to Studio DIY to find out how to make one yourself.
32. Day of the Dead Homemade Halloween Costume
If you're good with makeup, then this Dia de los Muertos costume would work well for you. All you need to do is buy a face paint set at the store and dust offyour artistic skills. And do pair it with some bright, colorful clothing. Head over to Stylecaster to see this and other stunning face painting ideas.
33. Where's Waldo Family Halloween Costumes
This family looks completely adorable all decked out in their Where's Waldo gear… but there's no need to go as a trio. Just grab the nearest red and white shirt and hat and some other random items and you'll be ready to go. Oh, and big dark rimmed glasses are a must. Check it out here.
34. Midwife Easy Halloween Costume
This midwife costumewould be easy to make if your kids have a doll lying around that they'd let you use. Just make a little hat out of white paper and tapeit to a headband. You could even make the white collar out of fabric and attach it to an existing blueshirt. See this and others over at The House That Lars Built.
35. A Roy Lichtenstein Painting – Halloween Costume
If you've ever seen a Roy Lichtenstein painting, then this probably looks familiar to you. Famous for his comic-book style artwork, his pieces were filled with primary colors and lots of black outlines. So get your face paint ready! Don't forget to DIY a thought bubble to attach to a headband, too. Found here.
36. Spider Web – Duo Halloween Costume
If you're heading out trick-or-treating with a young child, consider this clever costume. You dress in black and white as a spider web, and your little one dresses as a spider. Martha Stewart shows us how to make it here. Believe it or not, there's no sewing involved!
37. Black Cat – Homemade Halloween Costume
It doesn't get any easier than this. All you need to do to dress up as a black cat is draw some whiskers on your face and attach some paper ears to a headband. And of course a tail would help, but it's not crucial if you're running short on time. Make it glam with deep red lipstick. See this and many others here.
38. Girl With A Pearl Earring – Women's Halloween Costume
This iconic painting by Vermeer would be easy to recreate… and your artist friends will have a good laugh. Just grab a set of large pearl earrings and wrap your head with fabric and you're finished. Head over to The House That Lars Built to find out more about this one and to see other art-themed costume ideas.
39. Rosie The Riveter – Easy Halloween Costume
If you're a fan of Rosie The Riveter, give this one a try. This is an iconic image from American history so most people will recognize who you're supposed to be. But the only catch is that you'll have to hold your arm up all night! All you'll need for this costume is a red bandana and a blue denim collared shirt.
40. Tongue Twister – Halloween Costume Ideas
Say it fives times fast: "Sally sells sea shells down by the sea shore. Sally sells sea shells…." This clever person dressed up as a tongue twister for halloween! Just pin price tags to sea shells and attach them to the inside of a jacket. Find out how to create this genius costume here.
41. Black Swan – Sexy Halloween Costume
For those of you who have seen the movie Black Swan, you know that the character a unique one… making for a great Halloween costume. You'll need a black tutu and some serious face paint. Head over to Fashion Laine for a full makeup tutorial as well as some tips and ideas for the outfit.
42. Frida Kahlo – Women's Halloween Costume
For those of you who are art lovers, you'll most likely recognize this one to be Frida Kahlo. Her thick, wide eyebrows were her most noticeable characteristic, so go crazy with the eyebrow pencil. Colorful Mexican-style clothing and accessories are also a must. Find out how to recreate the whole look over at Refinery 29.
43. 1920's Flapper – Sexy Halloween Costume
A 1920's flapper girl is another fun costume to make. Odds are you'll already have some of the pieces you need, like the pearls and stockings. Fashion Hotbox shows you how to pull together the entire outfit, with everything from outfit sources to a makeup tutorial.
44. Two-Face – Homemade Halloween Costume
This unique look could be enjoyable to createif you're a whiz with makeup. One side of your face will be beautifully, flawlessly made up while the other half is covered in ghoulish black and white coloring in a skull design. The rest of the look includes black and white clothing and perhaps a bow tie if you're feeling fancy. Read more here.
45. Wicked Witch of the West – Scary Halloween Costume
This one is more involved, but the green tinted skin will certainly make you stand out! Adorn a regular black witch's hat with black faux flowers, and give yourself a healthy dose of eyeliner and red lipstick. Head over to The Glamorous Housewife to see this and many other interesting costume ideas.
46. Vampire Halloween Costume
There's no need to putblood dripping down your face – the cape and the fangs are quite enough to get the point across. To add that extra vampire touch, add some super dark lipstick and dramatic eye makeup. To find out how to recreate this dramatic look, head over to Brit + Co. to check out the full tutorial.
47. The Joker – Sexy Halloween Costume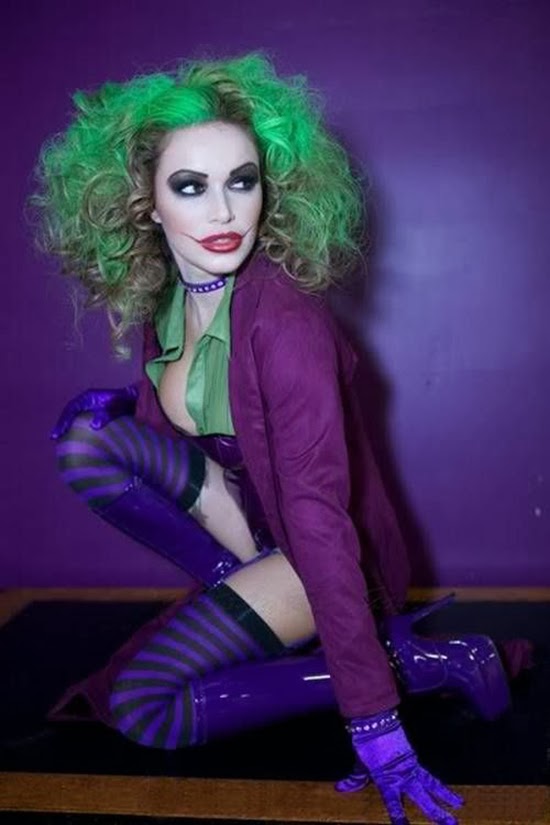 Channel your inner Heath Ledger with this amazing joker costume… it is really quite beautiful, but also terrifying at the same time. Creating a scarred face with makeup is the key here, along with dramatic black eyes. And don't forget the green hair, of course.
48. Pizza Slice and a Pizza Delivery Boy – Couples Halloween Costume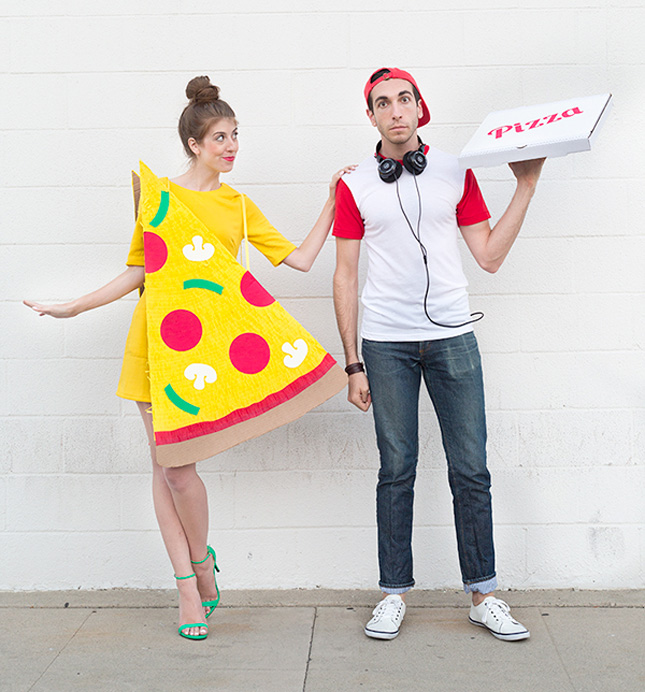 If you and your significant other are planning a big Halloween night out, try this adorable idea: a slice of pizza and a pizza delivery boy. All you need are some craft skills to create a big cardboard piece of pizza and a matching dress. And all the delivery boy needs is a pizza box! Head over here to see this and lots of other great ideas for couples.
49. Corpse Bride Halloween Costume
This corpse bride costume will take some time to assemble, but its sure to really wow your friends. The key element here? Blue. Blue hair,blue makeup and blue flowers in your hair. And the big white dress, of course. Be sure to check your local thrift store for used wedding dresses. See more photos of the look here.
50. Mermaid – Easy Halloween Costume
This mermaid costume is absolutely stunning, with a turquoise sequined bodice and blue and green tulle spilling out the back to form the tail. Real shells form the top part of the costume. And the best part? There's a full photo tutorial for you to follow in case you'd like to be a mermaid for Halloween too. Get it here.
Final Thoughts on Halloween Costumes
As you can see, you can explore thousands of options when it comes to Halloween costumes. We hope that this list includes something you like so that you can get started on your outfit, hair, and makeup to be ready in time for the spookiest night of the year.
No matter which Halloween outfit you end up choosing, be sure to later return to this page and let us know in the comment section below. You can post a photo with your creation and also share with us any more amazing ideas that would go on this list.