25 Fantastic DIY Halloween Costumes
Believe it or not, Halloween is coming right up… which means it's time to start thinking about your costume! If you're the type who heads to the craft store rather than iParty for your costumes, then this post is for you. Below are 25 of our favorite scary, creepy, funny and even beautiful DIY looks, with varying degrees of difficulty.
1. Mozilla Firefox
This Mozilla Firefox costume is really quite clever, and fairly easy to pull together. All you'll need is some orange faux fur and a blow up globe. And people are sure to be impressed with your ingenuity. Head over to PopSugar to read more about it and to check out tons of other great ideas.
2. Mary Poppins
If you grew up loving the movie Mary Poppins, then you're sure to adore this costume. You probably already own many of the pieces – a white shirt, black skirt and boots and a cute hat. But what really makes the costume recognizable is the black umbrella. Found over at Keiko Lynn.
3. Bag of Jelly Beans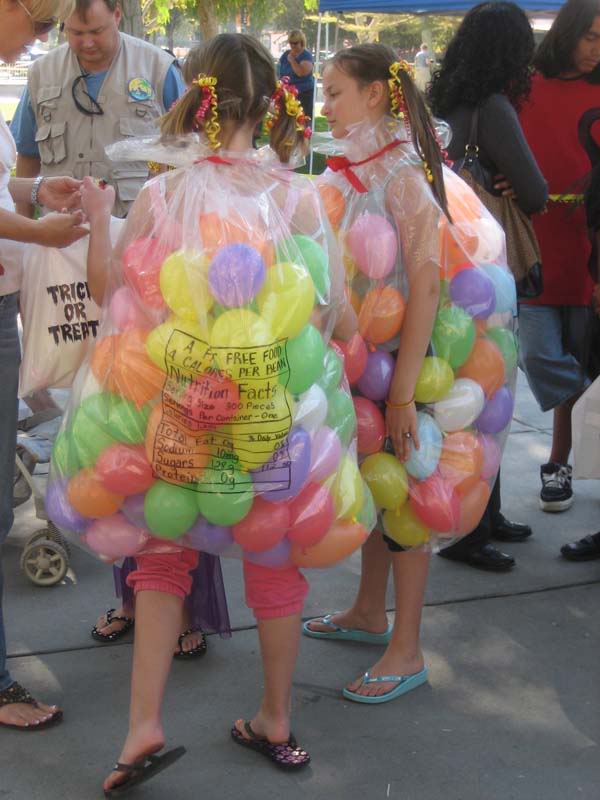 This costume idea is incredibly simple to make, and so cute! All you'll need for your bag of jelly beans is a large, clear trash bag and tons of small, colorful balloons. And curly ribbons in your hair help top off the look. Make your way over to Modern Kiddo to check out this and plenty of other great costume ideas.
4. Pippi Longstocking
Pippi Longstocking is a very recognizable character to most, especially those who grew up in the 80's and perhaps the 90's as well. Wire is the main supply you'll need here, along with either long hair or a wig. Find out how to make your pig tails defy gravity here.
5. Mylie Cyrus
Mylie Cyrus is an easy one to replicate, especially if you have blond hair. And she seems to be on everyone's radar right now, so people are sure to figure out who you are. Just grab a teddy bear and tie your hair in top knots as PopSugar has described here. Just don't forget to stick your tongue out the whole night!
6. Strawberry
Well, isn't this one cute?! If you already own an old red dress, then this strawberry costume would be perfect for you. And if you're not sure how to make it, you're in luck because this one has a full tutorial. Head way over to Studio DIY to find out how to make one yourself.
7. Day of the Dead
If you're good with makeup, then this Dia de los Muertos costume would work well for you. All you need to do is buy a face paint set at the store and dust off your artistic skills. And do pair it with some bright, colorful clothing. Head over to Stylecaster to see this and other stunning face painting ideas.
8. Where's Waldo
This family looks completely adorable all decked out in their Where's Waldo gear… but there's no need to go as a trio. Just grab the nearest red and white shirt and hat and some other random items and you'll be ready to go. Oh, and big dark rimmed glasses are a must. Check it out here.
9. Midwife
This midwife costume would be easy to make if your kids have a doll lying around that they'd let you use. Just make a little hat out of white paper and tape it to a headband. You could even make the white collar out of fabric and attach it to an existing blue shirt. See this and others over at The House That Lars Built.
10. A Roy Lichtenstein Painting
If you've ever seen a Roy Lichtenstein painting, then this probably looks familiar to you. Famous for his comic-book style artwork, his pieces were filled with primary colors and lots of black outlines. So get your face paint ready! Don't forget to DIY a thought bubble to attach to a headband, too. Found here.
11. Spider Web
If you're heading out trick-or-treating with a young child, consider this clever costume. You dress in black and white as a spider web, and your little one dresses as a spider. Martha Stewart shows us how to make it here. Believe it or not, there's no sewing involved!
12. Black Cat
It doesn't get any easier than this. All you need to do to dress up as a black cat is draw some whiskers on your face and attach some paper ears to a headband. And of course a tail would help, but it's not crucial if you're running short on time. Make it glam with deep red lipstick. See this and many others here.
13. Girl With A Pearl Earring
This iconic painting by Vermeer  would be easy to recreate… and your artist friends will have a good laugh. Just grab a set of large pearl earrings and wrap your head with fabric and you're finished. Head over to The House That Lars Built to find out more about this one and to see other art-themed costume ideas.
14. Rosie The Riveter
If you're a fan of Rosie The Riveter, give this one a try. This is an iconic image from American history so most people will recognize who you're supposed to be. But the only catch is that you'll have to hold your arm up all night! All you'll need for this costume is a red bandana and a blue denim collared shirt.
15. Tongue Twister
Say it fives times fast: "Sally sells sea shells down by the sea shore. Sally sells sea shells…." This clever person dressed up as a tongue twister for halloween! Just pin price tags to sea shells and attach them to the inside of a jacket. Find out how to create this genius costume here.
16. Black Swan
For those of you who have seen the movie Black Swan, you know that the character a unique one… making for a great Halloween costume. You'll need a black tutu and some serious face paint. Head over to Fashion Laine for a full makeup tutorial as well as some tips and ideas for the outfit.
17. Frida Kahlo
For those of you who are art lovers, you'll most likely recognize this one to be Frida Kahlo. Her thick, wide eyebrows were her most noticeable characteristic, so go crazy with the eyebrow pencil. Colorful Mexican-style clothing and accessories are also a must. Find out how to recreate the whole look over at Refinery 29.
18. 1920's Flapper
A 1920's flapper girl is another fun costume to make. Odds are you'll already have some of the pieces you need, like the pearls and stockings. Fashion Hotbox shows you how to pull together the entire outfit, with everything from outfit sources to a makeup tutorial.
19. Two-Face
This unique look could be enjoyable to create if you're a whiz with makeup. One side of your face will be beautifully, flawlessly made up while the other half is covered in ghoulish black and white coloring in a skull design. The rest of the look includes black and white clothing and perhaps a bow tie if you're feeling fancy. Read more here.
20. Wicked Witch of the West
This one is more involved, but the green tinted skin will certainly make you stand out! Adorn a regular black witch's hat with black faux flowers, and give yourself a healthy dose of eyeliner and red lipstick. Head over to The Glamorous Housewife to see this and many other interesting costume ideas.
21. Vampire
There's no need to put blood dripping down your face – the cape and the fangs are quite enough to get the point across. To add that extra vampire touch, add some super dark lipstick and dramatic eye makeup. To find out how to recreate this dramatic look, head over to Brit + Co. to check out the full tutorial.
22. The Joker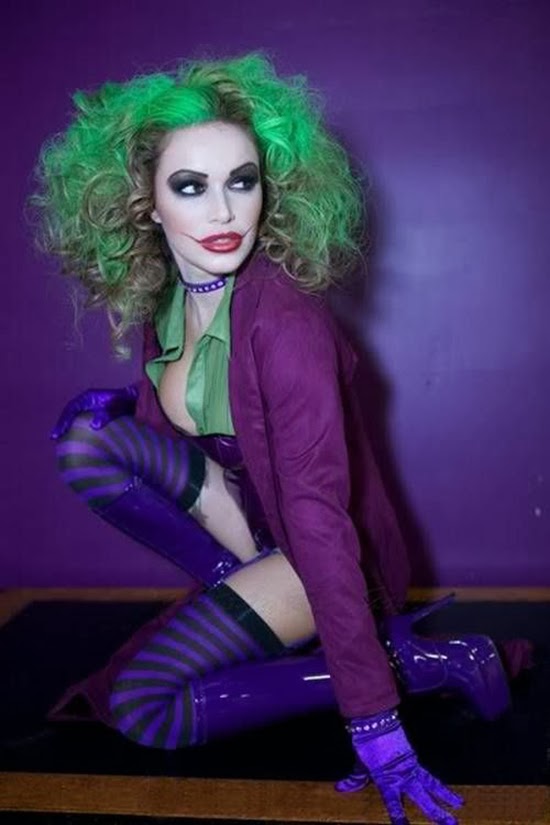 Channel your inner Heath Ledger with this amazing joker costume… it is really quite beautiful, but also terrifying at the same time. Creating a scarred face with makeup is the key here, along with dramatic black eyes. And don't forget the green hair, of course.
23. Pizza Slice and a Pizza Delivery Boy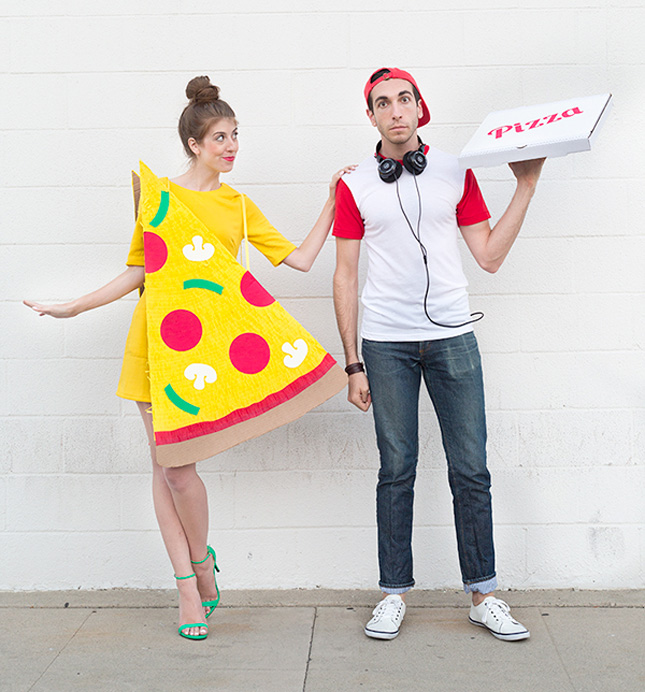 If you and your significant other are planning a big Halloween night out, try this adorable idea: a slice of pizza and a pizza delivery boy. All you need are some craft skills to create a big cardboard piece of pizza and a matching dress. And all the delivery boy needs is a pizza box! Head over here to see this and lots of other great ideas for couples.
24. Corpse Bride
This corpse bride costume will take some time to assemble, but its sure to really wow your friends. The key element here? Blue. Blue hair, blue makeup and blue flowers in your hair. And the big white dress, of course. Be sure to check your local thrift store for used wedding dresses. See more photos of the look here.
25. Mermaid
This mermaid costume is absolutely stunning, with a turquoise sequined bodice and blue and green tulle spilling out the back to form the tail. Real shells form the top part of the costume. And the best part? There's a full photo tutorial for you to follow in case you'd like to be a mermaid for Halloween too. Get it here.