25 Elegant Halloween Decor Ideas
It is easy to take Halloween decor too far – it can easily look juvenile if you're not careful, or even gaudy if you're too heavy-handed. But there are some easy ways to dress up your home in a classy way without going overboard. Keep reading to see 25 of our favorite elegant Halloween decor tutorials and ideas.
1. Black Lace Votive Candles
These black lace votive candles still evoke the feeling of Halloween without going too far with bright colors. The lace is reminiscent of a spider web, while the warm light looks almost orange against the black. And the best part? They're incredibly easy to make! Head over here to find out how to make them.
2. Wine Bottle Candelabra
Instead of tossing all of those empty wine bottles, set them aside and use them as a beautiful centerpiece for your next Halloween party. Simply remove the labels from a bunch of clear wine bottles (the number will vary depending on the size of your table) and cluster them in the center of your table with white tapers in each one. Found at Tattered Style.
3. Sharpie Pumpkins
Grab a Sharpie marker and a couple of white pumpkins from your local farm stand and soon you'll have a beautifully elegant Halloween display. Boxy Colonial shares a great tutorial on how to recreate the look here. And if you can't find white pumpkins, you can always paint them!
4. Gold, Gold, Gold
Why not try metallics for Halloween? It's a refreshing take on traditional Halloween decor. Paint a few pumpkins and pinecones gold and place them on a burlap runner on your table. Gold votives will add some beautiful mood lighting. Get all of the details over at A Pumpkin and a Princess.
5. Black and White
Utilizing a black and white color scheme is another contemporary way to decorate for Halloween. Think crows, spiders and skeleton keys. Adding a few pops of white will accentuate the darker hues. Make your way over to PopSugar to see how Stephanie dressed up her home in black and white for a big Halloween bash.
6. Crocheted Doily Ghosts
This is a charming take on Halloween decor, with pretty white ghosts hanging from the ceiling amongst faux black birds. You can make the ghosts easily by balling up a tissue and covering it with a vintage crocheted doily and then tying string around to secure it. Read more about the look over on Domestic Fashionista.
7. Modern White and Orange
Here is another great way to give your Halloween decor a modern look – display tons of white candles on your fireplace mantel (or even the center of a white table), and then cut spooky faces out of white pumpkins so they glow orange when you light candles inside of them. See this and lots of other contemporary Halloween ideas over at Dwell.
8. Black Feather Wreaths
A black feather wreath screams Halloween, and it's so easy to recreate in your own home. Just buy a feather boa and wrap it around a wreath form! Accent your black wreath with some purples and whites to give the color palette a thoroughly unique feel. Head over to Anna & Blue to check out the rest of this party decor.
9. Black Birds
There is something about black birds that seems very ominous, making them the perfect non-traditional Halloween decoration. Here, Jennifer has placed two black birds in a small white tree, using it as a unique centerpiece. Head over to Simply Ciani to read more about how to decorate on a budget. The Halloween decor in this room cost a total of $13!
10. A New Twist on White and Orange
Here, a different way to display the traditional combination of orange and white – use white pumpkins instead of orange, placing them on a festive orange runner. Beautiful vines dotted with red and orange berries are wrapped around the pumpkins. Check out Apartment Therapy to see this and many other Halloween decor ideas.
11. Gem Encrusted Skull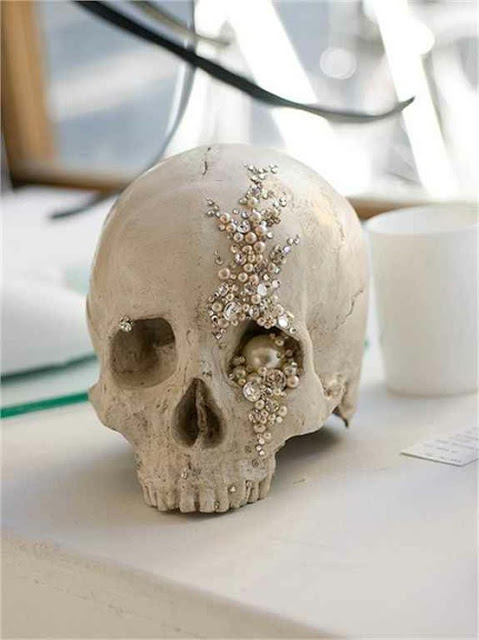 This spooky skull is glammed up with sparkling silver and white gemstones -a beautiful play on traditional scary Halloween decor. This would be an easy DIY… buy a faux skull at your local craft store, along with a variety of shiny beads, gemstones and sequins. See this and lots of other unique Halloween decor ideas at Living On The Chic.
12. Pink Pumpkins
Pink pumpkins are an unexpected play on the norm, and they will add a bright touch to your entryway or table centerpiece. Try several shades of pink, and throw in a gold or even a plaid one. The gold one can be created by applying gold leaf, and the plaid can be made by layering pink lines – just be sure to let each color dry before you apply the next one. Read more at Chatelaine.
13. DIY Crystal Balls
These creepy crawly crystal balls are so much easier to make than you might think… all you'll need are some images printed on transparency paper and clear glass Christmas tree ornaments. Make your way over to Flamingo Toes to read a full tutorial and to download the free printable images. Your friends will be flabbergasted that you made these yourself!
14. Gold and Black Theme
Here's another inspiring color combination for a unique Halloween display… gold, black and white! This is a bit more cheerful, with a hint of that dark Halloween flair. And everything was DIY, so it didn't break the bank. Check out A Thoughtful Place blog to find out how to do a whole slew of different gold, black and white themed DIYs for your mantel.
15. Pale Green and Black Color Scheme
Here is yet another interesting twist on the typical Halloween color scheme. Omitting orange altogether, Sarah went with a pale green and black color palette. That black net gives it a spooky feel, while the light green adds a friendly vibe. See the whole display and find out how to recreate a similar one in your own home here at the Boxwood Clippings blog.
16. A Contemporary Wreath
Because of the skull and the black and white stripes, it is clear that this is a Halloween wreath… but the addition of a neon chartreuse bow gives it a fresh, contemporary look. After all, neon is on trend these days. Check out this and 29 other DIY Halloween wreath ideas at Lil' Luna. You'll want to make them all!
17. Matte Black Pumpkin
There's something about this matte black pumpkin sitting in a dark room that feels extra creepy, as if a ghost might float around the corner at any moment. The matte finish gives it a unique look, and notice that the stem is painted too. Check out the tutorial by Sweet Paul here. He recommends using an artificial pumpkin so you can keep it from year to year. Good tip!
18. Mercury Glass
Mercury glass has gotten very popular in home decor lately, so it only makes sense that mercury glass Halloween decorations would be popping up too. The material feels very glamorous on the one hand, but a bit worn and almost vintage on the other. Which is precisely why it looks great with other Halloween decorations. Find out how Heather pulled it off on her blog.
19. Black and White Embroidered Text
The simplicity of this piece is what makes it feel contemporary…. Just grab a piece of black linen fabric and some white embroidery floss and you'll be ready to make one of your own fun "boo" signs. Get the whole tutorial over at Me Oh My! (which she original found in Sweet Paul Magazine). She also wrote the word "eeek" on another one – don't hesitate to get creative with your text!
20. Outdoor Dotted Pumpkins
There is something so elegant about this display. All of the jack-o-lanterns are created using the same general technique – small holes in patterns for the light to shine through – but each one is unique. Some of the pumpkins are different colors, and each one has a different pattern. Recreate this technique with your own pumpkins by making holes with an electric drill. See this and many other Halloween ideas here.
21. DIY Feather Garland
This has a bit of a fall feel to it, but it certainly could pass for Halloween decor when displayed with white pumpkins as shown above. Then you don't have to switch your decor in November, you can simply use the same decorations for a few months! Check out the easy how-to for this gorgeous gold-dipped feather garland over at the Simple Stylings blog.
22. Nightmare Before Christmas Tree
This might be the most unusual idea of them all… a Nightmare Before Christmas tree! Buy a white artificial Christmas tree and fill it with characters from the oh-so-spooky tale. A silver tinsel garland adds a healthy dose of sparkle. Find out more about Greg Horn's tree shown above over at the MTV Geek blog.
23. A Murder of Crows
This murder of crows sets the tone for a spooky Halloween-inspired dinner party. Most craft stores will sell a variety of different artificial crows, so grab a bunch and cluster them together on your mantel or on a bookshelf. The mirror is another unique touch – copy the words of a Halloween themed story or poem on a mirror with a black dry erase marker. Check out this and lots of other ideas here.
24. Day of the Dead Wall Art
Hang some seasonal wall art – something like these Mexican-style skulls (a Day of the Dead sort of look) would do the trick. Find out how to recreate this look at Cuckoo 4 Design. She used photocopies from a Mexican graphics book, and then had her daughter color each one differently. Also notice the black plastic spider on the roses… the perfect subtle touch!
25. Skull Bookends
And last but not least, flank some old books with a pair of skull bookends. You can buy them or make your own using this tutorial. Check out this and many other ways to decorate your home with skulls here. Add a few faux cobwebs with black spiders and your mantel will be ready for Halloween in all of its elegant glory.