50 Cool Easter Eggs To Try and Recreate At Home With The Family
A visit from the Eater bunny is nearing closer and closer and it's time to decorate and prep for the big day! As springtime rolls in, so are bunches of ways to decorate those hard-boiled beauties. Here are 50 cool Easter eggs to try and recreate at home with the family. And then see which ones the Easter bunny decides should go in your basket early that Sunday morning!
1. Pointillism
Brit + Co gets us started with some extra artsy Easter eggs to get inspired by. The kiddos can get really creative with this one – and a learn way to create artwork!
2. Floral
We were also inspired by these gorgeous Brit + Co floral eggs. They're perfect to ring in the season with and to top off the family's Easter basket.
3. Ice Cream Cone
I scream. You scream. We all scream for ice cream! Check out how to recreate these adorable little cones over at Kara's Party Ideas.
4. Golden Speckles
These beautiful "robin's" eggs with golden speckles can be found over at Craftberry Bush. Follow the link and check out the tutorial!
5. Watercolor
Spoon Fork Bacon made some gorgeous watercolor eggs that we're swooning over. And imagine all of the possible color combinations!
6. Stamped
You could even stamped your classic, colored Easter eggs with fun phrases. Find out how over at Lovely Indeed.
7. Hearts
The Sweetest Occasion made "loving" eggs that can become the perfect little present from the Easter bunny. A bit of color and some hearts can go a long way.
8. Fruit & Veg
Brit + Co turned some eggs in fruit and veggies. Grab some supplies and transform some of your own into your favorite bites.
9. Mr & Mrs
These Mr. and Mrs. eggs from Say Yes are just too darn adorable. Fashion a pair after you and your beau or even your favorite celebrity couple!
10. Crescent Moon
These simple crescent moons are quite pretty, don't you think? Grab all the details by visiting Paper and Stitch now!
11. Threaded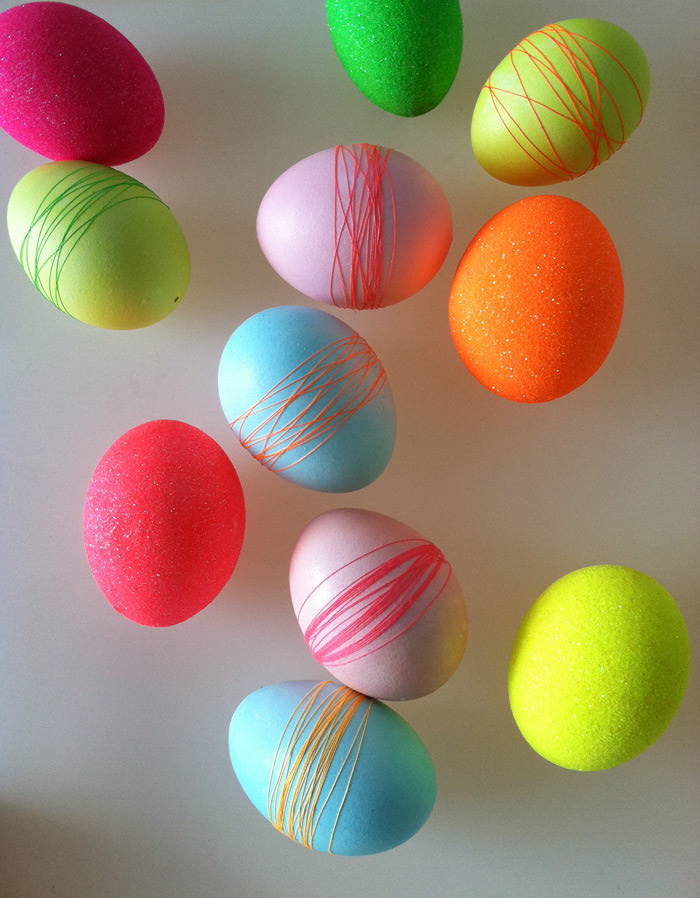 Even a bit of string could make a difference. After some simple dying, check out Martha Stewart to see how some texture could jazz up your eggs this year.
12. Chalkboard
Why not turn your Easter eggs into mini chalkboards? Oleander + Palm shows off this unique idea and how easy it is to do it!
13. Glow in the Dark
Growing A Jeweled Rose took Easter eggs one step further with these gorgeous glow-in-the-dark eggs. There's no way the kiddos won't want to get involved in this fun project.
14. San Fran Inspired
How about a set of eggs inspired by your favorite city. These San Fran decorated bits from Brit + Co sure gave us a lot of great ideas!
15. Gilded
Cocorrina used some gold in her designs and we're in love. You can personalize the eggs and get extra creative with this idea as well.
16. Cactus
How about turning your Easter eggs into some cool cacti? Check out The Glitter in My Tea for all the easy details.
17. Abstract
We're swooning over these pretty abstract eggs too. Bring your artistic nature to life with some help from Instruck Studio
18. Tissue Paper
Say Yes used tissue paper to make their Easter eggs extra special. Hop on over to the blog and check out the tutorial.
19. Emojis
How about getting inspired by your texting keyboard? Turn your eggs into your favorite emojis like Studio DIY!
20. B&W
Obviously Sweet shows off some pretty and simple black and white designs. Sharpies or paint, whatever you have can get the job done!
21. Silk
Have you ever heard of silk dye? You can make these gorgeous designs with a bit of direction! (via)
22. Lace Wrapped
Celebrating Everyday Life used lace as their inspiration. It's feminine. It's frilly. And it's perfect for the season.
23. Ombre
Ashlee Design teaches us how to take the trendy ombre trend and put it to good use in our Easter prep. Check out how to dress you eggs like so.
24. Pantone
We're loving this innovative idea. Visit How About Orange and learn how to use this year's Pantone picks as inspiration.
25. Cotton Candy
The Glitter in My Tea is making us swoon again with these cotton candy cuties. Fill up your Easter baskets will these puffs of pink.
26. Whipped Cream
You can even use whipped cream to dye your Easter eggs. Learn how over at Only Deco Love.
27. Paper Garland
Brit + Co knows how to inspire us in all the right ways. And this time it's simple, some paper garland can decorate and simplify the project.
28. Golden Seismograph
Aunt Peaches took some creativity and poured it into Easter egg design. These golden seismographs are gorgeous.
29. Marbled
Lonny made some marbled eggs we have to try too! And we're loving how some are dipped in a bit of gold paint.
30. Tattoos
Did you know that you can use temporary tattoos to get your Easter egg decorating done? Thanks for another great idea Brit + Co!
31. Naturally Dyed
Brit + Co used the likes of carrots and cabbage to do their Easter egg dying. Hop on over and check out the innovative now!
32. Bouffant
Studio DIY always has the most charming and unique of ideas. Your eggs can be transformed into mini bouffants!
33. Gold Animals
Flax & Twine added some fun extra bits to make a unique design as well. Golden, glittering animals make for a festive, springtime feel.
34. Banna Split
If you're got a sweet tooth, visit The Glitter in My Tea one more time. They'll teach you how to whip up quite the creative banana split.
35. Cheeseburgers
Studio DIY made cheeseburgers! You'll have some much fun making these cuties come to life.
36. Polka Dots
Of course, polka dots will always be an easy, classic way to decorate. The kids will love this pattern too because you can realize it in so many different (and simple) ways. (via)
37. Decoupage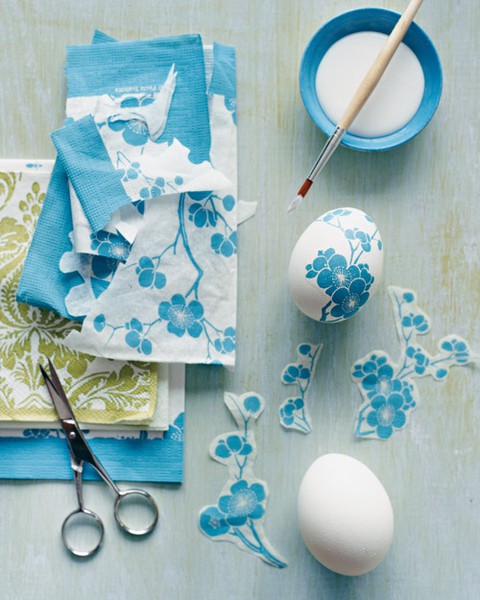 Dizzy Maiden put some decoupage skills to the test. Do something innovative and unexpected this year for Easter.
38. Washi Tape
Lovely Indeed took one of the most obvious of material choices and put it to good use. Washi tape will always work in a pinch!
39. Donuts
Kara's Party Ideas turned her eggs into something deliciously sweet again. This time … we've got donuts for everyone!
40. Colored Powder
Sweet Paul Magazine showed off this colored powder project that we're really interested in trying. Check it out for yourself and let us know how it goes!
41. Ombre Glitter
Brit + Co serves us another ombre delight. But this time it's a bit different than its predecessor. Glitter is involved!
42. Golden Marbled
If you want to take the marbled look up a notch, you may want to add some metallic to the design. And gold is always our friend. (via)
43. Colorblocked
Oh Joy! used the simple notion of color blocking in her Easter egg design. We love the simplicity and the crisp finished product.
44. Cement
Camille Styles shows off her cement eggs. If you're looking for strictly decor, this is the project to peek at.
45. Painterly Pastel
Paper and Stitch got the paintbrushes out. Hop on over and take a peek at the inspiration.
46. Typography
Here's another fun project that involved wordage. Add some personalization to the design with help from Lovely Indeed.
47. Indigo
Indigo dye can be absolutely stunning. And now you have a chance to learn how to bring that beauty to your Easter eggs! (via)
48. Swan + Flamingo
Studio DIY turned their eggs into swans and flamingos. These cuties are seasonally sweet and will definitely spruce up the Easter baskets.
49. Calligraphy
Brit + Co puts your calligraphy skills to the test. Learn how to personalize everyone's basket with this tutorial!
50. Shaving Cream
And finally, visit Practically Functional to learn how to dye your eggs with shaving cream. Have so much fun creating your springtime colors.