Crochet Easter Eggs: 25 Best Free Patterns for a Colorful Spring
Easter is a wonderful occasion to decorate your house, so you should start making preparations in your free time. This way, you will be able to spend quality time with family while doing what you enjoy most: crocheting. Here are the best free patterns for crochet Easter eggs.
Crocheted Easter egg patterns are the perfect craft project for parents and kids alike. They look absolutely stunning when finished, you can use them to decorate your home, and they are the ideal fillers for Easter baskets.
Below is a list of different crochet egg patterns you can look through to find the one that will work best for you. Have fun.
Lovely Crocheted Easter Eggs to Try This Year
Without keeping you on your toes any longer, here are the top crocheted Easter egg patterns you should try this festive season:
1. Pastels – Easter Egg Crochet Pattern
You can crochet pastel eggs in muted shades of pink, blue, or yellow, depending on how they will match the rest of your Easter theme. They are simple to make and perfect for using up leftover yarn.
Head over to Bella Coco Crochet to get the free pattern for this crochet Easter design and make your own pastel Easter eggs right away.
2. Chocolate Diorama – Crochet Pattern Easter Egg Template
If you love playing with food and doing cute things with your crochet, then the chocolate diorama eggs are just for you. They are as realistic as they can be, and you can use them as a fun decoration for your Easter party.
As far as materials are concerned, you will need worsted-weight yarn (white and chocolate brown), an F hook, and embroidery floss in various colors for these crochet Easter eggs.
It's also a good idea to have a satin ribbon to make the bow, an embroidery needle, tiny flowers, a small figure for the diorama, and fiberfill.
Visit Grateful Prayer Thankful Heart to get the crochet pattern Easter egg template and complete instructions, including how to make the faux frosting and decorations.
3. Unicorns – Free Crochet Pattern for Easter Eggs
Unicorn eggs are just what you need to brighten up your home in the lead-up to Easter. They are super quick to crochet and can be made in just a few hours.
The white eggs are decorated with colorful yarn to look like pastel unicorns, and they look perfect when hung on your tree or displayed in a bowl. We love the crochet Easter colors used here.
You can download the free pattern from Ravelry and start working on this project right away.
4. Floral Crochet Egg Pattern
For a crochet accessory that is both stylish and practical, go for the floral Easter eggs. They are made using cotton yarn and will work up very quickly, which makes them perfect for last-minute gifts or decorations.
You can download the free pattern for this Easter egg coloring crochet from Ravelry and start working on your own set of beautiful eggs.
5. Four Sizes – Free Pattern for How to Crochet Eggs
If you are looking for a crochet pattern that will help you create adorable eggs of different sizes, this is the one to go for.
The author for this Easter egg printable crochet pattern has included instructions for making extra small, small, medium, and large eggs.
For example, you can use small Easter eggs as ornaments to hang on your tree or give them away as gifts. Furthermore, they come with various pattern suggestions to help you get inspired.
Feel free to download the free printable Easter decorations pattern from Ravelry.
6. Spiral – How to Crochet Easter Eggs (Free Instructions)
The spiral Easter eggs are easy to crochet and ideal for intermediate users. They are fun to make, and you can design them in your favorite colors.
The tutorial for this egg shape crochet is available at Krazy Kabbage, and it will help you get started with this project without any trouble.
It features detailed instructions on how to make the eggs, including the spirals.
7. Floral Patches – Crochet Egg Shape Pattern
If you need easy crochet patterns, then look no further than the amigurumi eggs. You can use them to decorate your home or Easter basket or give them away as gifts.
They are suitable for beginners, and the authors of the tutorial have included detailed instructions to make the Easter eggs with floral patches.
Visit Zeens and Roger for more information on this crochet Easter egg outline.
8. Crochet Easter Eggs that Open
These pull-apart Easter eggs make a fun DIY craft for children and adults alike. The secret is that you can open the eggs and hide small items inside.
As such, besides decorating your home, you can use them as gifts or giveaways at an egg hunt. Plus, you can crochet them in beautiful pastel or bright colors, depending on your preferences.
Head over to Grateful Prayer Thankful Heart to get the Crochet Easter egg hunt printable with further instructions.
9. Coasters – Large Crochet Egg Pattern
You can make your own Easter egg coasters to brighten up the house. Crocheting will be part of the fun as you can choose any color combinations for this project, and you won't need too many tools or materials.
Visit Whiskers and Wool to get the detailed instructions for this crochet Easter egg pattern.
10. Bright Colors – Free Instructions for How to Crochet an Egg
For a pattern that will get you started quickly, consider crocheting these cute Easter eggs with bright colors. They are easy to make and suitable for beginners.
When it comes to tools and materials, you will need a standard plastic egg, cotton yarn in multiple colors, an E/4 or G/6 size hook, a large-eyed blunt needle, and a stitch marker.
The crochet Easter design pattern is available at Skip to My Lou and comes with detailed instructions, so be sure to check it out.
11. Filet Cross Crochet Easter Egg Cover
Depending on your preference, these special eggs can be made with or without a cross. They make wonderful gifts for friends and family and are sure to add a touch of springtime beauty to any home. Get the instructions from Crochet Memories.
12. Easter Bunny Egg Warmers – Crochet Egg Pattern Free Download
You can crochet your own egg warmers in the shape of the Easter bunny to add some extra fun to your Easter celebrations. These little guys are quick and easy to make, and they will keep your eggs nice and warm throughout the festivities. Go to Garns Studio to learn more.
13. Circle Chain – Free Crochet Egg Cosy Patterns
Adding a cute, crocheted egg cozy to your Easter table is a great way to spruce things up. This easy pattern will have you whipping up a batch of these in no time. Just grab some colorful yarn and a crochet hook, and you're good to go. Visit Petals to Picots for more info.
14. Little Chicks – Crochet Easter Egg Cover Pattern Free Download
Moms can add a little bit of springtime fun to their kids' Easter egg hunts by crocheting little chick egg covers. They will definitely make your eggs stand out from all the rest. Or you can just use them to decorate hard-boiled eggs around the Easter table. Go to Krawka to find out more.
15. Little Monster – Crochet Funny Easter Eggs
If you're looking for crochet funny Easter eggs for kids, consider making cute little monsters. Each egg has one eyeball, a couple of teeth, arms, and legs. They are simply adorable.
The tutorial provided by 1 Dog Woof features detailed instructions on how to make these lovely beasts. What's more, you will be able to open the eggs and store small items inside.
16. Thread Crochet Easter Egg Pattern (Free)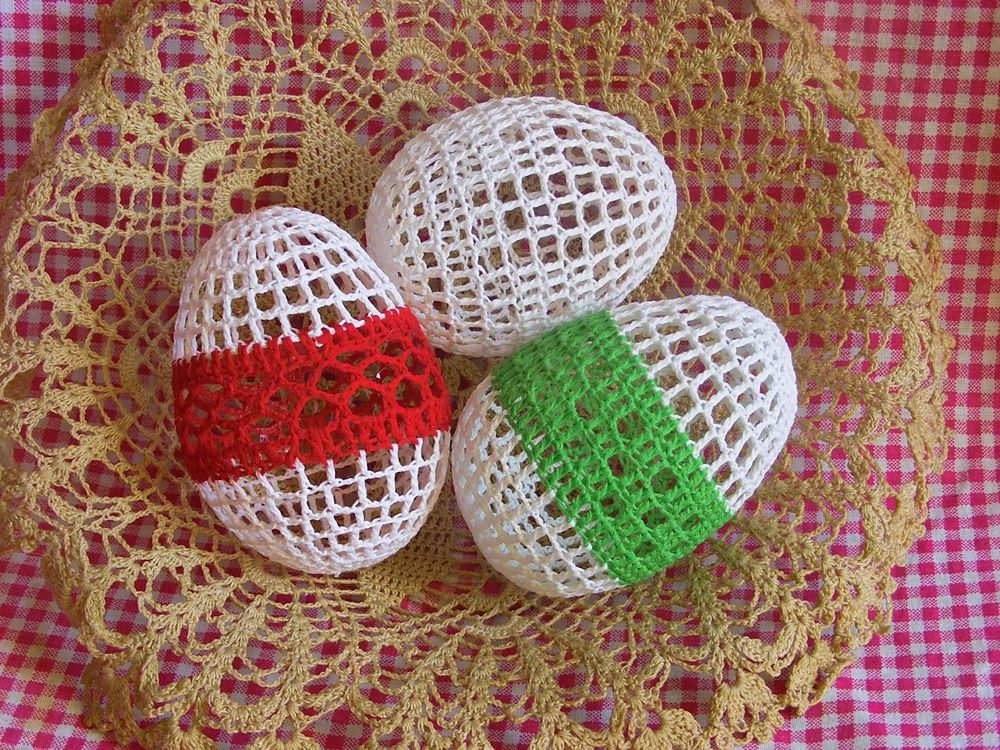 Thread crochet Easter eggs are so much fun to make. This pattern is easy to follow, and the results are adorable. You can use any colors you like, and these eggs would be perfect for Easter or spring decorating. Get the full instructions from Ravelry.
17. Hanging Easter Egg Crochet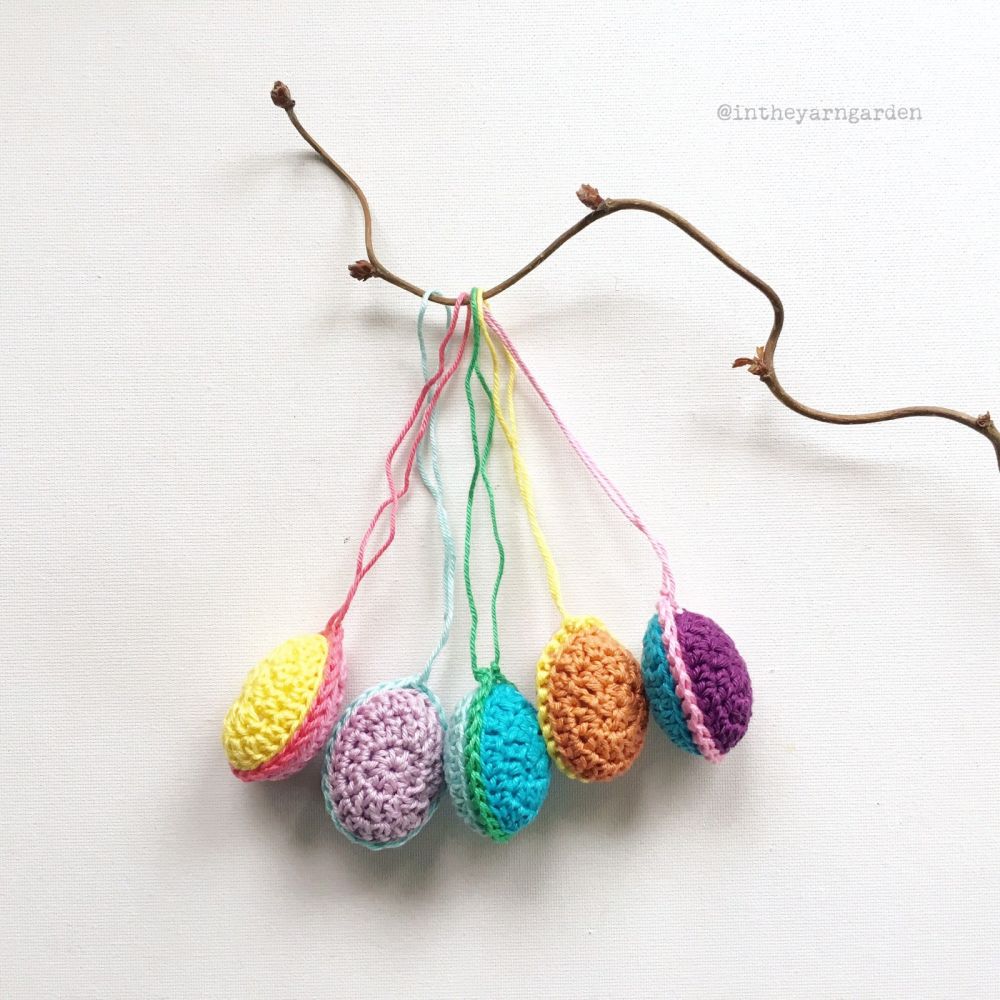 This Easter, you can try something a little different with your decoration by crocheting charming hanging eggs. Hang them from your tree or use them as a table centerpiece. Learn the instructions from In the Yarn Garden.
18. Little Buttons with Straps – Egg Cozy Crochet Pattern
Repeat Crafter Me guides you through the process of creating egg covers that resemble overalls with buttons. We adore the way crocheted the cozies in all rainbow colors to brighten up any room. This project is a great stash buster.
19. Mini Crochet Gift Bag
We realize this image shows apples in the little knitted gift bags instead of dyed Easter eggs or chocolates. But it's such a versatile project that you can use it to create tiny gift bags to fit small items. Get the crochet instructions from Spin Cushions.
20. Easter Egg Farm Animal Cozies
If you love celebrating Easter by cherishing baby animals and fresh spring flowers, check out this lovely crochet pattern from Jean Greenhowe. It teaches you how to craft farm animal cozies in the shape of Easter eggs.
21. Crochet Easter Egg Hats
How cute are these little crochet Easter egg hats? They would make such a fun addition to any Easter basket and a fantastic way to add a personal touch to your holiday decor. Furthermore, they make great gifts for friends or family. Visit Is Laura to learn more.
22. Ribbons – Free Guide for How to Crochet an Easter Egg
If you're interested in crocheting Easter eggs with a fancy flair, follow in Coffee & Vanilla's footsteps and add another detail: a pretty ribbon woven around the middle. We love the idea of crocheting the cover in various stripes and contrasting it with other ribbon colors.
23. Mini Easter Egg Baskets – Free Egg Crochet Pattern
Here's another charming idea: crocheting mini baskets to hold your Easter eggs. In no time at all, you'll have darling little baskets to fill with chocolate eggs or other treats. Read Petals to Picots for the full tutorial.
24. Viking Egg Cozies
Try something unconventional by crocheting Viking egg cozies. We're sure that your young boys will absolutely love them. Besides, these little guys are quick to make and can be whipped up in any color combination you like. Head over to Selber Machen Gurufor more details.
25. Radish Cozies – Crochet Egg Covers
Some years, when we're so tired from endless dark winter days and looking for new energy when the spring sun finally shines, all we can think about is fresh fruits and veggies.
Use that as another inspiration for making yourself an alternative egg cover for your eggs on Easter morning. Check out how Messy LA made these adorable little egg caps that make your breakfast or decorative eggs look just like radishes.
Final Thoughts on Crochet Easter Eggs
If you are looking for crochet patterns to create practical accessories or decorations, choose the ones with detailed instructions. You don't want to get halfway through a project only to find out that you need more tools or materials.
As for the patterns themselves, you should choose the most appealing ones, based on their colors and shapes. At the same time, you should take your skill level into account.
Beginners should stick to easy projects with detailed instructions until they feel confident enough to tackle more serious Easter knitting and crochet projects.
What are your favorite crochet Easter egg patterns? Let us know in the comment section below.
Happy Easter!