20 Best Easter Tree Decorations to Make Your Spring Sparkle
Whether you're looking for something to spice up your Easter egg decorating routine or just want a few new ideas, we've got you covered. From simple designs to more complex ones, these Easter egg decorations are sure to impress. So get creative and have some fun this Easter!
An Easter tree is a decorated tree typically put up in the home during the Easter season. It somehow resembles a Christmas tree.
However, the most significant difference is that an Easter tree is usually smaller and decorated with a single type of ornament: eggs.
If you're thinking about putting up a DIY Easter tree this year, you might be looking for various ideas.
Best Easter Tree Decorations to Try This Year
Keep reading to discover the most beautiful and creative DIY Easter tree ideas worthy of your attention.
1. Willow Easter Tree with Hanging Eggs – Dollar Tree Easter Decorations
If you're looking for an easy way to create a wooden Easter tree, try using a willow tree branch in a glass vase. It's a delicate and elegant look.
Besides, you can find these at most craft stores. Simply hang some Easter eggs in different colors and you're good to go. Plus, it doesn't require a lot of space, which makes it ideal for small homes.
2. Wood Dowel Easter Egg Tree Decorations
Another simple yet creative idea for Easter tree decorations is using wooden dowel rods in various sizes. The results can be stunning if you follow the instructions correctly.
Besides, it's a great way to spend more time with your kids and significant other by asking them for help to make wooden Easter decorations.
To work on this project, you will need dowels, a round wood base, wood glue, a spade drill bit, a hand saw, and a tape measure.
Visit Remodela Casa to get the complete instructions for this amazing project.
3. Mason Jar – Easter Egg Tree Ornaments
A unique idea for an Easter egg tree is using a mason jar. It's simple, yet it creates a fun and creative look that can be used for various purposes. Furthermore, you get to decorate the mason jar in any colors to match the eggs or your Easter party theme.
Add the following items to your shopping list: a quart mason jar, paint (green or anything else you like), a foam brush, white paint, a branch or artificial flower stems, a ribbon, burlap, and hanging egg ornaments.
Check out Salvage Sister & Mister for more information on making an Easter egg tree out of a mason jar.
4. Jellybean Mini Topiary – Easter Egg Trees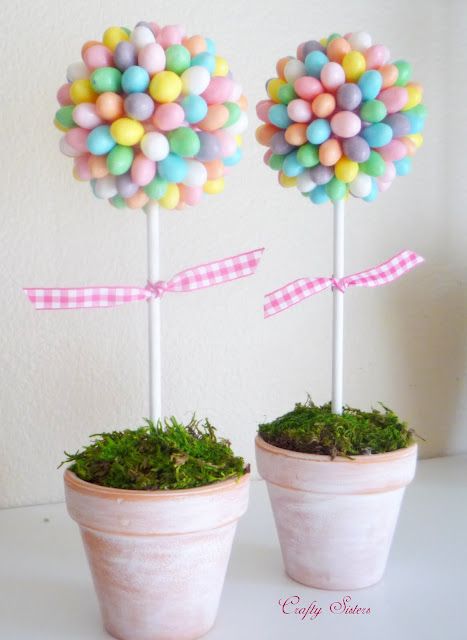 A topiary is a type of plant often shaped for ornamental purposes. It can be made to resemble animals, humans, or simply abstract forms. So you can take advantage of this opportunity to create hanging Easter decorations using a jellybean topiary.
For this project, you need pots, styrofoam balls, dowels, floral tape (or paint and a paintbrush), a ribbon, Easter grass or moss, and pastel jellybeans.
Go to Crafty Sisters and check out their complete tutorial to learn more information about making jellybean mini topiaries.
5. 3D Paper Eggs – DIY Easter Trees
You can effortlessly make 3D paper eggs as Easter ornaments to hang on your Easter egg tree. It's an excellent way to decorate your living room, bedroom, or pretty much any other room in the home.
Plus, it's an inexpensive project that won't take too much of your time. And you can have your kids join in to give you a helping hand.
To get a polished look, it's best to use a cutting machine for this project, such as Cricut Maker. You also need scissors or a craft knife, small binder clips, a curling tool, and a plastic palette knife or a flat paintbrush.
As far as materials are concerned, make sure you have cardstock paper in various colors, embroidery floss or thread, and craft tacky glue.
Visit Lia Griffith and check out her full guide to learn everything there is to know about crafting 3D paper eggs as Easter tree ornaments.
6. Outdoor Hanging Easter Eggs
Nobody says that your Easter tree has to be small and kept inside.
If you have a backyard with a beautiful tree, consider transforming it into an Easter tree by simply decorating it with hanging Easter eggs that are colorful.
It's a wonderful Easter tree idea that's simple and effective, enough to make your day special.
Check out this Pinterest post for more inspiration.
7. Giant Easter Egg Topiary Tree
Here's something you don't see every day: an Easter egg topiary that you can showcase at your front door. In fact, you can make a few of these to create an Easter forest in no time.
For this Easter tree idea, you need dowels, a block of styrofoam, a hot glue gun, oversized Easter egg decorations, a flowerpot or another container large enough to support the topiary, Easter grass or moss, and artificial flowers and greenery.
Head over to Celebrate and Decorate for the complete steps.
8. White Easter Egg Tree DIY
If you want a monochrome look, you can decorate a white Easter tree that looks gorgeous. It's one of the easiest Easter tree ideas on this list due to its simplistic design. And it's perfect for those who are new to holiday decorations.
To make this Easter tree, you need plastic white branches, moss, compote or other decorative bowls, pink faux flower heads, and gravel or styrofoam.
Go to Up to Date Interior and read the full instructions to learn everything there is to know about crafting a white Easter tree.
9. Crochet – Easter Egg Ornaments for Tree
If you love knitting and crocheting, you can craft your own eggs, add them to your tree, and use them as hanging Easter decorations.
In addition to being a cute Easter tree idea, the eggs can double as Christmas decorations when winter comes.
Follow this nice tutorial from Golden Lucy Crafts and learn how to crochet your own Easter eggs in no time.
10. Pom-Pom Tree Art – Easter Eggs Hanging from Tree
If your home lacks color, consider making pom-pom tree art to bring some life to the area. Just replace the black pom-poms with colorful ones.
Crafting this Easter tree is simple and inexpensive. So it's a wonderful project for those who are looking to save money. Plus, you can have tons of fun with your family.
To get started, you will need acrylic paints, branches, a paintbrush, hot glue, and crafting pom-poms in various colors.
11. Paper-Covered Wire Stem – Vintage Easter Tree
Perhaps you'd rather construct a tree instead of using branches. In this case, Happy and Simple has a neat tutorial for wrapping wire in twisted paper strips and bending or curling it to look like fancy tree branches.
12. Painted Plastic Easter Eggs to Hang on Tree
If your kids are hands-on artists who love working with paints and brushes, keep it simple with this Easter tree that uses painted eggs made from plastic. Hello Kids suggests letting your kids go wild and using crazy painting colors. Adding glitter is always an option, too.
13. Hollowed and Dyed – Hanging Easter Eggs from Tree
Get creative with your decorations this Easter. Instead of putting up the same old plastic eggs, try making a tree out of hollowed and dyed eggs. It's easy to do and looks great when finished. Just be sure to use dye or paint that will last through the Easter egg hunts. Check out the tutorial at Artful Parent to learn more.
14. Marker-Colored Eggs
Maybe your kids would love to cover their Easter eggs in paint or dye. But if you want something less messy this year, you can trust standard old coloring markers. VisitSe7en for more info.
15. A Potted Tree with Sparkling Eggs
If you're interested in a fun and simple Easter craft project, this DIY potted tree with sparkling eggs is perfect since you can make it using just a few simple supplies. Besides, it's a great way to add some Easter decor to your home. Visit Savings Lifestyle for more details.
16. Curly Ribbons
Branches and plastic Easter eggs look just fine. But if you want to add a little extra something to the aesthetic, check out this awesome idea for an Easter tree that uses curly ribbons. Head over to Faithful Provisions for more info.
17. Pom-Poms and Moss
Potted Easter trees are a fantastic way to create centerpieces for the dining room table. And if you want to make yours stand out, be sure to use sand, moss, and colorful pom-poms. We promise that you will fall in love with the results. See Alpha Mom for complete instructions.
18. Handmade Salt Dough Ornaments
If you love the idea of painting your Easter tree ornaments, mix a batch of salt dough and mold cute springtime shapes that you can dry and color. We love the way Rachel Powell paired salt dough ornaments with a branch potted inside a vase filled with candied chocolate eggs.
19. Easter Egg Tree with Feathers
If you love the idea of decorating your home with unique and festive trees during the holidays, try your hands at making this Easter egg tree with feathers. It's easy to create and adds a touch of brightness to any room. Follow the simple steps from Aunt Peaches to make your own.
20. Large Topiary Egg Tree
Here's an awesome idea for decorating your porch: using a large topiary Easter egg tree. Go to Creative Lee Crafted to learn how to put one together.
Final Thoughts on Easter Tree Decorations
Whether you are decorating your home for Easter or simply want to try crafting an Easter tree, the ideas on this list are bound to impress even the most demanding of people.
From large trees to small ones, indoor Easter trees to outdoor masterpieces, these ideas will definitely inspire you and help you find new ways to celebrate this holiday.
Of course, you can always take your inspiration one step further and come up with new ideas that are uniquely yours.
From simple designs to more complex creations, your imagination is the limit when it comes to Easter tree ideas.
So go ahead and choose your favorite design, then put on some music and start crafting your new, creative Easter tree.