40 Lovely Outdoor Easter Decorations for Spring
Easter is a wonderful time of year to celebrate with the whole family. And these creative outdoor Easter decorations will thrill your little ones. They're perfect for decorating the yard, front porch, or garden space.
If you want to save some extra cash while also increasing the DIY factor, then check out these outdoor Easter decor ideas that you can fully customize to match your personal style.
As you start scouting for your Easter decorations, keep these ideas in mind – especially if you are looking to make a statement this year.
Best Outdoor Easter Decoration Ideas
Here's what you can try out:
1. Plastic Eggs – Easter Egg Decorations
Plastic eggs are one of the most versatile decor items you can have on hand. Here are a few ideas when it comes to Easter egg decorations:
Fill the eggs with jellybeans and leave some in the grass – make sure they're easy to spot so kids don't step on them.
Stick a small stuffed animal inside each egg and place them all over the yard.
Scatter some plastic eggs around a big inflatable bunny or chick.
Easily make a fun Easter Egg tree by inserting twigs into the top of a styrofoam cone and attaching plastic eggs to the tips – it will look like an adorable pinecone tree.
You can also use plastic eggs for DIY luminaries. Just put a tealight inside each egg, line them up on your porch or walkway and switch them on once it gets dark out.
Spray-paint the plastic eggs in bright colors like pink, yellow or blue.
You can even get creative with other craft supplies, like gluing googly eyes onto white plastic eggs and drawing polka dots on orange ones. Have fun with it and make this a group activity by inviting other families over to decorate their own eggs.
2. Small Decorated Baskets – Easter Table Decor
Small, decorated baskets are an adorable addition to any Easter display and also work as Easter table decor. Here are a few ideas you can try:
Cut fake tulips and stick the stems into the basket for a quick spring look.
Fill colorful paper eggs with treats like jellybeans or caramels. You can even tuck in some chocolate bunnies for your kids to find.
Tie yarn around the handle of the basket to make it look like a big Easter bow.
Cover the basket with felt strawberries, flowers, or leaves using fabric glue – this is also easy to do with kids since they can choose their favorite materials and stick everything together.
You can make a cute little Easter egg tree by cutting a styrofoam cone in half horizontally, gluing on felt flowers, and sticking many tiny baskets inside with plastic eggs – this may require two people.
Feel free to craft a jute Easter egg basket by following our simple guide. You just need hot glue, jute twine or string, a plastic cup, and a pair of scissors.
3. Painted Rocks – Outside Easter Decorations
Decorating with outdoor art is easy, affordable, and gives everyone more of an incentive to get outside. Here are a few ideas for Easter outside decorations:
Use outdoor paints to decorate big rocks, wooden signs, or even old paper plates. Kids can draw simple patterns like polka dots or hearts, or get really creative and paint their name in cursive letters.
Make simple silhouette cutouts of bunnies or chickens using black foam sheets – kids can trace shapes for this one. If you want fancier, try creating white cutouts that you can fill with chalk paint and then write Easter messages on.
You can also hang yarn between two sturdy trees to make a banner that says Happy Easter. Cut out bunny ears from craft foam sheets and glue them onto the top of each letter for decoration.
4. Spring Wreath – Easter Door Decorations
Spring wreaths are a classic Easter decoration that can go anywhere in your yard, starting with your front door. Here are a few ideas for Easter door decorations:
Drape spring wreaths over the front door for an inviting, cheerful welcome when guests arrive. You can even make your own by following the simple instructions provided by Life, Family and Fun.
Cut out flowers from felt and hot glue polka dots onto petals for an easy way to dress up your Easter wreaths. You can also tie fabric bows onto the wreath for a pop of festive color, as well as cutout bunny or chicken shapes from green felt, then hot glue pieces of wire mesh over the top.
String some twine along the roof of your porch to create a banner with spring-themed words like Happy and Easter. These are especially cute if you have kids who are learning their letters or how to spell. Just cut out corresponding shapes from foam sheets, glue them onto pieces of felt, and hang them up using clear thread.
5. Felt Bunny Bunting – Easter Decor Bunny
Felt bunny bunting is easy to make and will instantly bring fun, festive vibes to your yard. Here's what you need to do for this Easter bunny decor idea.
Instructions:
Cut six squares of felt the same size (12 x 12 inches).
On each square, cut out a triangle with curved edges. The widest part of the triangle should be 3 1/2-inch wide and the narrowest part should be 1 inch. Make two slits on either side of this shape – about 3/4-inch long.
Place one square face up on your work surface. String some ribbon or jute through the top slit so it hangs down vertically. Fold the top point down over it so it stays in place. Repeat on all felt squares – make sure each one is facing a different direction.
Once all the squares have been strung together, tie them tightly with twine to keep them in shape – just knot it once and then cut off any excess.
Poke holes near the top of each bunting piece and thread some pipe cleaners through as well as a few felt bunny figurines. Leave enough room at the top for hanging from a doorknob or branch.
6. Egg Wreath – Decorative Easter Ideas
A festive wreath is a great DIY Easter decorating idea and a beautiful way to welcome guests to your home and add some holiday cheer.
Instructions:
Gather natural green materials like pine cones, sprigs of rosemary, lavender, or olive branches. You could also use fake greenery if you prefer since the styrofoam ring will cover it up anyway.
Take an old wire coat hanger and bend it into a circle, then staple it shut with a stapler; hang it on the wall and fill it with your greenery.
Attach the ring to a styrofoam wreath using hot glue or pins. Add some little plastic eggs if you feel like it.
7. Milk Bottle Lanterns – DIY Decorations for Easter
Milk bottles are cute DIY Easter decorations for hanging lanterns to light up your yard in a pinch.
Instructions:
Remove the labels from glass milk bottles and wash them thoroughly to remove any lingering odors or soap residue.
Cut off the bottom third of each bottle with a sharp craft knife or scissors so that they will sit evenly on their bases.
Glue small LED lights inside the bottles using hot glue – try decorating tulle, feathers, flowers, and even Easter grass around the bottles.
Stack the bottles and use a thick rubber band to secure them – if you want, you can also glue around the edges for extra support.
Thread jute or ribbon through the top to create a handle so that you can hang your lanterns.
Find out more at Dollar Store Crafts.
8. Concrete Easter Egg Decorating Ideas
Concrete egg decorations are a fun, unique twist on typical Easter decor.
Instructions:
Remove the top of styrofoam eggs and clean them thoroughly.
Mix equal parts white caulking glue and water or concrete mix in small disposable containers – or find pre-mixed concrete at your hardware store.
Stir in some acrylic paint to make colored eggs.
Pour the mixture into the egg halves until they are filled almost to the top.
Place them upside down so that any excess drips out, then let them dry for about 3 days (just check occasionally).
Once the eggs are ready, flip them over and add strings to hang them outside.
9. How to Decorate Easter Trees
Put a spring twist on your outdoor tree decorations by incorporating Easter eggs and other fun elements.
Instructions:
Start with a large paper plate and cut out concentric circles around the center; fold them in half and snip a little off of the back so they stand up nicely.
Glue decorative straws onto the bottom part of each egg to stick them to your tree. Trim any excess straw if needed.
After decorating all paper plates, fill them with candy and pop them into plastic eggs for storage. You can even decorate your plastic eggs by painting designs or adding sticky notes – just be creative.
Finally, pop the filled eggs into the paper plates, and you're all set.
10. Bunny Signs – Farmhouse Easter Decor
Pastel colors are iconic for spring holidays like Easter, so you can paint signs and plaques to go along with them.
Supplies:
Wooden boards cut into the appropriate shapes
Sandpaper
Paintbrushes
Acrylic paints in the pastel colors of your choice
Various decorative items or Easter signs
Instructions:
Start by sanding the wooden boards until they are smooth – this will help the paint stick to the surface better.
Paint the top with a coat of primer, then use your smaller brushes to add details like flowers or decorative elements around the poster. Using a pencil, but it's not necessary.
After adding the details, let the board dry overnight. You can attach these signs to trees or wherever else you want them for an easy Easter decoration.
Visit Re-Fabbedfor more details.
11. Bunnies on a Fence – Easter Decor for Yard
Attach some bunnies to your fence to add an Easter flair to the outside of your house.
Supplies:
Wire coathangers cut into bunny shapes
Chicken wire folded in half
Duct tape
Instructions:
Start by laying down a base of chicken wire so that it is at least 3 feet tall and one foot wide – use a staple gun or tack each piece of wire into place with needle-nose pliers if they're not staying upright on their own.
Lay down the first wire bunny on top of the chicken wire. Then, cut off small pieces of duct tape and place them over the coathanger wire to anchor these bunnies in place.
Continue using smaller wire bunnies to create a border around this larger one – you can double up the coathangers if needed so that they stand up better.
Use your creativity to decorate these fence bunnies however you'd like. For example, you can paint designs on them or even hang flowers from their necks; just be sure that they'll stay upright.
Go to Etsyfor more inspiration.
12. Doily Wreath – Easter Decoration Ideas
This doily wreath is a great way to add some structure and color to your outdoor space.
Supplies:
Doilies in a variety of sizes
Wire wreath frame rings
Green floral tape or hot glue
Scissors or a craft knife
Instructions:
Start by folding the doilies in half and cutting out fringes from the top part where they're folded – this keeps them nice and crisp.
After doing that for all doilies, form a ring with one large doily at the center by overlapping its ends together; use either green floral wire or hot glue to keep it in place. Then, attach smaller doilies around this one to create a layered look.
To finish it off, glue or tape the ends of each doily to the wreath ring in a circular shape. You can vary the colors and patterns in any way you like, and add in extra elements like flowers or beads for decoration if desired.
13. Bunny Mason Jars – Easter Do It Yourself Decorations
These bunny jars are a cute addition to any Easter spread. All you need for this Easter outside decoration project are plastic bunnies, mason jars in the color of your choice, nails or tacks, and hot glue. It's definitely a creative mason jar craft.
Instructions:
Start by adding three tacks to the bottom of each bunny – these will help them stand upright on their own.
Next, attach two bunnies at their necks with hot glue so that they face opposite directions.
Afterward, place the heads inside your jar lids before filling them up with candy or little gifts.
If you prefer a more intricate way to craft Easter bunny mason jars, visit Life, Family and Fun for a complete guide.
14. Moss Bunny – Door Decor for Easter
If you want to transform your yard into a mini forest filled with woodland creatures for Easter, this moss bunny is the perfect addition. It also works as an Easter door decoration.
Supplies:
Wire hanger
Hot glue gun
Styrofoam cone or ball
Moss
Hot glue
Pink, brown, green, and white paint
Instructions:
Cut the wire hanger down to create a small-to-medium-sized bunny rabbit.
Use hot glue to attach moss pieces all over it – you can also separate each strand if needed to ensure they're not sticking everywhere.
Now it's time to paint the bunny. For example, mix 1 tbsp of brown paint with 2 drops of pink paint for a dusty rose color.
Apply light layers of this mixture over the whole body until the desired effect is reached. You'll want to avoid covering too much of your moss layer because it provides texture.
Finally, add details like little eyes and a mouth using black marker or paint.
For an easier way to craft a moss Easter bunny, head over to Homedit.
15. Bunny Porch Sign – DIY Easter Decorations
If you're hosting Easter brunch or dinner, this bunny sign is a great way to welcome your guests.
Supplies:
Wood slices
Scrapbook paper
Mod podge or another glue stick
Scissors
Glue gun
Instructions:
Start by creating the design on scrapbook paper. For example, you can print out the image of a bunny and trace it with a pencil.
Cut out the shape once you're happy with its size and orientation; repeated tracings are needed to cover the full surface area of your wood slice.
To make the border around this piece of scrapbook paper more prominent, cut off about an inch from all sides.
Afterward, apply mod podge to one side of the wood slice and press down your scrapbook paper piece.
Fold the excess paper over the edges and secure it in place with hot glue.
If you'd like to give your bunny porch sign a glossy finish, complete this project by applying one or two coats of mod podge over the whole thing after the initial application dries off.
To add another decorative touch, include some Easter eggs in your scene.
We found this lovely bunny porch sign idea on Pinterest, courtesy of Texas Art and Soul.
16. Cardboard Carrot – Easter Porch Decorations
For an easy Easter home decor idea, try making this adorable carrot.
Supplies:
Wooden skewers
Brown felt
Yellow paint or yarn
A black marker or paint
Scissors
Glue gun
Instructions:
First things first – pull out the sharp ends of the skewers so that you don't hurt yourself when crafting.
Next, cut out two pieces of felt, making them round; they should look like half circles when viewed from above.
Use hot glue to attach the skewer pieces to the backside of each piece of felt. Make sure they are facing opposite directions with their tops pointing upward.
Then you can draw facial features using a marker or paint – for example, use two dots for eyes and attach little triangles of felt for ears.
If you prefer orange burlap and greenery sprigs, visit The Shabby Tree.
17. Multicolored Plaid Hanging Egg – Decorating Ideas for Easter Eggs
We all know that eggs are a symbol of new life and rebirth, but they're also pretty boring to look at. It's time for your Easter egg decoration skill to step up its game by going with the plaid trend this year.
Supplies:
Painter's tape
Paint (white, light blue, red, yellow)
Easel or tabletop
Instructions:
Start by painting one side of the easel or table surface in white or light blue.
Let it dry before proceeding to the next steps.
Use painter's tape to create stripes on the dried-off surface.
Next, apply two layers of tape over the white section until you achieve a plaid look.
Now it's time to paint. Use your red and yellow paint (or any other colors) to turn your easel or table surface into an Easter basket full of eggs.
Remember that the bottom layer should still be white or light blue, so don't cover everything with one color.
If you're satisfied with the results, let it dry overnight before removing the painter's tape.
We discovered this awesome idea on Pinterest, thanks to Weekend Craft.
18. Easter Egg Topiary Tree – Easter Tree Decorations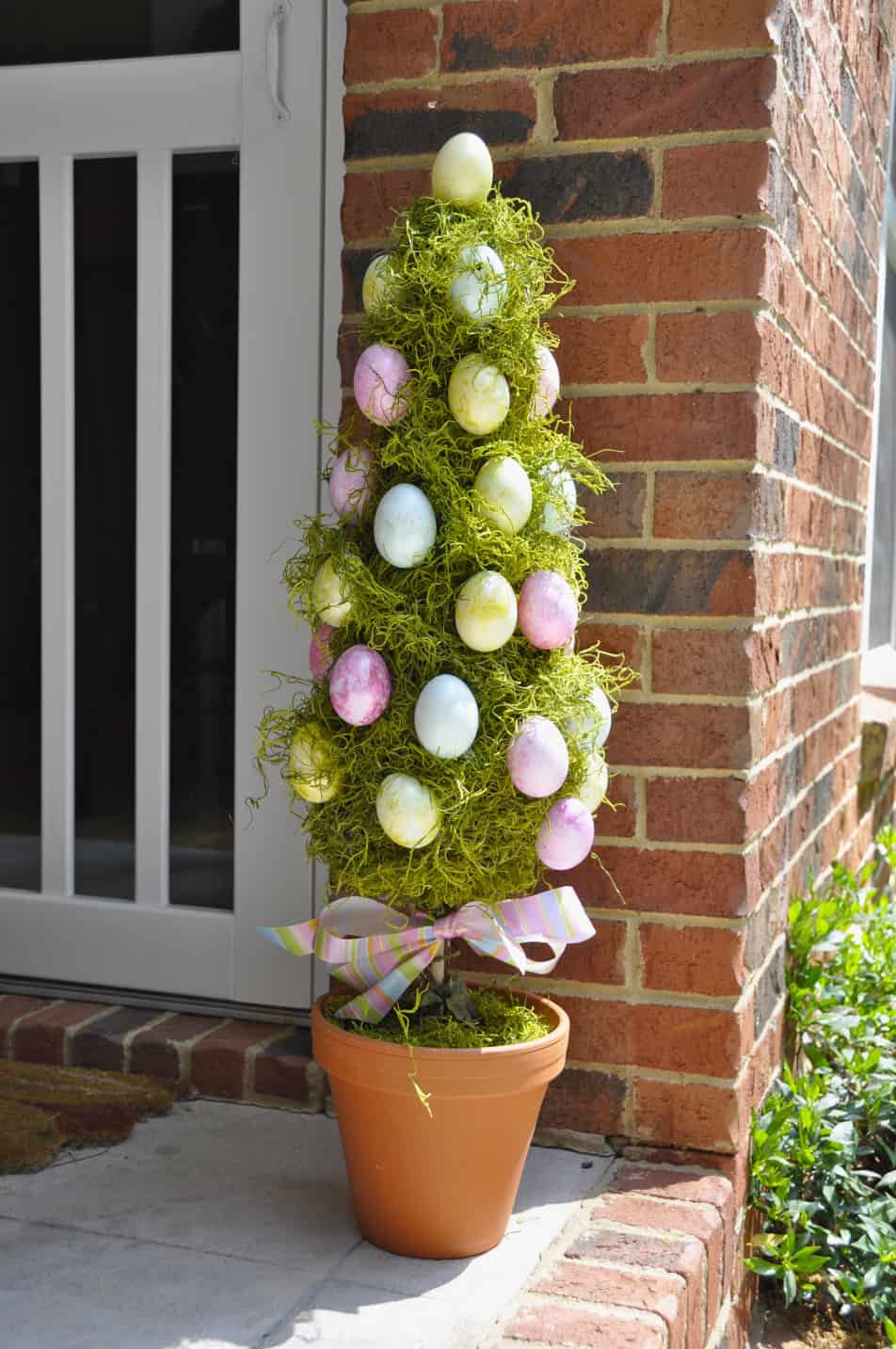 If you're feeling a bit intimidated by the idea of working with real plants, this Easter egg topiary tree is a great way to get around that.
Supplies:
Styrofoam cone
An assortment of plastic or silk flowers in pastel shades
Weedwhacker wire
Pieces of floral foam
Hot glue gun
Instructions:
Start by carving out the center of the styrofoam cone with a craft knife to make room for all of your decorative elements. Think Easter basket – it should be wide enough to fit several Easter eggs.
Next, wire together pieces of floral foam to create additional greenery for your tree. Use your hot glue gun to attach them around the base of the styrofoam cone so that they don't fall out or get pushed over easily.
Now you can start embellishing by inserting flowers into the holes previously created with the craft knife.
You can thank CreativeLeeCraftedfor this creative idea.
19. Wire Basket Easter Bonnet – Easter Yard Decorations
Creating a wire basket Easter bonnet is a great project for DIY beginners since it uses basic wire techniques and requires minimal supplies. Plus, it's sure to be a crowd favorite at any festive celebration.
Supplies:
Pliers
White ribbon (the width should be about twice as wide as your pliers)
A wreath form or something circular that you can attach the ribbon around
Thin gauge floral wire
Scissors
Headband clips
Instructions:
Start by cutting two thin pieces of floral wire – one piece should be long enough to fit around the circumference of your wreath form, while the second one needs to be half that length.
Take the long piece of wire and twist it into a spiral before affixing the second wire to the bottom.
Next, take your pliers and bend a small V shape at one end of each wire using the plier's nose or another similar technique. To make sure that you get a nice, even curve for both sides, use one side as a guide for the other.
Make sure you know where your Easter bonnet will be positioned on your head – this is important since it should be high enough not to block your vision. Use that point as a reference when shaping new curves with your pliers from there down.
Don't forget to leave some wiggle room if you're planning to insert flowers or other decorations.
The Happy Farmhouse takes a different approach for making a wire basket Easter bonnet.
20. Crossing Sign – Easter Bunny Decor
Did you know that a simple wooden crosswalk sign turned upside down can make a great Easter bunny crossing sign?
Supplies:
Wooden post made from fence pickets
White latex paint
Blue acrylic paint
Instructions:
Start by painting the top portion of your post with white latex paint and letting it dry for at least an hour.
Next, mix equal parts of blue acrylic paint and water in a small container – this works best if you use gel or paste acrylics since they don't run all over the place.
Paint the lower part of your crosswalk sign using this mixture to give it a realistic wood grain look before letting it dry overnight.
If you want to add some Easter flair to your homemade bunny crossing sign, try coming up with a clever message to go on it instead of using the typical Bunny Crossing text.
Visit Confessions of a Serial DIYer to find out more.
21. Easter Bunny Planter – DIY Easter Decorating Ideas
Repurposing a planter into an Easter bunny is a really fun and unique way to make a one-of-a-kind decoration for your home – especially since it's easy to do.
Supplies:
Styrofoam egg
White spray paint, pink foam paint or fabric dye
White acrylic paint
3 small pom-poms in various sizes (smaller ones for the ears and a larger one for the nose)
Hot glue gun with glue sticks
Pencil
Rubber gloves
Pliers
Screwdriver with a flat head
Instructions:
Flip over your styrofoam egg so that it has a flat surface. Use the rubber gloves since doing this will leave tiny styrofoam bits on your hands.
Next, take your pliers and remove all flaps from the top of the styrofoam egg using the flat head screwdriver to wedge it in place; make sure to entirely remove these to obtain a smooth surface.
Now comes the fun part: mix equal parts of hot glue and water in a small bowl before stirring in white acrylic paint until you get an opaque color; you'll want this mixture to be white instead of clear since it will show through your foam pom-poms later.
Use the paintbrush to coat the entire surface of your styrofoam egg with this mixture before letting it dry overnight.
Once it's completely dried, flip your styrofoam egg back over and use the pliers to reshape any flaps or spikes that might be sticking out. Another good idea is to use sandpaper at this point to smooth everything down.
Next, take your pencil and draw an oval shape for your bunny head on top of the planter. Add in two smaller ovals for ears just below that one – these should be attached by a shorter line than the body.
Add just a touch more detail to your Easter bunny planter by drawing a little nose and mouth on the front – you can even add a cute tail if you want.
Once all lines are in place, carefully use sharp scissors to cut away everything that you drew so that only the bunny shapes remain.
Take your white foam paint or fabric dye and apply two coats to the entire egg, making sure to cover any spots that might be too dark.
Cut out ovals of pink foam paint with pom-pom centers from adhesive felt before sticking them to the styrofoam egg wherever you'd like.
Use hot glue to attach the bunny ears and nose in addition to pom-poms for the cheeks – these should be lightly squeezed onto the styrofoam with your fingers before adding a dot of hot glue; you can also stick on additional smaller dots for an even cuter look.
Last but not least, stick on four black sequin eyes using white glue or double-sided sticky tape.
Once this is done, let everything dry overnight so that it's ready for display come Easter morning.
Visit DIY & Crafts for more info.
22. Burlap Easter Bunny – Decorate Mantel for Easter
Designing a burlap bunny is a perfect Easter mantel decorating ideaif you're looking to add a rustic touch to your lawn this season.
Supplies:
Heavy burlap fabric in natural tan, green, brown, and black
Small wooden dowels in various sizes (try using toothpicks if you don't have anything else)
A white fabric paint pen
Wood glue
Popsicle sticks or old pencils for ears
Instructions:
Start by cutting long strips of 1-inch wide burlap to resemble ribbons; the length will vary but try to make them somewhere between 1/2 to 3/4 inches.
Next, cut out bunny ears in assorted sizes; these can either be freehanded or traced from a template, depending on your preference.
Glue the bunny ears to the popsicle sticks or wooden dowels.
Take your paint pen and draw two large dots for the eyes and a smaller one for the nose. Then use wood glue to attach them to the bunny ear; this way, they won't get knocked off by accident.
Once everything dries, use lighter fluid to thoroughly wipe down the burlap strips to remove excess fibers – this will keep it from looking too fuzzy come Easter morning.
Now comes the fun part: start tying the burlap strips onto each side of the bouncy ball in a zigzag pattern, skipping one string on either end of the ball to create an uneven look.
If you desire, leave some of the strings longer than others so that they can hang down. Or you can tie them all together at different lengths for a fun variation of this design.
Last but not least, cut two long ovals out of green felt and stick them to the wire wreath forms using double-sided adhesive tape – these are meant to serve as grass skirts, which you'll want to stack on top of your bouncy ball toy.
Once everything dries, give it a shake and enjoy watching your unique bunny bounce around during Easter playtime.
23. Wreath – Easter Cross Decorations
Making an Easter cross wreath is a great way to celebrate the Christian roots of this holiday.
Supplies:
Artificial flowers in assorted colors
Wire or floral wreath form
Hot glue gun with glue sticks
Scissors
Twine
Strong adhesive
Instructions:
Begin by cutting the artificial flowers off of their stems.
Next, you have to glue the flowers to the wire or floral wreath form. You'll want to use a good amount of hot glue for this job. Plus, you might find it easier to start with the larger flowers in the center and then work your way outwards with the smaller flowers.
After attaching all flowers, take some twine and tie it securely around the middle of the Easter cross wreath. This will serve as a hanger, so go ahead and knot it several times.
At this point, you might want to add embellishments such as ribbons, pearls, glitter, or all.
The final step is applying the strong adhesive around the wire form of your Easter cross wreath and letting it dry overnight before hanging it up.
Visit Cheerios and Lattesfor more details.
24. Garland – Easter Decor Mantel
An Easter egg garland is a super simple and inexpensive craft that you and your kids will love. And it's an excellent Easter mantel decor idea.
Supplies:
Plastic eggs of various sizes
Yellow or white pearl cotton thread
Pom-poms
Scissors
Instructions:
Start by knotting the end of your thread before stringing the first plastic egg; doing this will ensure that your thread won't fall out.
Then, string the eggs onto the thread in a horizontal line before tying another knot at the end of it.
Continue adding more plastic eggs until you reach the desired length.
Lastly, you can attach pom-poms or little crosses made out of pearl cotton thread with these knots. Or you can leave them plain if you prefer.
This Easter egg garland would look great shown off on a wall, hung above an entryway table or mantel, or even draped over a corner chair in your home.
Go to The How To Mom for more info.
25. Sticker Note Wreath – Door Decoration for Easter
A fun and creative way to get into the Easter spirit is to make a sticky note wreath.
Supplies:
18-inch wire form wreath
Floral wire for hanging
Round stickers in assorted colors and sizes (you can spray paint cardboard circles or cut out paper shapes to use)
Ribbon
Scissors
Instructions:
Begin by painting your cardboard circles in bright spring colors such as yellow, green, and pink.
Once they're fully dry, stick the circles to the surface of the wire form.
Now comes the fun part: stringing on your round stickers. You can arrange them however you like. Just try to avoid covering up too many painted cardboard buttons; it's what will give your sticker note wreath its distinct look.
Visit DIY & Craftsfor more info.
26. Marbled – Ideas for Easter Egg Decorating
A fun and creative way to decorate Easter eggs this year is to try your hand at making marbled ones. It's an innovative way for kids to fill their treat baskets the next time they go hunting for Easter eggs.
Supplies:
Uncooked eggs
Food coloring (liquid or gel) in assorted colors
White distilled vinegar
Instructions:
Begin by placing a paper towel under the carton of eggs you're using so that it will catch any drips.
Next, pour enough water from each carton of eggshells to make room for all of your food coloring mixtures.
Add different colors of food coloring into each carton, making sure not to stir them right away.
Instead, use a toothpick to lift the dye off the surface of the water and transfer it to another section. Doing this will allow you to create marbled and swirled patterns on the surface of your dyed eggshells; if done correctly, these patterns will end up looking like abstract artworks.
Once you're happy with the look of your marbled eggs, transfer them into a large bowl filled with white distilled vinegar. Do not use regular white vinegar here since it's not as acidic.
After 5 minutes or so, remove the dyed shells from the vinegar bath and let them dry overnight before putting them back in the carton for storage.
27. String Eggs – Ideas to Decorate Easter Eggs
Mod Podge Rocks teaches you how to craft these fantastic hanging eggs using wet yarn wrapping techniques that are a whole lot of fun.
28. Wooden Carrot Garden – Yard Decor for Easter
If you love woodworking and have an unused garden, you can create a wooden carrot garden for passing Easter bunnies. Go to Instructables to learn more.
29. Giant Peeps Topiary – Homemade DIY Outdoor Easter Decorations
Craft-o-Maniac has prepared a straightforward guide that teaches you how to make this awesome giant peeps topiary for your porch.
30. Carrots – Easter Decor for Front Door
If you think your outdoor Easter decorations would be incomplete without involving your front door, Paint Yourself a Smile demonstrates how to decorate it with giant carrots.
31. Grapevine Bunny – Easter Front Door Decorations
Nature and rustic lovers will fall in love with this lovely grapevine bunny rabbit wreath. Head over to Cheryl's Blog to learn more.
32. Reclaimed Wood Easter Bunny – Front Door Easter Decor
Here's another fantastic project for woodworking enthusiasts: an Easter bunny made from reclaimed wood. My Recipe Confessions teaches you how to pull it off.
33. DIY Lighted Easter Decorations
These Easter egg string lights will undoubtedly add charm to the outside of your home and create a cozy feeling for all your arriving guests. Go to Creative Ramblings to learn how to make them.
34. Rustic Twine Easter Carrots – Cute Easter Decorations
These giant rustic Easter carrots made from twine are absolutely adorable – a must-have for any front porch or yard. Go to Sun & Sea Salt to learn more.
35.Spring Decor Crepe Paper and Letter Arrangement – Decorate Easter Egg Ideas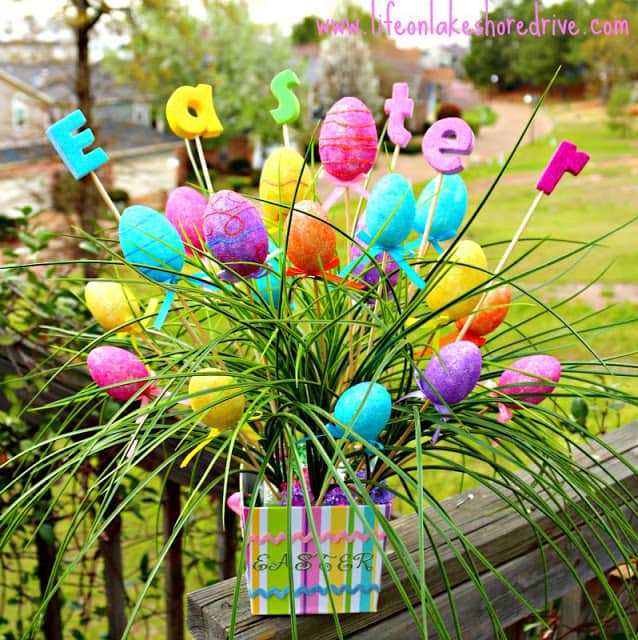 Here's a playful way to involve Easter eggs in your spring decorations: making a colorful flowerpot. Life on Lakeshore Drive shows you how to get it done.
36.Mini Resurrection Garden – Religious Easter Decorations
If you wish to recreate the religious side of Easter, without the colorful eggs and bunnies, then you will love this tiny resurrection garden idea from Hometalk.
37. Flower Porch Baskets – Outdoor Easter Decorating Ideas
Flowers are a must for any holiday, and you can easily incorporate them into your outdoor Easter decorations by creating flower baskets. Visit Front Porch to Yours to learn more.
38. Galvanized Washtub Nest – Decorating Eggs for Easter Ideas
Check out this over-the-top idea from Little Brags, which outlines instructions for crafting a galvanized washtub nest to hold your Easter eggs. It's rustic and gorgeous.
39. Tomato Cage Tiered Nests – Easter Decor Tree
You can add Easter decorated trees to your front porch by putting together a tomato cage tiered nest. Just ask Artistic Endeavours 101.
40. Wooden Chunky Easter Bunnies Decor
We saved an adorable woodworking project for last: wooden chunky Easter bunnies. Just imagine how your garden will look with several of them spread around to greet your friends and neighbors. Visit Food, Fun, Family for more info.
Final Thoughts on Outdoor Easter Decorations
Although Easter is a religious holiday, it's also a popular occasion for families to get together and celebrate spring. This year, make your Easter festivities fun and festive. You can decorate your backyard, lawn, and front porch with Easter egg garlands, a sticker note wreath, marbled eggs, or something else.
You can even use the decorations from this article as DIY Easter basket gifts for your friends and family. On top of being fabulous, these outdoor Easter decorations can also be used as festive Easter eating utensils for children's events such as treasure hunts.
The eggs can also be filled with mini candy bars or other small candies. Meanwhile, the wreath can be filled with Easter stickers and trinkets.
What are your favorite outdoor Easter decorations? Did we miss anything important? Let us know in the comment section below.