15 Cute DIY Outdoor Easter Decorations
Now that spring is finally creeping towards our doorstep, our family has gone into full on Easter mode, even though we know we're totally early. There's just something so cheerful about the fresh springtime holiday that we totally can't resist! We've already got so many adorable DIY Easter decorations hanging around inside our house, however, that now we're started toying with the idea of decorating our porch and yard as well, just to add a little extra cheer to our bright little street.
Just in case you're as into the idea of making some cute DIY outdoor Easter decor as we are, if not more, here are 15 of the very best ideas and tutorials we've come across so far in our search for guidance and inspiration!
1. Yarn egg garland
This particular idea from Mod Podge Rocks is technically one that you could very easily feature inside as well, but because the yarn you'll use is sealed in glue, it'll withstand the elements outside, even though it rains so much in the spring! Check out their tutorial to learn how they created these fantastic hanging eggs using wet yarn wrapping techniques that are a whole lot of fun.
2. Wooden carrot garden
Are you the kind of DIY enthusiast who adores working with harder materials in a way that's a little more hands-on? Well, if you have a garden spot that you're not currently using for spring blossoms, then why not use it to make a wooden Easter display instead? We're totally in love with these idea from Instructables for creating a wooden carrot plot for passing Easter bunnies.
3. Giant Peeps topiary
In our house,  Peeps are totally polarizing! Half the family thinks they're the yummiest treat ever and regards them as one of the best parts about Easter while the other half can't stand the taste and texture, even though they're so pastel and cute. If you're a huge fan, we have a feeling you'll appreciate the way Craft-o-Maniac made this fantastic outdoor Peeps themed topiary for their porch!
4. Easter carrots door decoration
If you ask us, one of the best ways to display your DIY skills and love for festive things outside of your home is to make front door decor. That way, people are greeted with something cheerful, crafty, and seasonal from the moment they arrive to visit your home! Even passersby on the street will be able to enjoy what you've made. This lovely Easter door carrots featured on Paint Yourself a Smile are the perfect example of what we mean.
5. Grapevine bunny door decoration
Did we actually really catch your attention when we started talking about Easter themed DIY door decor but you think you might prefer to make something that looks a little more nature inspired, since it's springtime and all? In that case, we have a feeling this lovely grapevine bunny rabbit door piece outlined on Cheryl's Blog might be a little more up your alley.
6. Reclaimed wood Easter bunny
Did you like the idea of making some kind of Easter bunny for your porch but you're just not sure that the grapevine idea we showed you earlier is quite the concept for you? Then perhaps you'd prefer to work with actual wood instead, rather than just branches! We adore the way My Recipe Confessions put together this painted and stained standing bunny from cut pieces of reclaimed wood.
7. Easter egg topiary tree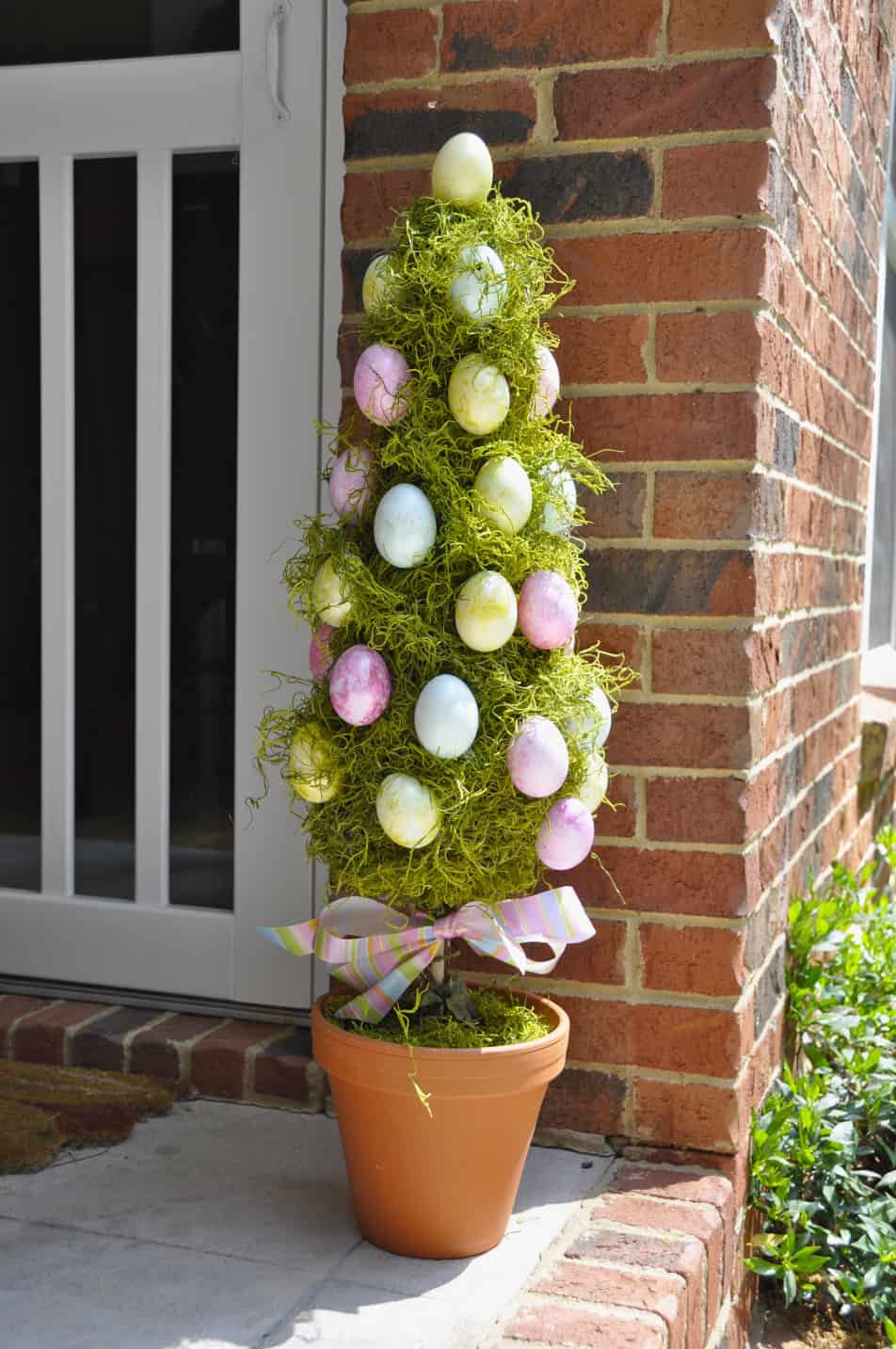 Have you actually been thinking about how much you enjoy the idea of making an Easter themed topiary for your porch but you're actually on the "no" side of the Peeps debate we were talking about a little earlier on our list? Then here's a cute alternative for your consideration! We love the way Creative Lee Crafted made this potted Easter egg tree that looks incredibly real and very cheerful indeed.
8. DIY Easter egg string lights
Ever since we were kids, the idea of making DIY decor pieces involving elements that light up has been one of our very favourite concepts. We're sure it'll come as no surprise to you, then, that we were very excited indeed when we came across this super colourful Easter egg string lights idea featured Creative Ramblings! They made it happen by carefully cutting holes in the top ends of plastic Easter eggs and slipping them over string lights like little shades.
9. Rustic twine Easter carrots
Are you actually still scrolling through our list and finding yourself thinking about how much you really liked the garden carrots idea, but you don't have a garden plot to work with or you're not feeling quite confident enough to work with wood like you saw in that option? In either case, we'd definitely suggest taking a look at this alternative carrot idea where Sun & Sea Salt shows you how to make a decorative basket of carrots from rustic twine.
10.  Spring decor crepe paper and letter arrangement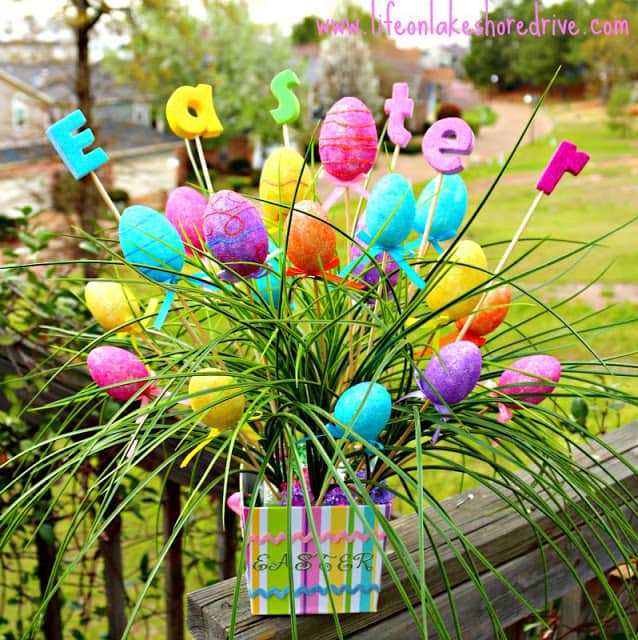 Has your favourite kind of Easter decor actually really always been those excitingly kitschy plant arrangements that are so colourful and bright they're almost gaudy, but in a wonderful way? Then we're pretty sure Life on Lakeshore Drive has just the kind of tutorial you've been looking for! Take a look at their instructions for tips and tricks on making a bright Easter themed porch plant display.
11.  Mini resurrection Easter garden
Perhaps you're actually quite interested in the Easter garden piece concept but you've also been scrolling through our list hoping to find some kind of project that pays tribute to the biblical story behind Easter, rather than just to bunnies and eggs? In that case, we have a feeling this resurrection recreation garden from Hometalk that's almost like a diorama might be right up your alley.
12. Easter flower porch baskets
Are you actually feeling like, despite your appreciation for kitschy, Easter themed things, you  might prefer to decorate your porch and outdoor space for Easter using more natural looking but still seasonal pieces? Then we think you simply must take a look at the way From My Front Porch to Yours made these lovely baskets filled with simple springtime flowers.
13. Galvanized washtub Easter nest
Just in case you're not quite over the idea of making outdoor Easter crafts themed after bunnies but you're also still not decided on any of the concepts you've seen yet, here's another one for your consideration! We love the way Little Brags added slightly rustic feel to their porch by creating a lovely little "bunny nest" in an old, vintage looking galvanized metal washtub.
14. Tomato cage tiered nests
Are you feeling quite intrigued indeed by the concept of making some kind of springtime nest but you're not convinced that the idea of a bunny nest is quite the one for you? In that case, we'd suggest taking a look at how Artistic Endeavours 101 made this adorable bird's nest instead! We really appreciate how they arranged their twig nests on the levels of an upside down tomato cage to create a tiered effect.
15. Wooden chunky bunnies
Did we actually really catch your attention the most with all these ideas that involve working with wood but you're not sure that wooden projects involving cutting and shaping are something you're quite ready for yet, based on your level of experience? In that case, we'd definitely suggest taking a look at how Food, Fun, Family made these adorably chunky bunnies simply by embellishing reclaimed wooden blocks using fabric, paint, buttons, and crafting wire.
Have you made other kinds of awesome outdoor Easter decor projects before that you completely adored the look and process of but that you don't see here on our list? Tell us all about it or link us to photos of your finished work in the comments section!