These 50 DIY Easter Centerpieces Will Make Sunday Dinner So Much Prettier
Easter is just around the corner and while your prepping for the family meal, you'll want to whip up some extra bits of decor for the table too. These 50 DIY Easter centerpieces will make Sunday dinner so much prettier and full of springtime, festive flair. Have a look at our favorites!
1. Golden Egg Vases
Turn some beautiful golden eggs into tiny little vases for the table. Check it out at Seventy Nine Ideas.
2. Pink-Dipped Vases
Project Wedding took some simple glass vases and dipped them in a bit of paint. That's as easy as it comes for sprucing up your centerpiece options!
3. Rainbow Water
Papery & Cakery made rainbow water. Add some fresh flowers and you'll have a springtime scene by dinnertime.
4. All Peeps
Why not put some Peeps to work this holiday. Over at Mom On Timeout you'll see how these fun marshmallows can be when you use them to decorate.
5. Glittery Eggs & Flowers
A bit of glitter will always work in your favorite and She Knows knows that. Some eggs and flowers to delight your table this Easter … why not?
6. Nested Eggs
Some beautiful, nested eggs inspired by this setup at Williams Sonoma could finish off the dining room table nicely. Don't you think?
7. Coconut Bunny Cake
Everyday Occasions made their centerpiece edible, which we're always in favor of! Turn your dessert into a bunny and get style and the last course of the meal done all at once.
8. Mossy Eggs
Martha Stewart made up some mossy eggs to pop off a white tablecloth. Check out the tutorial after the jump!
9. Blossom Log
The Daily Basics make this gorgeous and nature-inspired centerpiece. The added, fresh flowers really made a difference.
10. Egg & Burlap Wreath
A wreath doesn't have to be just for the door, you can use it on the table too. Check out the details over at Top Dreamer.
11. Mossy Scape
Here's another centerpiece that uses that mossy vibe. You can create an entire scene just use your creativity and what inspires you about the season. (via)
12. Floral Egg
Simply Designing made this floral egg. If you want something to really sink your teeth into start working on this beauty by the weekend.
13. Dollar Store
Learn how to concoct something for the centerpiece without spending too much. Over at Salt and Pepper Moms you'll learn how to put together a design with only Dollar Store finds!
14. Floral Eggshell Arrangements
Martha Stewart made some gorgeous egg floral arrangements too. Follow the link and watch how she does it!
15. Bunny Cake Dome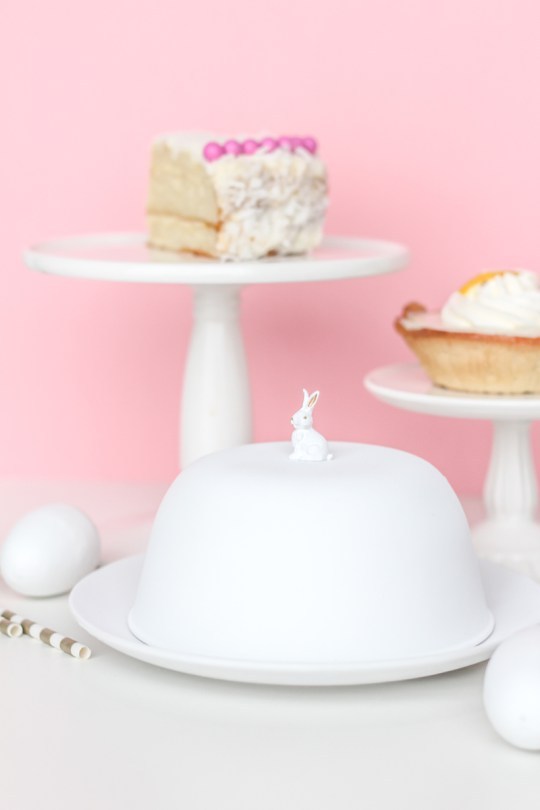 Sugar and Cloth use cake as centerpiece inspiration too. But this time the cake is covered with a DIY bunny dome!
16. Purple Topiaries
Are you a fan of topiaries? If you like this crisp, natural look, then visit Good Housekeeping for this purple inspiration.
17. Eggshell Tealights
Little Inspiration used eggshells as the foundation to their project. Instead of vases, why not turn your Easter eggs into tea lights for the table?
18. Polygon Paper Vases
Do you work well with paper? Over at A Subtle Revelry you can learn how to take some and turn them into vases for your flowers!
19. Lemon-Filled Apothecary
Yellow Bliss Road took lemons to the table. It adds a pop of color and a natural freshness as well.
20. Paper Cherry Blossoms
Good Housekeeping utilizes paper too. But this time, the paper is turned into some beautiful cherry blossoms.
21. Peeps & M&M's
Two Sisters Crafting took some Easter candy and put it to good use too. Some Peeps and M&M's can go along way in your centerpiece making.
22. Paint Stick Basket
If you gather up some paint sticks, you can use them to make something brand new. Check out the idea over at Build Basic.
23. Jellybean Candles
Grab some jellybeans and some of your glass votives you already have around. The two pair well together for a festive look. (via)
24. Ombre Vases
Living Well Spending Less made some gorgeous, ombre vases inspired by spring. All you need to finish them off will be some fresh flowers.
25. Tulips in a Basket
Tulips are quintessentially spring and a basket speaks to Easter with ease. It's such an easy centerpiece to put together in a jiffy! (via)
26. Glitter Vases
The Sweetest Occasion knows that glitter will always win out in the end. And with these vases, you'll be putting a beautiful bit of pep in the styling of your dining room table.
27. Carrot Vases
Pay a kitschy and charming nod to the Easter bunny with these adorable carrot-filled vases. Take a peek at the original inspiration over at Love Grows Wild.
28. Forsythia and Eggs
The Daily Basics put together some florals and eggs that we love too. It's a beautiful combination that's easy to recreate too.
29. Bunny Burlap Runner
You can always learn how to stamped your own burlap runner. A bunny, a phrase and more can inspire the season. (via)
30. Robin's Nest
Why not try to make your own lucky Robin's nest? Check out the details over at NoBiggie.
31. Plastic Egg Planties
You can even make some planters out of those plastic eggs you get for the kids! Check it out at Made with Happy.
32. Grow Your Grass
Kelly Elko shows us how a bit of cat grass can go along way for your Easter decorating. It's quintessentially green and oh so charming, don't you think?
33. Mix-and-Match Glass Vases
Gather all of your glass vases you have around the house and use them to create a light and eclectic look for the tables. Add fresh blooms and voila! (via)
34. Jellybean Jug
The Spruce gave us some more jellybean inspiration. A jug and some candies can make a simple and colorful centerpiece for the table.
35. Candy Mason Jars
Hop on over to Clean and Scentsible for this "bunny bait" centerpiece idea. The kiddos will want to dive into it after dinner though, so beware!
36. Bunny Vase
Weekend Craft turn some older items into something brand new! A bunny vase is the perfect way to top off Easter dinner.
37. Pastel Easter Eggs
We're absolutely swooning over this centerpiece design. And if you visit 100 Layer Cake-let, you'll learn how to make it yourself.
38. Lemon Lavender Candles
Brit + Co took lemons and turned them into candles. Not only will you get a beautiful pop of color on the table but the aroma will be magic!
39. Black and White Easter Eggs
Obviously Sweet made some fashionable black and white Easter eggs and used them as the focus to the table. For a more modern take on the holiday, this is your project!
40. Bunny Silhouette Jars
Happiness is Homemade made some bunny silhouette jars for us to get inspired by. Fill them with candy, set them on the table for decoration and then send them home with family members as a souvenir!
41. Egg-Inspired Vases
Tater Tots and Jello made egg-inspired vases. They look like giant Easter eggs topped with fresh flowers that speak to the season.
42. Egg Topiary Tree
Here's another topiary project to get inspired by. Check out Sand and Sisal to get to work on this fun project.
43. Jelly Bean Topiary
Crafty Sisters speak to our jelly-bean loving hearts! Jellybeans and topiaries actually look quite charming and festive on the table.
44. Twig Nest
BHG took twigs, turn them into a nest and topped it off some "Robin's" eggs! They even added a fun phrase or two in the design.
45. Jelly Bean Tree
Crafty Sisters took jellybeans and turned them into something beautiful and festive for us again! How about topping the table with a jellybean tree?
46. "Growing" Easter Eggs
You could always "grow" some Easter eggs into tiny topiaries. Grab the details at Dollar Tree.
47. Doorknob Vases
The Daily Basics took doorknobs and turned them into tiny vases. We're loving the innovation and upcycled attitude here!
48. Naturally-Styled
The Spruce teaches us how to take everyday items around the house and turn them into something beautiful. This one just happens to include egg-shaped candles.
49. Gold Leaf Vases
Why not learn how to make some vases with a bit of gold leaf attached. Fill your Easter with some glamour with help from By Wilma.
50. Peeps & Tulips
bell' ailment also took some Peeps and used it in their centerpiece design. Topped with funky, fresh flowers you have a festive and charming way to adorn the table.