74 Best Easter Centerpieces to Make Sunday Dinner More Charming
There are lots of great ideas for Easter centerpieces, and we've collected some of our favorites here. Whether you're looking for something traditional or something a little more creative, we've got you covered.
While prepping for the family meal, you'll want to whip up some extra bits of decor for the table, too. These DIY Easter centerpieces will make Sunday dinner so much prettier and full of springtime, and festive flair. Have a look at our favorites.
Gorgeous Easter Centerpieces to Delight Your Family and Friends
Read on for inspiration and get started on your Easter centerpiece today. Happy crafting!
1. Egg Carton with Eggshell Candles – Easter Table Decor
This Easter, ditch the traditional floral centerpiece and try something a little different – an egg carton with eggshell candles. Watch as the candles flicker and cast a warm glow on your table.
If you're interested in this Easter table decor, you should know that making your own eggshell candles is easy and fun. Just follow these simple steps:
Remove the top of the eggshell.
Cut a wick that is slightly longer than the height of the eggshell.
Melt wax in a pot on the stove, then pour it into the eggshell until it's about 1/4 inch from the top.
Put the top back on the eggshell and hold it in place while you tie or clip the wick to the bottom.
Let it cool for about an hour, then enjoy your new candle.
After making the eggshell candles, take an old egg carton, remove its top, and use it to hold the candles. You can also add other decorative items like colored eggs, artificial flowers, Easter grass or moss, and other greenery.
2. A Basket with Festive Eggs, Moss, and a Bunny – DIY Easter Decorations for the Table
If you're looking for something fun and festive to dress up your Easter table this year, check out this charming idea: a white basket with festive Eggs, moss, and a bunny.
It's perfect for adding some whimsy and excitement to your DIY Easter decorations for the table. You should be able to find all these elements at your local craft store. Then, all you have to do is combine them to produce this wonderful result.
3. Bouquet of Spring Flowers – Easter Decoration Ideas for the Table
If you prefer a more traditional Easter decoration idea for the table, you can't go wrong with a bouquet of spring flowers. This arrangement is sure to brighten up your Easter table and make it feel more festive.
You can find these flowers at your local florist or grocery store. Just be sure to choose colors and blooms that are indicative of the spring season, such as daffodils, tulips, and fleur-de-lis.
It's all about pink, purple, and green. As for the vase, you can go with a classic glass design or something more whimsical, like an egg-shaped container.
4. Wreath Turned into a Vase – DIY Decorations for Easter Centerpieces
Make your Easter table extra special this year with a beautiful wreath centerpiece. This decoration is made of natural tree twigs and features daffodils and Easter eggs in vibrant colors. It's the perfect way to celebrate springtime with your loved ones and add cheer to your home.
If you don't have a tree in your backyard and can't find twigs anywhere, just visit your local craft store or garden center. Be sure to choose a variety of colors and textures for a more interesting look.
5. Pink Bouquet of Flowers and Eggs – Easter Basket Centerpieces
Surprise your loved ones this Easter with a unique and beautiful centerpiece: a pink bouquet of flowers and eggs.
To get the results as shown in the image above, you need to get a wire basket, fill it with pink eggs, and accent it with a beautiful bouquet of pink roses. Whether you should go with real or artificial roses – it's up to you.
Painting the Easter eggs to obtain the ombre look can be a bit tricky when handling this Easter DIY centerpiece, though.
Tools and materials:
Raw eggs
White vinegar
Water
A large pot
Food coloring in various colors (e.g. pink, purple, white)
Bowls or other small containers for mixing the food coloring
Paper towels
Egg carton or another container to store the dyed eggs
Instructions:
Start by boiling a pot of water and adding a tablespoon of white vinegar; this will help the eggs keep their color.
Add food coloring to bowls in different shades of pink, purple, and white. Feel free to experiment with color mixing until you obtain the shades you like. Just remember to prepare one bowl for each shade.
Dip the eggs into the bowls until you have the desired color.
Transfer the eggs to a paper towel to dry.
Once they're dry, place them in an egg carton and store them in the fridge until you're ready to use them.
Learn more ways about decorating Easter eggs by checking out our article.
6. Moss Topiary Bunny – Table Centerpieces for Easter
A moss topiary bunny is adorable since the bright green color and playful design will add a touch of whimsy to your home decor; you will smile every time you see it.
And the best part about this table centerpiece for Easter is that it's maintenance-free. Just give it a quick spray of water once in a while and let the moss do its thing.
Tools and materials:
A wire basket
Moss
Green floral tape
Hot glue gun
Scissors
Wire cutter
Instructions:
Cut a piece of moss large enough to cover the entire surface of the basket with some extra to spare.
Attach the moss to the basket using hot glue. Be sure to press it well so that it stays put.
Trim the excess moss using scissors.
Cut a piece of wire about 18 inches long and bend it in the middle to form a loop; it can be used to hang the bunny topiary from somewhere in your home if you change your mind about using it as a table centerpiece.
Using wire cutters, cut twelve 3-inch pieces of wire.
Starting at the top of the moss, attach one piece of wire to the moss using hot glue.
Twist the wire around to form a small loop.
Attach another piece of wire in the same way, making sure that it is next to the first loop and forms a small overlap.
Keep adding wires in this manner until you cover the entire moss surface with loops.
Cut three more pieces of wire and twist them into small loops; these will be used for the bunny's ears.
Hot glue two small loops to each side of the head for the ears.
Cut a piece of floral tape and attach it to the top of the head; it helps hide the wire ends.
Place the bunny topiary on the Easter table or hang it from a hook in your home using the wire loop at the top.
7. A Mason Jar Bunny – Ideas for Easter Table Settings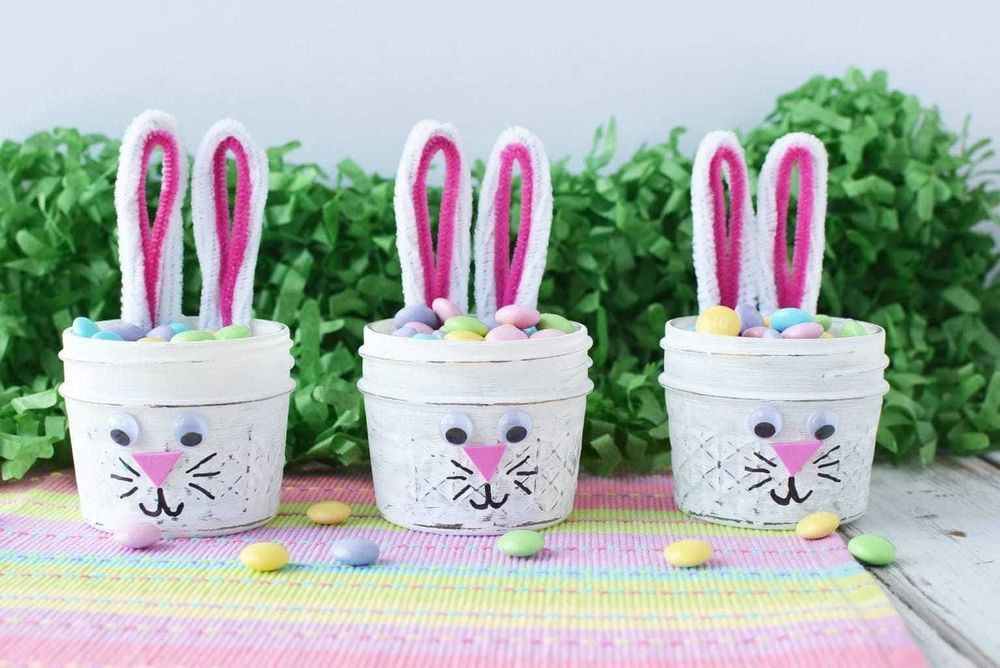 Making a cute mason jar bunny is one of the best ideas for Easter table settings. It requires simple supplies and doesn't take a long time to put together.
And, once you're done, you can fill it with Easter eggs, candies, flowers, or anything else that will enhance the look of your Easter arrangements.
To make this bunny centerpiece, you need a mason jar, pink craft foam, a hot glue gun, googly eyes, pink and white pipe cleaners, a black permanent marker, scissors, grit sandpaper, a paintbrush, and white chalk paint.
Check out Life, Family and Fun forthe detailed instructions on making mason jar bunnies.
8. A Jute Basket – Easter Table Ideas
This Easter, you can get crafty and creative with your Easter table ideas by opting for a jute basket.
It may sound too simple to some DIYers, but it's a versatile last-minute project because you can use it to hold Easter eggs in vibrant colors, chocolate bunnies or chicks, spring flowers, or other springtime accents to celebrate the season.
Besides, it beats going with a traditional flower vase, and it will add a touch of rustic charm to your Easter decor. And, since you will be making it with your own hands, you can opt for any desired shape and size to beautify the dining table.
For this DIY Easter centerpiece idea, you need jute twine or string, scissors, a hot glue gun, and a plastic cup or a larger container (depending on how big you want your jute basket to be).
We have prepared a detailed tutorial on how to put together a jute Easter egg basket using these supplies, so be sure to check it out.
9. Pom-Pom Tree Art – Easter Table Centerpieces
Don't just put any old decorations on your table this Easter. Instead, you can go all out with a handmade pom-pom tree.
In addition to filling any empty space on your table, this vibrant and colorful tree is sure to light up the room and improve the mood of your family and friends. Plus, you can pair it with Easter eggs or bunnies to really bring out the holiday spirit.
For this Easter table centerpiece, you need crafting pom-poms in various colors, tree branches, and a hot glue gun to stick the pom-poms.
If you want to go with the rustic look, just leave the branches as they are. Otherwise, you can make them match your Easter theme using a paintbrush and acrylic paints. For example, multi-colored pom-poms would look lovely on white branches.
Look over our in-depth guide with images to find out more about making pom-pom tree art.
10. Egg Candlesticks – Centerpiece for Easter Table
Add a touch of magic to your spring celebration with these adorable egg candlesticks. You can use them as a centerpiece for the Easter table or as part of a festive display.
Whatever you choose, these charming little eggs are the perfect way to light up your holiday gathering. And it's a good opportunity to practice your woodworking skills – don't worry since it's easier than you imagine.
To start working on this craft project, you need foam Easter eggs, hot glue, a ruler, a 5/8-inch dowel, a drill with a 5/8-inch bit, and spray paint.
You should visit Tips from a Typical Mom to get the detailed instructions for assembling these egg candlesticks. We promise that you will love the results.
11. Marshmallow Peep Vase – Table Decor Ideas for Easter
What could be more sweet and festive than a vase made of marshmallow peeps? This easy table decor idea for Easter works for any other get-together.
Besides adding a colorful touch to your table setting, you can fill the marshmallow peep vase with candy or other treats and let your guests help themselves while you're busy setting up dinner.
To make this Easter vase, you need peep bunnies in various colors, flowers, water, and garden sheets or scissors for trimming the flower.
It's also necessary to use two vases in different sizes; you will place one inside the other, so make sure there's a space of 2 inches between them. This step is essential since you will be inserting the marshmallow peeps in that space.
Visit South Lumina Style toget the full instructions for making a marshmallow peep vase.
12. Easter Table Set
A beautiful Easter table set can really enhance the atmosphere of your holiday gathering. It's a good opportunity to showcase your creative skills and use some of your favorite decorations.
There are many possibilities when it comes to setting the Easter table. You can go with a traditional look using Easter eggs, bunnies, and spring flowers. Or you can create a more whimsical theme with colorful balloons, streamers, and other festive decorations.
Instructions:
Start by deciding on the color scheme for your table set. You can go with traditional Easter colors like pastels, or go with a more modern look with bright colors.
Next, choose the materials you want to use. For the tablecloth, you can use fabric, vinyl, or even paper. You can also use different materials for the placemats and napkins, such as fabric, vinyl, or felt.
A festive Easter table runner is the perfect way to dress up your table for the holiday. If you don't want to purchase one, you can create one on the spot using leftover fabric from other projects; it's a quick and easy way to add some personality to your Easter celebration.
Be sure to include a centerpiece to anchor the look. You could go with a simple arrangement of flowers or opt for something more elaborate, like an Easter tree or a jute basket filled with eggs.
Add the finishing touches to your table set with Easter-themed place cards, napkin rings, and other decorations.
With these simple steps, you can create a beautiful Easter table set that will impress your guests.
13. Table Runner – Easter Table Decoration Ideas
This Easter, add a touch of flair to your holiday table with this easy-to-make table runner.
With just a few simple steps, you can create a beautiful and unique piece that will brighten up your Easter celebration. It's a great way to add some color and personality to your Easter table. Furthermore, it's a quick and easy way to dress up your table for the holiday.
Head over to Make It Do to learn how to easily make an Easter table runner using scraps from old quilting projects.This Easter decoration table idea works for all craft levels, so get creative and have some fun.
14. Wheat Grass Easter Centerpiece
You can get crafty with your decor this holiday season by making a DIY centerpiece for Easter. This nature-inspired centerpiece is ideal for adding a touch of spring to your table.
With a little bit of creativity, you can make this project your own and put together a look that's uniquely yours using tulip arrangements, wheatgrass peat pots, and other items. So get inspired by the beauty of nature and let your creative side shine through.
Visit Satori Design for Living to get some useful tips and tricks for putting together this nature-inspired Easter table centerpiece.
15. Hobnail Milk Glass – Dollar Tree Easter Centerpieces
This charming Easter decor is perfect for anyone on a budget. You can buy a hobnail milk glass from Dollar Tree and embellish it with Easter grass and colorful eggs to create a splendid centerpiece for the dinner table.
Whether you're looking to brighten up your Easter table or add some festive flair to your home, this cheap Easter decor is sure to deliver. Head over to Sadie Seasongoods to learn more.
16. Simple Centerpiece Ideas for Easter
This Easter, skip the traditional centerpiece and go for something simple and elegant. For example, this simple centerpiece idea is perfect for any table – big or small. Plus, it's so easy to put together that even the kids can help.
What you need is a wooden circular tray, a cozy candle, tulips, or any other type of spring flowers, vintage flower seed packets, an artificial bird or rabbit, and anything else that fits.
What you have to do is neatly arrange the items on the wooden tray. Although it might be tempting, try to keep it minimal and don't go overboard. Otherwise, you risk creating a kitschy ensemble that doesn't do anything for your Easter table centerpiece.
Feel free to explore The House on Silverado for more inspiration.
17. Paper Napkin Bunny Favors – Simple Easter Table Decorations
If you're looking for a way to decorate your Easter table without going too crazy, these paper napkin bunnies are ideal.
Made out of just a few simple items, these little bunnies will add some fun and festivity to your table. Plus, they make great favors for guests to take home with them.
For this simple Easter table decoration, you need small paper beverage napkins, a satin ribbon, 30-mm wooden beads with a 1/2-inch hole, pink and black gel pens, as well as foil-covered chocolate eggs.
Check out One Little Project for more info.
18. Accordion Paper Flowers – Homemade Easter Decorations
With a few easy steps, you can turn ordinary paper into accordion flowers and create a pretty bouquet to use as the table centerpiece.
Perfect for making homemade Easter decorations, these flowers add a touch of springtime cheer to any table.
And, since they're made out of paper, you can make them ahead of time and store them until the big day.
To work on this craft, you need origami paper, a stapler, scissors, yarn, a hole punch, and double-sided tape.
Check out the easy tutorial provided by DIY Candy to learn more.
19. Easter Ideas for Table Settings
Bring the beauty of spring indoors with this Easter idea for table settings. Featuring whimsical eggs in a nest, it will add a touch of festivity to any meal.
The soft colors are perfect for Easter, and the marshmallows and colorful feathers add a touch of fun. Be sure to include fresh yellow tulips in a vase as part of your table setting as well.
20. Multi-Colored Tulips – Flowers for Dining Table Centerpieces
For a touch of vintage elegance, consider using multi-colored tulips as your flowers for dining table centerpieces.
The mix of colors will brighten up any table, and the tulips are a classic Easter flower. Be sure to use a vase that showcases the beauty of the tulips, such as this antique white vase with gold details.
You can also pair it with two makeshift nests made out of tree branches, which you can fill with Easter eggs decorated with mute colors. It doesn't matter if they are hard-boiled or artificial.
21. Pastel Easter Eggs – Rainbow Centerpieces
This Easter, ditch the baskets and go for a rainbow centerpiece that's sure to wow your guests.
You can transform ordinary eggs into a rainbow of pastels using paint, and watch as they become the star of the show. Whether you're hosting Easter dinner or an egg hunt, these eggs are sure to add some extra flair.
Only a few basic supplies are required for this project: smooth-foam Easter eggs. craft paint in various pastel colors, and a paintbrush.
You can also use a hot glue gun with glue sticks to ensure that your eggs stick together. Also, when picking the smooth-foam eggs, be sure to get them in different sizes; it will create an awesome effect on the dining table as an Easter centerpiece.
Find out how to put together this pastel rainbow Easter egg centerpiece by checking out the full instructions provided by Martha Stewart.
22. Modern Gold Egg Patterns – Elegant Easter Table Decor
Elevate your Easter decor with these modern gold egg patterns. This easy DIY is a great way to add some personality to your celebration. Whether you're looking for an elegant centerpiece or something festive, these eggs are sure to please.
To work on this elegant Easter table decor project, you will need to gather the following supplies: paper maché eggs, a gold paint pen, and spray paint in spring colors. You can try a wide range of patterns, such as polka dots, stripes, words or letters, hearts, or grids.
Head over to Lovely Indeed to get more information about crafting these modern Easter eggs with gold patterns.
23. Carrot Patch Decor – Easter Centerpiece Ideas
Bring the taste of the great outdoors inside with this fun and innovative carrot patch decor.
Perfect for brightening up any room in your home, this fun and quirky decor piece is sure to add a touch of personality and whimsy. Made entirely from carrots, this one-of-a-kind piece is perfect for anyone looking to make their home feel at one with nature.
To start working on this Easter centerpiece idea, you need a cutting machine like Cricut Joy, a large and a small glue gun, mod podge, and several Cricut tools – Self-Healing Cutting Mat, Black Vinyl, Weeding Tool, and Cricut Tools Set.
Visit Whiskey & Whit tolearn more details about preparing carrot patch decor.
24. Tulip Cabbage Flower Arrangement – Easter Dining Table Decor
The tulip cabbage flower arrangement is a fun and unique way to dress up your Easter dining table.
The vibrant colors of the tulips will brighten up any room, and the cabbage vase is a creative way to show off your floral skills. It will surely delight guests and make your Easter dining experience unforgettable.
For this Easter dining table decor, you need tulips, a paring knife, a good-looking cabbage (medium or large), flower shears, and a wet foam block or a small mason jar.
You don't necessarily need tulips since you can use any other spring flowers you like for this table setting, such as daffodils or hyacinth.
Check out Darling Darleen for more details about this tulip cabbage flower arrangement.
25. A Bouquet of Flowers and Carrots – DIY Easter Centerpieces
This holiday, ditch the clichéd arrangements of eggs and bunnies to create a unique DIY Easter centerpiece that your friends and family will never forget.
Carrots are the star of this show, surrounded by delicate flowers in a fishbowl vase. The result is a tasteful arrangement, perfect for any Easter celebration, including receptions and brunches.
When it comes to supplies, you will need a floral arrangement, carrots, florist foam, florist picks, and a fishbowl.
Head over to Southern Living to get more details about making a bouquet of flowers and carrots in a fishbowl.
26. Golden Egg Vases – Table Centerpieces for Easter
Turn some beautiful golden eggs into tiny little vases for the table. Check it out atSeventy Nine Ideas.
27. Pink-Dipped Vases – Floral Easter Centerpieces
Project Weddingtook some simple glass vases and dipped them in a bit of paint. That's as easy as it comes for sprucing up your centerpiece options.
28. Rainbow Water
Papery & Cakerymade rainbow water. Add some fresh flowers and you'll have a springtime scene by dinnertime.
29. All Peeps – Easter Bunny Centerpieces
Why not put some peeps to work this holiday? Over at Mom On Timeout, you'll see how fun these marshmallows can be using them for decorations.
30. Glittery Eggs & Flowers – Centerpiece for Easter Table
A bit of glitter will always work in your favor, and She Knows knows that. Just add eggs and flowers to delight your table this Easter.
31. Nested Eggs – Easter DIY Centerpieces
Some beautiful, nested eggs inspired by this setup atWilliams Sonoma could finish off the dining room table nicely, don't you think?
32. Coconut Bunny Cake – Easter Table Centerpiece Ideas
Everyday Occasions made their centerpiece edible, which we're always in favor of. Turn your dessert into a bunny, which also doubles as an adorable piece of Easter decor.
33. Mossy Eggs – Easter Table Centerpieces
Martha Stewart made mossy eggs to pop off a white tablecloth. Check out the tutorial after the jump.
34. Blossom Log – Elegant Easter Centerpieces
The Daily Basics put together this gorgeous and nature-inspired centerpiece. The added, fresh flowers really make a difference.
35. Egg and Burlap Wreath – Beautiful Easter Centerpieces
A wreath doesn't have to be just for the door since you can use it on the table, too. Check out the details over at Top Dreamer.
36. Mossy Scape – DIY Easter Table Centerpieces
Here's another centerpiece that uses that mossy vibe. You can create an entire scene using your creativity and what inspires you about the season. Visit So Celebrate for more details.
37. Floral Egg – Easter Table Centerpieces
Simply Designing made this floral egg. If you want something to really sink your teeth into, then start working on this beauty by the weekend.
38. Dollar Store
Learn how to concoct something for the centerpiece without spending too much. Over atSalt and Pepper Moms,you'll learn how to put together a design with only Dollar Store finds.
39. Floral Eggshell Arrangements
Martha Stewart made some gorgeous egg floral arrangements. Follow the link and watch how she does it.
40. Bunny Cake Dome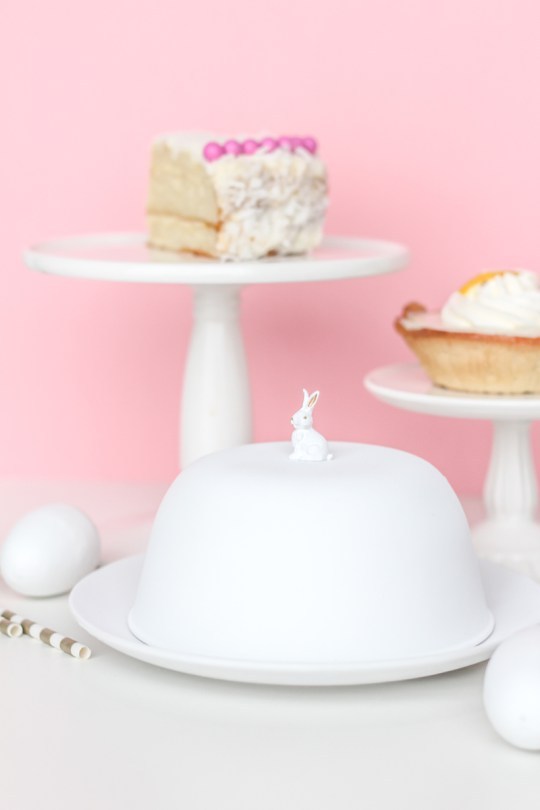 Sugar and Cloth use cake as centerpiece inspiration, too. But, this time, the cake is covered with a DIY bunny dome.
41. Purple Topiaries – Easy Easter Centerpieces
Are you a fan of topiaries? If you like this crisp, natural look, then visitGood Housekeepingfor this purple inspiration.
42. Eggshell Tealights – Easter Party Centerpieces
Little Inspiration used eggshells as the foundation for their project. Instead of vases, you can turn your Easter eggs into tea lights for the table.
43. Polygon Paper Vases
If you feel comfortable crafting things with paper, head over to A Subtle Revelry and learn how to create stunning paper vases for your flowers.
44. Lemon-Filled Apothecary
Yellow Bliss Roadtook lemons to the table. It adds a pop of color and a natural freshness as well.
45. Paper Cherry Blossoms
Good Housekeeping utilizes paper, too. But this time, the paper is turned into some beautiful cherry blossoms.
46. Peeps and M&Ms – Easter Centerpieces with Peeps
Two Sisters Crafting took some Easter candy and put it to good use. Some peeps and M&Ms can go a long way in your centerpiece-making.
47. Paint Stick Basket
If you gather paint sticks, you can use them to make something brand new. Check out the idea over at Build Basic.
48. Jellybean Candles
Grab jellybeans and glass votives you already have around. The two pair well together for a festive look. Visit Passionate Penny Pincher to learn more.
49. Ombre Vases
Living Well Spending Lessmade some gorgeous, ombre vases inspired by spring. All you need to finish them off will be some fresh flowers.
50. Tulips in a Basket – Centerpiece for Easter Table
Tulips are quintessentially spring, and a basket speaks to Easter with ease. It's such an easy centerpiece to put together in a jiffy. Check out Huff Post for more inspiration.
51. Glitter Vases – Table Centerpieces for Easter
The Sweetest Occasion knows that glitter will always win out in the end. And with these vases, you'll be adding plenty of style to your dining room table.
52. Carrot Vases – Easter Centerpiece DIY
Pay a kitschy and charming nod to the Easter bunny with these adorable carrot-filled vases. Take a peek at the original inspiration over atLove Grows Wild.
53. Forsythia and Eggs – Easter Table Centerpieces
The Daily Basics put together some florals and eggs that we love. It's a beautiful combination that's also easy to recreate.
54. Bunny Burlap Runner – Easter DIY Centerpiece
You can always learn how to stamp your own burlap runner. A bunny and a catchy phrase can inspire the season. Head over to Uncommon Designs to learn more.
55. Robin's Nest
Why not try to make your own lucky robin's nest? Check out the details over at NoBiggie.
56. Plastic Egg Planters – Table Centerpieces for Easter
You can even make some planters out of those plastic eggs you get for the kids. Check it out atMade with Happy.
57. Grow Your Grass
Kelly Elko shows us how a bit of cat grass can go a long way for your Easter decorations. It's quintessentially green and oh-so-charming, don't you think?
58. Mix-and-Match Glass Vases
Gather your glass vases and use them to create a light and eclectic look for the tables. Add fresh blooms, and voila! We found this gorgeous idea at Floresie.
59. Jellybean Jug
The Sprucegave us some more jellybean inspiration. A jug and some candies can make a simple and colorful centerpiece for the table.
60. Candy Mason Jars
Hop on over toClean and Scentsible for this bunny bait centerpiece idea. The kiddos will want to dive into it after dinner though, so beware.
61. Bunny Vase
Weekend Craft turns older items into something brand new. A bunny vase is the perfect way to top off Easter dinner.
62. Pastel Easter Eggs – Easter Table Centerpieces
We're absolutely swooning over this centerpiece design. And if you visit100 Layer Cake-let, you'll learn how to make it yourself.
63. Lemon Lavender Candles – Centerpiece for Easter Table
Brit + Co took lemons and turned them into candles. Not only will you get a beautiful pop of color on the table, but the aroma will be magical.
64. Black and White Eggs – Table Centerpieces for Easter
Obviously Sweet made some fashionable black and white Easter eggs and used them as the focus of the table. For a more modern take on the holiday, this is your project.
65. Bunny Silhouette Jars
Happiness is Homemade made some bunny silhouette jars for us to get inspired by. Fill them with candy, set them on the table for decoration, and then send them to your family members as a souvenir.
66. Egg-Inspired Vases
Tatertots and Jellomade egg-inspired vases. They look like giant Easter eggs topped with fresh flowers that speak to the season.
67. Egg Topiary Tree
Here's another topiary project to get inspired by. Check outSand and Sisal to start working on this fun project.
68. Jelly Bean Topiary – Easter Themed Centerpieces
Crafty Sisters speak to our jelly-bean-loving hearts. Jellybeans and topiaries actually look quite charming and festive on the table this way.
69. Twig Nest – Centerpiece for Easter Table
BHG took twigs, turned them into a nest, and topped them off with robin eggs. They even added a fun phrase to the design.
70. Jelly Bean Tree – Table Centerpieces for Easter
Crafty Sisterstook jellybeans and turned them into something beautiful and festive for us again. How about topping the table with a jellybean tree?
71. Doorknob Vases – Easter Floral Centerpieces
The Daily Basics took doorknobs and turned them into tiny vases. We're loving the innovation and upcycling attitude here.
72. Naturally-Styled – Easter Egg Centerpieces
The Spruceteaches us how to take everyday items around the house and turn them into something beautiful. This one just happens to include egg-shaped candles.
73. Gold Leaf Vases – Easter Table Centerpieces
Why not learn how to make vases with a bit of gold leaf attached? Fill your Easter with glamour with the help from By Wilma.
74. Peeps and Tulips – Centerpiece for Easter Table
bell'alimento also took some peeps and used them in their centerpiece design. Topped with funky, fresh flowers, you have a festive and charming way to adorn the table.
Final Thoughts on Easter Centerpieces
When it comes to Easter centerpieces, there are endless possibilities. You can go with traditional eggs and bunnies, or try something a little more unique.
If you're looking for something elegant, try a paper mache egg centerpiece with gold paint patterns. However, if you prefer something fun and festive, go with the carrot patch decor.
These are just a few of the many Easter centerpiece ideas you can use to create a festive and fun-filled celebration.
With so many options to choose from, you're sure to find an arrangement that will perfectly match your personality and style. So get creative and have fun with it.
What are your favorite Easter centerpieces? Let us know in the comment section below.