Cricut Maker vs. Silhouette Cameo – Which One You Should Get
Crafting has gained more popularity in the last few years, and it makes perfect sense if you were to consider the increasing number of work-from-home employees who prefer spending their newly-gained spare time in a creative, maybe even profitable way.
If you're no beginner in the field of crafting, you're probably no stranger to cutting machines, and you may already know how they can give your crafting game the boost it so much needs.
Furthermore, you may have also heard about names, brands, manufacturers, and models already. If this is the case, Cricut and Silhouette shouldn't sound too foreign to you, as they're both popular cutting machine manufacturers.
However, there are some pretty notable differences between these two names and the product they can provide you with, which is more often than not a source of confusion, especially for novice crafters who have no idea what product should they choose.
In this guide, we're going to explain the differences between them, so that by the end of it you can make an educated decision regarding whether you should go with Cricut or Silhouette.
Is Cricut Or Silhouette Better?

For obvious reasons, we can't say that one manufacturer is 100% better than the other, since both of them have several products, and each of them has its own strong points and drawbacks (at least when compared to the other).
Therefore, we've decided to go with Cricut Maker and Silhouette Cameoand give you a full rundown on each of the products before actually comparing them to one another. Our guide is meant to help you decide easier and faster which product is the best for your needs.
If you're not exactly patient when it comes to comprehensive comparison articles, we're going to give away the definitive winner (in our opinion), which is Cricut Maker. However, if you're interested in finding more details about each product, just keep on reading.
Size And Weight Comparison
Size is one of the most important aspects that is often overlooked when it comes to cutting machines. However, it's also entirely subjective, as size can play different roles for different users, so you'll get to decide who's the winner in this 'department.'
At first glance, it's immediately obvious that Cricut Maker is larger and heavier than its Silhouette counterpart. Some users may see this as a win for Silhouette since having lighter, smaller cutting machines also means that you can transport them around in an easier manner and that they don't take a lot of space.
However, most of the time, lighter also means that it can get flimsy over time due to cheaper materials being used during the manufacturing process, so if that were the case, Cricut Maker could easily win this one.
On the bright side, both Silhouette Cameo and Cricut Maker have proven to be resistant and have passed the test of time, and can also withstand wear & tear. Therefore, if size and weight play a huge role in your decisional process when it comes to cutting machines, you'll want to stick with Silhouette Cameo unless you're a fan of handling larger, heavier (although not by much) machines such as the Cricut Maker.
What You Need Cutting Machines For
Despite the fact that both Cricut Maker and Silhouette Cameo work great with both paper and vinyl, Cricut's product goes the extra mile and puts a lot more crafting possibilities in your hands, as opposed to its Silhouette counterpart.
You can use either one of the Cricut Maker or Silhouette Cameo to create beautiful designs from your pictures or drawings. You just need to create the design on your computer or use your phone (or a different photo camera) to take pictures, and then let the products' software utilities handle the rest.
Not a long time ago, Cricut Maker was king as far as cutting force was concerned, providing its users with a whopping 4000g of cutting force. By comparison, the older model of Silhouette, Cameo 3, had a small fraction of Cricut's cutting force (only 210g).
Now, after the release of the Cameo 4 cutting machine, Silhouette has upgraded its product with 5000g cutting power, which stole the crown from Cricut as far as cutting force goes.
The old generation of Cricut cutting machines (Cricut Explore Air 2) still had more than 50% cutting power than the old generation of Silhouette (i.e., the Cameo 3), as it boasted 350g of cutting power.
At the time being, Silhouette Cameo 4 has the lead with 5000g of cutting power over Cricut Maker's 4000g. Both machines are incredibly powerful as far as cutting power goes, so it goes without saying that if cutting power's a dealbreaker for you, it would be wise to stick with Silhouette.
Cricut Vs. Silhouette Machine (Specs)
Auto Blade
Both Cricut Maker and Silhouette Cameo have a nifty feature that's called Auto Blade and does exactly what you'd expect it to do. You know, if you ever used a cutting machine before.
However, although both machines have this perk, the Silhouette Cameo's is actually automated, as opposed to Cricut Maker, where you have to configure it manually through the Cricut Design Space software solution.
The genius of Auto Blade is that it helps you automate the cutting process, so you no longer have to guess various configuration parameters whenever you're thinking of creating the perfect design.
Furthermore, Silhouette Cameo's Auto Blade will adjust the cutting force of the machine properly thanks to its ability to detect the material that you're using for your designs automatically.
It goes without saying that due to the fact that Cricut Maker needs you to configure the feature manually, this point goes to Silhouette Cameo, as its Auto Blade is actually automatic.
Cutting Size
While both machines have decent cutting sizes for aspiring and experienced craftworkers alike, there are notable differences between them (i.e., the cutting size spec).
The standard cutting size of Cricut Maker is 12 x 24 inches, and the Silhouette Cameo can process up to 12 inches x 10 feet, thanks to its built-in roller. There goes another point towards Silhouette's Cameo cutting machine.
Dual Carriage
If you're not exactly fond of overseeing the whole processing sequence of your cutting machines, then you'll really appreciate the dual carriage feature. Let alone the fact that it's a real-time-saver by speeding up the overall production time, it also helps you carry out two steps in one go.
However, despite it making more sense this way, the Dual Carriage feature can't perform two steps at the same time (in parallel), as it can only do it sequentially (one after another).
Thus, you can save a lot of time manually loading the machines and configuring them for each step thanks to the Dual Carriage feature that lets you set the machine to perform two cutting steps, two drawing steps, or a drawing step and then a cutting step.
The best news is that the Dual Carriage feature is available on both machines, so you can't really go wrong with either one of them if Dual Carriage is a feature that you consider to be a deal-breaking one.
Cross Cutters
A cross cutter is really a simple tool that can save you from a lot of headaches, as it can come in extremely useful if you want to cut something down to size. You just have to pull the blade horizontally, and voila! You have your material cut down to the desired size.
It's worth mentioning that only Silhouette Cameo has the Cross Cutter feature, so this is one more point in favor of Silhouette's cutting machine.
Working With Stronger Materials
Owning a cutting machine such as the models we've listed above can save you from a lot of hassle that manual labor involves, that goes without saying. Although most people use cutting machines to process paper and other materials that are similar in terms of strength and resilience, some may need to process materials that have greater resistance, such as mat board, vinyl, or balsa wood.
Cricut Maker can handle multiple materials in this register (stronger, more resistant) such as balsawood, and matboard, thanks to its impressive cutting force of 4000g and the fact that the blade this machine uses resembles an X-Acto knife.
However, there is a limit that not even the Cricut Maker can't go above, and it's that the thickness of the processed material shouldn't be greater than 2.4 mm.
Although the Cameo gathered quite a few points so far during our comparison, the fact that it can't process stronger, more resistant materials (at least not as good) as the Cricut Maker is starting to tip the balance in favor of its counterpart.
Silhouette Cameo is capable of cutting through a few materials that are thicker, but the process won't be as smooth as when you try the same operations on a Cricut Maker machine. In fact, it will involve quite a few trials and errors, and it'll require you to run multiple passes if you want to get the design right.
The general consensus is that Silhouette Cameo can do just fine as long as cutting paper or vinyl is involved. However, if you want to perform more complicated operations, such as embossing or scoring, you won't be able to pull it off using Cameo, and you'll have to purchase an additional machine (e.g., the Silhouette Curio).
On the other hand, if you're not a fan of having several machines to carry out cutting, drawing, embossing, and scoring, you should definitely go with Cricut Maker.
Cutting Power
Not until a while back, Silhouette Cameo didn't have a lot of cutting power, as it could only deliver merely 210g cutting power to the materials, as opposed to Cricut Maker that brought a whopping 4000g of cutting power to the table.
However, Silhouette Cameo 4 now has 5000g of cutting force and a clearance of 3 mm, which means that it can process thicker materials up to 3 mm. By comparison, the Cricut Maker can only handle materials that are up to 2.4 mm in thickness.
Both manufacturers boast about the Cricut Maker's and the Silhouette Cameo's ability to handle more than 100 material types. As far as cutting power goes, at the time being, the Silhouette Cameo 4 offers 25% more cutting power and clearance for working with thicker materials than its Cricut counterpart.
Rotary Blade
If you have no experience with cutting machines, then you probably don't know about the magic that a rotary blade entails, so we're going to point it out for you: a rotary blade is paramount if you're going to work with fabric.
The rotary blade will allow you to process fabric and other similar materials like a professional without damaging (e.g., overcutting or undercutting) or wrinkling them. The same action could technically be carried by the standard blade as well, but you shouldn't expect flawless results, as opposed to when using the rotary blade.
Although the old version of Silhouette Cameo (3) didn't have it, the new version (4) does include a rotary blade, which means that you can process fabric without compromising the quality of your material or having to soldier through it with various makeshift workarounds.
Cricut Maker also has a rotary blade, which should set a tie between the two different machines we're discussing in our guide. However, the Cricut Maker has an upper edge thanks to its washable fabric pen.
This washable fabric pen lets you make various markings on the fabric you're processing and just wash them out with water once you've finished adjusting and processing the material. Thus, if you want the extra fabric pen perk, you may want to stick with Cricut Maker.
Noise
The level of noise that a cutting machine can generate during its operation is an important parameter that shouldn't be overlooked, especially if you're the type of user who would prefer to leave the machine unattended for long periods of time and even overnight.
Unfortunately, cutting machines are not exactly inherently silent since they have a lot of moving parts whirring and cutting around, but that's not to say that you can't find any notable differences between the models that we've decided to compare in our guide.
As numerous customers seem to agree, the Silhouette family of cutting machines is all loud, regardless of the model you choose. So if you care about noise and also plan to leave the machine working overnight, you should factor in the fact that you might not be able to.
While Cricut Maker isn't silent (no cutting machine really is), it's significantly quieter than its counterpart, as it runs at an acceptable noise level (considering the operations it performs).
However, there is one thing that you may need to consider if you want to keep a steady level of noise in your household while operating the Cricut Maker: avoid using the 2x speed option.
While the 2x speed option on the Cricut Maker seems like a true blessing, it will significantly increase the level of noise in the proximity of the cutting machine.
It's worth mentioning that the speed increase works great with basic designs, and while it's entirely possible to use it with more intricate designs, it may mess up the end result, so you might want to test it out beforehand.
Ownership Cost
Another aspect that is often overlooked is the cost of accessories. Both of the machines that we've compared in our guide need accessories in the long run, seeing as the blades can go dull after a while, and the mats might need to be replaced after losing some of their stickiness.
If you're not the patient type, we're gonna go ahead and tell you that the Cricut Maker wins as far as ownership goes. Despite the fact that Cricut Maker is more expensive than the latest model of Silhouette Cameo, the accessories you'll definitely need are more accessible price-wise for Cricut.
Furthermore, the latest model of Silhouette Cameo comes in three variants: a 12″ one (Standard), a 15″ one (Plus), and a 24″ one (Pro), so if you're aiming for a model with a higher cut capability that can accommodate wider materials, you'll have to pay more money, to begin with, not to mention the accessory costs.
Cricut Maker's accessories are less expensive than Silhouette's, which means that while you may pay a bit more for the machine, in the long run, you'll be able to get back your money's worth by saving big on consumables and accessories.
The bottom line, in this case, is that Cricut Maker gives you an edge by having a cost of ownership that's lower than its competitors (in this case, Silhouette).
Design Software
We've talked about everything hardware-wise, but an equally important component of a cutting machine is the design software it comes with since that's where all the magic happens before you load the materials and instructions in the machine.
Fortunately, each of the machines we've introduced in our guide has its own design software, so you shouldn't expect any confusing configuration schemes, parameters that are reserved for a different type of machine, or compatibility issues between the software and hardware.
Cricut Design Space
Cricut Design Space is the name of the software utility that will let you interface with your Cricut machine. The beauty of this program is that it's not only free but very easy to use, even by inexperienced users who never touched a cutting machine or its software before.
It used to be 100% online, which meant that you never had to update it and that it was possible to access it from virtually any compatible Internet-enabled device. Now that's not the case anymore, as you need to download a client and use it only on supported devices.
From a difficulty standpoint, Cricut Design Space is fit for a broad range of users. In other words, you can use it as a beginner and as a master of cutting machines just as well, thanks to its intuitive, streamlined interface and set of options.
Silhouette Design Studio Software
The Silhouette Design Studio Software is not online, but at least it's free (sort of). If you order the machine from a trusted retailer (as opposed to buying a used machine from a previous owner), you'll get the Silhouette Design Studio Software on a CD.
You can either use the CD version or go online if you want to make sure that you'll have the latest version of the program installed on your computer. While this utility is free, it's also limited in various regards.
It's possible that you can buy the paid version of the program in order to unblock features such as working with SVG files, working with layers, rulers and guides, shadow tools, knife set tools, shear, glyph support, and barcode support.
On the bright side, if you have previous experience as a graphic designer, Silhouette Design Studio Software provides you with more freedom than its Cricut counterpart, despite its steep learning curve.
Cricut vs. Silhouette Side-By-Side Comparison
If you went through the whole comparison section above, but you're still not sure whether you should stick with the Cricut or Silhouette cutting machine, we've included a side-by-side comparison table where each product's strong points and caveats should be obvious. Check it out:
| | Cricut Maker | Silhouette Cameo 4 |
| --- | --- | --- |
| Dimensions | 10.2 x 25.8 x 10.4 inches | 7.87 x 22.44 x 6.69 inches |
| Weight | 23.08 lbs | 13.77 lbs |
| Can cut | Yes | Yes |
| Can draw | Yes | Yes |
| Cutting Force | 4000g | 5000g |
| Speed | Fast | Normal |
| Cutting Size | 12 x 24 inches | 12, 15, or 24 inches x 10 feet (depending on model) |
| Auto blade | No | Yes |
| Cross cutter | No | Yes |
| Dual Carriage | Yes | Yes |
| Noise level | Acceptable | Noisy |
| Clearance (material thickness) | 2.4 mm | 3 mm |
| Number of supported materials | 100+ | 100+ |
| Accessory costs | Affordable | Expensive |
| Software price | Free | Free (but limited) |
| Image-to-design transformation | Cricut Design Space | PixScan Software |
| Price | Check price on Cricut. | Check price on Amazon. |
Cricut Maker Limitations
Now that we've got the perks and capabilities out of the way, it's time to bring limitations to the table and discuss them. As you probably figured out by now, we're going to begin by analyzing Cricut Maker's limitations first.
Hardware-wise, it goes without saying that it does have a bunch of features that would've been deeply appreciated by the entire customer base, including the auto blade and the cross cutter. However, it does make it up by speed, noise level, accessory costs, and overall reliability.
Now when it comes to software, Cricut Maker's shortcomings are a bit biased, and the answer you're going to get depends on each users' needs and expectations from the product.
From our point of view, the fact that the software was entirely online was definitely a plus, considering that you could access and operate it from any Internet-enabled device that had web browsing capabilities.
On the other hand, if you don't have a reliable Internet connection and you take your show on the road more than a few times a year, a 100% online app would've made it a bit difficult to manage your designs, considering that there was no backup option.
Cricut offers a design database to its customers, which is called Cricut Access. On the downside, you'll have to cough up a modest monthly fee of $9.99 to be able to access the standard (limited) version, browse most of the designs that it has to offer, and even make a purchase if you're interested.
The free version of the Cricut design database comes along with your Cricut account and includes more than 1000 images, over 15 fonts, more than 250 ready-to-make projects, and up to 5 collections.
Upgrading can not only increase the number of the projects and designs above, but also unblock additional perks, such as discounts for future purchases (including machines), priority member care, and free economy shipping for orders that go past $50.
Silhouette Cameo Machine Shortcomings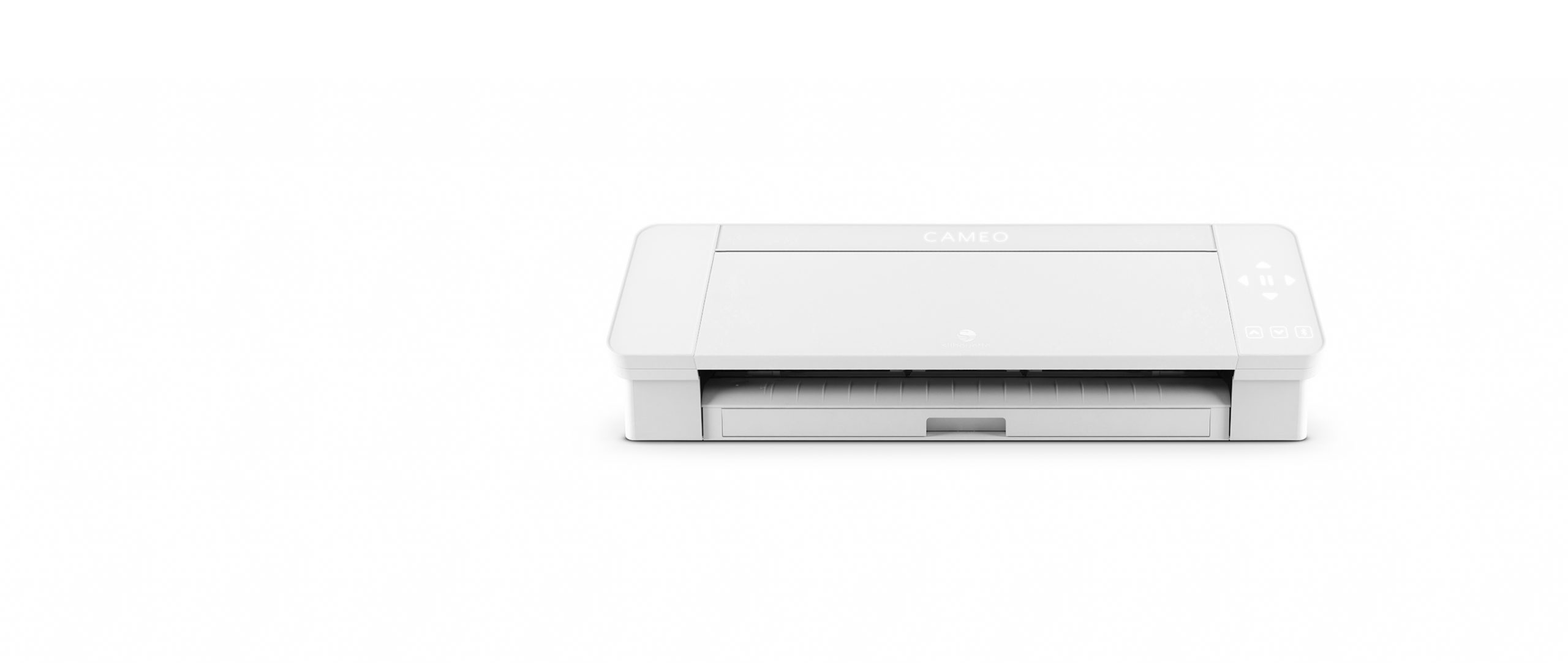 Not a long while ago, Silhouette Cameo 3 was severely limited compared to Cricut Maker. However, with the release of Cameo 4, things have started to look great for Silhouette, as they not only matched their competitor but also went above and beyond in some regards.
First thing first, there's no support for embossing and scoring on the Cameo 4. If you want those features, you will need to reach for your wallet once more and purchase a dedicated machine called Silhouette Curio.
Purchasing an additional device for extra capabilities seems like a sketchy thing to do, and you'd be exactly right to steer away from Silhouette if you're aiming to have a machine that could handle both of these operations.
Aside from the purchase costs that come with buying a secondary device to do embossing and scoring, you'll also have to come out with some space to place the additional machine, and you can't manage them from the same place, which could become inconvenient after a while.
With the Cameo 3, a lot of people complained about its Bluetooth connectivity. However, Cameo 4 managed to fix this important issue and make everyone happy. If you're after this feature, make sure to stick with the new and improved model.
If you care about noise levels and you'd rather prefer a machine that you can leave working overnight in a spare room in your house, then Silhouette isn't the way to go about it, as Cricut can provide you with a lower level of noise.
Last, but not least, Silhouette Studio Software is heavily limited if you're going to stick with its free version and has a steep learning curve, so you're going to spend quite some time growing accustomed to all of its features before you can achieve the results you desire.
Is Cricut or Silhouette Better?
To wrap things up, if you're on the fence about whether you should go with Cricut or Silhouette as your main cutting machine, the answer really depends on what your expectations are from your machine and what you want to use it for.
The machines are quite similar now that the Cameo 4 has been released, but in our opinion, Cricut still has the best bang for the buck value of the two. Cricut Maker can handle more than just drawing and cutting, as you can also use it for embossing and scoring.
Silhouette, on the other hand, forces you to buy an additional machine just for these two operations (embossing and scoring), not to mention the costs of accessories that are generally more expensive for Silhouette machines.
However, if noise levels don't bother you as much, and you'd like to have a machine with a built-in roll feeder that can work on 10-feet-long sheets, then Silhouette Cameo 4 is definitely where you should be heading.
Cricut Maker vs. Silhouette Cameo FAQ
Is Cricut Maker better than Silhouette Cameo?
Although it's somewhat of an apples and oranges situation, in our opinion, Cricut maker is still a better decision as far as speed, noise, ownership costs, and software intuitiveness go, even after the release of the newest Silhouette Cameo 4.
What is the difference between Cricut and Cameo?
The latest version of Cameo offers 25% more cutting power (5000g compared to Cricut's 4000g) and can handle materials that are 25% thicker (3 mm compared to Cricut's 2.4 mm). Cameo has a built-in roll feed that makes it possible to work with 12, 15, or 24 inches x 10 feet materials. Cameo also has an auto blade and a cross cutter. Furthermore, it is smaller in size and lighter than its Cricut counterpart. On the other hand, Cricut has lower noise levels, offers faster speeds, and has a lower overall cost of ownership (cheaper accessories and supplies).
Can you use Cricut Design Space for free?
Yes, you can use Cricut's software (Cricut Design Space) for free for as long as you want. You can also purchase a subscription plan, but only if you want to use custom designs and fonts and get other benefits such as discounts or free shipping.
Can I use custom images with Cricut?
Cricut Design Space allows you to use your own images in your Cricut designs, and you can also use it to work with SVG files, as opposed to Silhouette's software solution.
Does Cricut software work offline?
Although you need an Internet connection to use Cricut Design Space, there's also an option that can help you take things offline if you need to.
Is the Silhouette software free?
Yes, there's a free version of the Silhouette Design Studio that you can use, but bear in mind that it has a lot of limitations you'll encounter. One of the most important limitations is that the free version doesn't support SVG files.
Does the Silhouette Cameo Bluetooth work?
Yes, starting with Cameo 4 things have started to look great as far as Bluetooth connectivity is concerned. In other words, Cameo 4 benefits from functional Bluetooth connectivity.
Is Cricut or Silhouette better for beginners?
If you're a complete beginner, you may find it easier to work with Cricut, seeing as its software is more intuitive and has a more merciful learning curve. By comparison, the Silhouette software has a steep learning curve and should be used mainly by those who have previous experience as graphic designers or know their way around cutting machines and their software utilities.
Can I import Adobe Illustrator projects in Cricut?
Yes, if you're using the Cricut Design Space software, you'll be able to import and export a lot of formats, including Adobe Illustrator projects.