38 Cool DIY Bracelets You'll Want to Make Right Now
Creating and designing your own jewelry can be so much fun! From earrings to necklaces, you have the ability to start from scratch and make something that you can wear and have forever. Today, we're focusing on bracelets and loving the idea that you can make some of these beauties below for yourself but also for your best friends, moms, sisters and more!
Our designs can be fun or sophisticated, can make you stand out, or simply enhance your style. They're cute additions to your jewelry collection that you'll want to wear more often.
DIY Bracelets You'll Want to Make
All the designs are DIY so you'll just need a few materials, a bit of inspiration, and our guides on how to make them all. Let's get started!
1. Leather and Pearl Bracelet
We have a great tutorial for you that's super easy to follow and you'll get this really pretty leather and pearl bracelet ready to do on your wrist. Read our tutorial here.
2. Wire Tassel Bracelet
This next bracelet features just a few materials and we're so excited to get it done since it looks so pretty. Make your own wire tassel bracelet by following our tutorial.
3. Toiler Paper Roll Bracelet
By using an old toilet paper roll, you can make yourself a really cute bracelet. We know it's not the most glamorous creation, but it's a really cute one and it's easy to make, so come read our tutorial!
4. Butterfly Bracelet
This next project is perfect for younger kids who love butterflies. With just a bit of paper and a scissor, you can make yourself a butterfly bracelet by following our tutorial.
5. Popsicle Stick Bracelet
This next creation allows us to create a wonderful bracelet out of popsicle sticks. It takes a while to make them, but they can be exactly how you want them to be. Follow the instructions in our DIYS.com guide.
6. Knotted Bracelet
With just a bit of wire and a clasp, you can create a beautiful knotted bracelet that will go with your casual attire. Learn all the steps on how to make one from our very own tutorial.
7. Wooden Beads and Tassels Bracelet
A bracelet with wooden beads can be pretty simple, but a tassel can make it stand out quite a bit. The best part about this project is that you can customize these and make them your own super easily. Get the tutorial from DIYS.com.
8. Pearl Bracelet
With just a bit of ribbon and some shiny pearl-like beads, you can create a beautiful bracelet for yourself or for someone close. Learn how to make your own pearl bracelets by reading our guide.
9. Elegant White Bracelet
We know we've been pretty casual so far, but our next project will go even with your more elegant ensembles. Check out our tutorial on how to make your own elegant white bracelet.
10. Yarn and Chain Bracelet
We have another project on our hands next, a yarn and chain bracelet that will look very nice with a pair of jeans and a T-shirt. Learn how to make your own yarn and chain bracelet by following our tutorial.
11. Color Block Stone Bracelet
Up next, there's this really cool looking color block stone bracelet that we want you to see. It's so pretty that you'll start making plans to make one immediately. Find out how to do this by reading our step-by-step guide.
12. Cool Bracelet with Wire-Wrapped Wood
Some projects are super complicated, while others are simpler. Others are plain cool and this one fits right into this category. Find out how you can make yourself a bracelet by wrapping a wire around a wooden bangle from our tutorial.
13. Bracelet Knot
A knot can seem like a very easy thing to do and it's not something you think can look wonderful, but simply check out our picture above and know that's far from the truth. Learn how to make your own bracelet knot by following our guide.
14. Cool Friendship Bracelet Pattern
Friendship bracelets have been around since forever, but embellishing them with a bit of metal elements can make yours stand out. Learn all about making one from our guide.
15. Fishtail Bracelet
One bracelet that you really need to look into is this cute fishtail bracelet that you can do fairly easily. Furthermore, we'll help you every step of the way so you'll have a great result.
16. Upcycled Plastic Bottle Bangle
Sometimes, you need to recycle and upcycle. So, why not make yourself a really cool bangle that no one will guess was originally a plastic bottle? Learn how to make one by reading our tutorial.
17. Morse Code
Honestly WTF gives us these dainty and sweet morse code bracelets. Get dirty with some teeny, tiny beads and start designing!
18. Wooden Washi
Grab some washi tape and get to work designing like Mama Miss did. The kiddos can easily get in on the fun with this project too, personalizing and mixing up patterns!
19. Spring Bling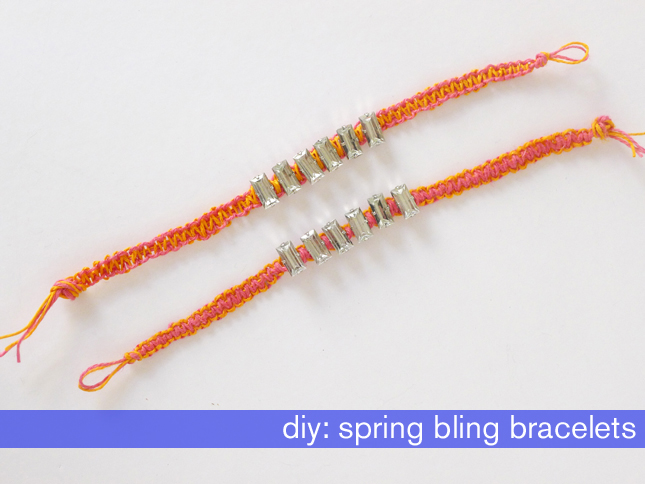 The (not so) Average Girl's Guide made these easy spring bling bracelets that we're swooning for. These too can act as the most perfect and fab friendship bracelets and DIY gift!
20. Pastel Chevron
Over at Claireabellemakes you'll find an actual friendship bracelet tutorial complete with beautiful, pastel colors and a chevron print. This is great for a sleepover project or a birthday gift!
21. Mixed Metals
Check out this awesome mixed metal bracelet from Life by Appointment. It's a bit glam, a lot of fun and easier than you may think to create.
22. Tribal Bangles
If you want to paint a bit then take a peek at this tutorial from Dismount Creativity. Have fun getting creativity and learn how to make your own funky patterns.
23. Colorful Yarn
These colorful yarn bracelets will be a lot of fun to make, especially when you decide to make ones that represent every shade of the rainbow. Check it out at Shelterness.
24. Shabby Shower Rings
The 36th Avenue took shower curtain rings and turned them into something special. With some shabby chic style and southern flair, you'll fall in love with these accessories.
25. Sparkle Cuff
Inspired by a piece from Anthropologie, you'll want to snag this tutorial from Artzy Creations. We love that this one can be super versatile too – making dressier outfits and more casual looks complete.
26. Classic Fishtail
If you want something easy to make to get your jewelry-making hobby started then check out this classic fishtail design from Kristin And… Perfect for gifts, an afternoon craft for the gals and more.
27. Pom-Pom
This pom-pom bracelet was inspired by a store-bought piece as well. Thanks, I Made It has all the details on how to make this gorgeous look.
28. Ombre Rope
Love Maegan made these awesome nautical rope bracelets and then had them ombre-dipped. Learn all about how to make these cool pieces after the jump!
29. Charms
Over at What I Wore, you'll learn how to make a super unique charm bracelet all on your own. Coins, metal discs and more can help you create this beauty.
30. Woven
Again, you'll need to visit Honestly WTF to find the tutorial for this gorgeous creation. We love everything about this look and it can easily be used in a more formal outfit or one that's more casual too.
31. Chandelier
Once again we're hopping over to Honestly WTF to find out how to make this gorgeous, chandelier-inspired charm bracelet. It's gorgeous, don't you think?!
32. Tassels
This project has to be my personal favorite on the list. Those tassels are just too charming! Check out the details and directions over at Southern Curls & Pearls.
33. Silk Chain
This delicate and boho-inspired silk chain bracelet can be DIYed right at home. Grab the help from Pretty Gossip and learn how to recreate it for yourself.
34. Braided Beads
Sometimes simplicity is the best and just some solid, braided beads can pack a punch. Check out this idea at Simply Allis and fall in love with its ease.
35. Neon
If you want a pop of color without too much fuss then you just may want to try your hand at making one of these neon cuties from Ludorn!
36. Bitty Beads
Here's a fun project to try your hand at, especially with the bead accents. Find all the details about these bitty beads over at Fave Crafts.
37. Memory Wire
Happy Hour Projects made this easy, two-tone memory wire bracelet that we couldn't help but feature on this "cool" list of bracelets to make at home.
38. Fishtail Loom
Honestly WTF is back with this awesome fishtail loom bracelet that's full of color and personality. These would make great friendship bracelets too, don't you think?
Final Thoughts
Have you picked your favorite designs yet? Maybe it's time you go buy the materials you need and get started. We just love how simple it is to create such beautiful bracelets that will go just fine with your everyday style. We do hope you liked them too and we're curious to know which ones you liked best, so drop us a note and tell us all about it.