The 7 Best Bracelet-Making Kits to Get Your Kids in 2023
When we were kids, one of the very best gifts we could possibly receive was a jewelry-making kit. There was just something so satisfying about learning how to make new kinds of bracelets with their little guides and seeing all the supplies we needed laid out and organized in a kit! We loved being able to get creative but also knowing we had everything we needed.
Now that we're the adults, we've decided it's time to gift some of the kids in our lives the same kinds of awesome bracelet-making kits that we loved so much.
Editor's Choice
Best Bracelet-Making Kits
As with anything, we wanted to do a little research before we bought anything, just to make sure we're making the right choice. By the time we felt ready to order, we had a whole list of options bookmarked, so we figured we might as well share them in order to help other people who like bracelet kits make a decision a little easier too!
If you ever made colorful knotted friendship bracelets as a kid, then you probably already know just as well as we do that embroidery floss was the best tool for the job! Buying the floss in individual bundles can get expensive, however, which is why we loved the concept of this pre-made kit from Mira HandCrafts so much.
Besides getting an awesomely organized plastic storage kit and several tools, like threaders and stitch rippers, that can make the process of creating essentially anything from the floss a little easier, you'll also get afantastic color range! This kit gives you 96 different shades, all for $20.
Pros
Features 222 pieces of embroidery floss.
Also comes with cross stitch tools.
Cons
Plastic box is a bit flimsy.
View price on Amazon
Are the kids you have in mind for this bracelet kit a little more like tiny fashion divas and a lot more into eye-catching sparkles and details than they are into simple, solid colors? Then we have a feeling you might get along a little better with something like this Juicy Couture-inspired charm bracelet kit from Make It Real!
Rather than providing you the things to make classic knotted bracelets like you might have learned in childhood summer camp, this kit lets you work with loops, chains, and charms to make fun, colorful jewelry that features all kinds of awesome pop culture-inspired shapes. It also gives you the tools you'll need to make the bracelets happen, which is a great introduction to actual, more difficult jewelry making.
Pros
Features close to 400 beads, 10 charms, and more.
Good price.
Cons
View price on Amazon
Are you actually feeling torn between the ideas of making colorful, soft bracelets from embroidery floss and the concept of making chain and charm jewelry, but you're really having trouble decided which is best? Well, whoever said you have to choose? Instead, check out this awesome kit from Make It Real!
In this kit, the emphasis is really on color. Instead of just being bright and rainbow-inspired, however, this particular collection is for the neon lovers out there! It's also a little heavier on the idea of working with beads, which is actually great for kids because it helps them develop their coordination at the same time as they hone their creative passions. The price of this kit is also possibly the best on our entire list!
Pros
Includes beads, charms, tassels, and other materials for some 10 bracelets.
Affordable.
Cons
Instructions could be better, especially given the target audience.
View price on Amazon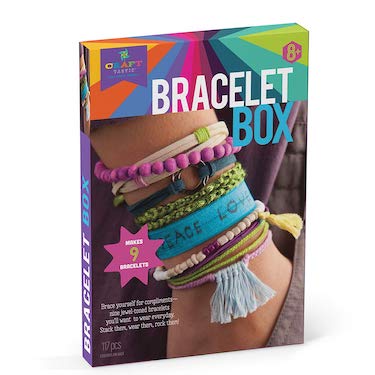 If you're going to buy a kit for someone you know who wants to practice their basic jewelry-making skills, would you rather get then something that will help them make all different kinds of bracelets in one place, rather than just giving them the materials for one specific type? Then we think you might prefer this kit from Craft-tastic!
For less than $15, this kit gives you everything you need to make nine different kinds of bracelets, which is a great idea for exposing kids to the different kinds of techniques and styles that really can be handmade and quite simple. This kit is like the sampler platter of bracelet making!
Pros
Features brightly colored materials.
Good price.
Cons
Instructions are lacking details.
View price on Amazon
If you, like us, are the kind of crafter who keeps track of what's trending the most in the craft world? Then we're sure you already know just as well as we do how much kidslove loom band crafts. That's why this rainbow loom bracelet kit from Inscraft caught our eye so well!
Besides the charms, hook tools, and easy-to-use plastic clasps that make this kit so easy to create jewelry with, the real draw of the package is the range of colored bands. This provider sends you a full helping of the colors and also gives you a replacement pack upfront, giving your kids enough bands to make bracelets to their heart's content before ever having to refill again (which is simple and affordable to do when the time comes).
Pros
Loom bands, beads, S-clips, alphabet beads, charms, and lots of tools.
Super colorful selection.
Cons
View price on Amazon
Are youalmost feeling completely convinced by the idea of getting a rainbow loom bracelet-making kit but the kids you have in mind for gifting it to are a little more patient and ready for more of a challenge than what you saw above? Then perhaps you'll have more success with this option from Rainbow Loom!
Besides giving you all the things you need to actually make the bracelets, this particular kit also gives you a display stand that can help keep your finished bracelets organized, as well as an actual looming too that will help your kids create slightly more intricate looking woven bracelets from their bands with the help of a full instructional pattern guide.
Pros
Comes with loads of assorted rubber bands.
Features extensive instruction manual.
Cons
Tools aren't very durable.
View price on Amazon
Are you actually still thinking about the idea of making classic friendship bracelets from embroidery floss, but you'd rather get a better range of patterns and instructional guides than a million colors? Then we'd definitely suggest checking out this kit from ALEX Toys!
In total, this kit offers you 22 different types of bracelet patterns and everything you'll need to makeall of them at least once. The guide shows you how to weave all kinds of shapes quite simply, including but not limited to hearts, diamonds, and flowers. Unlike the other friendship kit, this one also comes with the bonus of a range of beads, a beading tool, and the instructions for adding beads to certain designs.
Pros
Makes 22 bracelets.
Features hearts, stripes, diamonds, and flowers.
Cons
Not suitable for younger users.
View price on Amazon
Conclusion
Do you know someone else who has been trying to find the perfect bracelet-making kit for themselves or as a gift but who could use a few more suggestions before they really decide? Share this post with them, so they have a few more things to choose from!