15 DIY Valentine's Day Gifts For Her
Valentine's Day is creeping up on us and we'll soon need to figure out how to treat the special ones we have in our lives. And when it comes to the ladies, there are so many fun, creative, and inspiring ways to present her with a gift that makes her feel extraordinary and cared about. With these 15 DIY Valentine's Day gift ideas, you'll be able to do just that while adding your own two hands into the mix. These handmade bits are a great way to celebrate Cupid's favorite date of the year.
1. Glitter Tumbler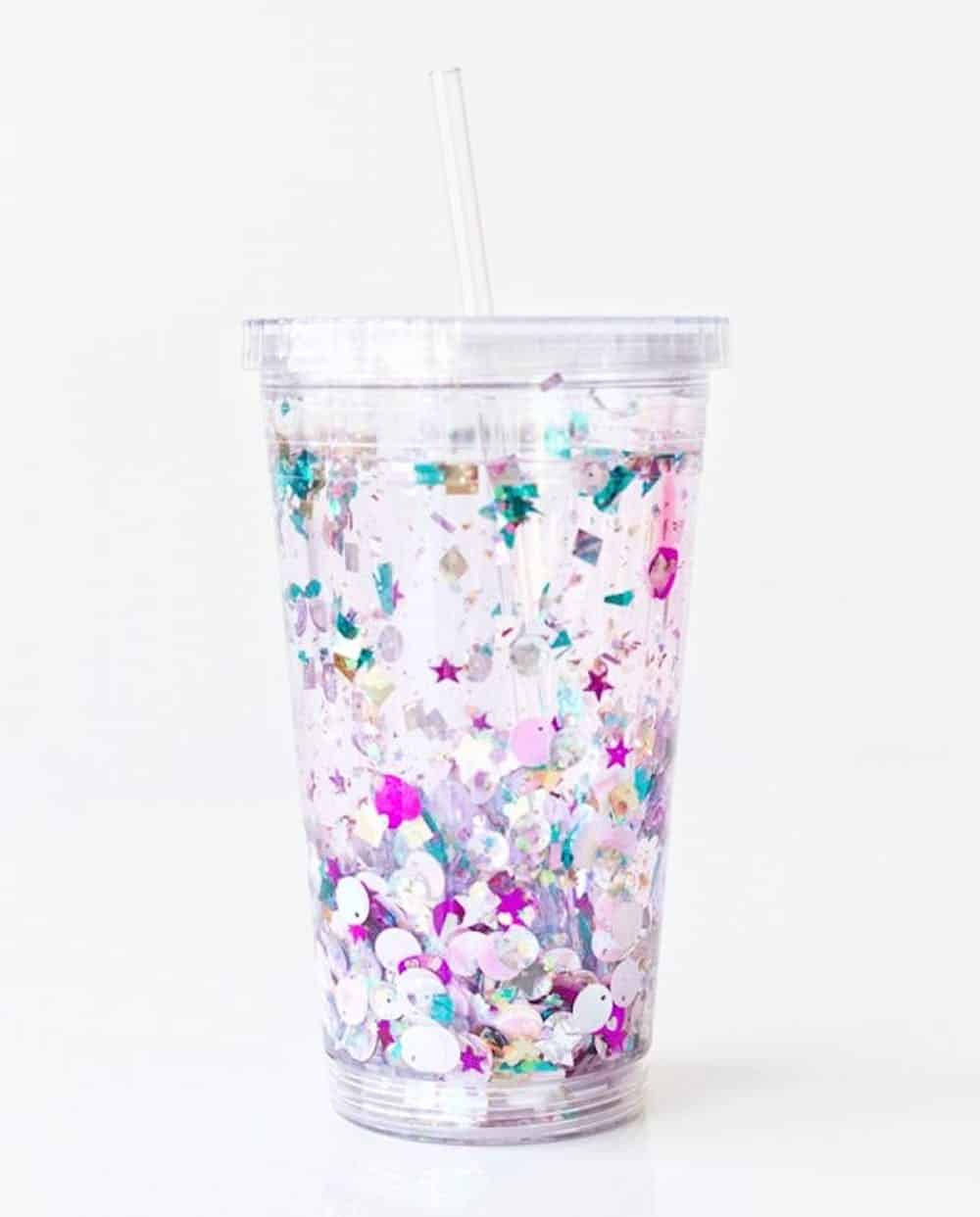 At Studio DIY, you'll be able to learn how to create one of these masterpieces. Glitter is in, especially when it's unicorn inspired. And these tumblers are not only stylish but they're super functional too – making it the best kind of gift.
2. Heart Candy Pot
Popcorn and Chocolate made a heart candy pot that's Valentine's Day inspired and super cute. Plants are always a great way to say, "I love you," or "I like you," or, "I care about you, " or even, "I'm thinking about you." Create this fun DIY in a quick afternoon and then hand it off to your sis or best friend.
3. Heart Bath Bombs
Over at Jojotastic, you'll learn all about how to create some luxurious bath bombs for her to enjoy. They're heart shaped and infused with rose. These can be the perfect addition to a spa basket you've created.
4. Conversation Heart Rings
You'll want to hop on over to Studio DIY again to check out these cuties. Make a batch of these for all your best gal pals. Each of the friends can have one that speaks to their likeness and they'll be able to keep it forever as a symbol of your friendship.
5. Gold-Dipped Keychain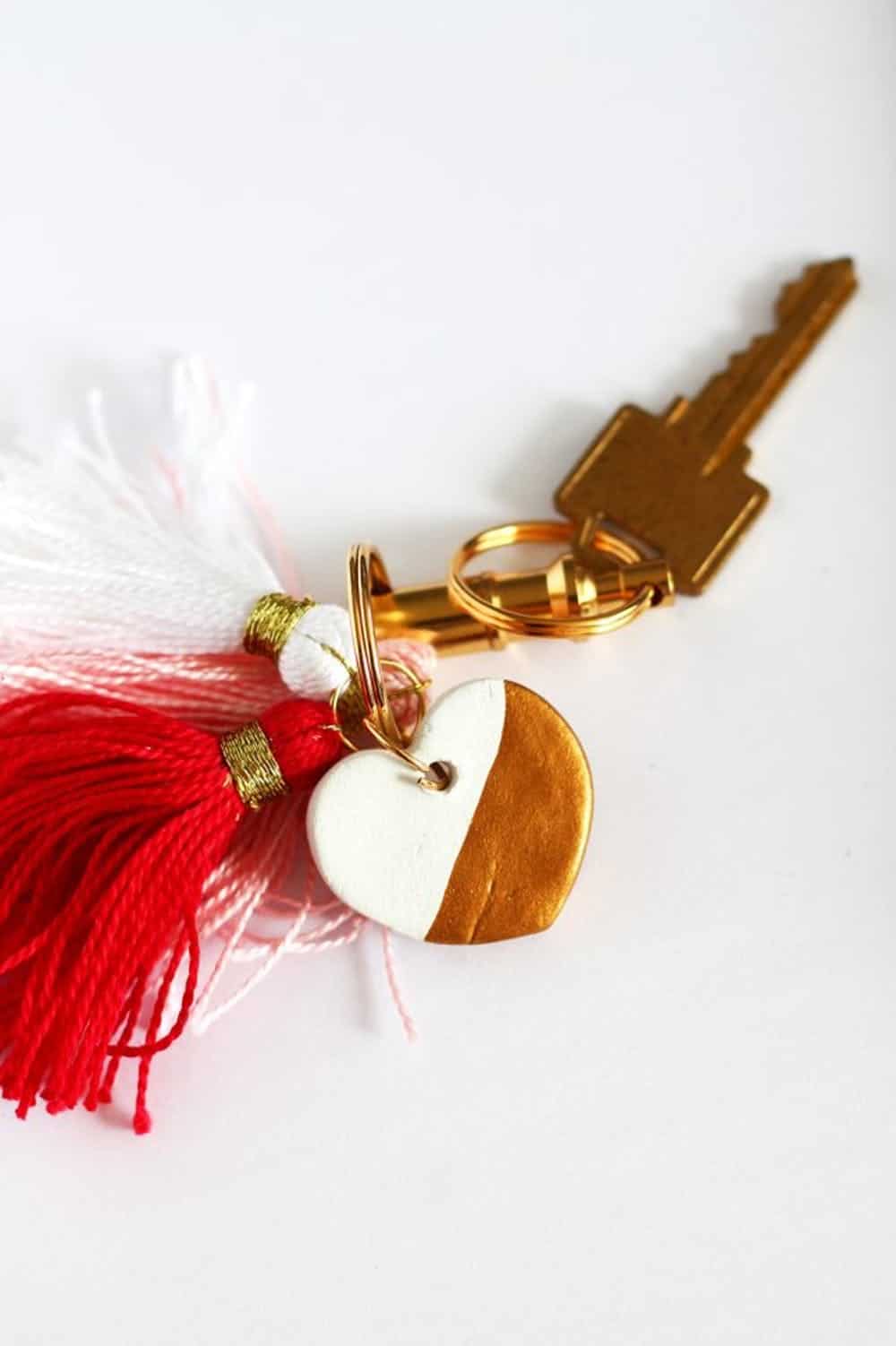 Squirrelly Minds created these adorably charming keychains that are super easy to punch out. We liked the addition of the tassels on this one as well for a super trendy styling. Hop on over for tutorial.
6. Resin Heart Paperweight
Check out this trendy little piece for a desk. Add extra festivity to your girl's work area with this DIY from Lovely Indeed. You'll learn how to make a resin paperweight full of ease and add a personal touch to it as well.
7. Fabric-Wrapped Bouquets
Put a nontraditional twist of a floral bouquet with this idea from Sugar & Cloth. Grab some fabric scraps and wrap up the flowers with something extra cozy and stylish. It's a really easy way to create something new for one of your special ladies.
8. Strawberry & Lemon Scrub
Here's another beauty-inspired gift that will be fun to give to the girls. Learn about the recipe by visiting Sweet Teal. It's a great addition to a spa-inspired gift bag or basket as well.
9. Golden Chocolate Hearts
Spruce Eats will walk you through creating these scrumptious bites. She'll love a box of these to show up at her doorstop come February 14th. Snag the recipe after the jump!
10. Natural Rose Perfume
Learn how to make some perfume for her to enjoy. If you check out Beautylish, you'll find a tutorial that will take you through the process of creating some natural rose perfume – perfect for the Valentine's Day season.
11. Pizza Jewelry Dish
Here's a quick dish you can whip up for her and she'll treasure for ever – while holding her own treasures inside of it. This pizza slice is easy to make and so much fun to utilize on the dresser or desk. Who doesn't love pizza? Check it out at Kitten Hood.
12. Floral Heart Wreaths
Design Improvised will walk you through creating these simple and beautiful floral heart wreaths. Perfect for the walls or the doors of the house, choose a shade of her favorite color and petal to get it started.
13. Conversation Heart Pillow
How adorable are these pillows? Brit + Co will show you how to whip up these cuties in a mere afternoon. Add a bit of color and festivity to their bedroom with this one.
14. Painted Mug
This painted mug is an obvious and easy DIY to follow as a Valentine's Day gift, but it's still a solid choice. The Proper Blog will walk you through the easy details and you can personalize the words to fit your relationship and your fav gal's style as well.
15. Graphic Acrylic Purse
Studio DIY has this awesome DIY up for grabs and we love how personalized it can get. Not only is it a trendy and fun piece to make, but you can really infuse your gal's personality inside of the design. Check out the tutorial after the jump.