25 Valentine's Day Gifts For Her – DIY Gifts to Show Her Your Love
Valentine's Day is one of those holidays where you get the chance to showcase your significant other just how much they mean to you, so why not go the extra mile and give them a heartfelt homemade gift?
Even though store-bought presents are lovely, there is just something about creating something special for your significant other that makes this holiday so great.
Here are 25 easy DIY Valentine's Day gifts for her that will surely put a smile on her face:
---
A Brief History of Valentine's Day
Valentine's Day started as a celebration of romance and love for people to express their feelings, whether friendship or romantic.
Of course, over time, the holiday has turned into a frenzy of buying chocolates and roses and whatnot, but the sentiment is still there, deep down inside.
The problem with Valentine's Day now is that you have so many options for gifts – flowers, candy, jewelry, etc.
Sure they are nice as a gesture, but they don't say "I love you" as much as something handmade would do.
---
The Rules of Buying a Valentine's Day Gift
When it comes to buying Valentine's Day gifts, you could easily just get away with buying a box of chocolates and a flower bouquet, but then you will probably end up with a lukewarm reaction that could have been avoided.
You can never go wrong with chocolate and flowers, but if you want something more personalized – or charming, as I like to call it these days – then read on.
The first rule is simple:

don't just buy anything
Think about your girlfriend's likes and dislikes, and do a little research into buying something that will hit her heartstrings.
The second rule is:

don't wait until the last minute
Don't procrastinate and get yourself stuck in a situation where you have to run out of the store with some random box of candy and flowers.
This would be an embarrassment for both you and your significant other if they expected something more special than this!
The third rule is:

read between the lines
Some people are subtle when expressing affection or romantic feelings, so if she gives you any hints as to what she might want for Valentine's Day, then pay attention!
If you are stumped, ask her friends or family for some ideas!
---
The 30 Best DIY Valentine's Day Gifts for Her
When we researched to create this list, we consulted with plenty of online sources, including blogs, magazines, and of course – Pinterest!
The result is the list you see below.
All of these DIY Valentine's Day gifts are unique; some are practical, some are sentimental, some are silly – but they all have one thing in common: they will make her feel special.
So without further ado, here are 30 DIY Valentine's Day gifts for her that range from simple to extravagant:
---
Starting off our list is a DIY gift idea that embodies the spirit of Valentine's Day more than any other gift on our list: a homemade photo frame.
To make a photo frame similar to the one showcased above, you'll need the following supplies: a cardboard picture frame, some dry plants, a bit of moss, a couple of wood slices, some rose, green, and white acrylic paint, a thin paintbrush, a pencil, and glue gun to bind everything together.
We've written anextensive step-by-step tutorial on the topic, but what's great about this particular gift idea is that you can adapt it based on how big you want the picture frame to be, what photo you'll be using, and what other details you may want to add.
For example, you can go ahead and add dried or silk flowers among the wood slices to give the photo frame an even more romantic feel, or you can even try using an oval picture frame as the base of your project if you want some added elegance.
However, regardless of how it will turn out, one thing's for sure: this Valentine's day gift for her will be truly appreciated!
---
A lit candle is a core element of any romantic setting, and if you want to gift that special lady in your life something that will warm her heart, a DIY candle holder in a mason jar will do just the trick.
To make this beautiful and practical decoration, you'll need an empty jar, some white vellum, some paper (red or pink will do), a pair of sharp scissors, a pencil, some white liquid glue, a red ribbon, and a brush.
For details on how to create this fantastic piece of home decor, check outthis step-by-step tutorialwhere we will be teaching you how to put all of the supplies together to create a very simple yet impactful Valentine's day gift.
For those of you that aren't exactly keen on following the guide to the letter, you're free to go ahead and make your adjustments if you want your candle holder to look different.
For example, we recommend using acrylic paints to paint the jar to give off colorful lights when you put a candle inside.
Another thing we recommend is that before you put a candle inside the jar, you first add some essential oils so that when the candle heats the inside of the jar, it will not only light up the room but make it emanate a pleasant smell as well.
---
If you loved the previous entry, you might have noticed that nothing was said about the type of candle inside the candle holder.
Well, if you want to make a custom Valentine's Day candle that will go well with the DIY candle holder described above, you can go right ahead.
To make a candle like the one showcased above, you'll have to prepare the following supplies: a regular candle (white, pink, or red will do), a length of yarn, some red felt, a pair of sharp scissors, some hot glue, a pencil, and a lighter.
This Valentine's Day candle is the perfect example of how gifts for women don't need to be complicated at all. You can create something very beautiful with some basic supplies and imagination.
For more details on making the candle, checkout our in-depth tutorialand follow the steps written there.
However, don't forget that you can add or skip whatever steps you want if you think you have a better idea of how to create a fantastic Valentine's Day candle.
Besides, if you plan on pairing the candle with the previous entry, make sure you design both the candle and the candle holders to match in terms of aesthetics and design.
---
Buying or making pieces of clothing for someone, regardless of who that person is or what the occasion is, is usually a hit or miss situation because they may not like the colors, fabric, style, or you can get the size all wrong.
However, presuming that you know your wife pretty well by now and you get everything right, one of the best Valentine's Day gifts you can make her is a DIY sequin shirt with some meaningful words written on them.
To make a shirt similar to the one depicted above, you'll need the following supplies:
A simple grey shirt
A gold sequin ribbon
A pair of scissors
Some thread and needle
A bit of chalk
As for how you can put together these supplies, simply follow this step-by-step tutorial, and you should be there in no time.
However, if you want to make something a bit different, you can make the following changes to the original design:
Use a different writing style for the word "love."
Write down a different ord instead of "love."
Use a blouse instead of a shirt
Use different colored supplies
All in all, this is a very simple yet impactful Valentine's Day gift to make for your wife, and it will not only look great but also make her feel special.
---
Unlike other holidays where giving out gifts is a tradition, Valentine's Day is one of those holidays where the gifts themselves don't need to be practical but somewhat symbolic.
That being said, if you're looking for ideas on unique gifts for women, try making a paper Valentine's Day creature.
If you want to make one of the heart-shaped creatures depicted above, you'll need some red paper or card, some paper (yellow and darker red), a hole punch, some red yarn, a pair of googly eyes, a pair of scissors, a glue stick, and a pink pipe cleaner.
For more information on how you can create this lovely little critter, check out this dedicated article that contains the exact steps, pictures, and even a video tutorial explaining how you can make it from A to Z!
You can add to the design to use a cardboard greeting card to make the base of the creature's body and write down a cute Valentine's Day message inside, basically turning your creature into a live letter.
Sure enough, the best thing about these symbolic gifts si that you can make them in however way you want. You can even ignore the tutorial entirely and make some other cute and cuddly Valentine's Day-themed creature, such as something made from lots and lots of felt or maybe even making your very ownDIY pom-pom monster.
---
The next element that's pretty much a must-have on Valentine's Day is the all-time favorite flower. Since the natural kind withers away in mere days, you can go ahead and make a bouquet that's everlasting (just like your love) entirely out of paper.
The paper flowers displayed above are a perfect example; making them is extremely easy, and the supplies needed are easy to get.
For example, to make some elegant white flowers, you'll only need some Italian crepe paper in white, some construction paper in green and yellow, watercolors, a paintbrush, a pencil, a hot glue gun, and a pair of sharp scissors to shape everything.
Keep in mind that you're free to change the flowers however you see fit, so if you want to make red flowers, replace the white crepe paper with a red alternative.
More so, you can even finish the flowers with a bit of glitter or use hot glue droplets to simulate the look of morning dew on the leaves and petals.
Besides, the flowers themselves can be arranged to create a wide variety of objects, from table centerpieces to garlands, wreaths, or even mantel decorations.
Check outthis extensive guidethat will guide you along the way to creating your very own paper flowers using everyday supplies.
---
7. Valentine's Day Gift for Your Wife – Persian Love Cake
A gift isn't necessarily an object, it can also be a special meal or dessert that you prepare, and it will feel all the more pleasant if you're the type that doesn't cook too much either.
That being said, if you want to make a Valentine's Day gift for your wife that she'll consider sweet, you can go ahead and trythis recipe for Persian love cake!
To make the cake, you'll need some finely grated zest of 1 large orange and juice of half, one stick of softened unsalted butter, one and a half cups all-purpose flour, half a cup of full-fat Greek yogurt, 5 tbsp chopped pistachios, and two-thirds of a cup of superfine sugar.
Other ingredients include:
One and a half tsp baking powder.
Two cups of ground almonds.
One tsp of ground nutmeg and rosewater.
12 cardamon pods.
Four eggs.
A pinch of salt.
Of course, the yummiest part of the cake is the white glazing, and you'll need one and a third cups of powdered sugar, the juice of 1 lemon, and some chopped pistachios and edible dried rose petals to garnish
Lastly, you don't want your cake to be all dry and crunchy, so you'll be softening it up with some syrup made using 4 tbsp of superfine sugar, the juice of 1 large lemon, and 1 tbsp of rosewater to make it.
The cake is delicious, and so is the syrup, so why not go ahead and use a bit of both when you serve it?
---
If your wife is the type of woman that owns lots and lots of jewelry, one way you can make her life a bit easier is to gift her this Valentine's Day a DIY jewelry organizer.
It's a pretty unique gift since it looks pretty much like a regular DIY photo frame, but instead of an actual photo, you have a board covered in canvas on which you can pin your jewelry.
You have to admit that the example listed above looks pretty great, and you can make your very own with just a handful of supplies.
That being said, you'll need a picture frame, some flower-patterned decoupage paper, burlap material of your choice, a silk ribbon, a lace ribbon, some decoupage glue, some light blue acrylic paint, a pair of scissors, a glue gun, and a paintbrush.
As for how exactly you can make the Valentine's Day DIY jewelry organizer photo frame, check out this extensive tutorial filled with steps, pictures, and even a video guide at the end.
Of course, if your wife has more jewelry than your DIY organizer can hold, you can follow the same steps listed above, but instead, use a large picture frame instead of a photo frame so that your organizer will end up being much larger in size.
---
9. Valentine's Day Gift Ideas for Her – A DIY Twig Monogram
Wall art is trendy nowadays, especially poetic quotes, meaningful words, or even monograms. If you're looking for Valentine's Day gift ideas for her, a monogram with her initial is the right way to start.
As you can probably tell from the picture alone, making the monogram is pretty simple and doesn't require any fancy supplies either, so it's one of those gifts that you could quickly whip up at the last minute.
To make a monogram like the one depicted above, you'll need to get your hands on some branches, a glue gun, a pencil, a pair of scissors, a paintbrush, some beige acrylic paint, a length of hemp twine, a lace ribbon, some pompons, and some pink and green felt.
As far as colors are concerned, you're free to switch up the beige, green, and pink with whatever colors your significant other loves most, but if you have no idea what those colors are, white, beige, pink, and red are a safe Valentine's Day favorite.
You can swap out is the felt flowers, and you can go ahead and use silk ones instead, or use the previous tutorial on making paper flowers and adding them to this monogram.
Another thing you can go ahead and try out is to add the twig monogram to a wreath so that it can have a bit of a backdrop since certain letters may look a bit strange if left on their own on the wall (such as "I").
For a complete guide on how to turn some twigs and some felt into a beautiful DIY monogram, check outthis article.
---
Jewelry has always been the go-to gift when it comes to ladies, and if your significant other is the type that really appreciates time and effort, then one way to win her heart a little bit more is with this DIY beaded wire heart necklace.
Admittedly, making this necklace will be a bit harder since you'll be working with much more durable materials, unlike the typical paper, cardboard, and felt you've seen in the majority of our previous entries.
As such, you'll need to have some chain, a handful of colored beads, a jump ring, some thick wire (bronze or brass will do), some thin wire (bronze, brass, or stainless steel are recommended), some round-nose pliers, and some regular pliers.
You can go ahead and swap out the beads with some colored costume jewelry, and you can even use some gold or copper metal paint to give the necklace a more luxurious feel.
However, just one look at the final result, and you'll realize that all that effort and patience will be worth it, so go right ahead and put your metallurgy skills to the test and create a necklace that will say, "you're worth my time."
More of the Best Gifts for Women on Valentine's Day
The previous entries were the ones that e found to be the most talked-about this year, but just because they're the latest doesn't mean that you have to like the ideas.
That being said, the following 15 gift ideas were the latest rage in the past, so if you're looking for a little more history, then these will do the trick.
11. Glitter Tumbler – Valentine's Day Gifts for Her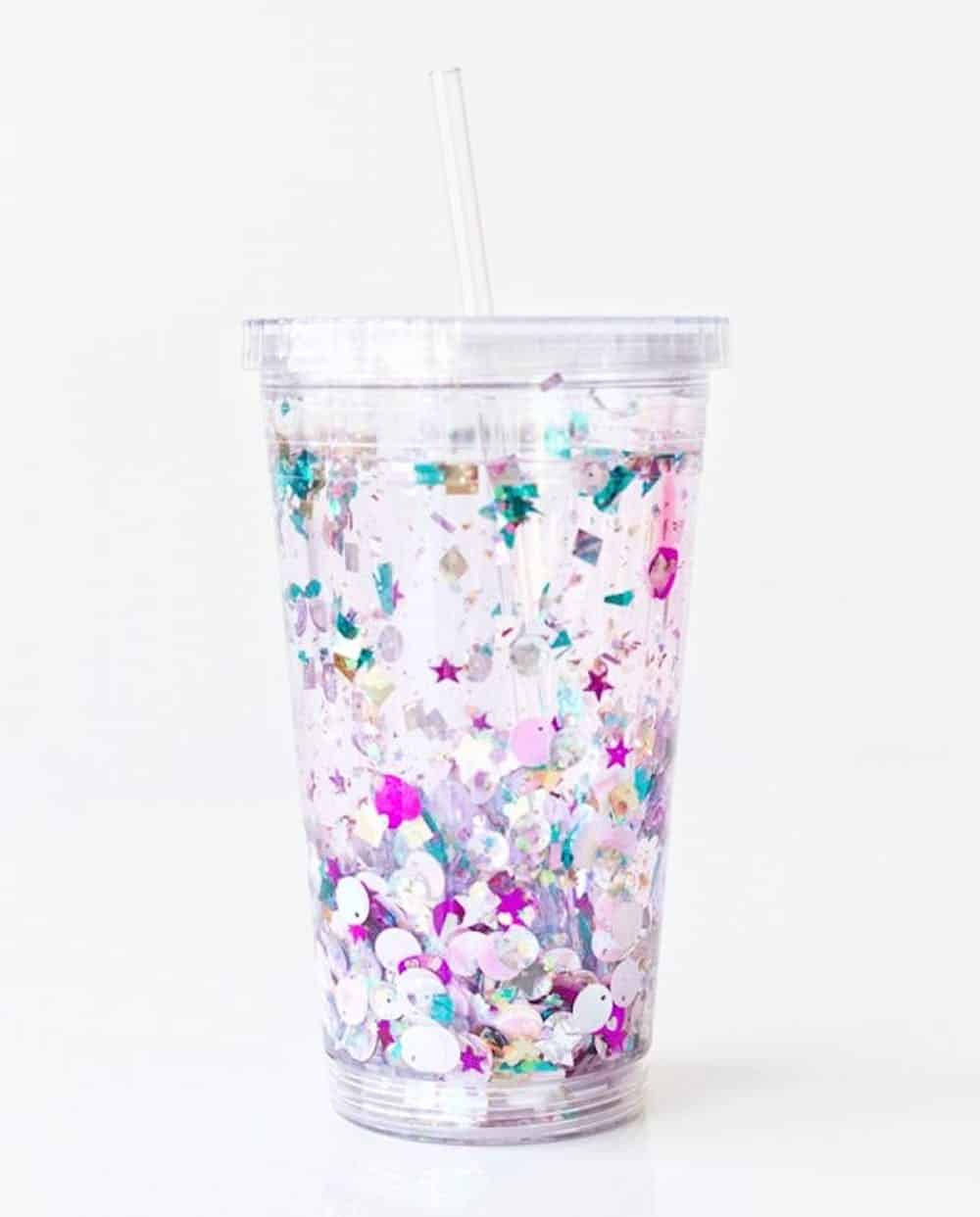 AtStudio DIY, you'll be able to learn how to create one of these masterpieces. Glitter is in, especially when it's unicorn inspired. And these tumblers are not only stylish but they're super functional too – making it the best kind of gift.
12. Heart Candy Pot – Valentine's Day Gift
Popcorn and Chocolatemade a heart candy pot that's Valentine's Day inspired and super cute. Plants are always a great way to say, "I love you," or "I like you," or, "I care about you, " or even, "I'm thinking about you." Create this fun DIY in a quick afternoon and then hand it off to your sis or best friend.
13. Heart Bath Bombs – Valentine's Day Gifts
Over atJojotastic, you'll learn all about how to create some luxurious bath bombs for her to enjoy. They're heart shaped and infused with rose. These can be the perfect addition to a spa basket you've created.
14. Conversation Heart Rings – Valentine's Gift Ideas
You'll want to hop on over toStudio DIYagain to check out these cuties. Make a batch of these for all your best gal pals. Each of the friends can have one that speaks to their likeness and they'll be able to keep it forever as a symbol of your friendship.
15. Gold-Dipped Keychain – Valentine's Day Gifts for Her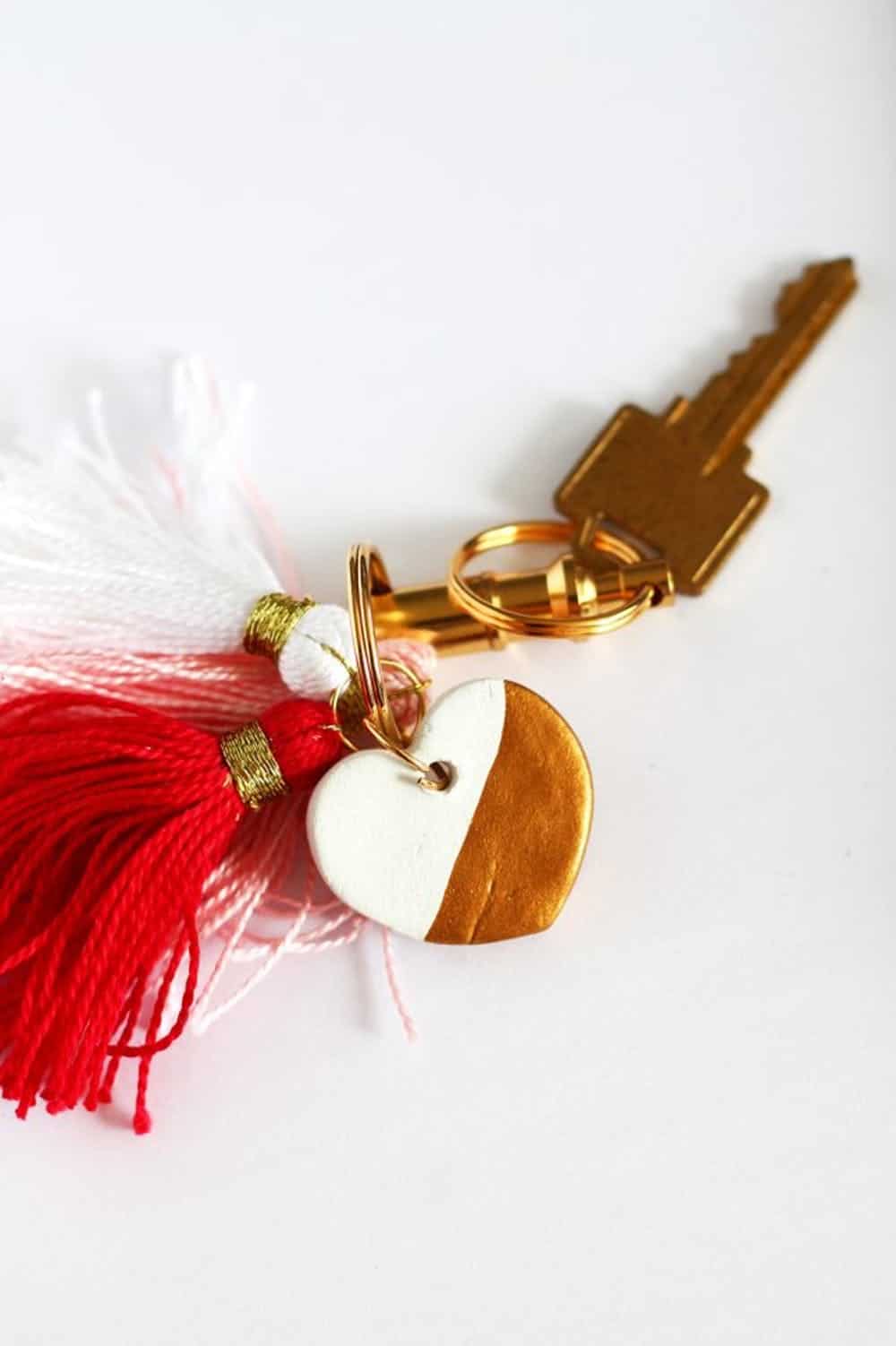 Squirrelly Mindscreated these adorably charming keychains that are super easy to punch out. We liked the addition of the tassels on this one as well for a super trendy styling. Hop on over for tutorial.
16. Resin Heart Paperweight – Cute Valentine's Day Gifts
Check out this trendy little piece for a desk. Add extra festivity to your girl's work area with this DIY fromLovely Indeed. You'll learn how to make a resin paperweight full of ease and add a personal touch to it as well.
17. Fabric-Wrapped Bouquets – Cute Valentine's Day Gifts
Put a nontraditional twist of a floral bouquet with this idea fromSugar & Cloth. Grab some fabric scraps and wrap up the flowers with something extra cozy and stylish. It's a really easy way to create something new for one of your special ladies.
18. Strawberry & Lemon Scrub – Valentine Day Gifts for Girlfriend
Here's another beauty-inspired gift that will be fun to give to the girls. Learn about the recipe by visiting Sweet Teal. It's a great addition to a spa-inspired gift bag or basket as well.
19. Golden Chocolate Hearts – Romantic Gifts for Her
Spruce Eatswill walk you through creating these scrumptious bites. She'll love a box of these to show up at her doorstop come February 14th. Snag the recipe after the jump!
20. Natural Rose Perfume – Best Valentine's Gift
Learn how to make some perfume for her to enjoy. If you check outBeautylish, you'll find a tutorial that will take you through the process of creating some natural rose perfume – perfect for the Valentine's Day season.
21. Pizza Jewelry Dish – Cute Valentine's Day Gifts
Here's a quick dish you can whip up for her and she'll treasure for ever – while holding her own treasures inside of it. This pizza slice is easy to make and so much fun to utilize on the dresser or desk. Who doesn't love pizza? Check it out atKitten Hood.
22. Floral Heart Wreaths – Best Valentine's Day Gifts
Design Improvisedwill walk you through creating these simple and beautiful floral heart wreaths. Perfect for the walls or the doors of the house, choose a shade of her favorite color and petal to get it started.
23. Conversation Heart Pillow – Good Valentine's Day Gifts
How adorable are these pillows?Brit + Cowill show you how to whip up these cuties in a mere afternoon. Add a bit of color and festivity to their bedroom with this one.
24. Painted Mug – Cute Valentine's Day Gifts
This painted mug is an obvious and easy DIY to follow as a Valentine's Day gift, but it's still a solid choice.The Proper Blogwill walk you through the easy details and you can personalize the words to fit your relationship and your fav gal's style as well.
25. Graphic Acrylic Purse – Fun Valentine's Day Gifts
Studio DIYhas this awesome DIY up for grabs and we love how personalized it can get. Not only is it a trendy and fun piece to make, but you can really infuse your gal's personality inside of the design. Check out the tutorial after the jump.
Best Valentine's Day Gifts for Her: Closing Thoughts
This concludes our extensive list of some of the best DIY Valentine's Day gifts for her.
Of course, some couples are looking for something extravagant to spend on each other, but if you're on a budget or simply looking for something more casual and personal, then these ideas will be perfect!
More so, remember that Valentine's Day is just one Day out of 365, so don't limit your tokens of affection to this day only, but be sure to show you care all year round.
One last thing: don't forget to click on each of the links included in this article (and throughout the website) to see more detailed descriptions, pictures, and prices for each idea.
Good luck and have fun!