DIY Valentine's Day Paper Flowers
Believe it or not, Valentine's Day is right around the corner. Which means that it's time to start making some festive decorations! I'm not a huge fan of brightly colored hearts hanging up everyone for Valentine's Day, but I do love to show some spirit… so this year I decided to make some pink and white paper flowers to decorate my mantel. And I'm sharing the tutorial with you!
Here's what you'll need for this project:
Construction paper in green and yellow
Watercolors
Paintbrush
Pencil
Hot glue gun
Scissors
Begin by cutting a circle from the yellow construction paper and trim little slits all the way around, as shown above. There should be a one inch diameter area in the center that doesn't have any slits.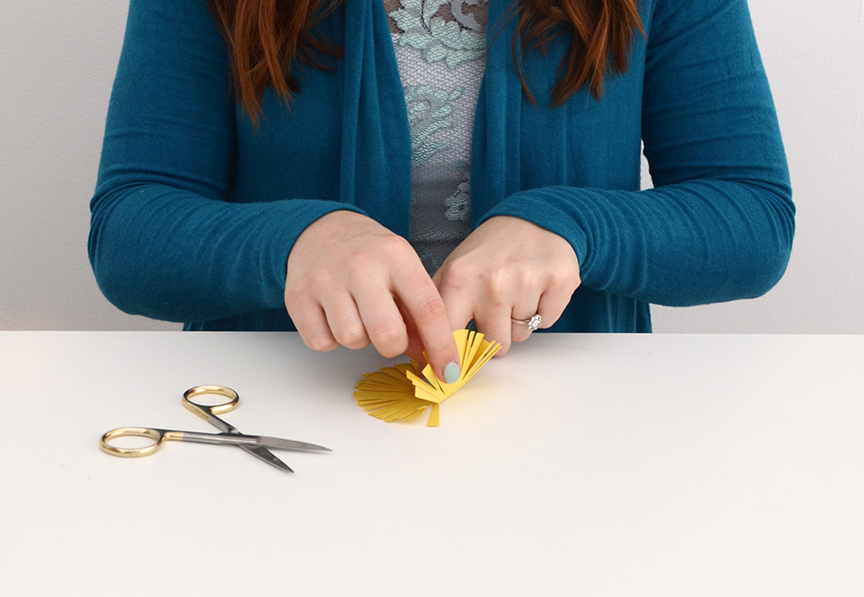 Place your pointer finger in the center of the circle and then fold all of the outer pieces upward. This will be the center of the flower, representing the stamens.
Next, cut a strip of crepe paper that is about 6 inches wide, and then fold it into fourths. Cut a round-ish petal sort of shape like I've shown above. The pencil marks were for the tutorial's sake only… if you decide to use pencil to draw your petals, make sure you cut inside of the line or else you'll be able to see the pencil on the final piece. Cut out the shape, going through all four layers. This doesn't have to be exact – a flower is an organic thing, so wonky edges will only make it look more flower-like.