25 Valentine's Day Dessert Ideas Using Discount Valentine's Day Candy
Those of you that have been through a few Valentine's Day in your life know that two things are a must-have if you're planning a romantic surprise: flowers and candies.
Because of this, the couple of days that immediately follow Valentine's Day are usually filled with overstock seasonal candy at an awesomely discounted price.
The best part about this candy is that it's just as delicious and perfectly edible. Still, the simple fact that it has "Valentine's Day" written on the packaging is what makes it available at incredible discounts (sometimes even upwards of 70%).
With so much candy being up for grabs, it would be a shame not to take advantage and stockpile candies that can make for excellent ingredients in homemade sweets.
With that in mind, we went ahead and created an extensive list of 25 different and delicious recipes that make use of leftover Valentine's Day candies.
---
What Kind of Candies End up on Stock after Valentine's Day?
An all-time favorite type of candy on Valentine's day is the classic box of chocolates, and there are plenty of ways you can use them to make your desserts.
Another type of candy that is usually plentiful around Valentine's Day – or any gift-giving holiday, for that matter – is hard candies.
There are many types of candies that can be edible in their raw form but which turn into tasty ingredients when mixed with other ingredients, for example:
Lemon drops
Peppermints
Cinnamon hearts
Marshmallow Peeps
Toffee enrobed in chocolate
All of these leftover candies can either be used to make your homemade version (keeping the shape intact) or cut them up or melt them to incorporate into other desserts like cupcakes and cakes. The possibilities are endless!
---
Best Desserts Made with Valentine's Day Candy
Since there are endless possibilities as to how to take leftover candy and incorporate it into homemade desserts, it was pretty challenging to compile a list of 25 entries when hundreds of them looked positively delicious.
However, we focused primarily on recipes that were as easy to make as possible, even for those who don't know your way around the kitchen too much.
More so, we also tried looking for recipes that could incorporate as many leftover candies as possible since it would be helpful to get rid of as many of them as possible using a single dish.
That being said, here are the ten recipes that everyone on the Internet is talking about:
1. Valentine's Day Dessert Recipes – Dessert Kabobs
Starting off our list of homemade Valentine's Day desserts is something you may not think of making right off the bat, namely a dessert kabob.
You see, candies aren't the only things that can end up being unsold, as this can happen to bakery and pastry goods as well, including brownies, and we all know that brownies turn rock-hard after a few days, so it would be a shame to let them go to waste.
Of course, you're free to make your brownies, especially for this recipe, and this can be a great chance to make use of any leftover Valentine's Day chocolates that you may have bought in bulk.
To make the arrows, you'll need gold foil paper, some bamboo skewers, a pair of scissors, some glue, and a pencil.
As for how to make these golden arrows, check outthis in-depth articlefor more information, pictures, and step-by-step instructions.
Sure enough, what makes this recipe particularly suited isn't necessarily the way they taste (they're still essentially brownies after all), but rather the presentation, since having brownie balls skewered on Cupid's arrows makes everything look more delicious.
Chocolate is always a big seller on Valentine's day, but this also means that it's among the desserts that end up going to waste the fastest unless creative cooks like yourself find ways to make use of them.
This also applies to sugar-free chocolate, especially given that the general public is now more aware of the safety concerns of consuming high quantities of sugar.
That being said, if you managed to get your hands on some discount sugar-free chocolate, one of the best desserts that you can make with it is a batch of Keto Valentine's Day chocolate chip cookies.
Besides the sugar-free chocolate, you'll also need some almond flour, artificial sweetener, unsalted butter, eggs, vanilla extract, baking soda, salt.
Normally, you'd have to use chocolate chips to make the cookies, but instead, you can just take your sugar-free chocolate bar and chop it up into tiny pieces using a kitchen knife.
For detailed ingredient quantities and instructions as to how you can mix them all, checkthis dedicated article; it includes steps, pictures, nutritional information, and more.
Tip:The dough can be frozen for up to three months and baked straight from the freezer, just as long as you remember to add 2-3 minutes more to the baking time.
Chocolate-covered strawberries are a type of homemade dessert almost synonymous with Valentine's Day and romance, and they're also the go-to dessert whenever someone has a hot date planned out.
Well, strawberries are easy to find this time of year, and there's plenty of leftover chocolate available right after Valentine's Day, so it would be a shame not to take advantage of any potential bargain.
To make this dessert, you'll need one pack of fresh strawberries, one cup of leftover white chocolate (or white candy melts), and one cup of white chocolate mixed with red food dye (or a cup of red candy melts).
Start by washing the strawberries and then completely drying them. Place them on a plate or tray that can easily fit into your fridge.
Once they're dry, place the chocolate in a bowl, heat it using either the microwave or by placing it inside a pot of hot water until melted down.
You can also do this step twice – first, the white chocolate to coat the berries with it, and then red chocolate to give if that Valentine's look.
To make sure you completely cover each berry with enough chocolate, grab toothpicks (one for each berry) and use them as skewers to dip each strawberry into the bowl one after another until coated all over.
Then place them back on the clean plate, making sure they're not touching, and place some chocolate sprinkles on top as decoration and enjoy!
4. Easy Valentine's Day Desserts – White Cocoa Bombs
If you love white chocolate but aren't too keen on the previous recipe, then you can try making white cocoa bombs instead since these will metaphorically explode in your mouth with flavors and texture.
The great thing about this particular recipe is that you can use several types of leftover candies to make them, so with a bit of looking, you can make this dessert almost entirely out of discount ingredients.
As such, you'll need:
White chocolate
Some cocoa mix
Sprinkles and crushed candies
Marshmallows
Besides the cocoa mix, all three ingredients can be found at a discount price in one form or another after Valentine's Day.
For more details on making these delicious flavor bombs, including preparation steps, ingredient quantities, and more, check out this article fromLife Family Fun.
Admittedly, this particular recipe isn't exactly suited for beginners since there are many complicated steps involved, especially the part where you need to connect the cocoa bombshell, which will require some practice.
Thankfully enough, Valentine's Day is over, so there's no deadline, and most of your ingredients will have been purchased at a discount price, so your first few mistakes won't cost you too much at all either.
All in all, these desserts look and taste amazing, and don't be surprised if you're guests end up asking you whether they are storebought or not.
Those of you that have done their fair share of Valentine's Day shopping may have noticed that there's nothing really special about the recipes themselves and that it's mostly all about the presentation.
For example, they're usually shaped like hearts or have plenty of heart-shaped motifs, or they will use a lot of red or pink.
Well, this next entry follows that exact trend, as it's a heart-shaped cookie bar that uses pink sprinkles.
To make a batch of these lovely goodies, you'll need salted butter, some brown sugar, some granulated sugar, eggs, vanilla extract, flour, and baking powder.
As for the leftover candy, you'll be incorporating into the recipes, we'll be using leftover Valentine's Day chocolate that we'll be chopping up to make chocolate chips. We'll also be using limited editionValentine's Day M&Ms.
The best thing about this recipe is that since it's still basically cookie dough, you're working with, you can prepare it right after you've bought the Valentine's Day candies at a discount price, freeze it, and make them later.
If this dessert sounds precisely like something you'd like to try out, check out this detailed article fromLife Family Funfor more details on ingredient quantities, preparation steps, the list of tools that you'll need, and more.
Those of us that are a little bit older and a little bit wiser may remember the good old times where you'd write a love letter to that special person in your life and wait for days for the mailman to bring you their reply.
Well, if you have fond memories of those times, and want to bring back just a little bit of that magic, one way to do so is with a love letter-themed dessert.
The good news is that there's this veryneat recipe for love letter cookies, and the best part is that you can make use of a lot of leftover Valentine's Day candy to make them.
Thus, you'll have to bring together some graham cracker squares, some white fondant, some red edible food marker, pink or white frosting, powdered sugar, and some small candy hearts.
As for what tools you'll need, have some toothpicks, a small square cookie cutter, and a rolling pin at hand.
As you can tell from the picture above, after reading the dedicated guide, you'll notice that making these cookies will feel more like an arts & crafts class rather than a baking session.
However, remember that there's nothing wrong with that since baking should be fun, not stressful.
One thing to keep in mind, though, is that the hardest part about these love letter cookies isn't making them but eating just one of them, especially considering since a single cookie has an estimated 148 calories.
This little dessert idea is the ultimate way to get rid of any leftover Valentine's Day candy.
It's a board filled with a little bit of everything for your to nibble or dip in, andthis particular recipe from Lemons for Lulucalls for one that's focused on hot chocolate.
You can put anything on a charcuterie board, and it will be appreciated and delicious; just as long as you remember, that variety is key, making it the perfect opportunity to get rid of all of your sweet leftovers.
You can include almost anything, such as marshmallows, caramels, mini Reese cups, Andies mints, Hershey Kisses (including peppermint Kisses), peppermint candies, candy canes, regular sprinkles, etc.
Of course, a charcuterie board wouldn't be complete without a few bowls of dipping sauces, and we recommend that you make them using any extra chocolate or caramel sauce, whipped cream, Nutella, peanut butter, or Biscoff.
The only drawback with this idea is that since you'll be leaving it out in the open for everyone to help themselves to it, they'll eventually go stale, so a charcuterie board doesn't have a very long shelf life once you've made it.
However, if you're planning a big party where most of your guests have very different tastes, the board will probably end up empty before the melted chocolate even has a chance to harden again.
During the cold season, especially around Christmas, cinnamon-based desserts are extremely popular, and that's why we decided to include a recipe for heart-shaped cinnamon rolls in our list.
Not only do they look the part of a great homemade post-Valentine's Day dessert, but they're also easy to make, and they can use a lot of leftover candy if you know your way around sprinkles and glazes.
The cinnamon rolls themselves don't need any special ingredients or preparations, so you can even use storebought ones and simply add your own Valentine's Day glazing over.
If you do so, then the only ingredients you'll need to worry about will be the ones for the glazing, but thankfully there are just two of them:
Sprinkles of choice
Pink gel food coloring
Of course, you can swap out the sprinkles with some rock or hard candy that you thoroughly crushed, although we recommend that you stick to white, pink, or red candy because of the Valentine's Day symbolism.
According toLife Family Fun's original recipe, making an entire batch of these goodies takes very little time (if you already have the cinnamon rolls), and you can prepare several trays in less than an hour.
The best thing about this dessert is that you can store them in your fridge for several days, although we do recommend eating them when they're fresh out of the oven.
There's something about good old-fashion pies that makes you feel at home when you take a bite out of them, and while you're probably used to eating pies with custard of fruit filling, thisValentine's day themed recipe from Bijoux & Bitsis loaded with candy instead.
The pie itself is made using regular old cookie batter, and as for the decorative candy, you can find pretty much anything you have left on your shelves after Valentine's Day, from heart-shaped peppermints to pink marshmallows and chocolate bonbons.
To make the cookie batter, you'll need some all-purpose flour, some semi-sweet chocolate chips (or any leftover chocolate that you've chopped to pieces), unsalted butter, eggs, some light brown sugar, some granulated sugar, salt, and vanilla extract.
As for the candies used, feel free to use whatever you like, although we recommend that you don't mix in too many flavors; otherwise, you'll end up with a colorful sweet mess.
For example, if you already have loads of chocolate sweets, don't go ahead and add dried fruit, gummies, and jam.
Another key factor in making this pie work is the way you decorate it, so go ahead and try out different toppings and designs before finally settling on something that will make your guests want to eat everything off their plate and ask for seconds.
10. Valentine's Day Candy Gifts – Unicorn Bark
The perfect dessert needs to meet two basic requirements to be considered a roaring success:
It needs to look appetizing
It needs to taste amazing
Well, if appetizing is your main focus, then this recipe for "unicorn bark" fromAll Recipes will positively blow your mind. Besides, achieving such a colorful result requires that you mix in different types of candy, making this recipe a real shelf cleaner.
The original recipe asks for three coarsely chopped white chocolate bars, pink candy melts, turquoise candy melts, mini marshmallows, multicolored candy sprinkles, and a package of conversation heart candies.
Sure enough, you can go ahead and tweak the recipe to your specific needs, just as long as you manage to achieve the same look at the end (for some reason, the combination of white, pink, and turquoise has become synonymous with unicorns).
The best part about this recipe is that it's very versatile since just changing the color of the added candies can make it suitable for other holidays.
For example, if you're looking to make some Christmas unicorn bark, mix in red and green candy melts, while Halloween-themed bark calls for orange and black melts.
All in all, presentation is the key, and we hope that you'll find the taste of this dessert to be as magical as its name makes it sound.
---
More Valentine's Day Dessert Ideas
Desserts have always been a favorite during Valentine's Day, but that doesn't mean that trends from all around the world don't influence the concept.
As such, while the previous entries are what everyone is talking about at the moment, here are some other solid dessert ideas that you can try out using leftover Valentine's Day candy.
These recipes were very popular a few years back, and if all you're interested in is making something that looks and tastes delicious, then go right ahead and read up on the following 15 entries!
11. Heart-Shaped Sprinkles Valentine's Day Dessert Recipe
Did you take a walk down the baking section at Walmart and come out with all kinds of novelty-shaped sprinkles and cake toppers even though they're not exactly seasonal anymore? Never fear! Kiddiefoodies is here to remind you that heart-shaped cupcakes and brownie bites are never a bad thing. After all, you don't need an excuse to tell your kids or your partner that you love them, right? Top those yummy little cakes with those discount sprinkles no matter what month it is!
12. Conversation Hearts Valentine's Day Dessert Recipe
Are you celebrating Valentine's Day a little bit late this year because you and your partner have a long distance relationship and this is the first time you'll be seeing each other since before the holiday? Then you're in serious luck with all of those discount candy prices! Make them something really unique and impressive to use up those hilarious sugary conversation hearts, like this cake from Hungry Happenings that has a cool candy surprise in the middle.
13. Lip Shaped Gummies Topping Valentine's Dau Dessert
Do you have a small quantity of funny Valentine's Day candies but not enough to decorate an entire cake with? Then try making adorable little mini cakes instead, just like Oh Nuts did here! Of course, you could make these any time of the year, but there's nothing wrong with a silly set of gummy lips on top of a nice dessert for a loved one even though it's almost March.
14. Valentine's M&Ms Dessert Idea
There are so many candies and chocolates that come in novelty Valentine's Day colors around this time of year, and we're always very pleased about it. After all, there's nothing wrong with a little bit of bright treat decor, no matter the season! Lil' Luna shows you how to make a deliciously sweet white chocolate and strawberry bark, topping it with red M&M's to complement the flavor and color scheme, even if it's not the "season of love" anymore. It just plain looks cute!
15. Pink Wafer Valentine's Day Dessert
Does your child have a birthday that's right near Valentine's Day, but just a little bit afterwards? Then you can hit the discount candy jackpot every year! You might not theme your party treats with hearts like this design did, but making these little wafer cookie choo-choo trains like Party Pinching did here is still an awesome idea for a kids' party. You could even have them help out so that you get a snack and a party activity all in one!
16. Valentine's Day Dessert Idea with M&Ms
You don't necessarily have to make your cake in the shape of a heart like this one, since Valentine's Day is, in fact, over for the year, but the concept is still one that perfectly uses your discount candy and looks totally awesome no matter what shape you choose! We have confidence that you'll be able to find both Kit Kat bars and M&M's on sale right around this time, just like Taste of Home did here.
17. Valentine's Day Heart Candy
Did you pick up some heart-shaped sprinkles but your loved ones aren't really huge fans of cake-based treats like cupcakes or brownies? Try making them Rice Krispy treats instead! You might not shape yours like hearts the way It's Written on The Walls did, since that's pretty seasonal, but covering part of each treat in chocolate and sprinkling it, no matter what shape of sprinkle you're using, is a delicious idea any time of year.
18. Conversation Valentine's Hearts on Marshmallow
Did you pick up so many discounted conversation hearts that you couldn't have possibly fit them all in the middle of a cake the way we showed you above? Then try making these hilarious little marshmallow pops too! Sure, these ones look pretty seasonal, but we like the idea of expressing your love for the people around you any time of year (and, if we're being honest, we're always down for a little extra sugar). Party Pinching shows you how these cheerful pops are made!
19. Valentine's Gumdrops Dessert Idea
Were you feeling the mini cakes idea we talked about above but you're not sure that gummy candies and cake really go together? Try using gumdrops or sugar candies instead! This is the kind of recipe that our kids would go crazy for because it combines more than one very sweet thing and we know they won't care what shape or colour of candy we use, so we might as well get it on discount. Check the idea out on Oh Nuts!
20. Valentine's Colored Icing Heart Dessert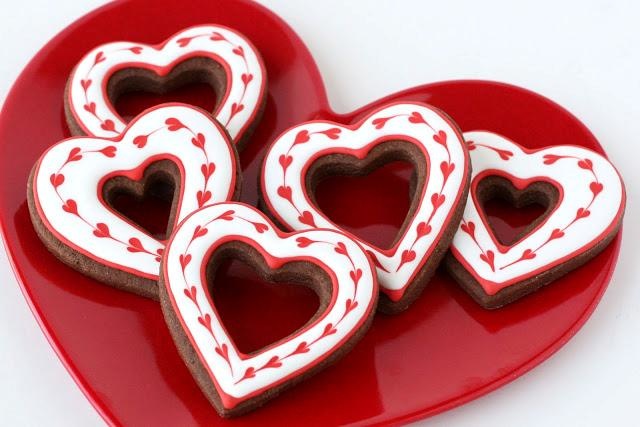 Valentine's Day isn't the only time of year that icing in red or white shades is useful! We've given you a heart shaped suggestion here because we've actually tried these unique cookies from Glorious Treats and we very much enjoyed both shaping and icing them this way, but you could make just about any iced baked good using white and red.
21. Heart-shaped Marshmallow Valentine's Day Dessert
Are your kids absolutely crazy about marshmallows no matter what kind of year it is? Well, those are definitely on sale in stores right now too! They might be mostly shaped like hearts, but don't let that stop you. Party Pinching suggests flipping the hearts upside down on little kebab or lollipop sticks and decorating them to look like cute kitty cats instead.
22. Heart-Shaped Gummies Valentine's Dessert
Have you always been a big fan of treats that combine sweet and salty flavors? Then grab some yummy pretzel sticks and check out the discount post-Valentine's Day section for some sugary chewy candies! Heart-shaped treats are awesome for making funny little arrows with your kids, but you could create all kinds of shapes using the same method as One Little Project.
23. Heart-shaped Valentine's Day Pretzels
Maybe you like sweet and salty snacks but it's the pretzels that you're getting in the seasonal discounts? Well, we don't see anything wrong with giving your kids some heart shaped snacks to make them feel appreciated! Check out how Simply Designing little sweet and salty sandwiches in a way that will use up your discount Valentine's icing too!
24. Valentine's Day Desserts – Wafers and Sprinkles
Did you get lucky with a whole pack of discount wafer cookies right after Valentine's Day but your kids aren't really into trains enough to get you trying the idea we included above? Then try something a little simpler instead! No matter what kind of icing or what shape or sprinkles you've got, making these adorable dipped cookies will be lots of fun. Get the full details on Family Fresh Meals.
25. Valentine's Day Dessert Idea – Cake with Valentine's Day Candy Hearts
Did you get a little bit carried away in the discount Valentine's Candy section this year and now you're overwhelmed and don't know what to do with it all? Well, here's an idea that's sure to keep you and your kids amused both in making it and in eating it! Check out how Eat Make Celebrate created a layered cake that's basically a sweet, eye-catching free-for-all.
Valentine's Day Trivia: Who Invented the First Heart Shaped Valentine's Day Candy Box
The first heart-shaped candy box was invented by John Cadbury and si son Richard Cadbury back in 1861, and they did it to increase the sales of their chocolate factory.
Valentine's Day Candy Ideas: Closing Thoughts
While Valentine's Day is always on the 14th of February, we believe that love should be celebrated every day of the year.
So, even if you missed the chance to get that fancy box of chocolates on Valentine's Day, you can always buy it at a discount the following day and make something that's even more fantastic!
The recipes we included on our list were all chosen because of how delicious and easy they were to make, but you don't have to adhere to them strictly when making your dessert.
If you think that you can do better or want something different, there are dozens upon dozens of recipes on the Internet that are all fueled by leftover Valentine's Day candy, so go ahead and try out whatever sounds good to you!
We hope that this list inspired some new ideas for desserts in your home and that you can finally let your pastry skill and your imagination run wild!
Happy Valentine's Day, and have fun making sweets!