35 Stunning Thanksgiving Centerpieces and Fall Table Decor
Thanksgiving has become a tradition in America, and an excellent chance for families and friends to gather together and give thanks for what they have around a table that's filled with delicious goodies and decorated with stunning Thanksgiving centerpieces.
While it can be difficult to plan Thanksgiving dinner with all the cooking, dishes, and side dishes that need to go on the table – we typically don't put as much thought into our Thanksgiving centerpieces as we should!
Luckily we've put together some beautiful ideas so you can put as much thought into your Thanksgiving centerpieces as you do your turkey this year!
You won't find any pine cones or oversized red velvet bows here, instead, we've complied 35 stunning Thanksgiving Centerpieces that any hostess would be thrilled to have on their table.
These Are the Best Thanksgiving Centerpiece Ideas of 2021
Even when we're talking about a holiday that's 400 years old and bound to be full of traditions that have remained unchanged over the course of time, there's no denying that it's impossible for everyone to like the same decorations year after year.
The same applies to the all-too-common Thanksgiving centerpiece, as this too is affected by the ever-changing trends that appear year after year.
Well, we've done a bit of research over the Internet to see just exactly what centerpieces are the most popular in 2021, and we came up with 10 entries that seem to be the talk of the town.
1. Thanksgiving Centerpiece – Fall Table Centerpiece
Thanksgiving dinner originated as a way to be thankful for everything that a person has, and 400 years ago this mostly revolved around appreciating how bountiful the crops were during that year's harvest season.
Well, if you'd like a Thanksgiving centerpiece that will honor that nostalgic feeling, as well as one that perfectly showcases all of the beauty of the fall, look no further than this fall table centerpiece.
If you want to make your own centerpiece to look like the one in the picture above, you'll need to have an assortment of silk or real flowers, a pair of sharp wire cutters, a roll of tape, a large wooden container, and enough vase filler of your choice.
Once you've gathered all of these things together (and washed and dried your container), it's time to start putting everything together.
The first thing you should do is to take your silk or real flowers and cut them so they fit nicely in the container, and then place the flowers inside of your container and secure them with strips of tape.
Once you've added all of your flowers to the center of the vase, take a look and see if there's anything else you need to add in order for everything to really pop.
Also, ensure that when they're placed around your vase they aren't tucked too close or touching any parts of it (other than their bottoms) since this can also make your table look sloppy.
After you've gotten everything placed on the table you can step back to take a look at it, and if anything looks out of place then feel free to change it around until it looks perfect.
2. Thanksgiving Table Centerpieces – DIY Thanksgiving Table Decor
If you liked the previous centerpiece, but are looking for something with a more luxurious feel to it, then here is one of those Thanksgiving table centerpieces that take advantage of how alluring gold is.
This DIY Thanksgiving table decor takes full advantage of natural elements that are typically associated with the fall, like pumpkins, fruits, and fallen leaves, and makes them look like they were touched by King Midas.
To make a single centerpiece like the one presented above, you'll need scrap wood, 5 mercury glass votives with tea lights, gold paint (gold leaf will work just as well), a paintbrush, 3 small pumpkins, 6-8 oak leaves, and assorted artificial floral accent stems.
The first thing you should do is paint each votive glass gold (or apply gold leaf) enamel paint can be used with either), and then let them dry overnight so they won't smudge when they come into contact with other surfaces.
Once your votives are completely dry, place one in the center of the piece of scrap wood along with three pumpkins and three leaves arranged how you'd like them to look on top.
Now comes the somewhat tedious part where you need to stitch or glue the leaves and pumpkin stems to the scrap wood. Once all of these items are securely fastened together, it's time to add your lights and decorate!
Place a light inside each votive glass (or in some) along with some filler, and then place the votives on top of the piece of scrap wood.
Add any extra decor you'd like, such as white pumpkins, more gold leaf if you have it, etc., and then get ready to show off your creation.
3. Thanksgiving Flower Centerpieces – Floral Garland Centerpiece
This next piece is a bit more on the colored side, but we decided to go with it because many people get nostalgic during autumn and miss the bright colors of nature that they would usually see during spring and summer.
That being said, we tried looking for Thanksgiving flower centerpieces, and we came up with this amazing floral garland centerpiece and making it is much easier than it may seem at first glance.
As far as supplies are concerned, you'll only need a pair of very sharp scissors or pruning shears, some floral tape or floral wire, and whatever flowers you love most (they can be natural, silk flowers, plastic, etc).
The first thing you'll need to do is cut off all of the flowers from their stems, and then place them all in a vase full of water.
After that take your floral tape or flat floral wire and start to attach the flowers together using it as string, following whatever pattern you'd like to create.
Don't forget to add some sort of filler if needed (we suggest grasses, maple leaves, berries, etc.), and also make sure to keep track of where each flower should be placed so they look uniform when finished.
Once you've got everything secured with enough room in between each piece to allow for proper airflow between them, it's time to display your centerpiece! You can either lean it against something, or you can use a proper stand to keep it from tipping over.
Another great thing about this garland is that it's very versatile, and you can even hang it on walls, so if you were looking for more ways to decorate your house, you've just found a 2-in-1 solution!
4. Thanksgiving Centerpiece Ideas – Acorn Plastic Eggs
So far we presented Thanksgiving centerpiece ideas that focused on fall elements and elaborate designs, but there are those of you that follow the "simple is best" way of life.
Thus, you should go ahead and try out this step-by-step guide on how to create an acorn plastic eggs centerpiece that you can use not only to decorate the Thanksgiving table but other areas of the house as well.
You'll need plastic eggs, some jute twine, spray paint in colors of your choice (we used gold and silver), a hot glue gun with enough glue sticks, and a small tube of superglue.
First things first, you'll need to spray paint the eggs in order to make them look more believable.
Then it's time to let them dry for around 10 minutes, and while they do that you can use your hot glue gun to attach all of the jute twine pieces to each egg.
Once the glue is completely dry, it's time for super glue! Use this high-strength product sparingly with one drop per joint on each acorn plastic egg, along with one drop at the base of each twine piece so everything will remain attached properly.
After you've finished putting all of the eggs together, it's time to display them as a centerpiece.
Place them on top of a tablecloth or underneath a dainty one and light up some candles next to them – voila! Time for everyone who walks into your Thanksgiving celebrations to be amazed by your DIY acorn plastic egg centerpiece.
5. Thanksgiving Centerpiece Ideas – Pumpkin Vase Centerpiece
Talking about Thanksgiving without mentioning the all-important pumpkin is like talking about Christmas without mentioning Santa Claus, so it should come as no surprise that the following entry relies heavily on using a pumpkin as a core element.
All you'll need is a large pumpkin (although you should take your time to choose one that is aesthetically pleasing, otherwise you may need to paint it), and some flowers and plants of your choice (in our case we used a mix of fresh ones and immortelles).
After you've selected all of the items that you'd like to use, it's time to start arranging them – we recommend placing the flowers and plants in your pumpkin first, and then adding some filler on top.
Once you're done with this process, it's time to put together your Thanksgiving centerpiece by placing it on a tablecloth or directly on the table itself.
Whichever option you choose, be sure to surround it with candles so everyone can see how amazing your DIY pumpkin vase centerpiece is!
6. Thanksgiving Centerpiece Ideas – Harvest Table Centerpiece with Blue Flowers
We talked in a previous entry that Thanksgiving started out as a way to celebrate a bountiful harvest season, and this is exactly what you will feel when you'll see the harvest table centerpiece with blue flowers,
Thankfully enough, when it comes to decorations, Thanksgiving centerpiece ideas included, there are plenty of different ways to approach the same theme, so you along with the whole neighborhood can try to make a "harvest" centerpiece and you'd all end up with something different.
If you want to make something similar to what we showcased in the image above, you'll need fruits that are typical for autumn, like pumpkins, and apples, along with other natural elements that have become autumn staples, like pine cones, acorns, fallen leaves, and more.
However, the centerpiece of your centerpiece will be the bright blue flowers that will break the entire ensemble of warm autumn colors.
Once you've picked all of the flowers and fruits, it's time to group them together in a way that makes everything look natural, which is simple enough – start from putting some fruits down as a base, and then add foliage on top.
7. Thanksgiving Centerpiece Ideas – Cornucopia
Cornucopias have always been a symbol of a bountiful harvest, so if you want to showcase the fact that your table is filled with lots and lots of goodies, you can go ahead and go for a cornucopia-based centerpiece.
As you can see from the image above, it's pretty straightforward what materials you'll need, like apples, pears, chestnuts, walnuts, figs, and grapes.
And, of course, a cornucopia centerpiece does not only have to be made out of fruits – if you want to show that your Thanksgiving table is filled with all sorts of goodies, feel free to add in some flowers and plants as well.
Whichever way you decide to go with it, be sure to decorate the cornucopia so that it will look like it's filled with goodies, not just placed in the middle of the table.
With the Cornucopia centerpiece idea from above, it's best to use a light brown color scheme for your tabletop decoration so everything will fit together nicely.
What's great about this entry is that it's one of those Thanksgiving centerpiece ideas that are also interactive, since your guest can go ahead and eat whatever is inside of it, just as long as they do it after the main course, as a form of healthy dessert!
8. DIY Thanksgiving Centerpiece – Basket of Pumpkins
Everything looks cuter when it's available in a much smaller size, and the same can be said about pumpkins, as more and more people keep them inside the house because they are not only small and very colorful.
There are even some breeds that were created to have intricate patterns and designs that also last for a very long time, well after the stem has been severed.
That being said, all you'll need is to find a nice-looking basket (preferably one that elongates, so that it actually looks like a table centerpiece), and then gather a wide variety of small pumpkins of different shapes and colors, and just fill the basket with them.
Do not add any greenery or flowers, as you want the pumpkins to take the spotlight, and that they will be able to do so when they'll stand by themselves.
The best part is that this Thanksgiving centerpiece idea can be carried over to Halloween, or even Christmas time – just switch the pumpkins with the right kind of spherical fruits and you're good to go!
You could also opt for a gourd-inspired approach which would mean using squashes, avocados, and cucumbers. Or you could take on apple harvest with red apples as the main ingredient.
9. Thanksgiving Floral Centerpieces – Immortelle Centerpiece
For those of you that don't know what immortelle is, they are flowers and plants that retain their appearance well after they have been cut, and even after they are completely dried.
Because of this particular property, immortelles have always been a horticulturist's favorite plants when it came to making decorations, Thanksgiving floral centerpieces included since they don't wither away as easily.
This makes them a great alternative to artificial plants (they smell nice for long periods of time, too).
Well, immortelles are also the main attractions in this centerpiece, since we don't want to go with anything that might take the attention away from the candles and nests, which are also made out of immortelles.
The nice thing about this Thanksgiving centerpiece idea is that it takes only a few steps to make, and you don't need any special materials nor tools when making it.
First off, you'll need to gather all the immortelles that you can get your hands on (or at least enough of them), and then arrange these into nests and candle holders. The more variety in shapes and colors there is, the better.
Once you're done arranging everything, place two votive candles inside the centerpieces, and light them up before you put them onto the dinner table or somewhere else where they will be visible (just not too close to any flammable materials such as leaves or paper).
This Thanksgiving centerpiece idea does not require any special tools or other special items, it's just about getting your hands dirty and working on something creative!
10. White Pumpkin Centerpieces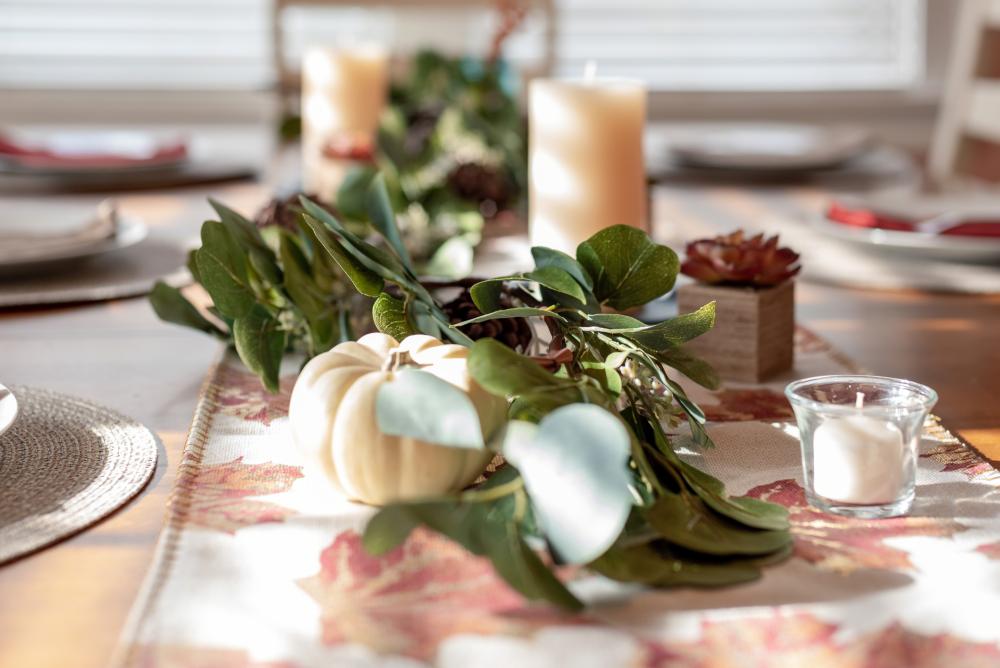 White pumpkins have been garnering a lot of popularity as of late, mostly because there are plenty of varieties that have a completely smooth surface, and there are even some that look almost pearlescent, so basically they look like small porcelain figurines.
Well, this next centerpiece idea focuses on emphasizing the beauty of white pumpkins, along with other decorative elements that are typical for the fall.
To create a single centerpiece, you'll need several white pumpkins, twigs, and some white candles (try to get them to match the colors of the pumpkins).
The great thing about white pumpkin centerpieces is that you can use it not only for Thanksgiving but also for other parts of the year since most pumpkins are out in stores by early October.
Light up the candles and place one twig in each pumpkin before arranging them on top of a tablecloth or directly on the table itself.
Another thing to try is adding some ribbon or twine to your centerpiece so it will match, for example, a Thanksgiving decoration theme.
Finally, make sure to display your centerpiece next to some windows so everyone who walks into the room can marvel at how beautiful it is.
More Thanksgiving Centerpiece Ideas
Sure enough, the previous 10 entries are indeed the most popular of 2021, but that doesn't mean that they are necessarily the best, especially since there's a high chance that everyone will have them in their home this year.
That being said, sticking to a classic may not be such a bad idea, especially when it comes to Thanksgiving centerpieces, which are essentially there to make the table look good (and not necessarily fill your home with an interesting scent).
So, if you want to see which were the best table decorations in past years, continue reading the following section of our article, since it features another 25 amazing Thanksgiving centerpiece ideas.
11. 5 Minute DIY Thanksgiving Centerpiece
The beauty of this first idea is the speed and ease of creating it… you'll have a gorgeous centerpiece in 5 minutes or less! It requires things that you might even have on hand already – white candles, pinecones, clementines and some greenery. Head over to Julie Blanner's blog to find out how to do it.
12. Gourds and Cabbage Thanksgiving Centerpiece
This tablescape has a unique color scheme consisting of muted greens and blues, but the gourds and pumpkins make it still feel like it's a Thanksgiving centerpiece. The cabbage and kale give it an organic, naturallook perfect for the fall holiday. Find out how to recreate this centerpiece at The Daily Basics blog.
13. Red, Orange, and White Thanksgiving Centerpiece Idea
This colorful centerpiece has all the elements of fall – pumpkins, pinecones and gourds – with a few additional wintery items such as branches with pretty red berries. Together with the green leaves, these add a beautiful depth to the traditional Thanksgiving palette of orange and yellow. Checkout this and many other ideas at Babble.
14. White Pumpkins With Wrapped Branches Thanksgiving Table Centerpiece
White pumpkins seem to be especially popular this year, so why not take advantage of the trend with this beautiful tablescape idea? All you'll need are some vines with berries and a few votives to accent the pumpkins. Head over to Apartment Therapy to see this and lots of other white pumpkin inspiration.
15. Centerpiece Container – Thanksgiving Centerpiece Idea
If you love a full, over-the-top centerpiece, consider containing it in a wooden box so that it doesn't overtake the entire table. Here, the centerpiece would have run the risk of encroaching on guests' dinner plates if not for the container. Read more about this table and get lots of other Thanksgiving ideas over at Country Living.
16. Succulent Pumpkin Thanksgiving Centerpiece
Succulents look beautiful any time of the year, but they are an unexpectedly lovely centerpiece during the Thanksgiving season. All you'll need is a medium sized pumpkin and a handful of colorful succulents to create this stunner. Make your way over to Simply Happenstance to find out how to make your own.
17. Purple Accents Thanksgiving Table Centerpiece
Purple is a unique color for Thanksgiving, one that really accentuates any other oranges, yellows or even greens that you may be using. Here, faux purple pumpkins form the centerpiece, and purple placemats make each setting really pop. Read more about this look over at Up to Date Interiors.
18. Shades of Green Thanksgiving Centerpiece
When you think of Thanksgiving, green doesn't necessarily come to mind first… but it looks absolutely gorgeous in this rustic centerpiece. The key is to use a variety of different shades of green so it doesn't look too simple. Here, apples and artichokes complement the more traditional gourds and squashes. Read more at HGTV.
19. White Pumpkin Thanksgiving Centerpiece
This lovely neutral-toned white pumpkin centerpiece is very versatile – it could be placed in almost any room (not just on the table). And it could be easily customized according to your decor. Find out how to make this gorgeous centerpiece using this simple tutorial from A Pumpkin and a Princess.
20. Nut Candle Thanksgiving Centerpiece Idea
It's always nice to be able to make centerpieces using everyday items from the grocery store – here we have a simple centerpiece made using nuts. Just buy a few different types of nuts in their shells and surround white candles with them inside of clear glass vases. Read more about it at Julie Blanner's blog.
21. Colorful Eclectic Thanksgiving Centerpiece
This table has a lot going on, but in a beautiful, eclectic sort of way. The purple napkins wrapped in gold rings feel very luxe, and the purple, orange and green floral arrangements add some serious color to the table. Learn more about setting the ultimate holiday table over at Apartment 34.
22. Painted Menu Pumpkin Thanksgiving Centerpiece Idea
This painted pumpkin is both gorgeous and informative, letting guests know what's for dinner – in a very stylish way. All you'll need to recreate this look is a pumpkin with interesting markings and a paint pen in a contrasting color. Read all about this clever DIY Menu pumpkin here.
23. Rustic Backyard Thanksgiving Table Centerpiece
This table sits in the great outdoors, and uses lots of natural elements to complement its location. Tree slices serve as candles bases and place card holders, while floral napkins add a bit of glamour to the setup. Make your way over to The White Buffalo Styling Co. to find out how to recreate this look.
24. Succulent and Fall Berry Thanksgiving Centerpiece Idea
This super simple centerpiece can be made with a couple of succulents, some branches and a couple of pumpkins. The simplicity of this piece is the genius part – so there's no need to go crazy here. Head over to Living Locurto to find out how to make your own simple succulent and fall berry centerpiece.
25. Coastal Thanksgiving Centerpiece
If you live near the ocean, then perhaps this is the tablescape for you! This gorgeous look still feels appropriate for Thanksgiving, but it has a decidedly coastal feel about it with beachy blues and little starfish accents at each place setting and in the centerpiece. Check it out in more detailat Sand & Sisal.
26. Cozy Plaid Theme Thanksgiving Centerpiece
This table has more of a rustic theme, with a cozy plaid blanket layered over a piece of brown kraft paper instead of a traditional tablecloth. Leaves and pinecones really add to the rustic theme. Make your way over to the City Farmhouse blog tofind out all about how this tablescape was created.
27. Wheat Thanksgiving Centerpiece Idea
Wheat is a beautiful material to work with because of its texture and neutral color. Here, wheat is collected into a loose bouquet and secured with a big burlap bow for a pretty, traditional centerpiece. Check out the rest of the Thanksgiving decor in the house at Uncommon Designs.
28. Trendy Gold With Pops of Color Thanksgiving Centerpiece
If your taste is a bit more modern, give this fun tablescape idea a try. Set your table with neutral whites and then place bunches of colorful flowers down the middle of the table. And don't forget to add gold accented mini pumpkins! Read all about the table design over at Homey Oh My!
29. Deep Browns Thanksgiving Centerpiece
Here we have a deeper color scheme filled with rich browns and accented by dark blue glassware. This look feels classic and traditional, with a hint of contemporary flair in the addition of the beautiful feathers at each place setting. Check out this and many other ideas over at PopSugar.
30. Contemporary Stripes and Brights Thanksgiving Centerpiece
This table has a fresh, modern look, filled with golds and bright pops of color. And the entire color scheme is accentuated by the unique black and white striped tablecloth. And the Scrabble name plates are the pièce de resistance, adding a playful touch to an already fun-filled tablescape. Read more at Dimples & Tangles.
31. Peach and Pink Bouquet Thanksgiving Floral Centerpiece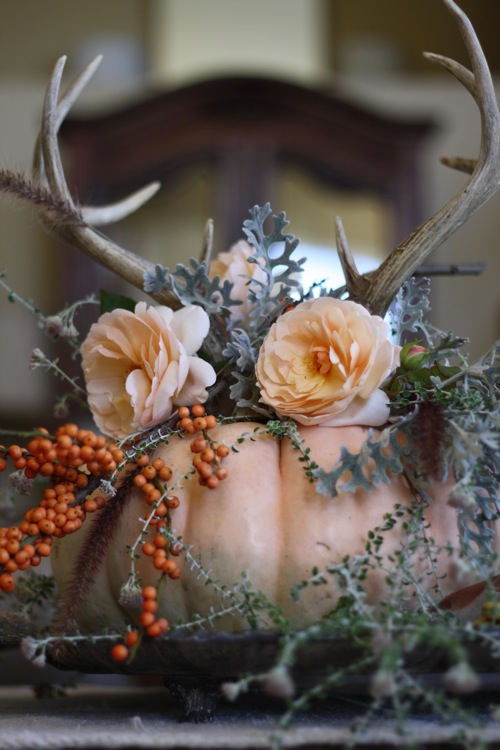 This unique centerpiece is filled with muted peaches, oranges and pinks and accented with pretty grayish greenery. It still evokes a feeling of fall, but in a more subtle way. This would look lovely with a neutral table and metallic votives. Check out more images of this bouquet here.
32. Plaid Napkins Thanksgiving Table Decor
Plaid makes another appearance here, this time in the form of napkins. And a mini pumpkin with silver embellishments sits on top to add a hint of glam to the table. And a bit of bright green moss holds a menu card, adding a brighter element to an otherwise darker color palette. Check out more ideas here.
33. 5 Minute Sunflower Thanksgiving Centerpiece Idea
This is an incredibly easy centerpiece that anybody can do in 5 minutes… and you can most likely get everything at your local grocery store. What's better than that?! The bright yellow sunflowers lend a cheery note to the orange and green color scheme. Get the simple tutorial over at Ebay's blog.
34. Glamorous Reds and Oranges – Thanksgiving Table Decor Idea
Reds and oranges don't necessarily have to look rustic – here, beautiful red and orange bouquets are placed inside shiny gold cups for a super luxe look. Ornate china adds to the glamorous feel of this fancy Thanksgiving table. Check out this and lots of other gorgeous ideas over at The Glamorous Housewife blog.
35. Vegetable Thanksgiving Centerpiece Idea
If you really love to get creative, give this vegetable centerpiece a try! The cabbage, pomegranate, squash and other produce are incredibly eye-catching, and are sure to be a great conversation starter once everyone sits down at the table. Get the full tutorial for this unique centerpiece over at Brit + Co.
Best Thanksgiving Centerpiece Ideas: Conclusion
The best Thanksgiving centerpieces are those that make the table look great, but also serve as a conversation piece, and if you can fill your home with an inviting scent, all the better!
That being said, most of the ideas showcased here are not only easy to set up but also inexpensive and guaranteed to impress even the harshest critics at your Thanksgiving Day dinner table.
However, remember that the table centerpiece is just one of the many decorations that you can prepare for Thanksgiving, so if you want to incorporate other decorative elements and bring them to the literal table, you should check out this guide that teaches you everything there is about decorating a Thanksgiving table.
There's only one thing left to do now: pick the idea(s) you like best so you can get organized for this year's Thanksgiving extravaganza!