25 Stunning Thanksgiving Centerpieces and Tablescapes
Thanksgiving is right around the corner, and if you're hosting dinner for a group of people, it might be time to start thinking about how you'll style your table! (Even if you're not hosting, you can still use lots of these ideas in your entryway or on the mantel). We've rounded up 25 of our favorite centerpiece and tablescape ideas in every color scheme to help you decide which style best fits your home.
1. 5 Minute Thanksgiving Table
The beauty of this first idea is the speed and ease of creating it… you'll have a gorgeous centerpiece in 5 minutes or less! It requires things that you might even have on hand already – white candles, pinecones, clementines and some greenery. Head over to Julie Blanner's blog to find out how to do it.
2. Gourds and Cabbage
This tablescape has a unique color scheme consisting of muted greens and blues, but the gourds and pumpkins make it still feel like it's a Thanksgiving centerpiece. The cabbage and kale give it an organic, natural look perfect for the fall holiday. Find out how to recreate this centerpiece at The Daily Basics blog. 
3. Red, Orange and White
This colorful centerpiece has all the elements of fall – pumpkins, pinecones and gourds – with a few additional wintery items such as branches with pretty red berries. Together with the green leaves, these add a beautiful depth to the traditional Thanksgiving palette of orange and yellow. Check out this and many other ideas at Babble.
4. White Pumpkins With Wrapped Branches
White pumpkins seem to be especially popular this year, so why not take advantage of the trend with this beautiful tablescape idea? All you'll need are some vines with berries and a few votives to accent the pumpkins. Head over to Apartment Therapy to see this and lots of other white pumpkin inspiration.
5. Centerpiece Container
If you love a full, over-the-top centerpiece, consider containing it in a wooden box so that it doesn't overtake the entire table. Here, the centerpiece would have run the risk of encroaching on guests' dinner plates if not for the container. Read more about this table and get lots of other Thanksgiving ideas over at Country Living.
6. Succulent Pumpkin Centerpiece
Succulents look beautiful any time of the year, but they are an unexpectedly lovely centerpiece during the Thanksgiving season. All you'll need is a medium sized pumpkin and a handful of colorful succulents to create this stunner. Make your way over to Simply Happenstance to find out how to make your own.
7. Purple Accents
Purple is a unique color for Thanksgiving, one that really accentuates any other oranges, yellows or even greens that you may be using. Here, faux purple pumpkins form the centerpiece, and purple placemats make each setting really pop. Read more about this look over at Up to Date Interiors.
8. Shades of Green
When you think of Thanksgiving, green doesn't necessarily come to mind first… but it looks absolutely gorgeous in this rustic centerpiece. The key is to use a variety of different shades of green so it doesn't look too simple. Here, apples and artichokes compliment the more traditional gourds and squashes. Read more at HGTV.
9. White Pumpkin Centerpiece
This lovely neutral toned white pumpkin centerpiece is very versatile – it could be placed in almost any room (not just on the table). And it could be easily customized according to your decor. Find out how to make this gorgeous centerpiece using this simple tutorial from A Pumpkin and a Princess.
10. Nut Candle Centerpiece
It's always nice to be able to make centerpieces using everyday items from the grocery store – here we have a simple centerpiece made using nuts. Just buy a few different types of nuts in their shells and surround white candles with them inside of clear glass vases. Read more about it at Julie Blanner's blog.
11. Colorful Eclectic Centerpiece
This table has a lot going on, but in a beautiful, eclectic sort of way. The purple napkins wrapped in gold rings feel very luxe, and the purple, orange and green floral arrangements add some serious color to the table. Learn more about setting the ultimate holiday table over at Apartment 34.
12. Painted Menu Pumpkin
This painted pumpkin is both gorgeous and informative, letting guests know what's for dinner – in a very stylish way. All you'll need to recreate this look is a pumpkin with interesting markings and a paint pen in a contrasting color. Read all about this clever DIY Menu pumpkin here.
13. Rustic Backyard Table
This table sits in the great outdoors, and uses lots of natural elements to complement its location. Tree slices serve as candles bases and place card holders, while floral napkins add a bit of glamour to the setup. Make your way over to The White Buffalo Styling Co. to find out how to recreate this look.
14. Succulent and Fall Berry Centerpiece
This super simple centerpiece can be made with a couple of succulents, some branches and a couple of pumpkins. The simplicity of this piece is the genius part – so there's no need to go crazy here. Head over to Living Locurto to find out how to make your own simple succulent and fall berry centerpiece.
15. Coastal Tablescape
If you live near the ocean, then perhaps this is the tablescape for you! This gorgeous look still feels appropriate for Thanksgiving, but it has a decidedly coastal feel about it with beachy blues and little starfish accents at each place setting and in the centerpiece. Check it out in more detail at Sand & Sisal.
16. Cozy Plaid Theme
This table has more of a rustic theme, with a cozy plaid blanket layered over a piece of brown kraft paper instead of a traditional tablecloth. Leaves and pinecones really add to the rustic theme. Make your way over to the City Farmhouse blog to find out all about how this tablescape was created.
17. Wheat Centerpiece
Wheat is a beautiful material to work with because of its texture and neutral color. Here, wheat is collected into a loose bouquet and secured with a big burlap bow for a pretty, traditional centerpiece. Check out the rest of the Thanksgiving decor in the house at Uncommon Designs.
18. Trendy Gold With Pops of Color
If your taste is a bit more modern, give this fun tablescape idea a try. Set your table with neutral whites and then place bunches of colorful flowers down the middle of the table. And don't forget to add gold accented mini pumpkins! Read all about the table design over at Homey Oh My!
19. Deep Browns
Here we have a deeper color color scheme filled with rich browns and accented by dark blue glassware. This look feels classic and traditional, with a hint of contemporary flair in the addition of the beautiful feathers at each place setting. Check out this and many other ideas over at PopSugar.
20. Contemporary Stripes and Brights
This table has a fresh, modern look, filled with golds and bright pops of color. And the entire color scheme is accentuated by the unique black and white striped tablecloth. And the Scrabble name plates are the pièce de resistance, adding a playful touch to an already fun-filled tablescape. Read more at Dimples & Tangles.
21. Peach and Pink Bouquet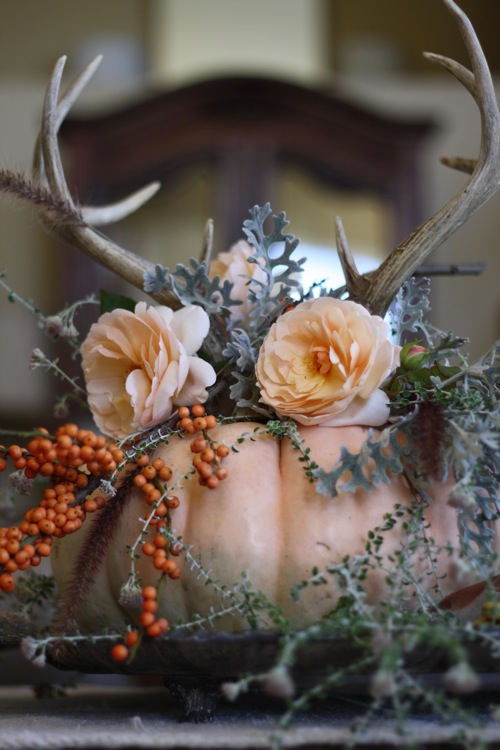 This unique centerpiece is filled with muted peaches, oranges and pinks and accented with pretty grayish greenery. It still evokes a feeling of fall, but in a more subtle way. This would look lovely with a neutral table and metallic votives. Check out more images of this bouquet here.
22. Plaid Napkins
Plaid makes another appearance here, this time in the form of napkins. And a mini pumpkin with silver embellishments sits on top to add a hint of glam to the table. And a bit of bright green moss holds a menu card, adding a brighter element to an otherwise darker color palette. Check out more ideas here.
23. 5 Minute Sunflower Centerpiece
This is an incredibly easy centerpiece that anybody can do in 5 minutes… and you can most likely get everything at your local grocery store. What's better than that?! The bright yellow sunflowers lend a cheery note to the orange and green color scheme. Get the simple tutorial over at Ebay's blog.
24. Glamorous Reds and Oranges
Reds and oranges don't necessarily have to look rustic – here, beautiful red and orange bouquets are placed inside shiny gold cups for a super luxe look. Ornate china adds to the glamorous feel of this fancy Thanksgiving table. Check out this and lots of other gorgeous ideas over at The Glamorous Housewife blog.
25. Vegetable Centerpiece
If you really love to get creative, give this vegetable centerpiece a try! The cabbage, pomegranate, squash and other produce are incredibly eye-catching, and are sure to be a great conversation starter once everyone sits down at the table. Get the full tutorial for this unique centerpiece over at Brit + Co.