15 Unique DIY Thanksgiving Centerpieces
Soon we'll be reviewing our turkey basting skills and stuffing recipes. But aside from the food, there's a certain aethestic we all love when Thanksgiving dinner comes to call. Warm, cozy, fall-inspired, and welcoming, every year we find more and more inspiration around every nook and cranny of the Internet. Today, we're checking out 15 unique DIY Thanksgiving centerpieces that you'll love creating and showing off to the friends and family as well.
1. Color-Wrapped Wheat
Inspired by Charm will show you how to take your wheat to the next level. We've seen these bits of fall arrangements before but with some colorful thread, you can easily create a new look for your table this year. And the kiddos can get involved in this DIY!
2. Copper & Neutral Combo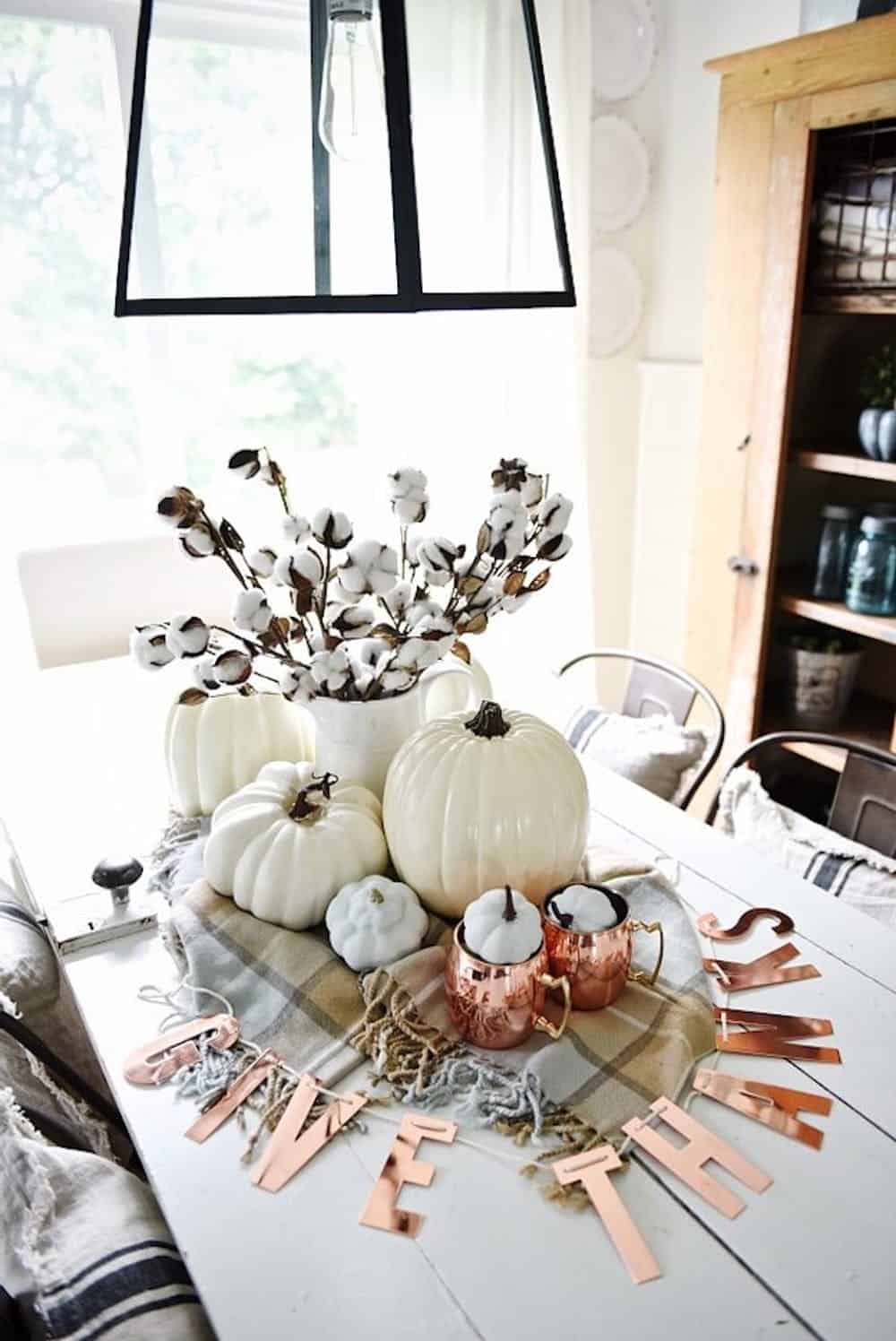 We're loving how beautiful the copper tone and neautral colors are blending here. Liz Marie Blog took some things from around the house and make a unique centerpiece that can be utilize throughout the holiday. Take notes and see what you can do with what you've already got lying around
3. Jazzy Gourds
Aunt Peaches bedazzled some gourds and we're in love. Crystals, glitter, stickers and more, there are so many ways to go about jazzing up your fall veggies. It can become a family project!
4. 5-Minute Put-Together
Coordinately Yours showed off this simple centerpiece and we love it. But why exactly do we love it? It only takes about 5-minutes to put it all together, that's why.
5. Fall Floral Arrangement
Green Wedding Shoes will give you some good pointers on floral arrangements as well – for all seasons. But this one specifically will speak to our autumn-loving hearts. Take the jump and grab the details.
6. Copper-Wrapped Candles
Design Improvised wrapped some simple candles with copper for easy, trendy appeal. This is both simple in DIY ability but it's also an inexpensive way to create some decor for the table. We love the subtly.
7. Gilded Everything
A Pumpkin and A Princess gilded everything in her path to make a Thanksgiving table fit for royalty. The pinecones and the pumpkins got an equal amount of love and the burlap contrasts nicely underneath it. This too is a simple centerpiece to create with little fuss.
8. Gourd Vases
Create vases out of your gourds! Look how beautiful they look with some flowers inside. Check out the details by visiting BHG.
9. Kid-Friendly Paper Table Runner
Grab the kiddos, we've got a project for all of your. Check out Momtastic for the instructions behind this fun creation. And then the entire family can get involved filling out their own bits of gratefulness.
10. Purple Corn
Purple corn at the center of the table seems like a fun idea! Add some color to the table that's a bit outside-of-the-box, like this beautiful purple and it contrasts nicely with what we're used to seeing throughout autumn. Thanks for the idea Julie Blanner!
11. Pomegranates & Greenery
Sugar and Charm went a different route for fall decor as well. Grab some pomegranates, you can create a natural and colorful spread with these fruits too. They contrast nicely with green.
12. Multi-Colored Gourds
Sometimes all you need to do is gather some gourds. Different colors and textures can come together to create something quite artistic. Just check out this creation from Sugar & Cloth!
13. Apple Candles
Little Green Notebook made apple candles – just like we've been seeing pumpkin turning into holders or vases. An entire batch can make a romantic and fall-flavored centerpiece so nicely.
14. Chalkboard Acorns
We've gushed about these before because we love the innovation so much. Create some giant chalkboard acorns and then get create. Grab the idea from Julep!
15. Tealight Nuts
Finally, over at One O, you'll learn how to turn nuts into something special as well. A bowl and a lighter, they'll bring in the right kind of rusticism, texture and romance too with the lighting. Take the leap and grab the details.