40 Christmas Table Decorations That Will Knock Your Socks Off
Christmas is one of the most celebrated times of the year. Many people have a large amount of family and friends around them during this time. It's a great opportunity to not only enjoy the company of your loved ones but also express your creativity in the art of festive decorations.
Have fun outfitting each person with a creative table setting by making homemade Christmas tablescapes! They are inexpensive and easy to make, thereby eliminating the need for purchasing from stores.
If you're looking for inspiration when it comes to Christmas tablescape ideas, take a look around your home. You'll find that during the other seasons, nature has already provided you with beautiful decorations. There are flowers, fruits, and even vegetables that can be used as centerpieces for your table during Christmas.
If you're in a hurry and want to take a quick peek:
Christmas Table Decoration Ideas
We know that when Christmas comes around, you want to make sure that the whole house looks absolutely lovely. One key element for this to happen is to also decorate your table. There are plenty of things you can do to make your Christmas table decorations fit the rest of your home.
Here are a few things you can use to decorate your Christmas table:
Tinsel and Christmas baubles
Pinecones and Christmas tree branches
DIY decorations
40 Christmas Table Decorations You'll Love
These Christmas tablescape ideas are easy to make and don't cost a lot of money. They're perfect for those who want to create something special for their family this holiday season, but maybe don't have the time or resources to purchase a bunch of new decorations.
You can also put together coordinating place settings using items found in the kitchen or other household locations. Homemade holiday tablescapes do not have to cost much money because there are so many free things you can use to decorate them with.
Christmas Tablescapes
We're grouping up the tablescapes you'll want to set up on your Christmas table. Whether you want something over the top, or something more subdued, we have it all ready for you.
1. Gold and Green Natural Christmas Tablescape
Here's a rustic theme for your table decorations, which focuses on two primary colors: gold and green. It's a cheery and bright idea that works well as a nature-themed tablescape for Christmas, especially if your dining table and chairs are wooden.
You'll need table linens made out of cotton fabrics for this tablescape, along with green ornaments. Gold ribbons and gold-foiled pine cones work well here, too, because the color scheme remains cohesive throughout.
Fruit is also a great thing to include in your Christmas tablescape, especially if you want something that will look festive without taking away from the primary colors or theme. Oranges, lemons, kiwis, apples, pears, and grapefruits are always excellent choices.
2. All White with a Hint of Gold and Silver – Christmas Tablescape Ideas
This Christmas tablescape idea is all white with a hint of gold and silver. It's meant to be arranged on a long, rectangular table with white tablecloths. You can also use it as an idea for New Year's Eve because the color scheme makes it appropriate for both events.
The centerpiece here is made up of a white table runner and two trayed filled with pinecones, greenery, and glittery baubles in silver and gold colors. Hanging ornaments are placed above the dining table to tie everything together.
If you want to take it a step further and make this Christmas tablescape truly shine, hang white lights underneath the rim of the dining table. It makes an excellent lighting effect when combining them with candles placed on the table. Plus, it's a practical way of making sure the whole area is adequately lit.
You might even consider adding some paper-wrapped gifts in white, gold, and black next to your dining area just to set off that part of the room. We think this modern Christmas tablescape looks especially good with an all-white Christmas tree nearby.
3. Elegant and Glittery Holiday Tablescapes
For a really glamorous and glittery holiday tablescape, go for the following idea. It features a white tablecloth, classical glasses with a golden rim, together with light golden plates and cutlery with a hint of red berries and greenery.
But the centerpiece is represented by oversized cones covered in gold glitter. You should be able to easily make these on your own using cardstock cones, glitter, and a bit of glue. Just make sure to prepare everything ahead of time since you need to let the glue dry off and get rid of its smell.
You can also place votive candle holders between the glasses, or add red berries and spruce branches to make them look more festive. Since the room is quite elegant, simple decor with gold accents is perfect for its ambiance. Plus, these gold accents match perfectly with the color scheme of this Christmas tablescape.
4. Elegant Black and White Tablescape Ideas
We love the black and white Christmas tablescape idea used in this picture. It features a fairly minimalistic decor that can be achieved with a few spruce twigs placed together with votive candle holders and greenery.
It's also necessary to add white candles in tall black holders evenly along the greenery. If you feel like something's missing, you can set a simple white vase filled with pinecones as the table centerpiece.
The way the plates are arranged is inspiring. Just take plate mats made from grey fabric, turn them by 90 degrees, and place them between the large plate and the small one so that it hangs out of the table.
The best part about this modern Christmas tablescape is that you can create it with just a few simple materials. It's the perfect centerpiece if you're looking for something elegant and classy, yet not too flashy. Plus, it matches any type of table and doesn't really call too much attention.
We discovered it on Pinterest, courtesy of Baked Ambrosia, so feel free to check it out!
5. Classical Red and White Christmas Tablescapes
There's nothing wrong with going with the classical red and white theme when it comes to Christmas tablescapes. This version is a bit more modern, though, since it features a white and gold table runner that's covered with interestingly decorated mason jars.
The jars have three layers: cranberries in the middle to give it color, juniper colors on top to give it contrast and texture, and Epsom salt on the bottom to sustain the cranberries and complete the beautiful theme.
You can also fill jars with Epsom salt and add a small candle to light up the dinner table. Then, place the cranberry jars along the table runner, alternating them with the candle jars for a beautiful effect.
When it comes to the remaining elements of this Christmas tablescape, you can use red and white plates, even those with a Santa Claus theme. Add a wooden plate coaster and mix it with red and white napkins that are elegantly wrapped with a piece of twine and a tiny juniper branch.
As you can see, you don't have to put in a lot of work for this Christmas tablescape idea, but the results are spectacular! For more inspiration, check out the complete tutorial at Yellow Bliss Road!
6. Wreath Table Runner with Bells – Christmas Tablescape Ideas
Here's something you don't see every day: a vintage green and fold Christmas tablescape with a table runner made from several wreaths and bells. It's the perfect example of how you should never underestimate the power of Christmas decorations.
Arranging the elements of this Christmas tablescape idea is the simplest part, but you might have trouble finding some old bells. Besides, it's not something you can craft at home from everyday materials.
Assuming you have everything you need, get started by placing a simple white tablecloth, like a sheet. Then join several wreaths with pinecones on the table to create a natural runner. The number of pinecones depends on how large your table is.
Place the bells somewhere in the middle, then place a tall candleholder with a small white candle inside each wreath to make this Christmas tablescape truly shine. If you can't find bells no matter where you look, feel free to replace them with something equally unexpected, like a bucket full of cotton balls.
No matter what elements you choose, be sure to add a bit of contrast to the Christmas tablescape without going overboard. Visit Maison de Pax to learn more!
7. Vintage with 2D Christmas Trees – Holiday Tablescapes
The vintage theme is here to stay, which means you'll be seeing a lot of it this Christmas. The image above is a perfect example of how you can use vintage elements for a unique holiday tablescape.
Start by placing a natural-colored table runner – burlap works best. Then, decorate the runner with two-dimensional Christmas trees that you can buy from a local shop or create at home using DIY instructions. Be sure to make two or three different kinds of trees for variation.
After placing the trees on the runner, add greenery, pinecones, and any other wintery decorations with a neutral look. Now it's time to add a bit of color by going with some red ornaments. Nothing special is necessary here, so you can grab several ornaments from your Christmas trees to complete the look.
If you feel like something's missing, like natural light, add a few votive candleholders along the table runner. We love this look, but it only works if you have a rustic table and chairs. We discovered it on Cotton Stem.
8. Organic and Modern Christmas Tablescape
Here's another fresh take on the modern Christmas tablescape that you've probably never seen before. Created by Taryn Whiteaker, it features a rustic organic color palette filled with unexpected elements, such as a string of wooden beads and an oddly shaped bowl filled with pomegranates.
Start with a white table runner made from chiffron or linen. Then add dried greenery along the runner placed flat down, such as spruce branches or rosemary sprigs. Add these items in such as way that it creates an uninterrupted runner. Also, add a large string of wooden beads or several smaller ones on the runner.
Now, take the oddest-looking wooden bowl you can find at the local store. For best results, go with something that has an irregular shape, as if it was just ripped from a tree. Fill the bowl with pomegranates, oranges, lemons, or any other seasonal fruits, then place it in the center of the table.
To complete the look, add simple candleholders made from glass and with white candles. In the image shown above, the cups and cutlery have a copper finish. But if this isn't an option for you, feel free to replace them with anything else – the idea is to make it as elegant as possible.
On each plate, wrap a linen napkin with copper wire (or anything else) and top it off by adding a rosemary sprig. Visit Taryn Whiteaker's website to learn more about this organic and modern Christmas tablescape idea!
9. Edible Tree – Christmas Tablescapes
You can take the practical approach for your Christmas tablescape by creating a seasonal centerpiece that's also edible: a Christmas tree! It's a creative way to serve appetizers and keep your guests entertained while the main dish is in the works.
Start by setting the largest wooden bottom you can find. Then, create alternating layers of various foods, such as different types of cheese, or white and red grapes. Make sure to leave a little room on the top and bottom side to add the tree trunk and star topper. The easiest way is to cut them out of cheese.
And, if you want to kick it up a notch, consider preparing two wooden bottoms with cheese, veggies and meats, as well as seasonal fruits. Decorate them by adding rosemary sprigs. Plus, they're perfect for parties with kids, as they can eat it whenever they get hungry!
We were inspired by the Pinterest post uploaded by Becca Hoffman, so feel free to check it out!
10. Purple Christmas Tablescape
The Christmas color palette is anything but limited, so you can try out all sorts of ideas. This Pinterest post uploaded by Catherine Walker features a purple-themed tablescape that will inspire you to think outside the box!
For this idea, you can use twine, clear vases, purple roses, ferns, orchids, kalanchoe plants, mistletoe topiaries, lavender sticks, and leaves. You can also add some greenery on the tablecloth, as well as on the serving tray.
Don't forget to add a colorful Christmas wreath or two to complete the look. Just make sure to focus on the color purple, but you also need lighter colors for contrast. You should also consider adding some handwritten menus for an elegant touch!
The best part about this Christmas tablescape idea is that you don't have to spend a fortune! In fact, it's one of those affordable arrangements where each element can be sourced from Costco or IKEA if you don't already have it.
11. Natural Christmas Tablescape Idea
If you're looking for natural Christmas tablescape ideas, this one is just what you need. The idea is simple but effective: it uses modern place settings and nature-inspired centerpieces that incorporate oranges, cinnamon, white roses, and greenery.
To create the look, add some scalloped white plates on top of some wooden platters. Then, add some greenery and cinnamon sticks to the centerpieces and let your imagination fly.
To give it an extra touch, you can carve the oranges and add tiny chocolate chips along its lines. However, if you don't like oranges that much or want to experiment with different fruits, you can use apples instead! The result will be equally beautiful.
Furthermore, you can use Christmas candles, pinecones, sanded sugar, and other small items to decorate the table. The result will be a simple but elegant tablescape that's full of personality!
12. Blue Christmas Tablescape
Blue-themed Christmas tables aren't limited to creating a theme for the tablecloth since you can also focus on the centerpieces. The idea is simple but effective, and you can start by placing white Christmas plates on a blue table runner.
You have tons of options when it comes to choosing flowers for your centerpiece. You can go simple by using calla lilies or spray roses, or you can opt for white or green hydrangeas. Another excellent idea is to use spruce branches adorned with white speckles and pinecones.
However, if you want something more playful yet still classy, try adding some pinwheels made from eucalyptus branches! Pinwheel centerpieces are beautiful no matter what time of the year it is! You can also add blue and white ornaments, snowflakes, ribbons, or blue tulips.
We love the way this idea turns out because blue tulips work so well with a natural Christmas tablescape. They not only add contrast to the white color scheme but also blend with pinecones and other elements.
For more inspiration, check out this Pinterest post uploaded by Emily B!
13. Modern Boho Christmas Tablescape
If you've been looking for a bohemian-style Christmas tablescape that's full of life and cheer, then you're going to love this idea. It's such a fresh take on holiday table settings, especially if you're planning to celebrate the festive season at a beach house.
Take a toned tablecloth in off-white or cream and add some decorations made from branches in brown, dark green, and blue. You can use small pinecones, straws, cedar branches, or other natural items.
When it comes to the centerpiece, you can go really simple with a pinecone embellished with moss and berries. The result is elegant yet understated, not to mention that it's affordable!
You can then set some candles on top of medium-sized glass bowls. Choose clear ones for an elegant look or opaque ones if you'd like to create more atmosphere. Potted plants will also work great as they'll provide depth and texture to your table setting.
For more inspiration, check out this Instagram post published by @southernlightscandleco!
14. Tree Cupcake Toppers – Christmas Tablescape Ideas
If you're hosting a holiday party for children or if you're just looking for some kid-friendly decorations, Christmas tree cupcake toppers will make the perfect table accents.
The most complicated part of this Christmas tablescape idea is baking the cupcakes. It's smooth sailing from there since you can easily make the toppers from a few materials: cardstock paper, toothpicks, a hot glue gun with glue sticks, a circle cutter, and a paper scorer or bone folder tool.
For each topper, create three circles of different sizes, fold them, then attach them to toothpicks with glue. When your masterpiece is complete, stick the toothpicks in the cupcakes and serve them on a tray. Place the tray in the center of the dinner table to set it as an edible centerpiece. We guarantee that your guests will love it!
To learn the complete steps of making Christmas tree cupcake toppers, check out our user-friendly guide!
15. Christmas Table Decorations with Fur
View Along The Waymade a tablescape full of verve and texture. We're swooning over the fur addition as it adds an unexpected pop of coziness to the table!
16. Luxurious Red and Gold Christmas Table Decor
This tablescape from The Bride Link is luxurious and voluminous. And although it may not be fit for the family table, DIYing your own version of this fairy-tale design would be quite fun!
17. Cookies – Delicious Christmas Table Decorations
Check out this tablescape featured byAO Life. With all it's varying textures it creates an interesting and homey look, and we're in love with the homemade cookies at each place setting!
18. Burlap Christmas Dining Table Decor
For those that are into a more country feel then check out this design fromWild Ruffle! Burlap layers and country Christmas decor pieces all come together to create a table that was made for sharing holiday meals.
19. Whimsical Christmas Table Decorations
This tablescape is gorgeous but it's also quite easy to recreate at home. Light whimsy and romanticism,Jaclyn Journeyphotographed this table and it was so inspiring we had to share it!
20. Plaid Christmas Tablescape
Sweet Something Designscultivated this cozy and family-friendly design with lots of plaid! We love adding the scarf and the jingle bells are such a fun and festive addition too!
21. Peppermint Christmas Table Decorations
Inspired by the whimsical swirls of red and white peppermint patties? Over atThe Wedding Chicksyou'll find this dreamy set up that you can create at home in your own breakfast nook – on a budget!
22. Colorful Christmas Table Decorations
A Pretty Lifecreated a table a bit outside-the-box full of color and panache. Don't be afraid to go a bit around the norm for the holidays and use funkier shades!
23. Frosted Christmas Table Decorations
Covered in frosted silvers,Real Simpleshowcased this beauty in their roundup of Christmas ideas. And this design is easy, simple and inexpensive to recreate.
Christmas Coffee Table Decors
If you want to make sure you decorate your coffee table as well, we have some really cool ideas for that one as well.
24. White Candles and Pinecones – Tablescape Ideas
This next idea for a Christmas tablescape is especially good if you have a rustic, farmhouse-style theme going on in your home. It features table linens made out of white cotton fabric and green ornaments for decoration.
White candles are used here, along with pinecones from pine trees outside to place throughout the centerpieces. Homemade candies make great additions to this tablescape idea, as well as glass jars filled with fruit that can double as candle holders instead of being eaten.
You can also try having a centerpiece made out of an old wooden crate for your Christmas dinner. For added visual appeal, make sure to coat it in gold glitter and paint it gold.
25. DIY Gilded Candles – Christmas Tablescape
These DIY gilded candles can make your Christmas tablescape truly shine. So, if you can't think of a way to decorate your dinner table for the most festive time of the year, start with this masterpiece and work your way up!
For this project, you need pillar candles, gilding adhesive, foil paper sheets, painter's tape, and a natural bristle brush. Start by painting the entire candle with gilding adhesive and then let it dry completely.
Next, cover your working surface with foil paper sheets and place a candle on the center of each sheet. Cover the candle with another layer of foil paper sheets and use painter's tape to keep it in place.
To create the gilded look, brush on gilding adhesive using a natural bristle brush. Let this layer dry completely and repeat it to create a thicker coat. When you're done, brush on another layer of gilding adhesive and let it dry overnight.
The next day, remove the foil paper and paint tape and peel off the remaining adhesive. Voila! You now have a golden candle that can be used as a centerpiece for your dinner party or dining table during the holidays.
To learn all of the steps in creating DIY gilded candles, be sure to read our thorough tutorial!
26. Pinecone Tabletop Tree – Christmas Tablescape Ideas
Here's an excellent alternative to the mandarin tower we described earlier. You can make a pinecone tabletop Christmas tree and set it as your centerpiece. This way, you can add other elements that take advantage of the woodsy holiday charm.
Thankfully, it's a do-it-yourself project that doesn't require any special materials. You need a floral foam cone, pinecones in different sizes, wired floral picks, medium gauge floral wire, and wire cutters.
You start by adding the wired floral picks to the pinecones and continue with attaching the larger pinecones to the base of the floral foam cone. Then you add the medium pinecones to the remaining layers and fill the blank spaces with the smallest pinecones from your collection. You can use a tall pinecone as the tree topper.
Finally, place your creation on a wooden plate and set it as the centerpiece of your Christmas tablescape. From this point on, feel free to add any other matching elements, such as candles, white or silver ornaments, cranberries, or red berries. You can also use pinecone-themed holiday tableware!
Check out the full tutorial at HGTV!
27. Mandarin Towers – Christmas Tablescape Ideas
Speaking of edible table centerpieces, you might appreciate this fresh idea of making mandarin towers for your Christmas tablescape. It's a beautiful and elaborate idea that's easy to recreate without stress!
Add the following items to your shopping list: plenty of mandarins, kales, styrofoam cones, U-shaped floral pins, round toothpicks, green leaves, a pair of scissors, and aluminum foil. You can also decorate your mandarin towers with pinecones, oranges, or anything else that catches your eye.
Follow the instructions provided by A Beautiful Mess to see how easy it is to assemble the mandarin towers!
Once you set a mandarin tower as the table centerpiece, you can add more items to complete the Christmas tablescape idea, such as greenery, pinecones, and snowflake-shaped foil confetti.
28. Clear Christmas Ornament Vase – Tablescape Ideas
If you can't decide on the Christmas tablescape idea, get inspired by finding the ideal centerpiece and then revolving all the remaining elements around it. For example, you can use a clear Christmas ornament vase, which you can make at home and personalize to your liking.
When it comes to supplies, you need a clear round Christmas ornament (the bigger, the better), white oven-bake clay, a gold leaf, and scotch tape. Follow our easy tutorial to learn how to easily make a clear Christmas ornament vase!
Once it's ready, place it on your table and try to think of ways to complete the look. For example, you can add a rusting table runner and place an oblong votive candleholder to create some height. Now it's time to add greenery and let your imagination fly. You can add pinecones, cranberries, red berries, or other seasonal fruits.
29. Spruce Branches and Lights – Christmas Tablescapes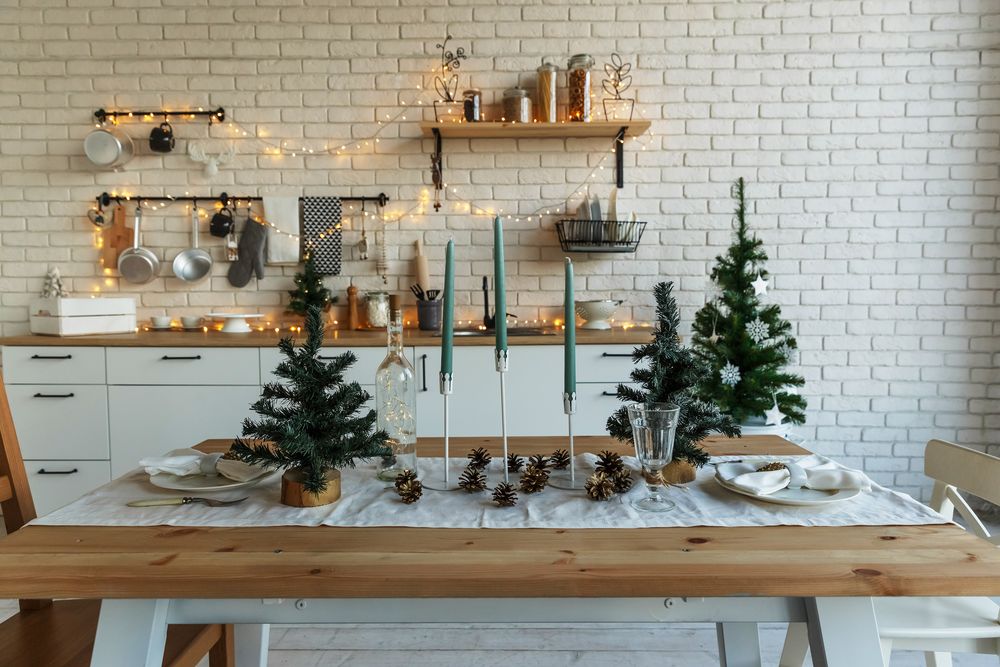 This is a more modern and contemporary idea for your Christmas tablescape. It features wooden chairs, an oak dining table, and simple cutlery with clip-on napkin holders.
Small Christmas trees made from spruce branches make the table centerpiece, together with tall green candles, a simple white table runner made from cotton, and pinecones spread across the runner. But what makes this Christmas tablescape special are the hanging lights attached to the wall next to the table, which make the perfect background.
There's also the option of hanging up stockings or wrapping paper along with the strings of white twinkling lights next to your dining table. We think it's a great contrast to the green candles and pinecone place settings.
30. Red and Green Christmas Tablescape
Here's a modern Christmas tablescape that features a gorgeous ceramic white vase filled with red berries, cotton balls, and pinecones. It's accompanied by tall red and green candles, small Christmas trees, and plenty of greenery.
There's also a tall candle fashioned from a pinecone. You can add a black and red plaid tablecloth and dark green folded napkins wrapped with a piece of red and white string that's embellished with a tiny pearl.
If you're looking for more Christmas tablescape ideas, make sure to add spruce branches. Just place them along both sides of your dining room to make it look even more grandiose.
A nice touch is having black cords tied around the base of the flower vase on the table, which makes an excellent contrast to the red berries. You can also add some silver ornaments to make it look more festive.
31. Pine Cones
Use pine cones as you main accent when creating a centerpiece and overall scape that feels like winter but isn't overtly Christmas or kitchy. Check out this natural wood beauty at Mom Despot.
32. Trees
Not Just A Housewife utilized some mini tress in her chocolatey design. This too isn't overtly Christmas, instead it evoke the spirit of the season with a warmth and cozy embrace.
33. Red & Gold
AO Lifealso featured this beauty on their list of "how-to's." Red and gold is a perfect combination for the holidays, especially when you're looking for a modern and chic style.
34. Kids
Brit + Co showed us how to put together a kids table with both style and functionality. And in this adorable and clever idea the kids get interactive while they snack!
35. Neutral
Creamy neutrals can work great for Christmastime too. This romantic setup fromFrench Larkspuris full of soft whites but with the subtle touch of red there's a chic festivity sewn in too.
36. Lanterns
Take your lanterns inside and use them at your table! For a wintery, warm and inviting spirit line the table with these romantic lights like this design featured by Style Estate.
37. Gingerbread Houses
FM also had quite the inspire line up of Christmas tablescapes. And this was by far my personal favorite on the list because every family can replicate it at home with their own personal creations!
38. Grinch
Of course you could be super thematic and go with this idea fromThe Hostess With The Mostess. With a bit of Whoville and the Grinch in mind, create a table full of funky spirit!
39. Black & White
You can even go with the classic color duo – black and white – to create your modern, contemporary tablescape. Digs Digs shared this super chic idea and we had to feature it here to provide just the right amount of inspiration.
40. Wood
Not Just A Housewifecreated this cozy dining table for a family of four. The natural wood pieces add bouts of hominess, the trees add a bit of traditional Christmas and the beautiful cake, well, that adds temptation of course.
Final Thoughts on Christmas Tablescapes
So there you have it, all of our favorite ideas for holiday tablescapes. Whether you're planning an extravagant dinner or hosting a simple afternoon brunch with friends and family, these Christmas tablescape ideas are sure to make your festive celebrations unforgettable!
Whether you love the outdoors, cooking up a festive meal, or looking for ways to entertain the kids this holiday season, there's always something to look forward to. That's why we've created this guide so that you can plan your Christmas tablescape celebrations with ease using any budget!
What are your plans for this year? Do you have a favorite centerpiece? Share your advice and thoughts in the comment section below.