Practice Some Aromatherapy With These 10 Candle DIYs – Video Tutorial
A bit of peppermint to calm your nerves or some cinnamon to add some holiday spice to your space, there are so many ways to layer the experience of your home. And you can do it with your own two hands. Practice some aromatherapy with any one of these 10 candle diys. Homemaking bits and pieces for your candles are easier than you may think and it's quite relaxing as well. Learn how to show off your candles in style! Take a leap and have a peek!
1. Cinnamon Stick Candle Holder
This cinnamon stick candle holder is super easy to make and will add an extra bout of scent to your home! You'll get the flavor from the votive and those fresh sticks as well as the opportunity to enjoy the extra texture and holiday vibes it will bring.
2. Concrete Star Candle Holder
Concrete is super trendy right now and there are so many ways to personalize it. Paints, glitter, and more, check out this tutorial to learn how to create your very own star candle holder. And all you need is a silicone holder to make it happen!
3. Advent Candle Holders
These advent candle holders are made from concrete too. And don't let that material scare you. It's one of the easier ones to work with as a novice. You just have to follow along with our easy tutorials to make it happen. They're great for countdowns of any and all kinds.
4. Homemade Candles
Aside from your candle holders, you can learn how to make the candles themselves at home too. In fact we have an entire list that are easily whipped up and then easily added to any room to add warmth and welcoming vibes. Take the leap and look! There are a lot of tutorials to choose from.
5. Heart Candle Holder
Add some festivity to your Valentine's Day tablescape or just whip some of these cuties up for the fun of it! We love using concrete and we love using silicone holders – because it's just so easy! Then have fun getting creative with the design of these heart candle holders by adding some paint.
6. Valentine's Day Candles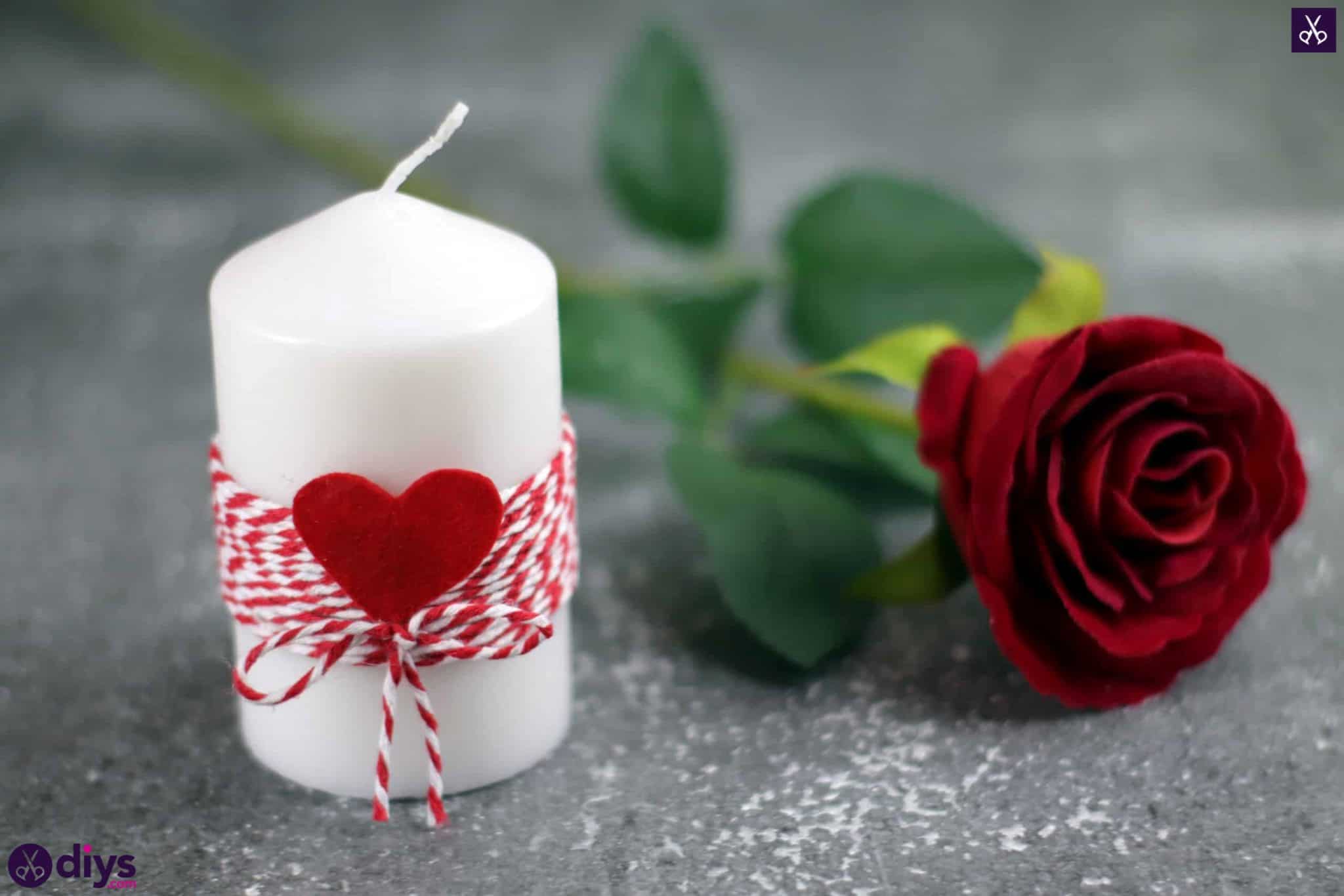 How adorable are these Valentine's Day candles? A bit of string and some cut-outs are all you need to get started. Embellishing candles can be just as fun and relaxing and making them from scratch!
7. Plastic Bottle Candle Holder
Who knew plastic bottles could become stylish piece of home decor? You can use concrete and a plastic bottles to create new candle holders. Embellish with paint, washi tape, or even lace for personalization! Dip the creation into some pastel paints for fun wedding or Easter decoration.
8. Rope Wrapped Candle Holder
Add some texture to traditional votive holders by adding some rope! It creates fun texture and a nautical vibe that could be added to the guest room or powder room. Check out how to make this rope wrapped candle holder after the jump!
9. Candle Holder Plate
This is an entire plate you can create to hold and show off your candles! Perfect for a minimalist lover's heart, how gorgeous would it be with a coat of metallic paint? A candle holder plate is a great way to decorate your dining room table for a dinner party or the holidays as well. We also love the mixture of candles and types you can include on the scene here.
10. Mason Jar Candle Holder

Mason jars really do so much for us don't they? Traditional, functional uses are a plenty but then they can become some of the best homemade and DIY decor pieces. And that includes with this mason jar candle holder – this time styled and dressed in its best Valentine's Day festivity. Pro tip: you can make these using any size jar!