How to Make Candles – Add Warm To Any Room
When it comes to making things from scratch, we find that we get a little more satisfaction out of whatever we're creating when it's something we might actually use in our home. We feel like we're getting bonus points when it's something that is both decorative and practical! Being the notorious candle enthusiasts we are, of course, candles fall right into this category. Sure, we can buy all kinds of stunning scented candles in stores, but we've been trying to make them ourselves lately instead! That's why we've been scouring the Internet for fun homemade candle tutorials that are a little more customizable and easy to cater to what you like!
1. Basic DIY candles
Perhaps you're feeling very enthusiastic indeed about the idea of making your own candles but you've actually never tried doing it before, so you're looking for a very basic tutorial to get you started? In that case, we think you simply must take a look at the way Instructables made these simple DIY candles that are perfect for beginners.
2. DIY bacon fat candles (that actually smell like bacon)
Are you the kind of DIY enthusiast who actually prefers to make your own things rather than buying them from stores because you like the idea of knowing precisely what goes into them and using all natural ingredients? Then we'd be willing to bet that you'll get a real kick out of the way My Recipes made these candles from actual bacon fat! As if the idea of saving and repurposing something natural wasn't already cool enough, it's also neat that these candles actually smell like bacon too.
3. Easy silver glitter candle
Whether you're making the candle itself from scratch or buying it pre-made, are you feeling pretty intent on custom decorating the outside to suit your decor scheme so the candle is a little more dual purpose? In that case, we'd definitely suggest taking a look at the way Soap Queen made these lovely geometric silver glittered candles that don't even shed sparkles all over your things!
4. DIY mini watermelon candles
Are you actually feeling quite ready to make your own candles from scratch, but you're also feeling up for a challenge so you can't help wondering whether you might be able to create ones with cute patterns or a theme? Well, Ann Le has a tutorial that's perfect for summer and we'd absolutely suggest checking it out! Take a better look at their tutorial to see how these wonderfully colourful watermelon candles were made!
5. DIY hand poured herbal candles
If you're going to put in the time and effort it takes to make candles from scratch, would you much rather make something a little more natural smelling and natural in its ingredients list? In that case, we'd be willing to bet that you'll get a huge kick out of the way The Herbal Academy made these lovely herbal candles that are hand poured!
6. Homemade lavender-rosemary candles
Are you actually still thinking about how much you love the idea of making natural, herb scented candles but you feel like you might prefer to add a floral element to it as well, just to really take things to the next level? In that case, we have a feeling you might get along a little better with this fantastic lavender rosemary candle outlined step by simple step on Live Simply!
7. DIY bourbon beeswax candles
Are you still thinking about how much you love the idea of making natural smelling candles from natural ingredients but you're just not sure that you like the idea of making a candle that smells like bacon? In that case, we wonder whether you might prefer to make something like this DIY bourbon beeswax candle instead! Find out how it's done in more detail on Soap Queen.
8. Colourful DIY crayon candles
Are you actually convinced that your kids might really enjoy making candles with you, but you're looking for a tutorial that's a little simpler and more child-friendly than most of what you've seen so far, even if you'll be there to help them every step of the way? In that case, we're pretty sure Crafts Unleashed has the perfect tutorial for you! They'll teach you how to make these colourful striped candles made from- yes, you read that right- melted crayons!
9. Naturally scented ombre candles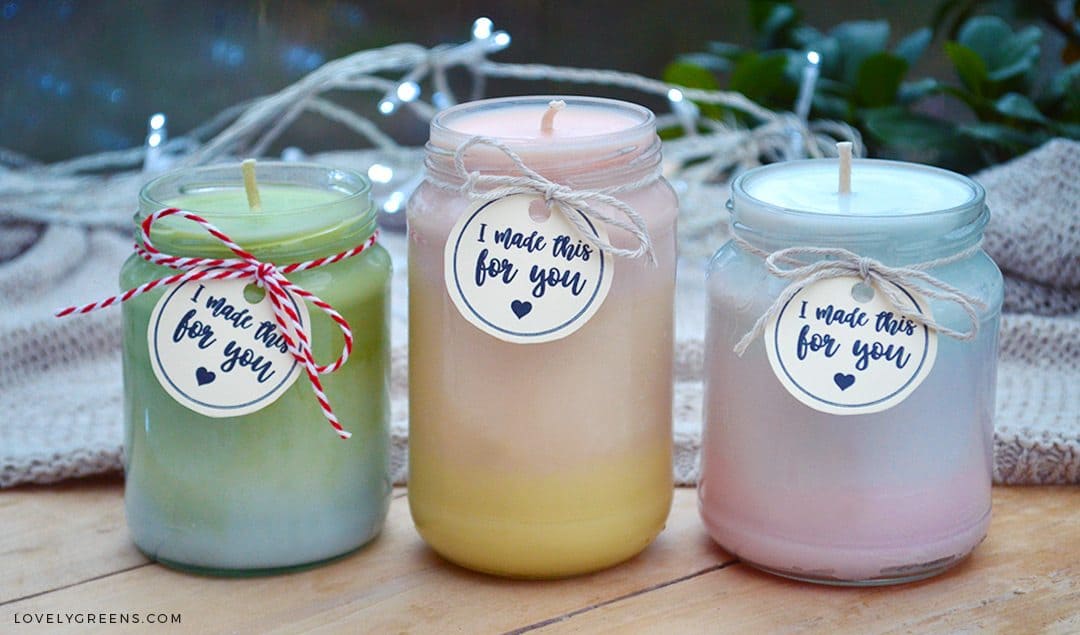 Are you decently experienced in candle making in terms of having mastered the basics, so you're looking for a bit more of a design based challenge even though you still might need some guidance? Well, if you've ever been a fan of pastel colours, then we'd definitely suggest taking a look at how Lovely Greens made these beautiful, naturally scented ombre candles in surprisingly few simple steps.
10. Odour neutralizing candle
Are you actually a little bit of a smell sensitive person despite being quite a big candle fan, so you've been looking for something a little more unique than the simply scented things we've shown you so far? In that case, we'd absolutely encourage you to take a look at the way Soap Deli News made a DIY candle that actually neutralizes other smells in the air for a clean, clear atmosphere throughout the room! This one's actually a lot easier to do and a lot more effective than we originally thought when we first saw it.
11. DIY teacup candles
Perhaps, even more than smell, you're the kind of prospective candle maker who wants to prioritize style and aesthetic if you're going to go to the effort of making some candles of your very own? In that case, especially if you've ever been a fan of lovely vintage aesthetics, we have a feeling you'll adore the way The Craft Patch outlines the process of making soft pink candles right inside thrifted teacups! This might actually be our favourite option on this whole list.
12. DIY dip dyed candles (with crayon wax)
Do you actually adore the idea of having ombre or gradient coloured candles but you're just not sure that you're quite ready to start hand pouring your very own candles from scratch to get the effect you want? Then perhaps you'll appreciate the way Darice outlines the steps for dip "dying" pre-made candles instead! They show you how to add an external layer of colour using colourful melted crayon wax.
13. DIY water candles
As lovely and nice smelling as wax candles can be, have you actually always been a bigger fan of water candles and how the flame balances on top of their clear jelly and whatever scene is inside? In that case, we have a feeling this fantastic DIY water candle tutorial outlined step by careful step with all kinds of inner scene suggestions might be right up your alley! Get the full details for trying it out for yourself on So Craftastic.
14. Beautiful dried flower candles
Did we actually really catch your attention when we started talking about the idea of putting flowers in your homemade candles but you're more interested in how that basic concept might look, rather than how it might make the candles smell? In that case, we have a feeling you might get along a little better with something like these dried flower candles that are outlined nice and clearly on Flora Queen.
15. Tin mug candle
Are you feeling rather intrigued indeed by the idea of making a candle in a drinking piece but you're just not sure that the vintage teacup idea we showed you a little earlier on is quite your style? Then perhaps you'd get along a little better with the way A Pumpkin and A Princess made these candles in a tin mug, working with a slightly more rustic and cabin inspired piece!
Have you made other kinds of awesome homemade and DIY candles before that you were very happy with indeed but that you don't see here on our list? Tell us all about what you created and how or link us to photos of your finished work in the comments section!