DIY Concrete Candle Holder from a Plastic Bottle
As most people in my life have noticed by now, I'm completely in love with DIY concrete crafts. At the same time, however, I'm also a total sucker for pretty trims and feminine finishes, like lace! That's why I've been feeling determined to find a way to combine the two things in one project. Being a candle lover on top of all that, I'm sure you can imagine just how pleased with myself I felt when I came up with the idea of making a DIY concrete lace trimmed candle holder from a plastic bottle!
Documenting the steps of my crafts so they can be shared with other DIY lovers who want to try my pieces out is one of my favourite parts of creating new things, and this project was no exception. Check out these step by step instructions complete with photos! If you'd rather follow along with a video tutorial instead of written words, scroll to the bottom of this post to find just what you're looking for.
For this project, you'll need:
DIY fine particle cement
Water
A spoon
Scissors
Tape
Oil
A paintbrush
A folding utility knife
Ribbon (white and lace)
Hot glue
Round candle
Step 1:
Gather your materials!

Step 2:
Mix your DIY fine particle cement to the right consistency! Follow the instructions on the back of the package to get the ratio of water to powdered mix just right, since it can vary from brand to brand.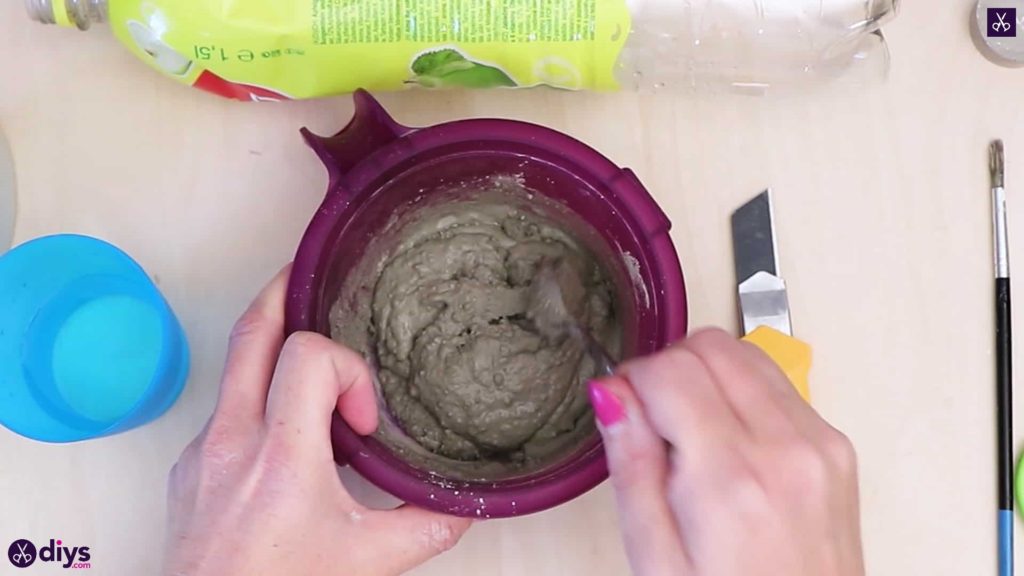 Step 3:
Use your utility knife to cut your plastic bottle in half (you'll work with the bottom end and can recycle the top), and then use your scissors to trim the bottom half down to just a little taller than the height you want your actual candle holder to be. Leave yourself a little excess to work with in order to avoid spills.