35 DIY Candle Holder Ideas You Can Try Out
We've been obsessed with candles and candle holders for a long time now. Nothing relaxes us as much while we write (or do pretty much anything else, for that matter) as having a lovely candle flickering in the background while we go about our day. It just makes us more relaxed!
We're also the kind of people, however, that get bored of our smaller décor pieces easily and like to change them out often. That's why we've been pouring over unique candle holder ideas that will look great no matter the quality of candle or tea light you have access to.
We have quite a few candle holder ideas for you, all of which you can make your own. You can choose the ones you like best, get the materials you need, and create something of your own.
DIY Candle Holders
We're going to go over a bunch of really cool looking candle holders that will make your house look so much prettier. Let's see which ones of these 35 ideas you'll want to "adopt."
1. Saucer Candle Holders
Check out how cute these saucer candle holders are! You can make them whatever color you want them to be and they'll fit well with taper candles. Learn how to make your own by reading our tutorial!
2. Cinnamon Stick Candle Holder
If you love the way cinnamon smells (and who doesn't?) then this craft is right up your alley – a cinnamon stick candle holder! You can create this one easily enough, with a bunch of cinnamon sticks and some hot glue. This project will work well with candles in glass containers. Check out our tutorial to find out how to make it yourself!
3. Minimalist Concrete Candle Holder Plate
If you want to be able to have multiple candles on the same holder, then this really cute concrete plate will work just fine. You can use it with taper candles, but also with shorter ones. Follow our tutorial and make one for yourself!
4. Concrete Candle Holder
We have another concrete candle holder project for you, if you want a more simplified version that works well with taper candles. You can create this one super easily and we can teach you how to do it by reading our tutorial!
5. Lace Candle Holder
This next tutorial is more for tealight candles. The small candle holder is made out of lace or doilies, some balloons, and decoupage glue. Of course, they can be decorated however you see fit. Learn more about making your own lace candle holder from our tutorial.
6. Concrete Star Candle Holder
Concrete makes it so easy to create a candle holder! As long as you have a star-shaped mold, you can make yourself a concrete star candle holder that's perfect for taper candles. Get all the details from our tutorial.
7. Concrete Heart Candle Holder
Do you have a heart-shaped silicone form? That's great! It means you can use it to create a beautiful candle holder for all your tealights! You can learn more about the process and everything you need to do from our tutorial.
8. Maple Leaf Decorative Candle Holder
Our next candle holder is so beautiful! You only need a few glass bowls and some maple leaves and some trusty hot glue for this project! The design will work well with votive or container candles. Learn more about how to make your own maple leaf decorative candle holder from our tutorial.
9. Plastic Spoon Candle Holder
Our next project is a plastic spoon candle holder. You need a lot of plastic spoons, some paint, and a bit of creativity. Read our tutorial on how to make your own plastic spoon candle holder!
10. Concrete Candle Holder from a Plastic Bottle
If you're looking for a very stable candle holder, then one made with the help of a plastic bottle should be it! This really cute design will be perfect for tealight candles! Make your own concrete candle holder by following our tutorial.
11. Rope Wrapped Candle Holder
Our next project will work wonderfully with pillar or votive candles and it will look so beautiful on your table! It requires some rope and a paper cylinder. Learn how to make it by reading our DIYs.com tutorial.
12. Concrete Advent Candle Holders
If you want to create some advent candle holder, we have a great tutorial for you! Ours are made out of concrete and will work wonderfully with tealights, but you can adjust the project a bit for other shapes too! Learn more about our concrete advent candle holder from our tutorial.
13. Wine Cork Candle Holder
If you want to make sure your tealights have a safe place, then a wine cork candle holder is the beautiful solution to your problem. Of course, you can also use this project with contained candles. Learn more about our wine cork candle holder from the tutorial.
14. Concrete Pillow Candle Holder
Our next project is a concrete pillow candle holder where you can neatly place your tealights or make it so you also place your contained candles. They'll all look beautiful! Read our tutorial on how to make your own!
15. Wooden Candle Holder for Votive Candles
We also have a really cute project that will work beautifully with votive candles. You can learn more about making your own wooden holder by reading our tutorial here!
16. Hanging Candle Holder
Over on Design Intuition, we found a really cool idea for a hanging candle holder by using a whisk! Yes, a whisk! How innovative, right? You only need some whisks and a few other elements to create your brand new holder for tealights
17. Wall Candle Holder
If you're looking for a cool idea of a candle holder you can put on your wall, then this tutorial from DIY Joy will do just wine. You need a bunch of newspapers and a LOT of patience, but you can definitely pull it off!
18. Rustic Candle Holder
Does your home have a wonderfully comfortable rustic feel that's very natural and incorporates many outdoor elements? Then keep that theme up by making yourself this stunning wooden slice candle holder! Technically you could use this piece of natural tree trunk for many things, but the moment we saw how calming Brit + Co.'s idea of putting a small candle on the wood and letting it melt how it pleases, we were taken with it. They show you how to make one of your own.
19. Ice Cube Votive Holders
Do you love upcycling pieces of old household wares in ways that put them to simple use so that you can save them from being thrown out without going far out of your own way? Well, there are plenty of candle holder designs that meet your criteria but one of our very favorites is one from Paper n' Stitch! They've taken the cups from an ice cube trayand cut them from the frame to make little holders that are perfectly sized for candles that have gotten a little short. We like the reclaimed aesthetic of the way they've left the edges jagged.
20. Rustic Wooden Candle Holder
Do you have some very thin candles at home that you've been looking for a perfect display for because they're an unconventional shape that you haven't seen store-bought holders for yet? That's the perfect opportunity to make one of your own! We love this darkly stained wooden block design from Houzzthat looks wonderfully rustic chic. With candles this size, one of the bits on your drill will probably be the perfect size for you to drill the holes in the block to hold them.
21. Film Negative Candle Holders
Perhaps you don't quite have the time to make your own candleholder from scratch but you do have some plain glass ones that you find kind ofboring and would love to spruce up a little? Well, there are plenty of ways to do that, but as nostalgic crafters, this photo memory idea from Photojojomight be one of our very favourites. They've used actual photo negatives pasted around the outside so that the flame when you light the candle will cast a glow that shows the image.
22. Copper Pipe Candle Holder
Are you browsing through this list hoping to find a candleholder design that looks a little bit more contemporary than some of the things you've seen so far? Well, if you're ready to work a little bit with wire bending and molding, then check out this copper design from An-Margritt! The candle sticks right on the end and voila! You have an awesomely curving, tall standing candleholder that really stands out.
23. Wooden Candlestick Holder
This is a wonderful wood candelabra that you can make yourself, putting a modern spin on the classic design. Let's figure out how to make one by reading the tutorial from Homedit.
24. Rope Wrapped Candle Holder
Perhaps you're still looking for a rustic or reclaimed chic look in your decorative accessories and you think that making yourself some nice, weathered candleholders would really contribute to the whole aesthetic? Then check out how Minted Strawberrymade these adorable, low sitting rounded holders wrapped in thin rope likea coil. They look like something you'd find on a boat!
25. Small Clay Candle Holders
Perhaps you're intent on making your very own candle holders yourself from scratch but you're no good with wood so you're not likely to make the stained wooden block design? Then try creating these adorable, individual clay candle stands like Once Wed did! We love their semi-twisted, spiral shape and we think they'd look completely adorable painted all different colors as well.
26. Wool Candle Holder
This next project involves a little bit of wool and some glasses where you can put your tealights in. It's such a cool design and it looks so great! Get your tutorial from Homedit!
27. Metallic Finish Mercury Candle Glasses
If you've never seen mercerized glass, then you're missing out! The shining chromed effect is an awesome finish that makes even the simplest candleholders look rather fancy and, contrary to popular belief, it's an easier craft to do! Ruffled Blogguides you through the process of making it happen so you can enjoy the way the candle glows through the silvery chrome on the outside.
28. Concrete Candle Holder
We have another cute concrete candle holder design that you can make rather easily. You only need some concrete mix, water, a plastic cup, and some spray paint, although these are optional. Read all about how you can make these from Homedit.
29. Concrete Candle Holder
Perhaps you're very into the idea of making your own holder from scratch but you're not keen on using wood or clay because you want something a little more industrial chic? Then try using concrete! If you've never worked with concrete before then you might not actually realize how easy and useful it is for homemade things. This awesome tea light holder by Signeplingis a great project to start with. We love the minimalist look it adds to the room.
30. Marble Painted Votives
Have you ever used marbling techniques with water and nail polish on things like DIY coffee mugs or even your finger nails? Then you already know how much fun it is! We love doing it too and that's why this cute little candleholder project from Once Wedcaught our eye. We like the idea of making an entire set that matches in technique but contrasts in fun bright ways when it comes to colour.
31. Coloured Birthday Candle Blocks
Did you like the idea of making a candleholder out of wood but you're looking for something a little more pop art minimalist than weathered rustic chic like we showed you before? Then perhaps you'll prefer this individual wooden holder style from Hank and Hunt! Cut small cubes form a piece of wood, sand the edges smooth, drill a candle-sized hole in the trop, and try your hand at a bit of stain style ombre painting! They'll look great no matter what colour you choose to do them in.
32. Wooden Paint-dipped Holders
With Easter coming, perhaps you've been looking for cute novelty candleholders to place on the dinner table when you host your family? We love these smooth, egg-shaped wooden holders that you can either make yourself of find at your local crafting store, but we love them even more the way they've been customized by Hello DIY. They drilled a hole in the top for the candle to sit in and then dipped the tops and bottoms into a lovely pastel blue paint with chrome finish. Tape off the parts you don't want painted to make a clean edge when you peel the tape off.
33. Cut Paper Candle Holders
Of course, you probably wouldn't want to make an entire candleholder entirely out of paper since it's such a flammable material, but that doesn't mean you can't incorporate how cool it can be for décor into making your own candleholders. Follow in How About Orange's lead and make some cut out paper slips for the plain glass holders you already have but have become bored with. You'll love how theflame glows through the slits in the paper.
34. Constellation Votives
Just in case you're still caught on the idea of making wooden candle holders but the ideas we've shown you still just haven't quite held your attention yet, here's another simple design for your consideration! Design Spongeguides you through the process of creating specific holes in small pieces of particle board wood so that, when the light from the lit candle shines through, they look like star constellations!
35. Copper Wire Candle Holder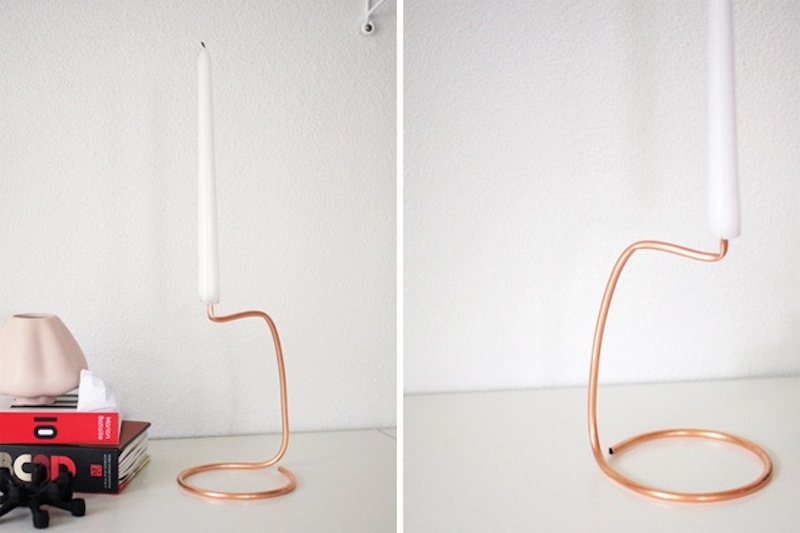 Copper wire might not sound like the most common thing to work with on an average crafting day, but with a good pair of pliers and some patience , you can create all kinds of things. By using a mid-thickness wire that isn't too tough to bend but isn't so thin that it's too malleable, A Merry Mishap shows you how you can make a candle holder that will hold your candle high and look totally unique and minimalist all at once.
Final Thoughts
We know just how fun creating your own candle holder can be and we hope you managed to find a project that will fit well into your home and your design aspirations! Share a comment below and tell us which projects you like best and which ones you're making! Also, share photos of your results with us over social media!