23 Festive Halloween Witch Decor DIY Ideas!
Get witchy this season! If you're a fan of a little Hocus Pocus, big hats and cackling grins, then you'll want to dive right into any one of these fun and creative projects with the family. Sprinkle the house with some of these 23 festive Halloween witch décor DIY ideas!
1. Lawn Ornaments
Martha Stewart shows us how to make an entire scene full of witchy delight right outside in the yard. The entire neighborhood will enjoy this one!
2. Sparkle Broom
Add a sparkle broom to your front porch and pay homage to the season! The Rehomesteaders have all the details.
3. Witch's Hat
Tidy Mom makes a centerpiece or buffet topper that is definitely fit for the holiday. You could wear it of course, but we love the jazzy, witchy decoration.
4. A Crash
The Alison Show made us giggle with this innovative idea. Plant a crashing witch right into your front porch with her help!
5. Spellbook
Visit G*rated and learn how to whip up one of these spell books in no time. Decorate the kitchen, the mantle or any other nook and cranny with this subtle, creative piece.
6. Parking Sign
Bead and Cord made a parking sign that can be placed at the front or back door of the house. And it'll hold your broom too!
7. Witch Legs
Me Sew Crazy teaches us how to sew up some witch legs to go under tables, chairs or even the pumpkins right outside. It's a great project to hone your skills with too.
8. The Shoes
Decorating by Day goes all out with their shoe DIY. These too can be placed under tables or left sprinkles the side tables or mantle.
9. Hat Luminaries
Add a Hallowen air and spirit to the foyer or front porch with these luminaries. Grab the details from Polkadot Chair.
10. Nightmare Dust
We found these cuties on Etsy, but they're also a great source of inspiration for DIYing. Find yourself a bottle, create a label and grab some black sand!
11. Broom Garland
Martha Stewart does it again with this DIY. Decorate your front door with some broom garland that pays homage to your favorite part of Halloween … witches, of course!
12. Witch Vitamins
Nest of Posies creates these fun party favors that you can dub "witch vitamins!" It's perfect for the themed events you'll be throwing throughout October.
13. In the Fireplace
Crafty in Crosby made it look like a witch was popping right out of her fireplace! Grab the fun details after the jump!
14. Pillows
If you visit Crafting in the Rain you'll learn how to create this throw pillow in no time. Add  bit of Halloween spirit to the sofa or any of your accent chairs.
15. Bottles
BHG teaches us how to ignite the festivity of the party … even with our drinks. These silhouettes are such a fun way to pay attention to details.
16. Crayon Fingers
Here's a great craft to get the kids involved with. Melt some crayons and create with fingers that can be used and placed in a bowl as fun spirited decor. (via)
17. Countdown
Detail-Oriented Diva made a Halloween countdown that was a bit witch-inspired too. Grab the details and have fun with the entire family with this one.
18. Glitter Candlesticks
Julie Blanner made some glitter candlesticks that scream – WITCH – to us. Add these to your themed decor for the season.
19. Printables
The 36th Avenue gives us some free printable that can be used as some fun, Halloween invitations. Whether it's a dinner party or costumed event, they work, especially for the kids!
20. Cauldron
Martha Stewart does it again with this fabulous outdoor decor idea. A pumpkin is all you need to get started.
21. Silhouettes
You could even learn how to make a silhouette from your yard. The shadow will tower at night and give those trick-or-treaters a fun little scare. (via)
22. Push Pops
Passion for Parties made from witch-inspired push pops and we're swooning for them! Everyone will love them, whether it's the kids or the adults.
23. Witch Pumpkins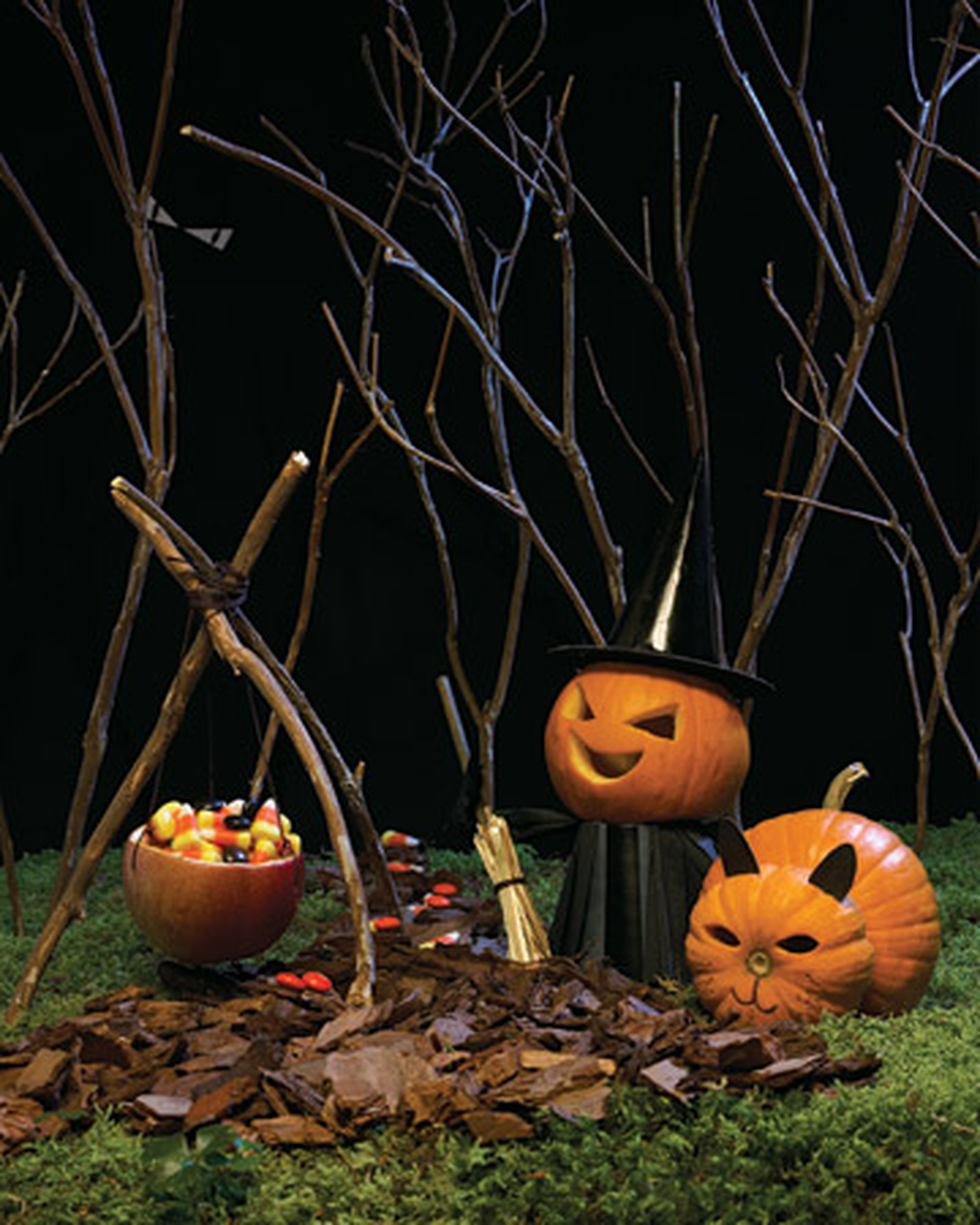 Martha Stewart knows how to turn pumpkins into yard art. Easily transform your fall veggies into something with a bit of witchy festivity.