40 Festive Halloween Witch Decor – DIY Witch Decor Ideas to Try!
Even though Halloween is a one-day type of holiday, people and stores get prepared for it as soon as the first leaves start falling in autumn.
If you want to be in true Halloween spirit, you'll engage in the typical activities that everyone else practices as well: decorating your house, dressing up in costumes, going trick-or-treating, and eating inhumane amounts of candy.
Of course, when it comes to decorating your house, the quickest way to get everything done is to simply buy the decorations from the store, but they aren't always exactly what we are looking for, and they can also be way too expensive.
That being said, we at DIY.com decided that, since one of the most iconic Halloween figures is the witch, we will be looking for the best 40 Witch-themed Halloween decoration ideas.
Which Are the Best Halloween-Themed Witch Decorations?
1. Witchy Home Decor – Candy Holder
During Halloween, candy will be coming and going in and out of your house like crazy, and since you'll need a place to store it anyway, you might as well turn that storage container into an actual Halloween decoration as well.
For example, instead of using a box or a bag, you can make your very own candy holder shaped like a witch's boot.
The great thing about this particular decoration is that you don't need to buy anything in particular in order to create it, just some glue, an empty toilet paper roll, a pair of scissors, a pencil, colored crepe paper, and regular colored paper.
If you like how this idea sounds, know that we've written an extensive step-by-step article where we will show you exactly how to make a witch's boot candy holder from scratch.
2. Witchy Decorations – Paper Cone Witch
You don't have to make complicated things to be in the spirit of Halloween, and you don't have to craft items that are too scary either since you don't want to scare the kids away.
That being the case, you can always opt to make some simple and cute home decorations made out of paper or cardboard depicting witches and other creatures of the night,
Just like the candy holder, you don't need a lot of materials, just some construction paper, a pair of scissors, some orange yarn, some black pipe cleaner, a couple of felt tip pens, and glue.
Assembly is so easy that you can easily make tens of these miniature witches to decorate an entire room or, if you invest a couple of hours, you can go ahead and fill the house with them.
As far as colors go, you can go ahead and make the little witches out of whatever material you see fit, but sticking to traditional Halloween colors works best (e.g., orange and black).
For more details on making these paper witches, go ahead and check out our complete step-by-step tutorial, where we will show you everything there is to know about mixing witchcraft and papercraft.
3. Witch Halloween Deserts – Halloween Witch Finger Cookies
If you ever go into a candy store around autumn, you'll notice how they include Halloween-themed candy as well, such as gummies shaped like skulls or candy eyes that are full of jelly.
Well, if you have a sweet tooth and you want to put your cooking skills to the test during Halloween, one great way to start is by making some Halloween witch finger cookies.
They're easy to make, delicious, but most importantly, they look incredibly spooky, and because they are basically cookies, they work well with a glass of something, like some milk or pumpkin punch.
Not only that, but if you have enough time to spare before Halloween to bake several batches, you can even give them away for the kids that come trick-or-treating.
4. Witch-Themed Party Invitations
Every party starts with a party invitation, and if you want your entire evening to be one big Halloween experience from start to finish, you can start by creating witch-themed party invitations.
Yet again, this is a decorative idea that is very flexible since you can make it look in whatever way you see fit, and the best part is that you can also find a lot of free templates online that you can download.
Then again, there's always the option of you designing the invitations yourself, but if you're unsure about your artistic skills, sticking to the basics is always a safe option.
5. DIY Witch Drinks – Halloween Cocktails
Since we've already covered Halloween-themed nibbles, the next entry on our list is naturally something that you can drink, and since witches are known for their brews and concoctions, what better way to satisfy your thirst with a nice glass of witch's brew Halloween cocktail?
The ingredients include bourbon whiskey, liquor, lemon juice, maple syrup, molasses bitters, and some fresh rosemary, so as you can tell for yourself, this isn't exactly something that you should serve kids.
Sure enough, you can tweak the recipe however you see fit, adding or removing ingredients entirely. Still, there's just something about the original recipe that makes the entire cocktail feel very mystical. Then again, it can also just be the alcohol.
6. Witch Halloween Costume
You can't have a list of witch-themed decorations without also listing some decorations for your body, aka a witch's costume.
The great thing about a witch costume is that it's a classic that never dies, as it is an icon of Halloween, somewhere in the lines of Dracula, zombies, the mummy, and Frankenstein, so if you make a really fantastic costume this year, you can wear it during next Halloween as well.
Another advantage of going for a witch's costume is that there's no rule regarding how you should dress. However, having some iconic elements will make you more easily recognizable, such as a robe or a cape, a pointy hat, a broom, or a fake nose.
If you happen to own a black cat, you can also train it to perform some basic tricks to entertain your guests.
7. DIY Witch Decor – Pet Costume
If you don't feel like dressing up as a witch during this Halloween, but you do own a pet, you can go ahead and make a miniature costume for them instead.
Sure enough, you won't be applying makeup or prosthetics on your cat or dog, but you can easily attach a cape or a robe to their collar, and pointy hats can also be fitted on their little heads.
However, the biggest challenge will not be creating the costumes themselves but rather the process of making sure that your pet doesn't ravage it before the guests arrive to see them.
8. Witch Halloween Pictures and Tarot Cards
If you like socializing during Halloween, then attending a Halloween party is a great idea, and you're the type that really goes deep into roleplay, you can take your witch's costume and enhance it with a pack of DIY tarot cards that you can use to entertain the other partygoers
There are plenty of free online templates that you can download and print, and all you need is some high-quality cardboard (or plastic if you want waterproof cards), a pair of scissors, and you'll be ready to look into everyone's future.
If you have a knack for graphics design, you can go ahead and make your cards, just as long as you know exactly which are the cards that you need to draw.
9. Halloween Witch Cake
No party is complete without a cake, and if you're the host of 2021's Halloween party among your friends, then you can really impress them with a Witch-themed cake.
The great thing about this cake is that you can make whatever kind you like since the centerpiece itself is the way you decorate it.
So it doesn't matter if you're making a regular chocolate cake or a no-back cheesecake, remember to add some wacky food coloring in the typical Halloween colors (orange, black, red, etc.), add some candied skulls, some sugar fondant pumpkins, or even some store-bought Halloween candy.
10. Halloween Witch Decor – Wall Stickers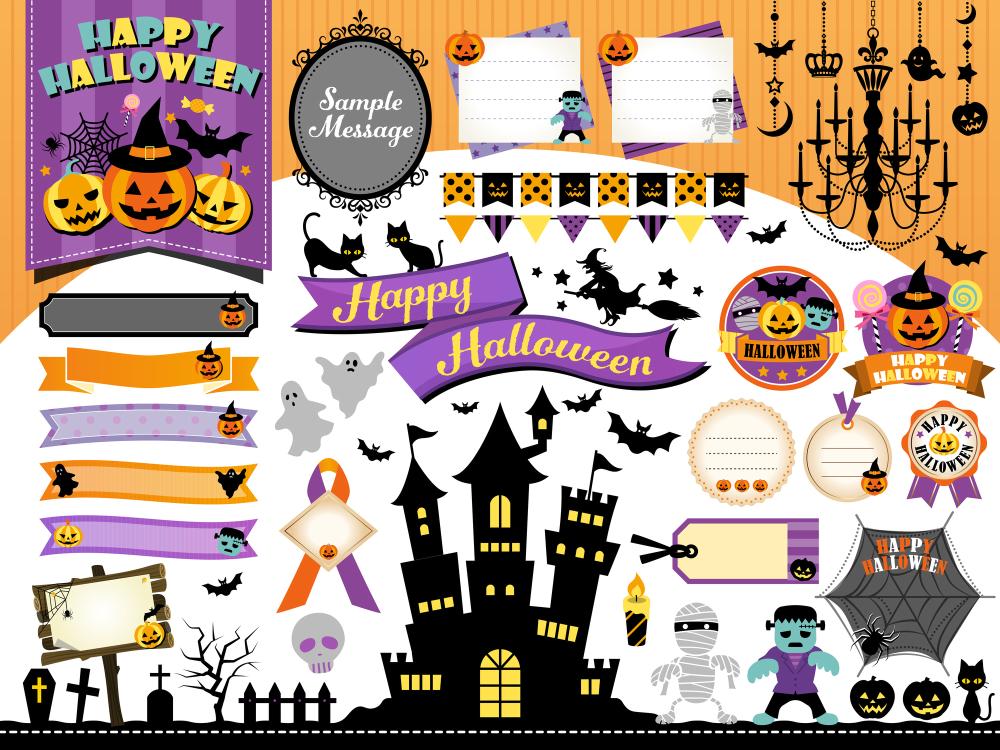 If you want to decorate your house but lack the space to place anything, one way to do so is via wall stickers, although it's only advisable that you go with this if your walls are covered with very resistant paint or if the stickers are easily removable afterward.
You can go ahead and design your own decorations in any graphics software or download some of the many available templates online. Then all you need to do is print them out on stickers made from vinyl using a heat press.
The only drawback with this particular Halloween decoration, besides the risk of damaging your walls, is that once you're removed them, you've pretty much destroyed them, so if you want to stick to the idea, you'll need to print new stickers year after year.
11. Witchy Home Decor – Easy-to-remove Wallpaper
If Halloween stickers don't seem like they offer enough coverage, you can always step it up a notch and go for witch-themed wallpaper instead.
It's basically the same thing, except that the pieces that you'll be sticking to the walls will be a lot larger, and since you won't have to use so many cutouts, you have more freedom in terms of what designs you can choose.
However, keep in mind that just like the stickers, you'll need to make sure that you make them easy to remove since they'll only be on your walls for an entire day. Not only that, but you also need to make sure that your paint job won't be damaged during removal either.
12. Halloween Temporary Witch Tattoos
Body art is definitely popular among all age groups, especially young people, so another great way to get into the spirit of Halloween is to create some customized temporary tattoos themed around Halloween, witches, and magic.
The great thing about Halloween-themed tattoos is that you don't need to be on the nose with the design, and since you'll most likely be also wearing a Halloween costume, you can use the tattoos to further enhance your disguise.
Of course, if even temporary tattoos that go away after a couple of months seem like too much, an even more convenient alternative is to opt for body paint instead, although you have to make sure it won't smear off until after Halloween is over.
13. Halloween Witch Themed Family Photo

If you're the kind of person that will use any holiday as an excuse to get closer and bond with family members, then taking a witch-themed family photo is a great idea.
You can do it in a professional studio where they have all kinds of props laying around, or you can take the photo within your own home, whichever you think suits your needs and budget best.
Once you've printed out and framed the photo (a Halloween-0themed photo frame will work great here), you can put it inside the living room or somewhere else where it is visible, just as long as whatever guests visit you get to see it as soon as they enter the house on Halloween.
14. Halloween Witch Party Games
If you've prepared a Halloween-themed party or if you just want to spend some quality time with friends and family, one great way to keep things exciting is to make your own Halloween-themed party games.
With a little bit of imagination and maybe some skills in graphics design (there are plenty of free templates on the Internet that you can use), you can make the Halloween version of some very popular party games using nothing more than a printer and some paper or cardboard.
In the example above, you can make your very own Find the differences game, but you can expand upon this idea and create whatever else you'd like.
15. Halloween Which Decor – Paper Cut Shadow Box
Shadow boxes are very interesting to look at and, depending on what scenery you're trying to portray, you can use it as a very impressive piece of decoration.
For example, you'll notice that many shadow box tutorials showcase creating very complicated sceneries so that the shadows mix with each other to create very impressive lighting effects.
Well, Halloween is all about spookiness, so mixing up the typical enchanted forest theme with some other elements such as witches, ghosts, and jack-o-lanterns can make for some amazing visuals.
Just make sure the right elements contrast with each other, and your shadow box may become the spookiest decoration in your entire house!
16. Halloween Witch-Themed Custom Bottle Labels
We've already talked about how you can include homemade witch's brew in your Halloween decor, so a great way to finish the idea is to also create custom bottle labels for them.
Then again, this idea can also be used on any other type of beverage as well, since everything's for show anyway.
For example, you can go ahead and take some regular orange juice and slap on a label that says enchanted pumpkin juice, you can take a very fancy bottle of red wine and stick a label on it that says dragon's blood, or you can fill some bottles with Gatorade and call them Mana potions.
If you do opt for this idea and leave the bottles lying around, just remember which of them are alcoholic and which aren't so you don't accidentally serve children things that aren't suitable for their age.
17. Witchy Home Decor – Halloween Scented Candles
While this particular idea may sound more like the beginning of a romantic night rather than the setup for a Halloween night, scented candles can also play a big role in giving your house an enchanted, almost magical feel.
Simply fill your entire house with candles, make sure they are dyed using typical Halloween colors, and go for smells that really tingle the senses and remind you that this night is the highlight of the Fall, such as spiced pumpkin.
The great thing about this idea is that at the end of the night you can salvage the wax and make new candles to use in later years, so if you're the type that hates leftovers and waste, there's no way you can go wrong with Halloween candles.
18. Halloween Witch Lawn Ornaments
Martha Stewartshows us how to make an entire scene full of witchy delight right outside in the yard. The entire neighborhood will enjoy this one!
19. Halloween Witch Sparkly Broom
Add a sparkle broom to your front porch and pay homage to the season!The Rehomesteadershave all the details.
20. Witchy Home Decor – DIY Witch Hat
Tidy Mommakes a centerpiece or buffet topper that is definitely fit for the holiday. You could wear it of course, but we love the jazzy, witchy decoration.
21. Front Door Witch Decoration
The Alison Showmade us giggle with this innovative idea. Plant a crashing witch right into your front porch with her help!
22. Witch Decor Spellbook
VisitG*rated and learn how to whip up one of these spellbooks in no time. Decorate the kitchen, the mantle or any other nook and cranny with this subtle, creative piece.
23. Halloween Witch Decor Parking Sign
Bead and Cordmade a parking sign that can be placed at the front or back door of the house. And it'll hold your broom too!
24. Halloween Witch Decor for Your Porch
Me Sew Crazyteaches us how to sew up some witch legs to go under tables, chairs or even the pumpkins right outside. It's a great project to hone your skills with too.
25. Halloween Witch Decor Shoes
Decorating by Daygoes all out with their shoe DIY. These too can be placed under tables or left sprinkles the side tables or mantle.
26. Halloween Witch Hat Luminaries
Add a Halloween air and spirit to the foyer or front porch with these luminaries. Grab the details from Polkadot Chair.
27. Halloween Witch Decor – Nightmare Dust
We found these cuties on Etsy, but they're also a great source of inspiration for DIYing. Find yourself a bottle, create a label and grab some black sand!
28. Broom Garland Halloween Witch Decor
Martha Stewartdoes it again with this DIY. Decorate your front door with some broom garland that pays homage to your favorite part of Halloween … witches, of course!
29. Halloween Witch Decor with Candy Corn
Nest of Posiescreates these fun party favors that you can dub "witch vitamins!" It's perfect for the themed events you'll be throwing throughout October.
30. Halloween Witch Legs In the Fireplace
Crafty in Crosbymade it look like a witch was popping right out of her fireplace! Grab the fun details after the jump!
31. Halloween Witch Home Decor Pillows
If you visitCrafting in the Rainyou'll learn how to create this throw pillow in no time. Add bit of Halloween spirit to the sofa or any of your accent chairs.
32. Halloween Witch Decor Bottles
BHGteaches us how to ignite the festivity of the party … even with our drinks. These silhouettes are such a fun way to pay attention to details.
33. Halloween Witch Fingers Out of Crayons
Here's a great craft to get the kids involved with. Melt some crayons and create with fingers that can be used and placed in a bowl as fun spirited decor. (via)
34. Halloween Witch Countdown
Detail-Oriented Divamade a Halloween countdown that was a bit witch-inspired too. Grab the details and have fun with the entire family with this one.
35. Halloween WitchGlitter Candlesticks
Julie Blannermade some glitter candlesticks that scream – WITCH – to us. Add these to your themed decor for the season.
36. Printables Witch Decorations
The 36th Avenuegives us some free printable that can be used as some fun, Halloween invitations. Whether it's a dinner party or costumed event, they work, especially for the kids!
37. Halloween Witch Cauldron Decor
Martha Stewartdoes it again with this fabulous outdoor decor idea. A pumpkin is all you need to get started.
38. Halloween Witch Silhouette
You could even learn how to make a silhouette from your yard. The shadow will tower at night and give those trick-or-treaters a fun little scare. (via)
39. Halloween Witch Push Pops
Passion for Partiesmade from witch-inspired push pops and we're swooning for them! Everyone will love them, whether it's the kids or the adults.
40. Halloween Witch Pumpkins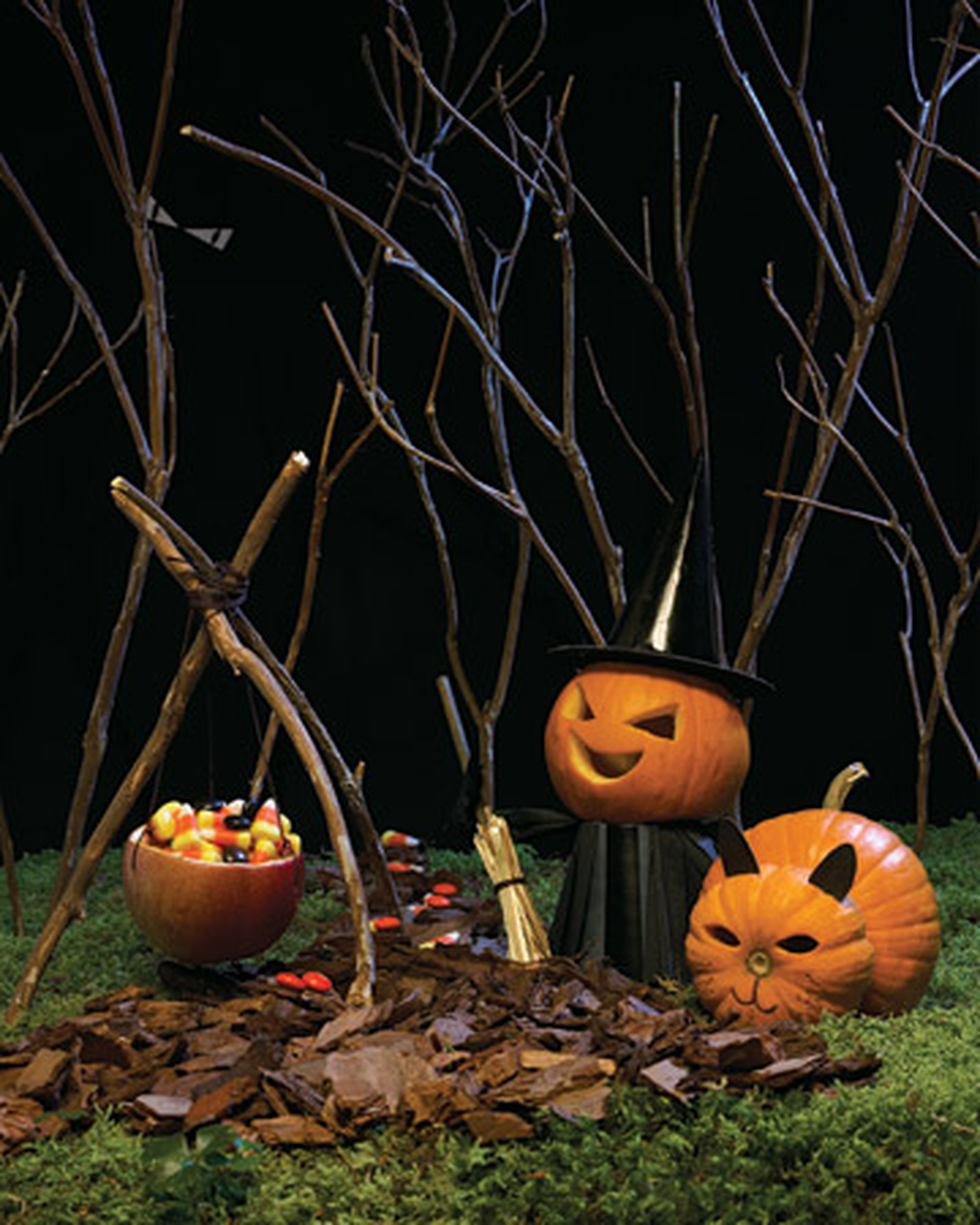 Martha Stewartknows how to turn pumpkins into yard art. Easily transform your fall veggies into something with a bit of witchy festivity.
Best Halloween-Themed Witch Decorations: Closing Thoughts
This concludes our list of the best 40 witch-themed Halloween decorations, and we hope that it helped you get a few ideas regarding what you should try this year to enhance your Halloween experience.
We tried including entries that are as easy to create as possible, ranging from things that you can cook in your kitchen to things you can create using supplies that you already have laying around the house.
If you want to read more articles about how you can enhance your Halloween experience, know that DIY.com is full of them, and if you don't find what you need, simply leave us your suggestions in the comments section below and we'll write a similar guide in no time at all!
That being said, go over our list, take a look at the pictures, and get creative!
Happy Halloween!