67 Creative Baby Costumes for Halloween and More
Whenever a family has a new baby, it's almost a must that the parents take hundreds of pictures of them to have some form of remembering them by, and this includes photos of them in creative baby costumes.
Because of that, the holidays are an excellent time for taking pictures and dressing up your little angel as something cute and creative, especially during Halloween.
Well, parents want the best for their children, and if you want to be very creative in 2021 when it comes to your baby's Halloween costume, we went ahead and compiled a list of over 70 different costume ideas that you could try out.
The entries were chosen based on their originality, popularity, aesthetics, how well they go with the Halloween season, and, where possible, how easy it would be to replicate the costumes if you wanted to create your own version at home using household materials.
Here Are the Best Halloween Baby Costumes of 2021
We'll go ahead and start our list of best Halloween Baby costumes by first including some designs that work for both baby girls and baby boys, and then we'll go deeper as we explore some costume ideas that are more popular with each gender.
You'll probably notice how some classic costume ideas make their appearance here together with some more up-to-date ideas that are popular right now due to mainstream media.
1. Mom and Baby Halloween Costumes – Adorable Devil Pair
There's no bond that's stronger than that between a mother and her child, regardless if the child is a baby, toddler, teenagers, or full-grown adult, so if you're looking for some mom and baby Halloween costumes that will showcase your love for eachother, try out this cute devil combo.
The mother can go ahead and dress up as a devil using a red dress and some cute horns, and the baby can be dressed in a cutesy red outfit that can either be bought from a costume shop or made at home.
Of course, you can go ahead and tweak the idea if you want, and replace the entire devil gig with another similar one, such as a witch and a black cat, or a witch and an owl.
What's great about this particular costume idea is that even if you're done with the family photoshoot, you can both continue wearing your individual costumes until the end of Halloween, since both of them work just as well separately as they do together.
2. DIY Baby Costume – Funny Text Costumes
If you have a baby and you'd like to create a super unique DIY baby costume for them to wear on Halloween night, one surefire way of doing so is by getting clothes with custom texts written on them, just as long as the texts themselves are original as well.
Simply take some regular baby-sized clothes and either sow the letters on yourself, or write the text on your PC and print them on the clothes using a thermal printer.
If you plan on using some fancy font, like those that mimic handwriting, printing them would be ideal, since sewing a large text letter by letter even in a font as simple as Arial can be very time-consuming and nerve-wracking.
What's great about this costume idea is that you can make something similar for the entire family, and everyone can wear a sweater that has its own customized text.
Besides, memes are very popular, so if you can think of some original text, you might as well go ahead and print a meme that your baby can easily relate to.
3. Best Baby Halloween Costumes – Baby Shark
Baby Shark was a very popular children's song that gained widespread popularity in 2016 when it first hit YouTube, and it shouldn't come as a surprise that the demand for baby shark costumes increased tenfold.
Well, the trend is still very strong among babies and parents, so it should come as no surprise that a baby costume made it onto our list as well.
The best part is that there are many versions of the costumes available to buy, and if you're not interested in something like the one above, you could always go for a baby shark onesie instead.
Another great thing about this costume idea is that, given the song's lyrics, the entire family can pretty much dress up as sharks and take pictures together, or even record themselves in a sing-along video with the baby taking center stage.
All in all, this is one of the best baby Halloween costumes available and, ironically, seeing your baby dressed up as a man-eater might actually make you want to eat him all up instead.
4. Newborn Costumes – Cute Pumpkin
We mentioned in a previous entry how a baby dressed as a pumpkin has been one of the most popular newborn costumes in recent years, and just by looking at the picture above you can see why.
The costume itself does nothing more than to enhance the things that make a baby so adorable: the extra chubbines, their inability to walk right, and the fact that you sometimes just feel like eating them alive.
Among the many advantages of this costume idea, besides its popularity, is the fact that a pumpkin costume is easy to make at home, so if you're planning on making a costume from scratch, you can go right ahead.
What's more, a pumpkin costume is one of those rare exceptions where there's absolutely no problem if several babies meet and they're all dressed as pumpkins, since you'll basically end up with one of the cutest pumpkin patches you've ever laid your eyes on.
Lastly, a pumpkin costume is easy to fill up and line up with extra material to keep your little angel warm, especially since Halloween is on October 31st, and it can get pretty chilly outside.
5. DIY Baby Halloween Costumes – Animal Onesies
When it comes to DIY baby Halloween costumes, the fastest way to get a costume that's both effective and cute is to go for an animal onesie, since everyone loves an animal onesie.
Besides, even if you don;t have the time to make one yourself, animal onesies are very easy to find, and you don't even need to go to specialized Halloween costume shops to find them, since you'll always find at least 2 or 3 models in the children's aisle of any clothing store.
As you can see for yourself, the onesies do an excellent job at making babies impossibly adorable, and they also serve as practical clothing, since they're very fluffy and they cand keep them warm while outside.
Another advantage of animal onesies is that they can come is a wide variety of forms, and large enough stores can have them in almost any animal species, so it doesn't matter if you want your baby to be an adorable little penguin, or a fluffy lion, chances are that you'll find a onesie for that.
Lastly, onesies aren't limited to just animal designs, since you can also find them in the form of mythical creatures as well, such as dragons, or even a devil onesie.
6. Family Halloween Costumes With Baby – Ghouls
Many families go crazy when it comes to holidays like Halloween because they can't wait to get the chance to take a nice family picture together.
However, the biggest challenge is to find some good family Halloween costumes with babies included, but with a little bit of imagination, you can do that as well.
Take the picture above for example, since it depicts a family of 4 dressed up as random ghoulish creatures, and a baby could go along with them just as fine.
Those of you that love pop culture references can even go ahead and dress up as popular movie or TV families, one very popular one for Halloween being the Addams family which coincidentally also happens to include a baby.
For those of you that aren't too keen on this idea, you could also dress up the entire family as the same things, since a family made entirely of witches and wizards, vampires or zombies can also be pretty neat to watch and take pictures with.
7.Baby Halloween Costume Ideas – Santa Claus
While Christmas is about 2 months away from Halloween, that doesn't stop supermarkets from having Christmas merchandise on the stalls as soon as November arrives.
So, if you're looking for some funny baby Halloween costumes, you can't go wrong with dressing them as Santa Claus, especially since they'll be believing in him for a good couple of years anyway.
What's great about this costume is that it doesn't even need to be a full costume either, since one of those big pointy hats with a fuzzball at the end will suffice, and these are fairly cheap to buy.
Besides, as far as the hat is concerned, there's a high chance that you may already have a Santa hat lying around in the attic waiting for Christmas, so all you need is to find it and refit it so it will stay comfy on your baby's head.
Lastly, as you can see for yourself, those of you that are particularly skilled at knitting can even make the hat themselves, just as long as you remember not to use materials that are too itchy, since baby scalps are extremely sensitive.
8. Funny Baby Halloween Costumes – Alien
Aliens are another popular topic when it comes sto funny baby Halloween costumes, especially since you can use anything to dress up as an alien, since no one knows exactly what they look like.
Some go all out by covering their entire body in paint, or they wear spandex and prosthetics, or carry around futuristic jetpacks and space weapons, but sometimes the best results are achieved using minimum effort, as you can see for yourself in the picture above.
They basically covered the baby's head with a pom-pom, but you can go ahead and use a Christmas garland instead, and then they used a headband with some puffy antennas to complete the costume.
This is a very simple costume for you to make but you're free to add whatever else you want, since you can still call it an alien in the end.
Besides, your spouse can go ahead and dress in matching outfits, maybe Men in Black, or astronauts, and the 2 of you will look positively amazing in pictures together with your intergalactic baby.
9. Baby's First Halloween Costume – Adorable Scarecrow
Halloween is right in the middle of autumn, and those of you that don't associate autumn with Halloween will probably associate it with a bountiful harvest, so it's no wonder that fall-themed costumes are always in style.
Well, if you want to make your baby's first halloween costume a memorable one, you could always dress him up as something that will remind people about the fall and the autumn harvest, like a scarecrow.
Normally, scarecrows are not exactly something you'd think of as cute, but just look at the baby in the picture above and try to say that it isn't just adorable?
The cap is knitted using typical fall colors, like shades of brown, orange, and yellow, and the material itself is made to look like a burlap sack that you'd use to carry potatoes with.
You can make an entire suit following this cap's design, and you can even add some other decorative elements as well, like cornucopias and pumpkins, especially if you're dressing the baby up for a photoshoot.
All in all, this particular costume is easy to replicate, just as long as you don't use an actual burlap sack to make it, since it can be itchy and even irritating for a baby's sensitive skin.
10.Cute Baby Halloween Costumes – Snowman
If you're looking for some cute baby Halloween costumes, you can't go wrong with a snowman outfit.
We already talked about how there's nothing wrong about dressing up your baby in something you'd normally see around Christmas, and besides, there are places in the world where it may actually start snowing on Halloween.
As you can see in the picture above, the baby is dressed in a full white suit that has red button, and he also comes with a pair of red mittens, a red scarf, white boots, and a fluffy whte cap that's made to look like a snowman's head, complete with button eyes, a button mouth, and a nose.
Not only is this costume very pleasant to look at, but all that white will make your baby look even cuter and innocent than it already is.
Besides, since you already have this costume at hand, you can also use it for Christmas, since it's cozy enough to keep him warm even during winter (unless the baby outgrows it by then, since they grow up pretty fast).
This costume idea can also be made at home, especially since the main idea is to make the baby look as fluffy as possible, although you will be using a lot of white fabric.
Baby Girl Halloween Costumes
While a lot of costumes can be worn by both baby girls and baby boys, there are some costume designs that have always been more popular with one gender than they are with the other.
As such, the next section will cover some of the most popular baby girl Halloween costumes that you can buy or make in 2021, and we won't just be listing the typical Diney princess dresses.
11. Infant Girl Halloween Costumes – Baby Deer
It's amazing how easy girls have it when it comes to costumes, especially since most of the time they can get away with just wearing an accessorized headband, just like the baby deer costume above.
In fact, this is arguably one of the easiest infant girl Halloween costumes on our list, but you can go ahead and enrich it with other costume elements, such as brown clothes that have white spots on them, or even with a full body deer onesie.
Your baby girl already has the doe eyes, so there's no need to work with any makeup or face paint, although you could go ahead and add some fake freckles, or maybe even a black button nose.
If you don't want to buy any new deer horns, you can go ahead and use the ones that you'd usually wear for Christmas, since no one will ever know the difference (unless maybe they're one of those red horns).
As for photoshoot ideas, having your baby in front of a natural backdrop, or at least a big wallpaper depicting a giant backdrop will suffice.
If you want to increase the cuteness factor, you can even add some stuffed animals into the mix, just as long as they are animals that you find in a forest, and not things like lips, unicorns, or dinosaurs.
12. Baby Fancy Dress – Fall Colors
Many people love the fall because of the abundance of colors that can be seen everywhere, especially if you live somewhere close to a forest.
That magical blend of yellow, orange, red and brown all come together to create some of the most fantastic sceneries imaginable, and these are not just the perfect inspiration for landscape paintings, but also a Halloween costume, like a baby fancy dress.
Just like our other entries, we realised that a costume doesn't need to be over the top in order to look beautiful, and sometimes even something as a dress will suffice, if designed correctly.
For example, if you take a look at the picture above, you'll notice how the girl is only wearing an orange sweater, a black tutu, black tights, and black shoes, and the only thing that actually contributes to the whole Halloween looks is the scenery.
Well, if a photoshoot is what you have in mind for Halloween, you too can go ahead and try a simple dress, although you're free to spice things up with whatever other accessories you want, just as long as you stick to the proper autumn color palette.
13. Newborn Girl Halloween Costumes – Spring Flower
Another way you can showcase your love for the seasons is to go for an entirely different theme, maybe even the opposite of autumn, namely spring, and that's exactly what they did in the picture above with this spring flower costume.
This particular idea is one of the most popular newborn girl Halloween costumes of 2021, and as you can see for yourself there's not much to it as far as accessories and elements go.
The newborn is just wearing a loincloth and a hat, and they are both made to showcase the beauty of winter via colorful flowers.
If you're looking for a DIY costume idea, this is it, since even the baby above is wearing a knitted costume, so if you want your costume to have that certain personal touch to it, you can go ahead and make it yourself.
14. Cute Baby Girl Halloween Costumes – Purple Dino
One way to emphasize a baby's natural cuteness is to dress him up in a costume that is actually menacing, since these bundles of joy will literally make anything look adorable.
For example, while this particular idea is usually a favorite among boys, if you're looking for some very cute baby girl Halloween costumes, you could try a dino costume, especially if you work with light pastel colors like the lilac above.
The girl looks exactly like Barney the dinosaur, but 100 times sweeter, and it's also a costume that you can easily make at home using everyday materials.
Besides, you can go ahead and use other colors as well, like red, pink, yellow, or peach, and you can even attach a fake tail to the back, just make sure that you make it in such a way that it doesn't hinder the baby's ability to sit.
If you want to take a family photo, you can have the entire family dress up as dinosaurs as well, especially since T-rex suits are so popular nowadays, or, if you're a fan of prehistoric times in general, you could dress everyone else in cavemen, and have the baby be the centerpiece of the photo, rising out of an egg.
Baby Boy Halloween Costumes
Now that we've covered some of the most popular costumes for the little ladies of the family, the next section will cover several baby boy Halloween costumes that will make your little tike look amazing during all Hallow's Eve.
Just like the previous entries, we gathered the most popular costume ideas, and tried including some that are also easy to make at home using everyday materials.
15. Infant Boy Halloween Costumes – Cute Chef
When he's less than a year old, your baby boy probably doesn't know of any other fruits except for milk and fruit purees, but that doesn't mean that you can't make him look as if one day he'll be one of the biggest chef's in the world.
Of all of our infant boy Halloween costumes, this one is probably the simplest, since you basically need to dress him in all white, and then just find a chef's hat small enough to fit his little head.
As for accessories, you can give him a wooden spoon or a roller, and you can even stain the entire suit a little since, let's face it, no chef ever comes out of a kitchen as pristine as he was when he went in.
If you want to take a family photo and you want your infant boy to be the center of it all, there are plenty of costumes that you can try out, such as food products, waiters, or even dress everyone as chefs, since matching costumes are always a go-to choice.
As for backgrounds and sceneries, simply take the picture inside a kitchen where lots of pots, pans and other kitchen utensils are visible, or you can even photograph him while he's pretending to cook, just as long as you remember to hide everything pointy.
16. Cute Baby Boy Costumes – Sports Uniform
When you first have a baby boy a father will almost always try to make him pursue a career in sports, so if you want some ideas regarding cute baby boy costumes, you could always go with a sports-themed costume, like a uniform.
For example, the little baby in the picture above can't even stand upright, but he's dressed and poses like he could easily do a 1-on-1 against Michael Jordan.
The costume itself is knitted, and it's neat how they even remembered to make some cute little cuffs to go with the entire design, and you can go ahead and try different colors and designs, even those that mimic the uniforms of your favorite sports teams.
The great thing about this costume idea is that, since we're talking about a sports uniform where naturally there are plenty of team members, you and other family members can dress up in the same costume and have a sports-themed photoshoot.
Another great idea that you could try out if you have friends with babies of similar age is to have them dress up as opposing teams and have photos of them taken together.
17. Baby Costumes for Boy – Christmas Elf
Since we had a Santa Claus and a Snowman costume mentioned so far, we figured that we might as well be a Christmas elf in our list of baby costumes for boys.
As you can see, most of the costume is made up of what look like pajamas at first glance, so the biggest challenge will be finding a pointy elf hat, and a pair of pointy elf ears.
Sure enough, this costume idea has plenty of advantages, the first being that you can easily make your own elf costumes, since there are plenty of free video tutorials online that you can follow.
Secondly, if you want your baby boy to be the center of your Halloween photoshoot, you can dress the entire family in Christmas-themed costumes, such as Mr. and Mrs. Santa Claus, and if you happen to have a pet you can dress it up as Rudolf the Rednosed Reindeer.
The third and biggest advantage of dressing your baby boy as a Christmas elf is the fact that, if you want to prepare for a professional photo shoot, a great way to fill the background is by using toys, and babies are crazy about that.
More Amazing Halloween Baby Costume
18. Baby Girl Halloween Costume – Sushi
Turn your little baby into a sushi roll complete with a bit of ginger and wasabi on top. Check out the adorable details at Really Risa.
19. Infant Boy Halloween Costume – Cheeseburger
Or, you could always turn your little guy into a juicy, cheesy cheeseburger completely with all of the topping. Details can be found over at C.R.A.F.T.
20. Panda Bear Baby Boy Halloween Costume
What about a Panda bear for your baby boy or girl to dawn? C.R.A.F.T. has all the details for creating this easy peasy costume as well.
21. Cute Baby Girl Halloween Costume – Pineapple
Delia Creates has this amazing pineapple DIY costume on their site and we're in love. How adorable would this cape look on a tiny baby!?
22. Cow Newborn Costume
Check out this hilarious baby cow costume – complete with a bottle nipple utter – from Make It Love It. Talk about a memorable look for your little one!
23. Aerobics Instructor Infant Girl Halloween Costume
Here's another giggle-inducing costume that we're absolutely, head-over-heels in love with. Homemade By Jill gives us the easy details on making this look come to life.
24. Prince Cute Baby Boy Costume
This may not be Prince Charming but it sure is a great idea for your little guy to sport. We found this easy DIY idea at College Humor and we're still chuckling about it.
25. Harry Potter Infant Boy Halloween Costume
Love and Lion showed us how easy and adorable it can be to turn your baby into Harry Potter for Halloween or any other event where the wizard should make an appearance.
26. Owl Baby Halloween Costume Idea
Check out the wings on this gorgeous little baby girl. This is so easy to DIY at home thanks to Life Flix's inspiration surrounding the look.
27. Little Old Lady Baby Costume
How does aging your baby sound when it comes to creative costumes? Costume Works featured this charming treat for us and we couldn't resist!
28. Gumball Machine DIY Baby Costume
Coolest Homemade Costumes showcased this super innovative idea and we couldn't wait to show it off! Just look at all the details from the sign to the pom-pom headpiece!
29. Card Dealer Infant Boy Halloween Costume
Check out this card dealing baby that we found on Costume Works. What a great idea for a homemade costume that can be pulled out in a pinch!
30. Burrito Baby Costume
Here's another edible-inspired, DIY costume that will cause a giggle or two. It made a splash on Reddit and we are loving the coziness surrounding the idea for the tiniest of babies.
31. Chicken Infant Boy Halloween Costume
Maybe you'd like your little one dressed full of feathers as a pretty chicken on the farm. You can find the details of this look over at Lovely Morning.
32. Cute Baby Boy Costume – Farmer
DIY Show Off made this simple and charming farmer costume that's perfect for babies, toddlers and older kiddos alike. Snag some inspiration after the jump!
33. Hobbit Girl DIY Baby Halloween Costume
If you're a fan of Lord of the Rings then you will fall hard for this DIY costume. Dress you baby girl like a little hobbit with the helps of Live Like You Are Rich.
34. Black Cat Cute Baby Girl Halloween Costume
Do It Yourself Divas inspired us to make a small and adorable black cat costume with a lot of frilly personality and girlish style. We love it and we're certain your small gal will too.
35. Garden Gnome Baby Halloween Costume Idea
Here's another costume that will grab a laugh or too partly because of how adorable it is and partly because of how creative it is! Adventure In A Box will show you how to pull it off.
36. Nacho Libre – Funny Baby Halloween Costume
For fans of the comedy movie, here's a hilarious "baby" rendition of Nacho Libre from Live Like You Are Rich. How adorable is that mustache?
37. Popeye Baby Costume
How about grabbing some biceps for your little guy and a can of spinach? Crafty Bitch transformed her baby into Popeye and we're in love.
38. Best Baby Halloween Costume – Octopus
Mer Mag made one of the most beautiful costumes on the list and it's that of an octopus. Just imagine all of the fun colors you could dip this idea into!
39. Peter Pan DIY Baby Halloween Costume
How does a baby Peter Pan sound to you? Over at Babble you can grab all of the details and directions behind this magical costume.
40. Mickey Mouse Cute Baby Girl Halloween Costume
Here's another Disney-inspired costume but this time it's from the Chirping Moms. Costumes don't have to be full of fancy details, simple is cute too!
41. Bjork Cute Baby Girl Halloween Costume
Remember that time Bjork wore a swan dress to the Oscars? Use that as inspiration for your baby's costume like Cat Cutillo did!
42. Mushroom DIY Baby Halloween Costume
Or you can go the route that Wispy House took and create a mushroom costume for your little one. Just look at that hat, how adorable is that?!
43. Strongman Infant Boy Halloween Costume
You Are My Fave created a baby strongman costume that is just too unbelievable cute to believe. Complete with a barbell and a mustache, it's so creative!
44.Cute Baby Costume Care Bear
Who just squealed when seeing this Care Bear costume? Instructables has all the great details on how to take an actual stuffed animal and turn it into a costume for your baby.
45. Stick Figure Newborn Costume
How do you dress a baby as a stick figure? Like this, of course! It's so creative and innovative – we're loving this offbeat idea from Little Inspiration.
46. Funny Baby Halloween Costume – Cupcake
Simmworks took a onesie they found at Babies R Us and redesigned it to be the most adorable cupcake outfit around! Check out the details after the jump.
47. Elsa – Baby'sFirst Halloween Costume
You could also learn how to make Elsa's beautiful dress for your baby to rock. Grab the know-how over at Kiki & Company.
48. Superhero Baby Girl Halloween Costume
White House Black Shutters made an easy and charming baby superhero costume that we've fallen in love with. Any and every baby can be a hero for a day!
49. Best Baby Halloween Costume – Pinata
Why not do something super festive like turn your baby into a party-inspired piñata for the night? Little Inspiration has all the details.
50. Fox Baby Costume
Dress your baby up as a fox and do it with the help of Two Photos and the super easy tutorial featured on the blog. Again, sometimes simplicity really is best.
51. Baby Boy Halloween Costume – Hipster
One of the easiest on the list but also one of the most innovative and clever, adorn your baby in hipster duds for a day. Emma Magazine had this great idea waiting for us!
52. Baby Boy Halloween Costume – Elvis
The king is in the building and you can find out how to make this magnificent baby Elvis jumpsuit over at Sew Much Ado. How could you not love this look?
53. DIY Baby Halloween Costume – Birds of a Feather
This costume is actually a "mommy and me" mix but we had to include its adorableness and beauty on the list! Just look at this happy feather baby from Lovely Indeed!
54. Cute Bee Infant Girl Halloween Costume
Maybe a bumblebee is more your style. If so, this one is quite easy to handle on your own or grab inspiration on its creation from Taylor Made.
55. Groot Newborn Costume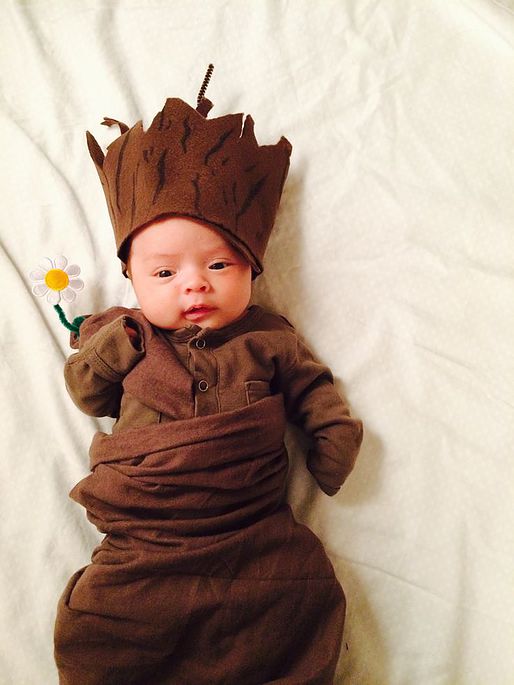 Hella Mommy must have been a fan of Guardians of the Galaxy because this idea for a baby Groot costume is quite genius. I know my husband would love it!
56. Strawberry Newborn Costume
Sew Woodsy knows how to use her crafting essentials which is evident in this strawberry costume made right at home. Follow along and learn how to do it yourself!
57. Infant Boy Halloween Costume – Bat
If you visit Tell, Love and Party you'll find an entire family of monster costumes including a baby bat that has flown right into our heart. Just look at those wings!
58. Cute Baby Girl Halloween Costume – Frida Kahlo
Oh Happy Day has some of my favorite and most clever of DIY costumes, which includes this beautiful, adorable and hilarious version of Frida Kahlo.
59. Unicorn Baby Costume
Check out Craftaholics Anonymous for some great inspiration all the way around. But this DIY unicorn costumer really takes the cake in terms of charm and creativity.
60. Funny Baby Halloween Costume – Swan
Minted gives us this super cute and sweet swan costume that you can create right at home with a lot more ease than you may expect. Check it out after the jump.
61. Cloud 9 Cute Baby Girl Halloween Costume
Here's one of the most unique and creative of the bunch. Fawn Over Baby made a "cloud 9" costume that is absolutely whimsical and fairy-tale like.
62. Funny Baby Halloween Costume – Cotton Candy
If you're going to dress your babe up as sweet treat, then cotton candy may just the the absolute sweetest. Visit Whippy Cake for all the know-how.
63. DIY Baby Halloween Costume – Ghost
My DIY Creations had a DIY costume challenge and this fluffy ghost is what came to fruition. Just some tulle can go a long way when creating costumes.
64. Teddy Bear DIY Baby Halloween Costume
Blooming Homestead made an offbeat and stylish teddy bear costume that we think would work for any little gal around town. How sweet is that faux, fluffy fur?
65. Cabbage Patch Kid Easy DIY Costume
Costume Works featured this adorable DIY costume as well. If you've been a fan of these baby dolls then why not dress your baby in the inspiration from head-to-toe?
66. Game Boy – Newborn Costume
Your little guy could easily become a "game boy" with help from Really Awesome Costumes. All you need is a onesie to get yourself started.
67. Carrot Baby Costume
Your baby can dress as a carrot for Easter day if you'd like, just check out how to create this easy and adorable costume over at C.R.A.F.T. now!
Best Halloween Baby Costumes: Closing Thoughts
Kids will rarely remember anything since before they were 2 years old, but you're there to witness their first steps and the first words that they spoke, and remember these moments for them.
As such, go wild with your Halloween baby costume ideas, since they'll only be a baby once, but you'll be left with tens or maybe even hundreds of photos to remember them by, and both you and them when they grow up will enjoy looking over these pictures together.
We hope that you liked our costume ideas and that they inspired you enough to finally decide what you'll dress your precious little bundle of joy as on Halloween.
However, keep in mind that all of our entries are merely suggestions, and that you can use bits and pieces from each of them to create something truly unique.
Our website is filled with plenty of helpful guides and lists like the one above, so if you're looking for some other ways through which you can enrich your Halloween experience, go ahead and search for what you're looking for since there's a very big chance that we already have it.