25 Valentine's Day Strawberry and Chocolate Recipes to Make This Year
Chocolate-covered strawberries are one of the most delicious and uncomplicated treats to make. Make them for Valentine's Day with your special someone or as a sweet surprise for your family!
Besides, you can use different and unique ways to make chocolate-covered strawberries. If regular chocolate-covered strawberries do not sound appealing, don't hesitate to explore other options!
For instance, you can try white chocolate, dark chocolate, milk chocolate, peanut butter, caramel, nuts, or anything else that your heart desires. You can even be creative by trying some of these ideas with other types of fruit!
Chocolate-Covered Strawberries Ideas
Chocolate-covered strawberries are easy to make. But it can be hard to decide what to put on them. Here are some unique ideas for you to try! This list is not limited to these items, so feel free to experiment with your chocolate creations.
White chocolate: white chocolate chips and strawberry slices.
Milk chocolate: strawberry pieces and sprinkles.
Dark chocolate: fresh mint leaves and sea salt flakes.
Caramel: sliced almonds and mini caramels.
Peanut butter: chopped peanuts and peanut butter chips.
Fruit: banana slices, apple wedges, pineapple chunks, kiwi slices, orange slices, mango cubes, or honeydew melon balls.
Nuts, seeds, and other crunchy things: almonds, walnuts, cashews, hazelnuts, pistachios, pecans, sunflower seeds, pumpkin seeds, sesame seeds.
You can also try dipping strawberries in coconut butter. Or, you can go with different yogurt flavors for a more sour chocolate coating.
Be creative! One way to go wild is by dipping your chocolate-covered strawberries in pudding! More ideas include mini marshmallows, sweetened condensed milk mixed with butter, or shredded coconut dipped in chocolate.
Valentine's Chocolate-Covered Strawberries
Here are just a few ideas that you can try out at home:
1. White Chocolate-Covered Strawberries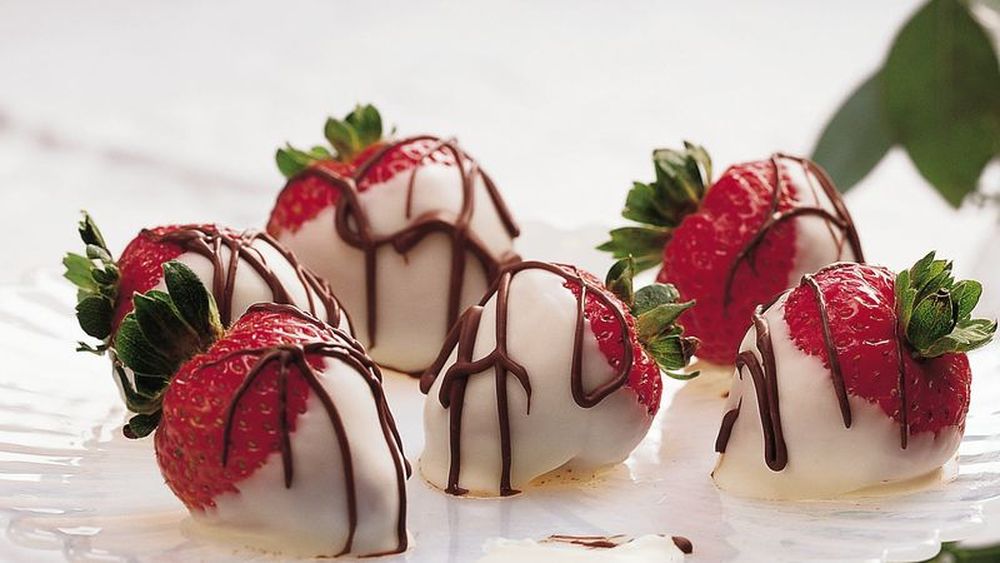 Strawberries dipped in white chocolate are a delicious and easy treat! You can make them with your partner or loved ones for Valentine's Day. This dessert is ideal if you're hosting a party or want your entire family to indulge in something tasty.
As far as ingredients go, it would help if you had a bag of white baking chips, tablespoon and teaspoon shortenings, semisweet chocolate chips, and large strawberries with leaves.
Get the full recipe from Betty Crocker and start working on these white chocolate-covered strawberries right away! You need 30 minutes of prep time and 30 extra minutes for 18 servings.
2. Caramel Brulee Cheesecake Strawberries – Valentine's Chocolate-Covered Strawberries
Caramel Brulee cheesecake strawberries make a perfect presentation for you and your loved ones. If you are hosting a party, you can use these strawberries to decorate tables or create place settings for your guests.
You need strawberries, superfine or granulated sugar, cream cheese, caramel topping, powdered sugar, vanilla, and whipped cream when it comes to ingredients.
Check out the full instructions at The Gunny Sack! You only need 30 minutes for these Valentine's chocolate-covered strawberries.
3. Chocolate Cupcakes with Strawberry Frosting – Valentine's Day Chocolate-Covered Strawberries
We bet you'll go crazy with this recipe since chocolate cupcakes with strawberry frosting are an excellent indulgence to make for yourself and your loved ones.
If you want to make this dessert, you will need Devil's Food Cake Mix, instant chocolate pudding mix, sour cream, vegetable oil, eggs, vanilla and strawberry extract, and warm water for the cupcakes.
As for the buttercream, make sure you have softened butter, shortening, powdered sugar, salt, vanilla, finely chopped strawberries, and water.
Get the full instructions for this mouth-watering recipe at Lemons for Lulu! You need 30 minutes for preparation and 18 minutes for cooking to produce two dozen cupcakes for these Valentine's Day chocolate-covered strawberries.
4. Salted Caramel Covered Strawberries – Valentine's Day Strawberries
How can you resist strawberries covered with salted caramel? They are a definite crowd-pleaser and perfect if you have friends coming over for a special occasion like Valentine's Day.
You need strawberries, whipping cream, caramel, mixed nuts, and sea salt to create these rich taste sensations.
You can find the complete steps at Steamy Kitchen. for these Valentine's Day strawberries. The best part about this recipe is that you can whip up 10 strawberries in only 4 minutes, making it an excellent choice for coming up with a delicious dessert when you're in a hurry.
5. Caramel-Cinnamon-Strawberry Crescents – Valentine Strawberries
Another easy-to-make recipe for Valentine's Day is caramel-cinnamon-strawberry crescents. These tasty pastries are a perfect treat to bake up for you and your loved ones on Valentine's Day.
You need frozen strawberries, caramel sauce, ground cinnamon, powdered sugar, and crescent rolls when it comes to ingredients.
Get the full recipe at Pillsbury for these Valentine strawberries! You shouldn't need more than 20 minutes for preparation and 15 minutes for cooking to create 8 servings.
6. Strawberries Dipped in Peanut Butter – Valentine Strawberries
Strawberries covered with peanut butter are another ideal recipe for Valentine's Day! Dip your favorite fruit in peanut butter and enjoy the sweet taste of these delicious treats with your loved ones.
To create this Valentine strawberries recipe, you'll need Wilton Peanut Butter Candy Melts and fresh strawberries. And, if you want, you can top off the treats with sprinkles.
Check out Wishes and Dishes for the complete instructions! You should be able to complete this dessert in under 5 minutes.
7. Chocolate-Covered Strawberry Pops – Chocolate-Dipped Strawberries Recipe
If you want to create a more versatile dessert on Valentine's Day, try chocolate-covered strawberry pops. They are perfectly scrumptious and provide the perfect combination of strawberries dipped in dark and white chocolate, which you can also top off with sprinkles if desired.
You will need strawberries, lollipop sticks, and dark and milk chocolate for this chocolate-dipped strawberries recipe.
Head over to Chocolate Chocolate and More to get the complete instructions for this mouth-watering recipe! 24 servings require 15 minutes of prep time and 5 minutes of cooking time.
8. Chocolate-Covered Strawberry Cobbler – Chocolate Strawberries Recipe
If you want to put a healthier spin on Valentine's Day desserts, why not bake up this chocolate-covered strawberry cobbler? It's super delicious and perfect for your family and friends.
To create the cobbler, you need butter, self-rising flour, sugar, 2% milk, vanilla extract, baking cocoa, fresh strawberries, boiling water, and whipped cream.
Head over to Taste of Home to view the full instructions for this chocolate strawberries recipe! You need 15 minutes for preparation and 35 minutes for baking to produce 12 servings.
9. Tuxedo Strawberries – DIY Chocolate-Covered Strawberries
These chocolate-covered strawberries look like little works of art. Mel's Kitchen Cafe describes these tasty treats as tuxedo strawberries because they are dipped in dark and white chocolate to resemble a black tie.
To create this DIY chocolate-covered strawberries recipe, you need fresh strawberries, good-quality white chocolate, and milk semisweet or bittersweet chocolate. It's all about your design skills, so be sure to check out the tutorial for full instructions.
10. Slow-Cooker Strawberry Soda Cake – Homemade Chocolate-Covered Strawberries
Strawberry soda cake cooked in a slow cooker is another excellent recipe for Valentine's Day. It's a tasty, gooey dessert that will have everyone wanting just one more bite.
You need chocolate milk, butter, vanilla extract, all-purpose flour, sugar, baking powder, salt, and semisweet chocolate chips for this recipe.
For the topping, make sure you have the following ingredients: strawberry soda, regular and packed brown sugar, dark chocolate chips, seedless strawberry jam, molasses, whipped cream, and sliced fresh strawberries.
Visit Taste of Home to view the complete ingredients for this homemade chocolate-covered strawberries recipe! You need 30 minutes for preparation and 2 hours for cooking to produce 8 servings.
11. White Chocolate Strawberry Cheesecake – Valentine's Day Ideas
Cheesecake is delicious. Strawberries are delicious. White chocolate is delicious too. What's not to love with this strawberry white chocolate cheesecake from Dishing Delish?
This particular recipe is especially light and it's made with the perfect combination of strawberries and strawberry syrup. On top of that, the white chocolate included in the mixture and grated into delicious curls on top makes the whole cake even sweeter than it would have been.
12. Chocolate and Strawberry Swiss Roll – Valentine's Day Strawberry Recipe
Have you always loved those little prepackaged Swiss roll cakes that so many kids take to school in their packed lunches? Well, we've found a homemade recipe for you that's just like those, but even more delicious!
Besides the fact that almost everything tastes better homemade, this version of a yummy Swiss roll has strawberries rolled right up into the cake within the whipped cream filling. Get the recipe from PicNic!
13. Valentine's Day Strawberry and Marshmallow Treats
Certain holidays, like Easter and Valentine's Day, are really big on marshmallow treats when it comes to what the stores will sell in their seasonal candy section.
You might have guessed by now, however, that we love recreating the things we see in stores for ourselves. That's why we were excited to find this delicious strawberry marshmallow recipe complete with a bit of chocolate coating on Fox and Briar!
14. Strawberry Cinnamon Cake – Valentine's Chocolate Covered Strawberries
Sometimes it's nice to balance a deliciously sweet and fruity flavor with something that's got a little more spice. That's why we really like strawberry recipes that involve cinnamon!
It's the perfect flavor combination without having one flavor overwhelm the other. Check out this awesomely moist and perfectly iced cake recipe from The Cake Chica.
15. Valentine's Day Strawberry Chocolate Truffles
We've always loved truffle candies, but particularly when there's chocolate involved. On top of that, we've always especially loved truffles that have a bit of crunch on the outside to balance out a smooth chocolate filling.
These particular truffles from Sweet & Savoury by Shinee achieve that combination thanks to a yummy crushed coating made from smashed strawberry M&M's, which are seasonal around Valentine's Day!
16. Valentine's Day Strawberry Truffle Cake
We've already talked about how much we love strawberries and how much we love truffles, but this delicious cake recipe from Capturing Joy adds a whole new taste element to the mix!
This cake is made with fudge, giving it an absolutely delectable texture that makes for a great food experience in combination with the slight crunch of the fresh strawberries.
17. Valentine's Day Strawberry Chocolate Ganache Layer Cake
Whenever we heard the words "chocolate ganache", our minds automatically picture decadent layers and the richest chocolate around.
This particular cake has whipped cream in the center, a thick drizzling of chocolate sauce, and a topping of amazingly fresh strawberries, making it just about as decadent and gourmet as we originally pictured. See how it's made on A Savoury Feast!
18. Valentine's Day Mini Chocolate Strawberry Lava Cakes
Have you always loved mouthwatering lava cakes and the way the rich chocolate spills out from the centre when you take the first bite?
Well, we've got great news for strawberry lovers, because My Sequinned life has a version that's filled with strawberry sauce instead of chocolate! It's a little less rich, a little more fresh-tasting, and just as scrumptious.
19. Valentine's Day Strawberries with Oreos
Perhaps you've thought all of these cakes and things sound good, but your actual favorite type of treat is a frozen one involving ice cream? Then we've found the strawberry treat for you!
The Crafting Nook guides you through the process of making little pies in individual servings, filled with strawberry flavoring and and a crunchy, ice cream cake-like layer on the bottom.
20. Valentine's Day M&M's Strawberry Ice Cream Sandwiches
Do you like the strawberry ice cream idea but you'd rather have something fun and overly sweet to really make it a treat? Try this delicious M&M cookie ice cream sandwich idea instead! The ice cream in between the cookies is a delicious strawberry flavour that will keep you in the Valentine's Day spirit. Get the recipe on The Craft Patch!
21. Chocolate Strawberry Recipe – Valentine's Day Truffles
Did you like the idea of the other truffles we talked about earlier a lot but you'd rather have a regular coating, then perhaps you'd rather have this version from Posh Little Designs!
They're still delicious and they still taste like strawberries, but it's always nice to have options! We think these truffles are extra cute because they're shaped like little hearts.
22. Valentine's Day Chocolate Strawberry Heart
Have you always liked the idea of individualized cakes and pies? Then these heart-shaped chocolate strawberry dream desserts might be a lot more along the lines of what you've been hoping for as you scroll!
Desserts Required guides you through the process of making little cakes that are deliciously creamy but still chalk full of those strawberries you love so much.
23. Valentine's Day Chocolate Covered Strawberry Chocolate Chip Cookies
Warm, gooey chocolate chop cookies are one of the most delicious snacks we can think of… or, at least, they were until we were introduced to the concept of chocolate chip strawberry cookies!
Bakerita shows you how to take that idea even further into deliciousness by making those cookies and then, once they're baked and cooled, dipping them in chocolate and drizzling a chocolate layer on top!
24. Valentine's Day Chocolate Covered Strawberry Macaroons
Macaroons come in all different flavors, but you could probably already guess that strawberry is one of our very favorites.
Imagine how excited we were, then, when we found a strawberry macaroon recipe on The Kitchen McCabe! This isn't just any recipe, though. This one is chocolate-dipped, making it even more mouthwatering than it would have been already.
25. Chocolate Covered Strawberry Brownies
Chocolate fudge brownies are one of our very favorite things. We love the taste, we love the texture, and to be honest, we even love the process of making them. We love them even more, however, when we get to add delicious chunks of strawberry! Bakerita guides you through the process of making strawberry brownies that are sweet, fresh, and smothered in chocolate.
Best Chocolate for Strawberries
Toppings can either make or break your desserts. Even if you develop a taste for the most delicious strawberry recipes out there, you might still struggle to appreciate them without just the right sauce drizzling over them.
Luckily enough, there are a few terrific options available when it comes to the best chocolate for Valentine's Day:
Just like the name suggests, Wilton Light Cocoa and Bright White Candy Melts is the kind of chocolate that melts quickly, making it ideal for recipes that involve chocolate-covered strawberries. Furthermore, you can use it in a microwave or double-boiler. The product is available for purchase on Amazon.
View price on

Amazon
Ghirardelli Melting Wafers Variety Pack contains melting wafers flavored with dark chocolate and white vanilla. Besides, they come in the form of fondue chocolate bags, which you can easily incorporate into your desserts for Valentine's Day. Feel free to buy this product from Amazon.
View price on

Amazon
Dolci Frutta Hard Chocolate Shell is the perfect chocolate coating for strawberries because it's 100% gluten-free. It also doesn't contain any nuts. As long as you have a microwave, this product is easy to use. You can buy it from Amazon.
View price on

Amazon
The Baker's Real Dark Semi-Sweet Chocolate Dipping Sauce is what you need when it comes to coating your chocolate-covered strawberries. It's made with creamy dark chocolate that melts well in the microwave, which you can savor thanks to the rich cocoa taste. Visit Amazon to get this product.
View price on

Amazon
Wilton EZ Thin Dipping Aid for Candy Melts is one of the best ways to coat strawberries in time for Valentine's Day. You only have to stir the crystals until you obtain the desired consistency for your desserts. However, keep in mind that it contains soy. You can find this product on Amazon.
View price on

Amazon
How to Make Chocolate Dipped Strawberries
You can use different methods for making chocolate-dipped strawberries. However, if you're looking for a straightforward approach, here's what you need to do:
Step 1: Gather your ingredients
Add the following ingredients to your shopping list:
Fresh strawberries. The sweeter, the better. You can use large or small strawberries, but if you have only small ones on hand, be sure they have the stems attached since it will be easier to dip them in chocolate.
Chocolate. Semisweet chips work fine, but it's better if you have good quality chocolate such as Lindt, Ghirardelli, or Trader Joe's.
Vegetable oil. It keeps the chocolate from solidifying as quickly as you're trying to work with it.
Toothpicks. You can use these to dip the strawberries in the chocolate and also as a handle while decorating.
Step 2: Prepare the working area
Ensure your working area is clean and wiped off with a damp cloth so that no crumbs or dust will interfere with your project. Place parchment paper over a flat surface and set out your ingredients within reach of where you'll be working.
Step 3: Cook the chocolate
If you purchased good-quality chocolate, we recommend keeping it at room temperature. But if you're using semisweet chips, you should melt them in a double boiler or microwave.
Afterward, transfer the chocolate to a glass bowl and place it over a saucepan with simmering water so that its bottom does not touch the water. While doing so, be sure to wear an oven mitt to protect your hands from heat.
You'll want to keep stirring the chocolate as it melts. But be careful not to burn it by overheating. Otherwise, the chocolate will taste bad.
Remember to keep the chocolate at a smooth yet firm consistency so it will hold its shape when you dip your strawberries. If you put too much chocolate on them it will seep off the strawberry and leave behind a yummy mess.
Step 4: Dip the strawberries in chocolate
If you have large strawberries, you might be interested in removing their stem. Otherwise, keep them as they are since it will be easier to dip them in chocolate.
In the following step, dip each strawberry halfway into the melted chocolate, hold for about 5 seconds and lift it out with a forklift, allowing any excess chocolate to drip back into the bowl.
Finally, transfer the chocolate-dipped strawberry to your parchment paper and create any design you like using a toothpick.
Step 5: Cool the chocolate-dipped strawberries
After the decoration step, place the chocolate-covered strawberries in the refrigerator for about 30 minutes before serving them to your family or friends.
Furthermore, if you want something extra, you can add almonds, coconut flakes, or any other ingredient that will complement their taste. Your guests will definitely appreciate your efforts!
Final Thoughts on Chocolate-Covered Strawberries
The possibilities are endless when it comes to chocolate-covered strawberries. Don't be afraid to try different ideas and any personal creations!
Just make sure to have enough strawberries for everyone because they tend to disappear quickly. Store the strawberries in the refrigerator if you plan to serve them later.
Now that you know some ideas on how to make chocolate-covered strawberries at home, go ahead and give it a try!
You'll find that none of these recipes are hard to follow along with, so they are perfect for everyone – especially those who love sweet treats.
If you want to share original recipes for chocolate-covered strawberries, feel free to do so in the comment section below!