60 Valentine's Day Desserts: Desserts for Two You'll Love
Like Halloween has the typical pumpkin pie and Christmas has cinnamon-based desserts, Valentine's Day desserts are famous for being sweet, pink, and decorated to look like hearts or cupids.
Given their popularity, anyone who wants to showcase their baking skill will want at some point or another to make at least one Valentine's Day dessert, and if you want to try one this year but have no idea where to start, you've come to the right place.
You see, today's article brings together 60 different Valentine's Day dessert recipes that you can try out, and they all look amazing and taste like love with extra glazing.
---
Best Valentine's Day Dessert Ideas to Try This Year
Valentine's Day desserts are pretty popular, and while this may make it easy to find a recipe over the Internet that you can follow, it also means that it's harder to determine which are the best.
When we created our list, we had this problem in mind and selected only the most elegant recipes that would get anyone's attention.
Beyond their quality, they're also pretty easy to make, which means you won't have any trouble with them regardless of your skills.
So if you want some Valentine's Day desserts for this year's celebration, look through our list and select the ones that look best to you.
Valentine's Day is a reason for celebration, and if you want to go all out, you can try the most heavy-duty type of dessert: a cake.
Of course, you can't just go ahead and make any typical off-season cake like a Black Forest Gateaux. Instead, we recommend you try out this recipe for a delicious cake that's all about affection and sweetness: the Persian Love Cake.
The reason it's called that way is that, according to old legends, there was a Persian woman who was deeply in love with a prince, so she baked him a cake to win his heart.
Whether the legends are true or not, one thing is for sure: this cake looks and tastes amazing, and it will surely make that special someone feel special (and full).
To make a Persian love cake, you'll need quite a few ingredients, so make sure that your kitchen is fully stocked before you start baking.
For the cake itself, you'll need some softened unsalted butter, a bit of superfine sugar, a dozen cardamom pods, ground nutmeg and almonds, some all-purpose flour, baking powder, salt, eggs, a bit of full-fat Greek yogurt, some orange juice and zest, a bit of rosewater, and some chopped pistachios.
The Persian Love Cake is known for how sweet and moist it is, all thanks to the syrup with which the cake is imbibed. To make the special syrup, you'll need some superfine sugar, a bit of lemon juice, and some rosewater.
Last but not least is the Persian Love Cake's icing that you will make using powdered sugar, lemon juice, chopped pistachios, and edible dried rose petals to garnish.
We won't go into exact details regarding the quantities or how you can make the cake per se, but if you're interested in learning all about it, check outour complete tutorial on creating the Persian Love Cake.
If a cake is a bit too much and you're looking for something that can be easily divided into servings, then maybe you'd like to try outthis recipe for hot white cocoa bombs like from Life Family Fun.
As you can tell from the picture above, this particular dessert scores high marks in the visual and elegance department, but don't think for a second that this dessert is all form and has no flavor.
To make these explosive bombs of sweetness, you'll need chocolate chips, a cocoa mix of your choice, marshmallows, and some sprinkles or crushed candy to decorate everything with.
We must mention this dessert because it's one of those dishes where you need very few ingredients, but quite a few kitchen utensils and a bit of experience working with melted chocolate.
That being said, make sure that your kitchen comes equipped with a microwave-safe bowl, a spoon, six cavity dessert molds, a piping bag ( a zipping bag will do just fine if you cut one of the corners) and a hot plate or a frying pan.
One thing we liked about this dessert is that they can be easily packaged and gifted to your loved ones, so if you're planning to make several of them, you can gift wrap them and take them to work, family reunions, or Valentine's Day party.
If you're a fan of finger foods, then you probably have your fair share of experience baking muffins, and that's precisely what our next entry is all about.
If you want Valentine's Day to feel so delicious, you'll end up licking your finger's afterward, then go ahead and give this recipe for double chocolate chip muffins and cherries a try because trust us, you won't regret it.
To make these delicious delights, you'll need cocoa powder, some all-purpose flour, brown sugar, a bit of buttermilk, eggs, some natural vanilla extract, chocolate chips, and some Maraschino or fresh cherries.
The type of cherries you use has almost no effect on the muffin's taste, but Maraschino cherries have a much more vibrant color, and if you want to add a bit of red among all that, black and brown from all the cocoa, use them.
As for how you can make the cupcakes themselves, there's nothing special about the entire process or at least nothing you wouldn't do when baking any other type of muffins.
However, if you're new to this and would like a step-by-step guide, as well as exact ingredient quantities, check out the full original recipe for double chocolate chip muffins with cherries from Lemons for Lulu.
One thing you'll love (or hate) about these muffins is that, since they're muffins, there's no cream to worry about that can end up staining your rugs or carpets, but you will have to be careful about crumbs.
So far, we've listed a lot of desserts that look amazing and are very sweet, but they all have one thing in common: they're all a nightmare for your dieting plan.
Sure enough, Valentine's Day is just one day a year. Still, since it comes right after the winter holidays when everyone puts on at least a few pounds, it can wreak havoc on any attempt at losing weight, especially if you started strong with your dieting in January.
Because of that, this next entry on our list is a Valentine's Day dessert that you can indulge in without hitting the gym the next day out of sheer guilt: the low-carb keto cheesecake.
According to the original recipe from Green and Keto, what makes this cheesecake so good is that it uses low-carb alternatives for any of the typical ingredients you'd usually find in a regular cheesecake.
For example, to make this cheesecake's crust, you'll need almond flour, flaxseed meal (to compensate for the lack of gluten that acts as a binder), butter, cinnamon, salt, and erythritol (this replaces the sugar).
As for the creamy cheesecake batter, you'll need full-fat cream cheese, erythritol sweetener, eggs, natural vanilla extract, and a bit of salt.
For those of you who have made cheesecakes before, the recipe is pretty much the same, but for those who haven't, go ahead and follow the detailed article listed above. It contains all ingredient quantities, steps on how to make the cheesecake, and the nutritional information for the entire cake.
When you think about desserts for Valentine's Day, you're probably thinking of a big box of bonbons in a big heart-shaped box, or maybe something with lots and lots of dark chocolate.
Whichever the case, "kabobs" are probably the last thing you're thinking of, but this next entry is here to showcase that anything can be a dessert with a little bit of imagination: Valentine's Day kabobs.
Admittedly, it's not one of those kabobs where you have pieces of meat, but instead, you'll be using balls made out of brownie mix.
Another thing that makes this particular dessert idea stand out from all the rest is that there's very little actual baking involved, and it's more about good old-fashioned DIY crafting.
To make Cupid's arrow as portrayed in the image above, you'll need some gold foil paper, some barbecue skewers, a pair of sharp scissors, some glue, and a pencil.
As for what you'll be impaled with the arrows, you can go ahead and use store-bought brownies that you'll cut up into serving-sized squares and then mold into balls using your hands.
To learn more about this very creative and atypical Valentine's Day dessert, check outour dedicated tutorial; it has everything from steps on making the arrows to pictures showcasing each step and even a tutorial video at the end.
When it comes to creating a Valentine's Day dessert, there are three things that you need to do:
Use lots and lots of pink and red ingredients and coloring
Shape it like a heart, or use lots of heart-shaped decorations
All of the above
Well, this next dessert recipe is something that no one will question that it was made for Valentine's Day, and they are heart-shaped cinnamon rolls.
To make these sweet symbols of love and affection, you can go ahead and use store-bought cinnamon roll dough, although there's nothing wrong with making your own, especially if you're confident that you know a very good recipe.
However, for those of you that have very little time on your hand and want to go the easy way, these are the ingredients that you'll need:
One can of cinnamon rolls
Sprinkles of choice
Pink or red gel food coloring
As for how you can take these simple ingredients and turn them into the delicious-looking desserts depicted above, head over to Life Family Fun, they have a dedicated article just for this dessert, as it comes with detailed steps.
With so many goodies listed so far, it's easy to get overwhelmed and not be able to decide which dessert would work best, but even then, the answer can be right under your nose:why not just use everything?
The next entry on our list is a hot chocolate charcuterie board, which is another way of calling a platter filled with bowls of assorted chocolate goodies.
You see, a regular charcuterie board is a board filled with all kinds of fancy meats and cheeses from which your guests can take whatever they want, and they usually come together with a few bowls of dip as well.
Well, this recipe from Lemons for Lulu calls for pretty much the same thing, except you replace the meats, cheese, and sauces with sweets.
This dessert idea is perfect if you have all kinds of candies and sweets lying around and have no idea how you can bring them together to make something bigger.
Just take a big wooden platter, and fill it with whatever you have in your pantry, like caramels, marshmallows, Reese cups, Hershey Kisses, chocolate squares, candy canes, etc.
As for the "dip," use anything that can be poured in a bowl or spread on a piece of chocolate, like chocolate sauce, caramel sauce, or even thicker things like peanut butter.
The best thing about this dessert is that it's the perfect way to empty your pantry of old candies and make room for new ones that you can buy.
Don't let the name of this dessert fool you because it's in no way something that will add to your waistline, although you could consider it a bomb when it comes to sheer flavor alone.
These strawberry cheesecake fat bombs are yet another keto dessert that you can make for Valentine's Day, and they're tasty, have an amazing texture, and you can eat as many as you want without feeling too guilty about it.
To do these sweet pink wonders, you'll need strawberries (both fresh and frozen will do just fine), cream cheese, and some artificial sweetener (there's no sugar or other types of added carbs in this recipe).
As for how much of each ingredient you'll need, as well as what tools you'll have to use, check out thefull step-by-step article from Green and Ketosince they have everything there, including the nutritional information of this dessert.
Of course, if you're not so keen on strawberries (or worse, you're allergic to them), you can go ahead and tweak the recipe by simply replacing the strawberries with any other fruit you prefer.
However, we recommend that you stick to fruits that aren't too juicy, or your fat bombs will be too mushy.
We loved most about the recipe just how simple it was to make and the small list of ingredients required to create a homemade dessert that you can eat even when you're on your post-Christmas diet.
Those of us who are a little bit older remember the good old times when we sent love letters to our very special someone, and we'd then eagerly await for days until the postman would come with a reply.
Well, if you want to make a love letter, and touch your partner's sweet tooth simultaneously, then we recommend that you go ahead and try this recipe for love letter cookies.
As you can see for yourself, these cookies are the type of dessert where most of the emphasis was put on the decorations and the visuals, although that doesn't mean that they aren't tasty.
To make a batch of these amazing cookies, you'll need to have the following ingredients: graham cracker squares, white fondant, a red edible food marker, pink or white frosting, a small square cookie cutter, a rolling pin, some powdered sugar, small candy hearts, and toothpicks.
Of course, the biggest challenge of this recipe isn't the baking itself, but rather the decorating part, since you'll require a very steady hand and lots and lots of patience.
However, considering that you're making these cookies to make that special someone in your life feel a bit more appreciated, the effort will be worth it.
If these love letter cookies seem to be exactly what you've been looking for, then go ahead and check out the full article from Life Family Fun; they have everything there: ingredient quantities, steps on how to make the cookies, and even illustrations of each step.
Many of us make the mistake that the secret to making a dessert worth praising is to make sure that the taste is on point and that it looks incredibly attractive.
Don't get us wrong, those two are very important, but there's one more criterium that many of us forget about: the texture.
You see, how each bite of dessert feels in your mouth is just as important as how much it stimulates your taste buds, and if you're looking for a dessert that will make you fall in love with it for texture alone, try these cherry sugar cookies.
To make a batch of these goodies, you'll need some all-purpose flour, sugar, vanilla extract, egg, baking powder, salt, heavy cream, and, of course, some cherry juice and some Maraschino cherries (fresh ones will also do).
For those of you that want a bit more blush in your dessert, you can go ahead and add a few droplets of red food coloring gel as well.
We loved most about this recipe because it took very little to make (considering that we had all the ingredients read, of course), with the prepping and actual baking time adding up to just under 40 minutes.
For more details on how to make these incredibly creamy desserts, check out thefull guide from Lemons for Lulu, and you'll have everything there, including some mouth-watering illustrations of how the cookies are made.
More fantastic Valentine's Day Desserts
They say that a couple who eats together stays together, which is why Valentine's Day desserts are perfect for any romantic dinner.
If you're going out with your significant other this year and want a nice meal to end your date with, then taking along a homemade dessert would be a great idea. After all, she or he will appreciate the effort put into it.
The first ten entries were this year's most popular Valentine's Day dessert ideas. However, if you don't mind the idea of trendiness and just want something that will look great and taste delicious, here are 50 other amazing Valentine's Day dessert ideas:
11. Oreo Cheesecake Stuffed Strawberries – Valentine's Day Desserts
Grab some strawberries and stuff them with some of the most scrumptious ingredients. Everyone will want a bite or even seconds! (via)
12. Chocolate Cherry French Macaroons – Valentine's Day Treat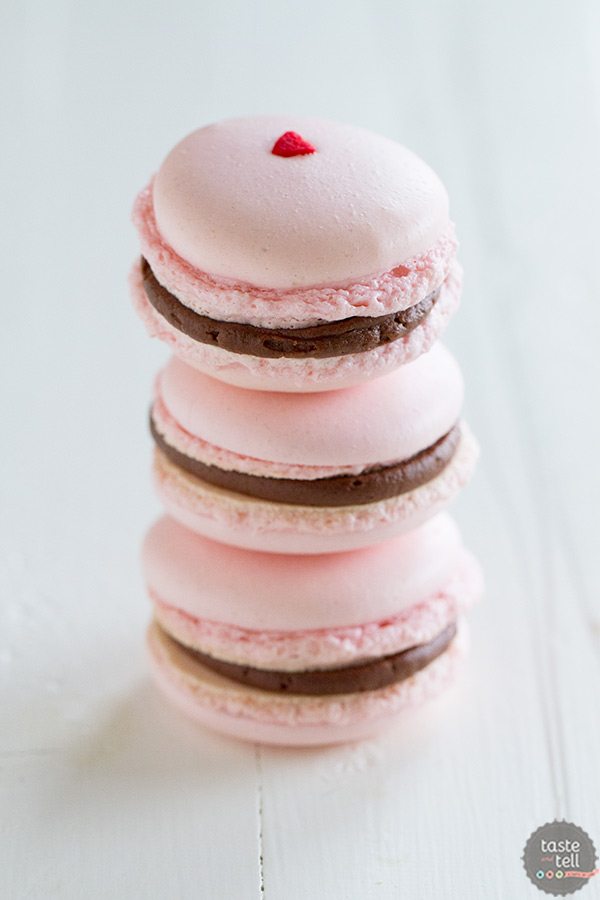 Chocolate cherry French macaroons not only look like a bit of Valentine's day but they'll taste like it too. Grab the recipe atTaste & Tell.
13. Raspberry Marble Fudge – Valentine Cake Idea
Sugar and Charmmade some raspberry marble fudge that everyone will want to dive into. And it acts as a great DIY gifts too!
14. Orange Cardamom Chocolate Fondue – Valentine's Desserts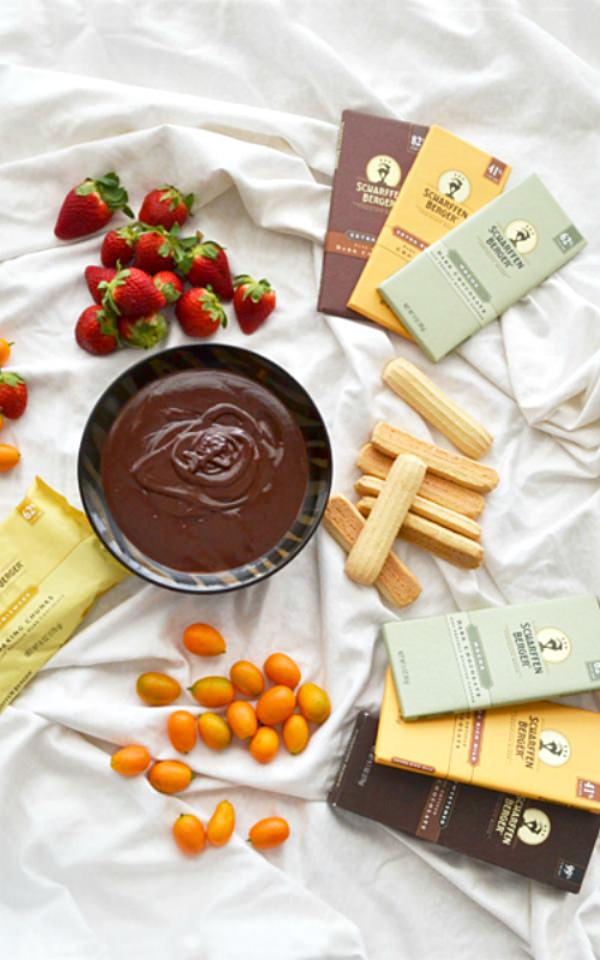 Cook The Storygives us an A+ recipe and a date night idea too. You and your beau should get cozy on the couch with this punched-up fondue.
15. Sugar Cookie Bars – Valentine's Day Desserts
Tide & Thymemade some sugar cookie bars that are both sweet and adorable. Why not whip up a batch of these for your kiddo's school party?
16. Romantic Brownie Sundaes – Valentine's Day Recipes
Here's another fun dessert idea that acts as a romantic date idea too. Make sure you serve up these sundaes with the help ofReal Simple.
17. Persian Cake – Elegant Desserts for Valentine's Day
Twig Studiosmade a gorgeous Persian love cake that we're swooning and drooling over. Serve this up for family V-day dinner!
18. Champagne & Raspberry Cupcakes – Valentine's Desserts
The Cake Blogtook champagne and raspberries and took them to the next level within these cupcakes! We love the presentation and love the flavor combination.
19. "Love Is All Around" Cake Roll for Valentine's Day
Oh my goodness,Cleobutteramade a roll cake that everyone will be wowed over. Just look at that surprise heart inside!
20. Chocolate-Caramel Bread Pudding – Valentine's Day Desserts
Some chocolate caramel bread pudding could end the night off on the right now. Make sure you have some vanilla bean ice cream on the side. (via)
21. Deep Dark Chocolate Cake – Valentine's Desserts
Some deep dark chocolate cake slices sound like the right way to celebrate, don't you think? Snag the recipe atCountry Living.
22. Hot Chocolate Dump Cake – Homemade Valentines
Tablespoontook "hot chocolate' to a new level and infuse it into a cake! Everyone will want a scoop of this "dump" cake!
23. Red Velvet Cheesecake Brownie – Valentine's Day Recipes
Crafty Morningmade a red velvet cheesecake brownie that is moist, rich and will satisfy everyone at the table. Gather the directions after the jump!
24. Chocolate Stout Brownies – Valentine Treats
Dessert For Twomade some beer brownies that will really get the party started. Leave these ones for the adults.
25. Triple Berry Tiramisu – Date Desserts for Valentine's Day
The Cookie Rookiemade a triple very tiramisu that's fruity, sweet and perfectly festive for Valentine's Day celebrators. We love the innovation before this recipe.
26. Chocolate Cake Mix Cookies – Valentine Cake Ideas
All you need is some chocolate cake mix to get this one started. Serve them up with some milk and add sprinkles for extra festivity! (via)
27. White Chocolate Raspberry Croissant Pudding – Valentine's Day Desserts
Oh my goodness, just the name of these dessert makes our stomachs growl. It's gorgeous too, grab the recipe atBaking = Love.
28. 2-Ingredient Strawberry Fudge – Homemade Valentines
Who knew you could make fudge with just two ingredients?Cookies & Cupsgives us all the knowledge and know-how to make it happen.
29. Heart-Shaped Macaroons – Valentine's Day Treats
Ai Love Bakingnot only made perfect macaroons but she made them into heart-shapes! Test your baking skills now and use these as gifts for the fam!
30. Raspberry Swirl Cheesecake – Valentine's Desserts
Martha Stewartshows us how to make a raspberry swirl cheesecake. And it's the perfect addition to a dinner party for all your favorite people.
31. Red Velvet Oreo Truffle Brownies – Valentine's Day Cake
Kevin and Amandamade the more indulgent dessert on the menu. Red velvet, brownie, chocolate chips and Oreos come together to make these delicious beauties!
32. Chocolate-Dipped Meringue Cookies – Valentine's Day Recipes
These cookies can be great DIY gifts for Valentine's Day but they're also yummy enough for the entire family to enjoy all week love. Don't forget the sprinkles! (via)
33. Chocolate Caramel Pie – Valentine's Day Treats
How about some chocolate caramel pie to celebrate? This one includes some Oreos too. ThanksKevin and Amanda!
34. Vanilla Bean Pudding – Valentine's Day Treats
Pastry Affairmade rich, vanilla bean pudding that everyone will love too. Just top it with some fresh fruit or chocolate bits!
35. Bailey's Molten Chocolate Lava Cake – Valentine's Day Dessert
3 Yummy Tummiesteaches us how to make a warm, chocolate lava cake. But the kicker with this one is the infusion of Bailey's!
36. Chocolate-Covered Strawberry Cupcakes – Valentine's Day Recipes
Chocolate-covered strawberry cupcakes seem fitting for Valentine's too, don't you think? Snag the recipe atLive Well Bake Often.
37. Champagne Cupcakes with Champagne Buttercream – Valentine's Desserts
Cake Whizgives us another champagne cupcake recipe that we're loving too. And this includes some champagne buttercream frosting!
38. Red Velvet Cake Bites – Desserts for Two
Red velvet is a signature dessert for Valentine's Day. And over atSix Sisters' Stuffyou'll learn how to make delicious, bite-sized versions.
39. Chocolate Chip Cherry Scones – Valentine Cake Ideas
Food Fanaticgives us something to snack on with a hot cup of coffee in the afternoon. Cherries, chocolate chips and the crumble of a yummy scone sounds perfect, doesn't it?
40. Raspberry Napoleon – Valentine Cake Ideas
Learn how to layer over atCulinary Ginger. Creams, pastry and more … this raspberry Napoleon is a showstopper.
41. Nutella Chocolate Layer Cake – Valentine's Day Treat
An Italian in my Kitchenmade a Nutella chocolate layer cake that is a great addition to the dinner table. Celebrate Valentine's Day with the entire family and a slice of this.
42. Strawberry Rice Krispies Treats – Valentine Treats
Send these off with the kiddos on February 14th. Learn how to whip up these cuties atMidwestern Moms.
43. Strawberry Crinkle Cookies – Desserts for Two
Meatloaf and Melodramamade strawberry crinkle cookies that look festive and taste like heaven. Again, don't forget the sprinkles here either.
44. Red Velvet Cheesecake – Elegant Desserts for Valentine's Day
A red velvet cheesecake could be your perfect end to a perfect Valentine's Day. This recipe can be found atBHG.
45. Red Velvet Dessert Lasagna – Date Desserts
Here's another way to satisfy those that love a bit of red velvet. Over atThe Cookie Rookie, you'll learn how to make a dessert lasagna!
46. Cherry Almond Delights – Valentine's Day Treats
These little cherry almond delights can satisfy the family too. Send them off for the day and learn how atTaste of Home.
47. Paleo Raspberry Chocolate Cheesecake Bars – Valentine's Day Desserts
These paleo bars are a bit healthier but just as delicious. Learn how all these ingredients comes together atForaged Dish.
48. Strawberries & Cream Mile-High Pie – Valentine's Day Treats
Lees & Lulu's Recipe Boxmade a strawberries and cream mile high pie that everyone will root for. They'll love it so much you'll be making it plenty more times throughout the year.
49. Strawberry Chocolate Ganache Layer Cake – Homemade Valentines
A Savory Feastmay have my favorite dessert on the menu. This chocolate ganache cake is rich and indulgent and the perfect way to say, "I love you."
50. Classic Creme Brulee – Valentine's Desserts
Everyone who loves to make dessert should have this recipe up their sleeve. Learn how to create a classic creme brulee over atFrom A Chef's Kitchen.
51. Chocolate Peanut Butter Lava Cakes – Valentine's Day Treats
Here's another lava cake that we're swooning and drooling for. Fill it up with peanut butter and learn how to make the rest atLemon Tree Dwelling.
52. "Hot" Chocolate Cake – Desserts for Two
A "hot" hot chocolate cake could be a winner as well. Just don't forget to visitThe First Yearfor the recipe and to toast your marshmallows!
53. Fruit & Brownie Trifles – Valentine's Day Desserts
Just a Tastemade some simple fruit and brownie trifles that the entire family will dive right into. Nothing is complicated here but they sure are yummy.
54. Apple Rose Tart – Valentine's Desserts
Green Healthy Cookingmade an apple rose tart that is simple stunning. It's delicious too but you'll also learn how to make something extra-beautiful.
55. Chocolate-Cinnamon Pudding with Raspberries – Valentine's Day Date Desserts
This dessert is a bit more unique but it's perfect for the day as well. Check out this cinnamon and chocolate pairing over atReal Simple.
56. Pink Strawberry Cake – Valentine's Day Recipes
A classic, pink strawberry cake is perfect for Valentine's Day too. Add chocolate chips and whatever frosting speaks to you! (via)
57. Cherry Heart Cutout Cupcakes – Valentine's Day Treats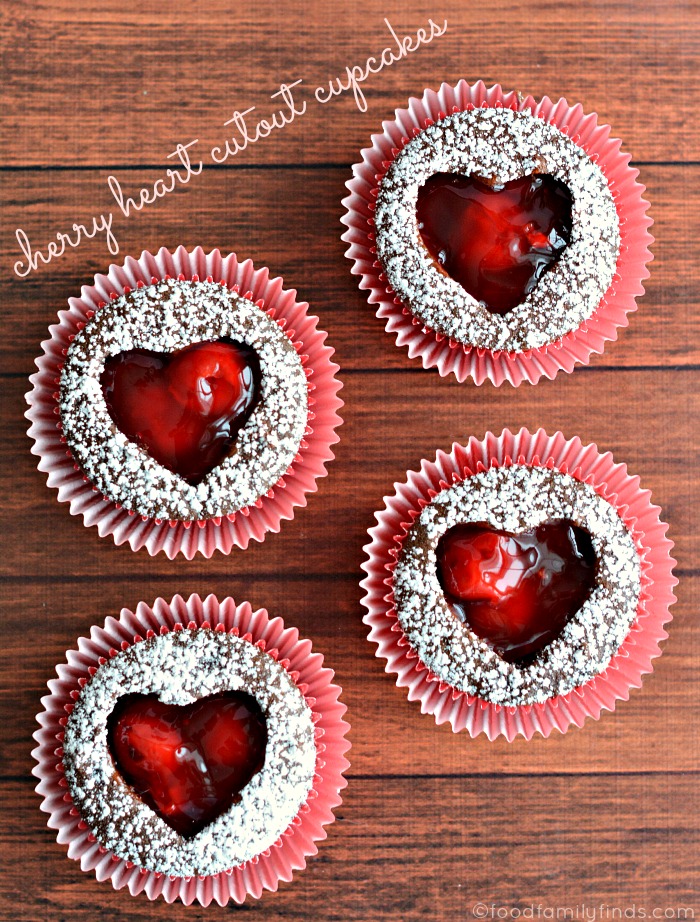 Food Family & Findsmade cupcakes that both look and taste like the holiday! You don't want sprinkles topic off these but you'll definitely not want to forget the powdered sugar.
58. Flourless Chocolate Cake – Valentine's Desserts
If you like something a bit more moist and rich, then a flour-free dessert if what you need. Grab the recipe over atFeasting on Fruit.
59. Strawberry Chocolate Chip Cookies – Valentine's Day Recipes
Sally's Baking Addictionmade these pretty, strawberry chocolate chip cookies that you'll want to whip up the week of Valentine's Day. They're festive, fruity and the kiddos will love them.
60. Chocolate Mousse – Desserts for Two
And finally, if you're serving dinner on the night of and want to leave off with a classic showstopper, then we have the recipe for you. Chocolate mousse fromSaveris the perfect choice.
FAQ: Learn More about These Valentine's Day Desserts
What Is a Popular Valentine's Day Treat?
One of the most popular Valentine's Day treats that you can ever concoct a bowl ofchocolate or glaze-covered strawberries.
They're easy to make, delicious, and very romantic, and you don't need a lot of ingredients or a lot of prep time either, so they're excellent if you let everything to the last minute.
What Can You Do With Leftover Valentine Candy?
Valentine's Day is that one time of the year when every chocolate manufacturer goes into overdrive, making lots and lots of candies and sweets just for February 14th, but obviously, not all of it gets sold.
Because of that, Valentine's Day is usually followed by a period during which a lot of candy and sweets are available at a ridiculously low price, and that's the perfect chance for you to whip up somehomemade desserts using leftover sweets.
As for what you can make with the leftover candy, the answer is pretty much anything, just as long as you have imagination. Just melt it, crumble it, turn it into sprinkles, or think of other creative ways to include it in your desserts.
What Is the #1 Selling Chocolate on Valentine's Day?
The #1 selling chocolate on Valentine's Day, without a doubt, is dark chocolate.
It has been proven that eating dark chocolate makes you more relaxed and happy, which is enough for many people to want to include it in their diets.
Even if you aren't a nutritionist or health expert, just go ahead and try eating some after your next romantic dinner.
You'll be surprised by how much more relaxed you are afterward, and if that's not the way to set the mood for a night of romance, we don't know what is.
---
Best Valentine's Day Dessert Ideas: Closing Thoughts
After going through 60 different dessert ideas, you're either excited to start one of them, extremely hungry, or a little bit of both, and that's precisely why we think it would be only fair if our article ended here.
Don't forget to take your time in the kitchen to make sure that everything turns out ok, and make sure you have plenty of extra ingredients in case any of the recipes don't go as planned on the first try.
Lastly, don't forget that, given the holiday, the most important ingredient that you can add islove. The result will taste a lot different if you make it with care and attention and not absent-mindedly like you would a peanut-butter sandwich in the morning.
For more amazing guides on how to make your Valentine's Day feel even more lovely, check out some of our other articles since we've written plenty of Valentine's Day-specific guides, including:
More so, you can help make this article even greater by submitting some more Valentine's Day dessert ideas in the comments section below.
That being said, we wish you a happy Valentine's Day, and may your loved ones cheer for your baking skills and the desserts you've made!