Love On The Table With These 50 Valentine's Day Desserts!
Chocolate will always say, "I love you," in all the right ways. But so will a bit of cinnamon, vanilla or strawberry too. Round out your February 14th with a special sweet addition for you and the beau or the entire family! Put a little love not he table with these 50 Valentine's Day desserts while you flex your muscles in the kitchen.
1. Oreo Cheesecake Stuffed Strawberries
Grab some strawberries and stuff them with some of the most scrumptious ingredients. Everyone will want a bite or even seconds! (via)
2. Chocolate Cherry French Macaroons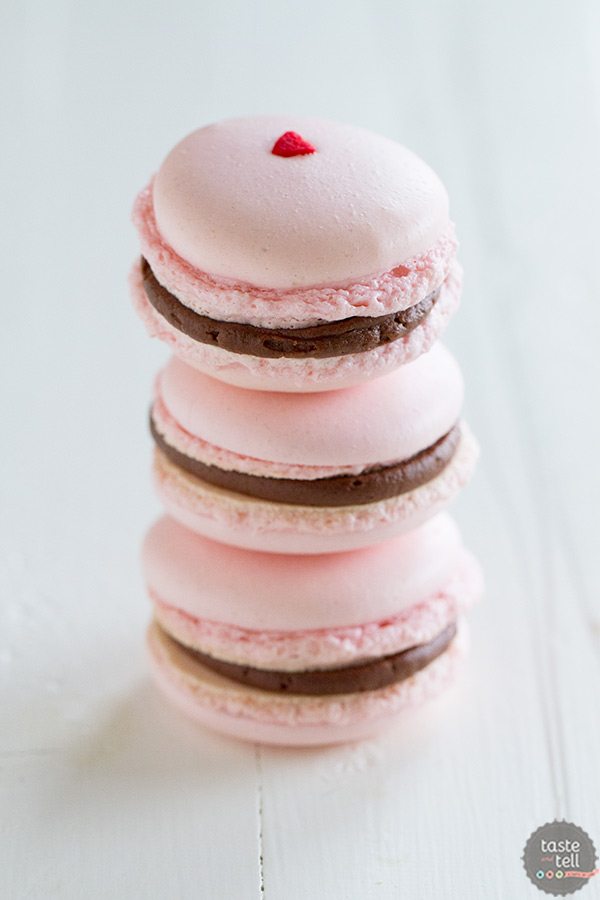 Chocolate cherry French macaroons not only look like a bit of Valentine's day but they'll taste like it too. Grab the recipe at Taste & Tell.
3. Raspberry Marble Fudge
Sugar and Charm made some raspberry marble fudge that everyone will want to dive into. And it acts as a great DIY gifts too!
4. Orange Cardamom Chocolate Fondue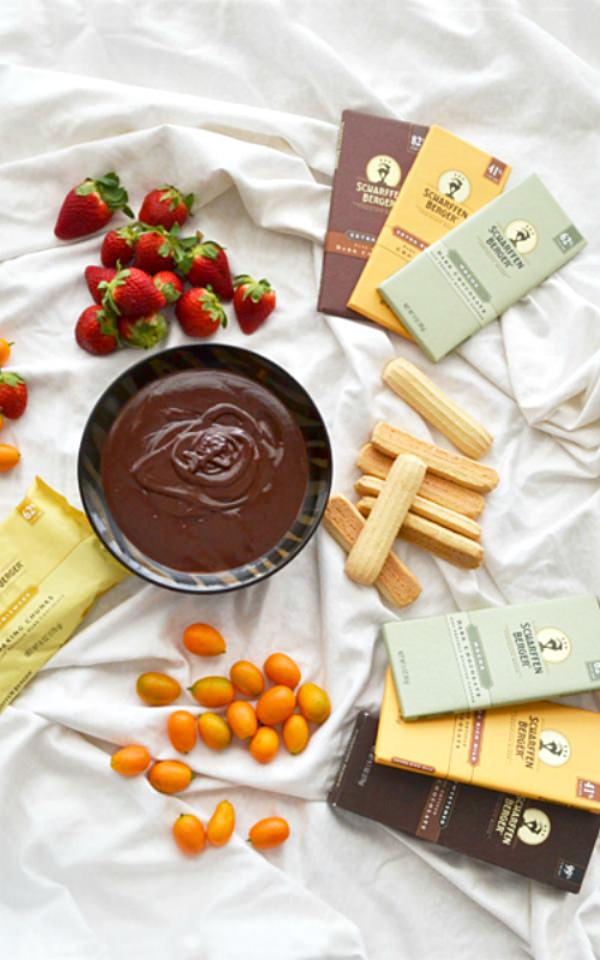 Cook The Story gives us an A+ recipe and a date night idea too. You and your beau should get cozy on the couch with this punched-up fondue.
5. Sugar Cookie Bars
Tide & Thyme made some sugar cookie bars that are both sweet and adorable. Why not whip up a batch of these for your kiddo's school party?
6. Romantic Brownie Sundaes
Here's another fun dessert idea that acts as a romantic date idea too. Make sure you serve up these sundaes with the help of Real Simple.
7. Persian Cake
Twig Studios made a gorgeous Persian love cake that we're swooning and drooling over. Serve this up for family V-day dinner!
8. Champagne & Raspberry Cupcakes
The Cake Blog took champagne and raspberries and took them to the next level within these cupcakes! We love the presentation and love the flavor combination.
9. "Love is all Around" Cake Roll
Oh my goodness, Cleobuttera  made a roll cake that everyone will be wowed over. Just look at that surprise heart inside!
10. Chocolate-Caramel Bread Pudding
Some chocolate caramel bread pudding could end the night off on the right now. Make sure you have some vanilla bean ice cream on the side. (via)
11. Deep Dark Chocolate Cake
Some deep dark chocolate cake slices sound like the right way to celebrate, don't you think? Snag the recipe at Country Living.
12. Hot Chocolate Dump Cake
Tablespoon took "hot chocolate' to a new level and infuse it into a cake! Everyone will want a scoop of this "dump" cake!
13. Red Velvet Cheesecake Brownie
Crafty Morning made a red velvet cheesecake brownie that is moist, rich and will satisfy everyone at the table. Gather the directions after the jump!
14. Chocolate Stout Brownies
Dessert For Two made some beer brownies that will really get the party started. Leave these ones for the adults.
15. Triple Berry Tiramisu
The Cookie Rookie made a triple very tiramisu that's fruity, sweet and perfectly festive for Valentine's Day celebrators. We love the innovation before this recipe.
16. Chocolate Cake Mix Cookies
All you need is some chocolate cake mix to get this one started. Serve them up with some milk and add sprinkles for extra festivity! (via)
17. White Chocolate Raspberry Croissant Pudding
Oh my goodness, just the name of these dessert makes our stomachs growl. It's gorgeous too, grab the recipe at Baking = Love.
18. 2-Ingredient Strawberry Fudge
Who knew you could make fudge with just two ingredients? Cookies & Cups gives us all the knowledge and know-how to make it happen.
19. Heart-Shaped Macaroons
Ai Love Baking not only made perfect macaroons but she made them into heart-shapes! Test your baking skills now and use these as gifts for the fam!
20. Raspberry Swirl Cheesecake
Martha Stewart shows us how to make a raspberry swirl cheesecake. And it's the perfect addition to a dinner party for all your favorite people.
21. Red Velvet Oreo Truffle Brownies
Kevin and Amanda made the more indulgent dessert on the menu. Red velvet, brownie, chocolate chips and Oreos come together to make these delicious beauties!
22. Chocolate-Dipped Meringue Cookies
These cookies can be great DIY gifts for Valentine's Day but they're also yummy enough for the entire family to enjoy all week love. Don't forget the sprinkles! (via)
23. Chocolate Caramel Pie
How about some chocolate caramel pie to celebrate? This one includes some Oreos too. Thanks Kevin and Amanda!
24. Vanilla Bean Pudding
Pastry Affair made rich, vanilla bean pudding that everyone will love too. Just top it with some fresh fruit or chocolate bits!
25. Bailey's Molten Chocolate Lava Cake
3 Yummy Tummies teaches us how to make a warm, chocolate lava cake. But the kicker with this one is the infusion of Bailey's!
26. Chocolate-Covered Strawberry Cupcakes
Chocolate-covered strawberry cupcakes seem fitting for Valentine's too, don't you think? Snag the recipe at Live Well Bake Often.
27. Champagne Cupcakes with Champagne Buttercream
Cake Whiz gives us another champagne cupcake recipe that we're loving too. And this includes some champagne buttercream frosting!
28. Red Velvet Cake Bites
Red velvet is a signature dessert for Valentine's Day. And over at Six Sisters' Stuff you'll learn how to make delicious, bite-sized versions.
29. Chocolate Chip Cherry Scones
Food Fanatic gives us something to snack on with a hot cup of coffee in the afternoon. Cherries, chocolate chips and the crumble of a yummy scone sounds perfect, doesn't it?
30. Raspberry Napoleon
Learn how to layer over at Culinary Ginger. Creams, pastry and more … this raspberry Napoleon is a showstopper.
31. Nutella Chocolate Layer Cake
An Italian in my Kitchen made a Nutella chocolate layer cake that is a great addition to the dinner table. Celebrate Valentine's Day with the entire family and a slice of this.
32. Strawberry Rice Krispies Treats
Send these off with the kiddos on February 14th. Learn how to whip up these cuties at Midwestern Moms.
33. Strawberry Crinkle Cookies
Meatloaf and Melodrama made strawberry crinkle cookies that look festive and taste like heaven. Again, don't forget the sprinkles here either.
34. Red Velvet Cheesecake
A red velvet cheesecake could be your perfect end to a perfect Valentine's Day. This recipe can be found at BHG.
35. Red Velvet Dessert Lasagna
Here's another way to satisfy those that love a bit of red velvet. Over at The Cookie Rookie, you'll learn how to make a dessert lasagna!
36. Cherry Almond Delights
These little cherry almond delights can satisfy the family too. Send them off for the day and learn how at Taste of Home.
37. Paleo Raspberry Chocolate Cheesecake Bars
These paleo bars are a bit healthier but just as delicious. Learn how all these ingredients comes together at Foraged Dish.
38. Strawberries & Cream Mile-High Pie
Lees & Lulu's Recipe Box made a strawberries and cream mile high pie that everyone will root for. They'll love it so much you'll be making it plenty more times throughout the year.
39. Strawberry Chocolate Ganache Layer Cake
A Savory Feast may have my favorite dessert on the menu. This chocolate ganache cake is rich and indulgent and the perfect way to say, "I love you."
40. Classic Creme Brulee
Everyone who loves to make dessert should have this recipe up their sleeve. Learn how to create a classic creme brulee over at From A Chef's Kitchen.
41. Chocolate Peanut Butter Lava Cakes
Here's another lava cake that we're swooning and drooling for. Fill it up with peanut butter and learn how to make the rest at Lemon Tree Dwelling.
42. "Hot" Chocolate Cake
A "hot" hot chocolate cake could be a winner as well. Just don't forget to visit The First Year for the recipe and to toast your marshmallows!
43. Fruit & Brownie Trifles
Just a Taste made some simple fruit and brownie trifles that the entire family will dive right into. Nothing is complicated here but they sure are yummy.
44. Apple Rose Tart
Green Healthy Cooking made an apple rose tart that is simple stunning. It's delicious too but you'll also learn how to make something extra-beautiful.
45. Chocolate-Cinnamon Pudding with Raspberries
This dessert is a bit more unique but it's perfect for the day as well. Check out this cinnamon and chocolate pairing over at Real Simple.
46. Pink Strawberry Cake
A classic, pink strawberry cake is perfect for Valentine's Day too. Add chocolate chips and whatever frosting speaks to you! (via)
47. Cherry Heart Cutout Cupcakes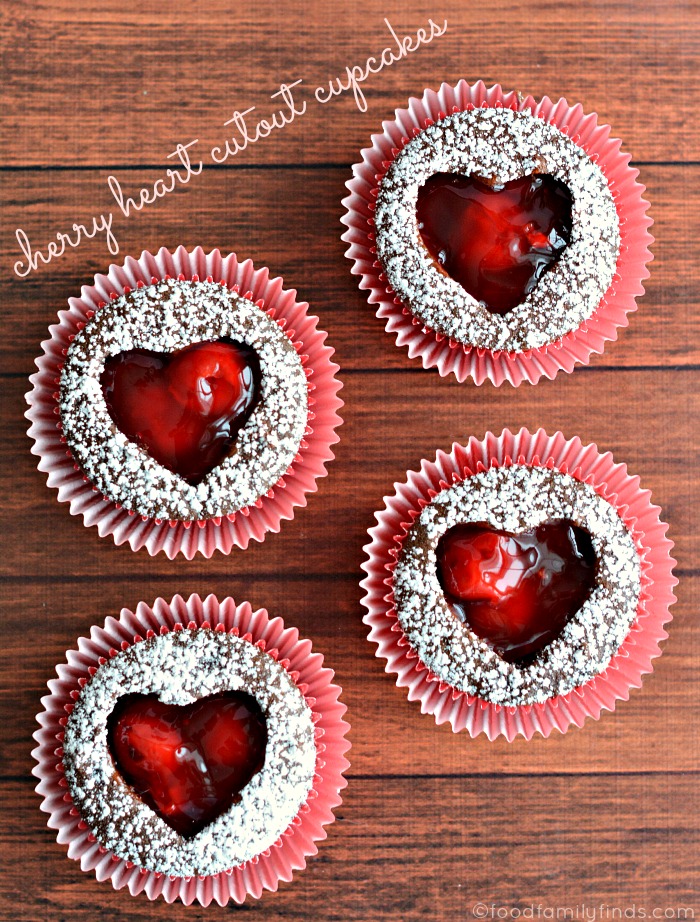 Food Family & Finds made cupcakes that both look and taste like the holiday! You don't want sprinkles topic off these but you'll definitely not want to forget the powdered sugar.
48. Flourless Chocolate Cake
If you like something a bit more moist and rich, then a flour-free dessert if what you need. Grab the recipe over at Feasting on Fruit.
49. Strawberry Chocolate Chip Cookies
Sally's Baking Addiction made these pretty, strawberry chocolate chip cookies that you'll want to whip up the week of Valentine's Day. They're festive, fruity and the kiddos will love them.
50. Chocolate Mousse
And finally, if you're serving dinner on the night of and want to leave off with a classic showstopper, then we have the recipe for you. Chocolate mousse from Saver is the perfect choice.