32 DIY Kitchen Wall Decor Ideas For Easy Styling – Bring Joy to Your Kitchen
Presenting a personal touch throughout your home is an absolute must – but we sometimes forget to add that flair to certain areas of the house. The kitchen, for example, sometimes remains bare without enough of our own personalities infused into the mix. Thankfully, there are more than enough tutorials online to help you whip up new accents in no time.
In fact, we have quite a few ideas that will spruce up your kitchen with just a few materials, some inspiration, and some time on your hands. We're sure you'll love spending even more time in your kitchen.
Kitchen Wall Decor Pieces You'll Want to Make
We've gathered up a lot of ideas of cool things we'd like to hang on our kitchen walls, so maybe you'll benefit from our list too. Let's see what new things you'd like to make.
1. Easy Whiteboard
A really cool thing you can do is create a whiteboard for your kitchen. It's really easy and it will make keeping track of all the groceries you need to get so much cooler. Learn how to make your own whiteboard.
2. Rustic Wooden Memo Board
There are really few places in your home that are best to place a memo board than in your kitchen. It's where you go every morning, even for a glass of water, so glancing at the board could remind you of that doctor appointment, or something else you need to be doing. Read our tutorial on how to make your own rustic wooden memo board.
3. Schedule Board
Keeping up with your schedule can be difficult at times, especially as we all try to juggle work, school, family, and our social life. With this really cool watercolor paper wall schedule board, you'll manage to stay on top of everything! Learn how to make your own board!
4. Kitchen Wall Art – Wine Cork Wine Glasses
Creating a cool pair of wine cork wine glasses is fairly easy and they would work perfectly up on your kitchen wall. You can even place them above the place where all your wine glasses are stashed, or maybe near the location of all your cool wine glasses. Check out the tutorial on how to make your own wine cork wine glasses!
5. Hanging Wine Cork Decoration
Since we were just talking about wine corks, creating a cool hanging decoration with some wine corks will work perfectly for your kitchen. Let's figure out how to make one with a few materials!
6. Kitchen Wall Ideas – Wooden Slice
Painting a cute wooden slice and hanging it on your kitchen wall could absolutely bring out some of your personality into your kitchen. Write something that inspires you on the wood piece, and live by it! Here's how you can make your own wooden slice wall art!
7. Floral Arrangement
We really love flowers, so working with them can be a joy. Then, of course, placing a hanging floral arrangement in your kitchen will make the room look cozier and you'll want to spend more time there. Learn how to make your own by reading our guide.
8. Kitchen Wall Art With Coffee Beans
Another cute thing you can make is a coffee bean art piece. After all, coffee is essential and you can bring an ode to the energizing potion with this really cute and easy to make wall art. Check out our tutorial on how to make it!
9. Pebble Heart Wall Decor
Reminding yourself that family and love are important can be done by simply bringing your eyes up and seeing this really beautiful pebble heart wall decor. It can go in your kitchen, but also other rooms in your home. Read our tutorial on how to make this work!
10. Embroidery Hoop Wall Decor
With an embroidery hoop and some lace, as well as some felt, you can create a really cute design to put up on your wall in the kitchen. It can create such a cute design and you'll want to put it up in your kitchen to always remind you of spring. Learn how to make your own embroidery hoop wall decor!
11. Kitchen Wall Tassels Decor
There really beautiful tassel wall decors will look lovely in any room, but they can really make that empty wall in your kitchen look so cute! So, let's learn how to make tassel decor!
12. Hoop and Yarn Wall Hanging Decor
Another beautiful decoration you can make for your kitchen is a hoop and yarn wall hanging. Of course, it needs to stay well away from any fire sources, but it can make any spot in your kitchen look so much cuter! Learn how to make your own hoop and yarn wall hanging piece!
13. Faux Fruit Shadowboxes
Here at DIYs, we've showcased how to create faux fruit shadowboxes that work great as kitchen wall accents. They add color and texture – while paying homage to the space they live in. The easy details can be found after the jump.
14. Ice Cream Cone Wall Planters
Aww Samhas the most adorable planter tutorial up their sleeves. These mini decor pieces are perfect for adding a breath of fresh air to your kitchen but also a bit of sweetness too. Check out the details behind their creation after the jump.
15. Lemon Print
Burlap and Bluegave us a great list of printables that we can grab and turn into art for the walls. This lemon piece, specifically, will help to create a summery and light sense of style. Just print off and grab a frame that matches your end vision.
16. Spoon Collage
We really love this innovative idea from A Joyful Riot. Do some shopping for spoon at a local flea market, dip them in some pant and get to creating. This is such an easy and fun way to personalize the kitchen in an unsuspecting way.
17. Cork Cluster
Project Row Houseshows us all how to take our lifelong collection of wine corks and put them to good use. In fact, this can easily turn into a weekend art project for you and your roommate. Add some color and personalization at the end.
18. Utensil Focus
If you have some extra utensils lying around or just want to create a new way to organize them – check out this fun idea from Curbly. It acts as both a functional way to store them and also a piece of kitchen-inspired art.
19. Conversion Chart
Here's another piece for the wall that can turn into both art and a functional, usable accent. Hop on over to our friends at Hometalkand learn how to whip this up in an afternoon. The plus side of this project is that you can easily personalize it in any way.
20. Rustic Farmhouse Shelves
Extra shelving is essential inside kitchens that need the extra organization – or for barer spaces that could use the styling as well. Thankfully, at Sage & Shepherd, you'll learn how to DIY these from scratch. It's a great option for rustic or farmhouse visions.
21. Y'all Come Eat Piece
We found this piece on sale at Sense of Artbut thought it was beautiful inspiration for a variety of DIY projects as well. You could defiintely take this idea and adapt it to your own style and material. It's easy to personalize as well.
22. Floating Window Shelf
Place of My Tastewill make your breakfast nook or kitchen window a little more beautiful by showing you how to make a floating shelf that will shine nicely in the natural light. Use it to display a bit of fresh greens – from florals to succulents.
23. Pizza Board "EAT"
Here's a fun way to utilize a pizza board. Whether it's one that you have in your own collection or a flea market fine – learn how to upcycle! Check out the details at Hometalk.
24. Coffee Prints
Gracie Lou Printableshas a lot of great prints up her sleeve. All you have to do is print them out and pick out fun ways to frame and bring focus to the creation. These are perfect for a coffee corner!
25. Chalkboard Wall
And sometimes you don't need an actual piece of art on the walls – instead you can set up a space to have the entire family create some. Check out this scene from Eric Roth Photographyto learn how to turn a wall in the kitchen into a chalkboard accent area.
26. House-Shaped Shelf
A Beautiful Mess created an adorable house-shaped shelf that works beautifully as a place to organize and display your coffee mugs. This would be a great piece of decor for the breakfast nook area and to add some extra personalization to your kitchen. Grab the deets after jumping over to the blog.
27. Giant Utensils Decor
Another really cute thing you can create is this art piece featuring outlines of giant utensils. Not that you don't know this is your kitchen, but it will make the whole room so nice, like it has more of a purpose already! Learn how to make your own from A Crafted Passion.
28. Photo Clipboards
Whether you're trying to figure out how to put up all those recipes you don't want to forget, a bunch of photo clipboards like these will work just fine. Learn how to make a few from this tutorial from Love Grows Wild.
29. Blackboard Menu Board
If you put up the menu on a board, perhaps your kids will stop asking what's for dinner and then whining about it? It's certainly worth a try! Learn how to make your own super cute chalkboard menu board from Black + Decker.
30. Baking Pan Wall Art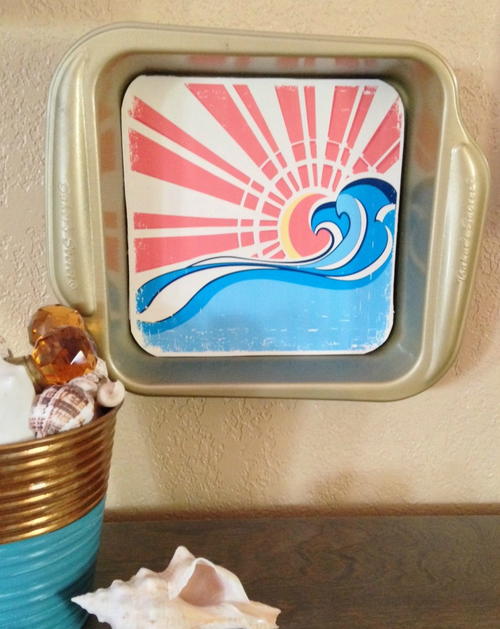 If you have an old baking pan that you don't want to use anymore, maybe it's time you create your own art project to hang on your wall. Let's see how you can do this with a tutorial from Dazzle While Frazzled.
31. Colorful Kitchen Clock
Another beautiful idea is to create a new kitchen clock! Not only is this beautiful clock super colorful, but it also uses some cute wooden spoons to mark up the hours! Make your own by following the tutorial from A Beautiful Mess!
32. Herb Garden
Another thing you should be considering is creating your own herb garden. The best part about this project is that the baskets will be hanging by your wall so not only will you be saving space, but they'll also be within reach! Learn how to make a beautiful design from A Beautiful Mess!
Kitchen Wall Art to Bring Life Into Your Kitchen
Some of the designs we shared with you are practical things like memo boards and menu boards, but others will simply beautify your kitchen, which is something that every room desperately needs. They're cute things that will make your mood better even when you're doing chores around the kitchen – whether you're washing the dishes, cleaning up the stove, cooking, or sweeping up the floor. The kitchen is the place where we put in a lot of household working hours, so it should be an enjoyable location. The wall art pieces we shared with you already will certainly help set the mood.
Kitchen Wall Decor Ideas
We know we've already shared a bunch of ideas with you, but we have more – some you will be able to create on your own, from your imagination.
a chic spice rack
painted support for your paper roll
picture frames with your favorite recipes
a cute backsplash for your coffee center
Not only will these make your kitchen more functional, but they'll also transform it into a location you'll want to spend more time in.
Final Thoughts
We hope you've found at least a couple of ideas you want to put into practice for your kitchen. We're already building a supply list for our own crafting projects! Remember that this isn't just about putting something on your kitchen walls, but also about making it into a place you go in to feel better.